Vegan Pineapple Upside Down Cupcakes
These vegan pineapple upside down cupcakes look impressive but are actually really easy to make! They're light and fluffy sponges with a sticky pineapple coating. Perfect for an afternoon treat!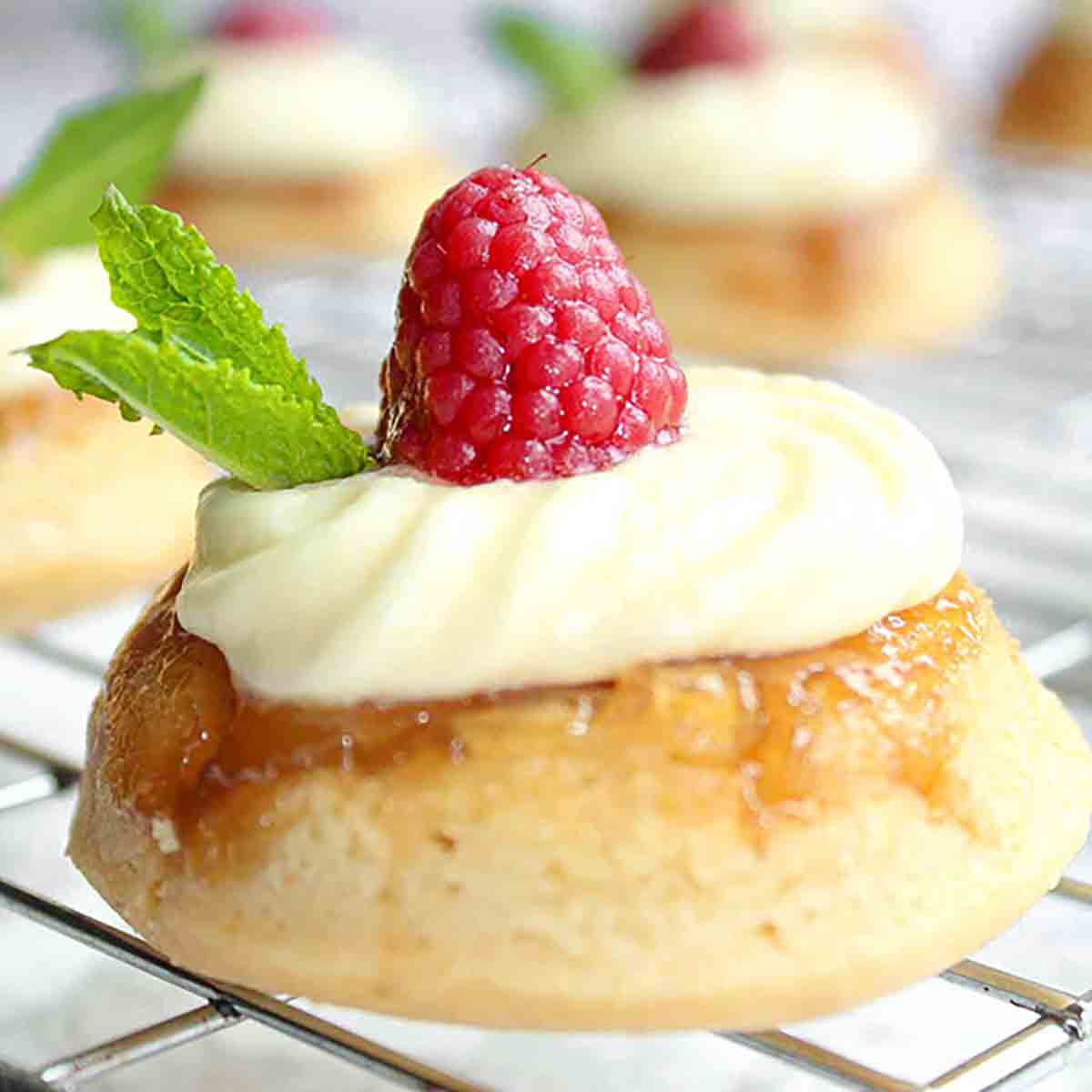 The idea for these vegan pineapple cupcakes came to me as I was reminiscing about my school home economics classes. I was never really much of an academic so I absolutely loved it when home economics rolled round each week. No writing, no memorising… just lots of fun learning how to cook and bake new things.
For our final year exam, we each got to choose two things (from our teacher's DIY recipe book) to make. I chose Asian vegetables with rice and a pineapple upside down cake. They were both SO GOOD but because I've always had a sweet tooth, I absolutely couldn't get enough of this cake I'd just baked. I think it tasted better to me at that time too because I'd made it myself. The gooey, sticky, toffee-like topping and the light, fluffy sponge underneath tasted like heaven to me.
That memory made me smile and inspired today's recipe. Except, because the pineapple upside down cake I made at school was pretty large and definitely not vegan, I wanted to recreate it with some changes.
I thought mini pineapple upside down cupcakes would look prettier rather than one big massive cake so I went with that idea. I also find that cupcakes are much easier to share, grab on the go, and freeze for later.
What Are Upside Down Cupcakes?
Typically for upside down cupcakes, you place your cake mix into a cupcake tin that's lined with chopped fruit and a mixture of brown sugar and melted butter. As it's baking, it creates a beautiful, caramel-like topping.
You can use any type of fruit you like with this recipe. I've tried upside down cakes with apples, pears, lemons and plums which have all tasted amazing. But my favourite has to be these vegan pineapple cupcakes. I absolutely love the contrast between the sweet, sticky topping and the sharpness from the pineapple. Delicious!
How to Make Vegan Pineapple Upside Down Cupcakes
If you want a super fast recipe, you can totally use an accidentally vegan cake mix. But if you want to make these cakes from scratch and need a reliable vegan cupcake mixture, just follow the steps below.
Step 1:
The first thing you'll want to do before touching any ingredients is to preheat your oven. 180°C (or 160°C if you're using a fan oven) is perfect for this recipe.
You'll also want to have two 12-hole cupcake trays to hand. Non-stick ones are best but if you don't have access to them, you can just spray each hole with a light cooking spray.
Step 2:
Mix together 2 tablespoons of melted vegan margarine and 3 tablespoons of soft light brown sugar. Pop around 1 teaspoon of this mixture into each cupcake hole.
Step 3:
Cut pineapple chunks into small pieces and place a couple into each cupcake hole on top of the brown sugar mixture.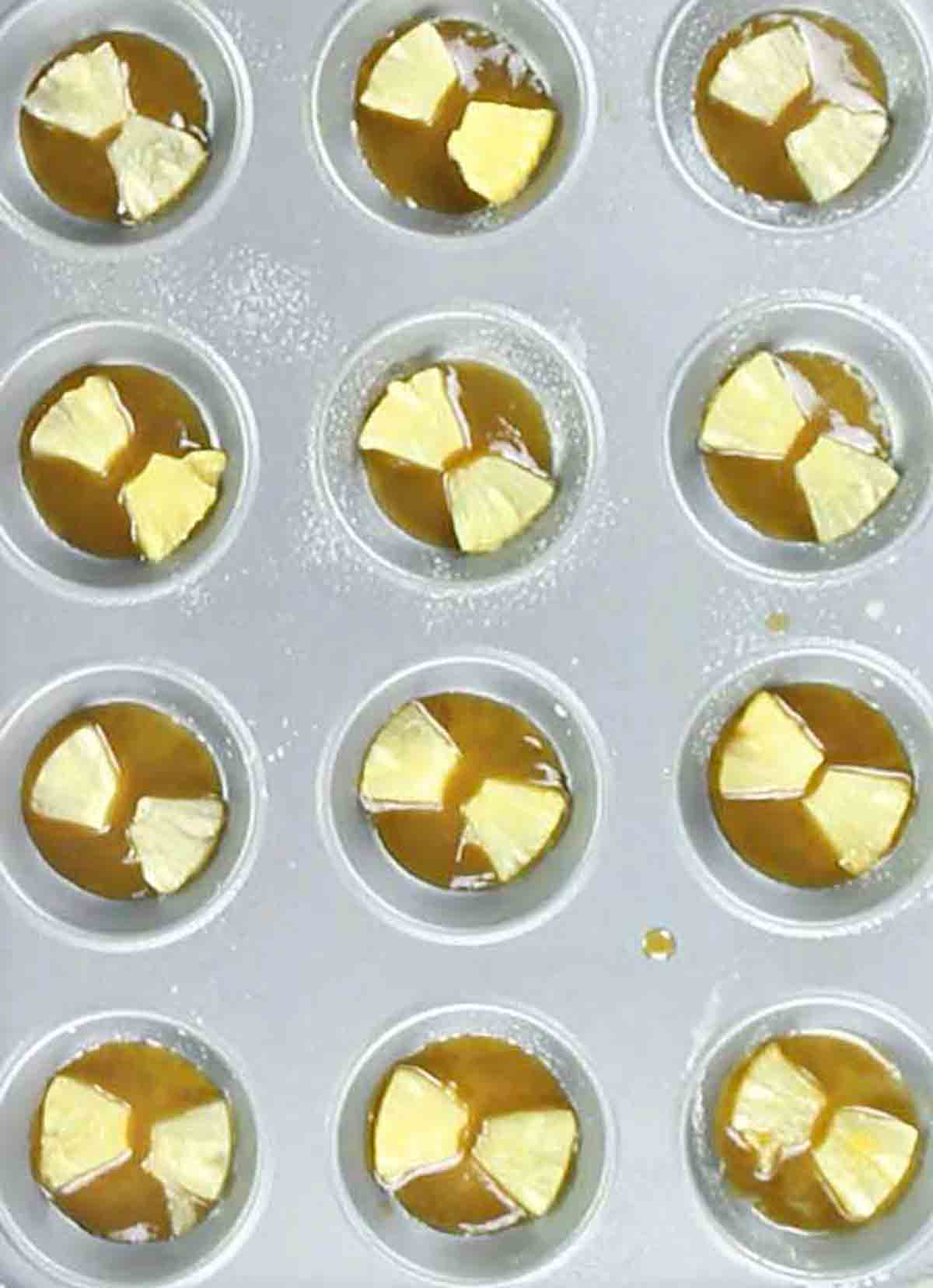 Step 4:
In a small mug or bowl, mix 280ml of soy milk with 1 tablespoon of apple cider vinegar and set it aside for 5 minutes. It will thicken slightly and act as your vegan buttermilk.
Unsweetened soy milk works best for this recipe but you can use almond milk if you prefer.
Step 5:
In a large bowl, mix together 230g of self-raising flour and 180g of caster sugar. Add your vegan buttermilk to the bowl, along with 6 tablespoons of oil (or melted vegan margarine) and 2 teaspoons of vanilla extract. Mix well to create a smooth cake batter.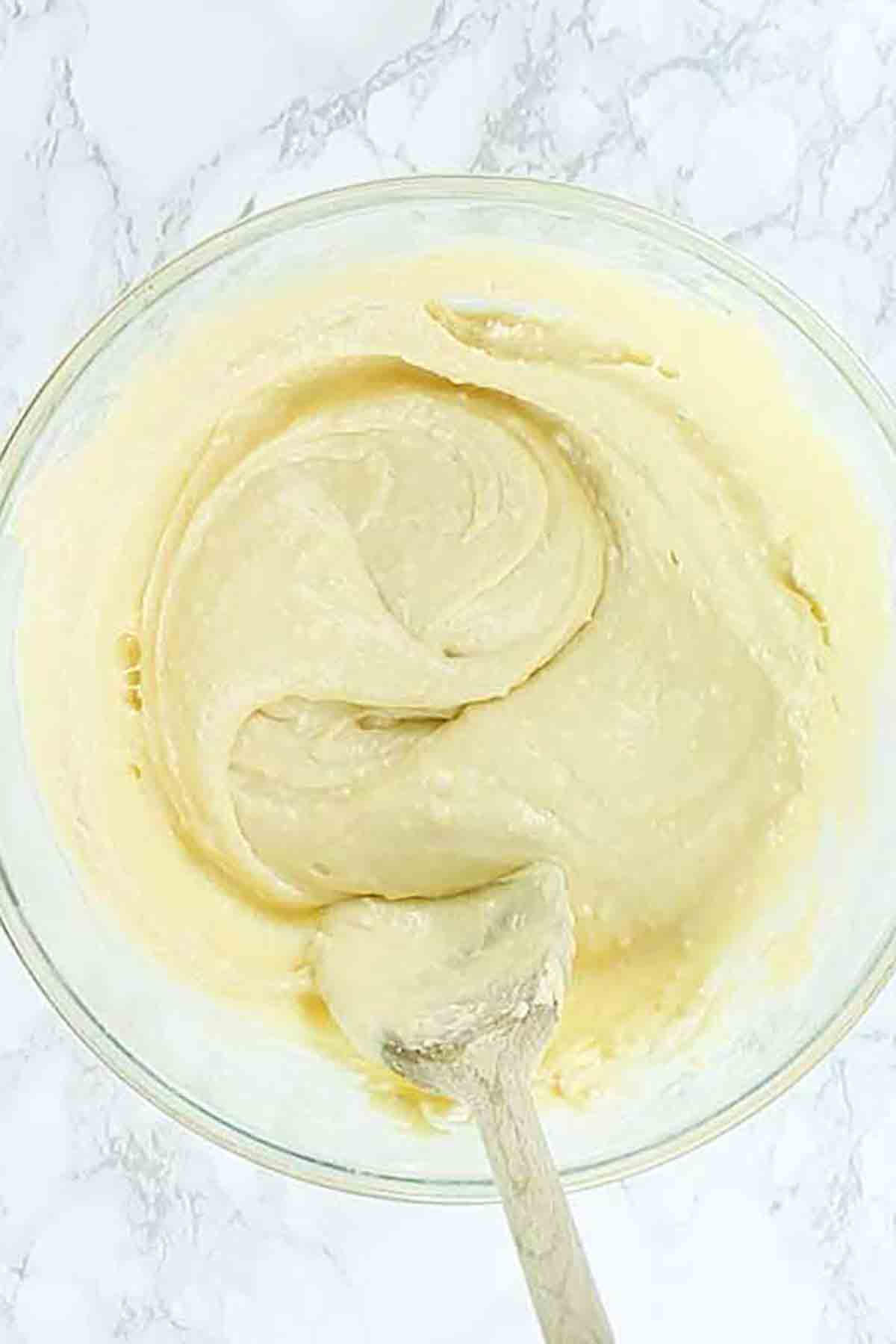 Step 6:
Spoon your cake mix into the cupcake holes, ensuring the pineapple and brown sugar mixture is covered. You may not need to use all of the cake mix so take care not to overfill the tray.
Step 7:
Bake the cupcakes for 18-20 minutes, or until a toothpick through the centre comes out clean.
Leave the cakes to cool in the pan for around 10 minutes then flip them out onto a cooling rack. If any cupcakes get stuck in the pan, just run a butter knife around the edges then try flipping them out again.
Once they're all on the cooling rack, allow the cupcakes to cool completely.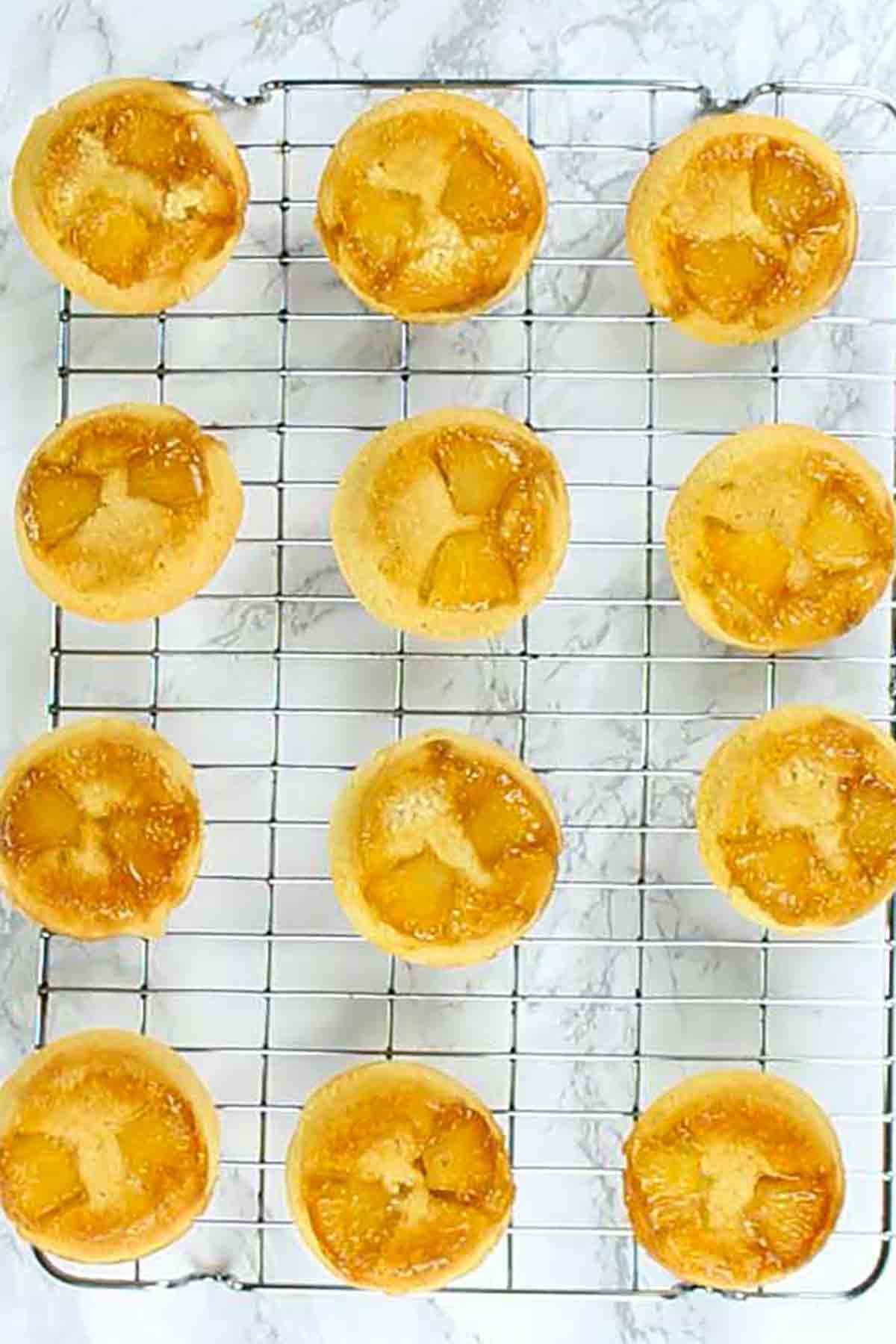 Optional Frosting
Vegan pineapple upside down cupcakes honestly taste perfect just as they are but if you're looking for an extra special touch, you can add some frosting on top.
To prepare your frosting, mix together 75g of vegan margarine, 250g of icing sugar, and 1 teaspoon of pineapple flavouring or vanilla extract. Pipe (or spoon) a bit of frosting onto the centre of each cupcake. For an extra pop of colour, add some fruit on top of the frosting. I used raspberries and mint leaves (inspired by Cooking Classy) because I think the colours contrast beautifully. I've also seen a lot of pineapple upside down cupcakes with cherries which look great too.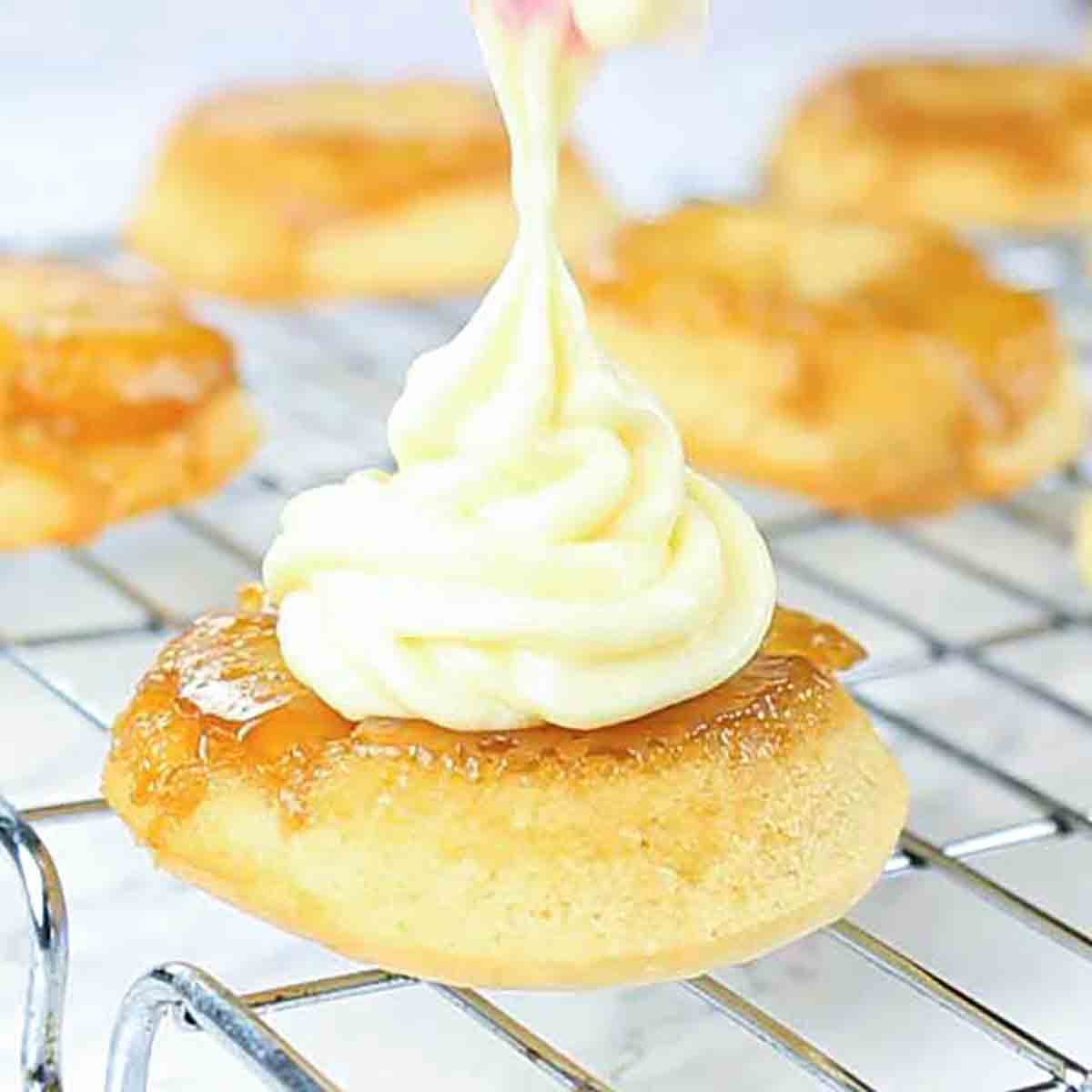 FAQ:
How should vegan upside down cupcakes be stored?
You store these upside down cupcakes just the same way as you would any old cupcakes! In an airtight container that's kept in a cool, dry and dark space such as a cupboard. You can also keep them in the fridge.
Can I freeze them?
Yes! If you've ever read my blog before, you'll know I like to freeze my baked goods. There's nothing better than knowing you've got a freezer full of treats when the weekend comes.

Just pop them into a large airtight container and freeze for up to 2 months. I find that freezing them in containers is so much easier and works just as well as wrapping them with plastic wrap.
I would say that it's best to freeze them without the frosting.

To defrost the frozen cupcakes, simply leave them at room temperature for an hour or two until thawed. Do not refreeze.
More Vegan Dessert Recipes:
I hope you enjoy these vegan pineapple cupcakes as much as I enjoyed creating them! If you do make them yourself, please let me know how it goes by leaving a rating or comment below. Happy baking! xo

Vegan Pineapple Upside Down Cupcakes
Fluffy vegan cupcakes topped with sticky brown sugar and pineapple.
Ingredients
For the upside down "topping":
2

Tablespoons

Melted vegan margarine

3

Tablespoons

Light brown sugar

Small can of pineapple chunks

(you'll only need a few)
For the cupcakes:
280

ml

Unsweetened soy milk

1

Tablespoon

Apple cider vinegar

230

g

Self-raising flour

180

g

Caster sugar

6

Tablespoons

Sunflower oil

(or melted vegan margarine)

2

Teaspoons

Vanilla extract
For the frosting (optional):
150

g

Vegan margarine

500

g

Icing sugar

1

Teaspoon

Pineapple flavouring

(or vanilla extract)
To top (optional):
Handful of fresh raspberries

Handful of mint leaves
Instructions
Preheat your oven to 180°C and spray a 12-hole cupcake tin with cooking spray.
For the upside down "topping":
In a small bowl, mix together the melted margarine and brown sugar. Place around 1 teaspoon of this mixture into each cupcake hole. You want the bottom to be just covered- you can add a little extra if necessary.

Slice your pineapple chunks into small pieces. Place 2-4 pieces in each cupcake hole, on top of the brown sugar mixture.
For the cupcakes:
Mix the soy milk and vinegar together then set aside for 5 minutes. This will act as your vegan buttermilk.

In a large bowl, mix together the flour and caster sugar.

Add your vegan buttermilk to the bowl, along with the oil and vanilla extract. Mix well until smooth.

Spoon the cupcake batter into your cupcake tin holes. Make sure the cake batter covers the pineapple and brown sugar mix.

Bake for 18-20 minutes, until a toothpick comes out clean.

Allow the cupcakes to cool for 10 minutes, then turn them out onto a wire rack to cool completely. If any of the cakes get stuck in the pan when your try to turn them out, run a butter knife around the edge then try again.
For the frosting:
Prepare your frosting by mixing all of the frosting ingredients together until smooth. Pipe or spoon a little bit onto the centre of each cupcake.

Top with a raspberry and a mint leave if desired.
Recipe Notes
*store in an airtight container for up to 4 days.
Nutrition Facts
Vegan Pineapple Upside Down Cupcakes
Amount Per Serving (1 upside down cupcake without frosting)
Calories 197
Calories from Fat 54
% Daily Value*
Fat 6g9%
Sodium 57mg2%
Carbohydrates 32g11%
Protein 3g6%
* All values are an estimate only and will vary depending on the food brands used.
BakedByClo is a participant in the Amazon Services LLC Associates Program, an affiliate advertising program designed to provide a means for sites to earn advertising fees by advertising and linking to Amazon.com. This site may contain some of these links to Amazon.com & other affiliate programs. If you make a purchase through one of those links, BakedByClo will receive a small commission from the purchase at no additional cost to you.