These pineapple upside down cupcakes look impressive but are actually really easy to make! They're light and fluffy sponges with a sticky toffee pineapple coating. Perfect for an afternoon treat!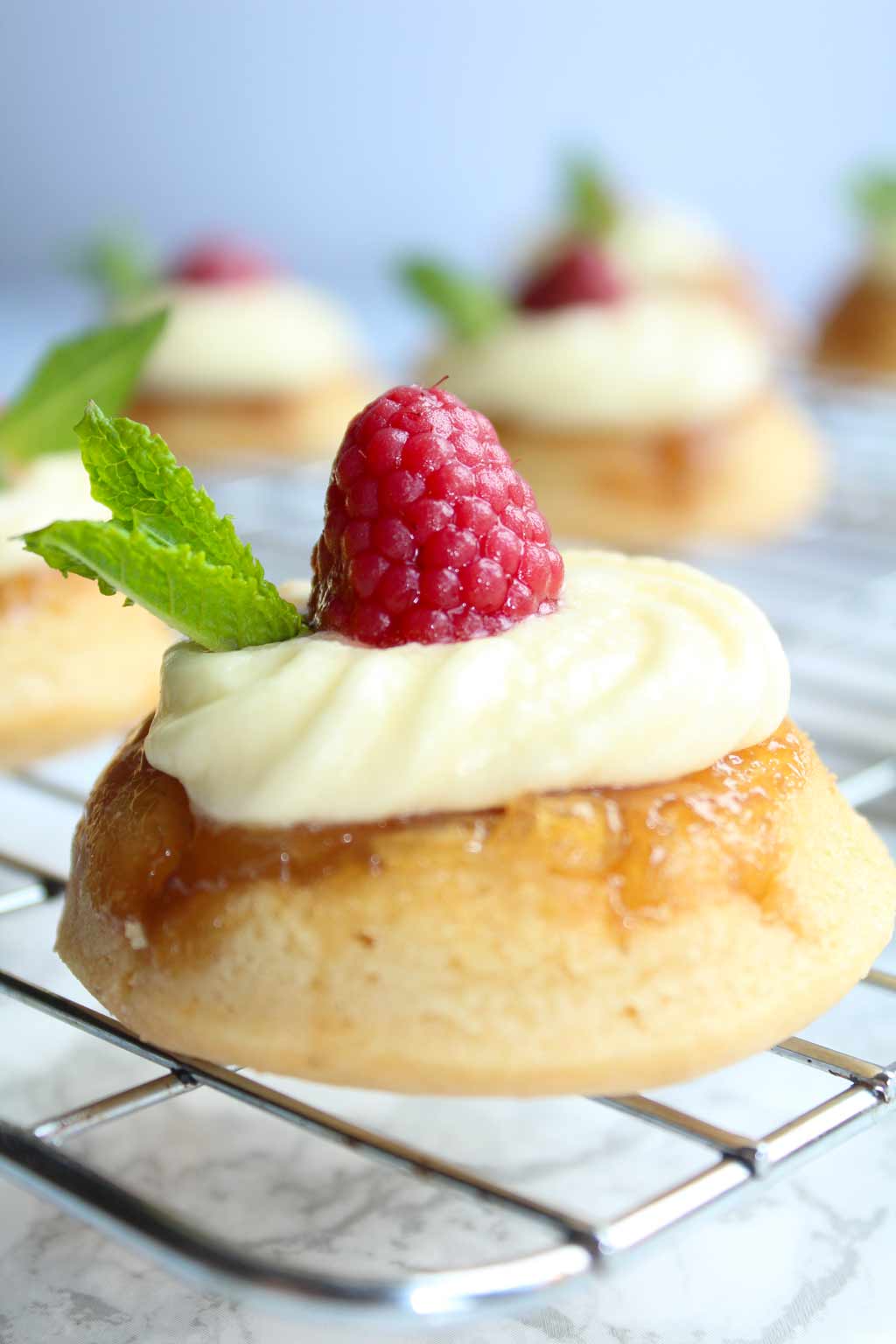 The idea for these pineapple upside down cupcakes came to me as I was reminiscing about my school home economics classes.
I was never really much of an academic learner, so I absolutely loved it when home economics rolled round each week. No writing, no memorising… just lots of fun learning how to cook and bake new things.
For our final year exam, we each got to choose two things (from our teacher's DIY recipe book) to make. I chose Asian vegetables with rice and a pineapple upside down cake.
They were both SO GOOD but because I've always had a sweet tooth, I absolutely couldn't get enough of this cake I'd just baked. I think it tasted better to me at that time too because I'd made it myself. The gooey, sticky, toffee-like topping and the light, fluffy sponge underneath tasted like heaven to me.
In fact, I enjoyed the cake so much that all self-control was thrown out the window and I ate it all. Every last piece… before I even arrived home. I didn't even save any for my poor mother, who had paid for the ingredients!
Oh, teenagers…
That memory made me smile and inspired today's recipe. Except, because the pineapple upside down cake I made at school was pretty large and definitely not vegan, I wanted to recreate it with some changes.
I thought mini pineapple upside down cupcakes would look prettier rather than one big massive cake so I went with that idea. I also find that cupcakes are much easier to share, grab on the go, and freeze for later.
In terms of making the recipe vegan, I just opted for my classic vegan cupcakes recipe which uses vegan butter in place of dairy butter and plant-based milk in place of dairy milk. Even better, there are no eggs or vegan egg replacers required!
What Are Pineapple Upside Down Cupcakes?
Exactly what they sound like! Cupcakes that are upside down, with pineapple on top.
Typically for upside down cupcakes, you place your cake mix into a cupcake tin that's lined with chopped fruit and a mixture of brown sugar and melted butter. As it's baking, it creates a beautiful, caramel-like topping.
You can use any type of fruit you like with this recipe. I've tried upside down cakes with apples, pears, lemons and plums which have all tasted amazing.
But my favourite has to be these pineapple upside down cupcakes. I absolutely love the contrast between the sweet, sticky topping and the sharpness from the pineapple. Delicious!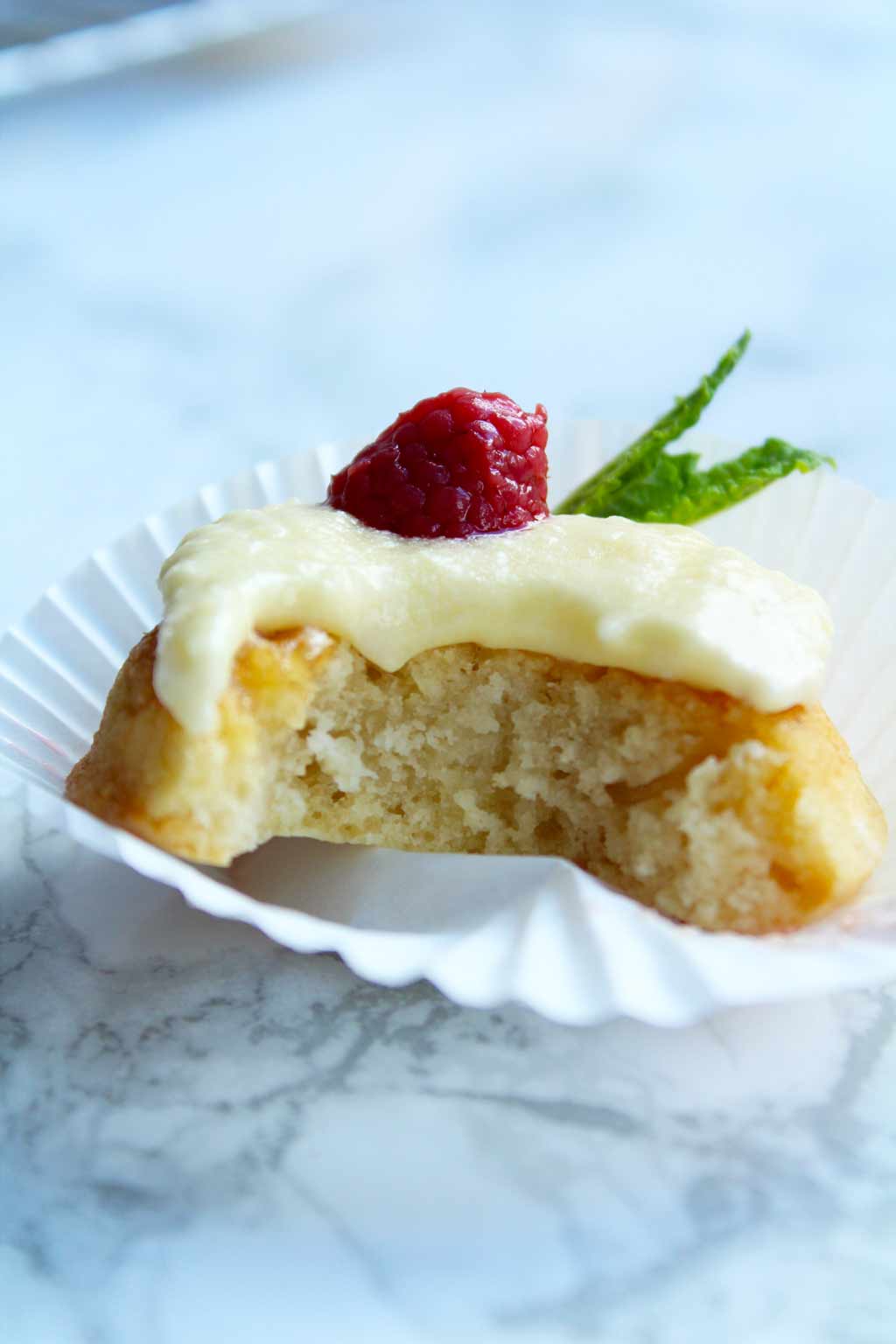 How to Make Pineapple Upside Down Cupcakes from Scratch
If you want a super fast recipe, you can totally use store bought cake mix.
(Side note: a lot of boxed cake mixes are vegan, you just need to use vegan egg, milk or butter replacements when preparing them).
But if you want to make these cakes from scratch and need a reliable vegan cupcake mixture, just follow the steps below.
Step 1:
The first thing you'll want to do before touching any ingredients is to preheat your oven. 180°C or 350°F is perfect for this recipe.
You'll also want to have two 12-hole cupcake trays to hand. Non-stick trays would be best but if you don't have access to them, you can just spray each hole with a light cooking spray.
Step 2:
Like all good sponge cake mixes, this one starts by creaming the (vegan) butter and sugar together. You can use an electric mixer for this if you have one but if not, you just want to "smear" the butter and sugar along the sides of the bowl repeatedly until everything is well combined.
Keep mixing it together until it's light, fluffy and becomes a pale yellow colour. It's important that you mix it for long enough to allow the sugar to dissolve into the butter. Otherwise, you'll end up with a crunchy top on your cakes.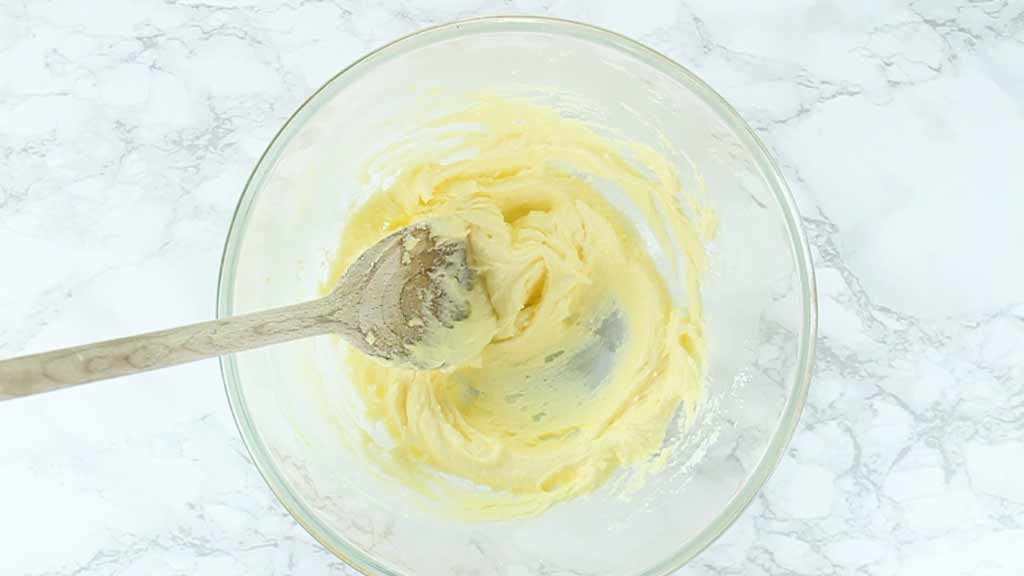 Step 3:
Once you've creamed the butter and sugar together, add in a teaspoon of vanilla extract. Adding pineapple juice to your cake mix is totally optional but if you want to, add in 2 tablespoons now.
Mix everything together until creamy and smooth.
Step 4:
Now add in the plant-based milk, the flour, baking powder and vinegar.
The vinegar will react with the baking powder to help the cupcakes rise. You'll only need a teaspoon but if you don't like the sound of putting vinegar in your cakes, you can substitute this for lemon juice instead.
Fold the ingredients together gently until you get a smooth cake batter. It should drop off the spoon easily when you lift it up. If it doesn't, add some more milk in, 1 tablespoon at a time, until you get the desired consistency.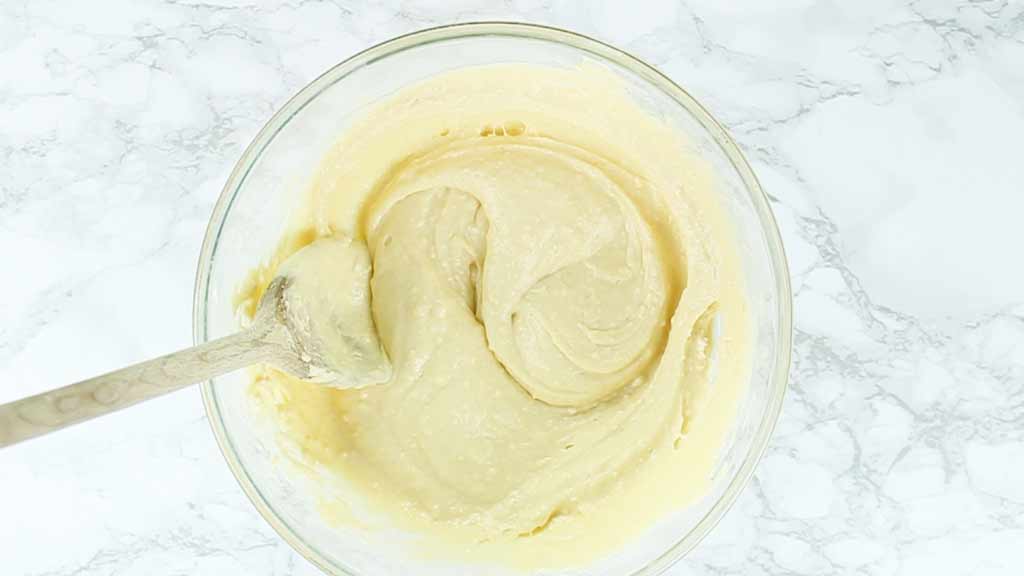 Step 5:
Now that you've got your cake mix ready, it's time to create the "upside down" topping.
In a small bowl, mix together the brown sugar and melted vegan butter to create a runny paste. Spoon around 1 teaspoon of the paste into each hole in your cupcake pan. You want the bottom to be JUST covered, so add a little more if necessary.
Next, take 2-4 small slices of pineapple (or other fruit if desired) and place them on top of the butter-sugar mix in each hole.
I'd personally recommend slicing the fruit to around ½ an inch thick at the most. Otherwise, it will weigh the cupcakes down too much and prevent them from becoming light and fluffy.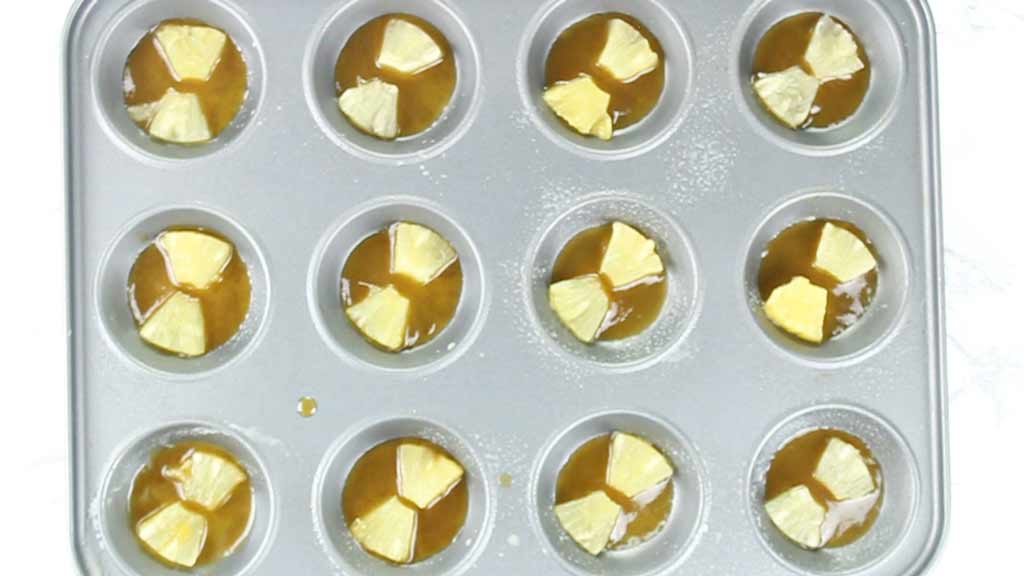 Step 6:
Once each cupcake hole has some fruit in it, spoon your cake mix in. The cake mix is enough for 14 or 15 cupcakes so you'll need to divide them between the two cupcake trays. You can either bake them one tray after the other or bake them together.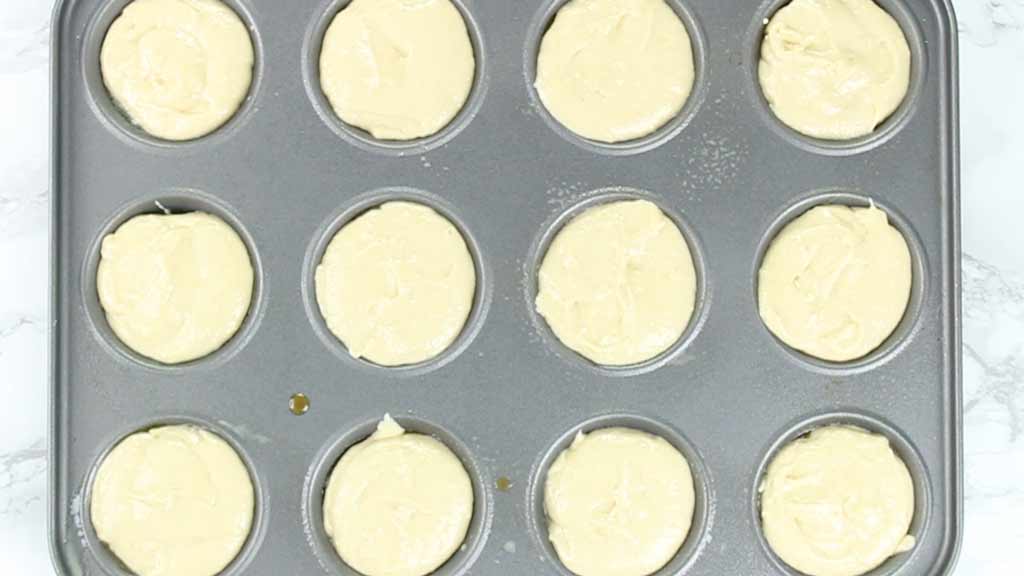 Bake the cupcakes until for 40 minutes. When they're ready, they should be a light, golden-brown colour on top.
If you bake two trays at one time, you'll need to leave the tray on the bottom shelf in the oven for a little longer- just until the cupcakes turn golden brown on top.
Leave the cakes to cool in the pan for around 10 minutes then flip them out onto a cooling rack. If any cupcakes get stuck in the pan, just run a butter knife around the edges then try flipping them out again.
Once they're all on the cooling rack, allow the cupcakes to cool completely.
Want More Vegan Dessert Recipes?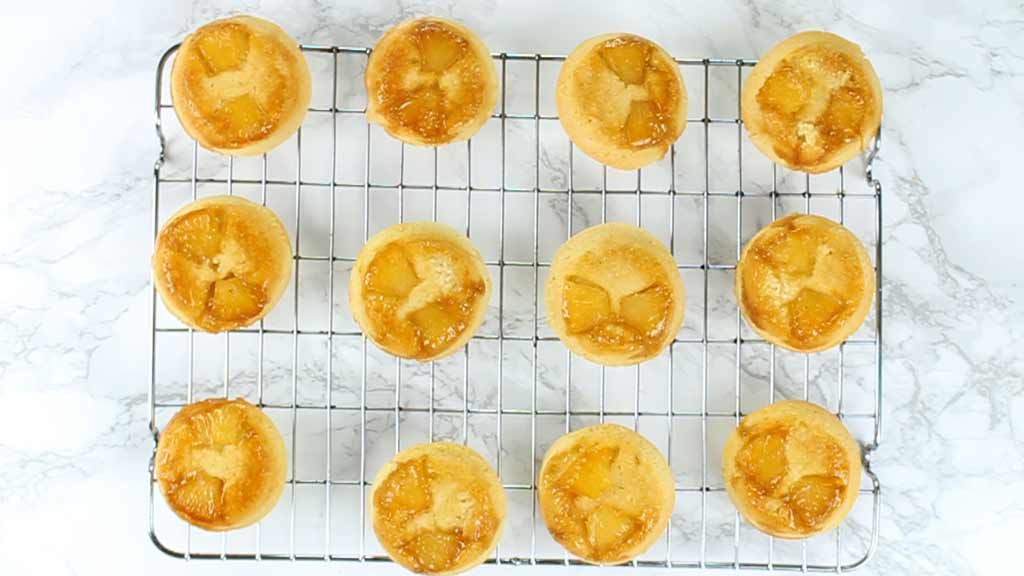 Pineapple Upside Down Cupcakes with Frosting
These cupcakes honestly taste perfect just as they are but if you're looking for an extra special touch, you can add some frosting on top.
To prepare your frosting, mix together some vegan butter, powdered sugar, a little plant-based milk and a splash of pineapple juice. Again, using an electric mixer is quicker but it can definitely be done by hand too.
Pipe (or spoon) a bit of frosting onto the centre of each cupcake. For an extra pop of colour, add some fruit on top of the frosting.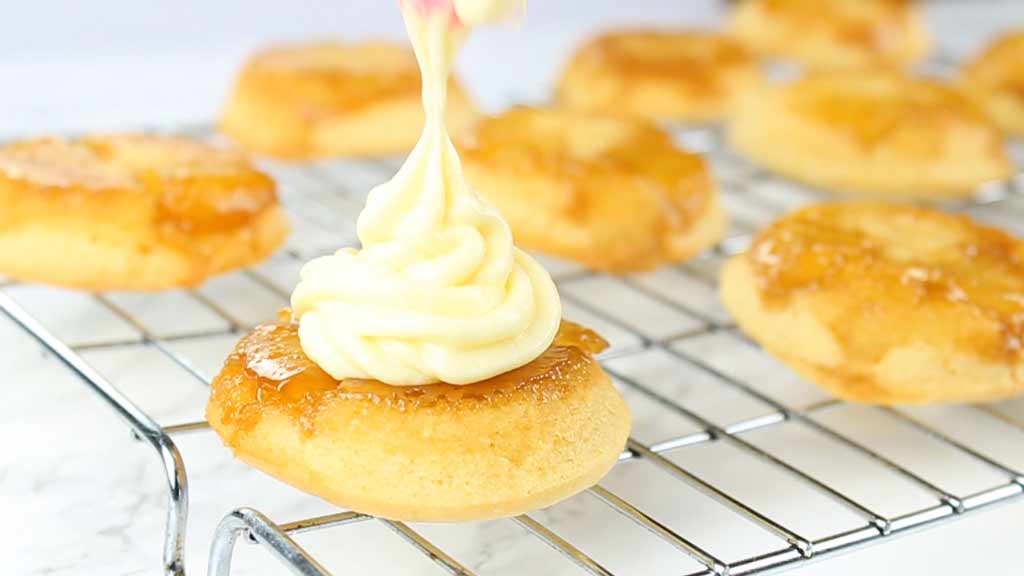 For mine, I used raspberries and mint leaves (inspired by Cooking Classy) because I think the colours contrast beautifully. I've also seen a lot of pineapple upside down cupcakes with cherries which look great too.
How To Store Pineapple Upside Down Cupcakes
You store these upside down cupcakes just the same way as you would any old cupcakes! In an airtight container that's kept in a cool, dry and dark space such as a cupboard.
Tip: Adding a little greaseproof paper to the bottom of the container before inserting your cupcakes will help to prevent them from drying out so quickly.
Can You Freeze Pineapple Upside Down Cupcakes?
Yes! If you've ever read my blog before, you'll know I like to freeze my baked goods. There's nothing better than knowing you've got a freezer full of treats when the weekend comes.
To freeze these cupcakes, you can just pop them in the freezer the same way as you'd store them out of the freezer- in a large airtight container with greaseproof paper at the bottom.
I find that freezing them in containers is so much easier and works just as well as wrapping them with plastic wrap.
I would say that it's best to freeze them WITHOUT the frosting though. Although the cakes will still taste fine, the frosting might cause a little bit of sogginess as it defrosts. I'd recommend preparing the frosting on the day that you're ready to eat them.
To defrost the frozen cupcakes, simply leave them at room temperature, uncovered, for 1-2 hours.
Pineapple Upside Down Cupcakes Video
If you're anything like me, you'll like to watch a video to see how the steps come together. If you'd like to see a visual representation of the recipe, watch the video below before attempting it yourself!
I hope you enjoy these cupcakes as much as I enjoyed creating them! If you do make them yourself, please let me know how it went by leaving a rating or comment below.
Happy baking!
xo

Pineapple Upside Down Cupcakes
A fluffy vegan cupcake topped with sticky brown sugar and pineapple.
Keyword:
pineapple upside down cupcakes
Ingredients
For the cupcakes:
1/4

Cup

Vegan butter

(60g)

1/2

Cup

Caster sugar

(100g)

3/4

Cup + 1 Tablespoon

Plant-based milk

(200ml)

1 + 1/2

Cups

All purpose flour

(200g)

2

Teaspoons

Baking powder

1

Teaspoon

Apple cider vinegar

(or lemon juice)

2

Tablespoons

Pineapple juice

(optional)
For the upside down "topping":
2

Tablespoons

Vegan butter, melted

3

Tablespoons

Soft brown sugar

Small can of pineapple chunks

(you'll only need a few)
For the frosting (optional):
1

Cup

Powdered sugar

(120g)

1/4

Cup

Vegan butter

(60g)

1-2

Tablespoons

Pineapple juice

(or plant-based milk)

1/2

Teaspoon

Vanilla extract
To top (optional):
Handful of fresh raspberries

Handful of mint leaves
Instructions
For the cupcakes:
Preheat oven to 180C / 350F and prepare two 12 hole cupcake tins. If the tins aren't non-stick, spray each hole with cooking spray.

In a large bowl, cream together the butter and sugar until pale and fluffy.

Add the plant-based milk, flour, baking powder, apple cider vinegar, and pineapple juice if using. Fold everything in gently until it forms a smooth, creamy cake batter.
For the upside down "topping":
In a separate bowl, mix together the melted butter and brown sugar. Place 1 teaspoon in each cupcake hole. You want the bottom to be just covered, so add a little extra if necessary.

Slice your pineapple chunks to around 1/2 an inch thick. Place 2-4 pieces in each cupcake hole, on top of your brown sugar mixture. Be careful not to overload the pan as this will weigh your cupcakes down too much.

Spoon the cupcake batter into the moulds, around 1.5 tablespoons in each one. Make sure the cake batter covers the pineapple and brown sugar mix.

Bake for 40 minutes- the cupcakes should come out golden brown on top.

Allow the cupcakes to cool for 10 minutes, then turn them out onto a wire rack to cool completely. If any of the cakes get stuck in the pan when your try to turn them out, run a butter knife around the edge then try again.
For the frosting:
Prepare your frosting by mixing all of the frosting ingredients together until smooth. Pipe or spoon a little bit onto the centre of each cupcake.

Top with a raspberry and a mint leave if desired.
Recipe Video
Recipe Notes
*store in an airtight container for up to 4 days.
Nutrition Facts
Pineapple Upside Down Cupcakes
Amount Per Serving
Calories 160
Calories from Fat 45
% Daily Value*
Fat 5g8%
Sodium 1mg0%
Carbohydrates 18g6%
Protein 2g4%
* All values are an estimate only and will vary depending on the food brands used.