Why Are My Vegan Pancakes Gummy?
Wondering why your vegan pancakes are turning out gummy? This post explains some of the most common reasons why this happens plus a super easy recipe for fluffy pancakes.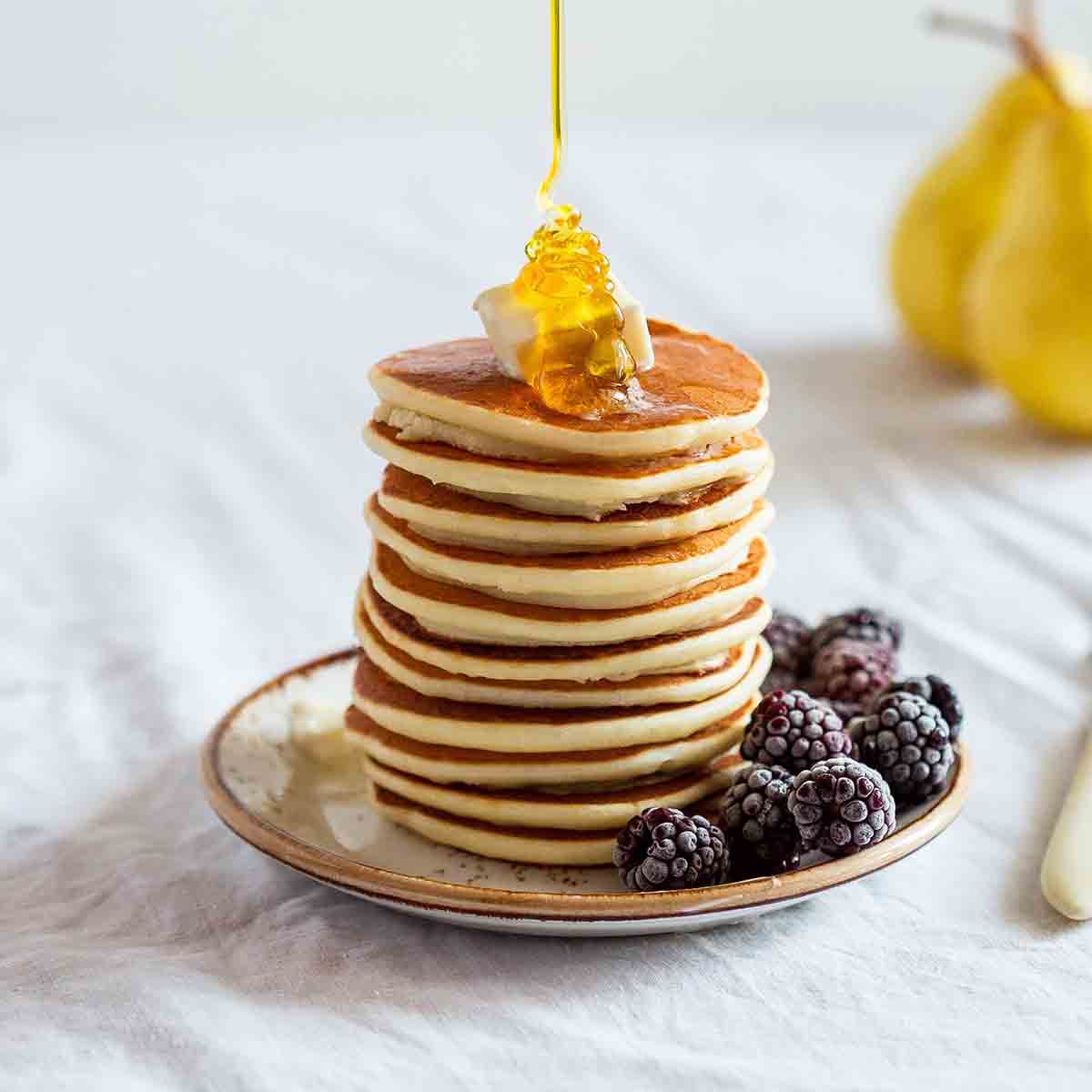 Have you ever spent time and effort making Saturday morning pancakes only to find that they're gummy inside? I know the disappointment!
This happened to me a fair few times when I first started making eggless pancakes but I quickly learned the secret to making light, airy, fluffy pancakes. I've created this post to help anyone who may be struggling like I was.
Reasons why vegan pancakes turn out gummy
Let's take a look at a few of the mistakes that might be making your vegan pancakes gummy.
1. Overmixing the batter
Overmixing the batter is probably the number one reason why your vegan pancakes are gummy. When it comes to pancakes, you want the batter to be slightly lumpy. If you mix the batter too much, you knock all of the air bubbles out and your pancakes won't rise very well, resulting in a gummy texture. Mix it until it just comes together and no more.
Another cause of gummy pancakes is leaving the batter to sit for too long before frying.
2. Using the wrong type of flour
Many vegan recipes use healthier ingredients and as such, some vegan pancake recipes will call for things like oat flour instead of wheat flour. While oat flour and other flour alternatives can certainly can work in pancakes, they may produce a dense, gummy texture if the other ingredient quantities are not in perfect balance.
If you're a pancake beginner and want to make sure your pancakes turn out light and fluffy, use either plain or self-raising flour. It might not be the healthiest but it definitely gives the best texture.
Related post: Can I Use Self-Raising Flour For Pancakes?
3. You forgot to add baking powder
Baking powder or baking soda (depending on the recipe) will help your pancakes to rise more, preventing a gummy texture. Make sure you don't forget this ingredient!
It's also important that you don't get the two ingredients mixed up because they work differently. Baking powder needs liquid and heat to activate while baking soda (bicarbonate of soda) needs an acid like lemon juice to work.
4. Using the wrong egg replacer
Chia seed eggs or flax eggs are great for some vegan baking recipes but not for pancakes because when they are mixed with liquid, they form a gel. Obviously, this isn't great for the light and fluffy texture we're after here.
If you've been making pancakes with chia or flax seeds, this is likely the reason why they are gummy. I have personally found the best egg replacement for pancakes to be soy milk. You can see my recipe below.
Fluffy vegan pancake recipe
Here is a super quick and easy recipe for fluffy pancakes. Follow the recipe closely and measure the ingredients accurately, and you'll never have gummy vegan pancakes again!
Step 1:
In a large bowl, mix together 150g of plain flour, 2 tablespoons of caster sugar and 1 teaspoon of baking powder. Then add 1 tablespoon of vegetable/sunflower oil, and 300ml of unsweetened soy milk. Mix with a wooden spoon to create a lumpy batter. Do NOT try to get the lumps out- these will help your pancakes rise!
I have yet to test this recipe with any other plant-based milks so I cannot guarantee that they will work.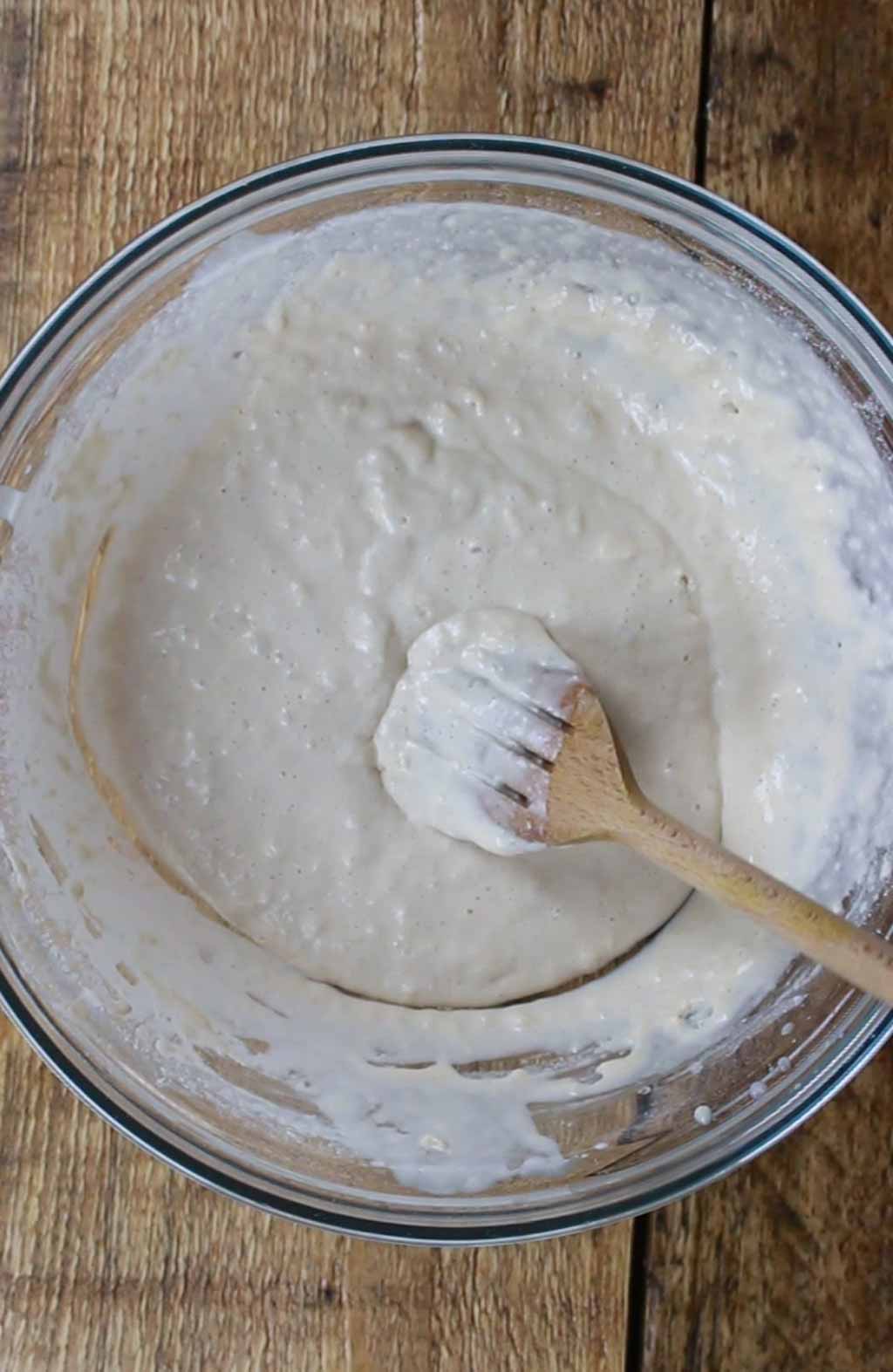 Step 2:
Fry the batter over a medium heat, a little bit at a time, in a non-stick pan. When air bubbles come to the surface of the pancakes, flip them over and cook for another few minutes.
Step 3:
Stack the pancakes and serve immediately with your desired toppings. Here are mine, topped with vegan chocolate and strawberry ice cream and vegan sprinkles.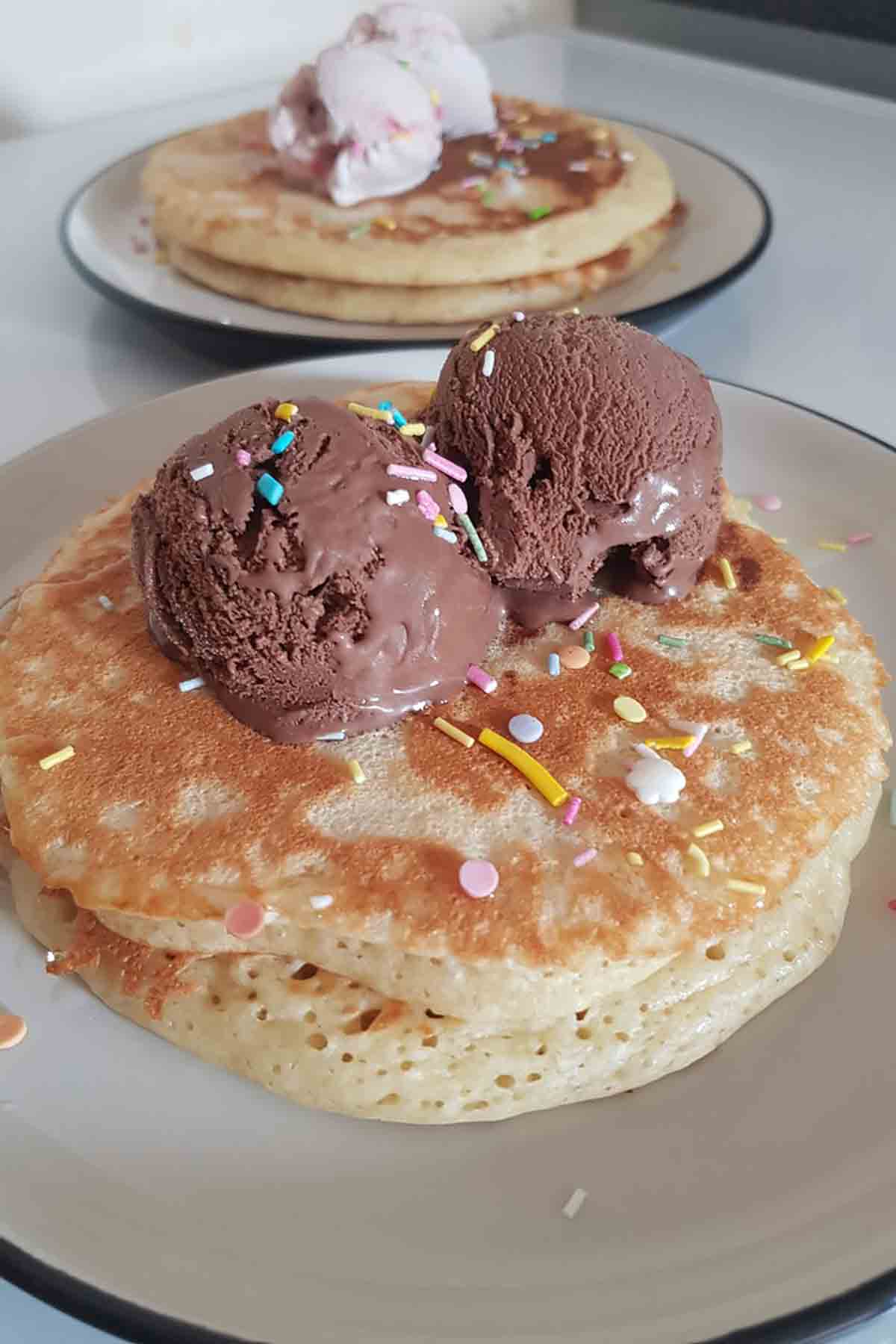 I hope these tips will help you to prevent gummy vegan pancakes in the future! If you found this post useful, please share it with a friend using the share buttons on the page. Enjoy! xo

Simple Vegan Pancakes
A quick and easy, no-fuss recipe for fluffy pancakes.
Ingredients
150

g

Plain flour

1

Teaspoon

Baking powder

2

Tablespoons

Caster sugar

300

ml

Unsweetened soy milk

1

Tablespoon

Vegetable/sunflower oil
Instructions
Mix the flour, baking powder caster sugar together.

Add the soy milk and oil to the bowl and mix to make a lumpy batter. Do not try to mix the lumps out or you'll end up with gummy pancakes.

Fry the batter, a little at a time, over a medium heat. Flip the pancakes over when air bubbles come to the surface.

Serve immediately with your choice of toppings.
Nutrition Facts
Simple Vegan Pancakes
Amount Per Serving (1 portion (half the batter))
Calories 432
Calories from Fat 99
% Daily Value*
Fat 11g17%
Sodium 275mg12%
Carbohydrates 68g23%
Protein 12g24%
* All values are an estimate only and will vary depending on the food brands used.
BakedByClo is a participant in the Amazon Services LLC Associates Program, an affiliate advertising program designed to provide a means for sites to earn advertising fees by advertising and linking to Amazon.com. This site may contain some of these links to Amazon.com & other affiliate programs. If you make a purchase through one of those links, BakedByClo will receive a small commission from the purchase at no additional cost to you.