20 Vegan Peppermint Desserts
Looking for some festive dessert inspiration? These vegan peppermint desserts are here to help! Whether you're looking for quick and easy no-bake treats or something a little more challenging, you'll find the perfect recipe on this page.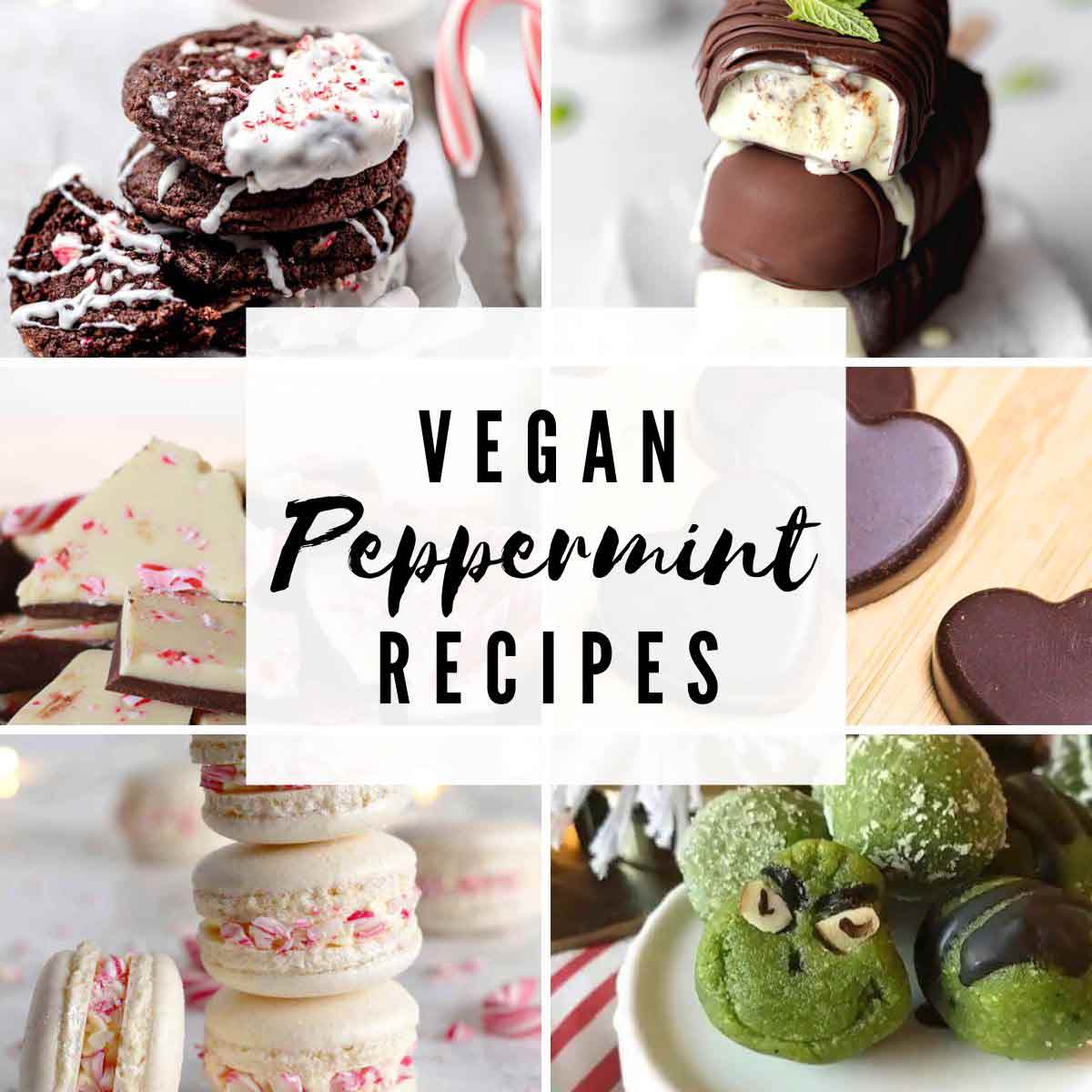 It's December now and you know what that means! Peppermint flavoured EVERYTHING!
Not only is peppermint extract great for festive-flavoured hot chocolates, it's great for baking and desserts too. I realised I had a fair few peppermint recipes on my blog so I thought I'd create a round-up post to showcase them all. I teamed up with some great bloggers to bring you this post, so make sure to show their recipes some love! Hope you enjoy.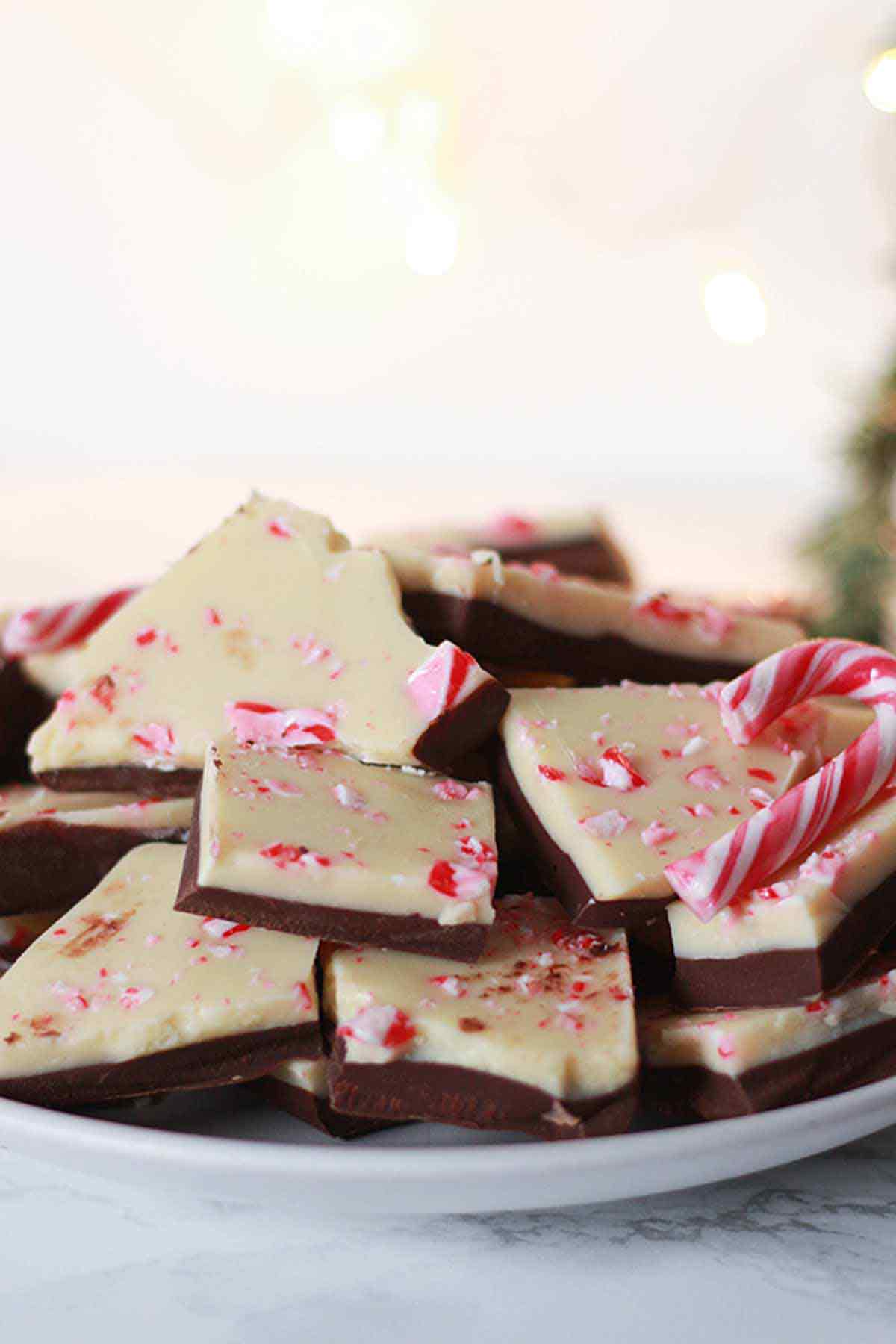 A super easy, no-bake treat that is perfect for making with children. All you need to do is melt some dairy-free white and dark chocolate and crush up some candy canes!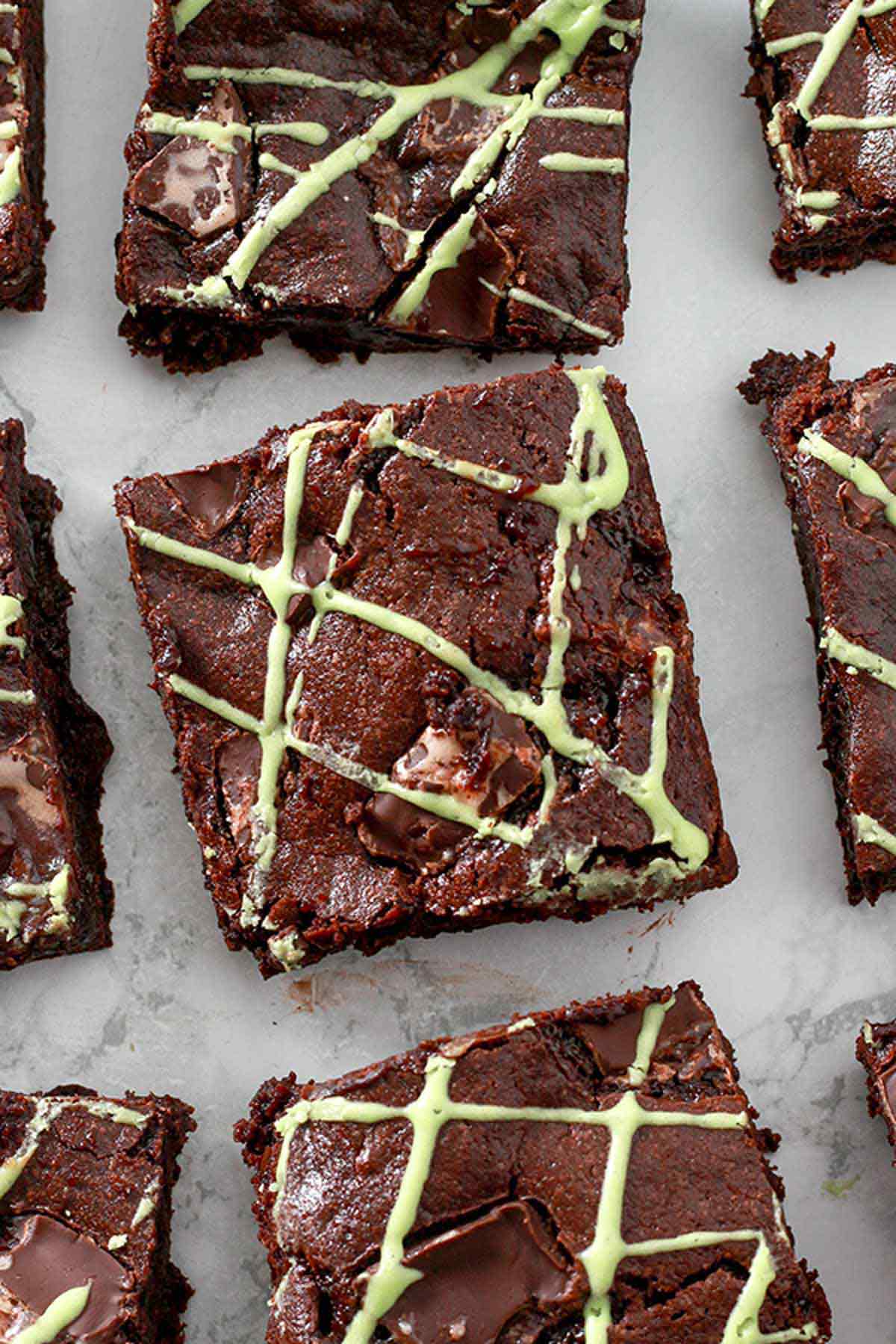 If you loved After Eights before going vegan, you'll love these brownies. The classic flavour combo chocolate and peppermint in fudgy brownie form.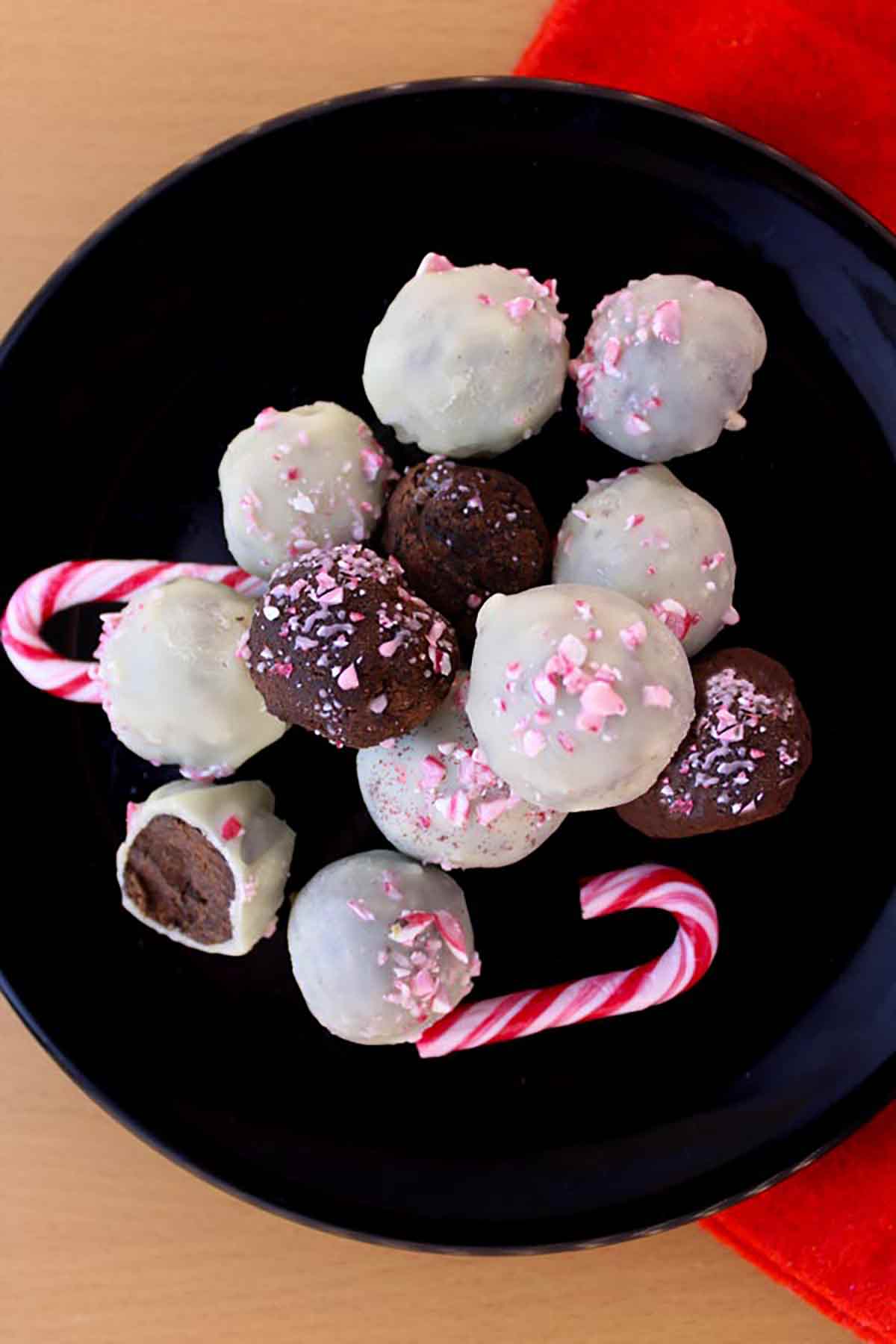 These truffles would make a super cute edible gift for the festive season. Chocolate peppermint truffles coated with dairy-free white chocolate. The perfect vegan peppermint dessert!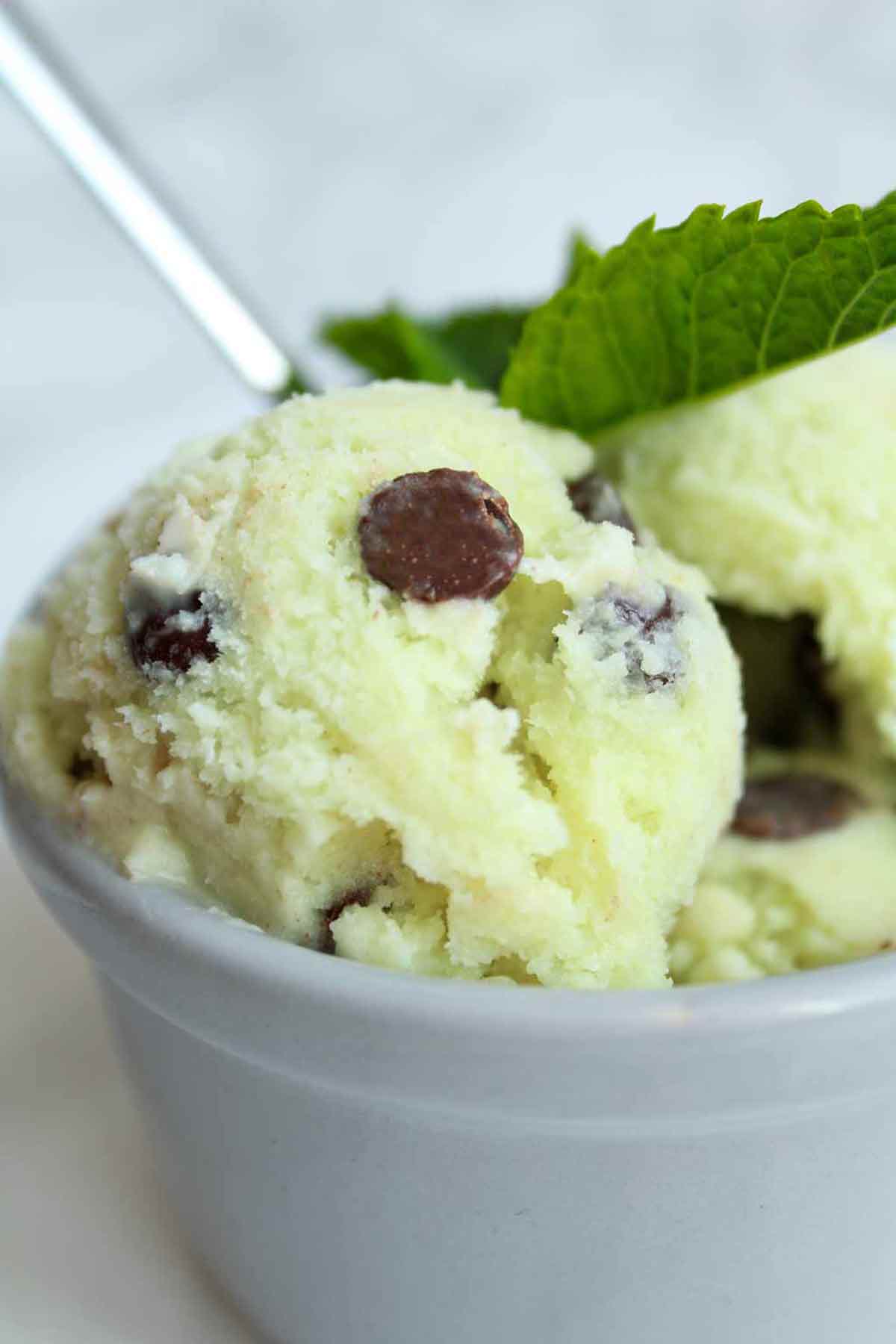 Mint chocolate chip is THE best ice cream flavour in my opinion! Now you can make your own dairy-free version using coconut milk.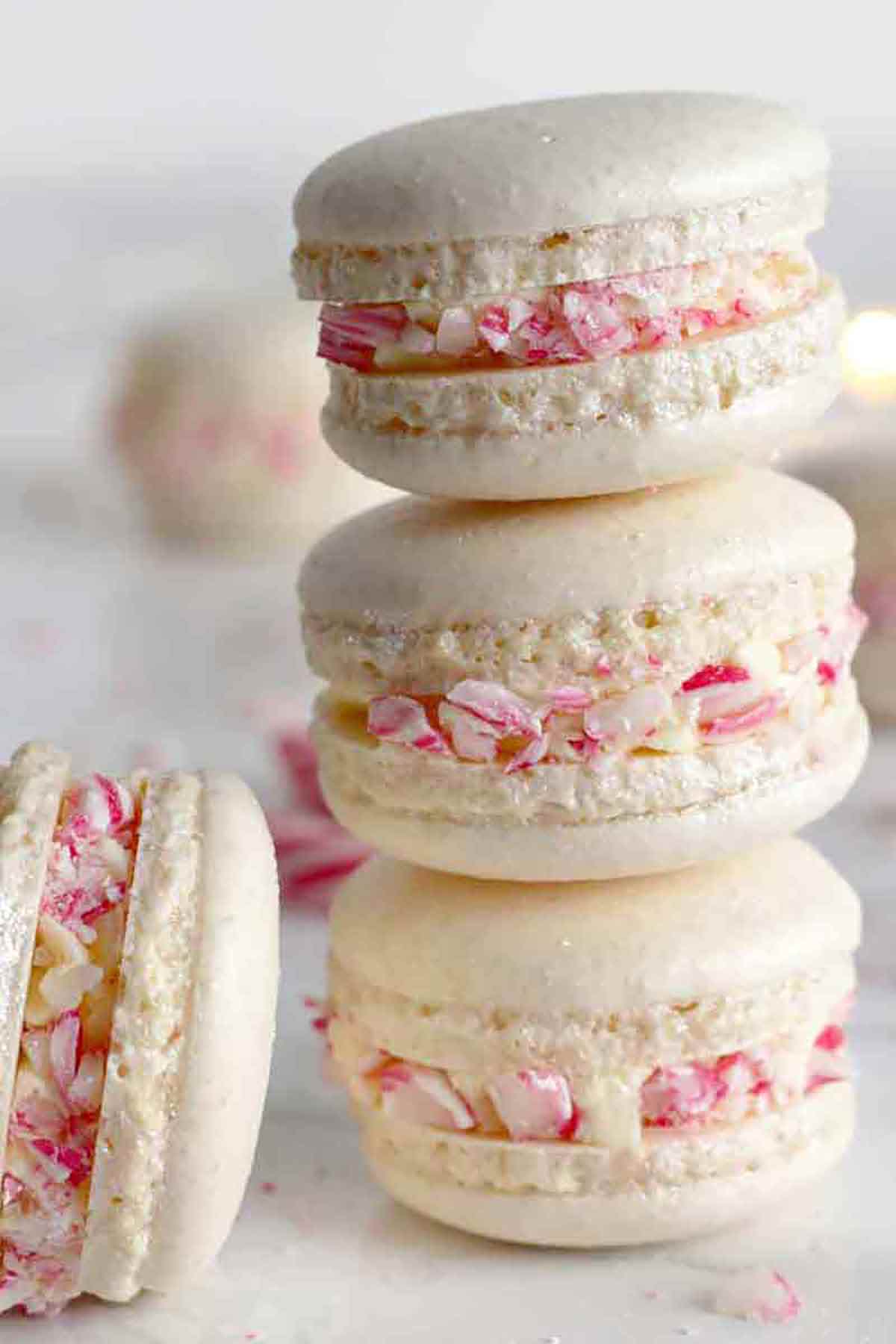 This recipe is a little trickier than most but the results are so worth it! Beautiful white macarons with peppermint buttercream and candy cane pieces.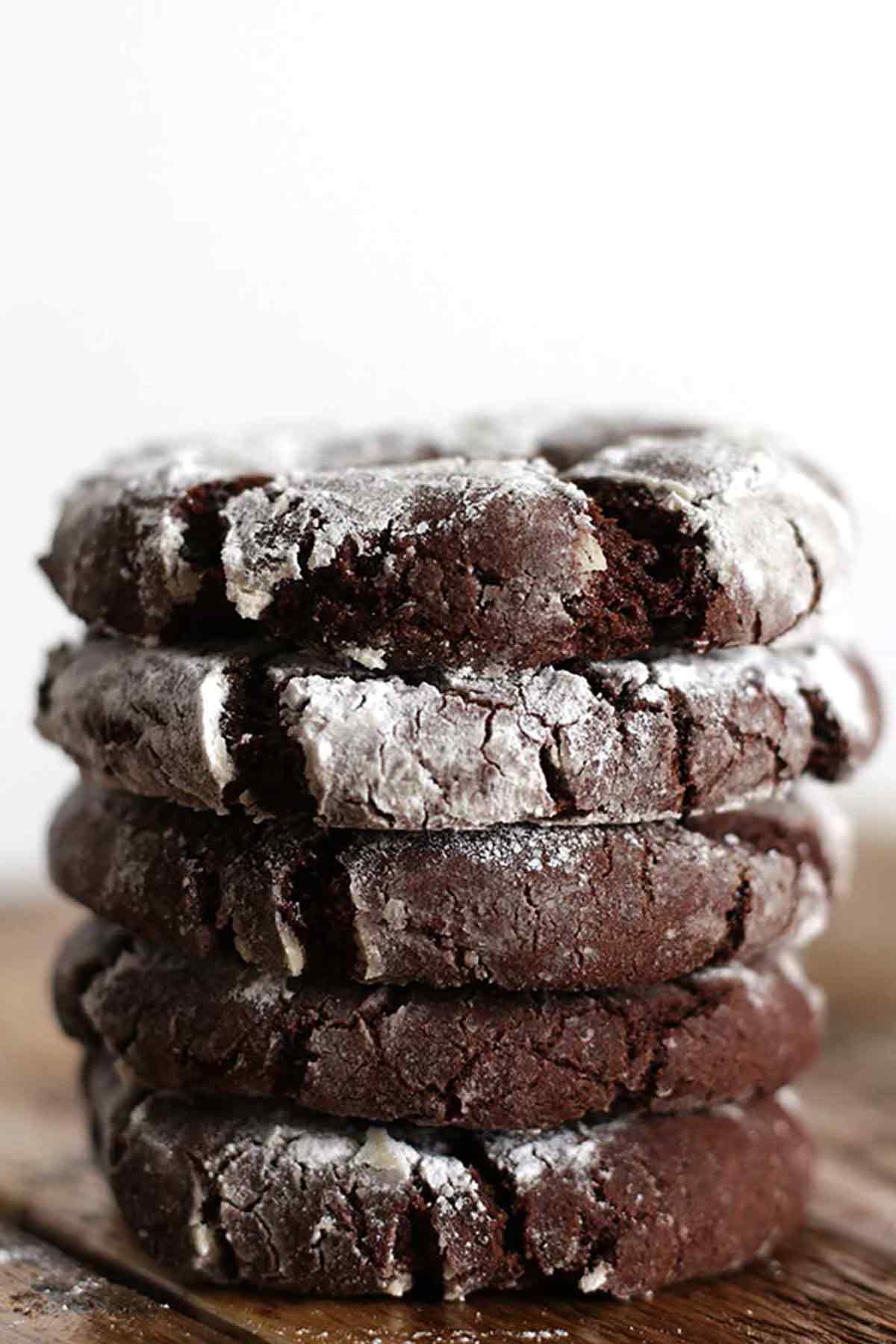 These chocolate crinkle cookies can be flavoured with either peppermint or orange. They're super fudgy and chewy.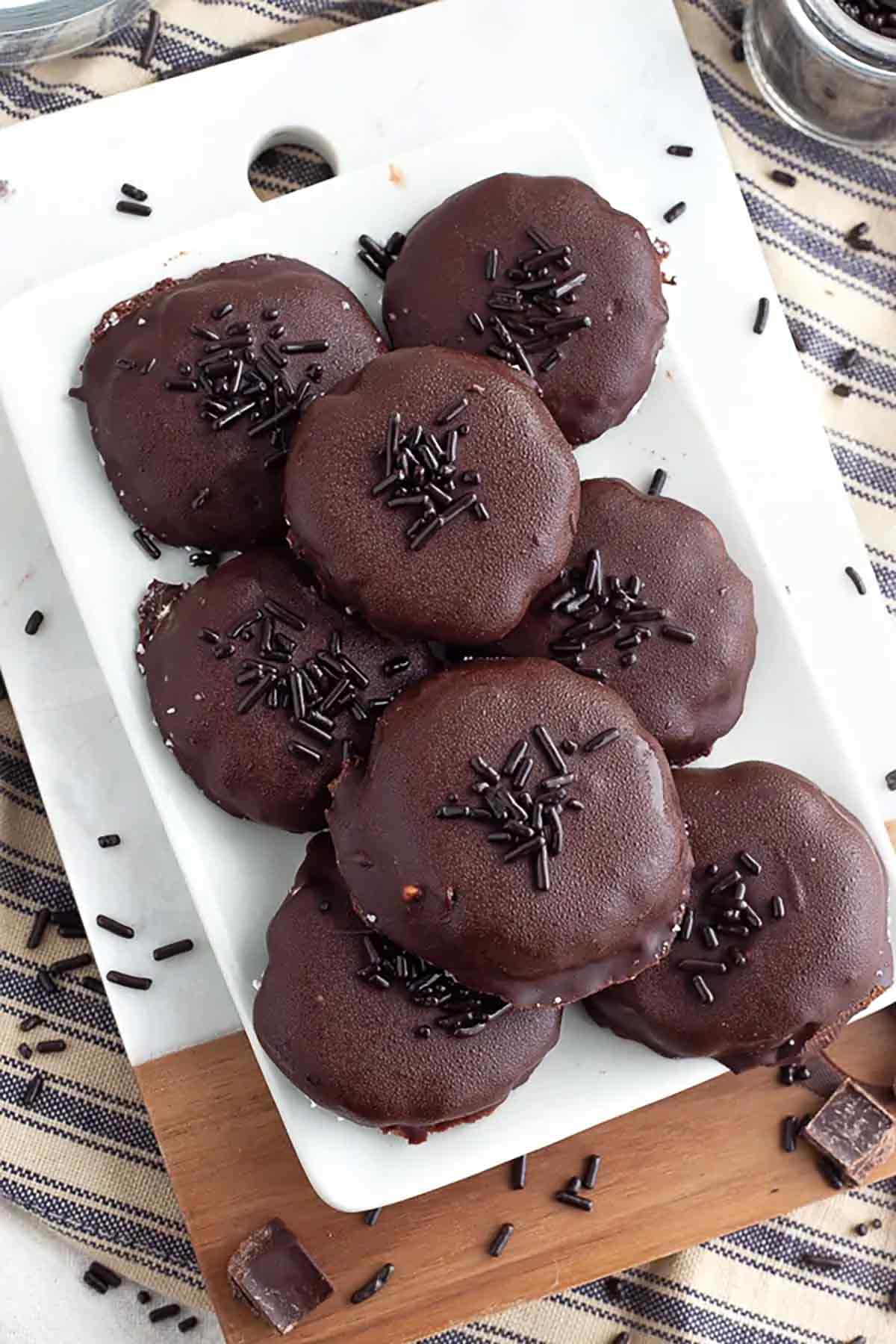 These vegan peppermint patties have a creamy, sweet and minty filling surrounded by smooth dark chocolate – the perfect homemade dairy free candy to share!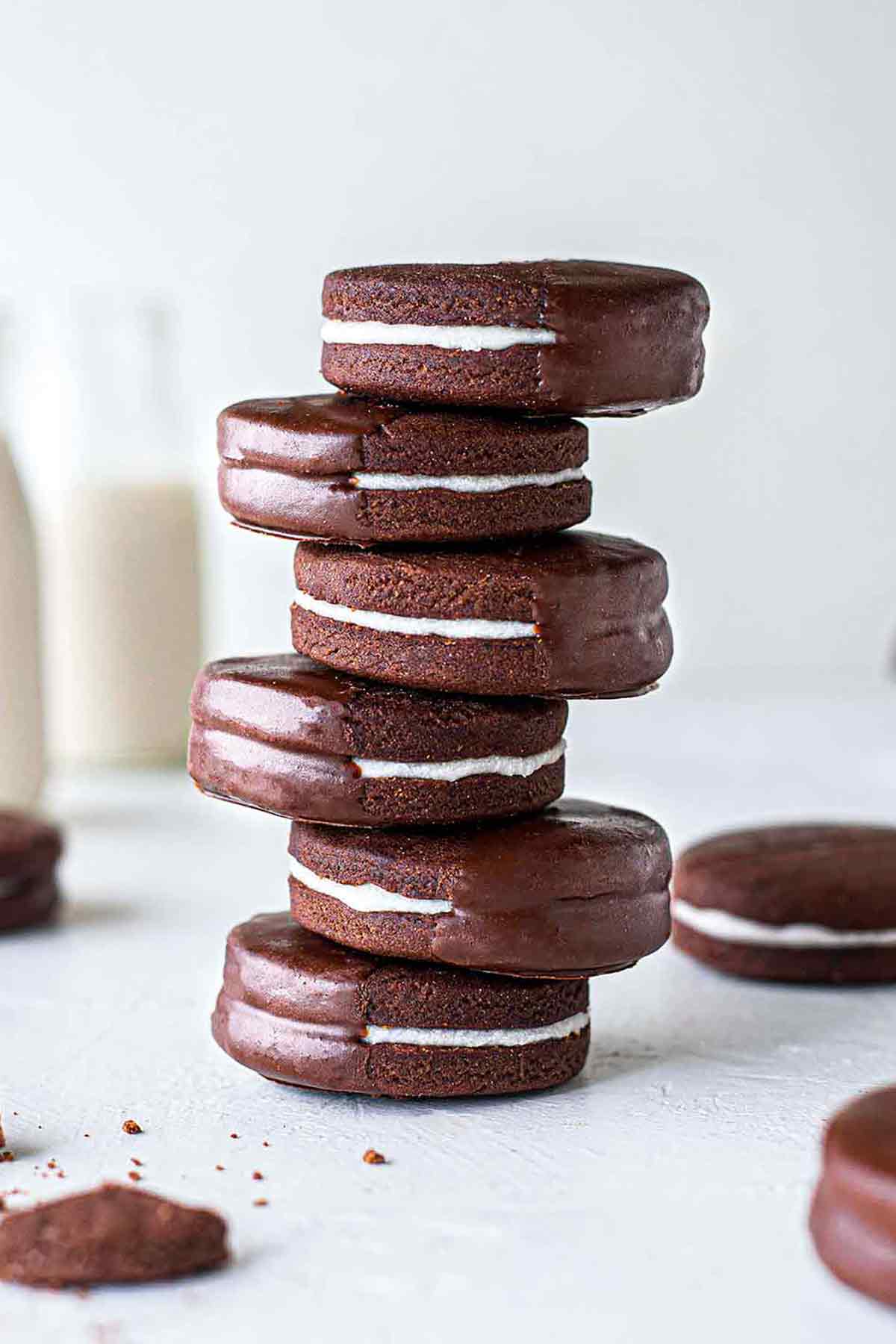 Vegan mint cookie sandwiches with chocolate Oreo-like cookies and a sweet peppermint cream. Simple and tastes like childhood!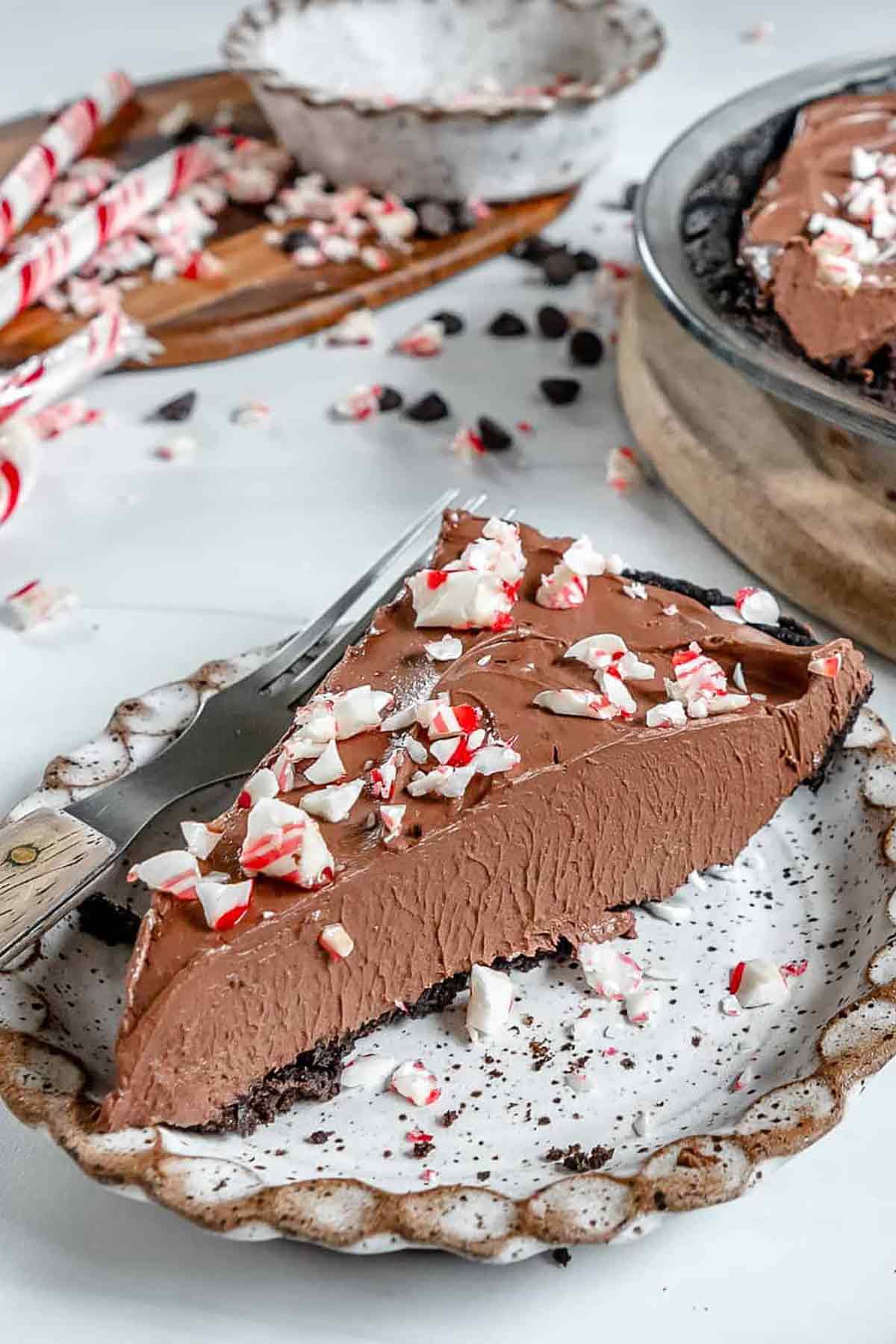 This vegan chocolate peppermint pie combines a chocolate pie crust with a creamy silken-tofu chocolate-peppermint filling, all topped off with crushed candy canes, and is the perfect fuss-free holiday dessert.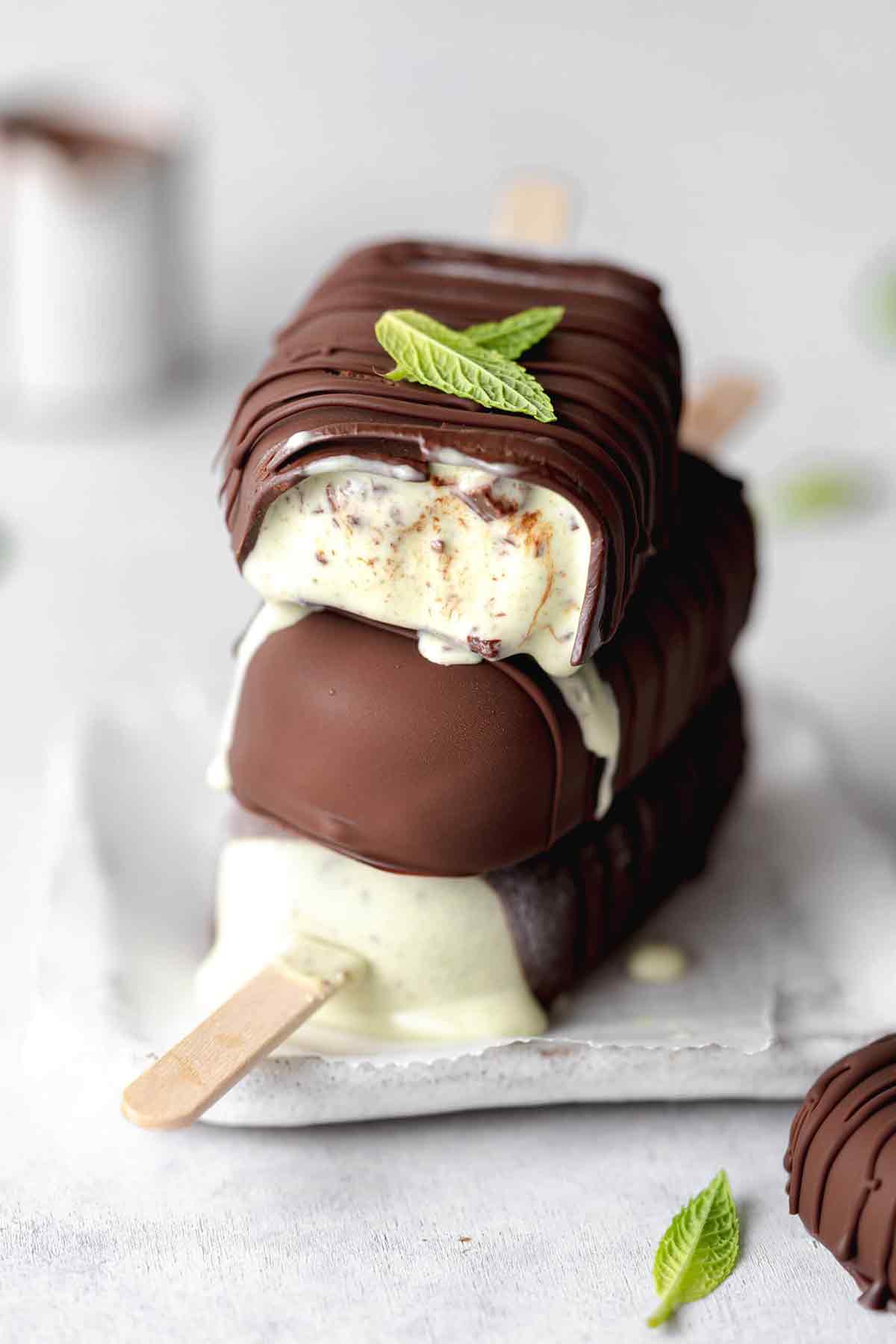 Delicious vegan mint chocolate chip ice cream bars made using just 6 ingredients. No need for an ice cream machine and they're perfect any time of year!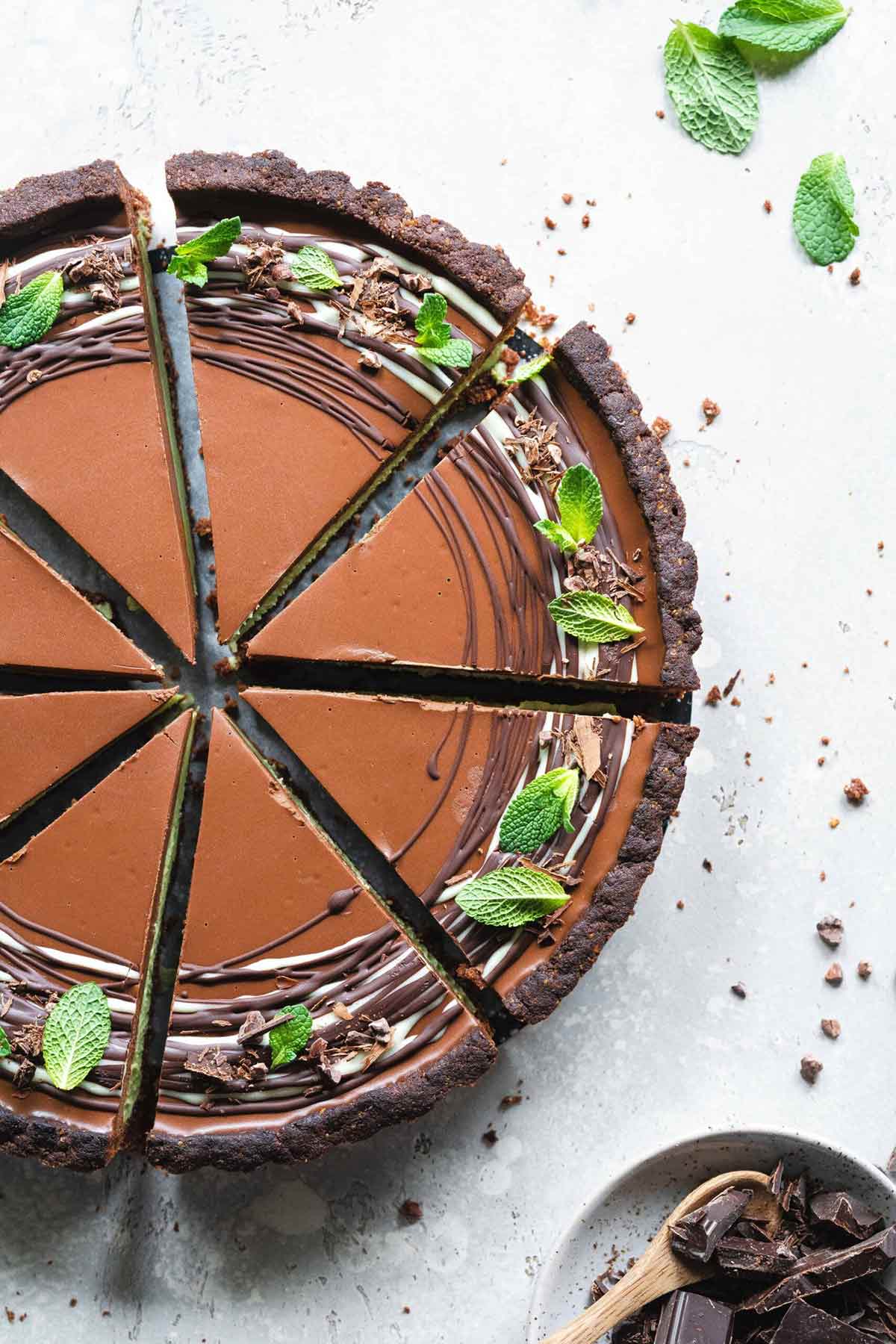 Vegan mint chocolate tart with layers of chocolate shortbread, mint and chocolate ganache. Easy to make and gluten-free.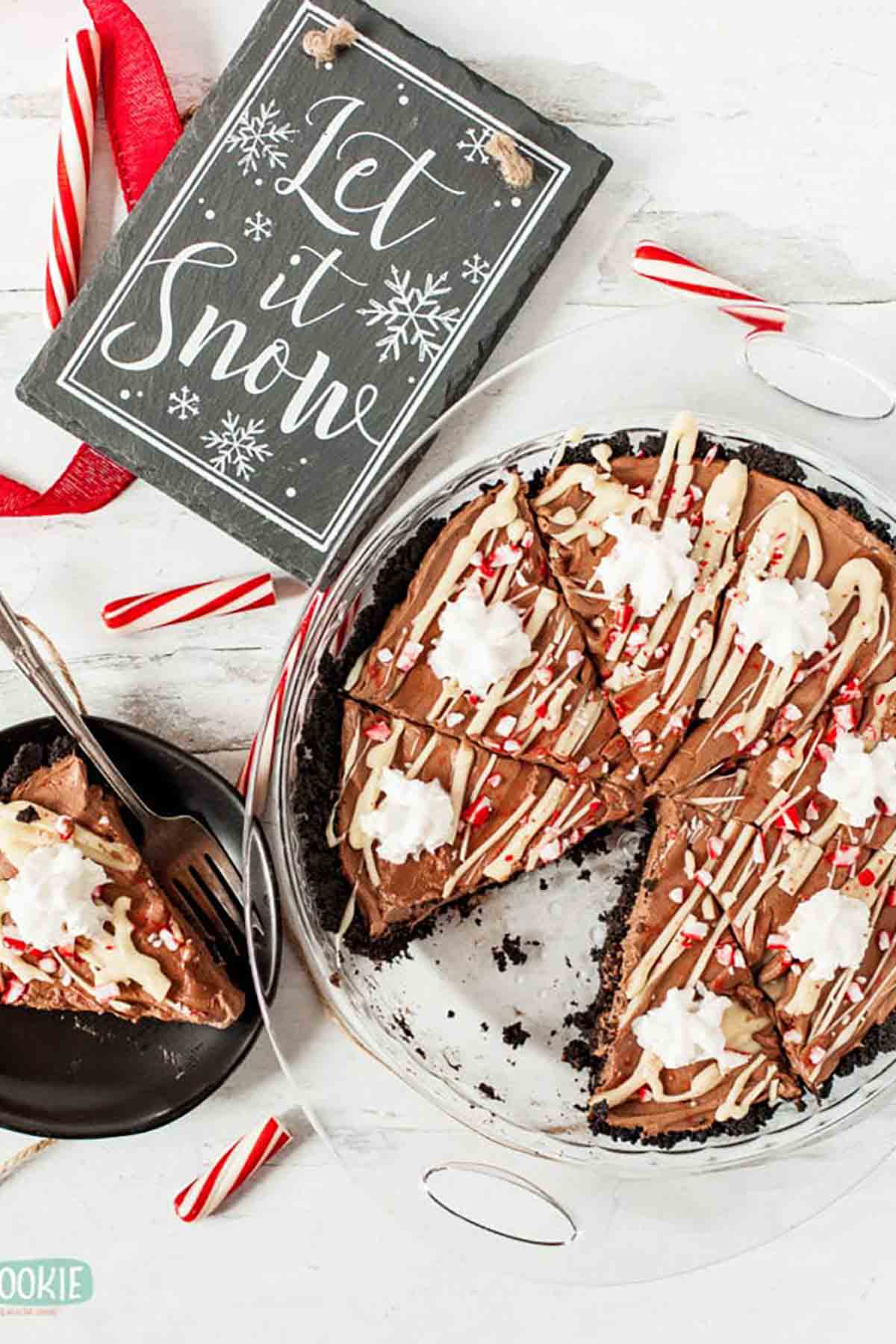 Looking for a vegan peppermint dessert to share? This cheesecake is perfect! A cookie crust with a creamy chocolate peppermint filling. Delicious!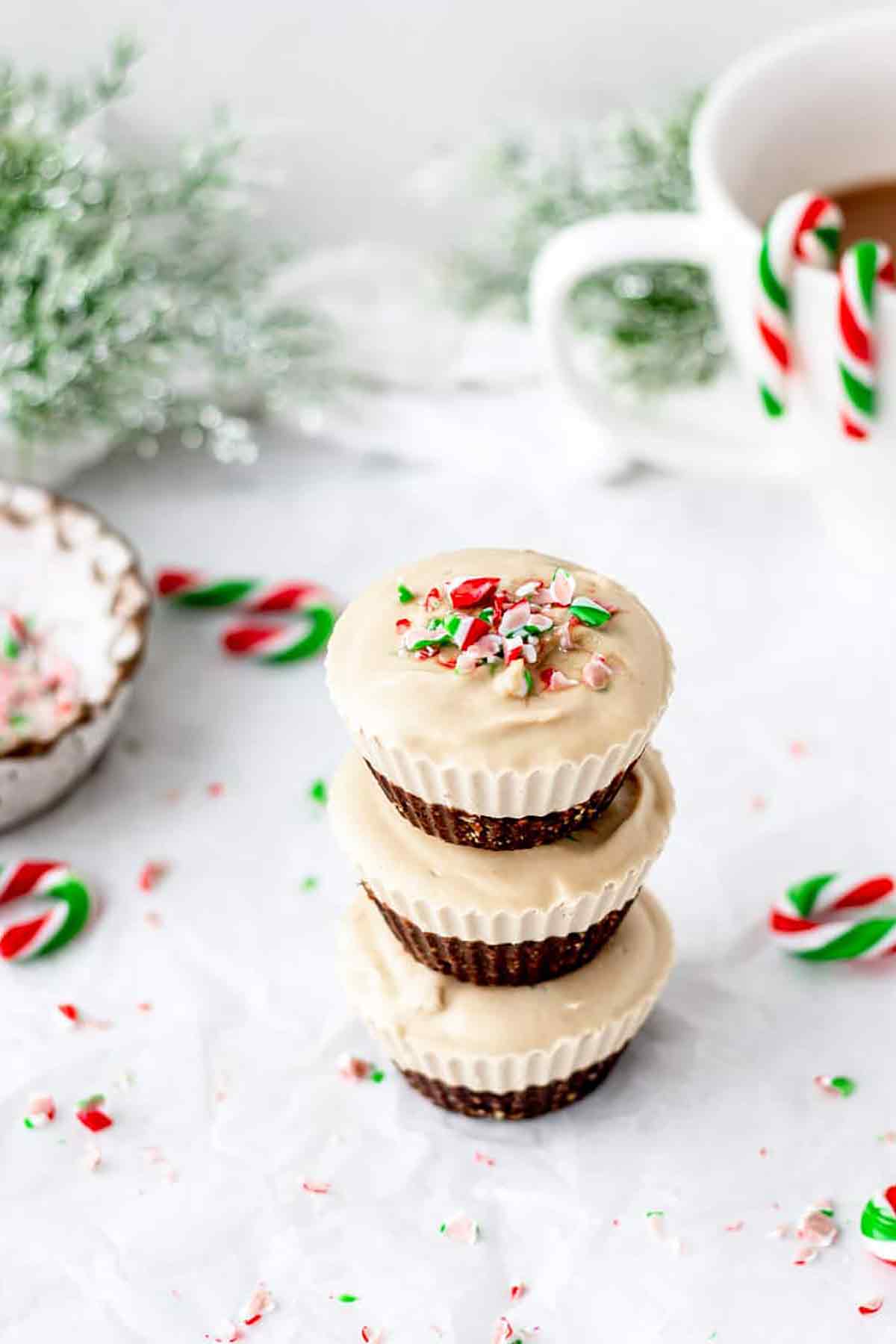 Made with a raw cashew filling without refined sugar, these cheesecake bites are a little healthier than traditional cheesecake. They're perfect for freezing so you can always have some on hand.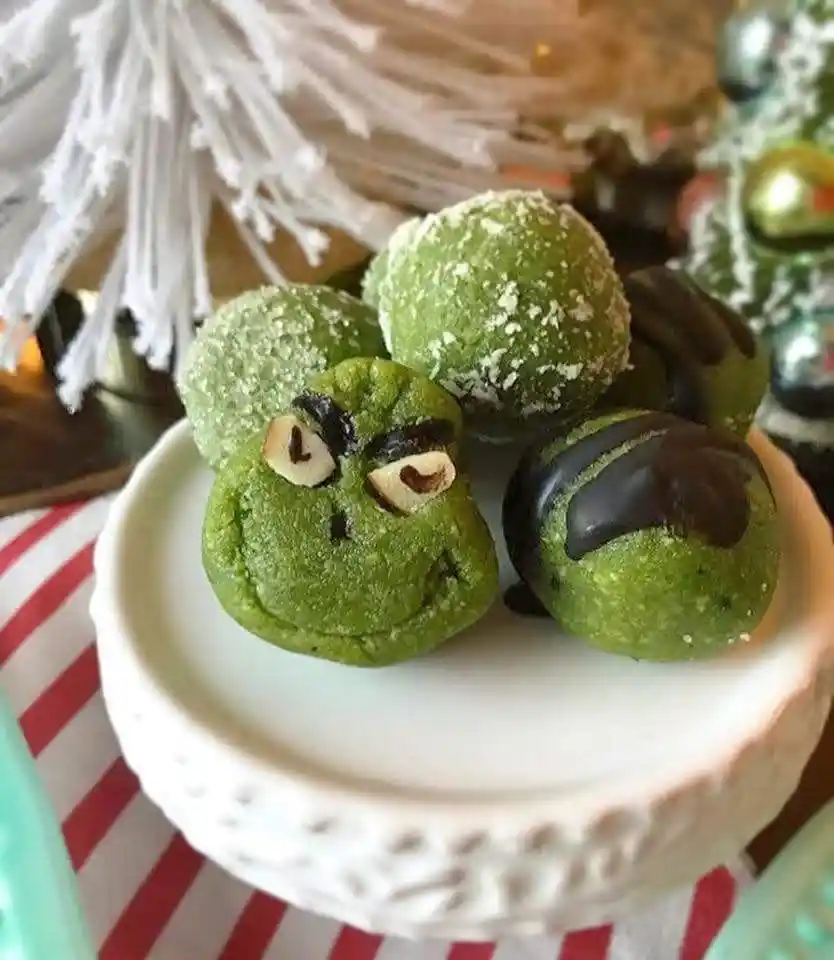 These Grinch pops are a great health treat with no added dyes or refined sugar. I think they'd be perfect for childrens parties!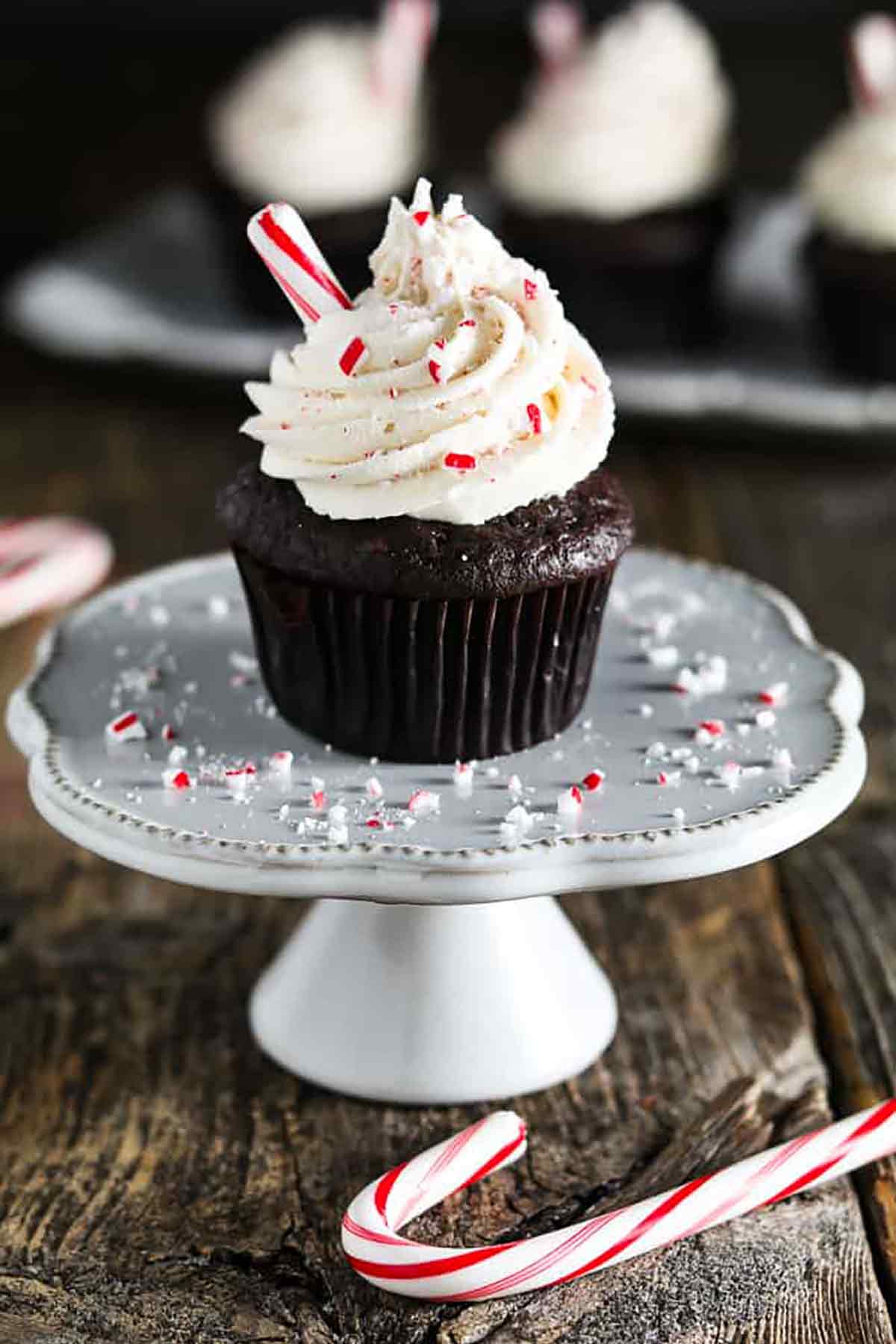 Vegan Chocolate Peppermint Cupcakes- the combination of rich chocolate, sweet buttercream, and cooling peppermint will bring on holiday cheer!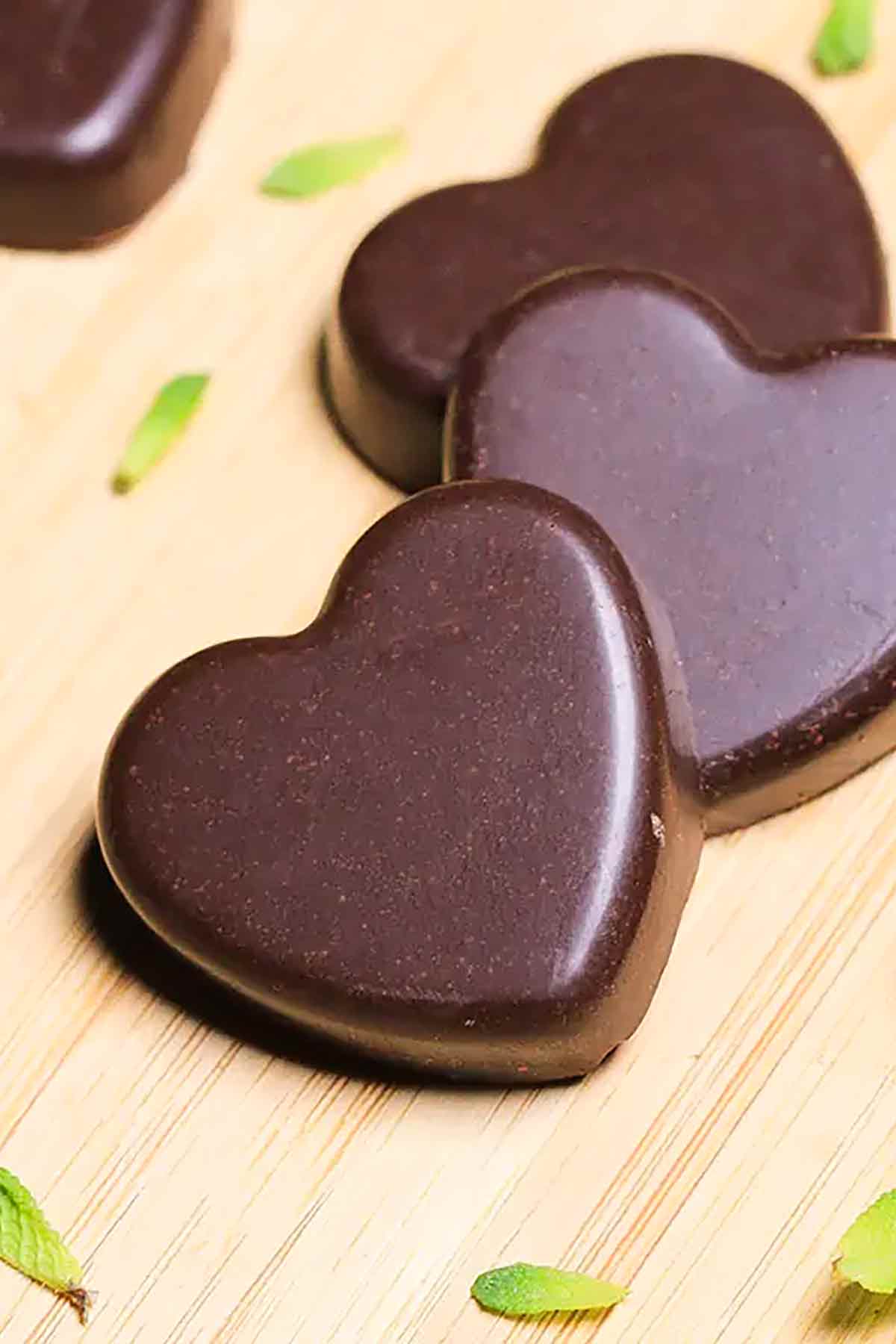 Never made your own chocolate before? This recipe is the perfect place to start. These chocolates contain only 4 ingredients and are free from refined sugar.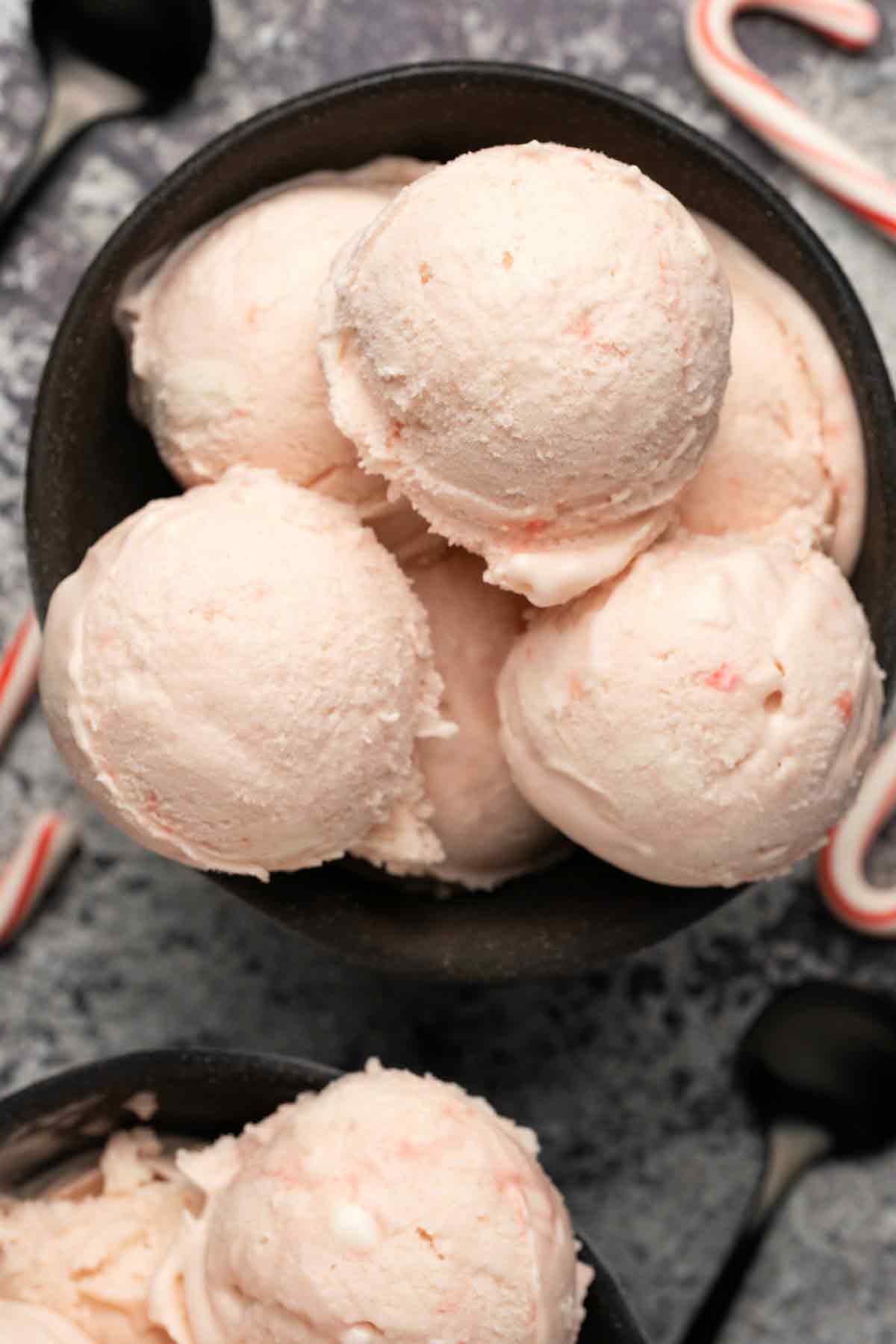 This peppermint ice cream with crushed candy canes makes a tasty holiday treat. It's made with cashew milk for an extra creamy texture!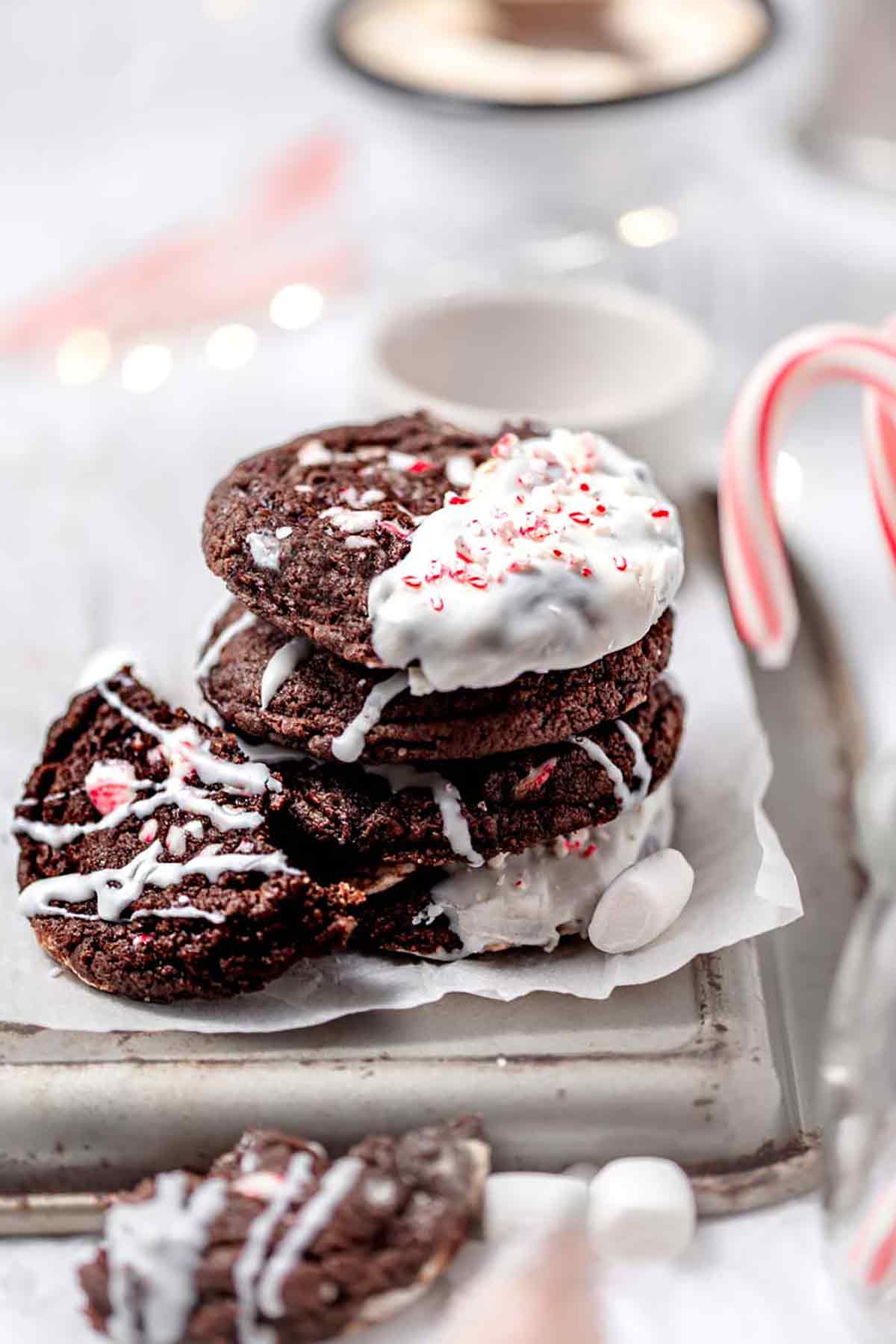 If you love mochas, you'll love these cookies! Soft and fudgy, infused with espresso flavour and dipped in dairy-free white chocolate.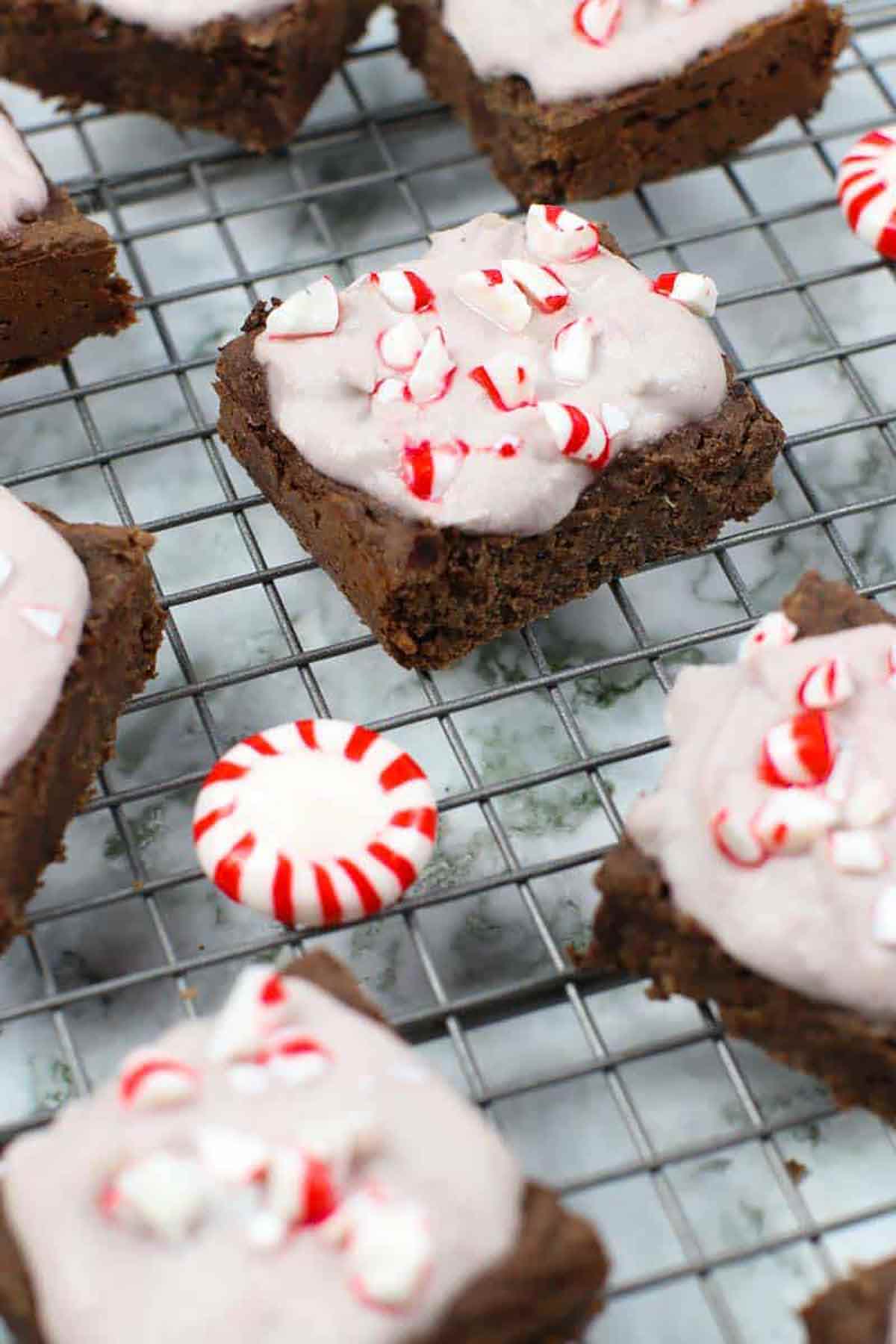 How festive do these brownies look?! Made with healthier ingredients and packed with fibre, they are a great alternative to traditional brownies.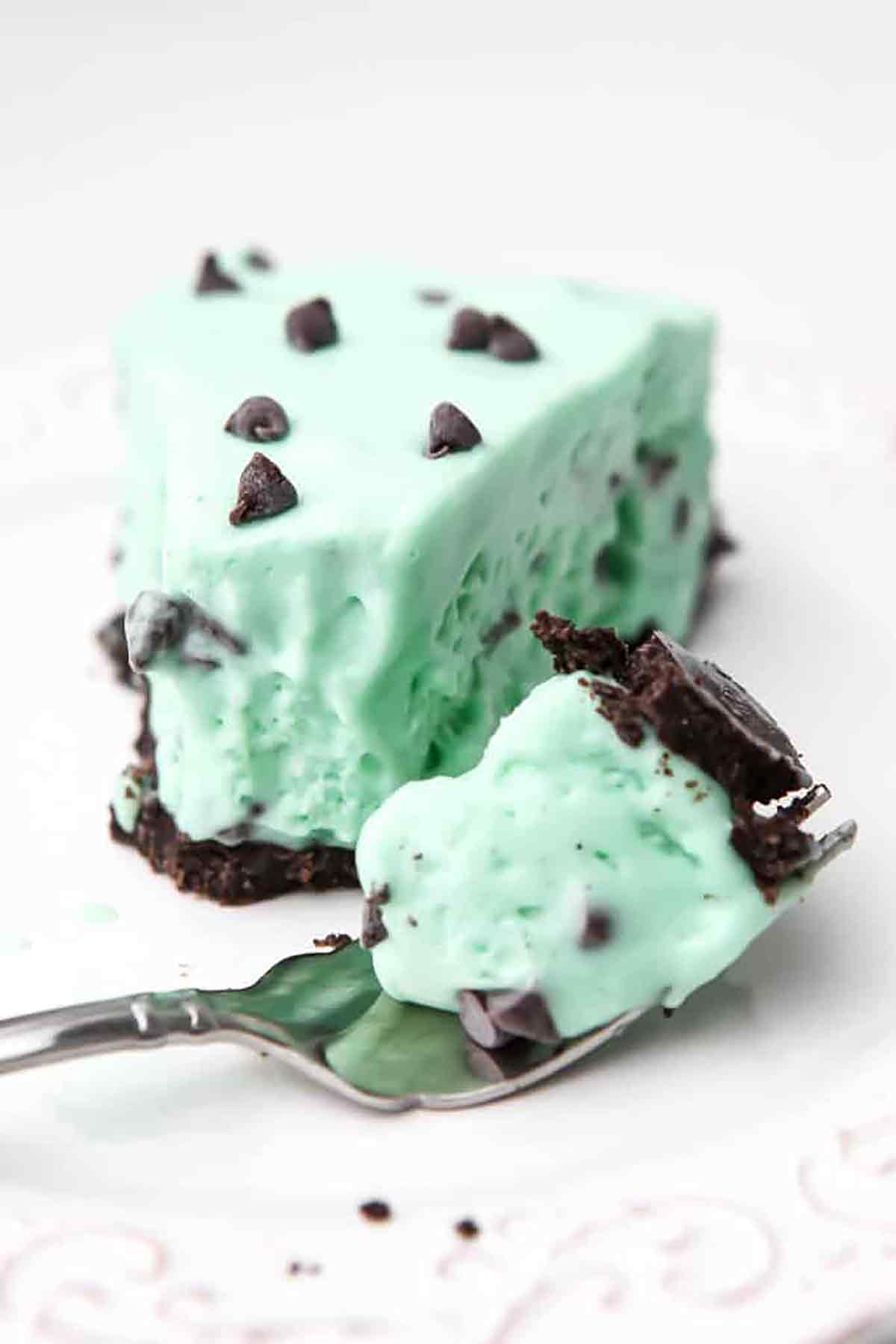 A vintage frozen mint pie with a chocolate cookie crust. It takes just 20 minutes to prepare then you can let the freezer do the rest of the work!

20 Vegan Peppermint Desserts
The best dairy-free peppermint dessert recipes!
That's all for now. I hope you enjoy these delicious vegan peppermint desserts. If you make any of them yourself at home, please let me know how you get on by leaving a rating and/or comment below. Happy baking! xo
BakedByClo is a participant in the Amazon Services LLC Associates Program, an affiliate advertising program designed to provide a means for sites to earn advertising fees by advertising and linking to Amazon.com. This site may contain some of these links to Amazon.com & other affiliate programs. If you make a purchase through one of those links, BakedByClo will receive a small commission from the purchase at no additional cost to you.