Is Filo Pastry Vegan?
Filo is a super thin pastry that is believed to have originated in Turkey. It is crispy with a buttery flavour and is used in a variety of sweet treats and savoury dishes. But is filo pastry vegan? Let's take a look at the ingredients and see.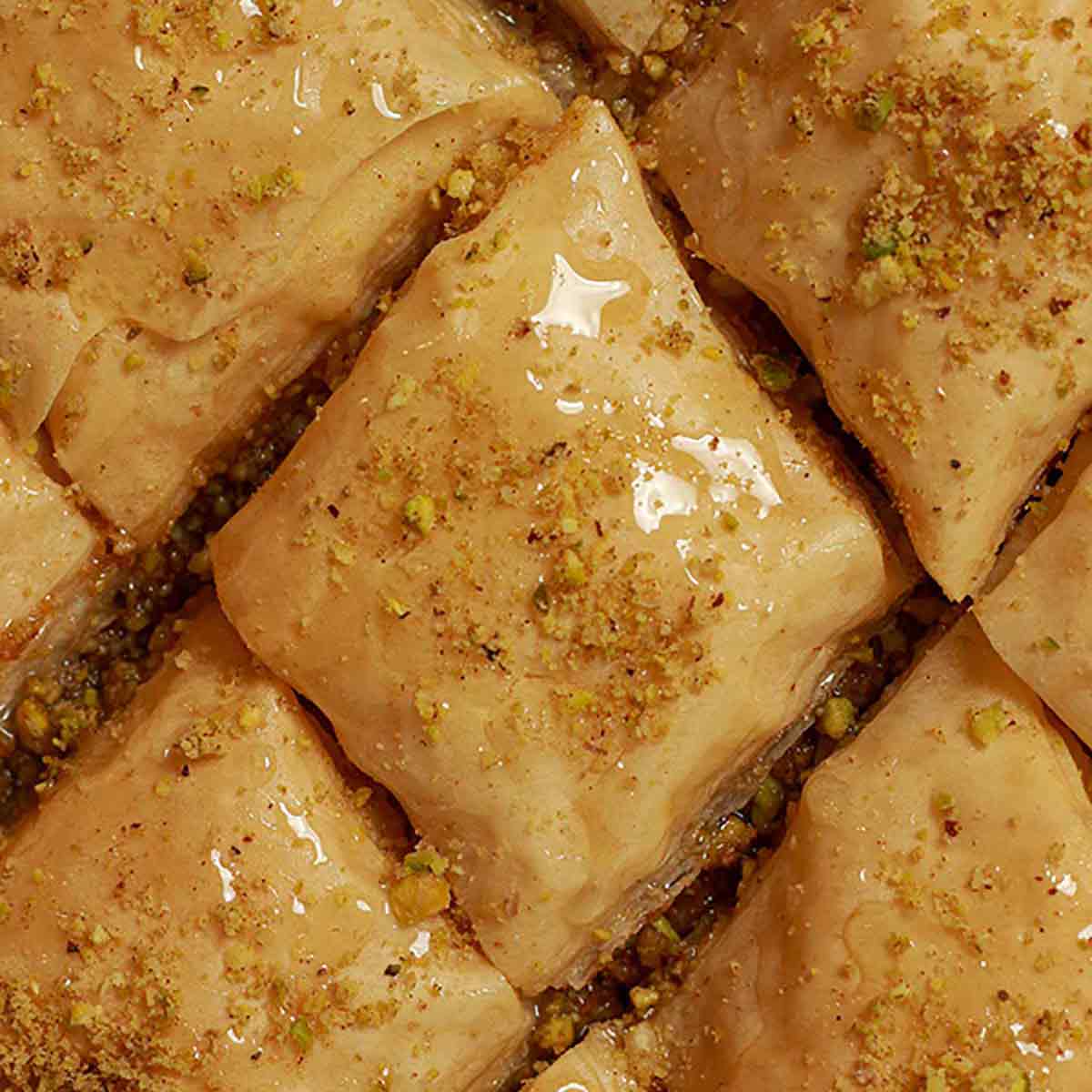 What is filo pastry made of?
Traditionally, filo pastry is made from scratch using flour, water and oil (sometimes people may use butter). Since the invention of ready-made filo pastry came around, it is very rare for people to make filo pastry from scratch because it's such a finickily process. So I picked a few of the most popular brands in UK supermarkets to examine the ingredients.
Just Rol
Jus Rol filo pastry contains the following ingredients: Wheat flour, water, corn starch, humectant: glycerol, salt, preservative: potassium sorbate, flour treatment agent: L-cystein.
Theos
Theos filo pastry contains: Wheat Flour (contains Calcium Carbonate, Niacin, Iron, Thiamine) Water, Sunflower Oil, Potassium Sorbate, Calcium Propionate, Vegetable Glycerine, Salt, Maize Starch
Asda
Asda's filo pastry ingredients are: Fortified Wheat Flour [Wheat Flour, Calcium Carbonate, Iron, Niacin (B3), Thiamin (B1)], Water, Sunflower Oil, Salt, Dextrose, Preservatives (Potassium Sorbate, Calcium Propionate)
Is it vegan?
Yes. As you can see from the ingredients listed above, there are no animal products in any of the brands, meaning filo pastry is vegan friendly. Asda and Theos filo pastry are both certified vegan with the vegan logo, and Jus Rol is listed as vegan on all of the UK supermarket websites.
Other types of ready-rolled pastry
The other two most popular types of pastries for baking are shortcrust and puff pastry.
Shortcrust pastry is most commonly used as a base for pies and tarts. If made from scratch, it usually contains butter and is therefore not dairy-free or vegan. It's very easy to make shortcrust pastry with dairy-free margarine instead though. Many of the ready-rolled shortcrust pastries you'll find in the supermarket are accidentally vegan so just look out for the vegan symbol if you're unsure.
Puff pastry is often used for flaky pies and sweet bakery items such as apple turnovers. It is much more flaky than other types of pastry. Much like shortcrust pastry, puff pastry is usually made with butter if made from scratch, but is almost always accidentally vegan if you buy it ready-made.
How to use filo pastry
Filo pastry is a very delicate pastry and must be handled with care. The sheets are paper-thin!
To prevent it from tearing, you should let it sit out at room temperature for at least 2 hours before you plan to use it. If you use it straight from the fridge, it will be a little less flexible and more prone to cracking or tearing.
Once you open the packet, the pastry will begin to dry out quite quickly. Because you'll probably be spending a lot of time layering and (vegan) buttering your filo sheets, you can store it under a damp tea towel to keep it moist and prevent it from drying out.
One of the most popular recipes to use filo pastry with is baklava and luckily, I have dairy-free and honey-free baklava recipe! Other things you can make with it include samosas, tarts and pies.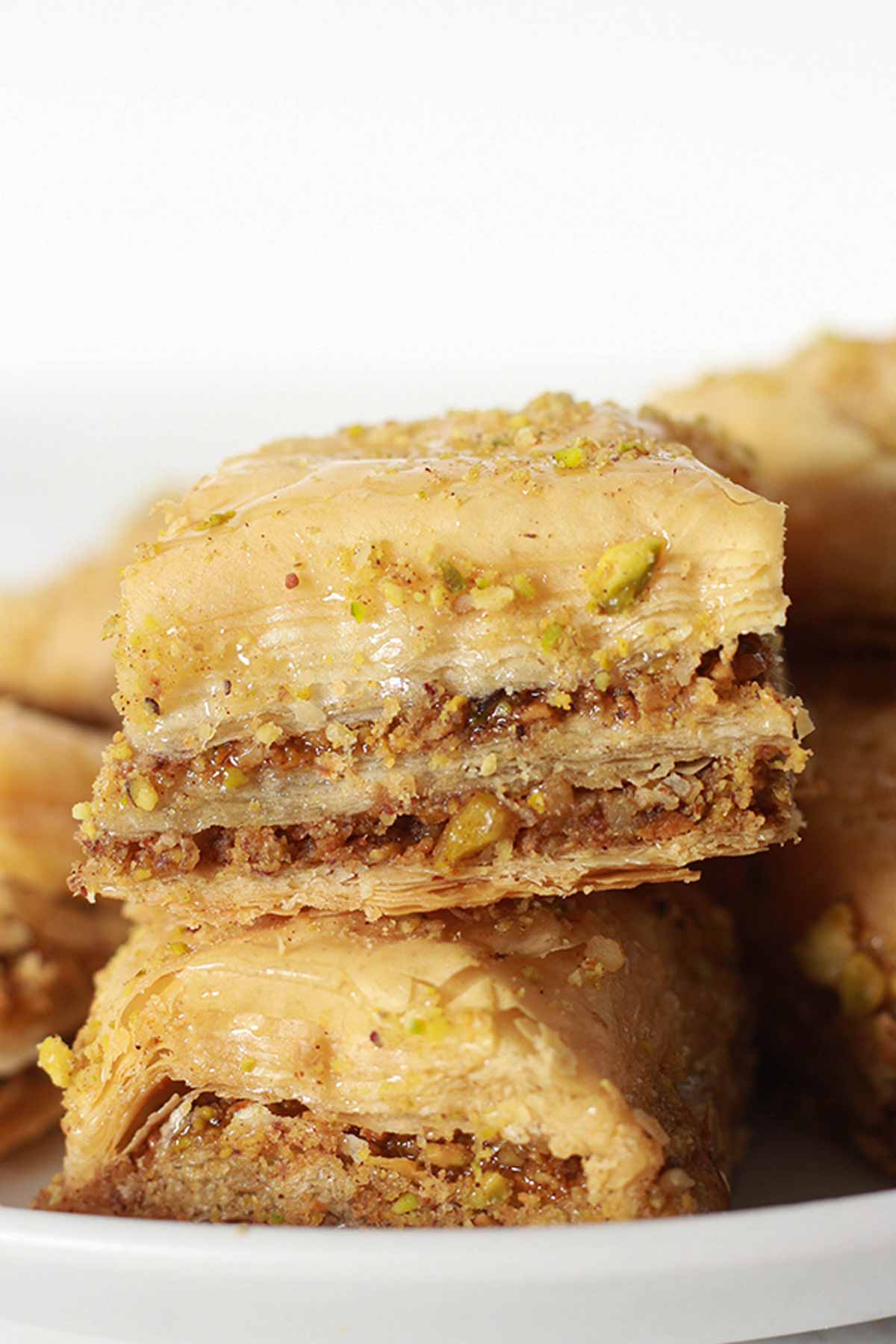 Summary
Is filo pastry vegan? It sure is! It's almost always made with oil instead of butter if you buy it ready-made. It can be enjoyed by those on a vegan or dairy-free diet, to make tasty treats such as baklava and flaky pies.
BakedByClo is a participant in the Amazon Services LLC Associates Program, an affiliate advertising program designed to provide a means for sites to earn advertising fees by advertising and linking to Amazon.com. This site may contain some of these links to Amazon.com & other affiliate programs. If you make a purchase through one of those links, BakedByClo will receive a small commission from the purchase at no additional cost to you.