Is Panettone Vegan? Here's What You Should Know
It's a popular Christmas dessert, enjoyed by many people around the world, but is Panettone vegan? Here's everything you need to know!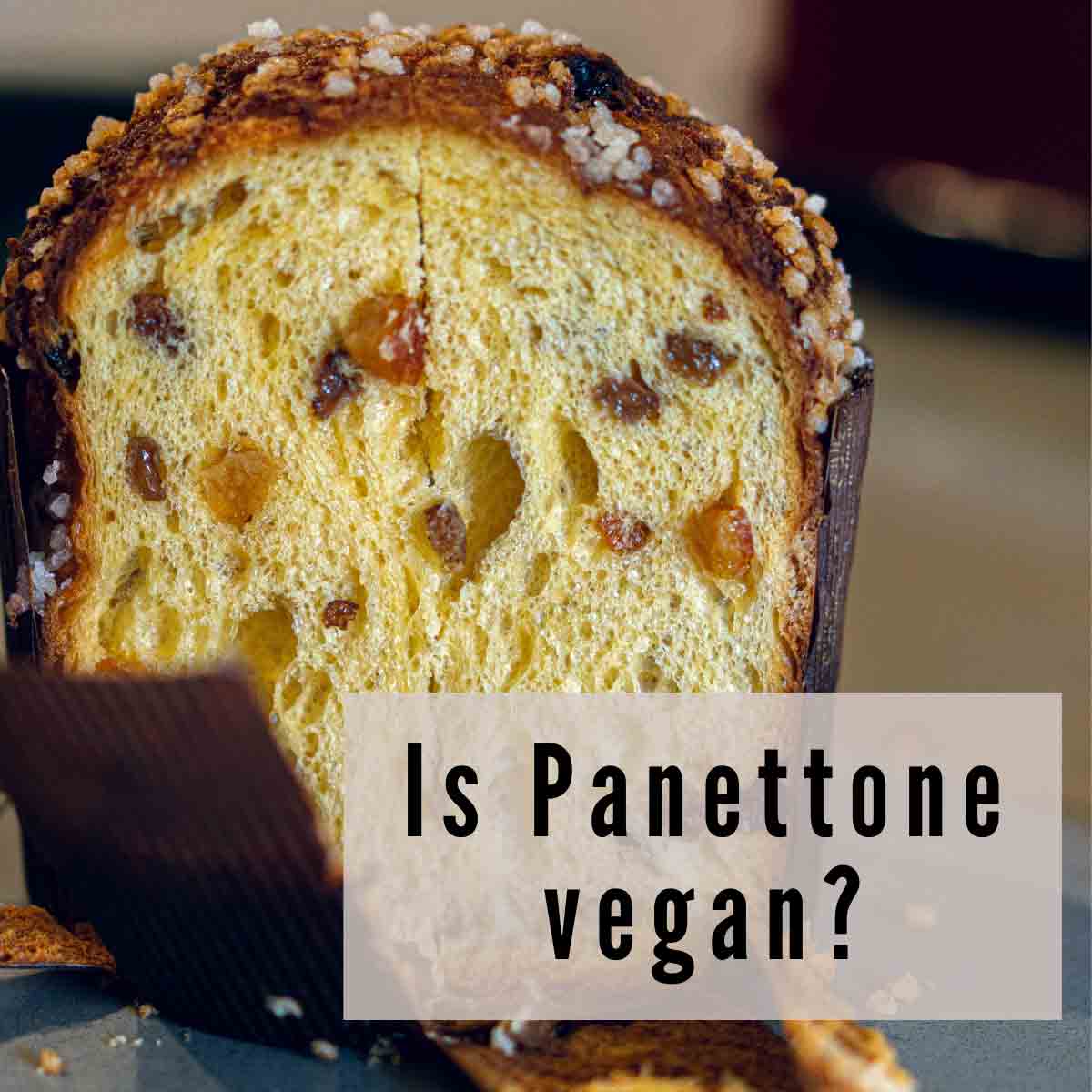 If you've ever taken a look around the supermarkets at Christmas time, you've probably seen the whimsical dessert bread that is Panettone. It's an iconic, dome-shaped Italian Christmas bread, with a delicate crumb and lots of candied fruits inside.
Panettone is thought to have been first made in Milan, Italy. There are many theories about its origin, but one popular story is that the dessert was burnt during the Duke's Christmas banquet. In order to save the day, a young kitchen assistant named Toni put together a concoction of ingredients that were left in the kitchen, such as eggs, butter, and candied fruits, to make a sweet bread. The bread, referred to at the time as "Pan de Toni" or "Toni's bread," is believed to have laid the foundation for the modern Panettone we enjoy today.
Although this is a great story, it's crucial to acknowledge the lack of historical documentation. Nevertheless, Panettone's Italian roots are widely accepted, and these days it is enjoyed and known globally as an Italian Christmas dessert.
Is Panettone vegan?
Unfortunately, traditional Panettone is not vegan because it contains animal products such as eggs and butter. However, it is possible to make your own vegan version with dairy and egg-free ingredients.
This Panettone recipe is made with vegan ingredients and looks delicious!
Related post: Is Stollen Vegan?
Is panettone gluten-free?
No, traditional panettone is not gluten-free. It's typically made with wheat flour which is not suitable for a gluten-free diet. There are gluten-free versions available to buy but sadly I've yet to find one that's gluten-free and vegan!
What's Panettone made of?
Let's take a look at the ingredients in a traditional panettone:
Butter. This is one of the key ingredients to Panettone's rich flavour and texture. Unfortunately, butter is not part of a vegan diet, as it stems from animal sources.
Eggs. Essential for both structure and moisture, eggs are commonly included in traditional Panettone recipes but sadly, eggs are not vegan.
Milk. The addition of milk enhances the dough's tenderness and gives this dessert its soft crumb. In traditional recipes, cow's milk is used.
Candied Fruits. Panettone usually includes a mixture of candied orange peel, lemon peel, and other dried fruits like raisins, cranberries, or cherries. Candied and dried fruits are usually vegan.
Flour. The backbone of Panettone, flour provides the structure. Flour is naturally vegan.
Sugar. The addition of sugar, alongside the candied fruits, is what makes Panettone more of a dessert than a classic bread. Sugar is vegan in the UK but this is not always the case in other parts of the world.
Yeast. Yeast is naturally vegan and is what helps the bread to rise.
Vegan-friendly adaptions
Vegan baking is a tricky science and it's not always as simple as switching out one ingredient for a vegan version, although this can sometimes work. With things like cake and bread, the egg replacement is the most crucial thing to get right. Using the wrong egg substitute can make your bread stodgy or dense.
You can try one of the many vegan Panettone recipes online but if you'd like to experiment with making your own vegan version using a traditional recipe, here's a quick guide to substitutes:
Eggs. In my egg substitutes for baking post, I mention how dairy-free buttermilk actually gives the best texture in bread and cake-like desserts. Check out this post for more information about quantities to experiment with.
Butter. There are lots of dairy-free butters available these days and they work great as a 1:1 swap for dairy butter in my experience. It's important to use the blocky type of vegan butter, not the spreadable type- the latter is 'wetter' and will produce an inaccurate result. My go-to butter replacement is Flora Plant.
Milk. Soy milk is best for vegan baking in my experience- it has not failed me yet! It has a higher protein content than other plant-based milks, meaning it acts more similarly to cow's milk. I always recommend using unsweetened for best results.
Vegan Panettone to buy
If you'd prefer just to buy a Panettone without animal products, here are some of the options available:
Holland & Barrett Panettone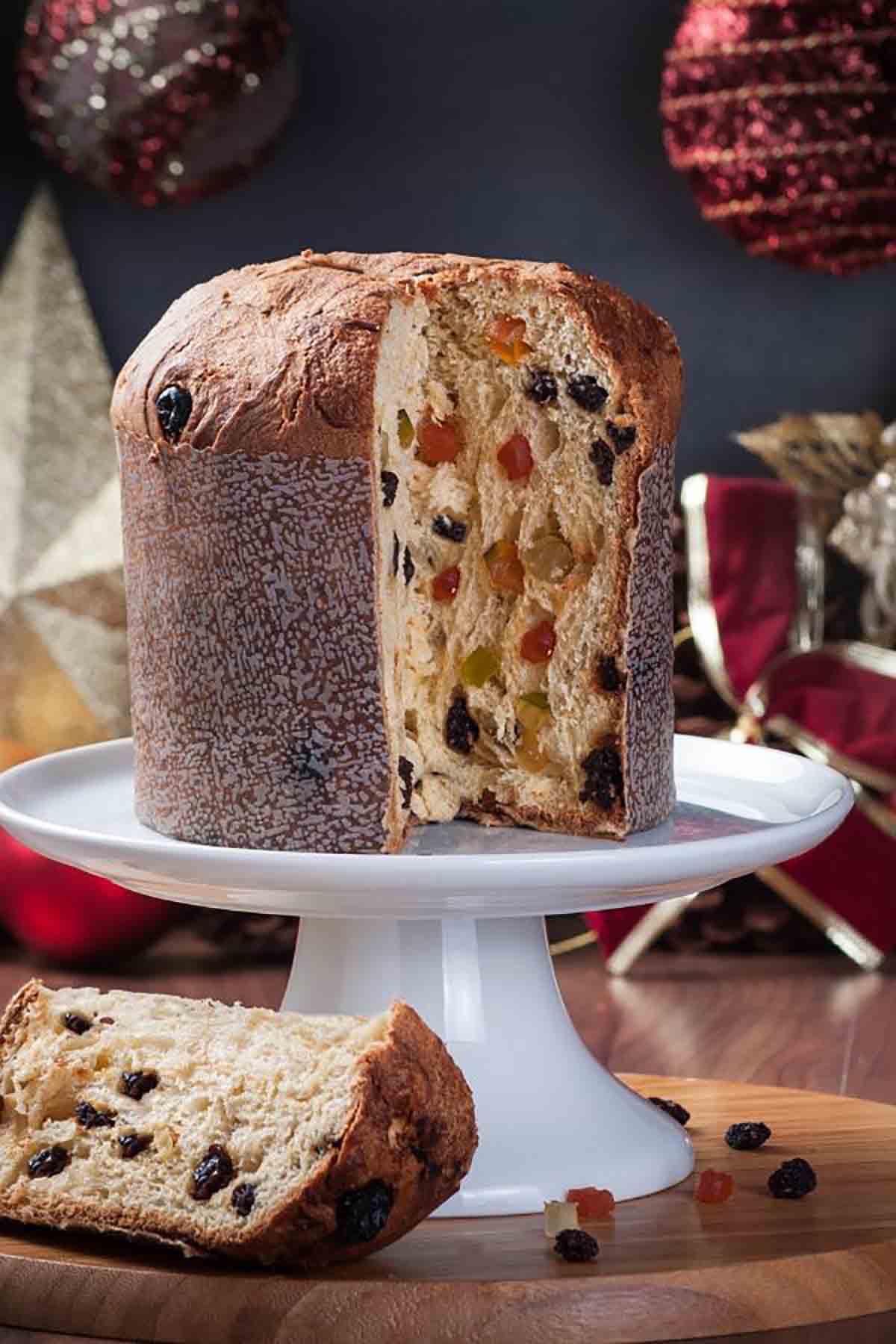 Summary
Traditional Panettone is not vegan as it's made with cow's milk, eggs and butter. It is not gluten-free because it contains wheat flour. There are a few vegan Panettones available for sale and you can make your own using alternatives to animal products such as dairy-free butter and soy milk.
BakedByClo is a participant in the Amazon Services LLC Associates Program, an affiliate advertising program designed to provide a means for sites to earn advertising fees by advertising and linking to Amazon.com. This site may contain some of these links to Amazon.com & other affiliate programs. If you make a purchase through one of those links, BakedByClo will receive a small commission from the purchase at no additional cost to you.