Is Stollen Vegan? Everything You Need To Know
This traditional German fruitcake is loaded with flavour and a touch of festive magic. But if you've clicked on this post, you're probably here to find out: Is Stollen vegan? Let's take a look at the ingredients to find out!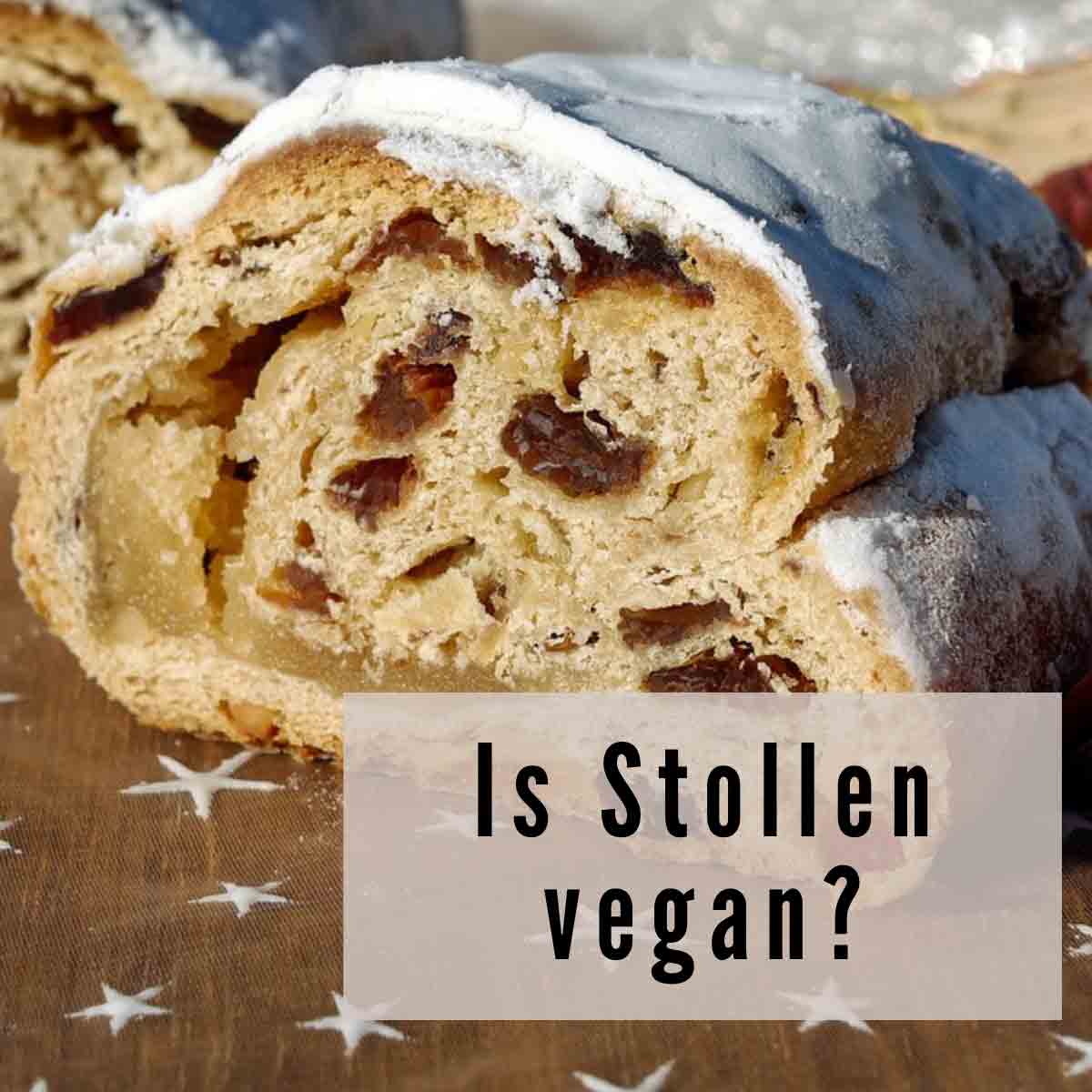 Christmas is a time for joy, togetherness, and of course, FOOD. I'm a longtime dessert blogger, so you can probably guess what my favourite course is!
I've veganised a lot of my old favourite festive desserts, including Yule log, pavlova, sugar cookies and lebkuchen. But one I have yet to try making without eggs or dairy is Stollen.
What is Stollen?
Stollen is a traditional German fruitcake, usually shaped like a bread loaf and covered with icing sugar. It's typically enjoyed at Christmas time and tastes delicious served alongside a hot drink. It also makes a gorgeous edible gift.
This iconic fruitcake is said to originate from Dresden, Germany, and its roots can be traced back to the 14th century. Stollen was originally a simple bread enriched with fats and dried fruits, but over the years, bakers began adding their own unique blends of spices, nuts, and candied fruits. The result was the Stollen that we all know and love today.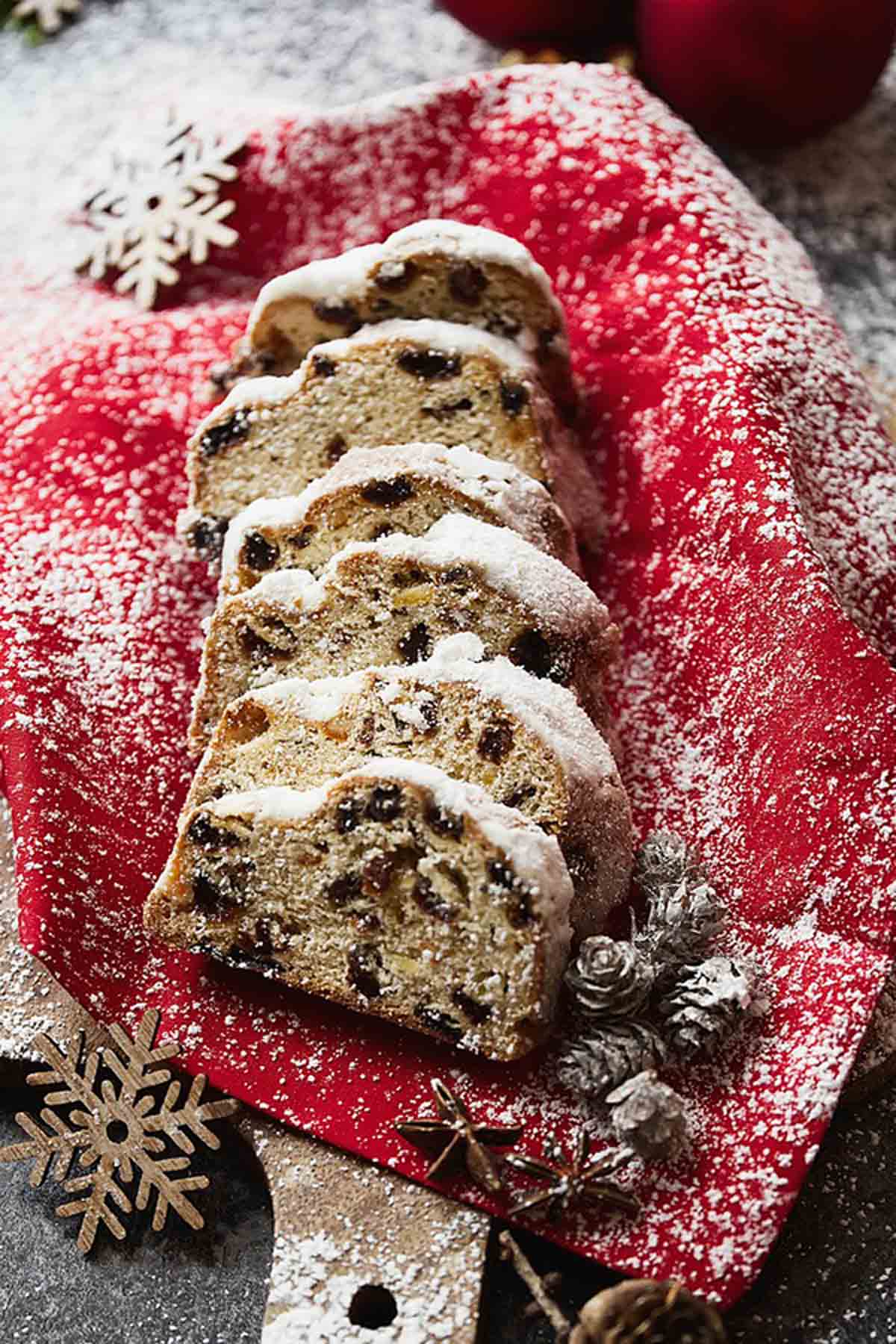 Is Stollen vegan?
Traditional Stollen is not vegan because it's made with eggs, milk and butter, all of which come from animals. However, vegan Stollen does exist- it can be made to a vegan recipe or it can be 'accidentally vegan', which is when a product is free from animal products even though it wasn't specifically made for vegans. One example of this is Aldi Stollen.
You can also make your own vegan Stollen from scratch using one of the many recipes online, or you can try experimenting with vegan swaps in a traditional recipe.
Related post: Is Panettone vegan?
Dairy-free butter is an easy 1:1 swap for dairy butter and milk can be swapped for an equal amount of soy milk, both of which will give an accurate result. The trickiest part about vegan baking is finding a suitable egg replacement. I personally find dairy-free buttermilk to be the best egg replacement for cakes and breads but this will take a bit of experimenting. If in doubt, you can just follow one of the many vegan Stollen recipes available online.
Is Stollen gluten-free?
No, traditional Stollen is made with wheat flour which is unsuitable for a gluten-free diet. If you cannot eat gluten, you can purchase gluten-free Stollen or make your own using gluten-free flour.
Can you buy vegan Stollen?
Yes, there are a couple of options when it comes to buying Stollen without eggs or dairy. One popular option is Aldi's accidentally vegan version, Holly Lane Marzipan Stollen. The ingredients are as follows:
Wheat Flour, Raisins, Palm Fat, Marzipan (Sugar, Almonds, Water, Humectant: Sorbitol; Glucose-fructose Syrup), Water, Glucose-fructose Syrup, Sugar, Dextrose, Rapeseed Oil, Orange Peel, Humectant: Sorbitol; Wheat Starch, Lemon Peel, Emulsifiers: Mono- And Diglycerides Of Fatty Acids, Sodium Stearoyl-2-lactylate; Yeast, Flavouring, Salt, Fully Hydrogenated Palm Fat.
As you can see, there are no animal-derived ingredients in Aldi's Stollen!
Another option is Baker Street Marzipan Stollen. The ingredients in this one are: Raisins, Wheat Flour, Palm Fat, Sugar, Dextrose, Glucose-Fructose Syrup, Almonds, Rapeseed Oil, Humectant (Sorbitols), Orange Peel, Yeast, Wheat Starch, Lemon Peel, Emulsifiers (Mono- and Diglycerides of Fatty Acids, Sodium Stearoyl-2-Lactylate), Flavouring, Salt, Corn Starch, Fully Hydrogenated Palm Fat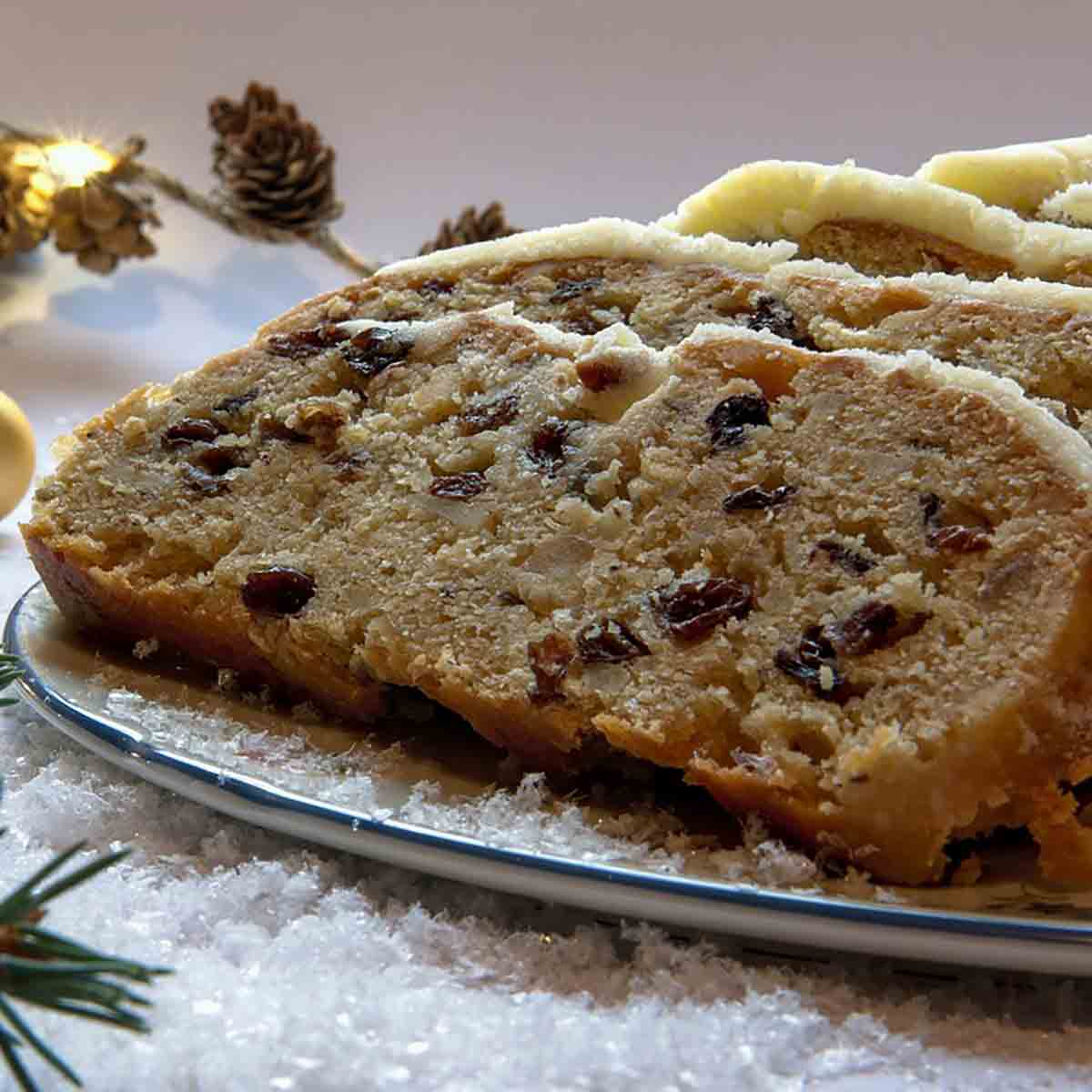 Summary
Traditional Stollen is not vegan-friendly because it's made with milk, butter and eggs. However, it is possible to make vegan Stollen using plant-based alternatives, and there are a few vegan options available in stores if you prefer to buy it ready-made.
BakedByClo is a participant in the Amazon Services LLC Associates Program, an affiliate advertising program designed to provide a means for sites to earn advertising fees by advertising and linking to Amazon.com. This site may contain some of these links to Amazon.com & other affiliate programs. If you make a purchase through one of those links, BakedByClo will receive a small commission from the purchase at no additional cost to you.