Vegan Banana Cake
This vegan banana cake is moist, flavourful and super easy to make. A delicious, fun way to use up your ripe bananas, it is perfect for serving a crowd and sure to be loved by everyone!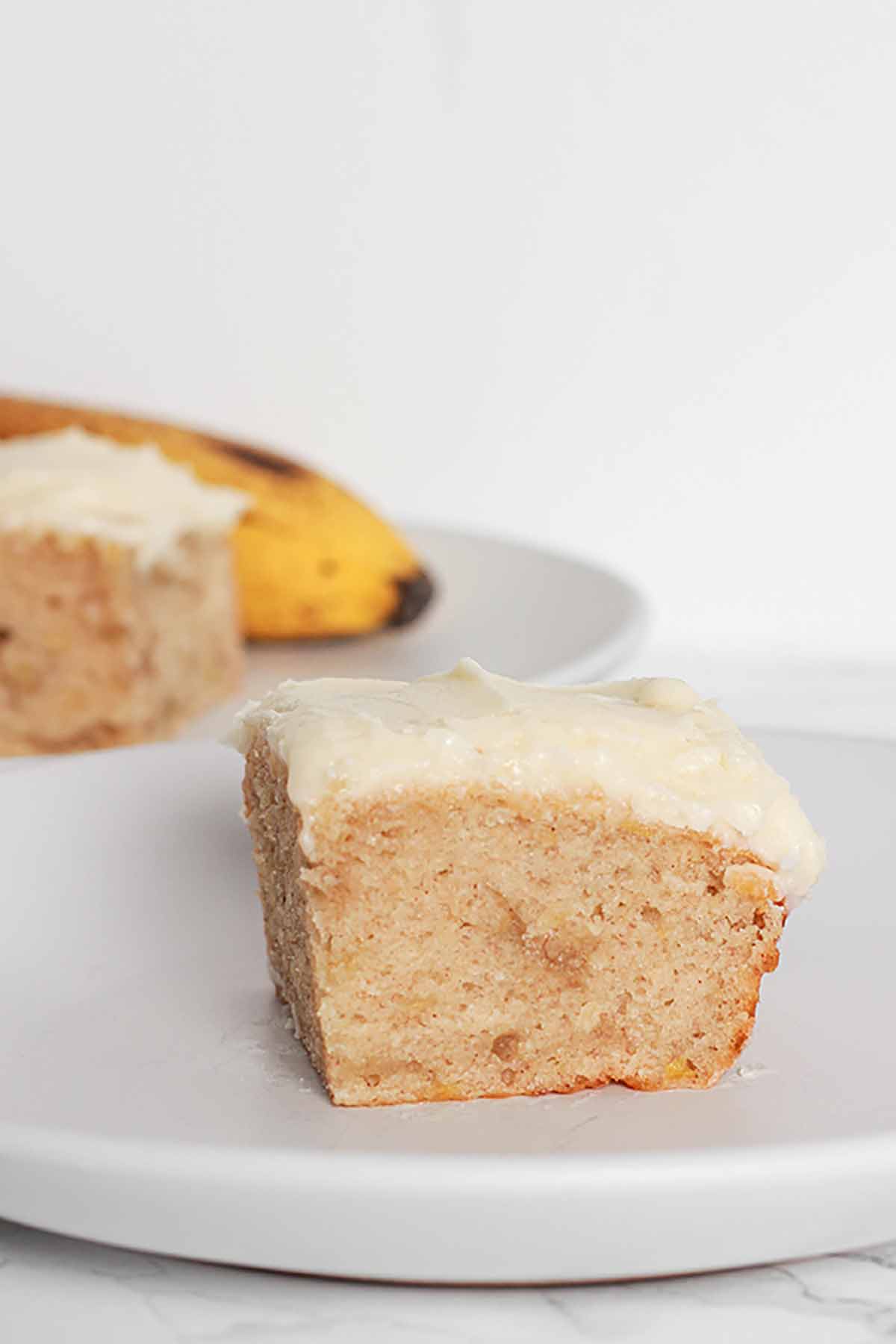 It's been a while since I last made this delicious banana cake and I have been craving it so bad lately! It's super indulgent and comforting, and has just the right amount of sweetness without being overwhelming. It's just the kind of dessert I enjoy when the nights start to get chilly again (like they are here in Scotland).
I adapted this recipe from my eggless banana bread recipe so the taste is quite similar. The only difference is that it's a little lighter and fluffier, as opposed to being heavy and dense like banana bread is. I also used oil instead of vegan margarine but that was only because I didn't have any margarine when I tested the recipe! You can totally use melted vegan margarine instead if you prefer the flavour.
And not to worry… Although this is a vegan banana cake and not a banana bread, it is super moist! I know vegan cakes have a bad reputation for being dry and crumbly but that is not the case here. It has just the right combination of banana and fats to ensure a moist but fluffy texture.
Ingredients you'll need for this recipe
Bananas. The star of the show! Ideally, you want to have very ripe bananas for this recipe, the ones with the brown spots on them. But don't worry, if your bananas aren't ripe enough, you can bake them! The instructions are further down in the post.
Oil. A neutral-tasting oil will work best for this recipe. I personally find oils such as coconut and olive too overpowering in baking, so I recommend using something like sunflower or rapeseed. As I mentioned above, you could also use an equal amount of melted vegan margarine if you prefer.
Soy milk. Unsweetened soy milk is what I always recommend for my baking recipes as it produces the best results every time. I haven't tried this recipe with any other type of dairy-free milk yet so I'm not sure if it will work. Sometimes the lack of protein in other types of vegan milks can cause a recipe to fail.
Vanilla extract. For some extra flavour.
Caster sugar. Also known as superfine sugar. Provides the perfect amount of sweetness without making the cake too moist or sticky.
Self-raising flour. This helps the cake to rise without having to add raising agents separately. If you can't find any self-raising flour, use an equal amount of plain flour plus 2 teaspoons of baking powder and 1/2 a teaspoon of baking soda (bicarbonate of soda).
Cinnamon. This is optional but totally recommended. The flavour pairs perfectly with bananas!
Cream cheese frosting. You can make your own or if you're short on time or ingredients, you can buy a ready-made vegan-friendly one such as Betty Crocker's.
How to ripen bananas in the oven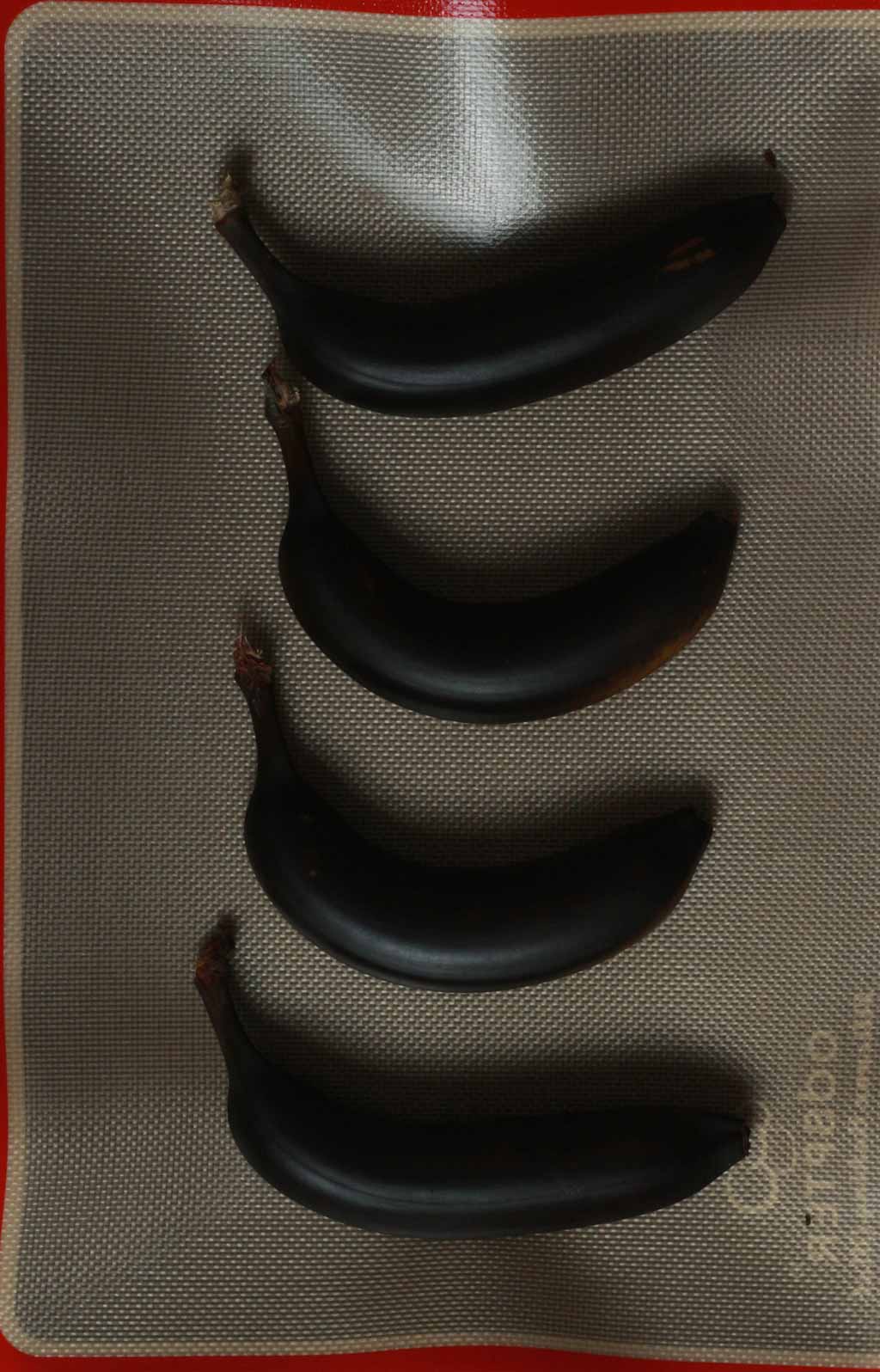 If your bananas are still lacking the brown spots that help to make banana bakes moist, don't worry! You can bake them to ripen them quickly.
Just place them onto a lined baking tray with the skin then pop them into an 180°C oven (160°C for fan ovens) for 5-10 minutes, until the skin becomes black all over. Leave them to cool, unpeel and use the bananas as instructed in the recipe!
I have used this trick many times when baking with bananas and it turns out exactly the same as if you were to use regular ripe bananas.
How to make vegan banana cake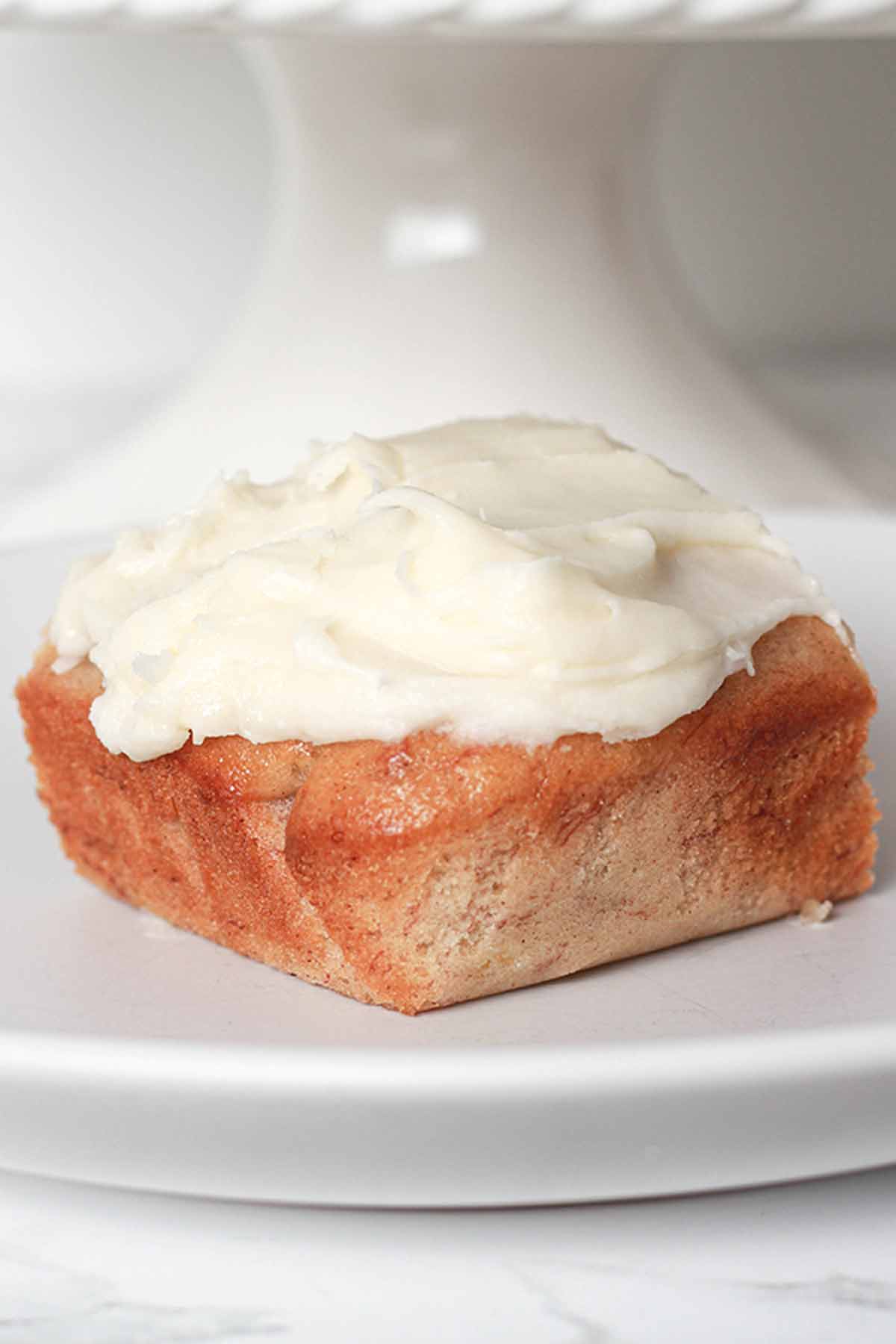 Step 1:
Preheat your oven to 180°C (or 160°C for fan ovens) and line an 8×10-inch tin with baking paper.
The tin size is very important here! If you use a different size, you will have to adjust the ingredient quantities accordingly. Otherwise, you'll end up with either a burnt cake or an undercooked cake.
Step 2:
Place 300g of ripe bananas into a bowl and mash them up into a pulp using a fork. The smoother, the better but small lumps are OK!
Step 3:
In a separate bowl, mix together 150ml oil and 200g of caster sugar. Add in the mashed bananas, along with 2 teaspoons of vanilla extract.
Step 4:
Next, add 300g of self-raising flour, 1 teaspoon of cinnamon and 150ml of unsweetened soy milk. Mix well until you have a smooth cake batter. Transfer the batter into your lined cake tin.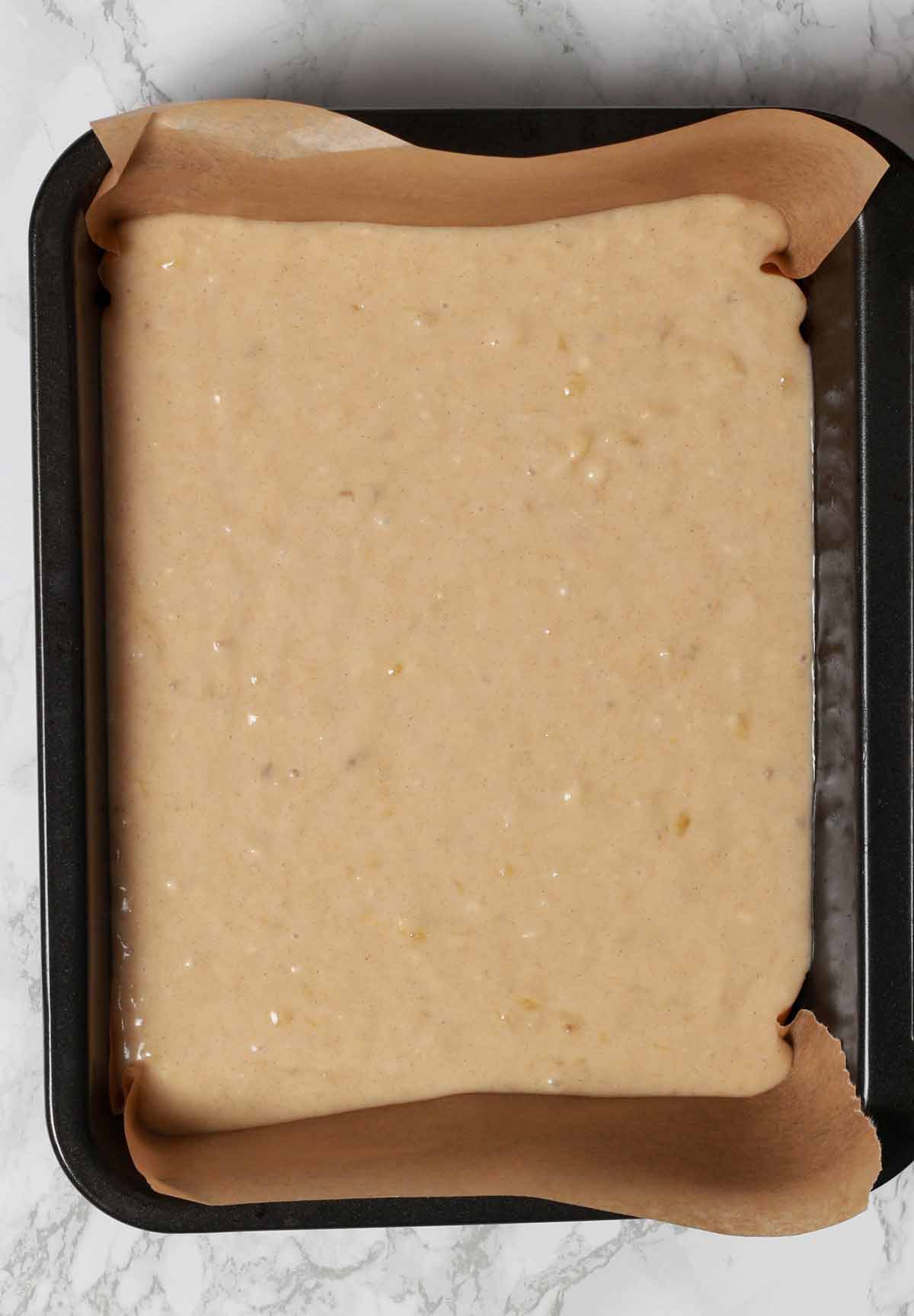 Step 5:
Bake for 20-25 minutes, or until a toothpick comes out clean.
Allow the cake to cool in the tin for 10 minutes, then flip it out onto a wire rack, gently remove the baking paper, and leave it to cool completely.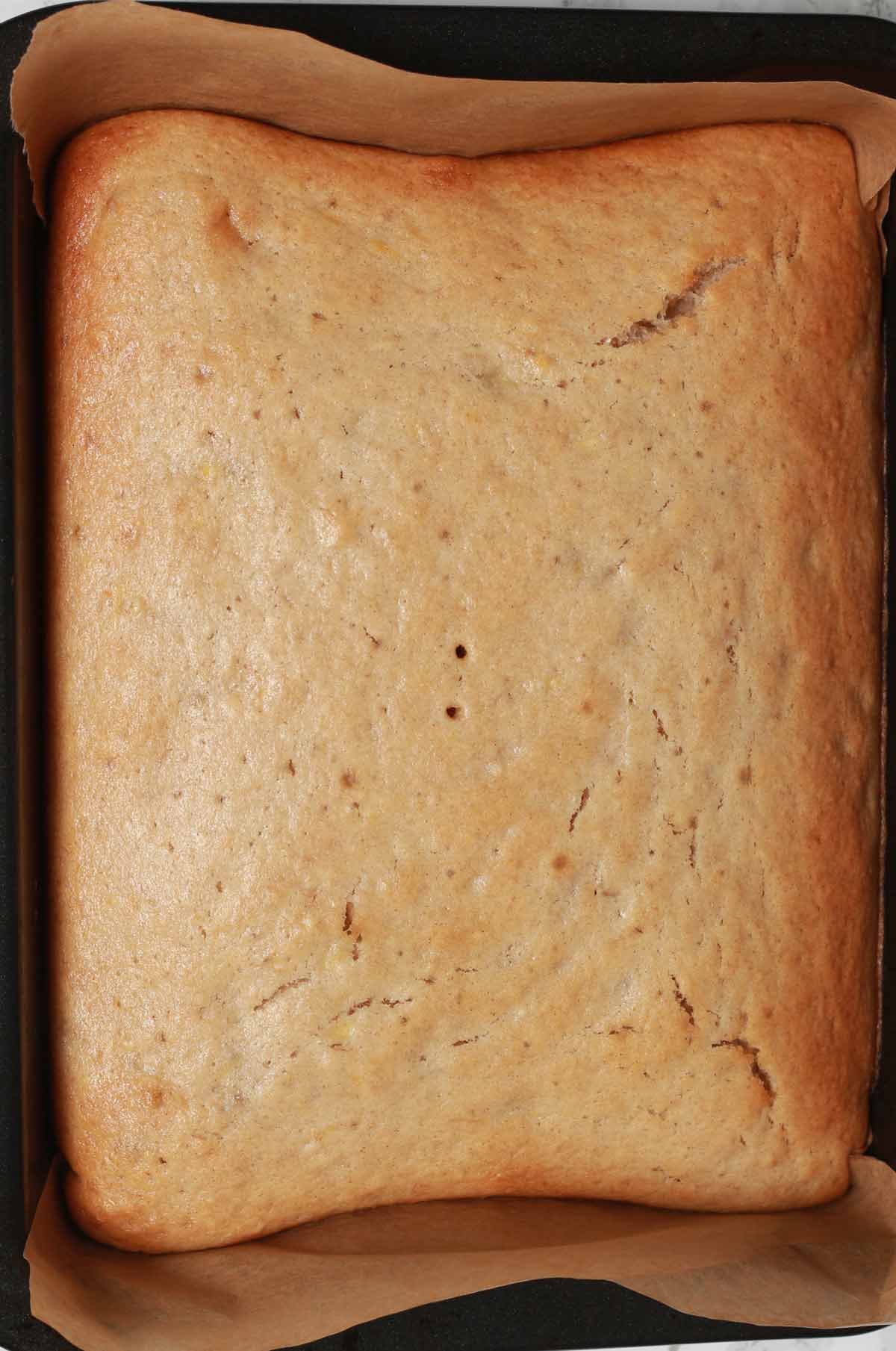 Step 6:
Prepare your vegan cream cheese frosting.
Mix together 60g of Violife cream cheese, 30g of vegan margarine and 1/2 teaspoon of vanilla extract. The reason I recommend using Violife is because it contains less water than other dairy-free cream cheeses typically do. Less water = creamier frosting!
Add 225g of icing sugar to the bowl, a little bit at a time, then whisk until you have a thick and creamy frosting.
Step 7:
Spread the cream cheese frosting onto your cooled banana cake. Allow the frosting to set before cutting into slices.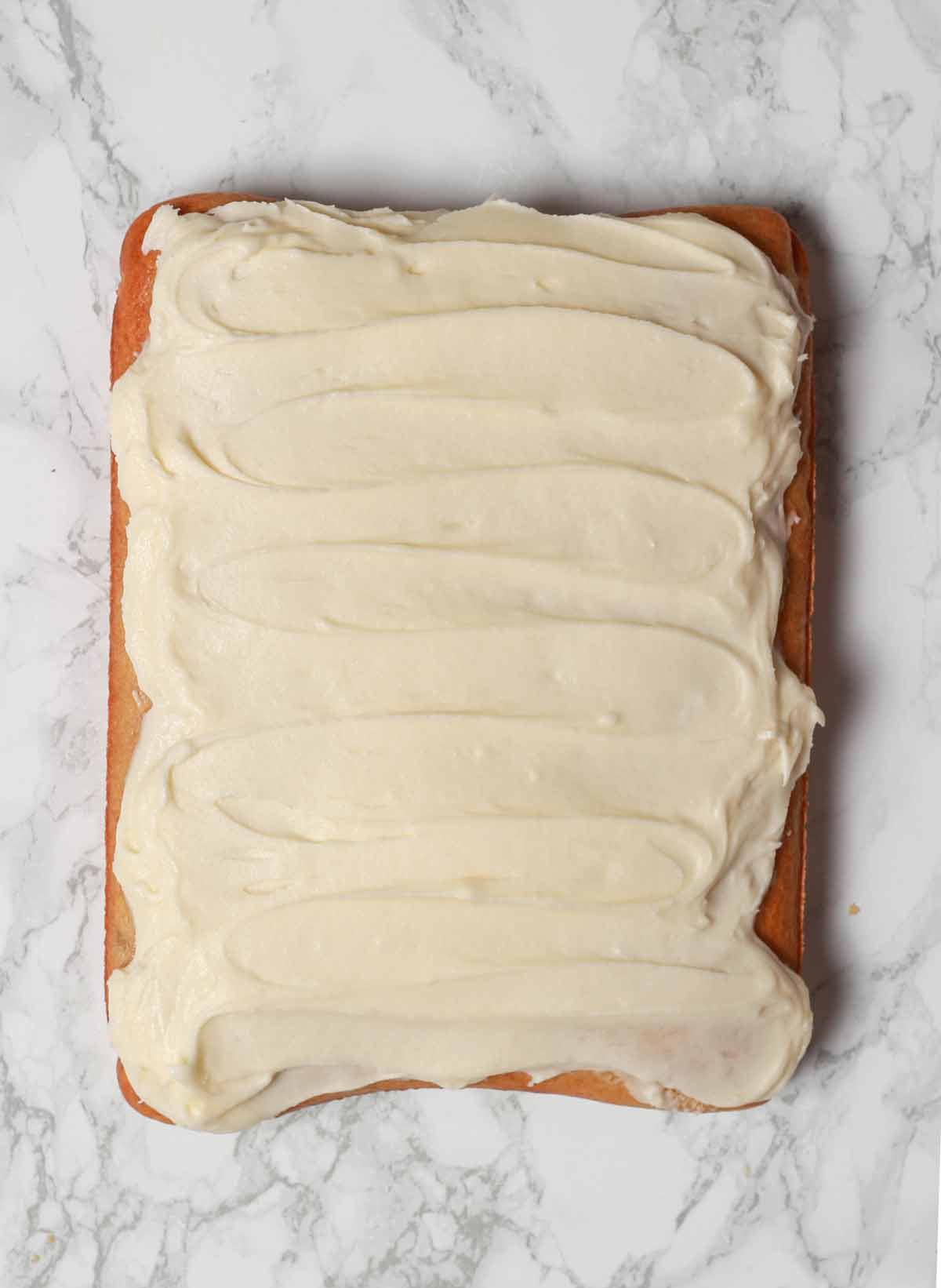 Enjoy immediately or store in an airtight container in the fridge for up to 3 days.
FAQ
Can vegan banana cake be frozen?
Yes! This cake is perfect for freezing and tastes just as delicious after defrosting. To freeze, pop slices into airtight containers and freeze for up to 1 month. Alternatively, place the whole cake onto a lined baking tray and freeze for 2-3 hours. Once it's frozen solid, you can wrap it up tightly in clingfilm or tinfoil and return it to the freezer.

To defrost, transfer to a wire rack or plate and allow it to sit out at room temperature for an hour or two until fully thawed. Do not refreeze.
Can I use gluten-free flour?
I have not tested this recipe using gluten-free flour so I cannot say for sure whether or not it would work. If you have success, please share your notes in the comments to help future readers!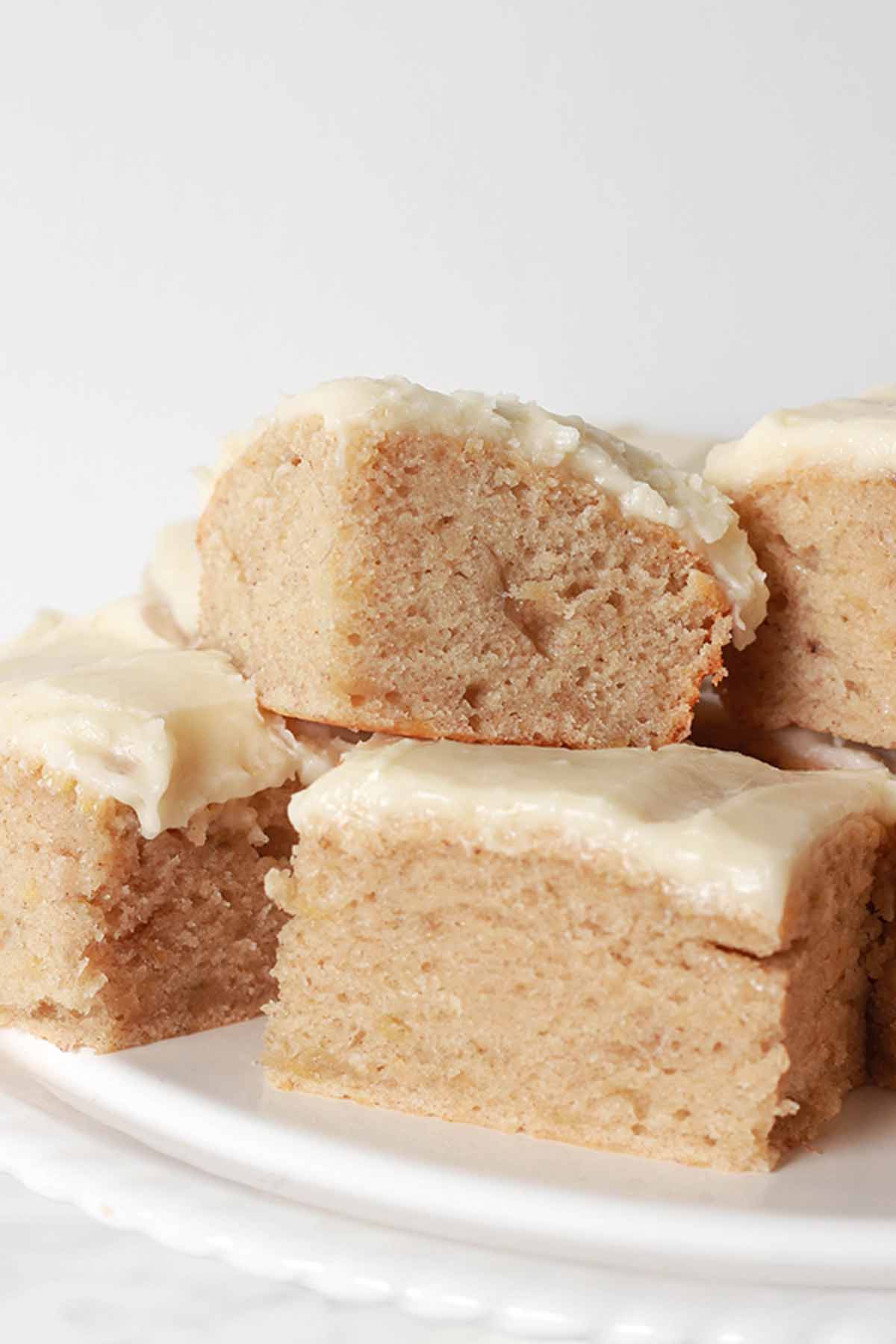 I hope you enjoy this eggless banana cake recipe! If you make it at home, please leave a review and/or comment to let me know what you think. Happy baking! xo
More vegan sheet cake recipes:

Vegan Banana Cake
Light yet moist eggless banana cake topped with dairy-free cream cheese frosting.
Ingredients
300

g

Ripe bananas

150

g

Oil

(Use a neutral-flavoured oil such as sunflower or rapeseed)

200

g

Caster sugar

2

Teaspoons

Vanilla extract

300

g

Self-raising flour

1

Teaspoon

Cinnamon

(optional but recommended)

150

g

Unsweetened soy milk
Dairy-free cream cheese icing:
60

g

Vegan cream cheese

(I recommend Violife for the best consistency)

30

g

Vegan margarine

½

Teaspoon

Vanilla extract

225

g

Icing sugar
Instructions
Preheat your oven to 180°C (160°C for fan ovens) and line an 8×10-inch tin with baking paper.

Place the bananas into a bowl and mash them with a fork.

In a large (separate) bowl, mix together the oil and sugar. Stir in the mashed bananas and vanilla extract.

Add the flour, cinnamon and soy milk. Mix well to make a smooth cake batter.

Transfer the batter into your lined tin and bake for 20-25 minutes or until a toothpick through the middle comes out clean. Let the cake cool in the tin for 10 minutes then carefully flip it out onto a wire rack and leave to cool completely.
Cream cheese frosting
In a medium-sized bowl, mix the cream cheese, margarine and vanilla extract together.

Add the icing sugar, a little bit at a time, then whisk to make a thick and creamy frosting.

Spread the frosting over your cooled banana cake. Let the frosting set fully before cutting into slices.
Recipe Notes
Store leftovers in an airtight container in the fridge for up to 3 days.
BakedByClo is a participant in the Amazon Services LLC Associates Program, an affiliate advertising program designed to provide a means for sites to earn advertising fees by advertising and linking to Amazon.com. This site may contain some of these links to Amazon.com & other affiliate programs. If you make a purchase through one of those links, BakedByClo will receive a small commission from the purchase at no additional cost to you.