Are Toffee Apples Vegan? What You Need To Know
They're a sweet, sticky treat, typically enjoyed during Halloween and throughout autumn. But are toffee apples vegan? Let's take a closer look at that, as well as what the difference between a toffee and a candy apple is.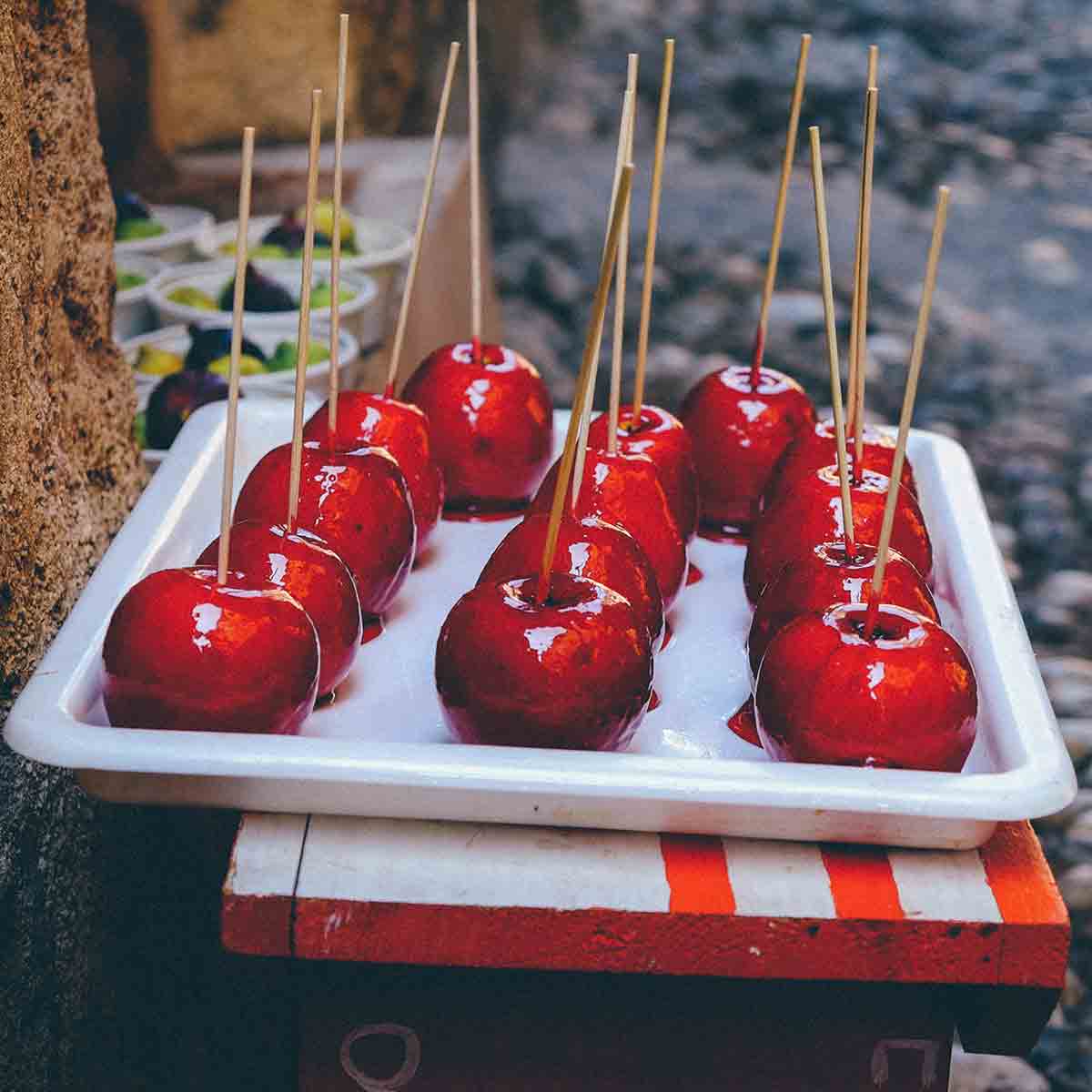 It's not too long until Halloween now, which means we have another excuse to eat themed sweets and treats (as if we needed one). Growing up, toffee apples were one of my favourite treats to have on October 31st, although I think I preferred the idea of them more than actually eating them, lol.
If it's your first Halloween as a vegan, you may be wondering: Are toffee apples vegan? I decided to this post to help clear any confusion. I hope you find it useful.
The difference between a candy apple and a toffee apple
Toffee apples and candy apples are pretty much the same thing. Toffee/candy apples have a hard and crunchy coating, unlike caramel apples, which have a soft and chewy outer shell.
In the UK, we call them "toffee apples"- the term "candy apples" is more common in the USA. Toffee apples are typically vegan (but not always), while candy apples can be a bit more tricky to figure out. Here's why…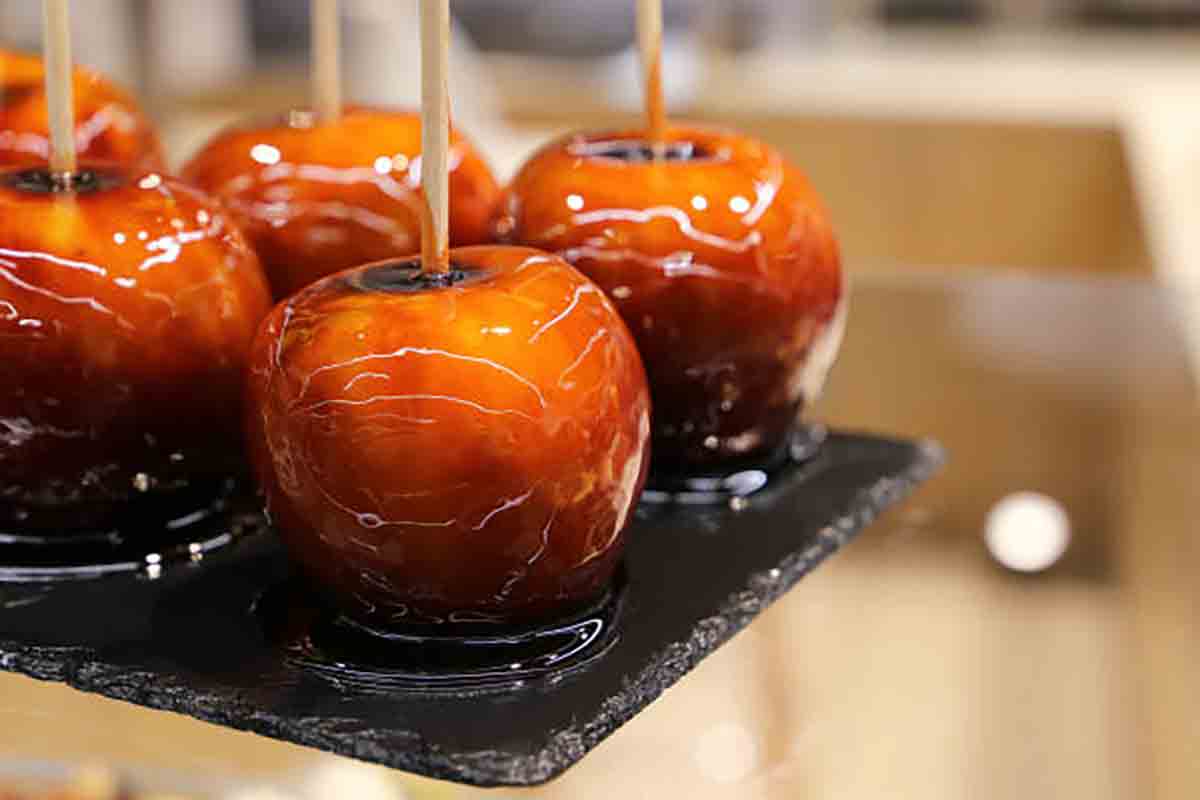 Ingredients in a toffee apple
A typical British recipe for a toffee apple includes the following ingredients:
Apples. Of course, you need an apple to make a toffee apple (I know, shock). Apples are naturally vegan-friendly and tend to be a staple in plant-based diets.
Sugar. All sugar produced in the UK is vegan-friendly. You can find out more in my vegan sugar post.
Golden syrup. This is a sticky liquid sweetener also known as light treacle. Golden syrup is suitable for vegans. Sometimes, toffee apples are made with glucose syrup instead- this is also vegan.
Food colouring. This is sometimes used in toffee apples. Food colouring may not always be vegan, especially if it's red, with e-numbers like e120. Take a look at my e-numbers guide if you'd like to double-check any ingredients.
Decorations. If buying toffee apples, make sure to watch out for any sprinkles or decorations that may be added. Sometimes these can contain things like beeswax or shellac. If you're making your toffee apples at home and want to add decorations, check out my vegan sprinkles guide.
Candy apples
As mentioned earlier, candy apples are the US version of a toffee apple. The ingredients are very similar but there are a few ingredients to note when considering whether or not candy apples are vegan.
Corn syrup. Where Brits use golden syrup, Americans use corn syrup. This is a vegan-friendly ingredient!
Sugar. Sugar is not always vegan in the USA. This is because some companies use bone char during processing. If you're unsure, you can buy organic sugar, which is always vegan. For store-bought candy apples, check for the vegan-friendly label.
Food colouring. From what I can see online, it seems to be a bit more common to add food colouring to candy apples in the USA. Just as with toffee apples, always check there are no non-vegan e-numbers added.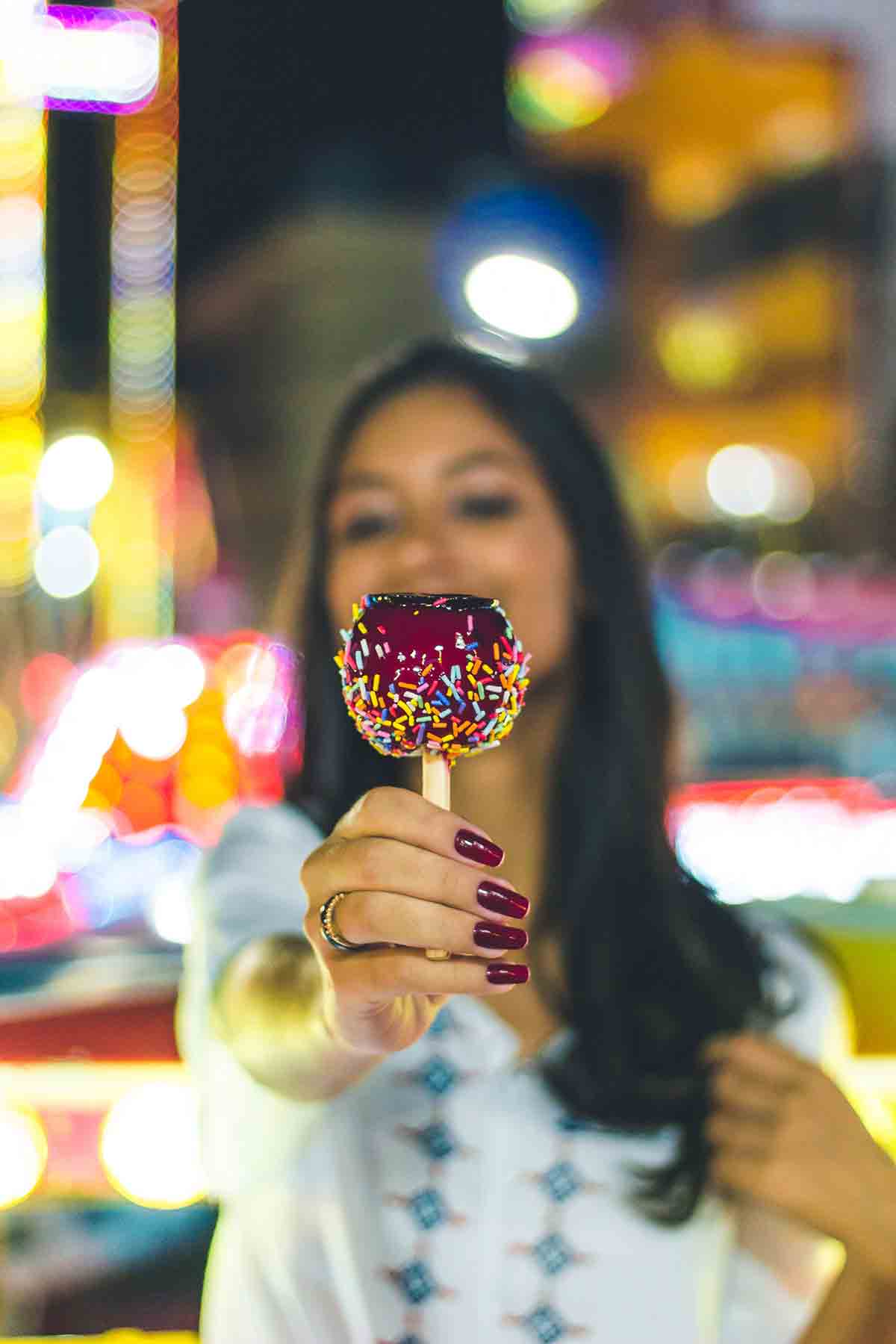 Summary
So, are toffee apples vegan? Most of the time, yes, but not always. Ingredients to watch out for would be e-numbers in the colouring and decorations, such as e120, e901 and e904.
Candy apples may or may not be vegan depending on the e-numbers added and the source of the sugar that was used. If making them at home, you can use vegan food colouring and organic sugar to ensure they're suitable for a plant-based diet. If buying them from a store, make sure to check for the vegan label.
BakedByClo is a participant in the Amazon Services LLC Associates Program, an affiliate advertising program designed to provide a means for sites to earn advertising fees by advertising and linking to Amazon.com. This site may contain some of these links to Amazon.com & other affiliate programs. If you make a purchase through one of those links, BakedByClo will receive a small commission from the purchase at no additional cost to you.