Are Love Hearts Vegan? Everything You Need to Know
Swizzels Love Hearts are firm, powdery sweets with mini love messages on them. They're a childhood favourite sweet in the UK and are especially popular around Valentine's Day. But are Love Hearts vegan? Keep reading to find out!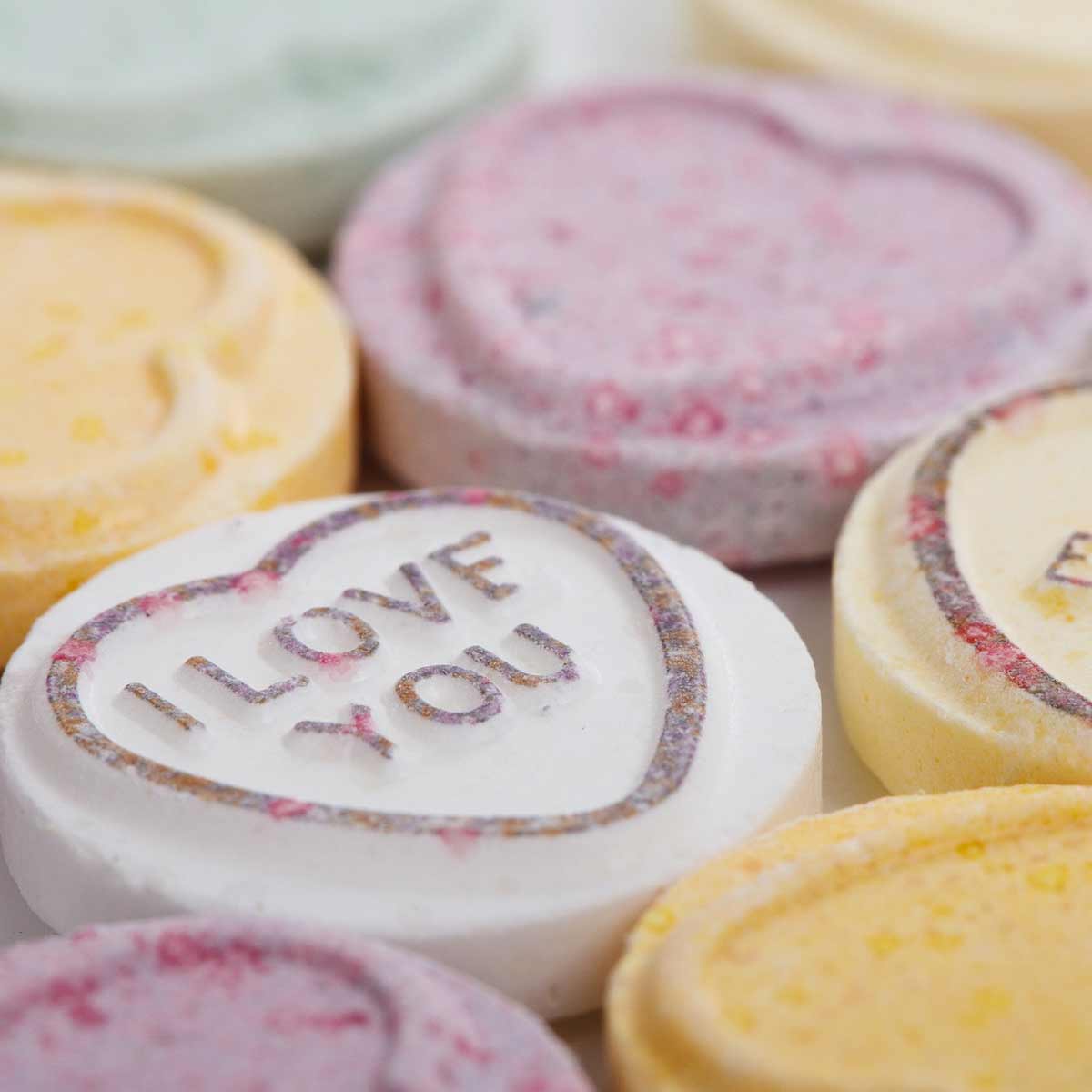 I don't know about you but I love me some Love Hearts! When I was a child growing up in the 90's, these sweets were all the rage. My friends and I used to have so much fun exchanging them as our form of 'love notes', LOL.
In case you've never tried them before, love Hearts are crunchy, sherbet-like sweets that melt in your mouth. They're small and round, with a short love message and a love heart printed on each one. They were invented in 1954 by David Dee, according to the Swizzels website.
Love Heart sweets come in 6 different colours: white, yellow, green, orange, pink and purple. The white ones have a vanilla flavour, the yellow ones are lemon, the green ones are lime, the orange ones are orange flavoured, the pink ones are cherry, and the purple ones are parma-violet flavoured. All of the love heart sweets flavours are subtle and sherbet-like, with a crunchy yet powdery texture.
There is a whole range of Love Hearts sweets, including Love Hearts candy sticks, giant Love Hearts, mini Love Heart rolls, and a Love Hearts chocolate coin.
Do Love Hearts contain gelatine?
No, Love Heart sweets do not contain gelatine and never have. Gelatine is a gelling agent that helps sweets become soft and chewy. As Love Hearts do not contain this ingredient, they are therefore suitable for vegetarians.
Are Love Hearts vegan?
Yes, Love Hearts are vegan friendly as they do not contain any animal byproducts or non-vegan e-numbers. Let's take a look at the ingredients:
Sugar, Acidity Regulator: Malic Acid; Anti-caking Agent: Stearic Acid, Magnesium Stearate, Magnesium Carbonate; Sodium Bicarbonate, Modified Starch, Flavourings, Colours: Anthocyanin, Beetroot Red, Copper Chlorophyllin, Lutein, Paprika Extract.
As you can see, there is no gelatine in these sweets, and no milk, honey, eggs or any other animal-derived ingredients! They even use beetroot red colouring instead of carmine that many other sweets contain. For this reason, Love Heart sweets are vegan. Giant Love Hearts and mini Love Hearts are also vegan.
What about the sugar?
The ingredients listed above are from the UK Swizzels website. In the UK, all sugar is vegan-friendly so you don't need to worry about it being processed with bone char.
Are Love Hearts candy sticks vegan?
No, candy sticks are not vegan because they contain gelatine. The ingredients in the candy sticks are as follows:
Sugar, Cornflour, Glucose Syrup, Tapioca Starch, Beef Gelatine, Flavouring.
Is Love Hearts chocolate coin vegan?
No, the chocolate coin contains milk powder and whey powder, which comes from a cow. The ingredients in the chocolate coin are follows:
Sugar, Coco Butter, Whole Milk Powder, Coco Mass, Whey Powder (Milk), Vegetable Fat (palm Shea), Emulsifier: E322 (Soya), E476; Natural Vanilla Flavouring.
Are Love Hearts gluten-free?
Yes, Love Heart sweets are gluten-free. They do not contain wheat or any gluten-derived ingredients. It's best to always check the labels for any warnings of cross-contamination as this can change at any time.
What other Swizzels Sweets are vegan?
Swizzels have quite the range of accidentally vegan sweets, including the following:
Refreshers choos
Vimto chew bar
Drumstick lollies
Double lollies
Parma violets
Rainbow drops.
Visit Swizzels' vegan-friendly sweets page to view the full list.
See also: Are Sour Patch Kids vegan?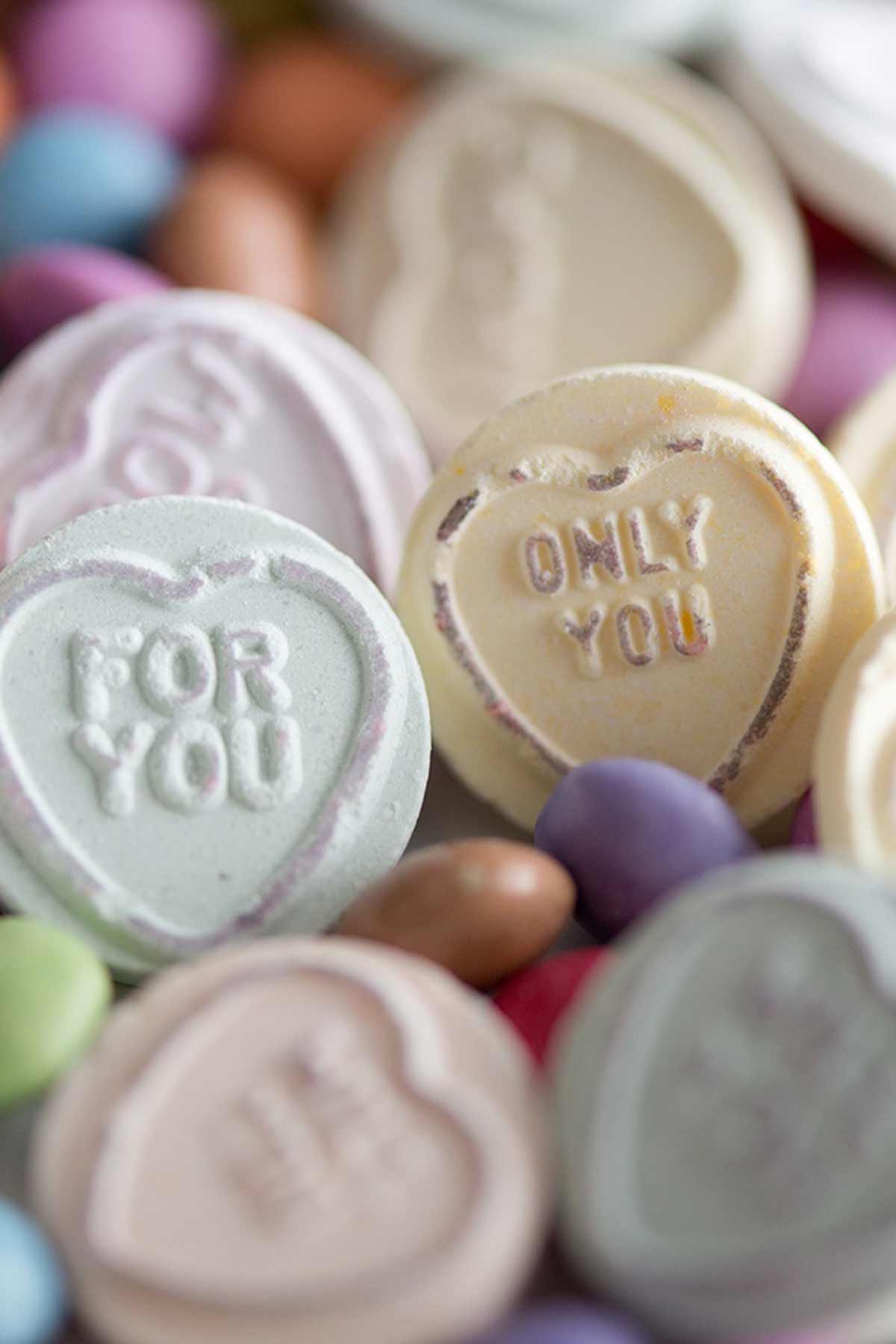 Summary
Are Love Hearts vegan? They sure are! These sweets are suitable for vegetarians and vegans because they do not contain gelatine or any other animal-derived ingredients. They are also gluten-free. The giant and mini Love Heart rolls are also vegan but the candy sticks and chocolate coin are not, because they contain milk and/or gelatine.
BakedByClo is a participant in the Amazon Services LLC Associates Program, an affiliate advertising program designed to provide a means for sites to earn advertising fees by advertising and linking to Amazon.com. This site may contain some of these links to Amazon.com & other affiliate programs. If you make a purchase through one of those links, BakedByClo will receive a small commission from the purchase at no additional cost to you.