Are Any Quality Street Vegan? (Dairy-Free Alternatives)
First Christmas as a vegan and wondering if any Quality Street are vegan? This post will tell you everything you need to know about these festive faves.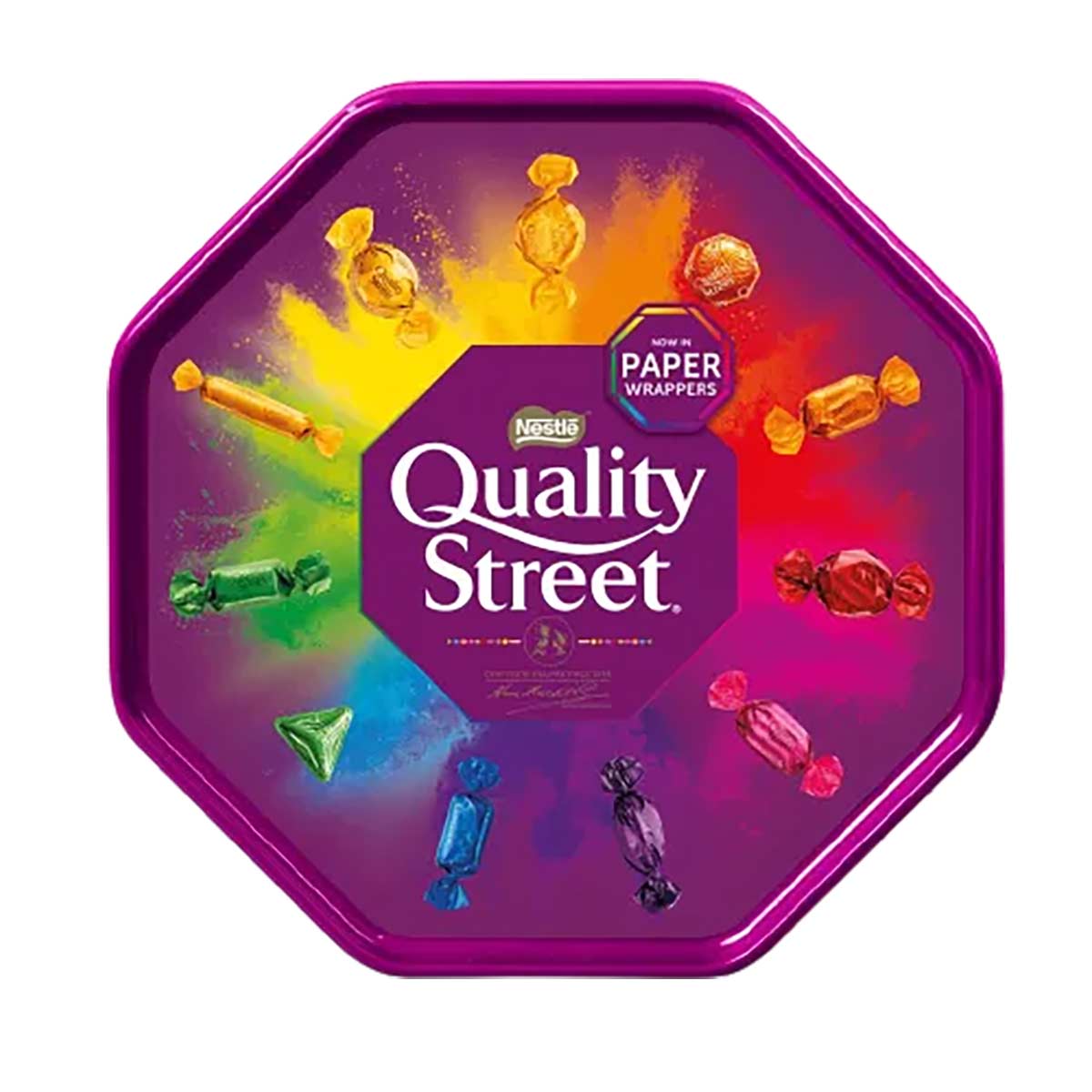 Quality Street are iconic chocolates made by Nestle. They come in a variety of different flavours- each individually wrapped with colourful packaging.
According to the Quality Street website, the sweets were first produced in Halifax, England and were launched in 1936. They've since become a family favourite and are particularly popular around Christmas time.
Since I know how daunting your first Christmas as a vegan can be, I'm creating a bunch of festive posts for my Is It Vegan? series- next up on the list is Quality Street. I hope you find this useful!
Are any Quality Street vegan?
No, sadly, none of the sweets in Quality Street tins are vegan because they all contain milk. However, there are dairy-free alternatives for most of the sweets- you'll find more information about these in this post.
Quality street ingredients and vegan alternatives
Although Nestle doesn't specifically break it down per sweet, the ingredients in Quality Street chocolates are as follows:
Hazelnuts, Skimmed Milk Powder, Sweetened Condensed Skimmed Milk (Skimmed Milk Powder, Sugar), Dried Whole Milk, Butterfat (from Milk), Whey Powder (from Milk), Lactose and Proteins from Whey (from Milk), Butter (from Milk), Sugar, Glucose Syrup, Vegetable Fats (Palm, Shea, Rapeseed, Sunflower, Mango Kernel, Sal, Coconut), Cocoa Mass, Cocoa Butter, Glucose-Fructose Syrup, Coconut, Fat-Reduced Cocoa Powder, Salt, Flavourings, Acid (Lactic Acid), Milk Chocolate contains Milk Solids 14% minimum, Milk and Dark Chocolates contain Vegetable Fats in addition to Cocoa Butter, Lecithin.
That's a lot of ingredients and a LOT of milk! If you fancy creating your own dairy-free chocolate box this Christmas, here's a list of the Quality Street sweets alongside a vegan alternative.
Related post: Are Celebrations vegan?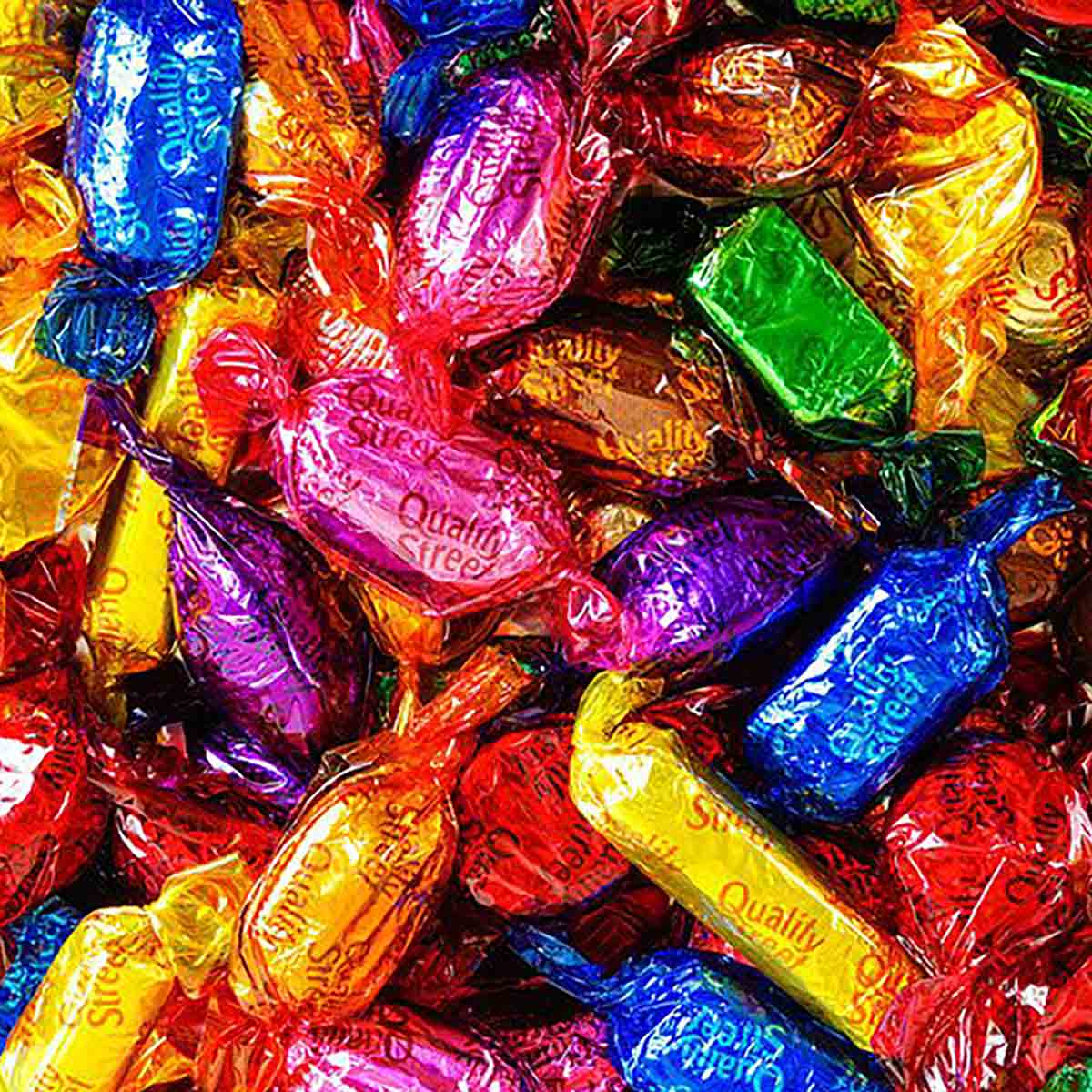 Orange Crunch
The orange crunch is a chocolate-orange truffle with crunchy orange pieces inside. Some alternatives are:
The Green Triangle
The green triangle is one of Quality Street's most iconic sweets! It's a triangle-shaped (shock) chocolate with a smooth hazelnut filling. Here are some vegan substitutes ideas:
Strawberry Delight
Strawberry delight sweets are dark chocolate rounds filled with creamy strawberry fondant. Here are some vegan options that don't use milk:
Orange Creme
Orange Creme sweets are similar to the strawberry delight sweets but orange-flavoured! Here are some options that use dark chocolate:
Caramel Swirl
These used to be my old favourite sweets from Quality Street tins! Caramel swirls are milk chocolate cups filled with runny caramel. Here are some dairy-free options:
Toffee Finger & Toffee Penny
The toffee finger is a chewy toffee covered with milk chocolate, and the penny is a simple, round-shaped chewy toffee. Today I learned that vegan toffee is quite hard to come by but I did find a few alternatives. None of them are covered in chocolate but you can easily do that at home if you feel the need.
Fudge
Quality Street fudge is a simple piece of fudge covered with milk chocolate. Some dairy-free alternatives are below.
Milk choc block
This is exactly what it sounds like- a block of milk chocolate! This is easy to substitute because you can just cut up any bar of vegan chocolate that you like- two of my favourites are Nomo creamy choc and Moo-Free 'milk' chocolate. If you prefer them individually wrapped, Divine dark chocolate mini bars are a good alternative.
The Purple One
A whole hazelnut covered with gooey caramel and covered with milk chocolate. I found it very difficult to find a vegan Purple One replacement to buy so I think the best bet is to make your own!
Line a silicone mould or ice cube tray with some melted vegan chocolate. Once that's hardened, fill it with vegan caramel and a whole hazelnut. Cover with more melted vegan chocolate and leave to set before popping out of the tray.
You can make your own vegan caramel by using vegan butter instead of dairy butter and full-fat tinned coconut milk instead of cream. Alternatively, try a ready-made one such as Nature's charm.
Coconut Eclair
Nestle describe this as a "rich, chewy coconut covered in milk chocolate". My homemade Bounty bars would be a good substitute for these- just shape them into bite-sized pieces instead. You'll only need 6 ingredients to make them! If you prefer to buy something ready-made, you can use Rythm 108 creamy coconut bars, cut into small pieces.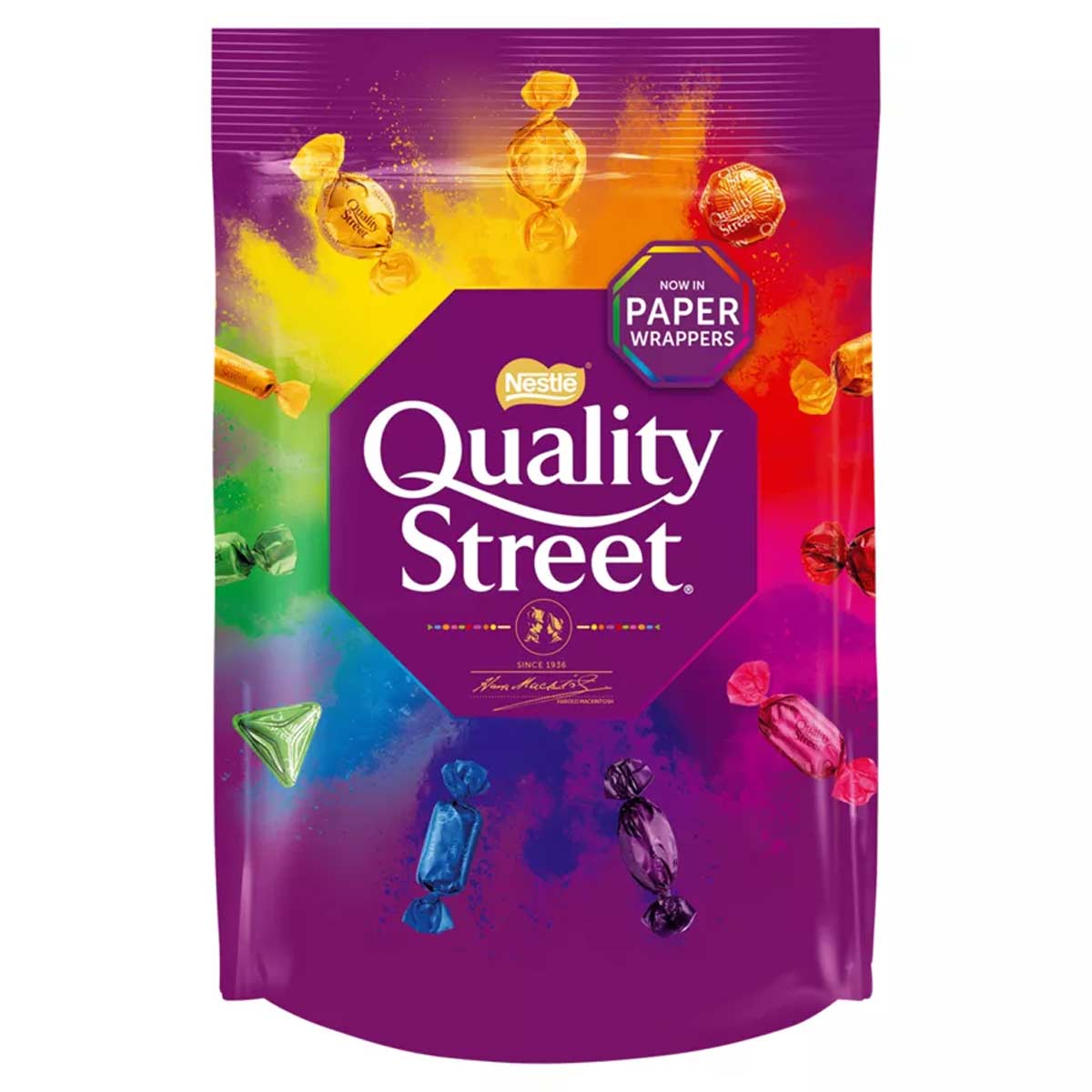 Summary
Quality Street sweets are not vegan because they are all made with milk. There are dairy-free alternatives for each sweet that you can either buy or make at home.
BakedByClo is a participant in the Amazon Services LLC Associates Program, an affiliate advertising program designed to provide a means for sites to earn advertising fees by advertising and linking to Amazon.com. This site may contain some of these links to Amazon.com & other affiliate programs. If you make a purchase through one of those links, BakedByClo will receive a small commission from the purchase at no additional cost to you.