Are Skittles Vegan? 2023
These chewy, fruity sweets are super popular with adults and children alike. They come in a few different varieties including Sours, Chewies and Squishy Cloudz. But are all Skittles vegan in 2023? Keep reading to find out!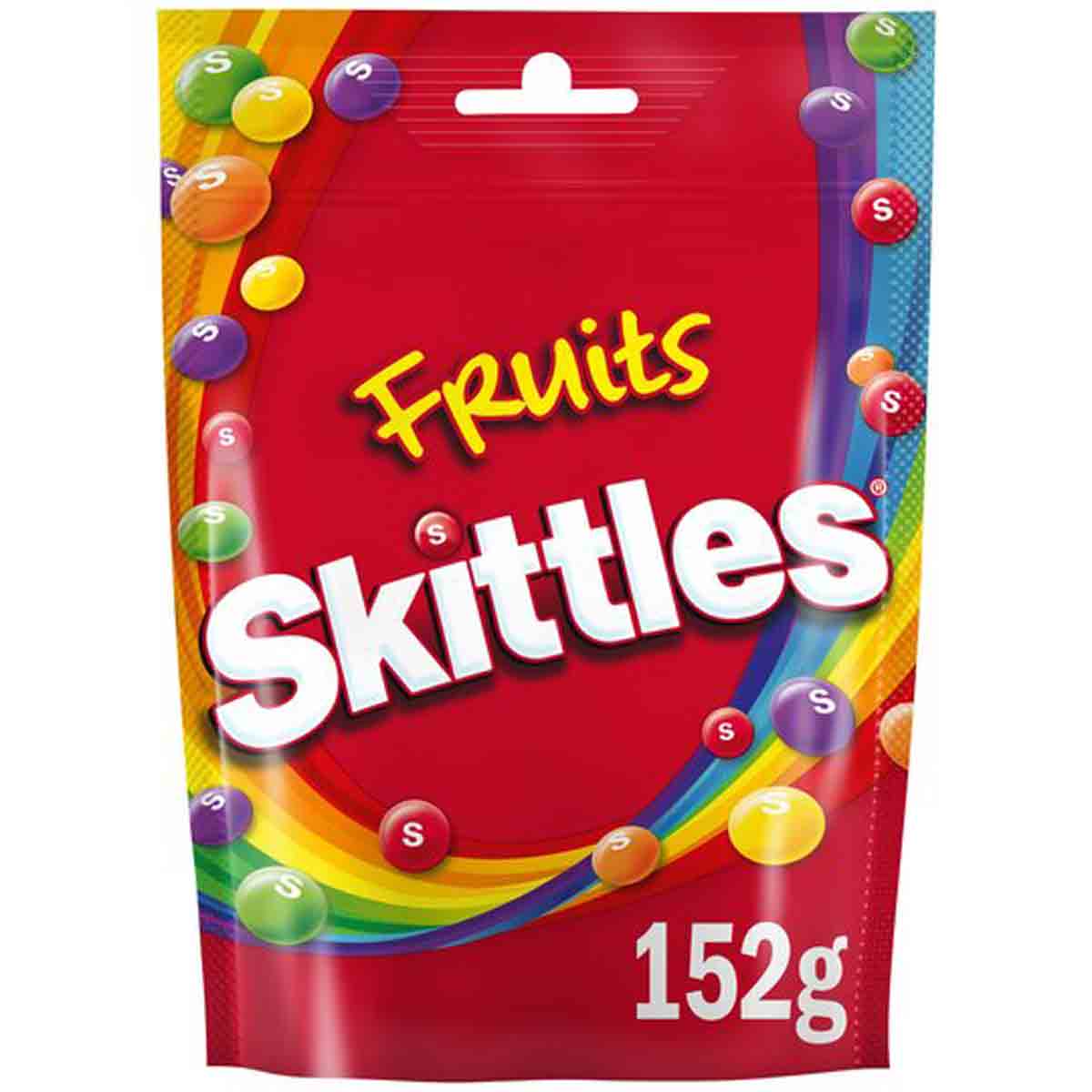 Skittles are small, fruit-flavoured chewy sweets with a hard candy shell. They were invented in the UK in 1974 and later made their way to the US in 1979. In 2023, Skittles are currently produced by Mars but nobody knows who the original inventor was- it's still a big mystery!
Original Skittles come in 5 colours, with each colour a different flavour. The colours and flavours are: Yellow (lemon), Purple (blackcurrant), Red (strawberry), Green (lime) and Orange (orange). The colours are supposed to represent the rainbow, which is where Skittles' 'taste the rainbow' slogan comes from.
Other varieties of Skittles include Chewies, Crazy Sours, Squishy Cloudz, Tropical, Wild Berry, Smoothies, Giants and Darkside.
Do Skittles contain gelatine?
No! Great news, Skittles do not contain gelatine in the UK or the US! This has not always been the case, however. Original Skittles were made using gelatine and some versions also contained animal-derived food colourings. In 2023, Skittles do not contain gelatine. Hurrah!
Skittles ingredients
So if there's no gelatine in Skittles, what are they made of? Let's take a look at the ingredients of the original version:
Sugar, glucose syrup, palm far, citric acid, malic acid, dextrin, maltodextrin, flavourings, modified starch, E162, E163, E170, E160A, E100, E132, E133, trisodium citrate & carnauba wax.
This recipe is dairy-free, gluten-free and vegetarian. What about vegan? Let's see…
Are Skittles vegan?
Yes, original Skittles in the UK and the US are vegan in 2023. There's no gelatine, milk, eggs or honey in the ingredients list. This is not the case for all Skittles variations though!
Another important note to add is that some new vegans may not be aware that certain e-numbers are not vegan-friendly. A common one found in confectionary is E120, which is also known as carmine. This is made with insects and is therefore not vegan-friendly. If you'd like to learn more about e-numbers, check out my vegan e-numbers list.
Skittles did used to contain carmine but they eventually removed it from their recipe. All of the e-numbers in the current original recipe are vegan-friendly.
Are Squishy Cloudz Skittles vegan?
No, Squishy Cloudz Skittles are not vegan because they contain gelatine. Here are the ingredients listed on the Skittles website:
GLUCOSE SYRUP, SUGAR, WATER, GELATINE, ACID CITRIC ACID, GELLING AGENT PECTINS, ACIDITY REGULATOR TRISODIUM CITRATE, FLAVOURINGS, CONCENTRATES (CARTHAMUS, SWEET POTATO, CARROT, RADISH, HIBISCUS), GLAZING AGENT CARNAUBA WAX, COLOUR E100, SPIRULINA EXTRACT.
Because gelatine is made using animal bones, Squishy Cloudz are not vegan.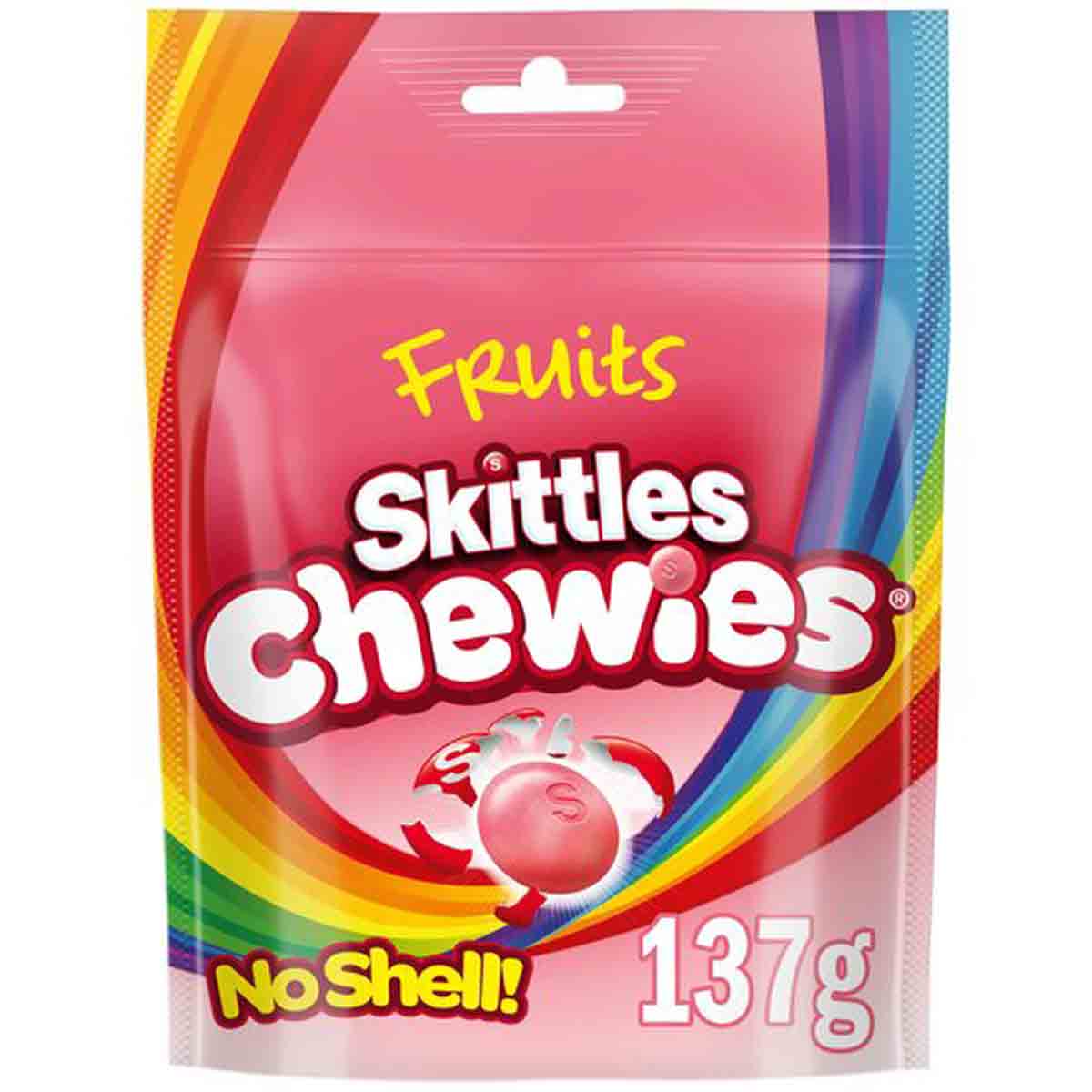 Are Skittles Chewies vegan?
Yes, Skittles Chewies are vegan. The Chewies Skittles are just the same as original Skittles but without the hard candy shell. The ingredients are as follows:
SUGAR, GLUCOSE SYRUP, PALM FAT, ACIDS MALIC ACID, CITRIC ACID, DEXTRIN, MODIFIED STARCH, MALTODEXTRIN, FLAVOURINGS, EMULSIFIER LECITHIN, COLOURS E162, E163, E160A, E141, E153, CONCENTRATES (RADISH, CARTHAMUS, SWEET POTATO).
As you can see, there are no animal-derived e-numbers or gelatine in this recipe, so Skittles Chewies are suitable for vegetarians and vegans.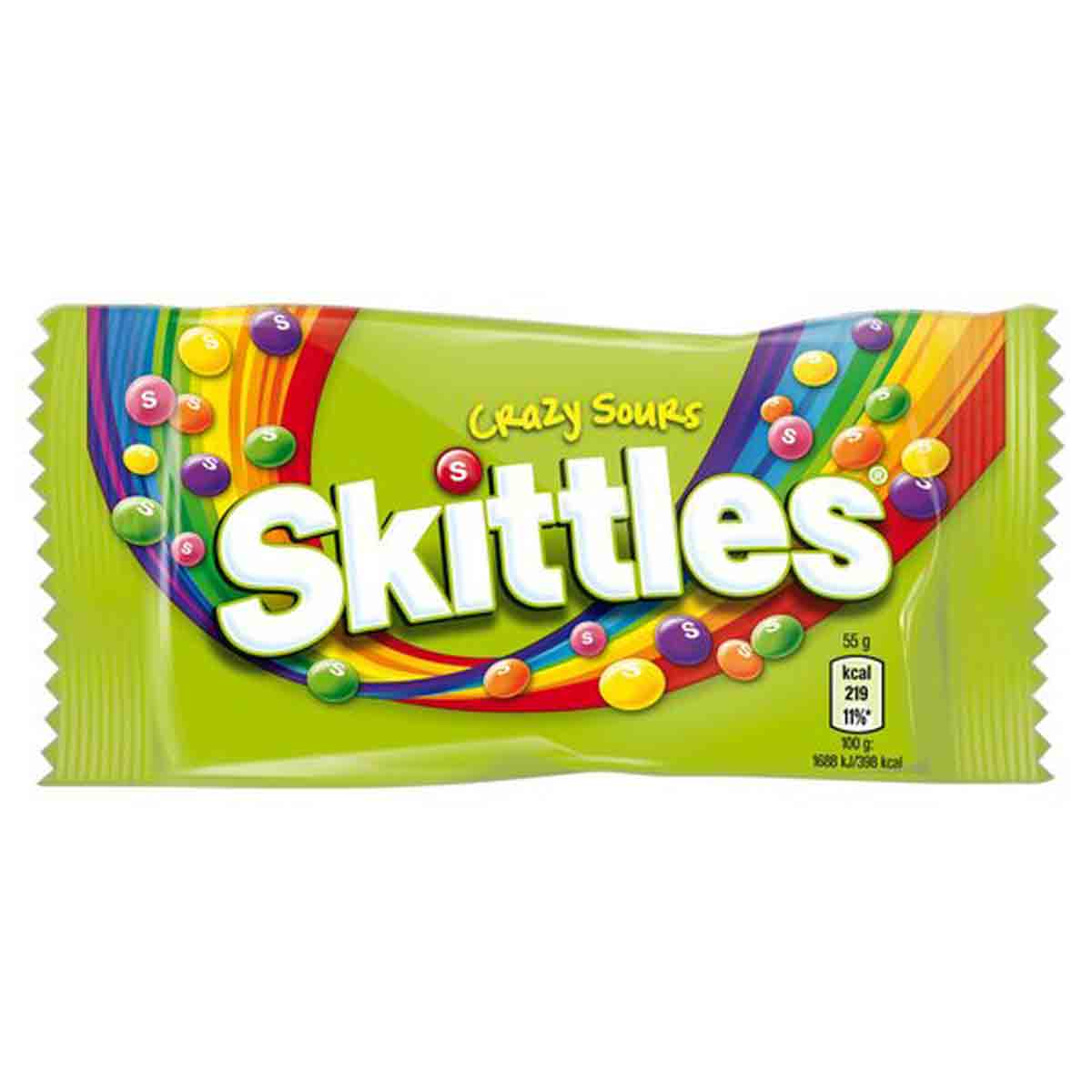 Are Sour Skittles vegan?
Yes, sour Skittles are vegan. They don't contain gelatine or any other animal by-products. These are my personal favourite variation! Giant Skittles sours are vegan but Squishy Cloudz sours are not. The Ingredients are:
SUGAR, GLUCOSE SYRUP, PALM FAT, ACID (MALIC ACID), DEXTRIN, MODIFIED STARCH, MALTODEXTRIN, ACID (CITRIC ACID), FLAVOURINGS, COLOURS (E163, E162, E170, E100, E153, E160A, E133), SWEET POTATO CONCENTRATE, ACIDITY REGULATOR (TRISODIUM CITRATE), GLAZING AGENT (CARNAUBA WAX), RADISH CONCENTRATE.
What other Skittles are vegan?
All Skittles are vegan with the exception of the Squishy Cloudz. Here is a full list of gelatine-free products according to the official Skittles website:
If you'd like to find out which other sweets are vegan, check out my accidentally vegan sweets post! See also: Are Sour Patch Kids vegan?
Are Skittles gluten-free?
Yes. Skittles do not contain gluten or any gluten-containing ingredients. However, they are not certified gluten-free so there may be a risk of cross contamination. Always proceed with caution if you have allergies.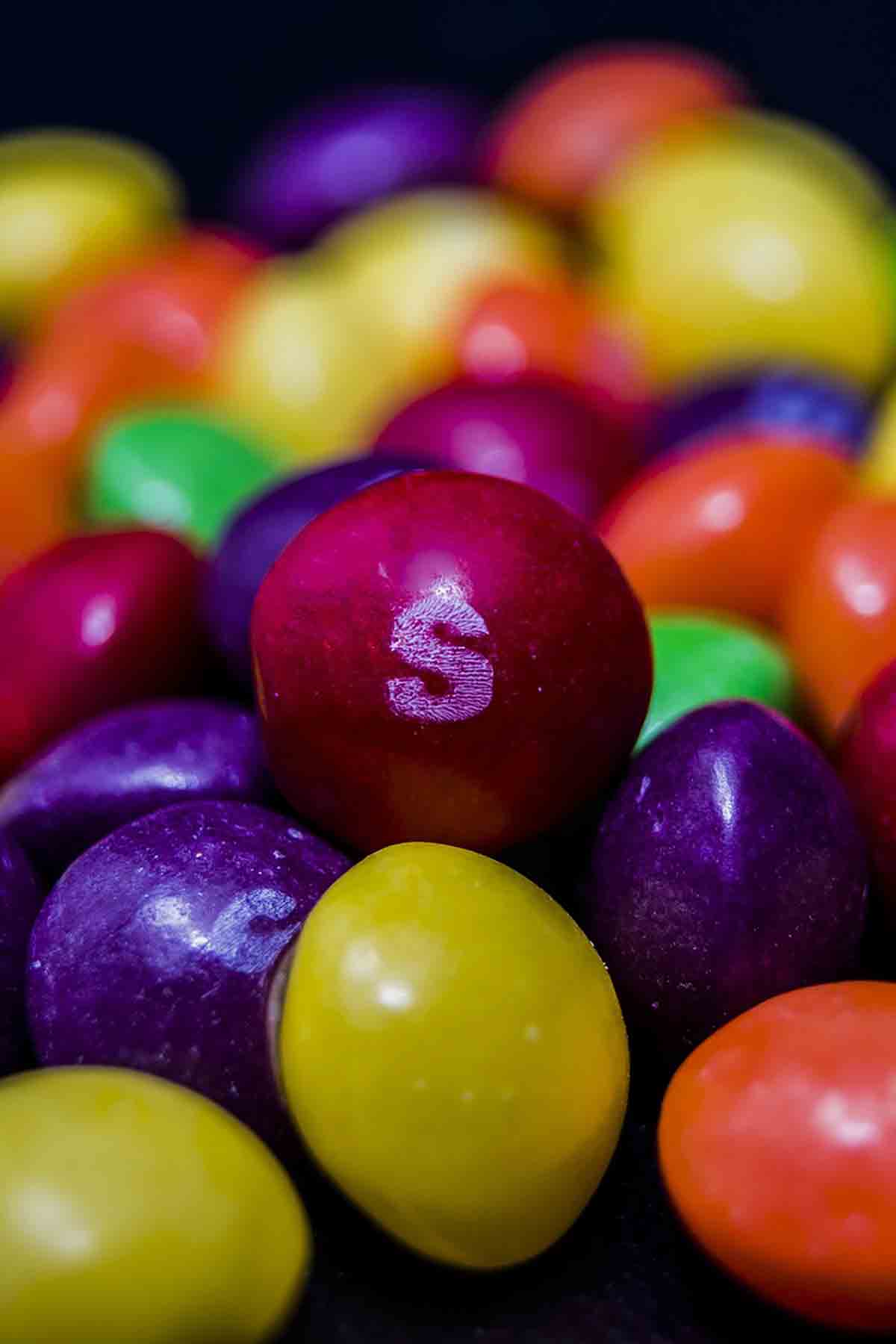 Summary
So, are Skittles vegan? Yes, at the time of writing in 2023, original Skittles are vegan. Giant Skittles, Smoothies Skittles, Tropical Skittles, Chewies Skittles, Wild Berry Skittles, Darkside Skittles and Crazy Sours Skittles are all vegan too. The only Skittles that are not vegan are Squishy Cloudz because they contain gelatine. All Skittles are gluten-free but there may be a risk of cross contamination.
BakedByClo is a participant in the Amazon Services LLC Associates Program, an affiliate advertising program designed to provide a means for sites to earn advertising fees by advertising and linking to Amazon.com. This site may contain some of these links to Amazon.com & other affiliate programs. If you make a purchase through one of those links, BakedByClo will receive a small commission from the purchase at no additional cost to you.