Vegan Banana Ice Cream
This vegan banana ice cream is soft, creamy and pretty simple to make. It contains just 3 ingredients and you can make it without the need for an ice cream machine!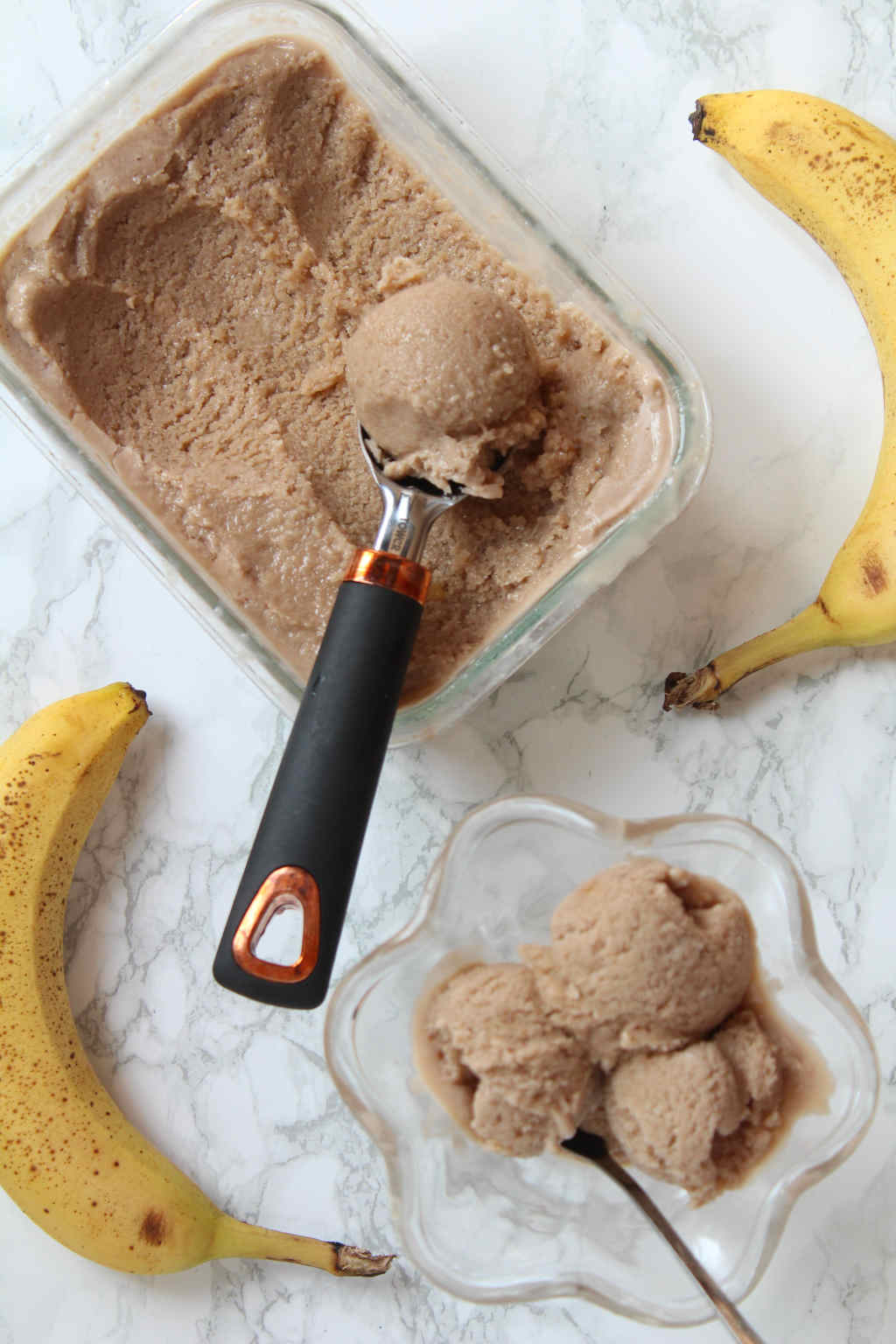 When I made this ice cream for the first time, British summer time was in full swing. It was boiling hot outside and we were in need of a frozen treat to help cool us down.
But as I sit down to write this post a few weeks later, it seems that summer has quickly gone, and autumn has arrived.
We're still a few weeks away from the "official" beginning of the fall season, but I've definitely noticed a drop in the temperature and there have been a lot of windy days in Scotland this week!
Nevertheless, there is never a wrong time to eat vegan banana ice cream. In a way, the creamy texture makes it feel like comfort food. Especially if you mix in some vegan fudge pieces like I did…
Oh my gosh, divine.
Vegan Banana Ice Cream Without An Ice Cream Maker
My favorite part about making ice cream at home is that although it might seem tricky, it's super easy and you don't even need any fancy equipment. You can actually make it without an ice cream maker and it doesn't require too much extra effort. Of course, a machine might make the process a lot quicker but you don't need to go out and buy one just to make one batch of ice cream.
I've never actually used an ice cream maker (except when I was a child and had every kid's kitchen gadget known to man) but I've always been really pleased with the texture of the ice cream I've made without one.
And because this is banana ice cream, I found the bananas help to give a way creamier texture (and is less "icy") than other flavors.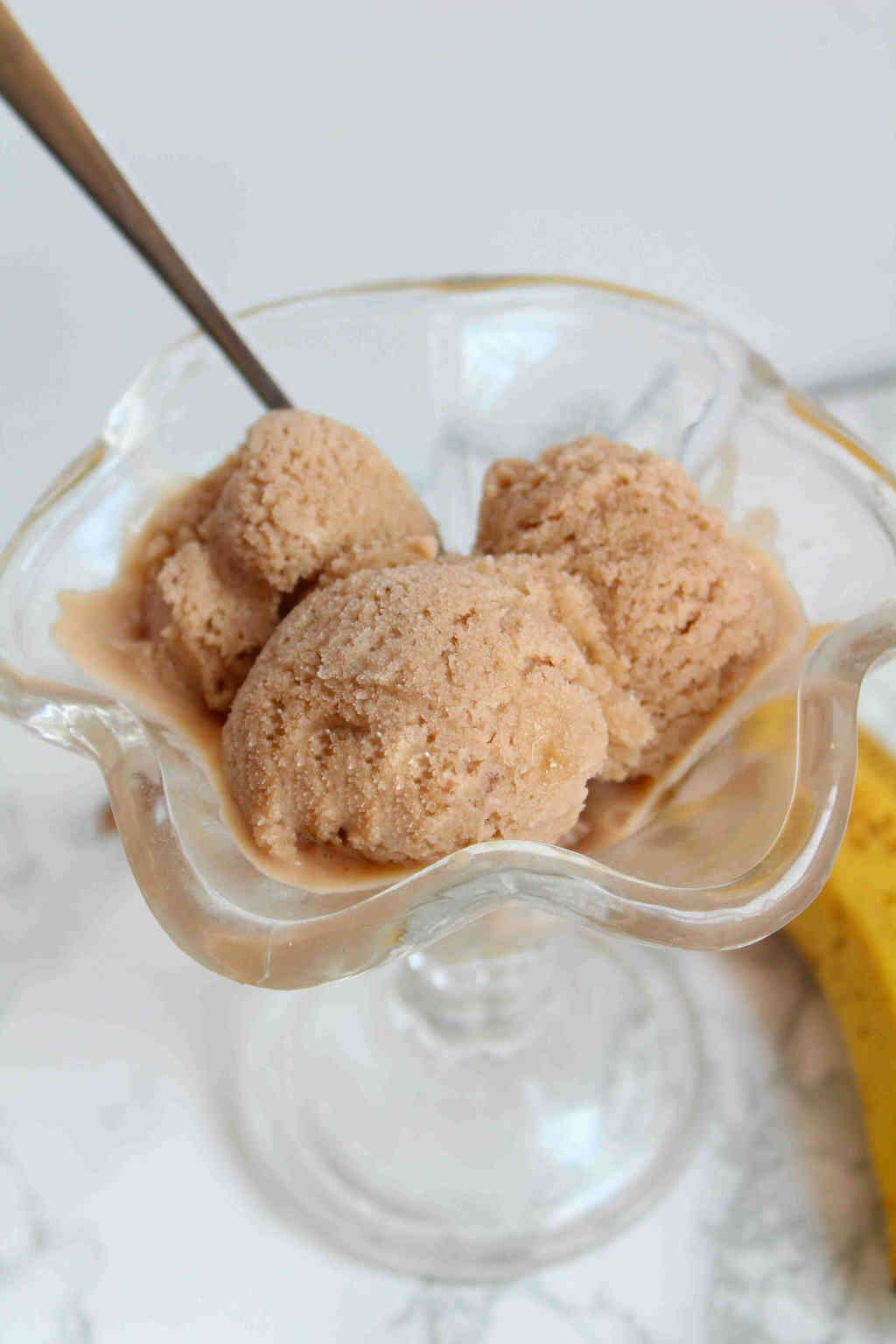 Want More Vegan Banana Recipes?
I know banana ice cream is a big thing in the vegan community but I noticed that usually it's just made up from blended frozen bananas.
Not that I'm a fussy eater (I'll eat anything… vegan) but to me personally, blended banana doesn't feel or taste like real ice cream. I like that "cream" flavor you get with ice cream, and I like to be able to scoop it into balls so I can eat it with a cone.
So to create this recipe, I just played around with the ingredients of my vegan mint chocolate chip ice cream and adapted it for the banana flavor! Simple, quick and easy.
How To Make Vegan Banana Ice Cream
Step 1:
The first step to making banana ice cream at home is, of course, bananas! You'll need 4 medium sized bananas.
You want to make sure your bananas are ripe (i.e., not green) but not too ripe. If you use super spotty or brown bananas, the ice cream will taste rancid once it's finished. And nobody likes rancid ice cream!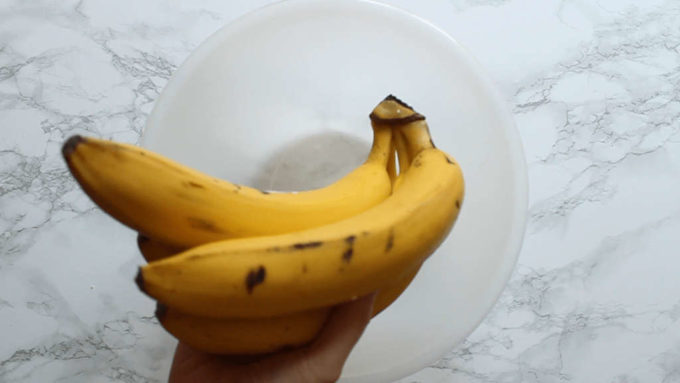 First, peel and chop up the bananas then blend them in a blender or using a hand blender. There's also the option to mash them in a bowl with a fork if you don't have a blender. You just need to make sure that there are no big chunks of banana left in the bowl (unless, of course, you like it that way).
Step 2
Once your bananas are sufficiently mashed or blended, it's time to add in the cream. You'll need around 300ml (or 1+1/4 cup) of plant-based cream.
I used soy cream in my recipe as I prefer the neutral flavor it provides. But if you're not into soy for any reason, you can substitute it for equal amounts of coconut milk. Just make sure you use the full-fat, creamy kind of coconut milk so that you don't end up with watery ice cream.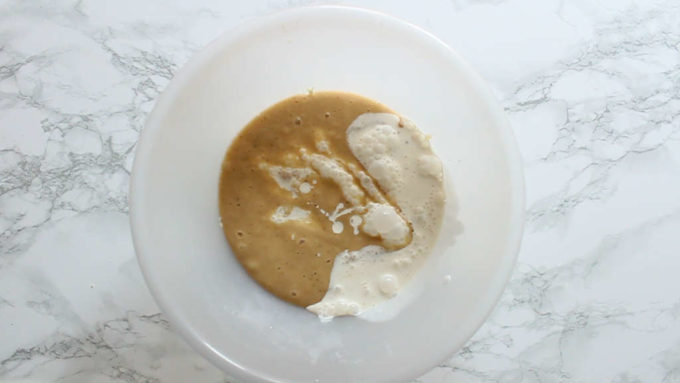 Using an electric or handheld whisk, mix the cream and the mashed bananas together for a few minutes until the mixture becomes smooth with some air bubbles on the surface. The more air you can whisk into the mixture at this point, the better!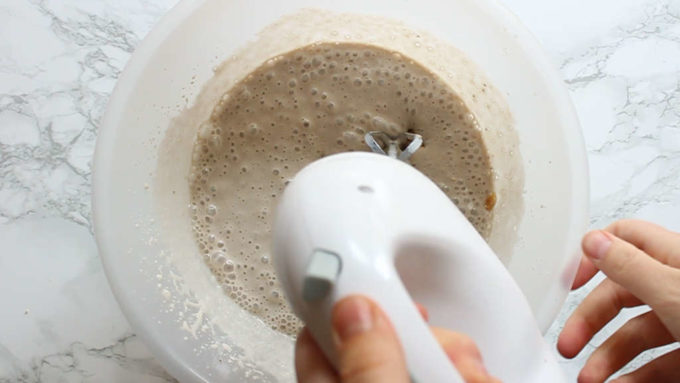 Step 3
Add 55g (¼ cup) of caster sugar into your mix and whisk again for another few minutes.
Although bananas are quite sweet as they are, I found that adding a small amount of sugar really helps to ensure that the banana flavor stays strong after freezing.
You can use a few tablespoons of agave nectar as an alternative if you wish, but I wouldn't recommend using maple syrup as the flavor is too overpowering for this particular recipe.
Step 4
This step is totally optional, but I like to add in some small pieces of vegan fudge. There's something about the two flavors that go so nicely together.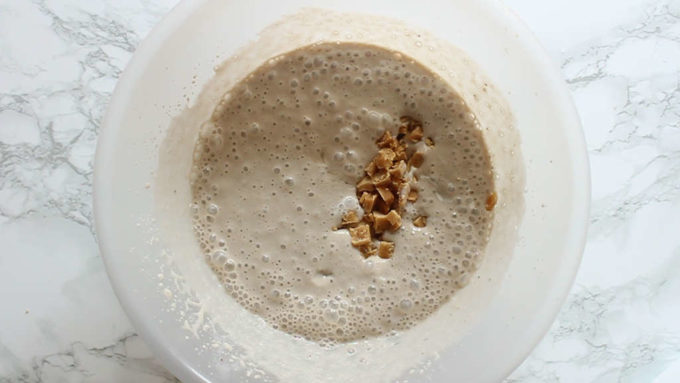 I used the vegan fudge by the Fabulous Free From Factory (purchased in Asda for those of you in the UK). If you can't get your hands on any, I have a DIY peanut butter fudge recipe which is quick and easy!
And if fudge isn't your thing, check out the list of mix-ins options below for some other ideas!
Step 5
Once you've stirred in your optional extras, transfer the ice cream mixture into a lidded freezer safe dish and freeze for 2 hours.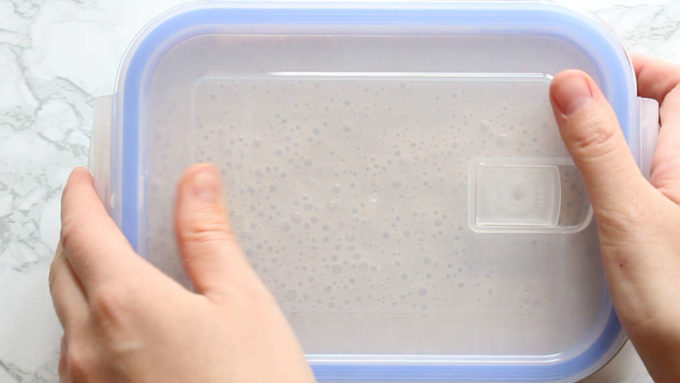 Step 6
Remove the ice cream from the freezer and give it a good whisk until any frozen lumps are smoothed out. This should only take a minute or two.
Return the dish to the freezer for another 8-10 hours, whisking every few hours to prevent ice crystals from forming.
Step 7
When you are ready to serve the ice cream, allow it to sit at room temperature for a few minutes to let it soften a little. Then scoop into ice cream cones or bowls and enjoy!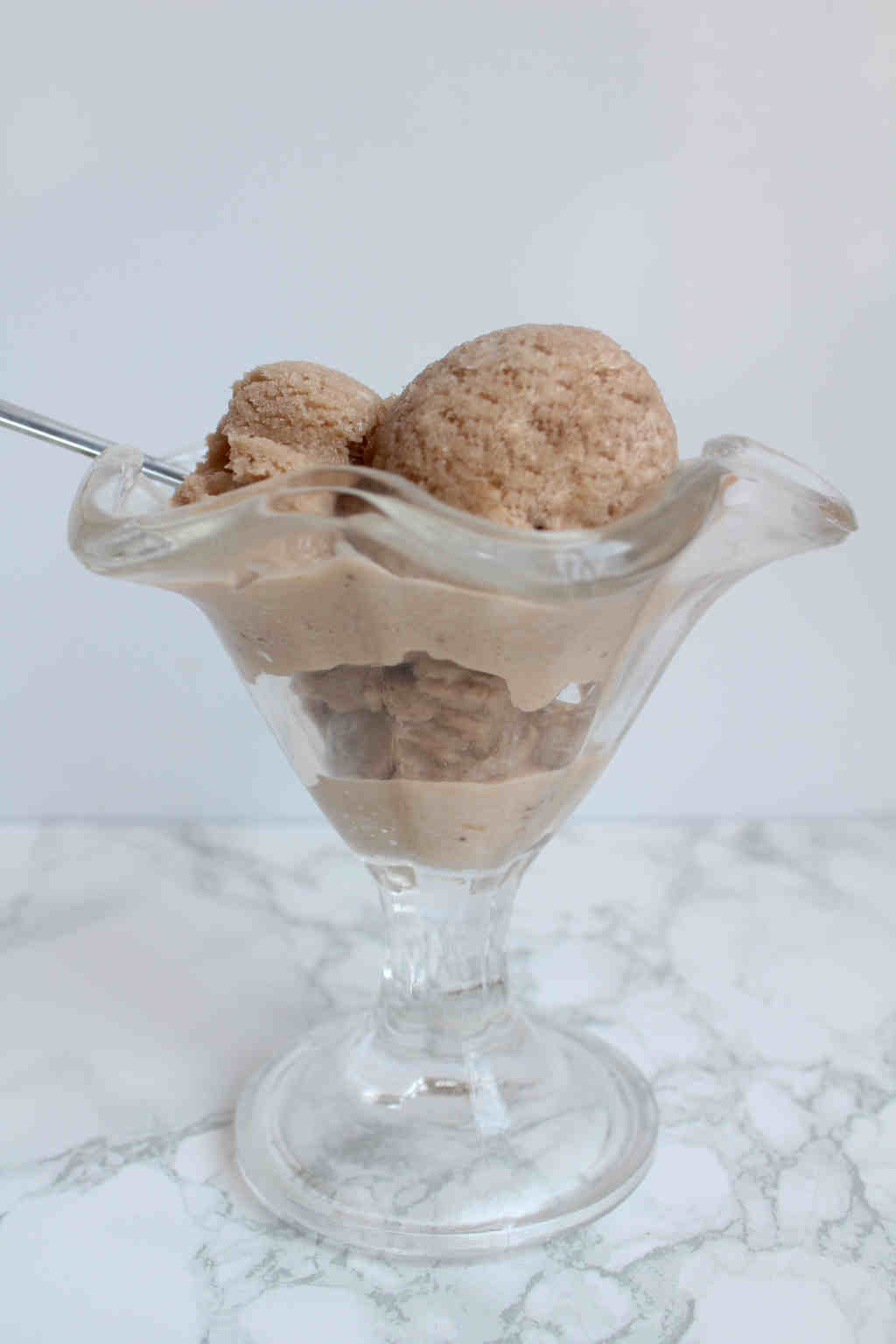 Vegan Banana Ice Cream Mix-In Ideas
Chopped walnuts and a touch of cinnamon go particularly well with the flavor of bananas (vegan banana bread ice cream anyone?). Some other good options include chopped almonds, macadamia nuts, peanuts, or a sprinkling of ground dried ginger.
If you do decide to put fudge into your vegan banana ice cream, why not add some chocolate chunks and/or chocolate sauce, and give Ben and Jerry's a run for their money?
I'm personally not a huge fan of coffee but for those who do like it, I think this ice cream would be the perfect companion. The bananas give off a coffee-like color when blended and I think adding a teaspoon of instant coffee would be a great twist!
Strawberries, blueberries and raspberries all taste really tasty paired with banana! Or if you want to get really fancy, you can add some dried pineapple chunks and coconut flakes for a pina colada inspired ice cream!
If you like peanuts but don't want your ice cream to be "chunky", try adding a couple of tablespoons of peanut butter to your ice cream mixture. It will give you that nutty flavor you love without interfering with the smooth, creamy texture of your ice cream.
–
I hope you enjoy this vegan banana ice cream recipe! If you try it yourself, let me know which mix-ins you chose and how it tasted!
xo

Vegan Banana Ice Cream
A creamy, homemade vegan alternative to dairy ice cream.
Ingredients
4

Medium sized bananas

(not overly ripe)

1¼

Cup

Soy cream or full-fat coconut milk

(300ml)

¼

Cup

Caster sugar

(55g)

Few tablespoons of vegan fudge or other mix-ins

(optional)
Instructions
Place the bananas into a blender and blend until smooth. Alternatively, mash them in a bowl using a fork until all of the lumps are gone.

Add in the soy cream (or full-fat coconut milk) and the caster sugar, and whisk for a few minutes until lots of air bubbles appear on the surface.

Add in any mix ins you like such as vegan fudge, nuts, other fruits etc. and stir them in gently.

Transfer the mixture to a freezer-proof dish with a lid and freeze for 2 hours.

Remove the ice cream from the freezer and whisk for a few minutes until any frozen lumps have smoothed out.

Freeze for a further 8-10 hours, whisking every few hours to prevent ice crystals from forming.

When ready to serve, allow the ice cream to sit at room temperature for a few minutes to soften slightly. Then scoop into a cone or a bowl and enjoy!
Nutrition Facts
Vegan Banana Ice Cream
Amount Per Serving
Calories 45
Calories from Fat 18
% Daily Value*
Fat 2g3%
Sodium 10mg0%
Carbohydrates 6g2%
Protein 1g2%
* All values are an estimate only and will vary depending on the food brands used.