These vegan, gluten-free brownies are SUPER chewy and decadent, and have a perfectly shiny, crackly crust on top. They are perfect for anyone on a dairy-free, egg-free or gluten-free diet!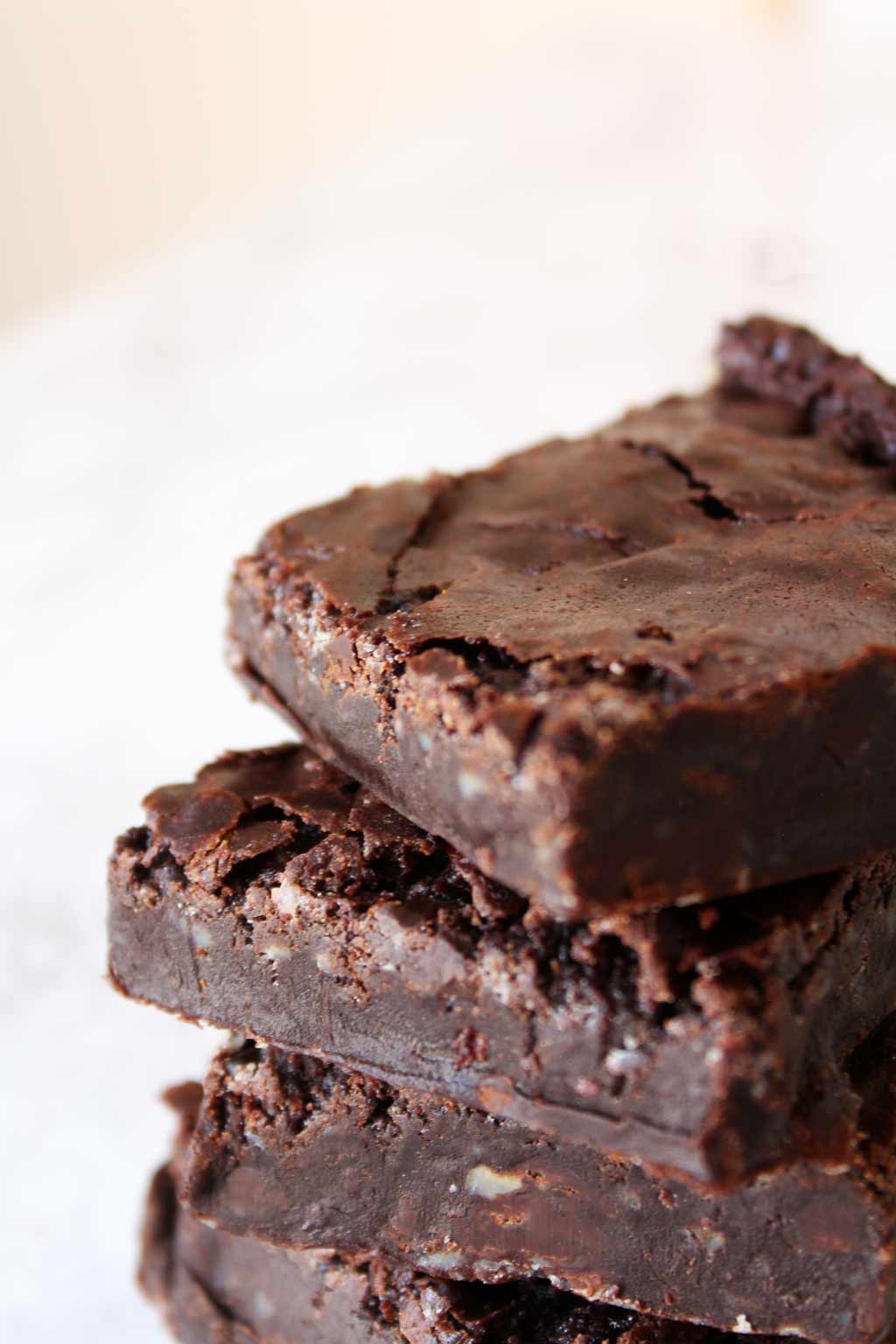 Oh my gosh… these gluten-free brownies are INCREDIBLE.
I've experimented with so many brownie recipes since going vegan and although most of them have been delicious, I've never been able to get that crackly top that traditional brownies have.
UNTIL NOW.
I present to you… the best ever vegan and gluten-free brownies WITH CRACKLY TOPS.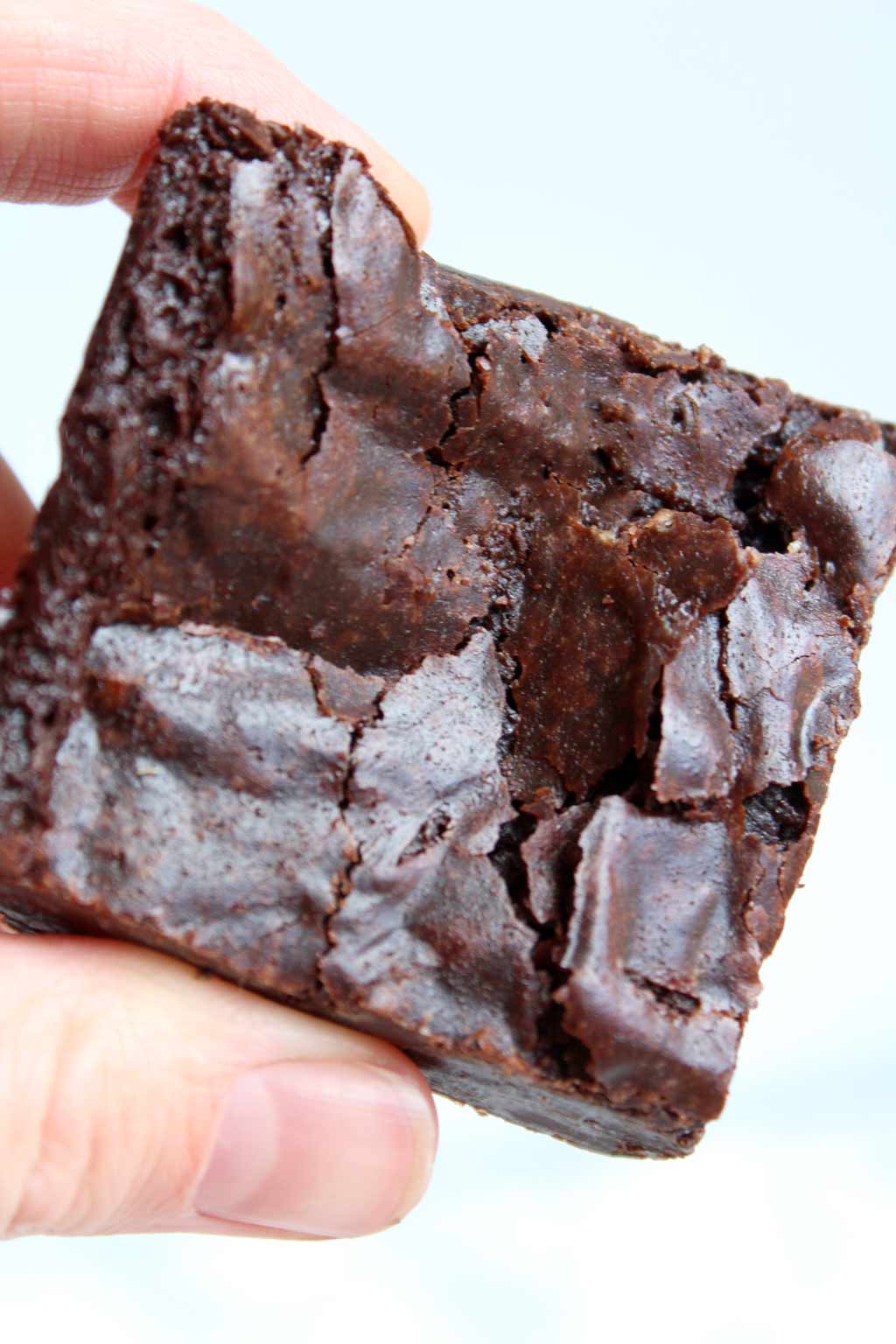 To make these brownies, I adapted my old favourite brownie recipe by Orlando Murrin. I switched the dairy butter for vegan butter, increased the amount of chocolate chunks slightly and adjusted the baking time because they take a little bit longer to bake without the eggs in there to fluff them up.
Gluten-Free Brownies Without Eggs
Because I obviously couldn't use eggs in a vegan brownie, I decided to use aqua faba… A.k.a that gloopy liquid that comes in a can of chickpeas.
The reason for this is because I recently learned that incorporating lots of air into the sugar and eggs is what makes traditional brownies crackly on top. (Every day's a school day, kids!)
So because aqua faba is the closest thing texture-wise to eggs, I figured it would make the perfect replacement. And it worked pretty darn well indeed!
If you've never baked with aqua faba before, don't be alarmed. Although it doesn't sound or look the most appetising, I promise you that you will not taste it one bit. You won't even know it's there!
In fact, my mum used to screw her face up when I told her that I was baking with chickpeas or aqua faba. But these brownies are actually one of her favourite vegan recipes.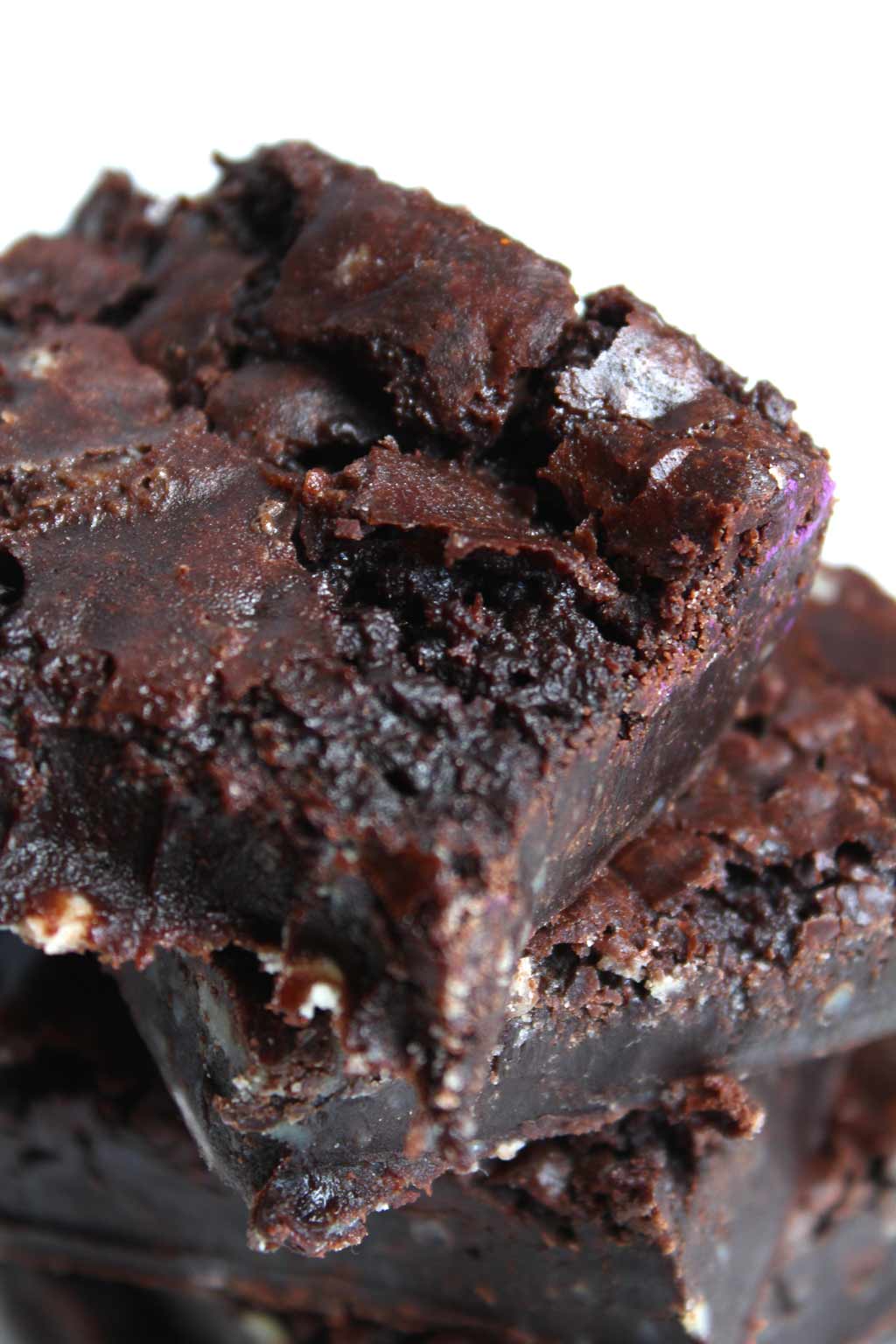 And just to go one step further, I decided to make sure these vegan brownies were gluten-free too so that everyone can enjoy them. I really want to start making more celiac-friendly desserts for my blog!
Because the brownie recipe calls for such a little amount of flour, it didn't make too much of a difference to use gluten-free flour. They were still SUPER chewy, moist and fudgy, and not at all crumbly.
Want More Vegan And Gluten Free Dessert Recipes?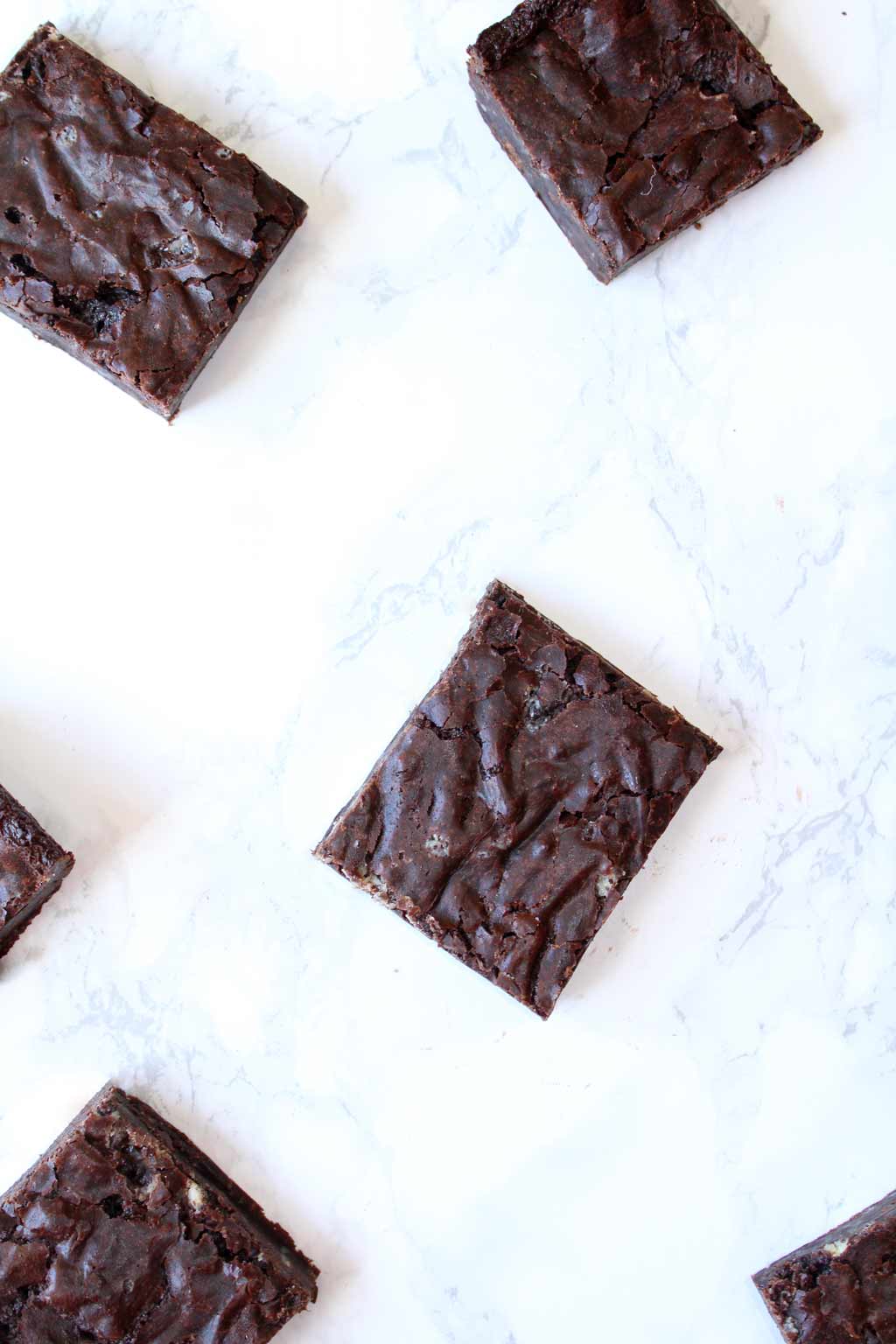 How To Make Vegan Gluten-Free Brownies
This brownie recipe takes a little more effort than some of my other recipes but I promise you it is SO WORTH IT.
Choose high-quality chocolate
The most important part of making good vegan brownies is to make sure you use the right kind of chocolate.
Back in my early baking days, I tried and failed to make brownies soo many times because I didn't use the correct kind of chocolate. I was using low-quality chocolate that was very low in cocoa fats. As a result, my brownies kept turning into an oily swamp in the oven.
For great gluten-free brownies, you want to use dark chocolate that's made with 70% cocoa or higher (I personally love using 85% cocoa dark chocolate).
And of course, you'll need to double check the chocolate is dairy-free and gluten-free too because you never know with some of the companies out there.
Step 1:
Place 185g of vegan butter (see recipe card below for cup measurements) and 185g of high-quality dark chocolate into a medium-sized bowl.
Fill a small pot 1/4 full with hot water then set the bowl on top, making sure it doesn't touch the water. Place the pot and bowl over a low heat and stir gently until the chocolate and butter melt together.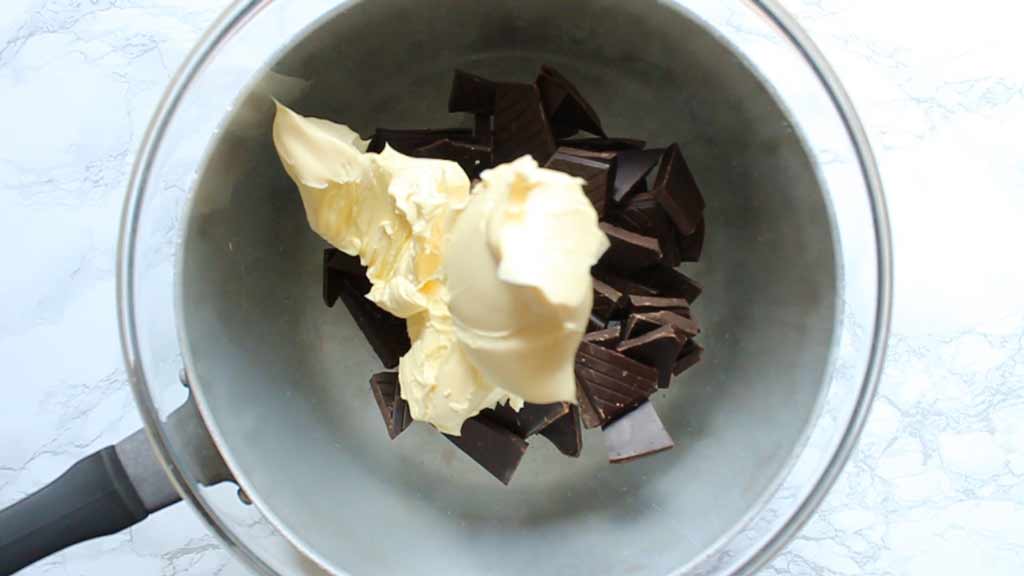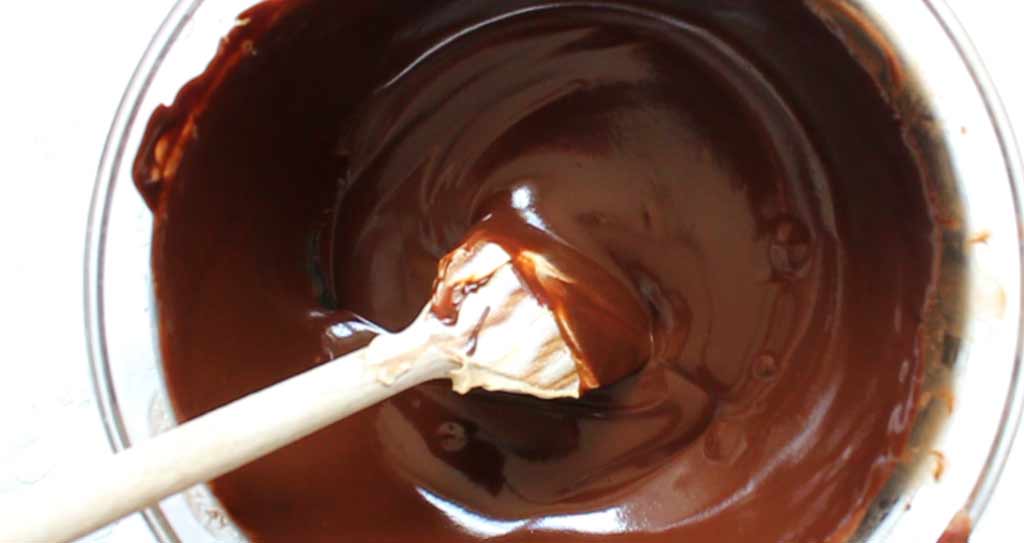 Remove the bowl (use gloves so you don't burn yourself from the steam) and set the chocolate mixture aside to cool a little.
Step 2:
Place 7 tablespoons of aqua faba in a clean bowl and whisk using an electric mixer until it becomes thick and frothy- around 5 minutes.
Add 275g of caster sugar into the bowl, a little at a time, and whisk for a further 5 minutes. You should end up with a thick, glossy mixture that's reminiscent of melted marshmallows.
The longer you mix at this point, the chewier the brownies will become once cooled. Just be careful not to overdo it, or you'll end up with a chocolate meringue-type dessert instead!
Step 3:
Preheat your oven to 180C and line a 12 x 8″ pan with greaseproof paper.
By this point, your chocolate mixture should have cooled down. Pour it into the glossy aqua faba mixture and gently fold it in using a figure-of-8 motion. Make sure everything at the bottom of the bowl gets incorporated.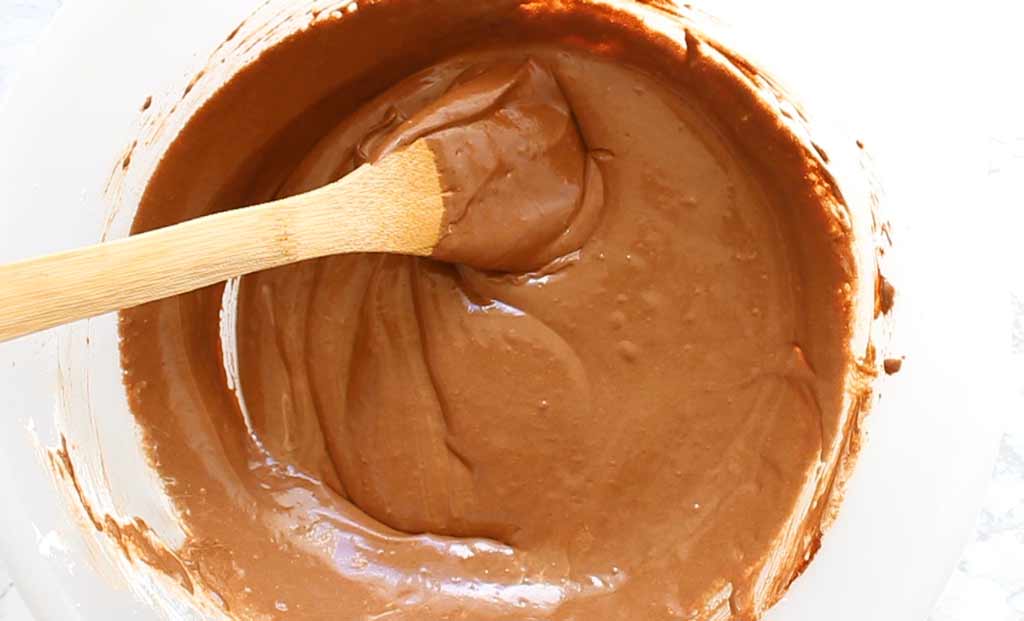 Step 4:
Sift in 40g of cocoa powder and 85g of gluten-free flour.
I used a gluten-free plain flour blend for mine but I think most types of flour would work well. If you don't have access to a gluten-free flour blend, I'd recommend trying buckwheat or almond flour.
Do keep in mind that other types of flour may alter the taste slightly- but I'm positive they will still taste delicious!
Fold in the cocoa and flour until everything is well combined.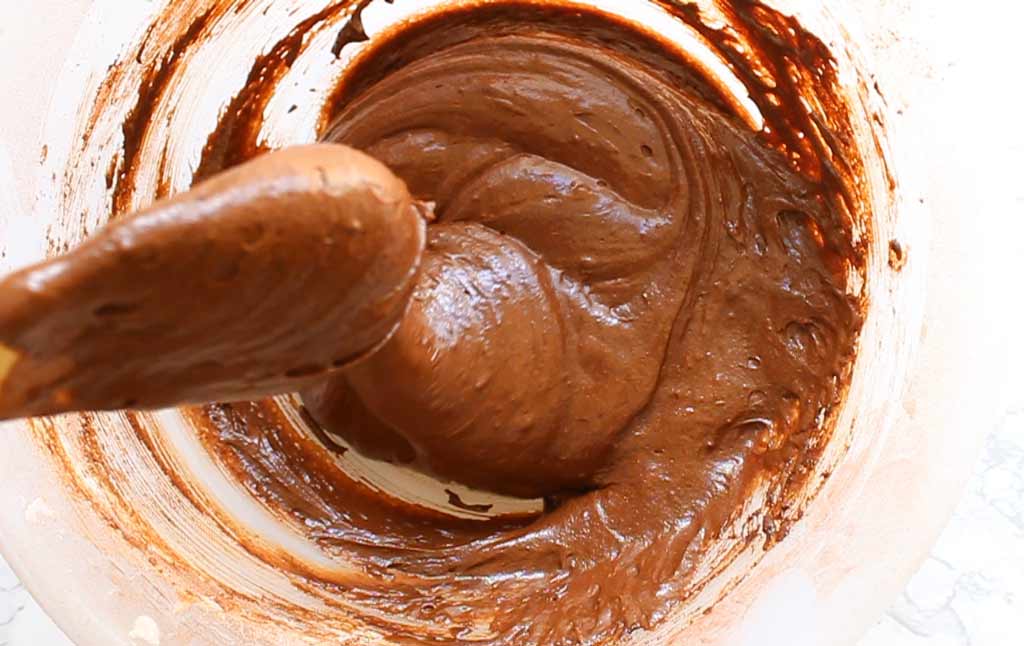 Step 5:
Add 150g of chopped chocolate or chocolate chips.
I used half semi-sweet dark chocolate chunks and half vegan white chocolate chunks but feel free to use whichever kind of chocolate you like best. The quality of it doesn't matter quite as much for this part.
Fold the chocolate chunks into the brownie batter.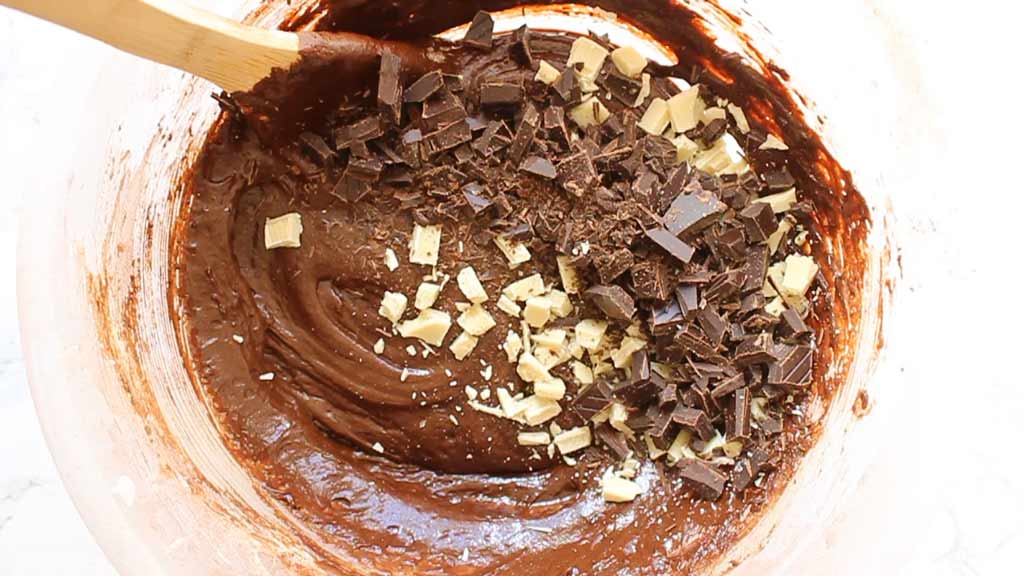 Step 6:
Transfer the brownie mixture into your lined tin and use the back of a small spoon to spread it out evenly.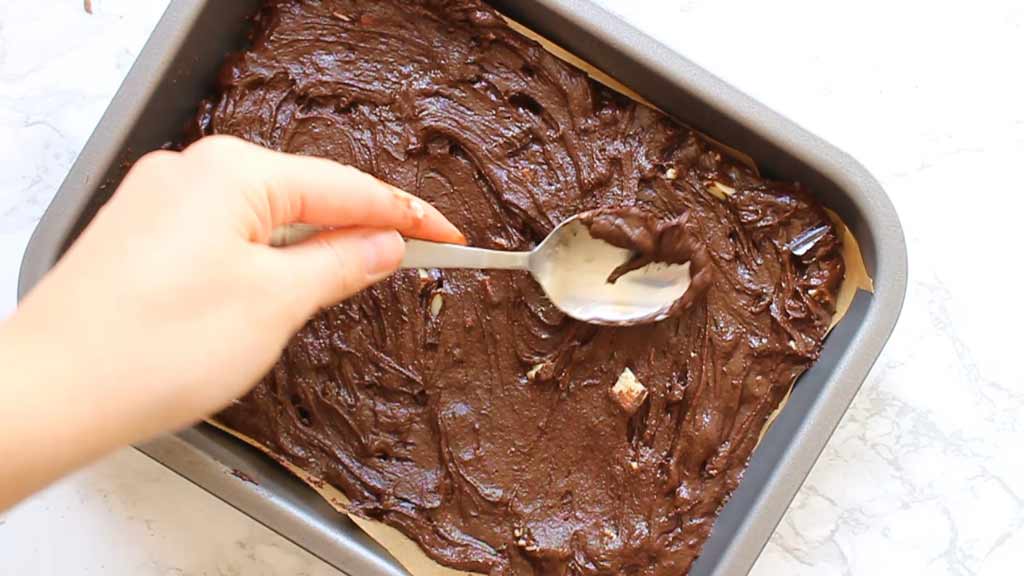 Bake for around 30-45 minutes. The baking time will depend on how long you have whisked the aqua faba for. When they're ready, they should have a crispy crust around the edges and be slightly firm on top (i.e. not completely fragile).
They'll still be a bit wet in the middle but they'll firm up nicely as they cool. This is what gives them that delicious fudgy and chewy texture!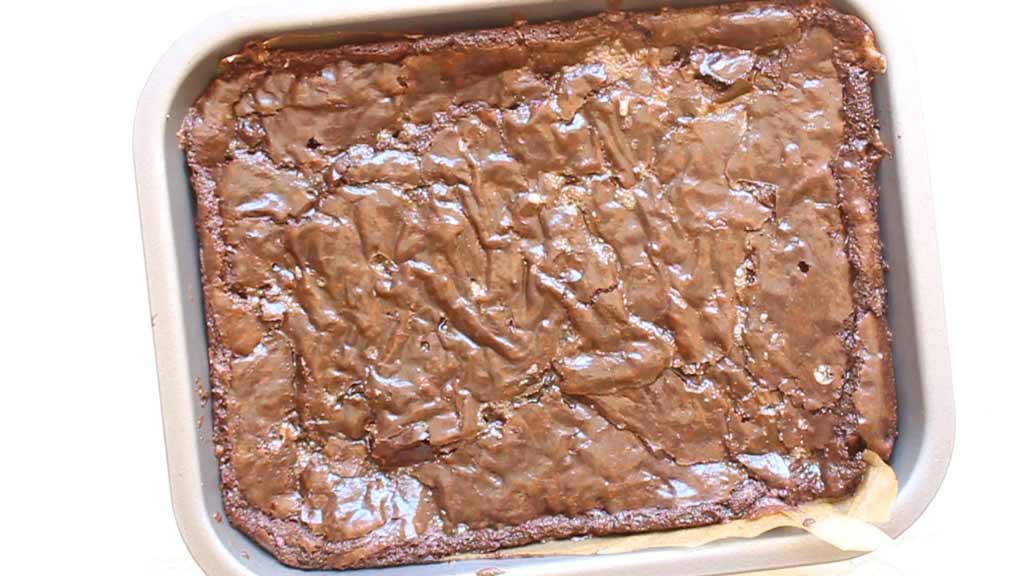 Step 7:
Leave the brownies in the pan for 1-2 hours until they are completely cold. Then, cut into squares and enjoy!
You can store these gluten-free brownies in an airtight container for up to 1 week.
Can I Freeze Gluten-Free Brownies?
Yes! Absolutely.
These brownies are so chewy and dense that I find them to be the perfect dessert to freeze for later because there's no need to worry about them deflating or becoming soggy.
Plus, they are SUPER rich and decadent. So unless you have a few friends to help you eat the whole pan of brownies, I think it's a good idea to freeze some for a later date.
I always place them into a small airtight container and just pop them in the freezer like that. And to defrost, just transfer them onto a plate and let them sit at room temperature for 1-2 hours.
They should keep well for around 1 month in the freezer but usually, they don't make it that long in my house. They always get eaten pretty quickly!
Want A Single Serving Gluten-Free Brownie?
If you fancy a brownie but don't want the hassle (or temptation) of a whole trayful of brownies, you can check out my vegan brownie in a mug recipe, which is the perfect serving size for one person.
I've left some notes in that post about adapting it to be gluten-free too, so you'll get all of the same deliciousness but it'll be much quicker and there will be no tempting leftovers!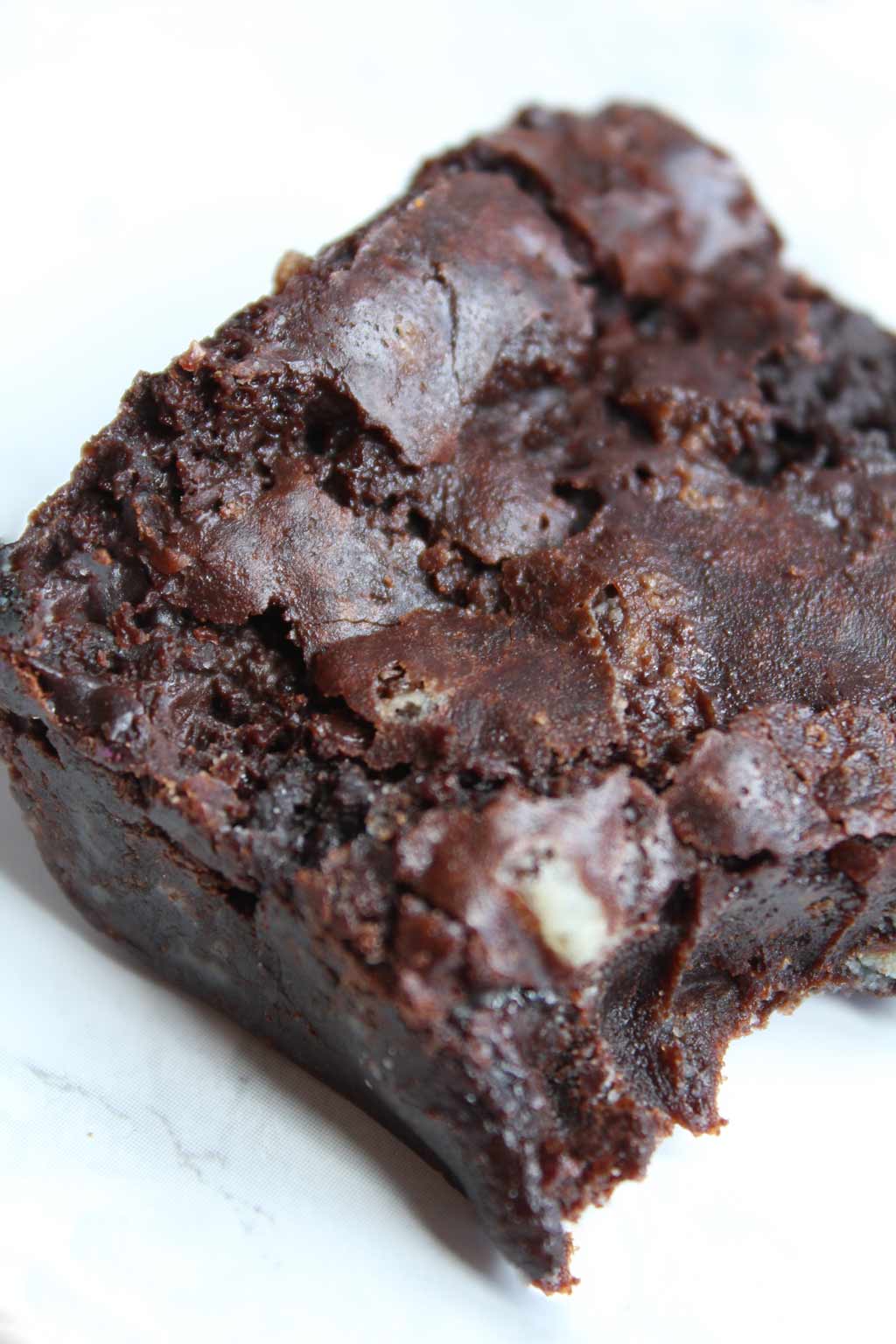 I hope you enjoy this recipe- let me know if you'd like to see more gluten-free desserts on the blog! And if you give these brownies a go, please leave a rating or comment below and let me know how it went.
Happy baking!
xo

Gluten Free Brownies
Chewy vegan brownies made with gluten-free flour.
Keyword:
gluten free brownies
Ingredients
6.5

oz

Dark chocolate with 70%+ cocoa

(185g)

¾

Cup + 1 tbsp

Vegan butter

(185g)

7

Tablespoons

Aqua faba

(liquid from canned chickpeas)

1+¼

Cups

Caster sugar

(275g)

⅔

Cup

Gluten-free flour blend

(85g)

5

Tablespoons

Unsweetened cocoa powder

5

oz

Chocolate of choice, chopped into chunks

(150g)
Instructions
Break the dark chocolate into small pieces and place it into a medium-sized bowl along with the vegan butter.

Set the bowl on top of a small pot of hot water, making sure the water doesn't touch the bottom of the bowl. Place it over a low heat and stir gently until everything is combined and melted.

Remove the bowl from the pot (use gloves because it will be hot) and set it aside to allow the chocolate mixture to cool.

Turn the oven on to 350°F/180°C and line a 12 x 8" baking tin with grease proof paper.

In a separate bowl, mix the aqua faba using an electric whisk for 5 minutes. It should be thick and foamy.

Keep whisking and add in the sugar a little at a time. Whisk for another 5 minutes until you have a thick, glossy mixture that looks like melted marshmallow. The longer you mix, the chewier the brownies will be- just be careful not to overdo it.

Pour the aqua faba mixture into the cooled chocolate and fold it together using a figure-of-8 motion with your spoon.

Sift the flour and cocoa powder in and gently fold again. Add in your chocolate chunks and mix until everything is well combined.

Transfer the brownie batter into your tin and bake for 25-30 minutes***

Leave the brownies to cool completely in the pan for 1-2 hours before cutting into small squares.
Recipe Video
Recipe Notes
***Baking time will depend on how long you whisk the aqua faba and sugar. Check after 25 minutes and if not ready yet, bake for another 5 minutes. They should have a crispy edge and be slightly firm on top but don't worry if they're still a little "wet" after 30 minutes- they will firm up as they cool.
*Store in an airtight container for up to 1 week.
*Recipe adapted from Orlando Murrin's "best ever brownies" recipe.
Nutrition Facts
Gluten Free Brownies
Amount Per Serving
Calories 270
Calories from Fat 153
% Daily Value*
Fat 17g26%
Sodium 1mg0%
Carbohydrates 25g8%
Protein 3g6%
* All values are an estimate only and will vary depending on the food brands used.