Peanut Butter Porridge
Looking for something to warm you up in the chilly Winter mornings? This peanut butter porridge will do the trick! A simple, easy recipe that you can make in the microwave or over the stove. Enjoy it for breakfast or supper, or as a healthier alternative to dessert.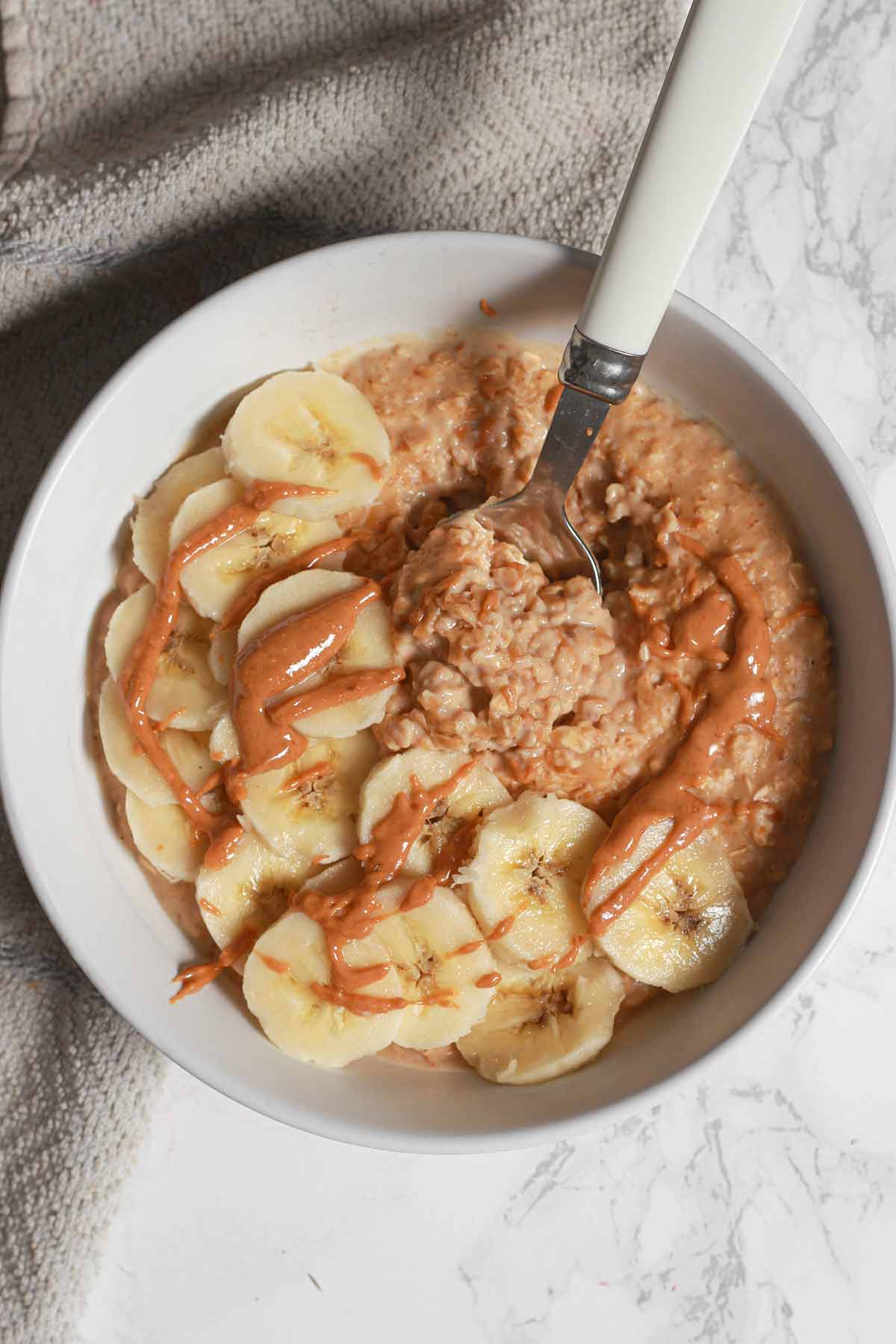 Now that the weather is beginning to get a little chilly here in Scotland, I've started thinking about the more 'cosy' treats. And this dairy-free peanut butter porridge came to mind.
I know that peanut butter in porridge is not what most people would consider a 'treat', but with the right toppings, it can make a tasty, sweet alternative to sugar-laden dessert. Or you can enjoy it for breakfast or supper.
I actually used to really dislike porridge because I didn't know how to make it properly when I was younger. I always used either far too little milk, so it ended up like wallpaper paste, or I used so much milk that my porridge was more of a soup.
Now that I've learned the correct milk-to-oats-to-sweetener ratio, I enjoy porridge almost every morning. And adding peanut butter in porridge takes it to the next level. I just love it!
Ingredients and equipment you'll need
Oats. Porridge oats are obviously best but any type of oats will work for this recipe. I use Scott's porridge oats.
Milk. I like to use soy milk for my porridge. It's dairy-free and high in protein. You can use your favourite type of milk but note that you may have to slightly adjust the amount you use as different milks will produce a slightly different porridge texture.
Peanut butter. Again, any type of peanut but is fine! I like using Meridian smooth because it doesn't have any oil or sugar added to it. It's just 100% nuts.
Agave nectar. I use agave nectar to sweeten my porridge but you can use maple syrup, molasses or just regular sugar if you prefer. You can sweeten to taste but do bear in mind that if your vegan milk is sweetened, you'll need to use less than if it isn't.
Vanilla extract. This just adds some extra flavour and is optional. You can substitute it with cinnamon if you prefer a sweetly-spiced porridge.
Salt. Just a pinch, to bring out the flavour. I do not recommend adding extra salt if your peanut butter is salted.
Banana. I always top my peanut butter porridge with banana but this is optional. I've listed some other topping ideas further on in this post.
A wooden spoon and saucepan. To cook the porridge. You can also make peanut butter porridge in the microwave if you prefer. I recommend heating in small bursts and stirring every so often until hot throughout. You may also need to add a little extra milk if you make it in the microwave.
How to make peanut butter porridge
Step 1:
To a small saucepan, add 40g of oats, 120ml of unsweetened soy milk or other dairy-free milk. Place the saucepan over a medium-low heat on the stove and stir gently.
Step 2:
When the porridge is starting to cook, stir in 2 tablespoons of peanut butter, 1 tablespoon of agave nectar, 1 teaspoon of vanilla extract and a small pinch of salt. Stir gently until the porridge becomes creamy and is cooked throughout. Remove it from the heat.
Step 3:
Transfer the porridge into a bowl. Top with sliced banana and some extra peanut butter. Enjoy immediately while it's still warm!
Porridge topping ideas
If you're not a fan of bananas, don't worry! There are plenty more toppings that pair nicely with peanut butter. Here are some ideas below but feel free to add anything you like:
Chocolate chips (Moo-Free have delicious vegan milk and white chocolate drops that would be perfect for this) or chocolate sauce!
Strawberry or raspberry jam. PB and jelly style!
Raisins or any other dried fruit
Stewed apples and cinnamon
Chopped nuts
FAQ:
How can I fix lumpy or runny porridge?
If your porridge is too thick, you have either overcooked it or not used enough milk. In most cases you will be able to salvage it by adding some more milk and stirring gently over a low heat until it thins out a little.

If your porridge is too runny, you've probably used too much milk or you haven't cooked it for long enough. You can continue cooking until the porridge becomes thicker.
Can I use crunchy peanut butter?
Yes. Smooth or crunchy will work just fine in this recipe.
Can I make this porridge in the microwave?
Yes. The oats are creamier when made over the stove but they can definitely be microwaved too. To microwave, mix all of the ingredients in the bowl and pop it in for 30-60 second increments until cooked to your liking.
How many calories are in peanut butter porridge?
This recipe, if made with the ingredients listed, contains 418 calories. It contains lots of healthy fats and over 16g of protein, which is not bad for a vegan breakfast!
More dairy-free recipes with oats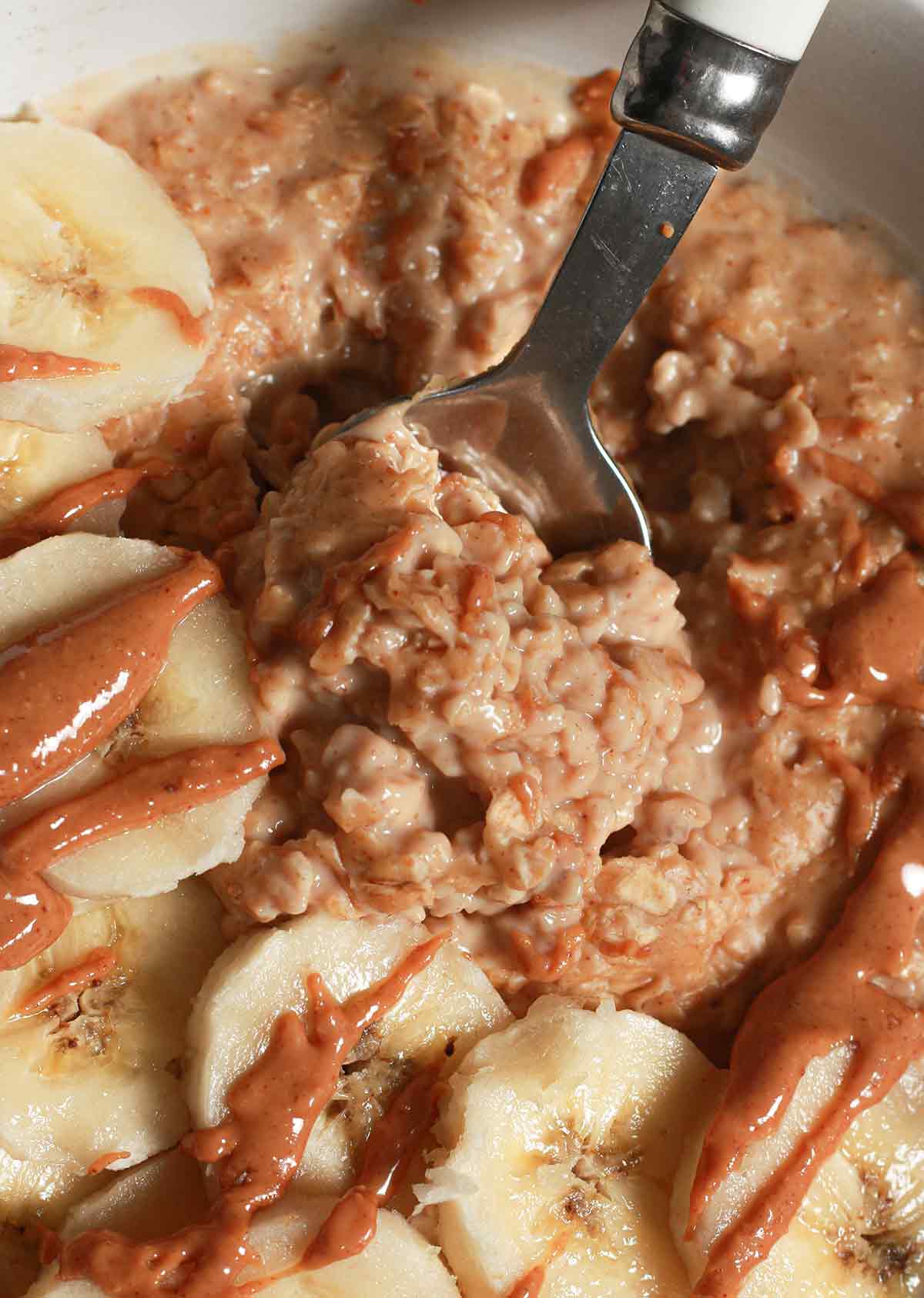 I hope you enjoy this tasty dairy-free recipe! If you make it for breakfast, let me know what you think by leaving a rating and comment below. Enjoy! xo

Peanut Butter Porridge (Dairy-Free, Vegan)
A hearty, nutty breakfast that everyone will love.
Ingredients
40

g

Porridge oats

(½ cup)

120

ml

Soy milk

(½ cup)

2

Tablespoons

Peanut butter

(both smooth and crunchy will work)

1

Tablespoon

Agave nectar or maple syrup

(or more, to taste)

1

Teaspoon

Vanilla extract

(can be subbed for cinnamon, depends on your preference!)

Pinch

Salt
For topping:
Sliced banana

Extra

Peanut butter
Instructions
Put the oats and soy milk into a saucepan.

Place the saucepan over a medium-low heat. When the porridge is beginning to cook, stir in the peanut butter, agave nectar, vanilla and salt.

Stir the porridge gently until it becomes creamy. If you want your porridge thicker, let it cook longer and if you want it thinner, add an extra splash of milk while it's cooking.

Transfer porridge into a bowl. Top with extra peanut butter, banana slices and extra agave nectar if desired. Enjoy immediately.
Recipe Notes
Soy milk can be subbed for any other dairy-free milk.
Nutrition Facts
Peanut Butter Porridge (Dairy-Free, Vegan)
Amount Per Serving (1 bowl)
Calories 418
Calories from Fat 162
% Daily Value*
Fat 18g28%
Sodium 2mg0%
Carbohydrates 46g15%
Protein 16g32%
* All values are an estimate only and will vary depending on the food brands used.
BakedByClo is a participant in the Amazon Services LLC Associates Program, an affiliate advertising program designed to provide a means for sites to earn advertising fees by advertising and linking to Amazon.com. This site may contain some of these links to Amazon.com & other affiliate programs. If you make a purchase through one of those links, BakedByClo will receive a small commission from the purchase at no additional cost to you.