25 Easy Vegan Christmas Cocktails
Looking for some vegan Christmas cocktails to enjoy with your guests this festive season? Look no further! This list of 25 tasty recipes is sure to satisfy, with something to suit everyone's taste buds.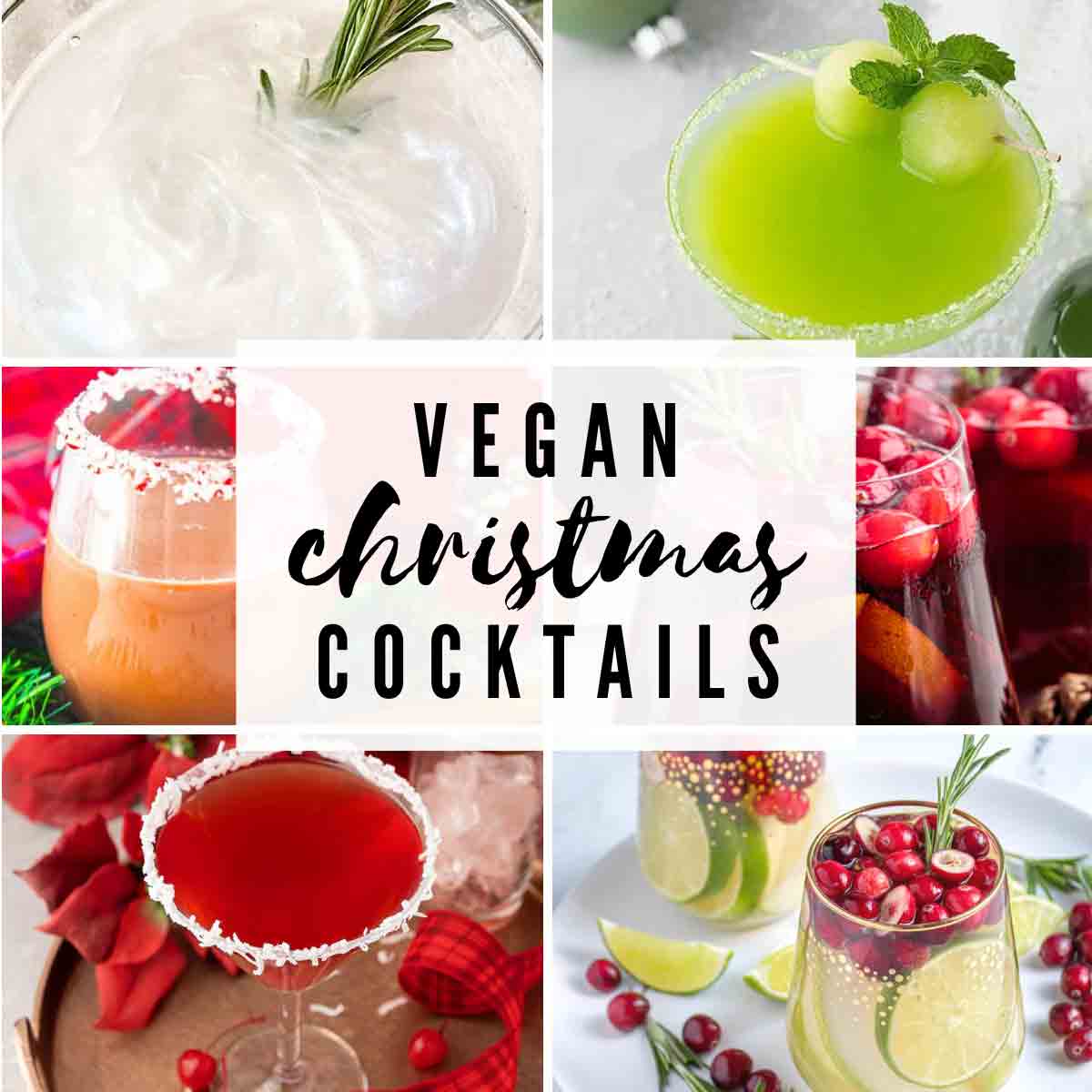 Christmas is a time for togetherness and fun, which often includes alcohol! I'm not much of a drinker myself but I do love a festive glass of mulled wine or a themed cocktail around Christmas time, so I thought it would be fun to put together this list of vegan Christmas cocktails for you to use at your next festive gathering. I've used the help of some talented bloggers to put this post together so make sure to show their blogs some love if you try their recipes!
Is alcohol vegan?
Before we get started, I want to set the record straight about alcohol because I get asked this all the time by family and friends! Alcohol is vegan a lot of the time but it isn't always. This is because some drinks such as wine (not all wine!) are filtered using animal products such as isinglass.
You can have a look at the labels to check if your alcohol of choice is vegan-friendly but if you're unsure, you can refer to Barnivore, which is an extremely helpful vegan alcohol directory. It'll let you know whether or not your favourite wines, ciders, beers and liquors are vegan.
The best vegan Christmas cocktails
Without further ado, let's get started with the recipes, shall we? To view the full recipes, simply click on the highlighted titles and you'll be taken straight there. Enjoy!
Related post: Vegan Christmas party food recipes
A wintery white wine sangria full of seasonal fruits like pears and cranberries topped off with some fiery ginger beer. 6 ingredients are required for this recipe.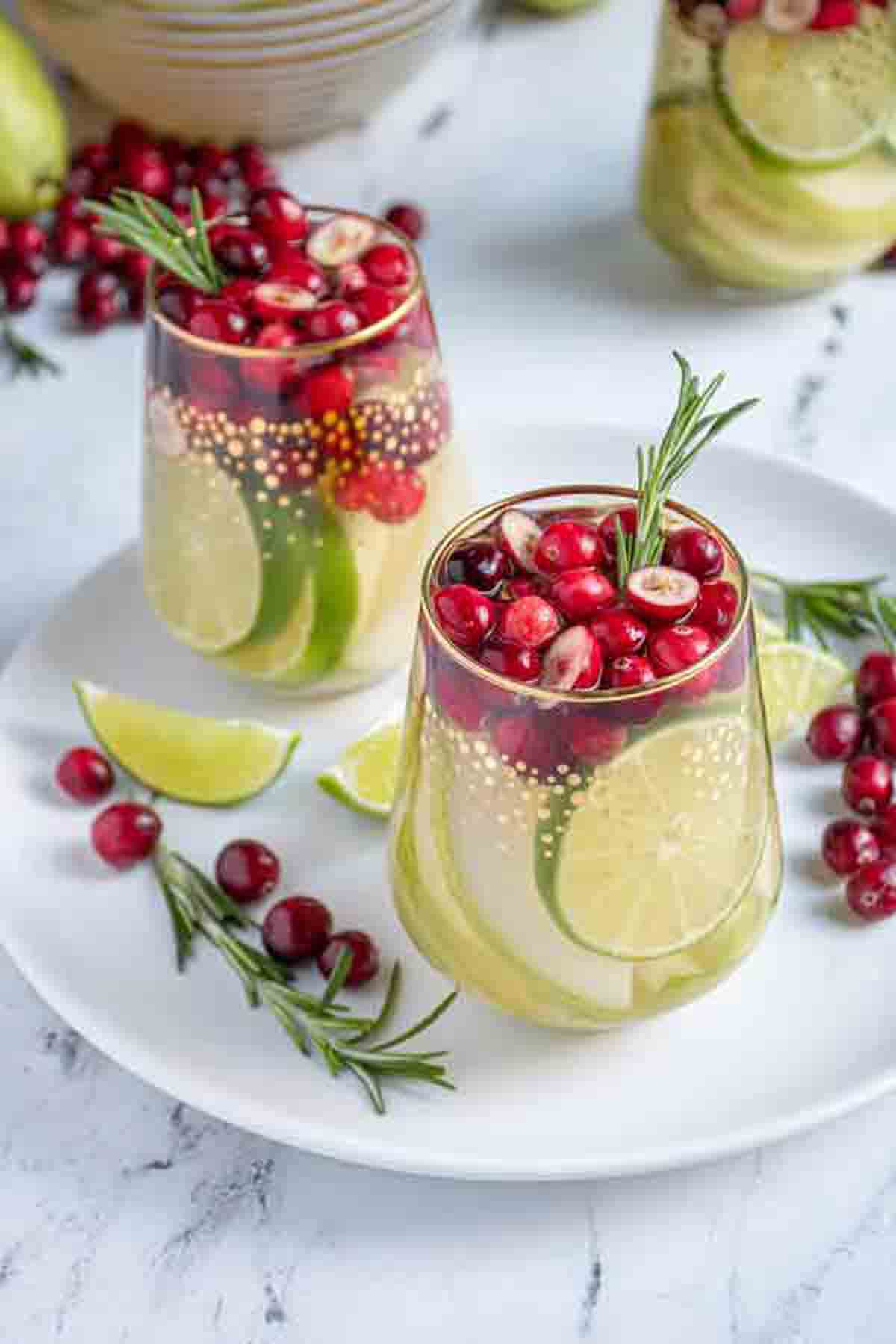 A fresh, smooth, citrusy cocktail with festive-spiced simple syrup. You'll need 5-8 ingredients to make this one, depending on which optional extras you choose.
The perfect vegan Christmas cocktail for bourbon and whiskey lovers! Full of warming flavours. There are just 4 ingredients in this recipe!
The blend of chocolate and peppermint flavours in this cocktail just screams Christmas! Despite its creamy texture, it's totally dairy-free and vegan. You'll need 5 ingredients for this one, or 7 if you add the optional extras.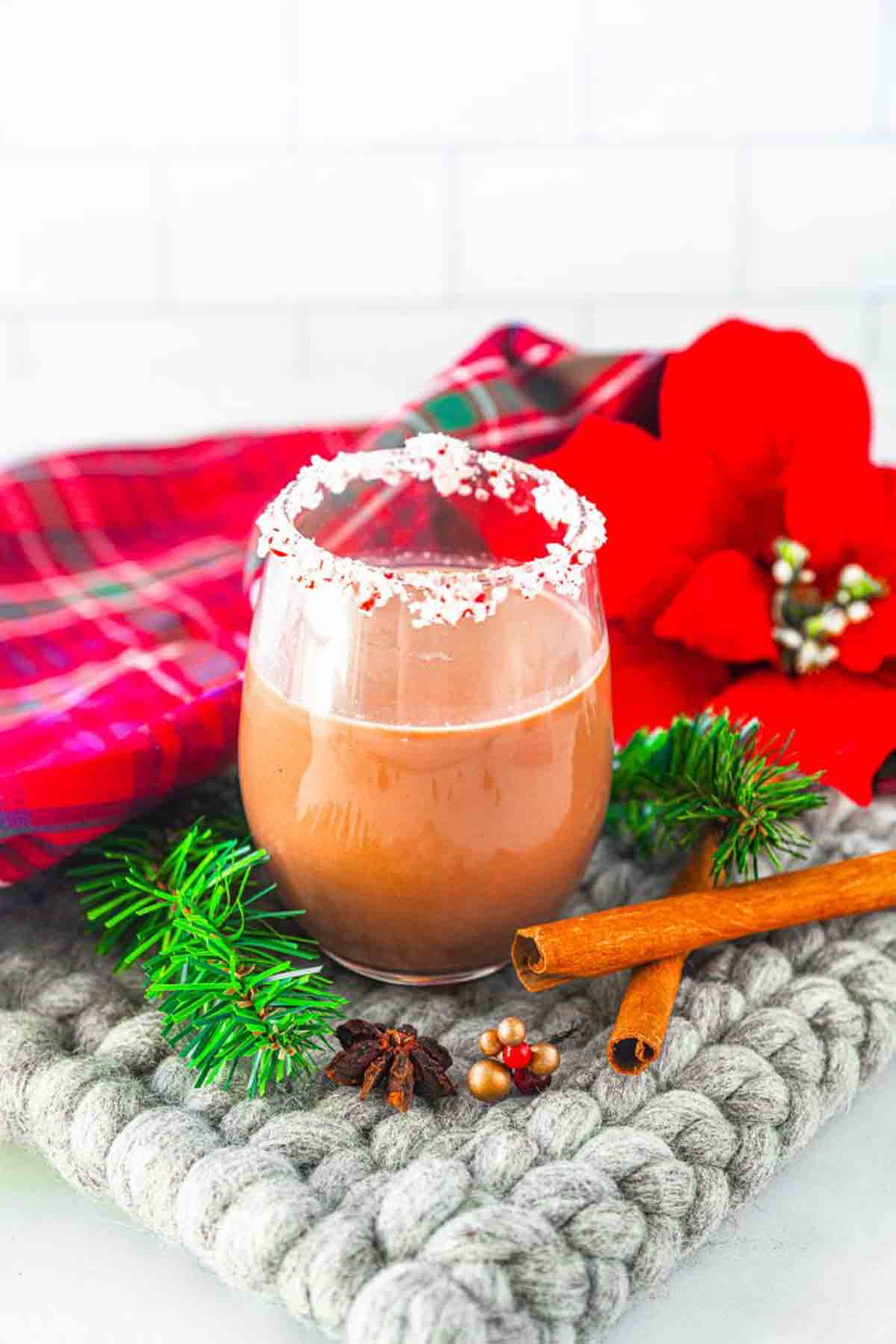 A 4-ingredient vegan Christmas cocktail made with peppermint schnapps, yum! This post also contains a bonus cocktail recipe for Christmas cosmos.
This is a sparkly, festive vegan Christmas cocktail full of earthy flavours. You'll need 7 ingredients in total to make this, which includes ice and garnishes.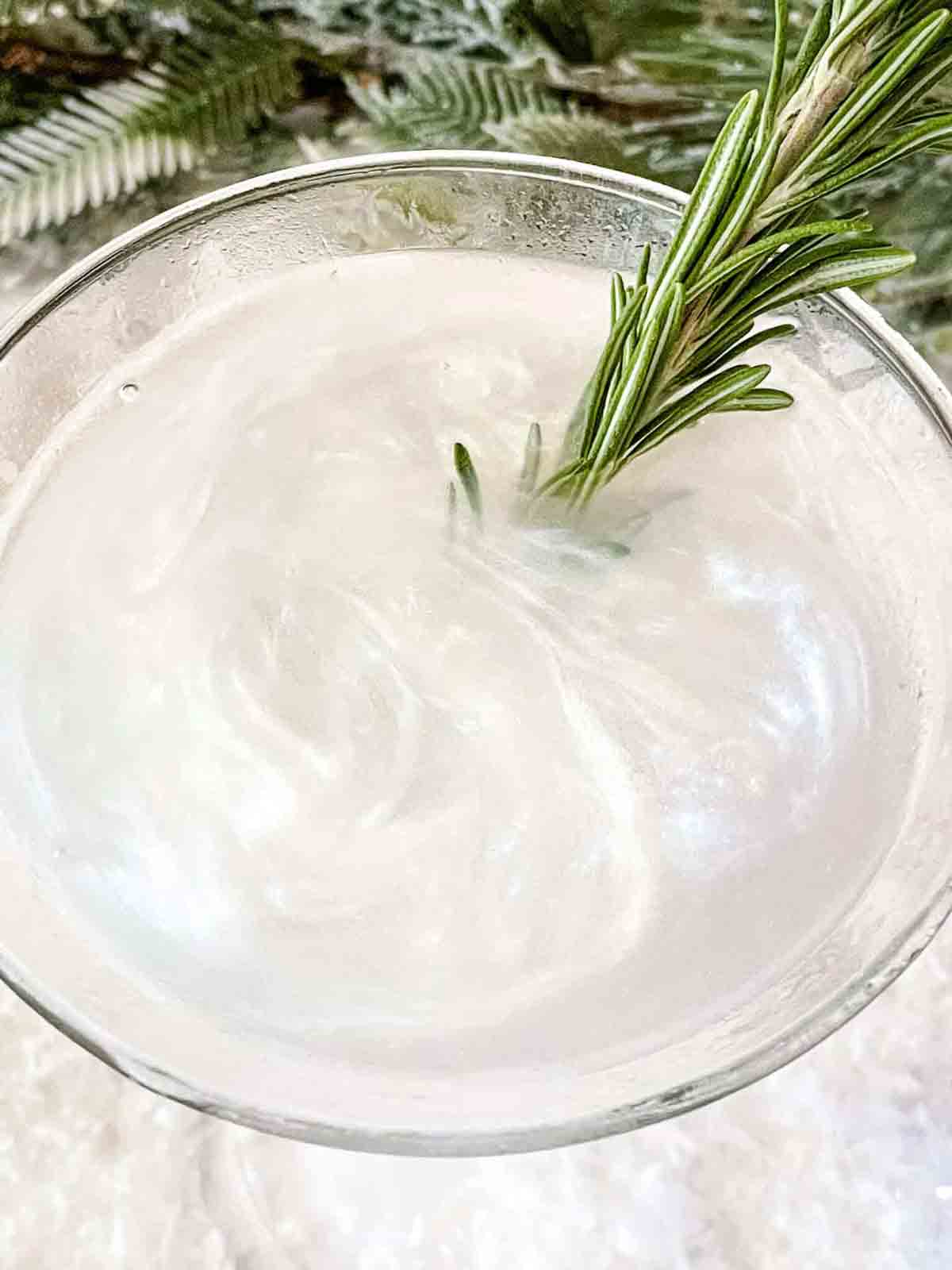 This recipe combines fragrant, cosy spices and rum with rich, sweet prune juice. There are only 8 ingredients required to make it!
Creamy eggnog with a splash of bourbon. Making the eggnog from scratch, this recipe contains 12 ingredients.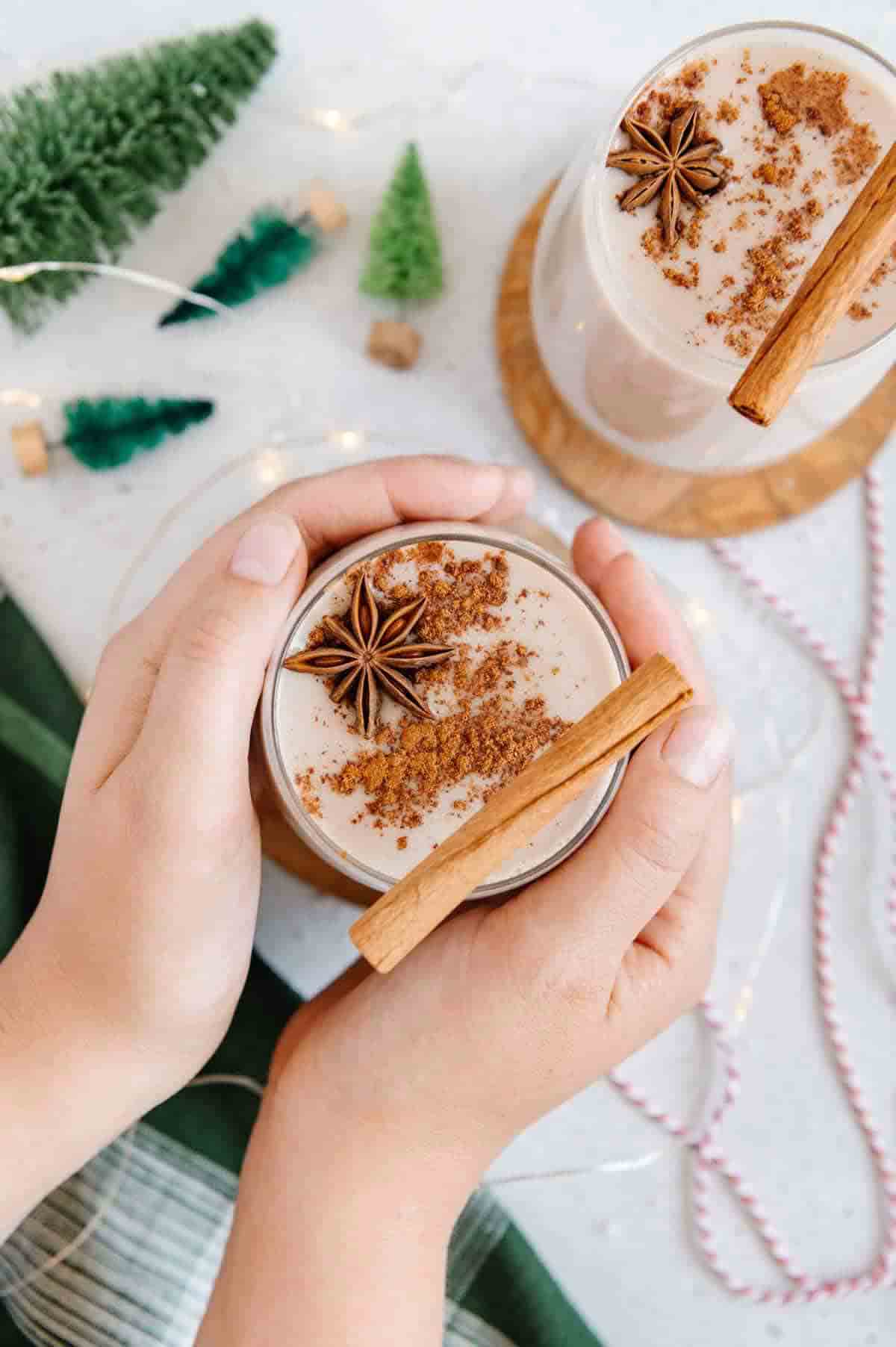 A non-alcoholic cocktail recipe that's made with fresh cranberries and serves up to 12 people. This has 7 ingredients in total.
This Sangria cocktail is sweet, sparkling and sweetly spiced. It uses homemade simple syrup and fresh garnishes such as cranberries, rosemary and ginger.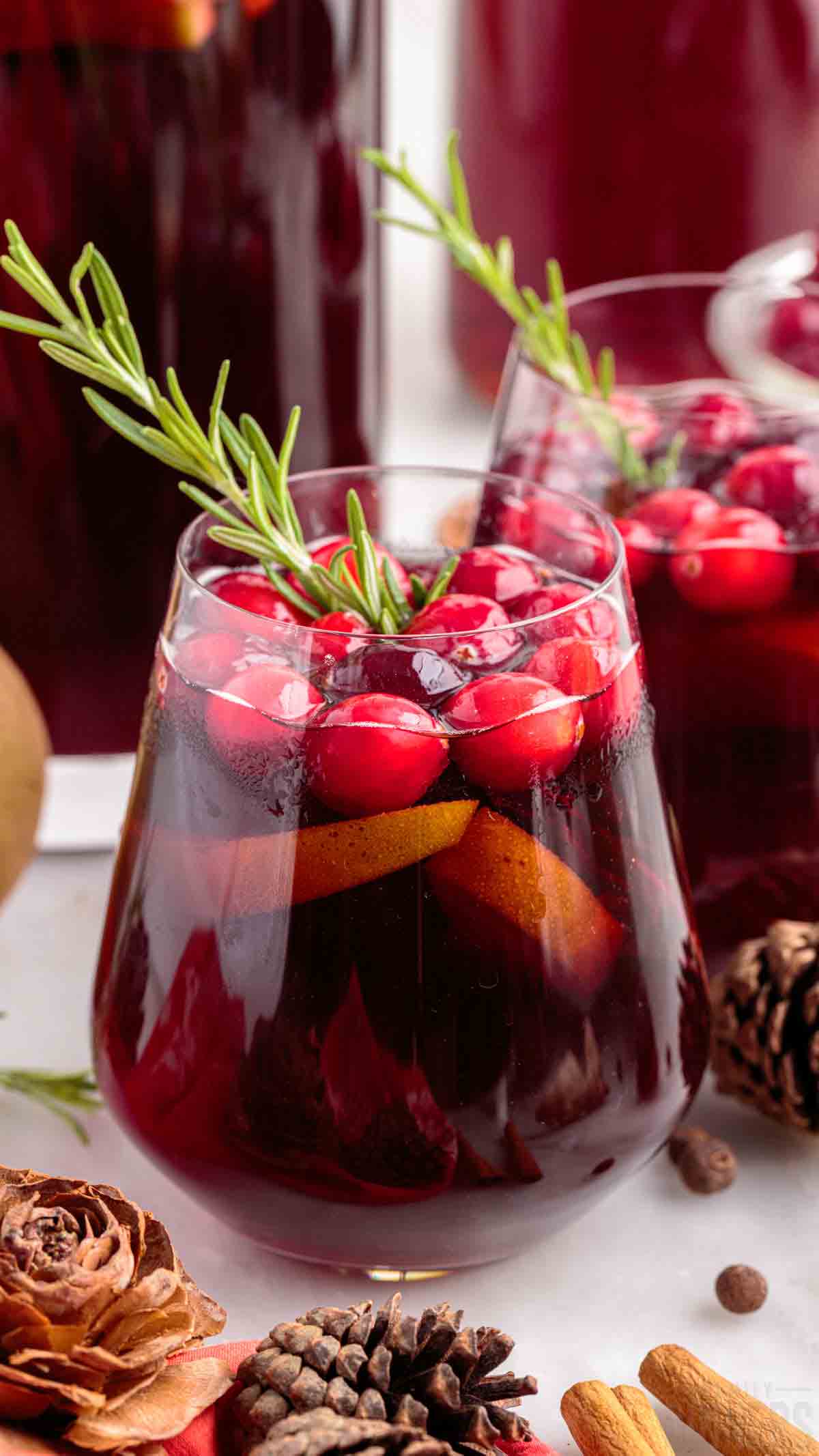 A colourful, citrusy twist on the standard martini. This recipe is super easy because it only requires 4 ingredients.
This Downton Abbey-inspired cocktail is the perfect mix of sweet, sparkly, spicy and tart. It's made with a homemade spiced syrup plus only 2 extra ingredients.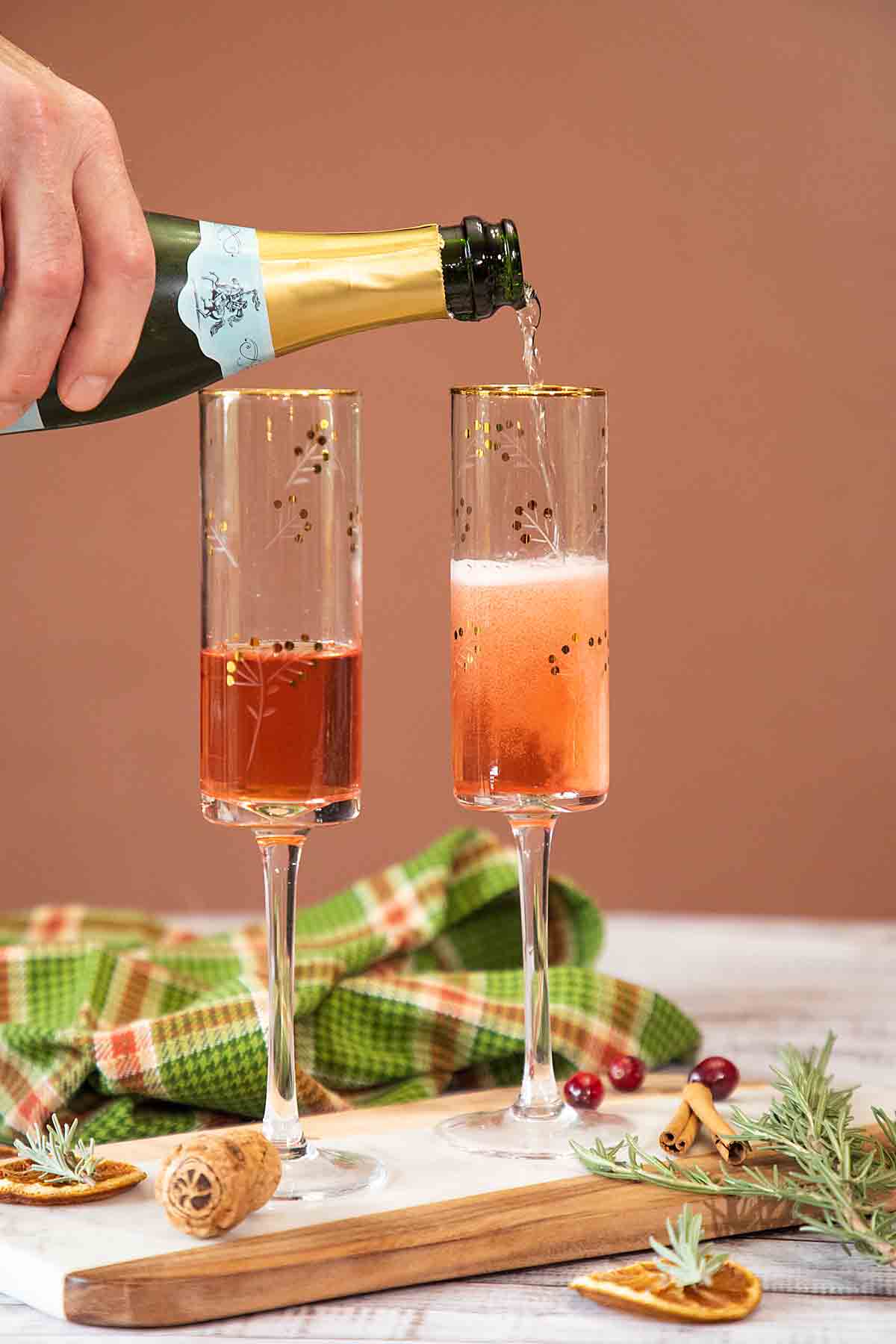 This cranberry crush cocktail is one of the most festive vegan Christmas cocktails, with its bold red colour. It requires 7 ingredients to make.
Another Grinch-inspired cocktail but this one is made with tasty sour apple schnapps. It has 7 ingredients in total.
A traditional, cosy Christmas drink made with red wine, brandy and spices. You'll need 10 ingredients to make this drink from scratch.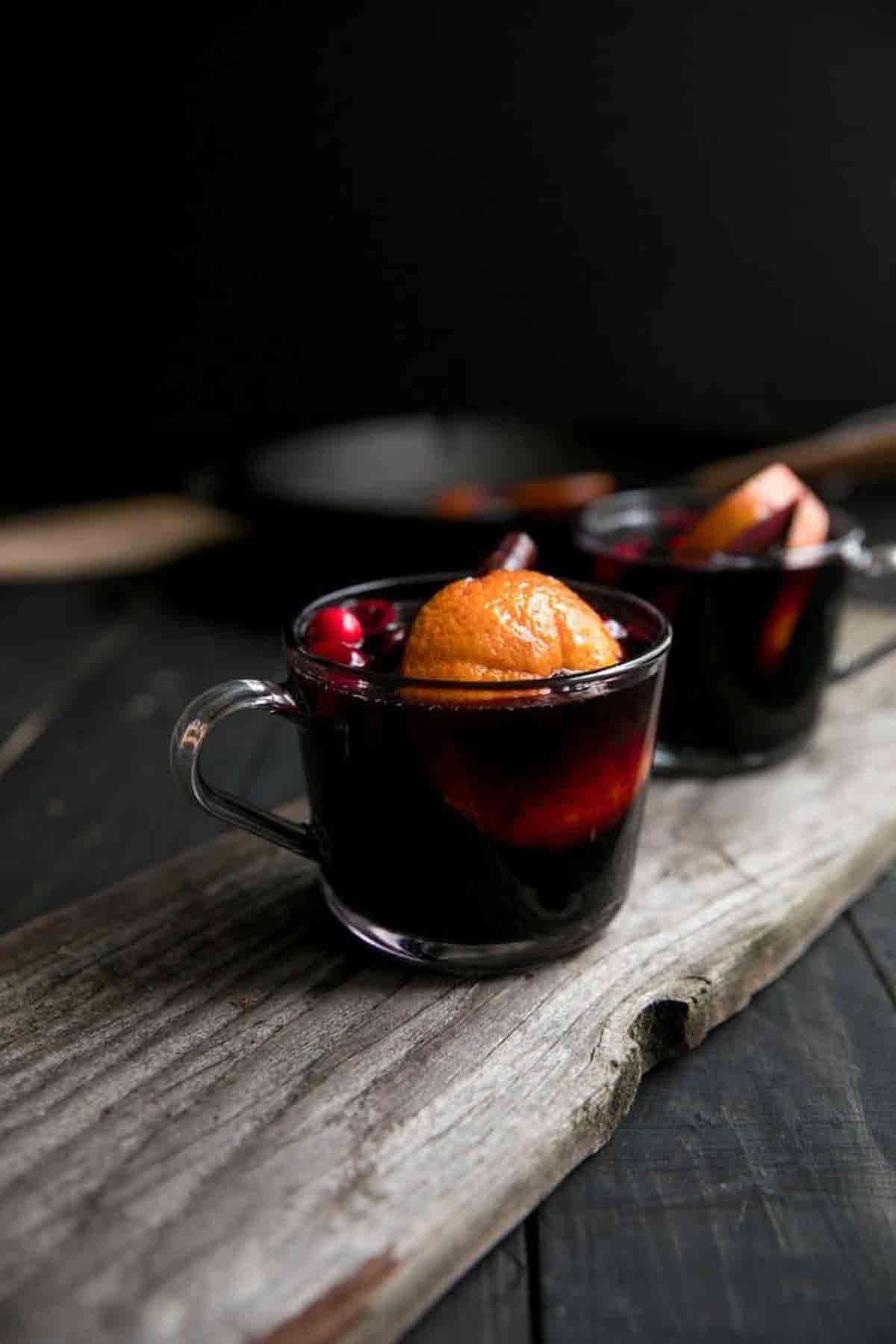 A sweet, creamy drink with Puerto Rican roots. Ready to drink in just 5 minutes with 8 ingredients.
A festive twist on the traditional Tom Collins, with cranberry flavours. This recipe requires 5 ingredients.
A bold, vibrant green drink that's inspired by the Grinch. Made with melon liqueur plus 8 other ingredients, which includes ice.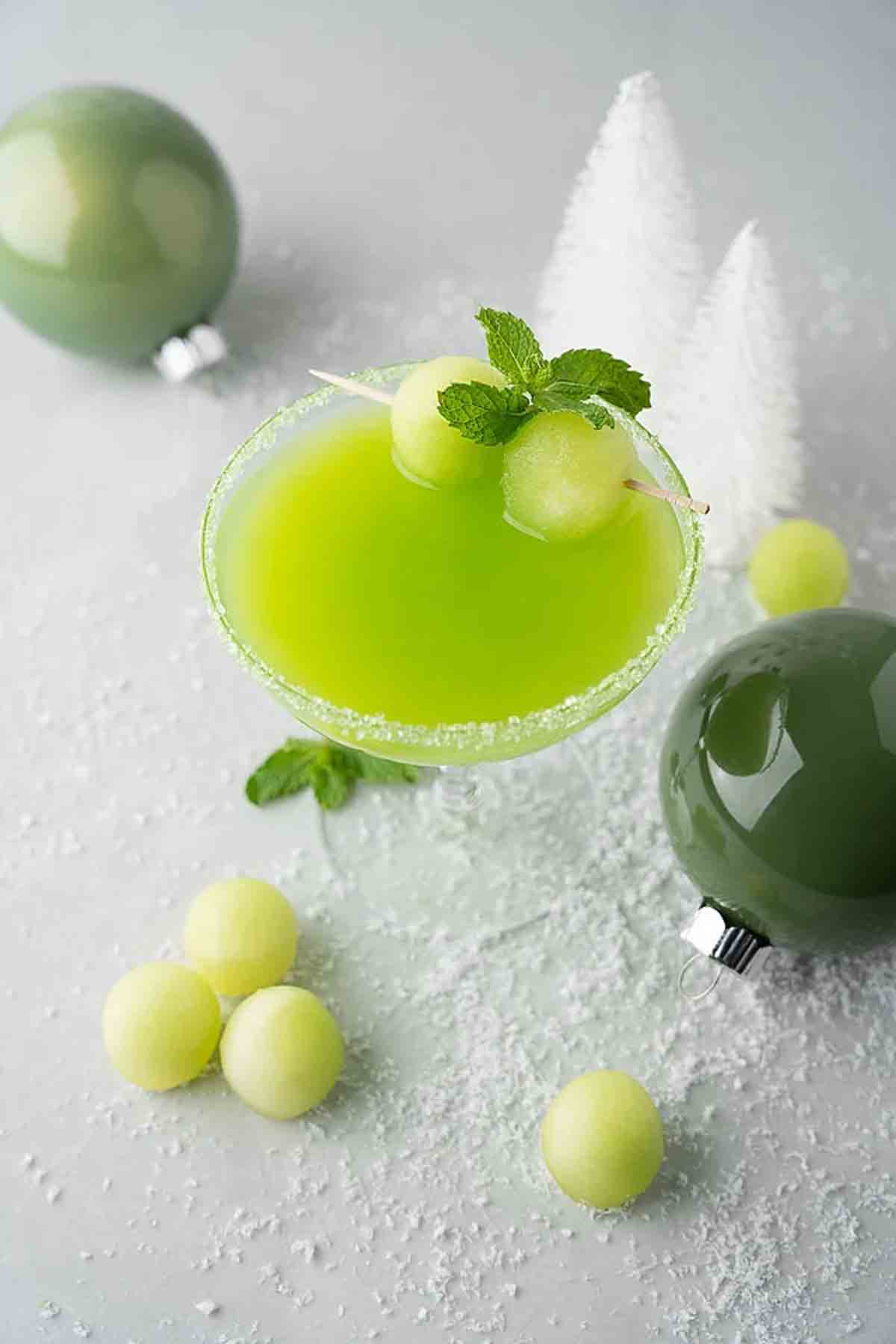 An apple and cranberry-flavoured cocktail that can be served warm or chilled. You'll only need 3 ingredients to make it!
A cosy alcoholic cider drink that's perfect for warming up on chilly nights. You'll need 11 ingredients to make this tasty treat.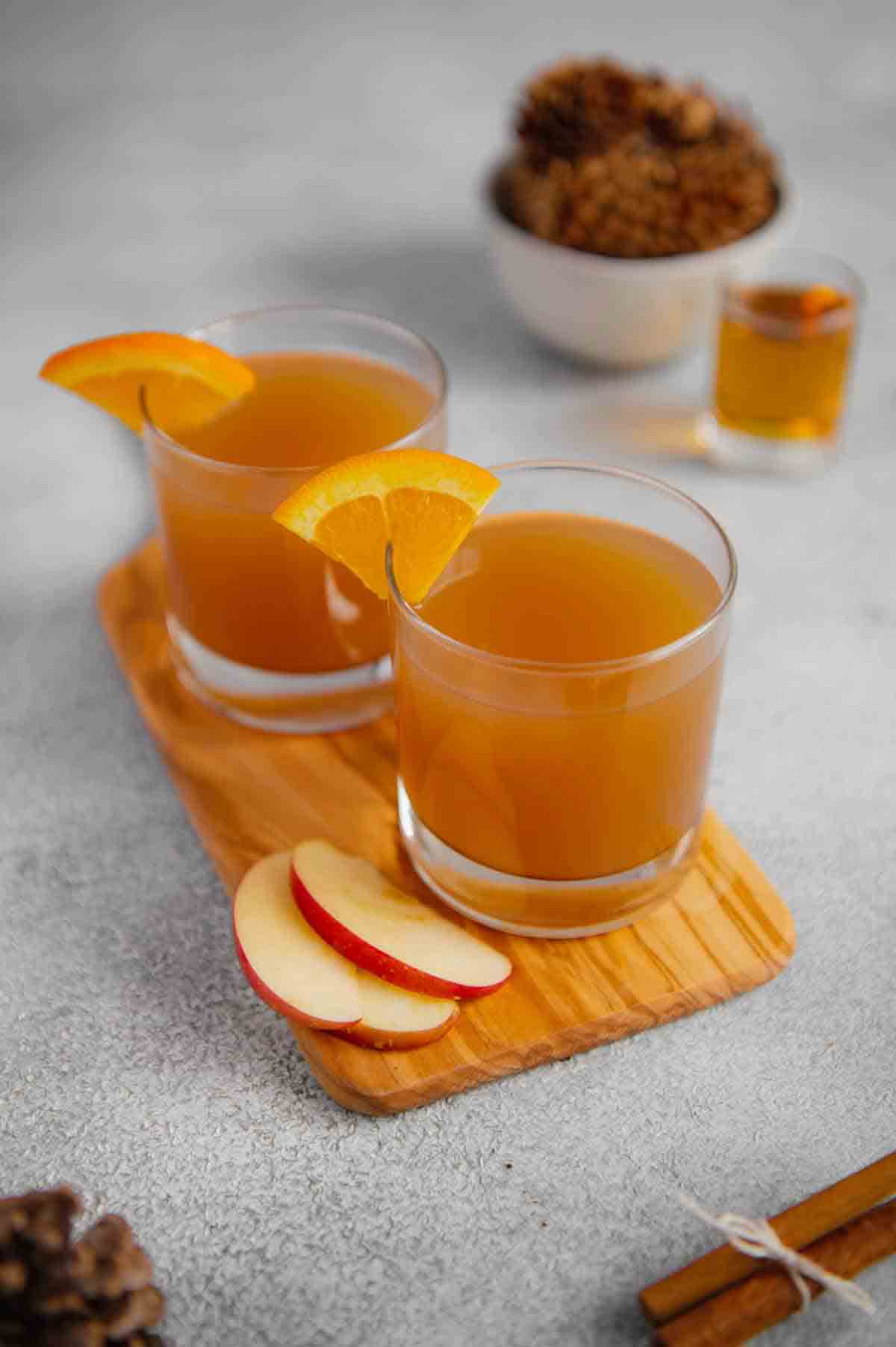 I couldn't have a list of vegan Christmas cocktails without a mimosa! It has a festive colour and fizzy bubbles and is bursting with cranberry flavour. It requires just 4 ingredients to make.
A sweet and fruity martini with a perfect blend of peach and almond flavours. Contains just 6 ingredients which includes the homemade simple syrup.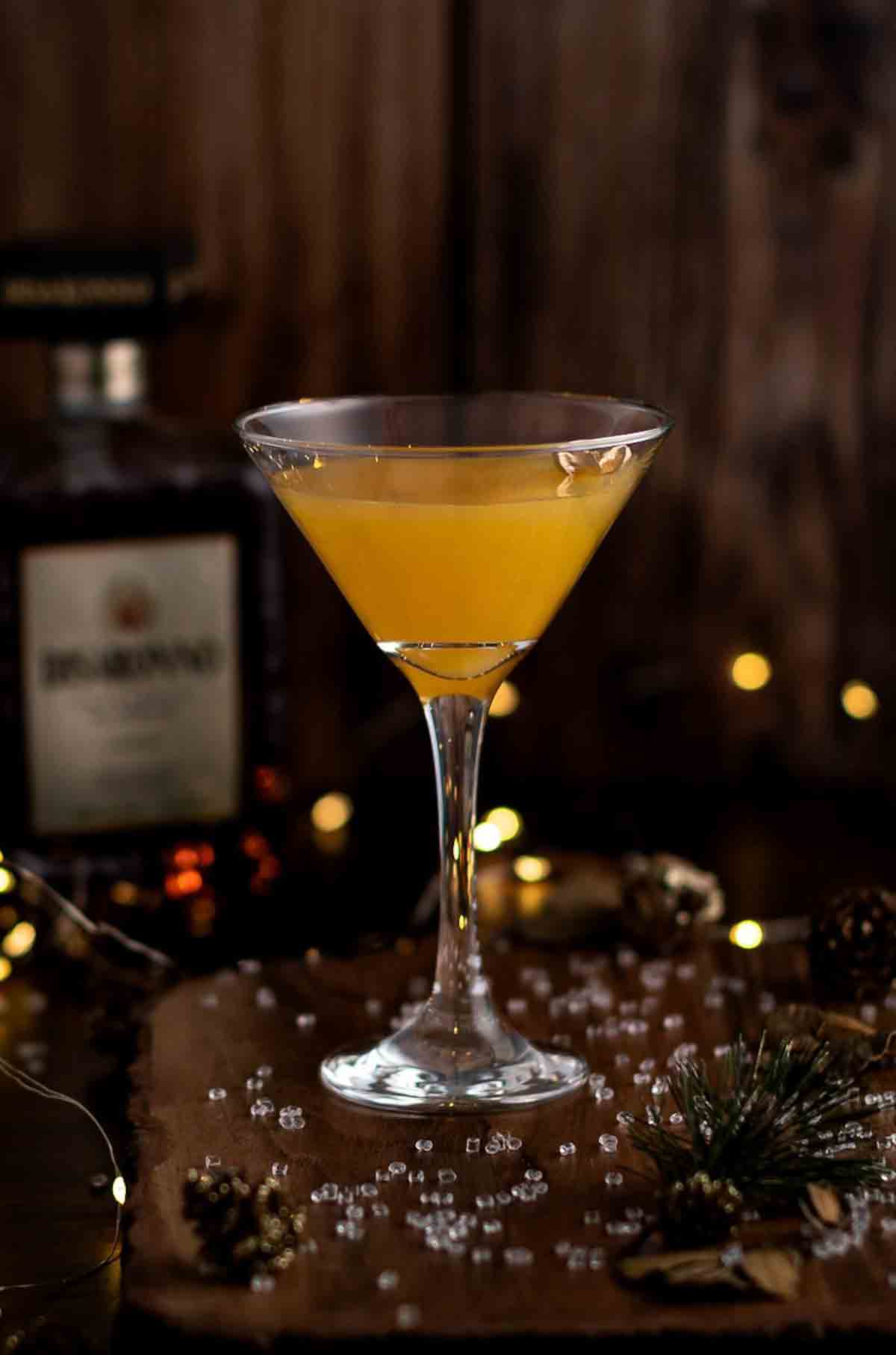 This cranberry rosemary cocktail is quick to make and is a great way to spread festive cheer. Made from scratch with 5 ingredients.
This festive, fizzy cocktail is perfect for the festive season. It's a simple recipe with just 4 ingredients.
How cute is this Santa's hat cocktail?! It's sweet, tart and fruity with a touch of coconut. Easy to make with 9 ingredients.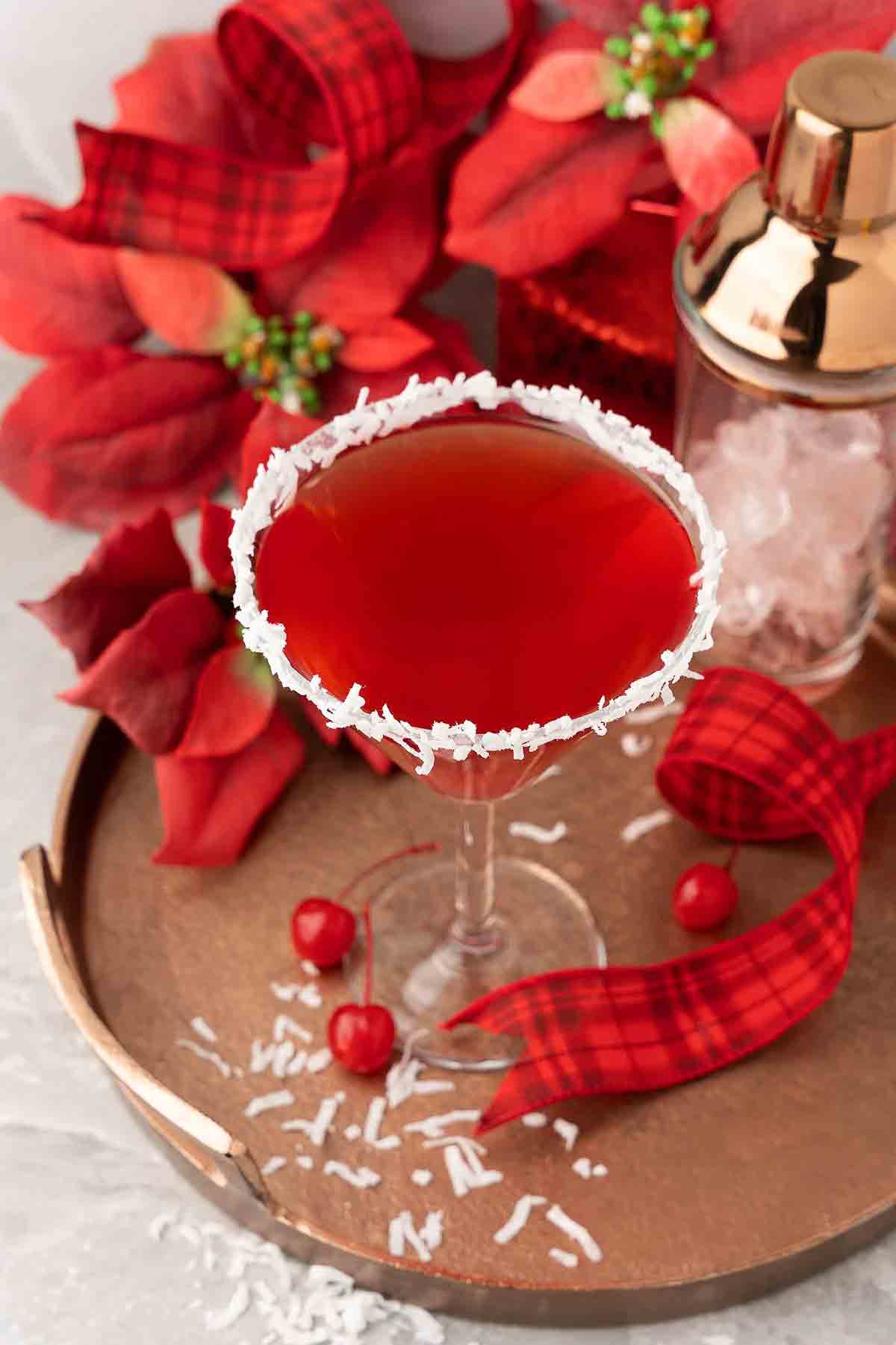 I hope you like these vegan Christmas cocktails! If you find this post useful, please give it a share using the share buttons on this page. Enjoy! xo

25 Easy Vegan Christmas Cocktails
The best festive cocktails and drinks for vegans to enjoy this Christmas.
BakedByClo is a participant in the Amazon Services LLC Associates Program, an affiliate advertising program designed to provide a means for sites to earn advertising fees by advertising and linking to Amazon.com. This site may contain some of these links to Amazon.com & other affiliate programs. If you make a purchase through one of those links, BakedByClo will receive a small commission from the purchase at no additional cost to you.