Are Cadbury Roses Vegan? Here's Everything You Need To Know
Are Roses vegan? If you're newly vegan or looking for dairy-free chocolates for a loved one, you might be wondering the same thing. This post will tell you everything you need to know about these nostalgic chocolates.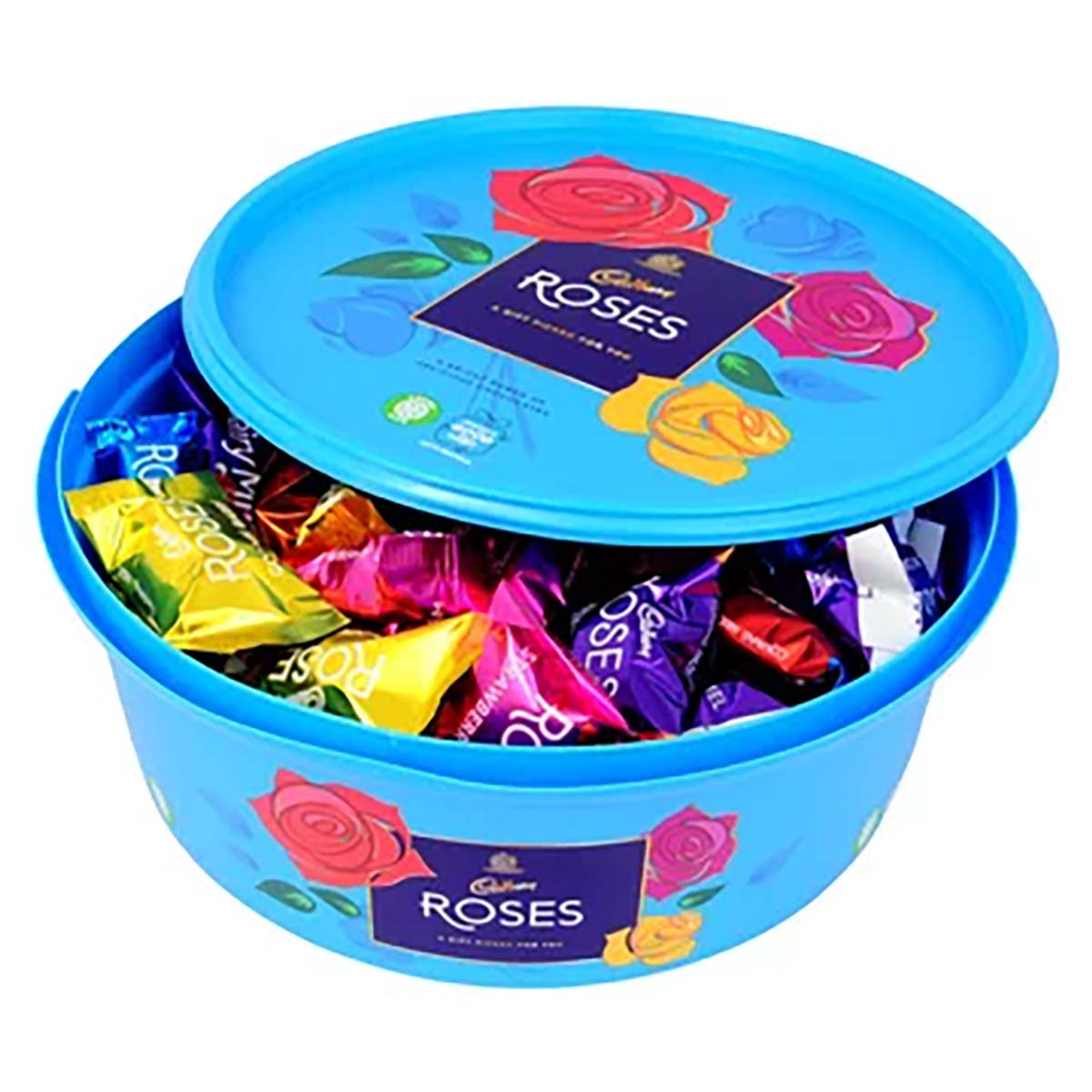 When it comes to capturing the spirit of a quintessential British Christmas, few things do it better than a tub of Cadbury Roses. Christmas in the UK is synonymous with the appearance of those iconic blue tubs on the supermarket shelves, alongside other festive favourites like Quality Street, Celebrations, and Heroes.
But where did this sweet journey begin? In 1938, just two years after the introduction of Quality Street, Cadbury Roses made their debut in the UK. As of 2023, a typical British Roses tub includes nine chocolates: Hazel Whirl, Golden Barrel, Hazel in Caramel, Strawberry Dream, Caramel, Country Fudge, Signature Truffle, Cadbury Dairy Milk Chunk, and Tangy Orange Creme.
Ingredients
There doesn't seem to be a breakdown of each individual chocolate but according to the Cadbury website, the ingredients in a tub of Roses are as follows:
Hazelnuts, Milk, Soya, Sugar, Glucose Syrup, Vegetable Fats (Palm, Shea, Sunflower), Cocoa Butter, Cocoa Mass, Whey Powder (from Milk), Glucose-Fructose Syrup, Emulsifiers (E442, E471, Soya Lecithins, E476), Skimmed Milk Powder, Fat-Reduced Cocoa Powder, Humectant (Glycerol), Flavourings, Salt, Molasses, Sodium Carbonates, Acid (Citric Acid), Colours (Anthocyanins, Paprika Extract)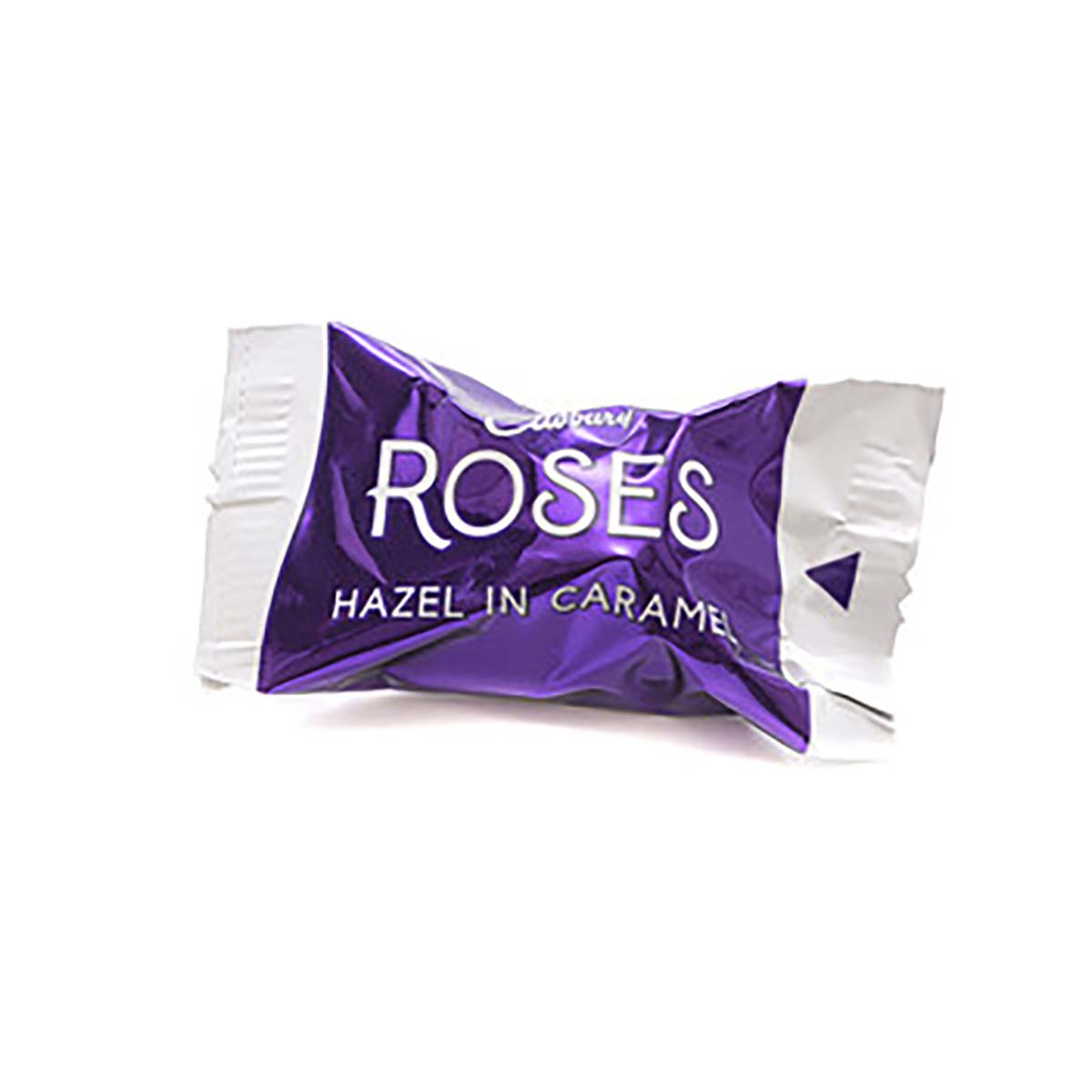 Are any roses chocolate vegan?
Now for the million-dollar question: Are any of the Roses chocolates vegan? Unfortunately, the answer is no, however, don't worry because this post contains the best vegan alternatives!
All the chocolates in a tub of Cadbury Roses contain dairy products such as milk and whey powder, making them unsuitable for those following a dairy-free diet, but there are plenty of dairy-free chocolates listed below that will fill that Roses-shaped hole in your life!
Vegan Roses Alternatives
Let's take a look at the different types of chocolates again, along with some dairy-free substitutes that you can enjoy this Christmas:
Hazel Whirl. Milk chocolate with a spiral twirl on top and a hazelnut in the centre. A great alternative for this one is Vego chocolate.
Golden Barrel. A barrel-shaped chocolate filled with smooth caramel. Two good vegan alternatives for this one are Buttermilk caramel cups and Nomo caramel drops.
Strawberry Dream. Strawberry dream is a milk chocolate filled with strawberry fondant. An easy substitute for these are Whitakers dark chocolate strawberry creams and Beech's summer strawberry creams.
Tangy Orange Creme. This is similar to the strawberry dream except it's orange flavour instead. Whitakers and Beech's also make orange creams.
Caramel. A soft caramel toffee coated in milk chocolate. I couldn't find a chocolate coated chewy vegan toffee but Jeavons toffee looks to be a good substitute!
Country Fudge. Soft fudge covered with milk chocolate- this used to be my favourite Roses chocolate growing up! A great alternative is Fabulous Free From Factory chocolate-covered fudge bites.
Signature Truffle. A chocolate truffle. The best vegan alternatives for truffles include Booja Booja and Doisy & Dam.
Cadbury Dairy Milk Chunk. There are lots of great dairy-free chocolates out there, including two types of Cadbury vegan chocolate bars. Check out my chocolate guide for more options.
Hazel in Caramel. Chocolate filled with gooey caramel and a whole hazelnut. It was quite tricky to find a vegan hazelnut caramel chocolate but you can make your own super easily. Line a silicone mould or ice cube tray with melted vegan chocolate. Once it's set, fill it with vegan caramel and a hazelnut, then cover it with more melted vegan chocolate. Let the whole thing set then pop out of the moulds.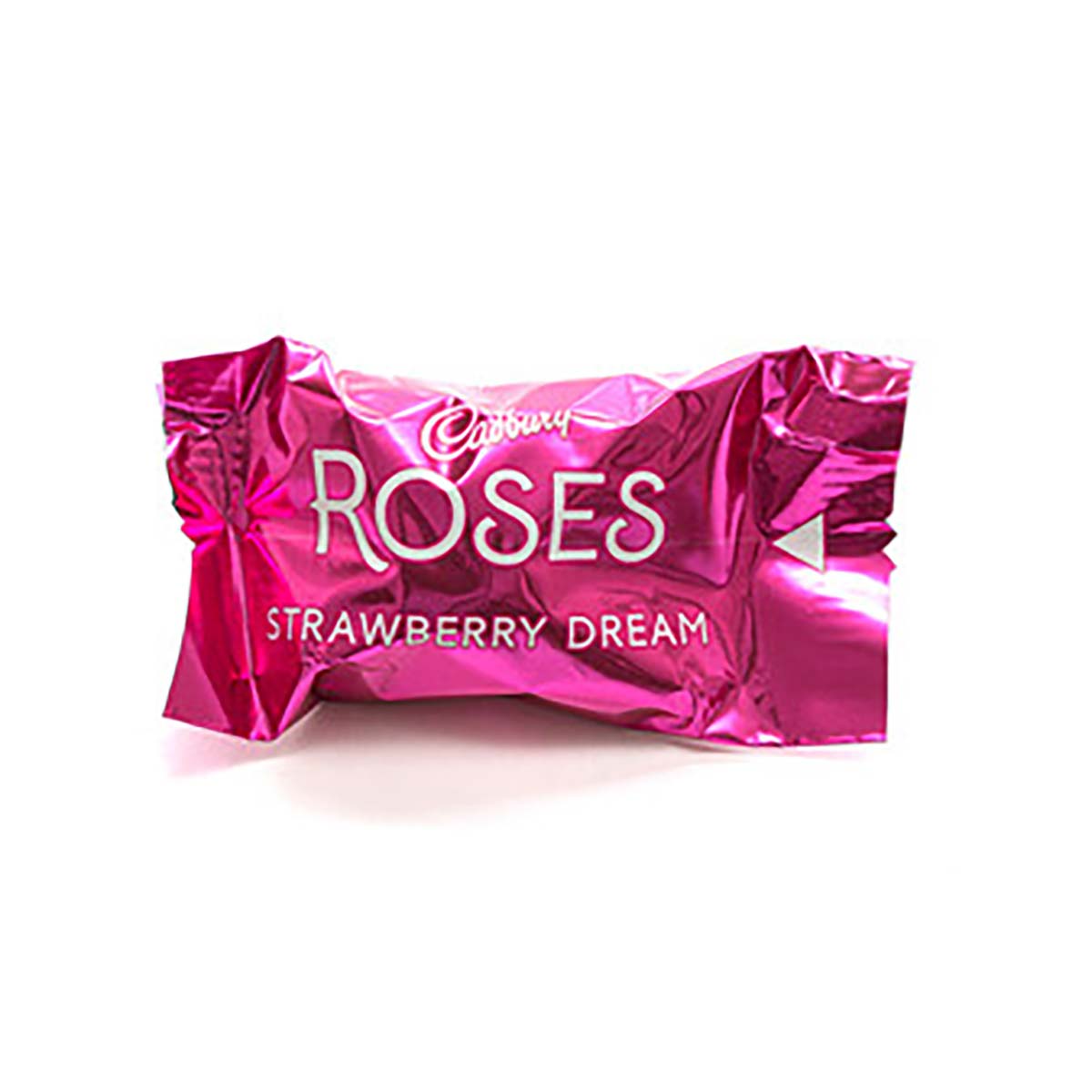 Summary
In conclusion, Cadbury Roses, with their inclusion of milk-based ingredients, are not suitable for vegans. However, the world of dairy-free chocolate alternatives is vast and continues to grow, as shown in this post. So, while Roses may not be an option, vegans can still enjoy a variety of chocolates this Christmas. Whether you choose to explore ready-made vegan chocolates or make them at home, the possibilities are endless.
BakedByClo is a participant in the Amazon Services LLC Associates Program, an affiliate advertising program designed to provide a means for sites to earn advertising fees by advertising and linking to Amazon.com. This site may contain some of these links to Amazon.com & other affiliate programs. If you make a purchase through one of those links, BakedByClo will receive a small commission from the purchase at no additional cost to you.