Soft and chewy with a sweet crunch, these vegan macarons are a delicious, eggless alternative to traditional French macarons! Filled with soft buttercream, they can be flavoured or coloured to your preference for a pretty afternoon treat or dessert!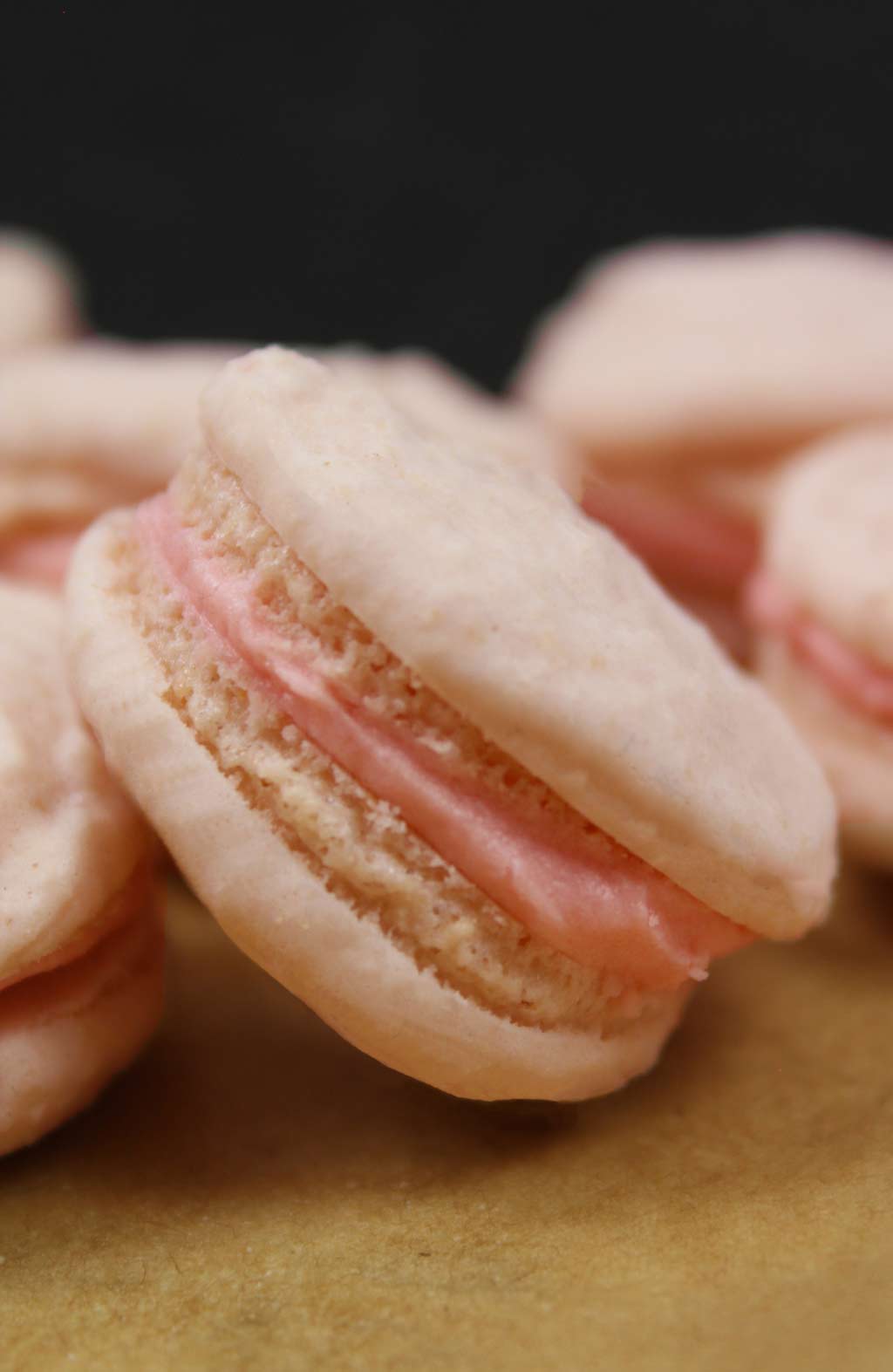 Macarons were one thing I was a huge sucker for before I went vegan. It didn't matter how ridiculously overpriced I thought they were at the time, I just had to try every flavor available at whichever stall or market I was at.
But after making my own macarons, I realized that they were in fact very reasonably priced for the amount of effort that goes into making them.
Now I don't want to scare you, but vegan macarons are not for the faint hearted! Unless you've made them before, it's probably not going to be a walk in the park- you have to follow the instructions to a tee. I spent a grand total of 10 hours in my kitchen yesterday trying to perfect these babies before I finally got them right!
BUT saying that, it definitely is possible to make scrumptious vegan macarons, and I want to help you do so. I've written as much detail as I can in the instructions below to help you get them right the very first time!
Vegan Macarons, the French Way…
I always make sure to say here on my blog that I'm not a professional, I'm just a regular gal who likes to bake! I've never had any training or schooling. I'm always trying to learn more about baking and find ways to get better at it. And with that in mind, I have a few people to thank for this post.
First off is Meggan from Cooking on Caffeine, who is the queen of vegan macarons! I heard about her Mac Attack Facebook group via Sara Kidd's Bake Like A Pro podcast and joined immediately.
Up until this point, I'd pretty much labelled vegan macarons as impossible. So I didn't even bother to try, in fear of wasting my time and ingredients.
But seeing the members of Meggan's group posting all of their macaron attempts really inspired me. If hundreds of other people can make beautiful macarons, I could at least give it a go!
I noticed that Meggan's recipe used the Italian method. And for some reason, I thought using the French method would be easier. (It wasn't necessarily easier but there are less steps doing it the French way so it's up to you which method you want to try.) So instead, I used the Crazy Vegan Kitchen's recipe and adapted it ever so slightly.
So ladies, thank you for inspiring this post! I never would've had the patience (or courage) to try it for myself if I hadn't seen how beautifully yours turned out!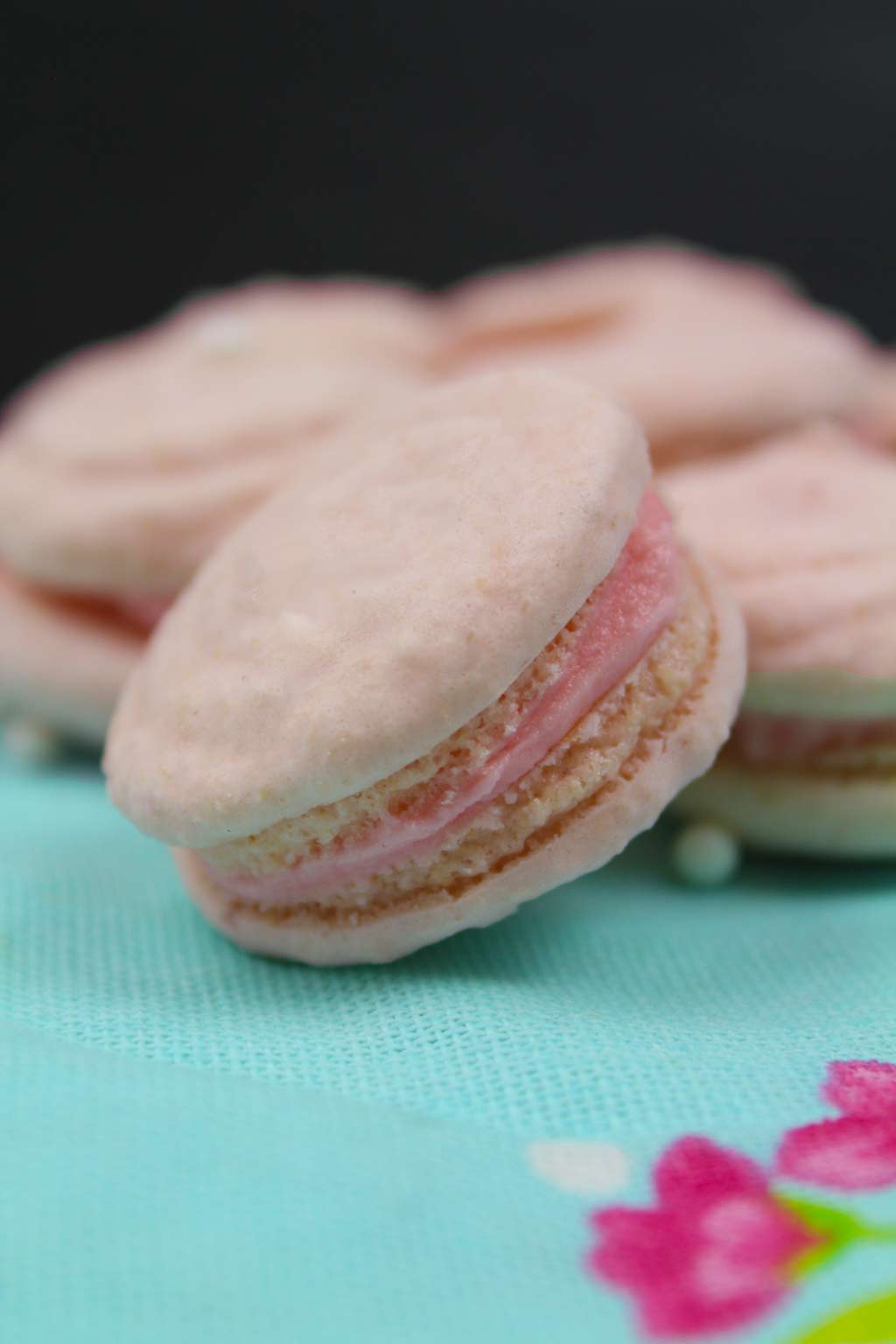 How To Make Vegan Macarons
The first thing to note about traditional macarons is that they contain egg whites. And obviously, vegans don't eat eggs. So what do we use in place of egg whites? Good ole aqua faba of course!
If you're new to vegan baking, or you've never heard of aqua faba, let me enlighten you. You know that gloopy, yellowish water that comes out of canned white beans (such as chickpeas or broadbeans)? Yeah… that's what goes into vegan macarons.
But don't be alarmed. As gross as it looks (and smells) at first, you'll soon be amazed at how perfectly it mimics egg whites. It fluffs up and makes soft meringue peaks just the same!
The most important thing to know about aqua faba though, is that you need to reduce it before you start trying to whip it up. When attempting meringues in the past, I learned the hard way that if you don't reduce it beforehand, the meringue will deflate into a puddle while it bakes. Sad times.
Step 1: Reducing Aqua Faba For Vegan Macarons
To reduce aqua faba simply means to chuck it in a pot and simmer it until it reduces in volume (i.e. getting rid of the excess water content).
I used the liquid from 2 400g (14oz) cans which gave me around 250g of aqua faba. Which brings me to my next point…
I would HIGHLY recommend using a digital scale for this recipe as it's super important that all the ingredients are accurately measured. One little mistake can destroy all of your hard work (speaking from personal experience).
Whatever your beginning weight of aqua faba is, you want to reduce it by half. I placed my 250g of aqua faba into a pot over a medium-low heat and weighed it periodically until it reached 125g. In the end, this took around 15 minutes.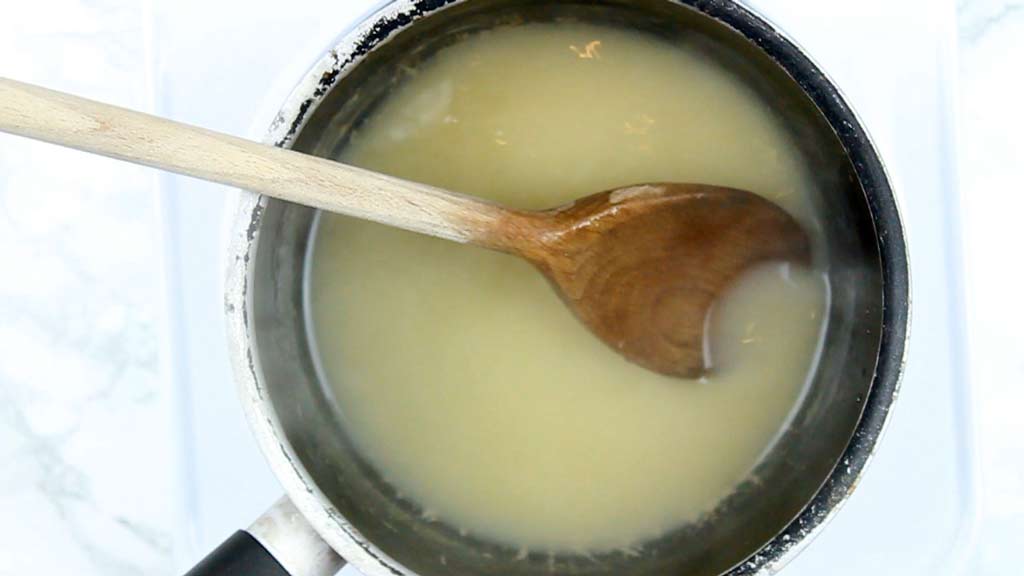 Note that while it's reducing, the aqua faba will let off a weird aroma- sort of like soup. But don't worry, the macarons won't taste like that AT ALL.
Once you've reduced it sufficiently, allow it to cool then cover and place it in the fridge overnight, or at least for a few hours. You'll notice that it becomes sort of gelatinous, like egg whites.
Step 2: Whisk It Up!
Measure out 110g of your reduced aqua faba then place it in a clean, dry bowl along with ¼ teaspoon of cream of tartar. Whisk on high speed until it all becomes frothy and pale yellow in colour.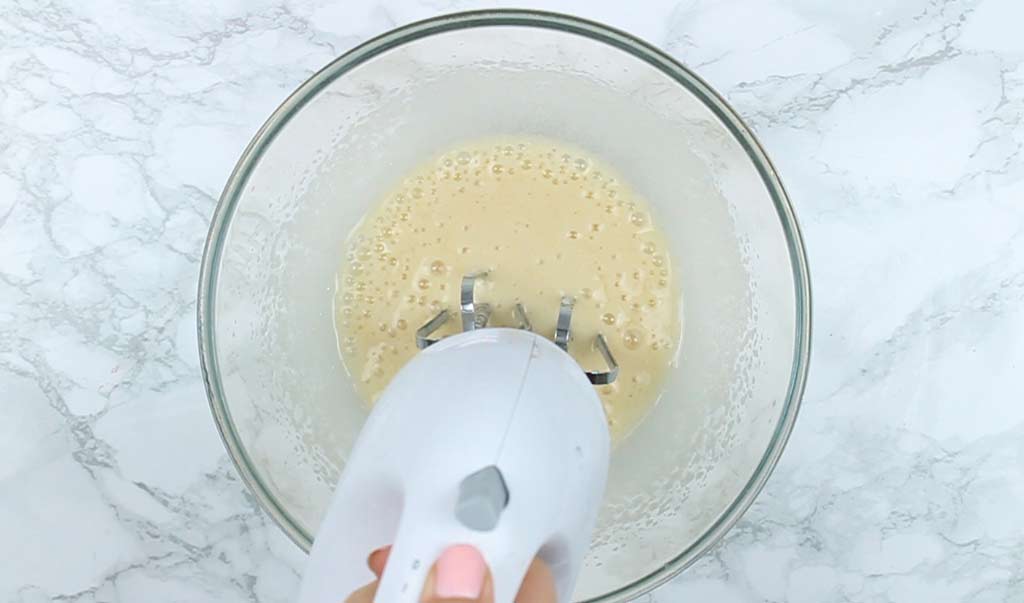 Keep whisking and little by little, add in 110g of caster (superfine) sugar and keep whisking until your meringue mixture forms soft peaks. I used a hand mixer on high speed, and it took a few minutes.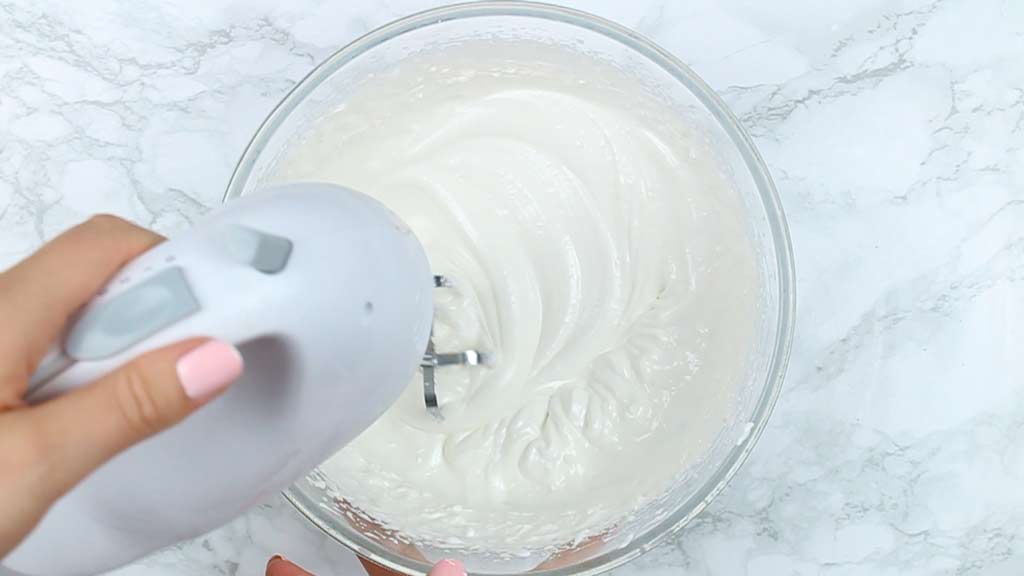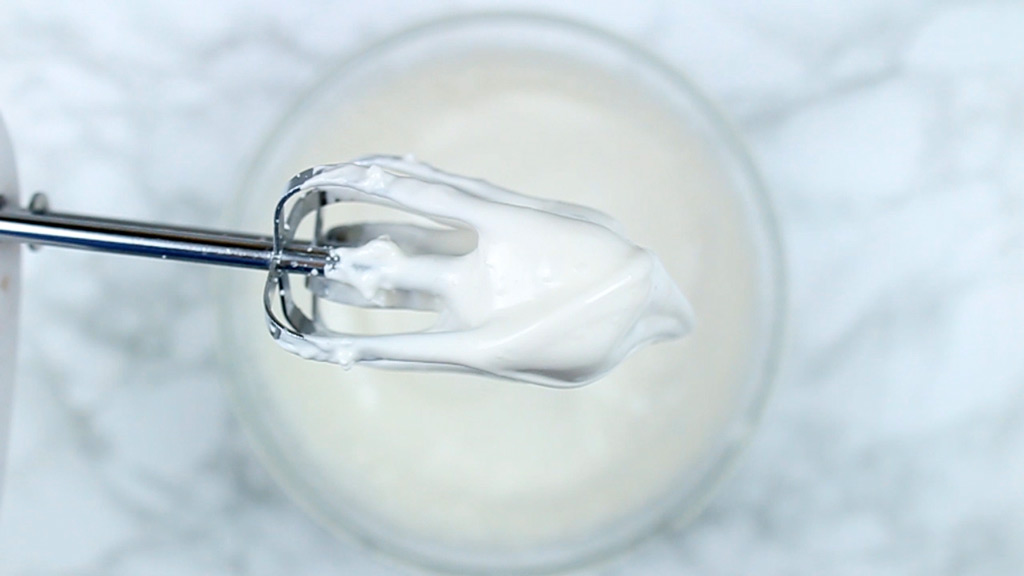 Note that it's very important that you use a very clean bowl when whipping your aqua faba. As with traditional macarons, one little speck of food or anything else in the bowl can prevent the meringue from forming properly. I followed Meggan's tip and cleaned out my bowl using a paper towel and a teaspoon of vinegar.
Step 3: Add your colors
Add in a few drops of gel food colouring if desired and whisk for a few more seconds until the colour is combined.
I find that gel food colours hold better when baking. Just make sure you're using one that's vegan friendly, as some of them still contain carmines and such!
Step 4:
Next, sieve in 150g of ground almonds and 130g of powdered sugar into a large bowl.
Tip half of it into the bowl with your meringue mixture. You may need to use the back of a spoon to get any stubborn lumps of almonds through the sieve.
Using a spatula, fold half of the ground almonds and powdered sugar into the meringue mixture, then add the other half. Keep folding until everything is well combined and there are no traces of almonds or sugar at the bottom of the bowl.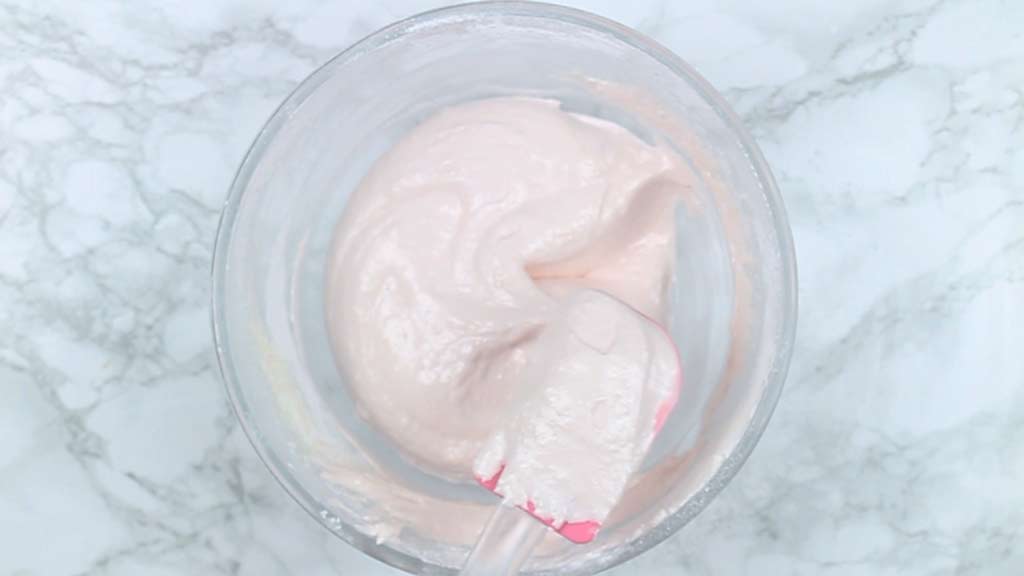 The mixture shouldn't be stiff, it should be slightly soft but not runny. As Amrita from Crazy Vegan Kitchen said in her post, "You will know that you have reached the right consistency when you dollop a tablespoon of batter onto a flat surface and it gradually smooths out into a nice round shape, without any "nipples" forming on top."
Step 5:
Using a piping bag with a round nozzle, pipe the macaron mixture in 2-inch circles onto a tray lined with parchment paper. You can buy special mats for this, or just do it by eye, but I like to do it the cheapskate old school way.
Draw round a small circle (I used the bottom of a shot glass) onto the parchment paper, leaving a space of an inch or two between each one, then flip the parchment paper over. You'll still be able to see the circle guidelines but won't get any pen in your macarons. I ended up with around 50 individual macarons which I piped between 4 trays.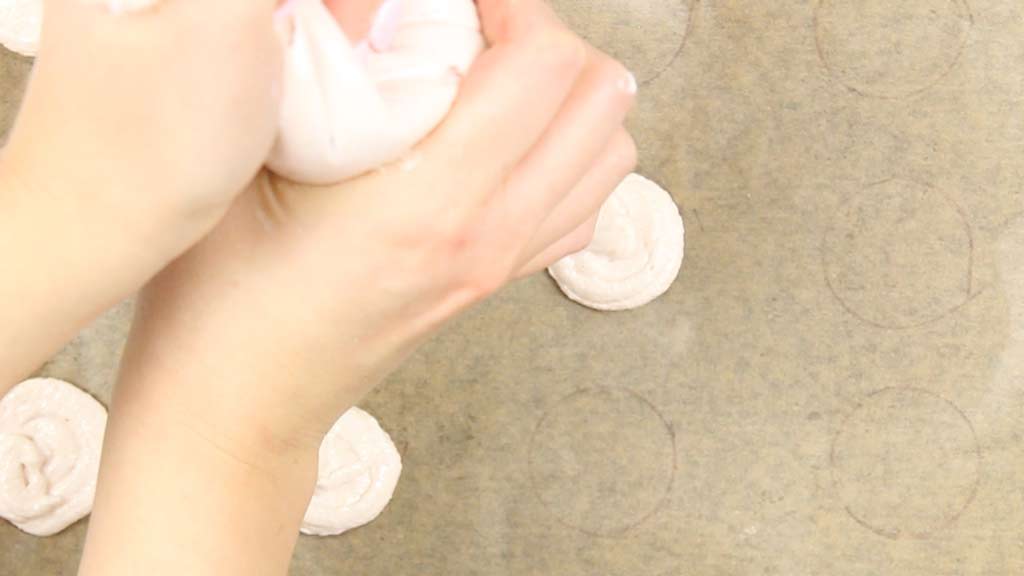 Slam the trays onto the worktop a few times to release any air bubbles, then leave the macarons to sit out in a cool area for an hour or two. You'll know they're ready to be baked when they become matt and you can touch them without getting any residue on your fingers.
Step 6:
Bake the macarons, one tray at a time, at 150°C (300°F/ 130°C fan/ Gas mark 2) for 30 minutes.
The baking time and temperature will vary depending on whether you're using parchment paper or a silicone mat.
With my first attempt, I played around with both the temperature and baking time as I had 4 trays of macarons. I baked the first tray at 120°C for 30 minutes and they came out underdone. The second tray I baked at 120°C for 45 minutes and they came out too crunchy.
The third and fourth trays I baked at 150°C for 30 minutes and they came out just right. They were firm and peeled off the parchment paper easily, but they were also slightly chewy and filled up nicely on the inside (i.e. not hollow).
Once the 30 minutes is up, turn of the oven completely and leave the tray of macarons in there for another 15 minutes. Then crack the oven door open a little and leave them for another 15 minutes.
When they are completely cool, peel them off the parchment paper and find pairs of similar sized circles. Then, repeat the process all over again with the other trays.
Step 7:
Make your vegan buttercream filling by mixing 250g (around 1 cup) of powdered sugar with 120g (1/2 cup) of vegan butter.
Add in 1 tablespoon of plant-based milk of your choice and any color or flavor extracts you desire. I used simple vanilla flavoring and pink food coloring.
Step 8:
Place a small blob of buttercream into the center of one macaron, then place another on top using a twisting motion. This will prevent the buttercream from spilling out of the edges.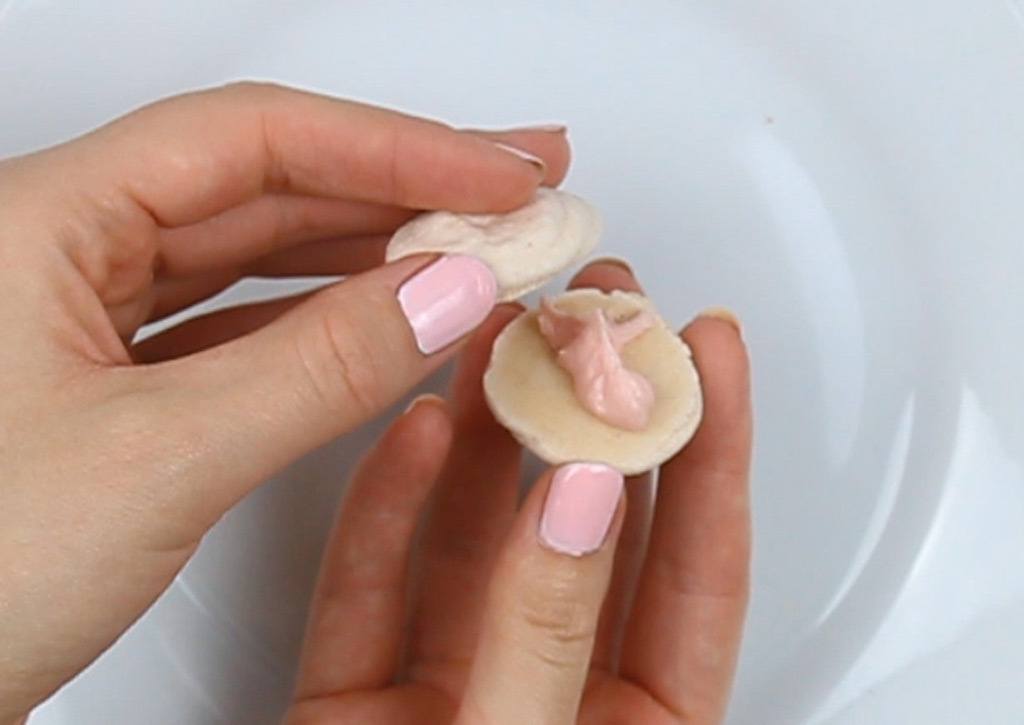 Step 9:
Place the macarons in an airtight container and pop them in the fridge. Leave them for 2 days if you can, but if not then leave them for at least 24 hours. As they sit in the fridge, they will mature and form the perfect macaron texture.
Top Tips for Making Vegan Macarons
Use an extremely clean bowl and whisk
Any speck of dirt, food or grease in the bowl or on your utensils might negatively affect your aqua faba as you try to whip it up. Make sure to wipe the bowl and utensils with some white vinegar and a paper towel to make sure they're perfectly clean.
Reduce the aqua faba in advance
When I first tried making my vegan pavlova, I didn't realise that aqua faba had to be reduced before trying to whip it. That resulted in a fair few watery puddles in the bottom of my oven.
It's really important to reduce the aqua faba and let it cool before attempting this recipe. This will get rid of the excess water and help your meringue mixture whip up perfectly.
Liquid food coloring tends to fade a little as it bakes. For the best coloured macarons, use gel or paste. If you're unable to locate any vegan-friendly gels/pastes in your area, Amazon have quite a few options!
Don't just put the macarons straight into the oven as soon as you pipe them onto the tray. You need to leave them for a while to become matt and firm. When you touch them with your finger and no mixture gets onto your fingers, then you'll know they are ready to bake.
Leave the sandwiched macarons in the fridge for 1-2 days to mature
The longer you can wait, the better. As they mature, they become softer and chewier- just like traditional macarons. I tried some after 24 hours and some after 48, and the latter were definitely tastier!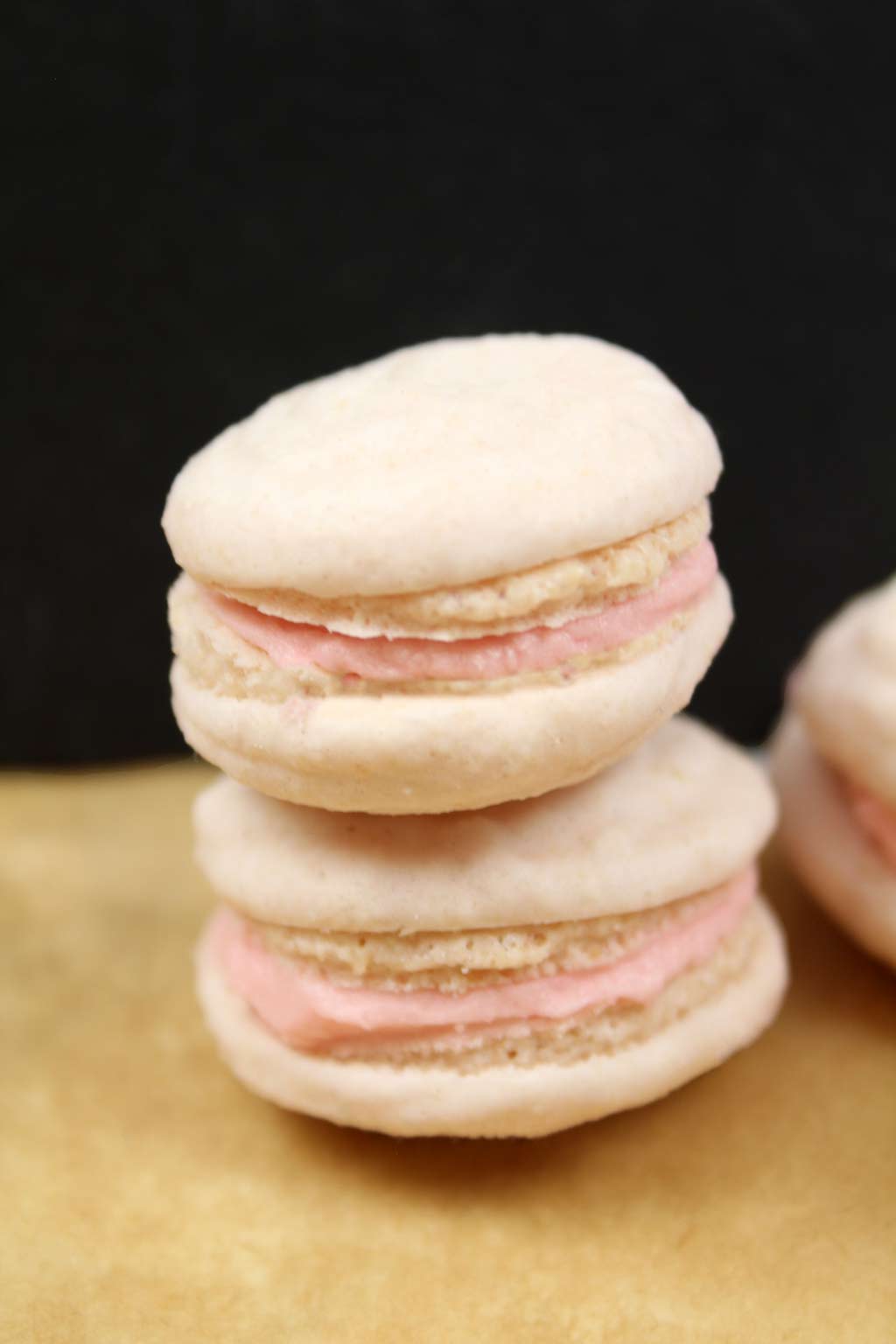 I hope this post helps you get tasty vegan macarons on your first try. If you give the recipe a go, please let me know how it went and which flavor/color combo you went for!
Happy baking! xo

Vegan Macarons
An eggless alternative to the traditional French dessert!
Ingredients
For the macaron shells:
Liquid from 2 cans of chickpeas

¼

Teaspoon

Cream of tartar

150

g

Ground almonds

130g

Powdered sugar

110g

Caster sugar

(superfine sugar)

Few drops

Gel food color of choice

(optional)
For the buttercream filling:
250

g

Powdered sugar

(1 cup)

120

g

Vegan butter

(½ cup)

1

Teaspoon

Vanilla extract

1

Tablespoon

Plant-based milk

Few drops

Gel food color of choice

(optional)
Instructions
For the macaron shells:
Weigh the liquid from the 2 cans of chickpeas and place it in a medium-sized pot. Place it over a low-medium heat and weigh it periodically until it reaches half the weight you started with. It took me around 15 minutes to get from 250g to 125g of liquid.

When you've reduced the chickpea liquid, let it cool and place it in the fridge for a few hours.

Once the liquid is cooled, place it in a scrupulously clean bowl along with the cream of tartar. Using a very clean electric whisk or stand mixer, whisk on high speed until the mixture becomes frothy and goes pale in color.

With the mixer still going, start adding your caster sugar a little at a time. Keep whisking until the mixture becomes white and glossy, forming soft peaks. This took me around 5 minutes using a handheld electric whisk.

Sift the ground almonds and powdered sugar into a separate bowl. Use the back of a spoon to push any lumps of almonds through the sieve.

Add half of the powdered sugar/ ground almonds to your meringue mixture and gently fold it in. Add the rest, and repeat.

Keep folding gently until the mixture begins to get a little softer, but be careful not to over-mix. You'll know you're done mixing when you can place a spoonful of the mixture on a flat surface and it slowly flattens out without any "nipples" on top.

Place the mixture into a piping bag with a round nozzle and pipe 2 inch circles onto a parchment paper-lined tray. You will need a few trays to do this, as this recipe makes 50 macaron halves.

Allow the trays of macarons to sit at room temperature for 1-2 hours, until you can touch them without getting any mixture on your fingers.

Preheat your oven to 150°C (300°F/ 120°C fan/ Gas mark 2).

When the oven has fully heated, place your macarons on the middle shelf and bake for 30 minutes. I recommend that you only bake one tray at a time unless you can fit the trays on the same shelf.

When the 30 minutes is up, turn the oven off and leave the macarons in there with the door closed for 15 minutes. Then open the oven door slightly and leave for a further 15 minutes.

Remove the tray from the oven. Once the macarons are fully cooled, peel them off of the parchment paper and find matching pairs of similar shape and size.

Repeat for each tray of macarons.
For the buttercream filling:
Mix the powdered sugar, vegan butter and vanilla in a large bowl until smooth. If necessary, add the plant-based milk to help loosen it a little, and add the food coloring if using.

Place a small amount of buttercream into the center of a macaron. Sandwich it together with another macaron, using a gentle twisting motion to prevent it from overflowing.

Repeat until all of your macarons have been used.

Place the sandwiched macarons in the fridge for 1-2 days to allow them to properly mature.

Store macarons in the fridge, in an airtight container, for up to 4 days after the date of baking. When ready to eat, let them sit at room temperature for around 10 minutes (they taste better this way!), then enjoy.
Nutrition Facts
Vegan Macarons
Amount Per Serving
Calories 140
Calories from Fat 54
% Daily Value*
Fat 6g9%
Carbohydrates 20g7%
Protein 2g4%
* All values are an estimate only and will vary depending on the food brands used.