16 BEST Vegan Pear Desserts
Love pears? Then you'll love these vegan pear desserts! There are over 15 tasty treats to choose from, including crumbles, cakes, tarts, muffins and lots more!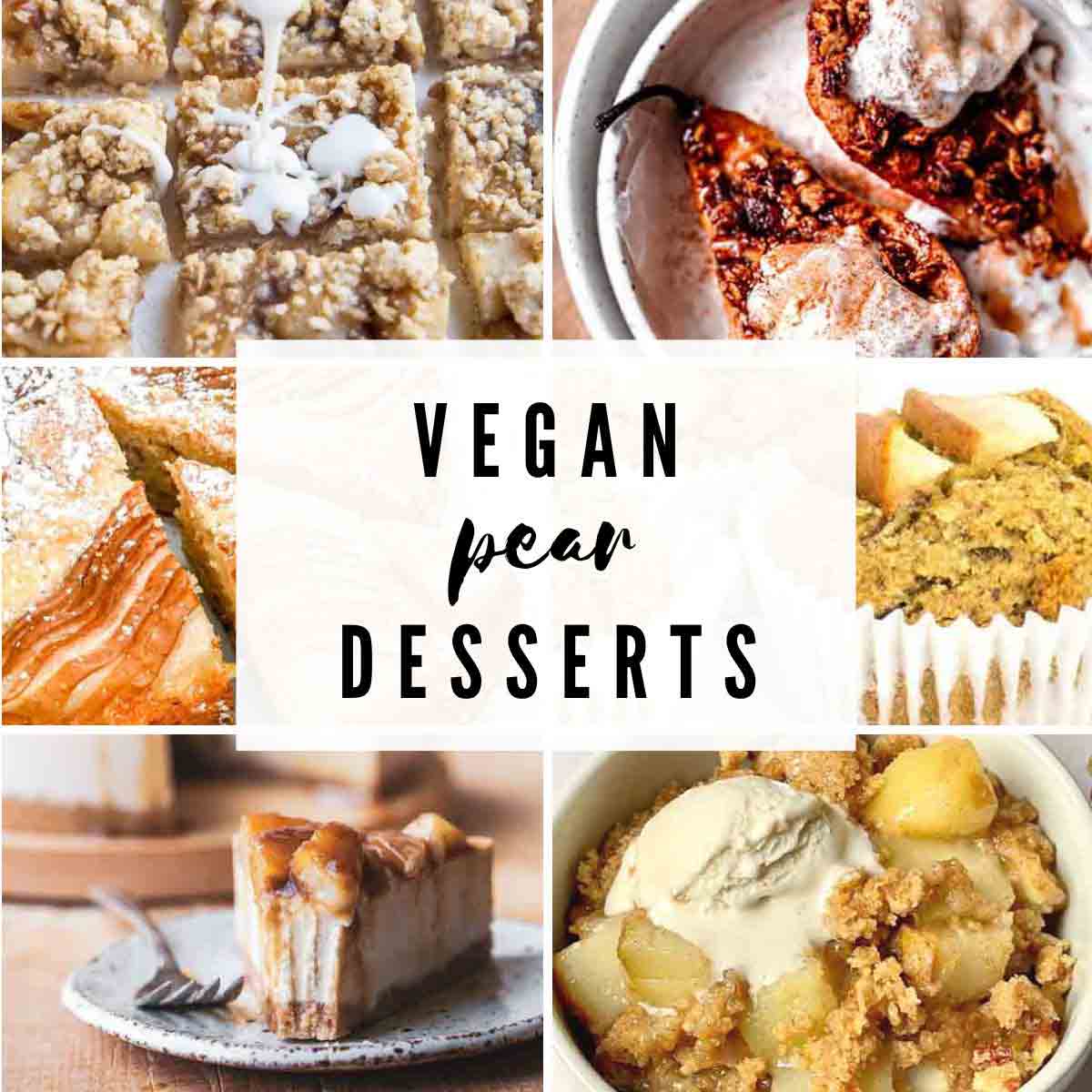 I've been on a bit of a roll recently, making round up posts for various different types of fruit. I've already done posts for mango desserts, orange, lemon, blueberry and peach, so make sure to check those out! Today it's time for some pear desserts.
This post includes 16 recipes from some talented food bloggers. Make sure to go show their blogs some love and let them know if you try their recipe!
The best vegan pear desserts
The recipes are split into three simple categories: Cakes & tarts, crumbles & crisps, and cooked pear desserts. To access the recipe, simply click on the pink 'get the recipe button' beside your chosen dessert.
I hope you enjoy!
Cakes & tarts
This category has a mixture of everything, including cake, muffins, scones, cheesecake and tarts.
Crumbles & Crisps
Below you'll find 3 different crumble recipes, 2 crisp recipes and 1 recipe for pear crumble bars.
Cooked Pears
Baked, fried, stewed or poached- these recipes add just a few ingredients to turn fresh pears into a sweet, warm dessert.
I hope you like these vegan pear desserts! If you find this post useful, please give it a share using the share buttons on this page. Enjoy! xo
BakedByClo is a participant in the Amazon Services LLC Associates Program, an affiliate advertising program designed to provide a means for sites to earn advertising fees by advertising and linking to Amazon.com. This site may contain some of these links to Amazon.com & other affiliate programs. If you make a purchase through one of those links, BakedByClo will receive a small commission from the purchase at no additional cost to you.