16 BEST Vegan Pear Desserts
Love pears? Then you'll love these vegan pear desserts! There are over 15 tasty treats to choose from, including crumbles, cakes, tarts, muffins and lots more!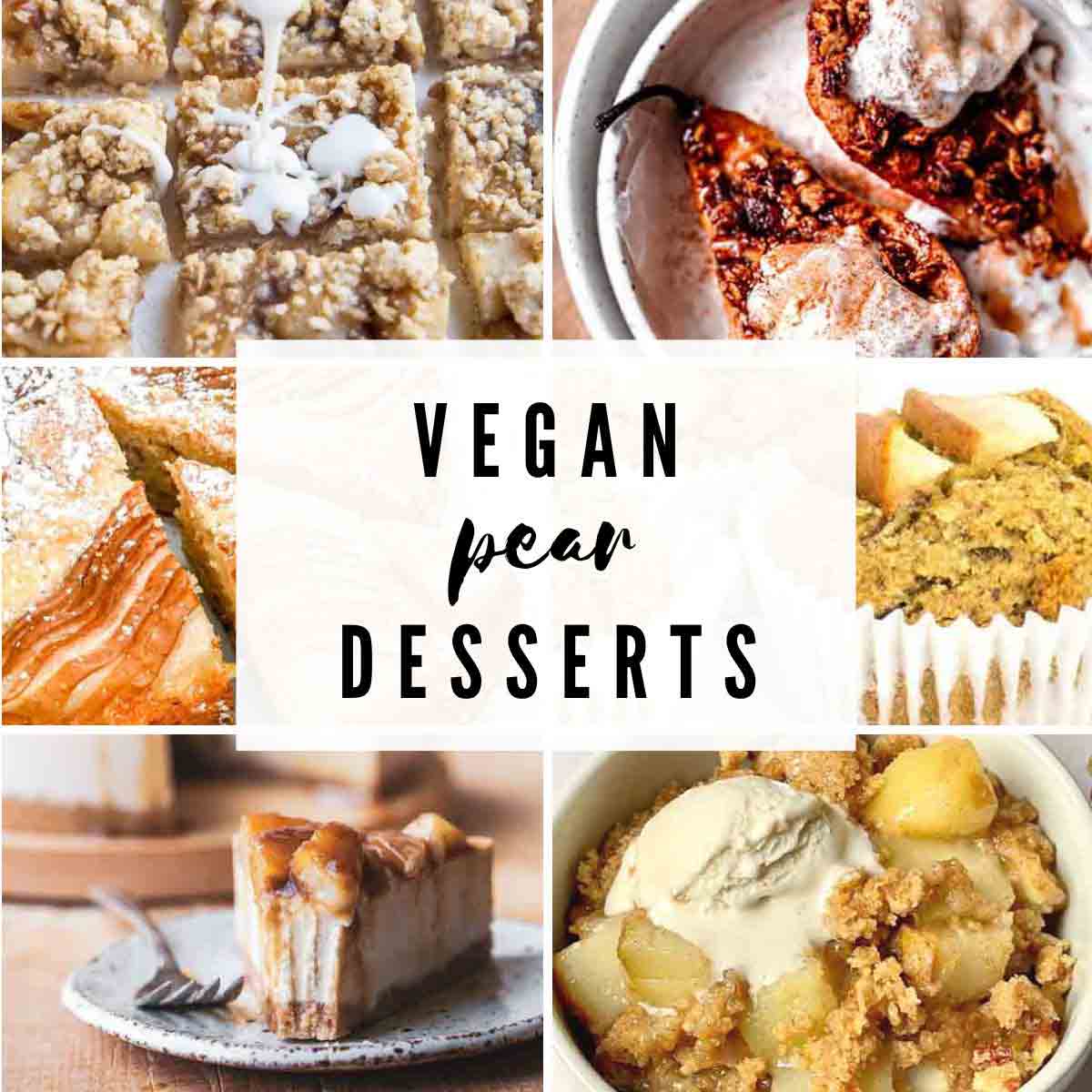 I've been on a bit of a roll recently, making round up posts for various different types of fruit. I've already done posts for mango desserts, orange, lemon, blueberry and peach, so make sure to check those out! Today it's time for some pear desserts.
This post includes 16 recipes from some talented food bloggers. Make sure to go show their blogs some love and let them know if you try their recipe!
The best vegan pear desserts
The recipes are split into three simple categories: Cakes & tarts, crumbles & crisps, and cooked pear desserts. To access the recipe, simply click on the pink 'get the recipe button' beside your chosen dessert.
I hope you enjoy!
Cakes & tarts
This category has a mixture of everything, including cake, muffins, scones, cheesecake and tarts.
A moist, flavourful cake made with pear puree in the batter and pear slices on top. This recipe uses simple ingredients and takes just 1 hour to make from start to finish.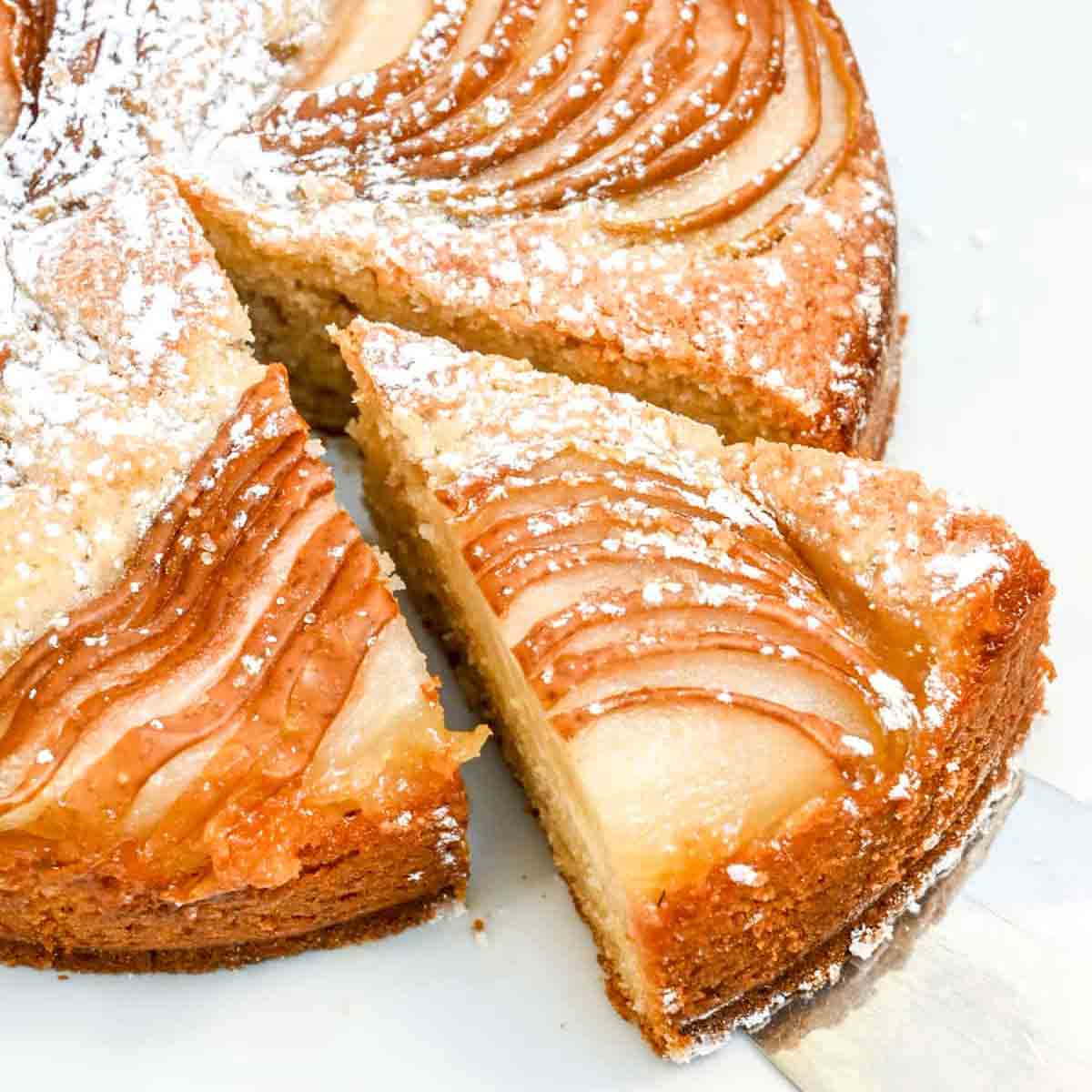 A soft, moist pear cake topped with a crumbly streusel to make a delightful dessert that's great for any occasion.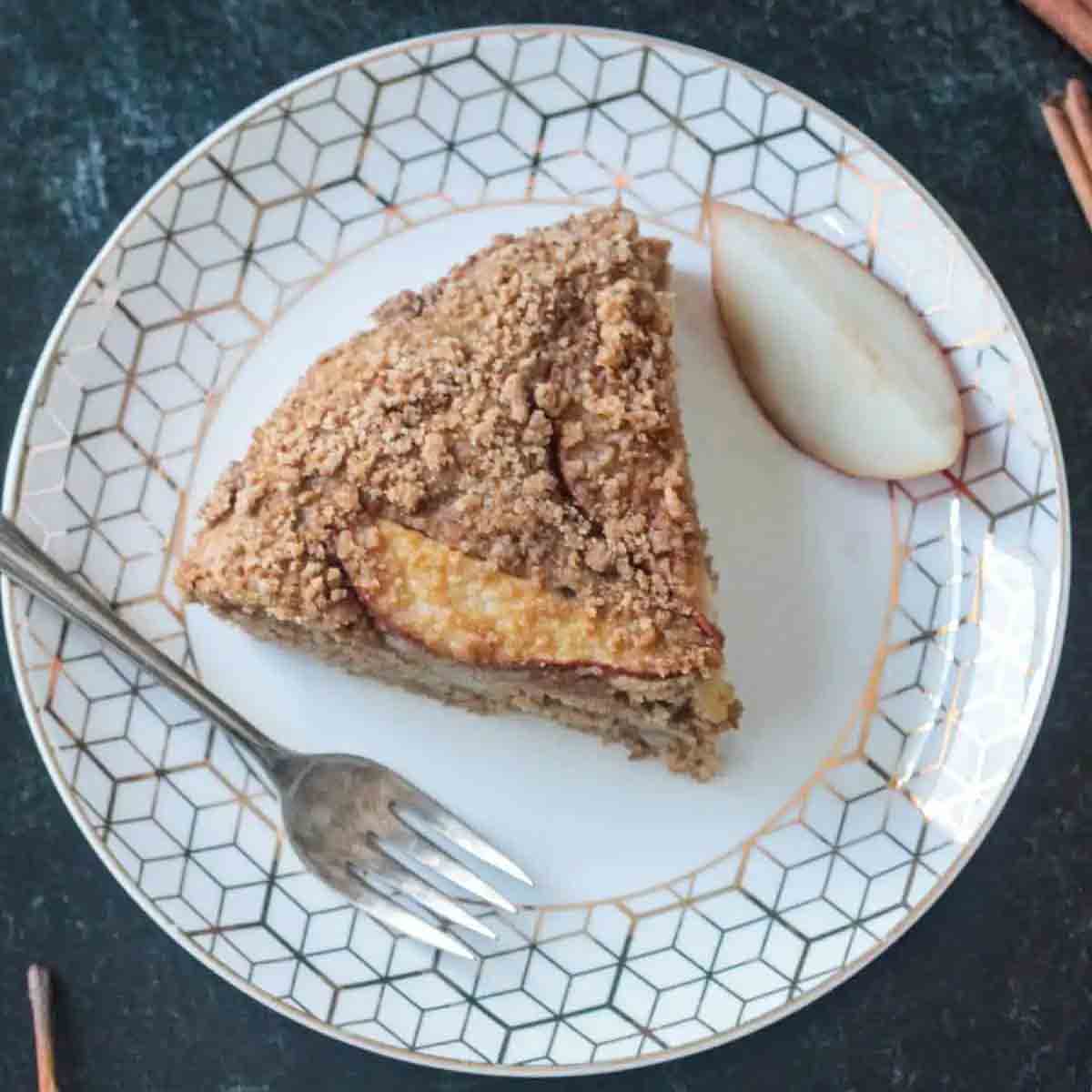 These juicy pear muffins are oil-free and packed with whole grains and warm spices. They make a delicious on-the-go snack or dessert.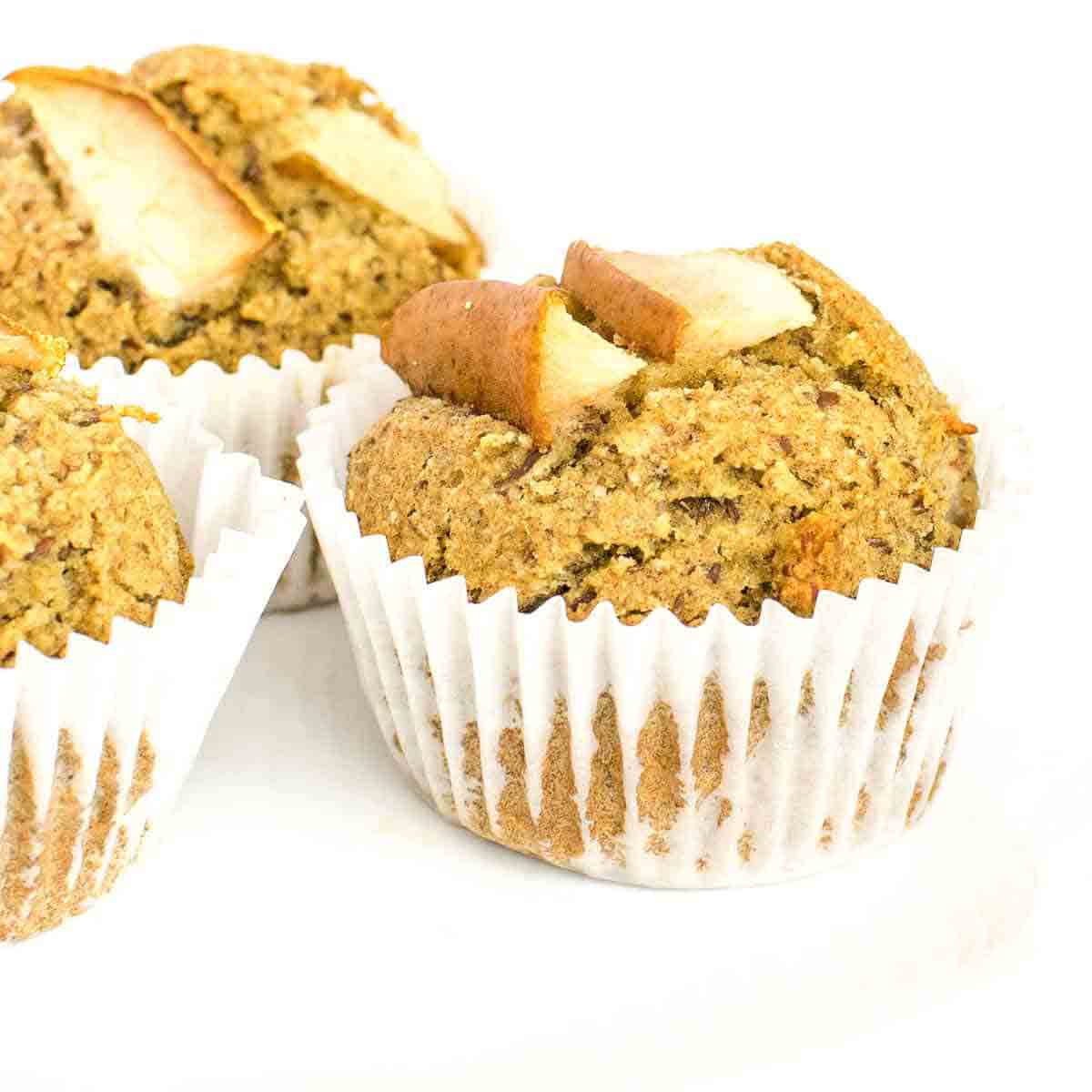 These pear and pistachio scones are great for dessert, breakfast or brunch. They're gluten-free and refined-sugar-free, making them a healthier alternative to traditional scones.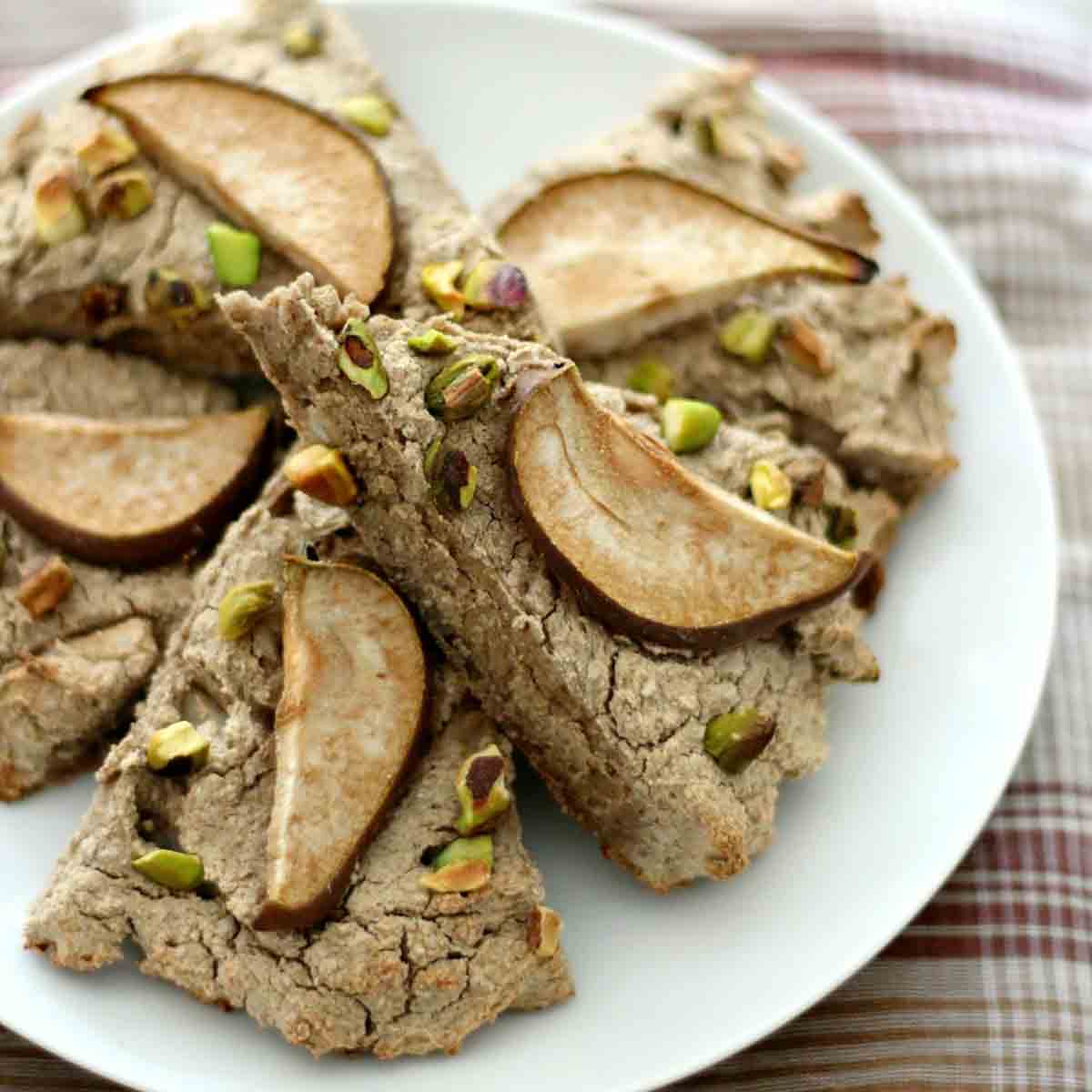 This cheesecake has a gluten-free almond crust and is topped with an easy homemade caramelized pear topping. There's no baking required and it's perfect for all occasions.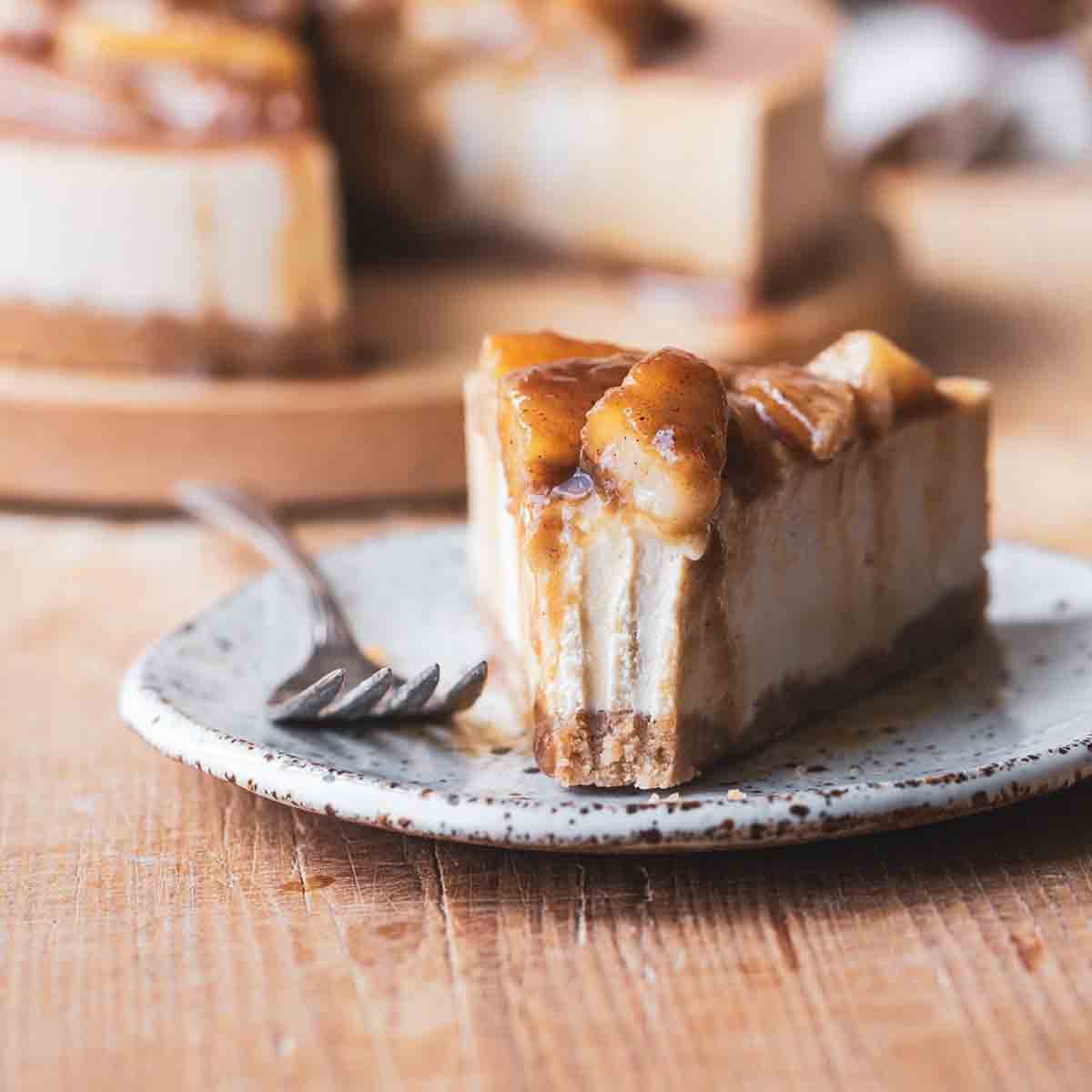 This pear and chocolate tart is a classic French dessert made vegan & gluten-free. Flaky pie crust topped with decadent chocolate ganache and juicy pears.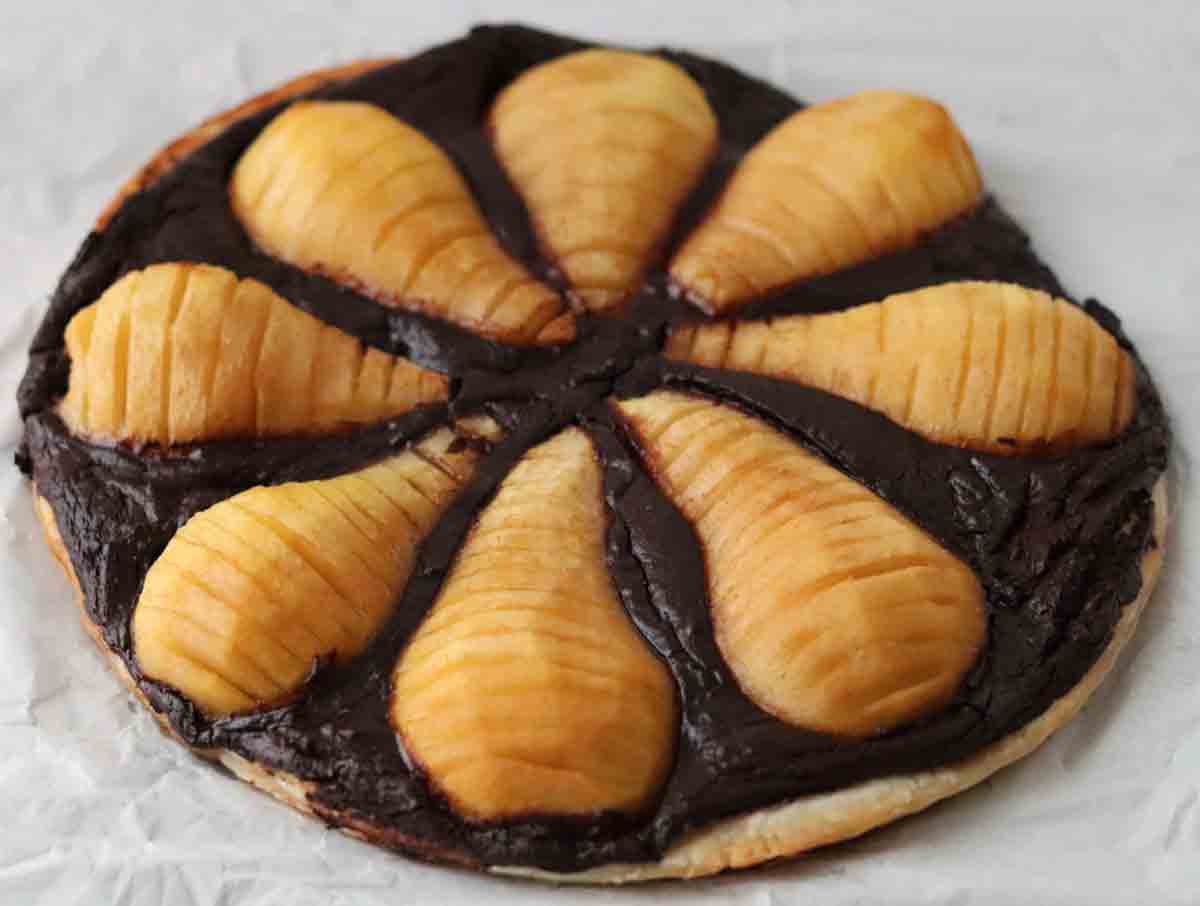 Crumbles & Crisps
Below you'll find 3 different crumble recipes, 2 crisp recipes and 1 recipe for pear crumble bars.
Crumble is one of the best vegan pear desserts you can make! This recipe takes only 10 minutes of prep time and is made with just a few ingredients. Fresh pears topped with a buttery, slightly spiced streusel topping. Yum!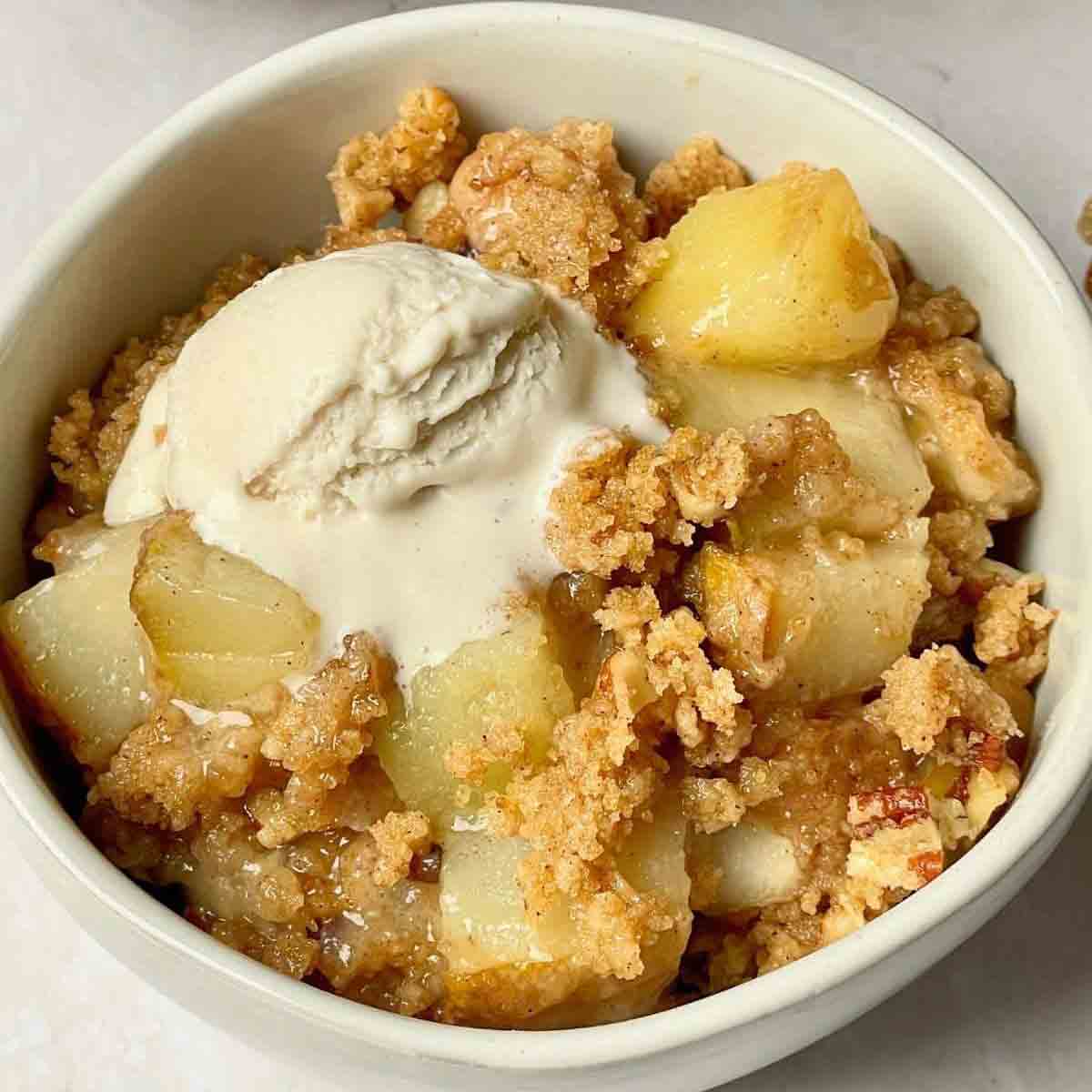 If you're looking for a simple, fuss-free vegan pear dessert, try this pear and almond crumble. It's gluten-free, meaning the whole family can enjoy it!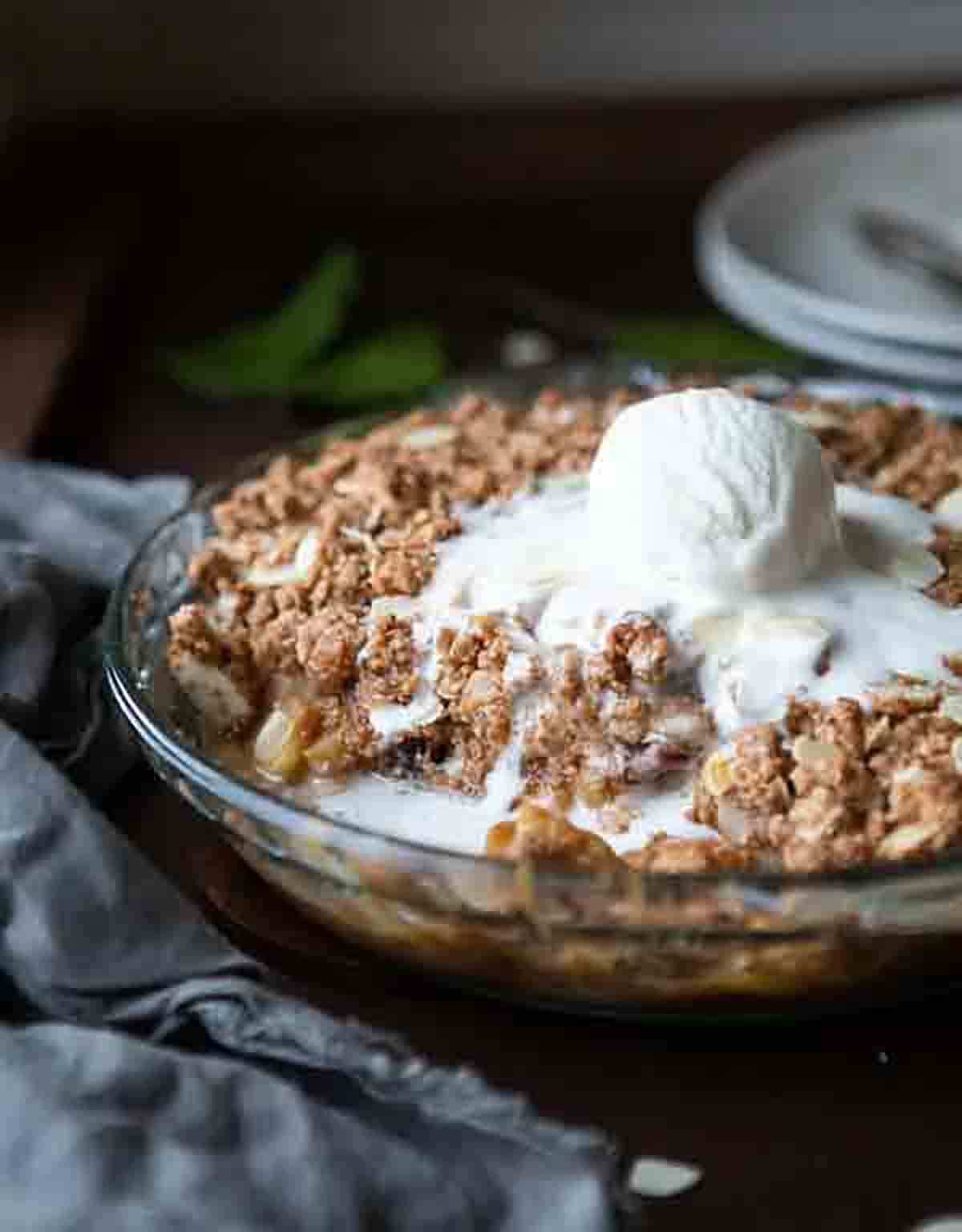 A traditional Scottish dessert made with fresh pears, flavoured with ground ginger. A comforting, warming dessert that tastes great with vegan ice cream.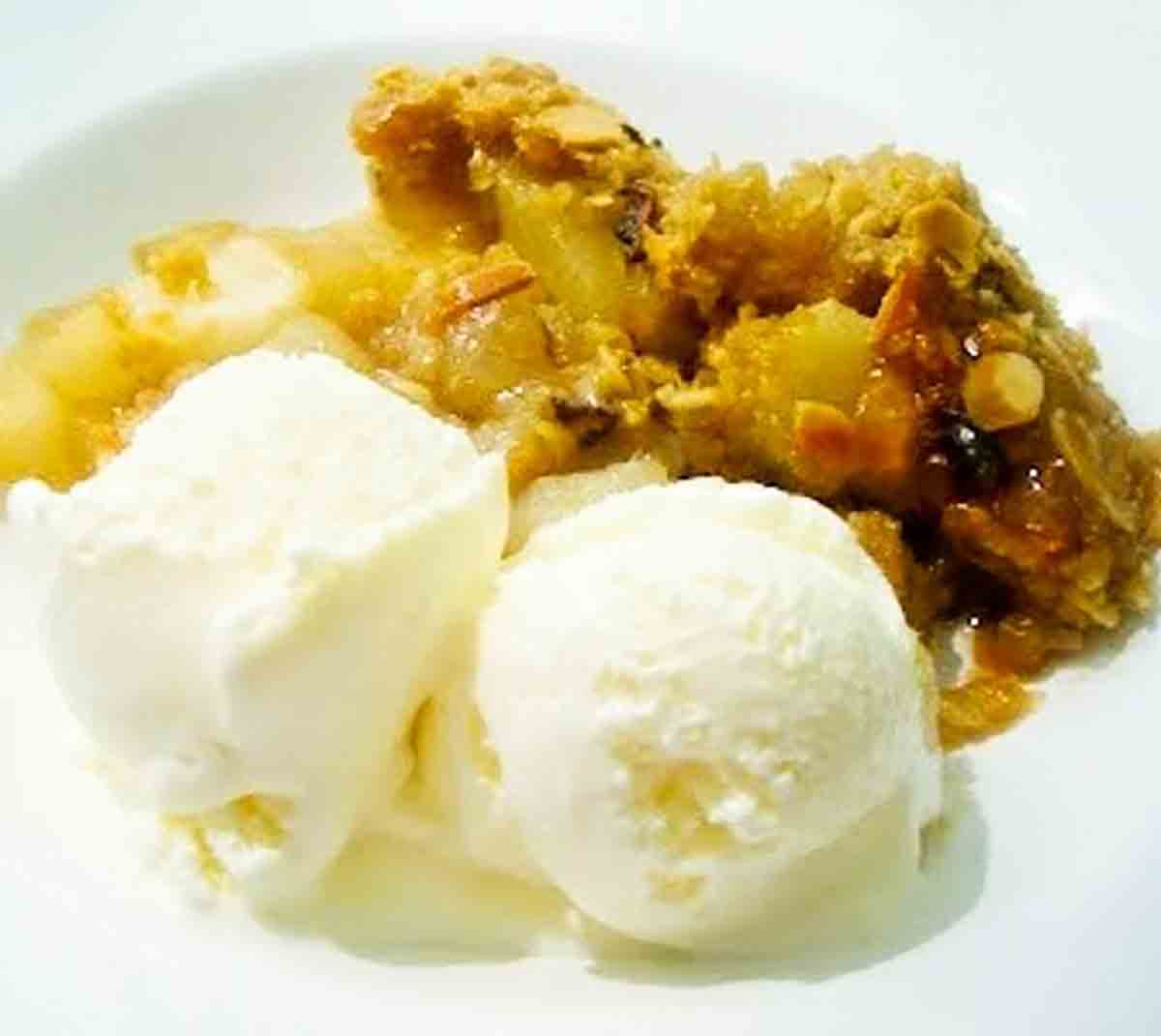 These crumb bars are made with a crunchy shortbread crust, gooey, sweetly-spiced pears and a crispy, oaty crumb topping. They're surprisingly easy to make and make a tasty healthy dessert option.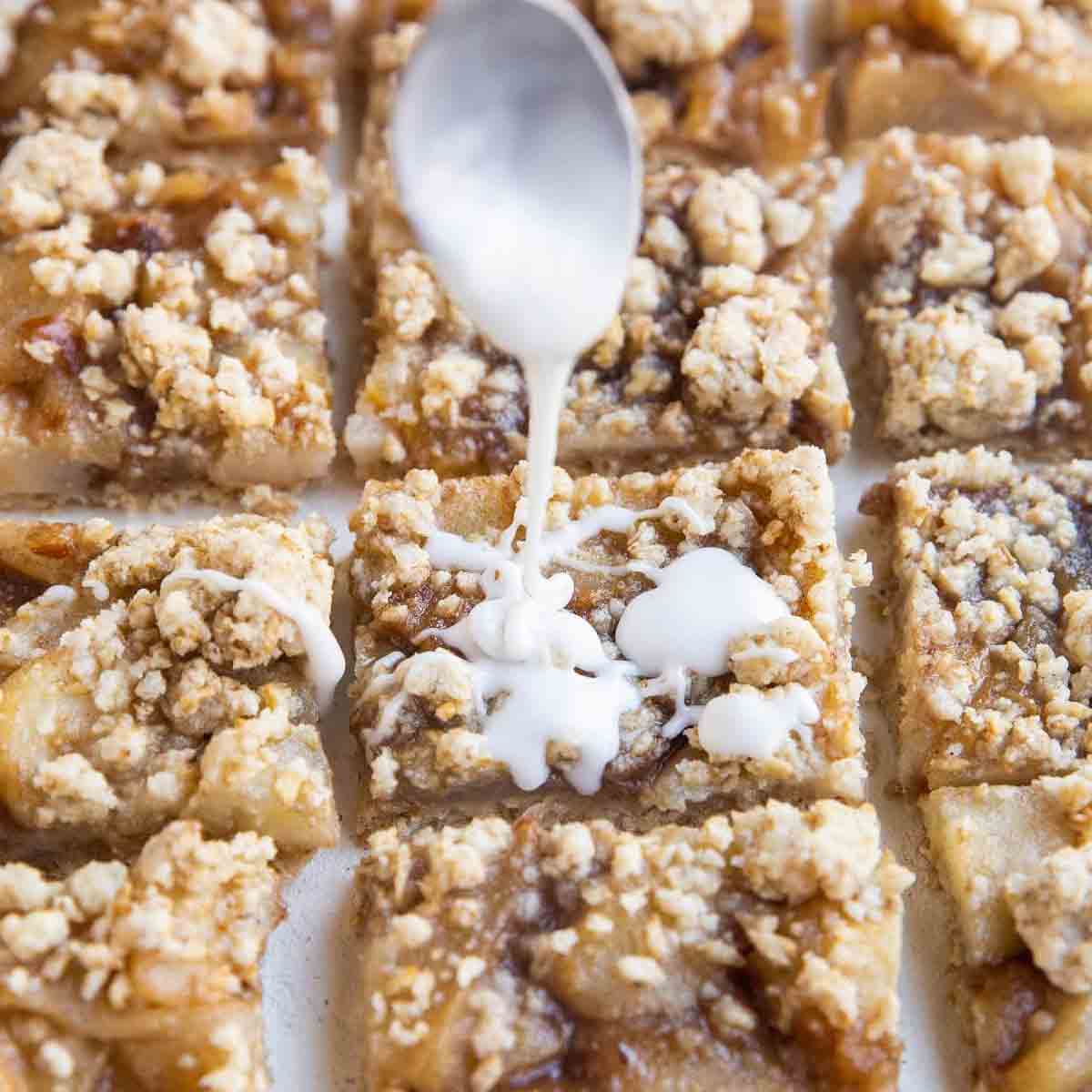 Sweet, chocolatey pear pieces topped with an oat and hazelnut streusel. This is a great warming dessert that can be enjoyed year-round.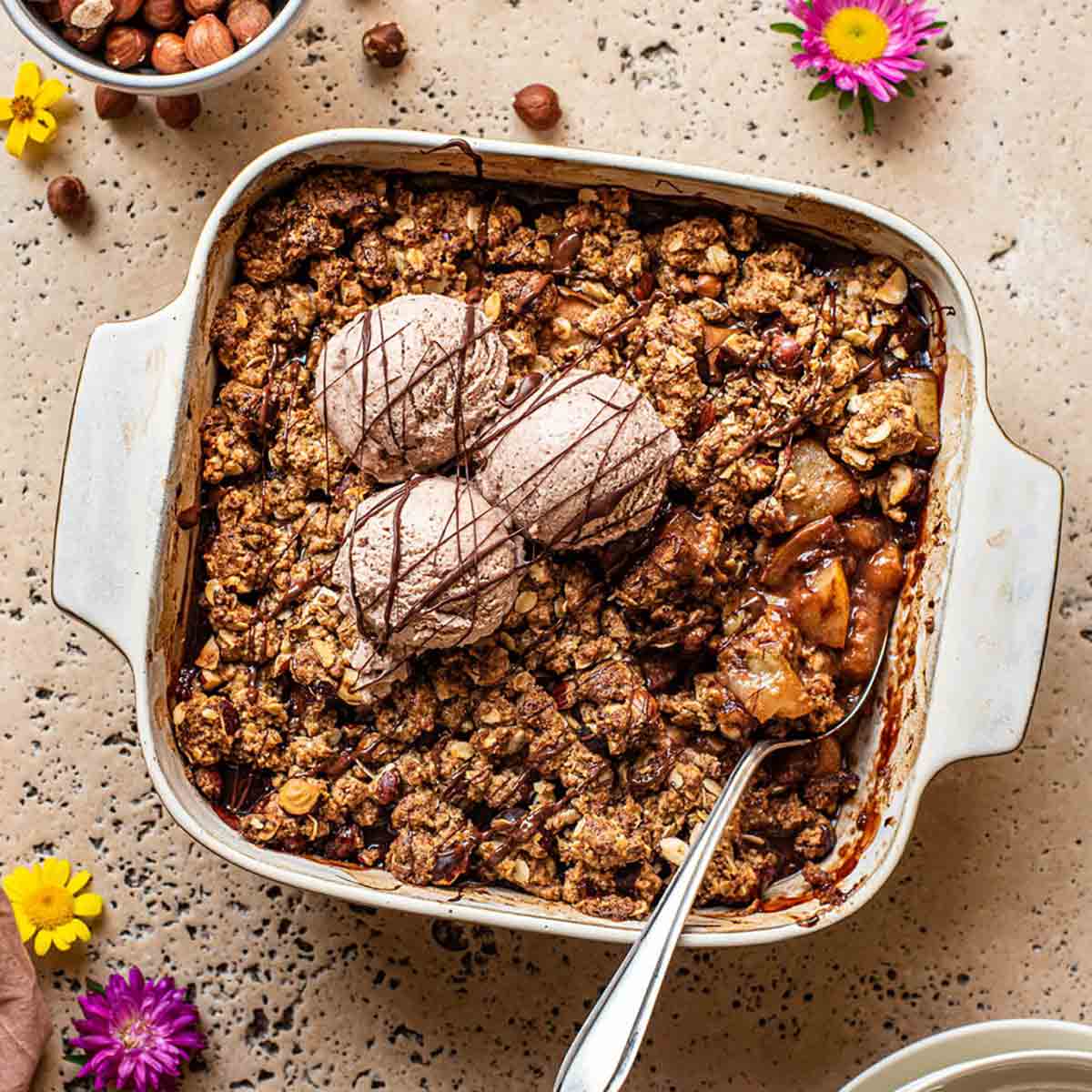 A filling, comforting dessert made with wholesome ingredients. This pear and cranberry crips is gluten-free and free from refined sugar.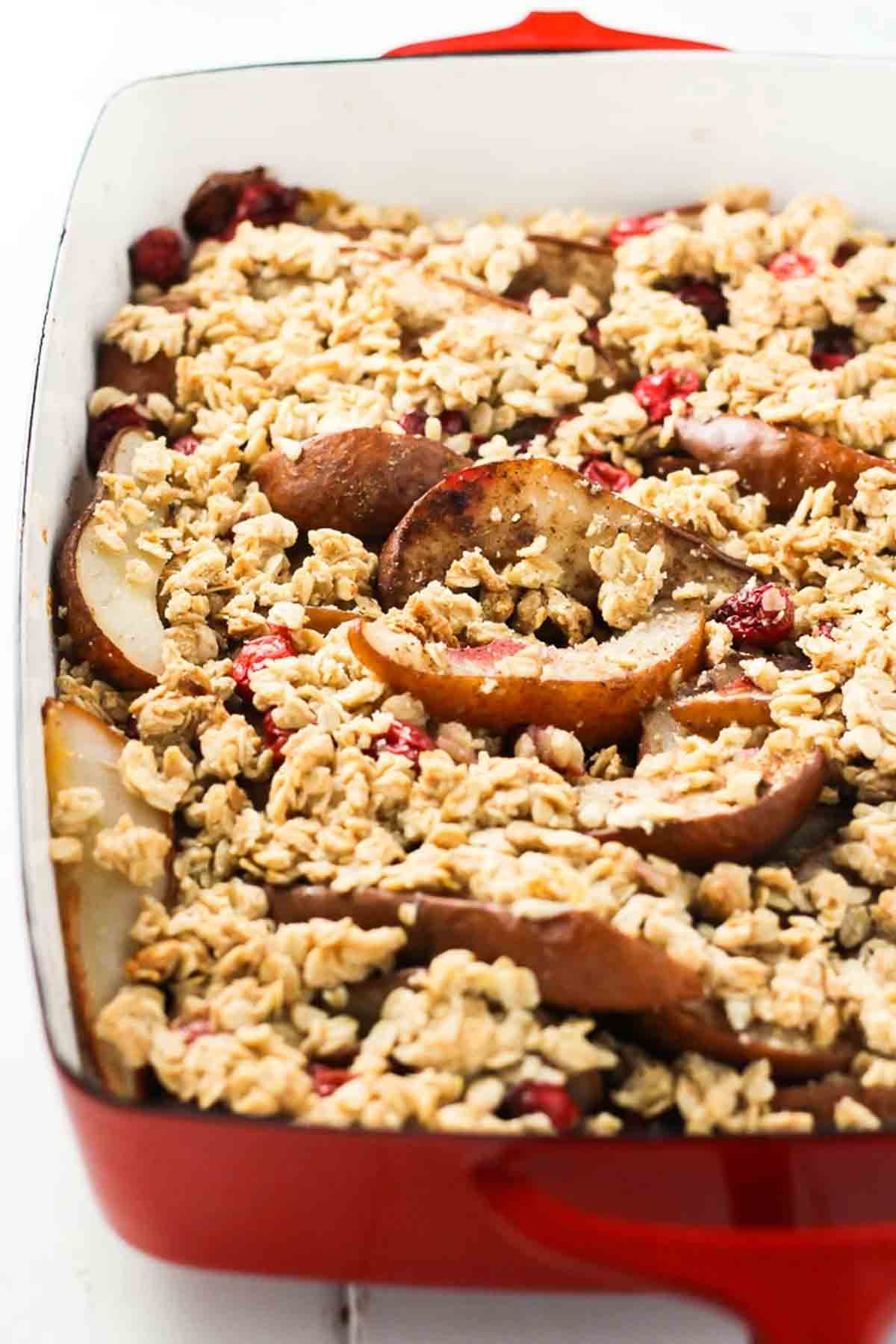 Cooked Pears
Baked, fried, stewed or poached- these recipes add just a few ingredients to turn fresh pears into a sweet, warm dessert.
These baked pears make a great light, healthy dessert. They're sweetened with cinnamon and maple syrup and they can be enjoyed topped with coconut yoghurt, nuts and granola.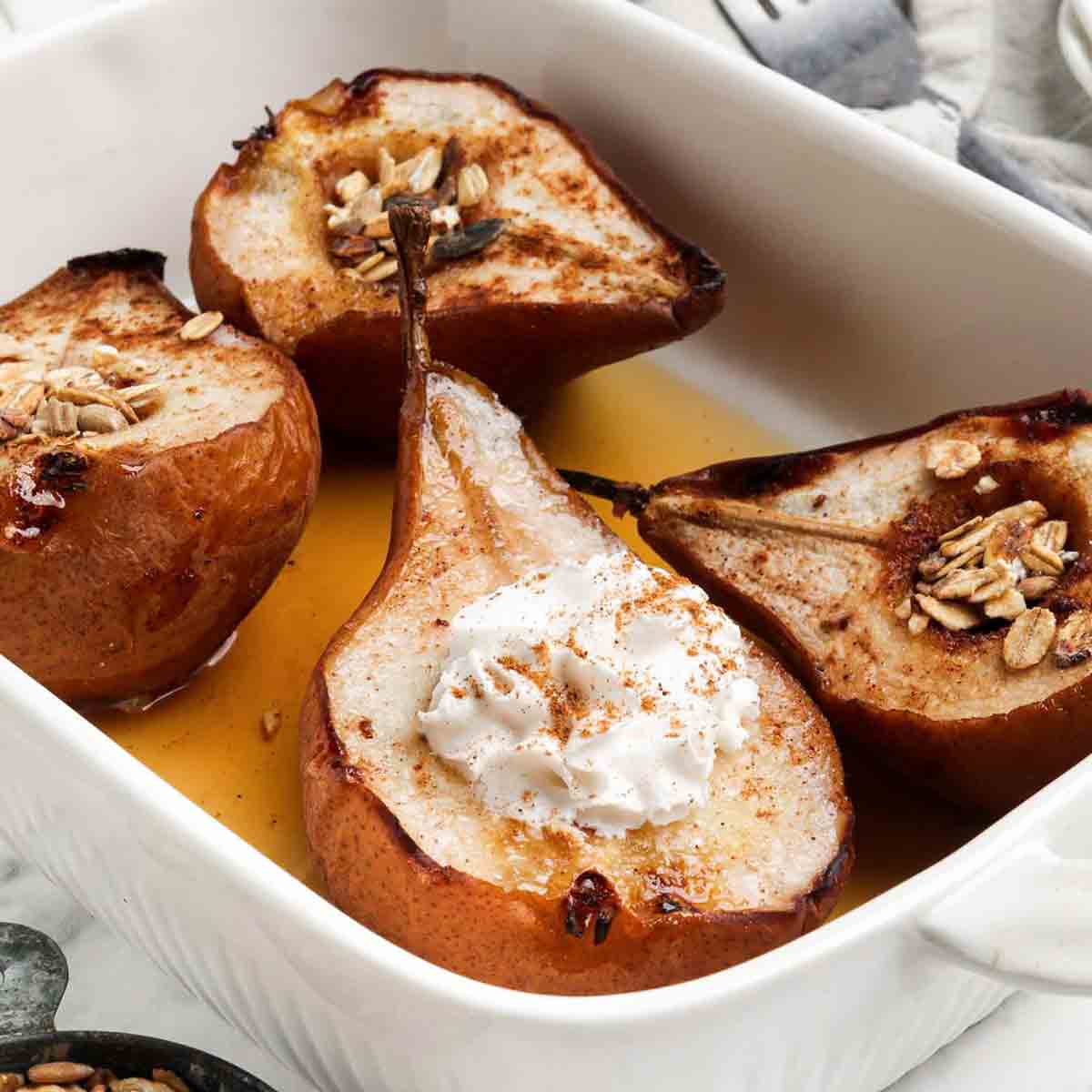 These sweetly-spiced air fryer pears are caramelized on the outside and topped with a crispy oat crumble. This recipe also includes oven instructions for those who don't have an air fryer!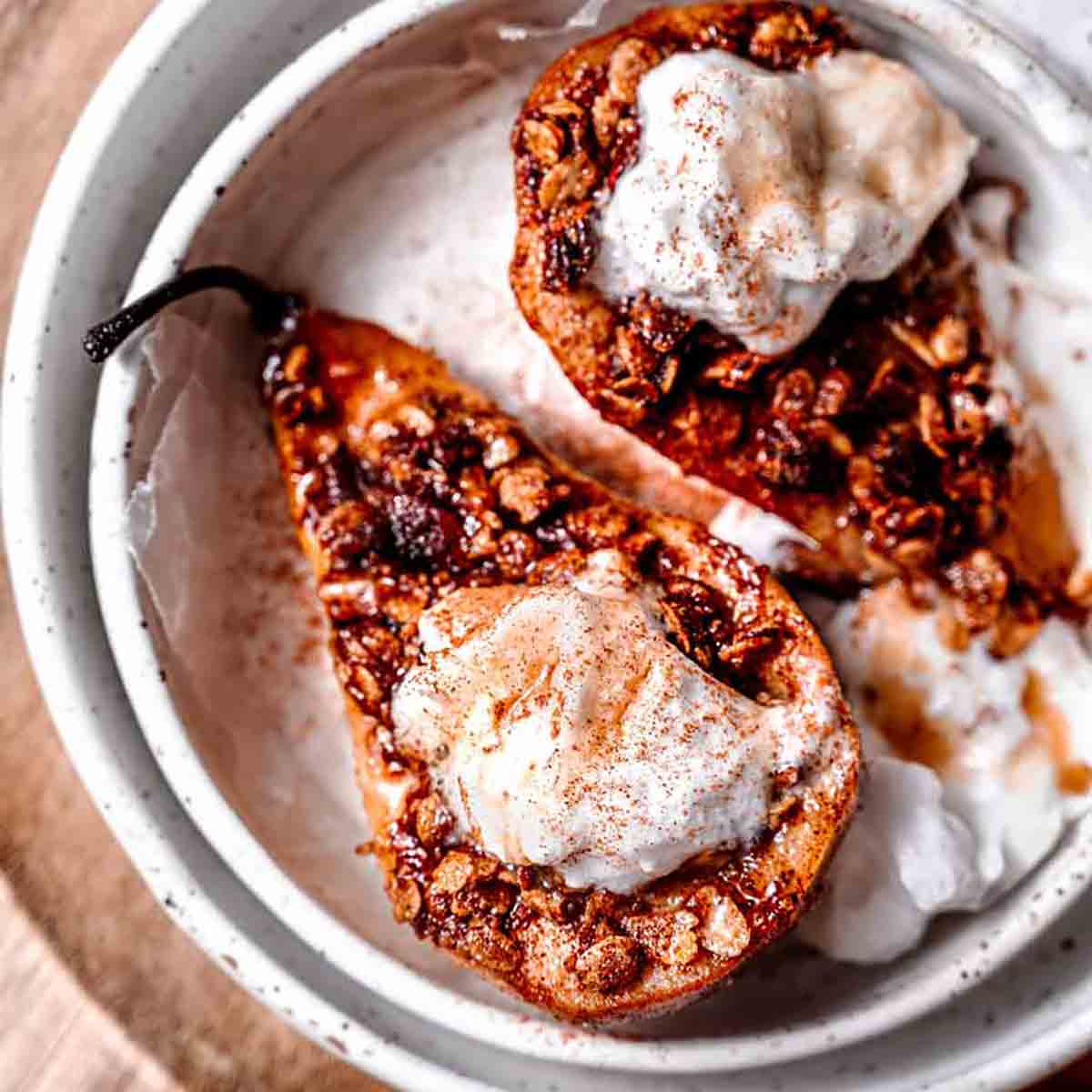 An easy way to turn fresh pears into a sweet dessert. These stewed pears can be made with 6 ingredients and are ready to eat in just 15 minutes.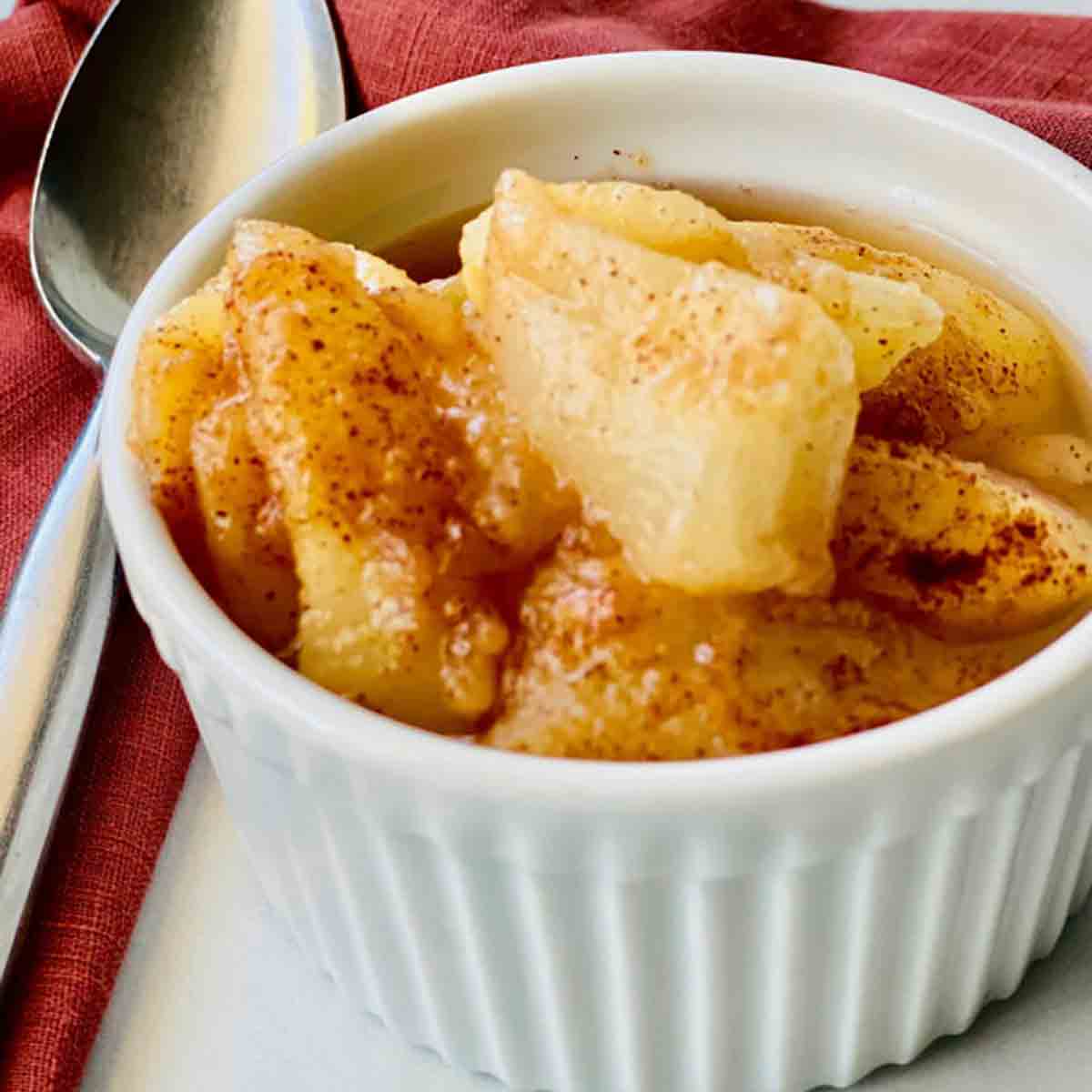 This is a traditional Spanish recipe that combines fruit and wine to make a delicious dessert. They don't need much preparation and they're easy to make ahead.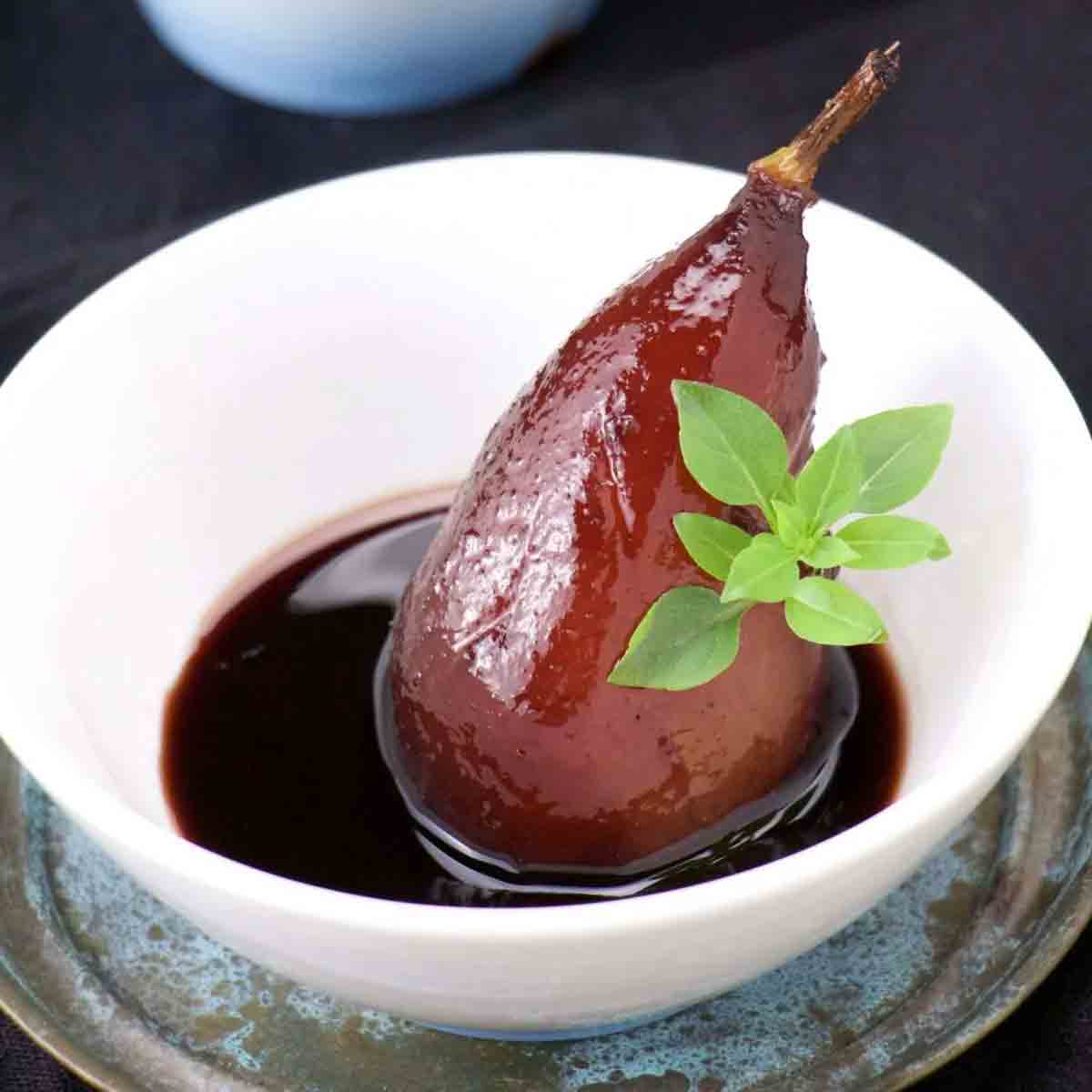 I hope you like these vegan pear desserts! If you find this post useful, please give it a share using the share buttons on this page. Enjoy! xo

16 Cosy Vegan Pear Desserts
The best vegan desserts with pear as the main ingredient.
BakedByClo is a participant in the Amazon Services LLC Associates Program, an affiliate advertising program designed to provide a means for sites to earn advertising fees by advertising and linking to Amazon.com. This site may contain some of these links to Amazon.com & other affiliate programs. If you make a purchase through one of those links, BakedByClo will receive a small commission from the purchase at no additional cost to you.