Vegan Caramel Recipe
This vegan caramel is thick, spreadable and perfectly sweet. It's great for baking with and makes a tasty dairy-free filling for pies, tarts, cakes and more!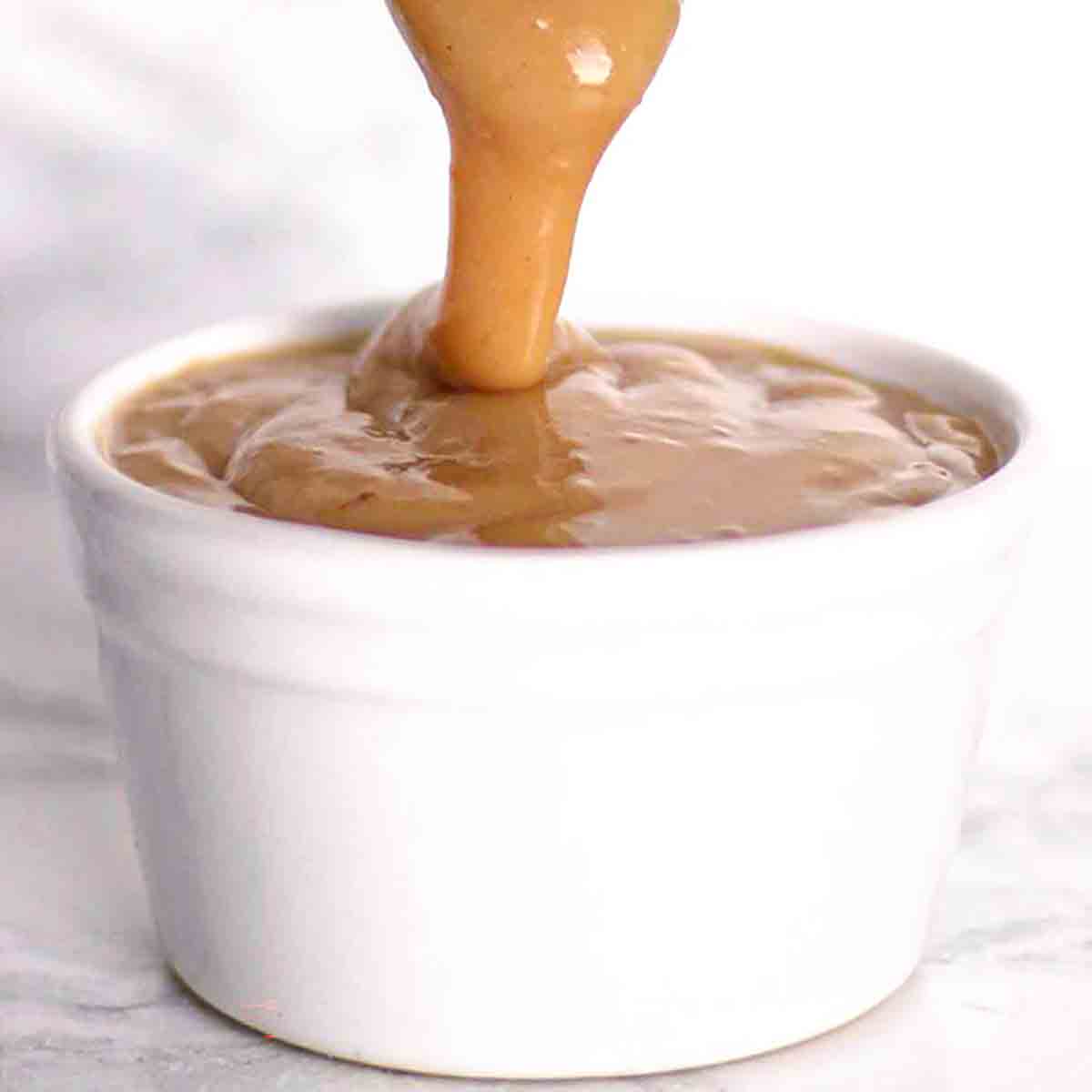 Scared of making caramel from scratch?
No longer, my friend! I have created a super convenient, 5-minute dairy-free caramel recipe that is easy even for beginners.
A foolproof recipe
Because this recipe contains just 5 ingredients and can be made with no thermometer of any kind, it's basically foolproof!
I think this should be named cheat's vegan caramel because technically the sugar doesn't "caramelize" fully. It sort of just dissolves into the sugar and the rest of the ingredients do the work.
I used to use a similar caramel in my millionaire shortbread recipe but that one heavily relied on knowing when to take it off of the heat. It was very runny at first then thickened as it cooled, meaning it was very easy to over or underdo it if you've never made caramel sauce before. It also took a LOT of patience and time.
So by adding cornstarch and a few other ingredients to the recipe as I did with this one, you can see it thicken within minutes. Basically, once it's thick, you'll know that it's definitely ready.
Like I said, it is very much a cheat's caramel but I love it because it takes away the guessing games, especially if you don't have a candy thermometer or tonnes of time to spare.
A great condensed milk caramel replacement
I actually created this recipe very recently when making a homemade filling for my vegan banoffee pie. Every non-vegan recipe I'd seen before called for condensed milk and I had never used the vegan version at the time so I was a little apprehensive.
It got me thinking…
I had recently made lemon curd and realized what a great job cornstarch did of making it spreadable. So I decided to add some to my original caramel recipe, along with some vegan margarine and vanilla, and voila! A miracle was born.
This caramel is thick enough to spread, thicker than a caramel sauce, and quite similar in taste and texture to condensed milk caramel. I think it would taste absolutely delicious spread on top of cakes, as a cupcake filling or mixed into some frosting.
It's obviously perfect for filling banoffee pie and millionaire's shortbread too, as I mentioned. And if you wanted to get extra fancy, you could even add a pinch of salt to the recipe for vegan salted caramel. I've also used as the filling for my vegan caramel tart!
How to make vegan caramel
Step 1:
I'd recommend that you start by measuring out all of your ingredients first. This will save time and make things easier.
You will need:
250ml of soy milk (1 cup)
2 tablespoons of cornflour (cornstarch)
2 tablespoons of vegan margarine (The soft, spreadable type, not the block. I used Vitalite.)
80g of soft light brown sugar (1/3 cup + 1 tablespoon)
1 tablespoon of vanilla extract (3 teaspoons)
Step 2:
Take 2 tablespoons of the already measured soy milk and mix it together with the cornflour in a small pot until smooth. This will prevent it from clumping up into lumps when it goes on the heat.
Step 3:
Mix the milk and cornflour mixture into the rest of the soy milk.
Step 4:
Melt the vegan margarine in a small saucepan over a low heat. Add the rest of the ingredients then turn the heat up high.
Step 5:
Stir continuously until the caramel becomes thick. Remove from the heat and leave it to cool.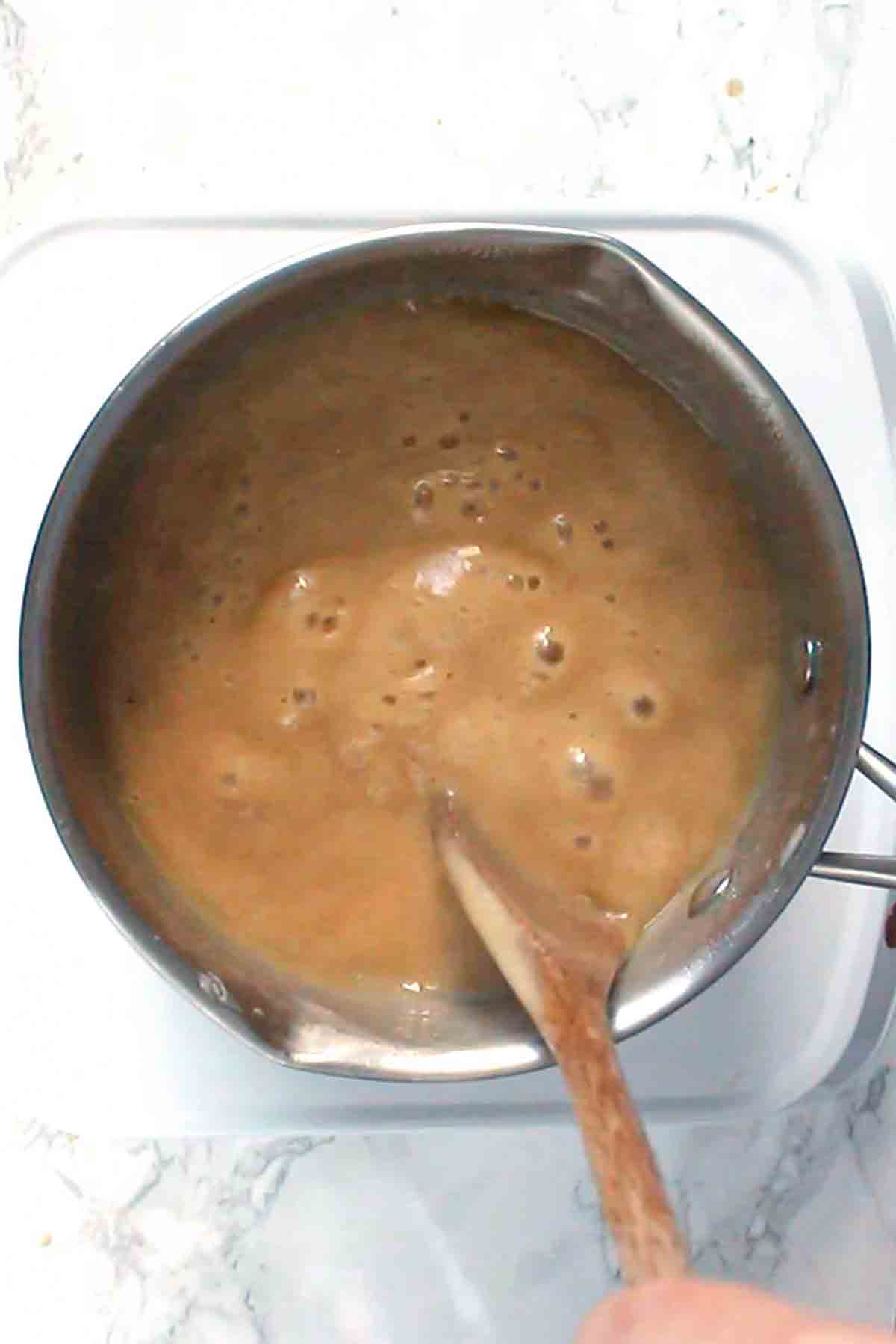 A quick note!
I must tell you that this is not the same as a "regular" caramel but taste-wise it's very close! This will not set to become sticky or solid but will firm up enough for you to cut into your cake, pie, tart, or whatever else you use it for.
This caramel is purely a "cheat's" recipe for those times when you're in a pinch and have only basic ingredients to hand or are limited for time. I will be creating a dairy-free caramel sauce/dulce de leche recipe in the near future using the usual method, so keep an eye out for that.
FAQ:
What can I use this vegan caramel for?
This one is great for those recipes where you need a thicker caramel. Think recipes like millionaire shortbread, banoffee pie and caramel tart.

You can use it for filling cupcakes with or add some of it to your usual cake frosting recipe. It also makes a good dip for things like pretzels, fruit and sweet crackers.
How should I store leftovers?
Dairy-free caramel is best kept in the fridge in an airtight container. Mix well before use as it may separate a little as it chills.
Can I use another kind of milk?
I haven't tested this recipe out with any milk other than soy but I would guess that it would work absolutely fine. I'd recommend something like coconut or oat milk for best results.
How can I make this into a vegan caramel sauce?
Simply reduce the amount of cornflour to 1/2 a tablespoon. The method stays the same. As it's heating on the stove, you'll be able to determine if you'd like it thinner or not. If so, you can add more soy milk at this point.
How long will it last?
At least 5 days but probably longer! When I used it in my banoffee pie and caramel tart, it held up really well and didn't lose its texture or flavour at all.
Can I add salt?
Yes! I'd recommend adding a small pinch of salt if you like vegan salted caramel.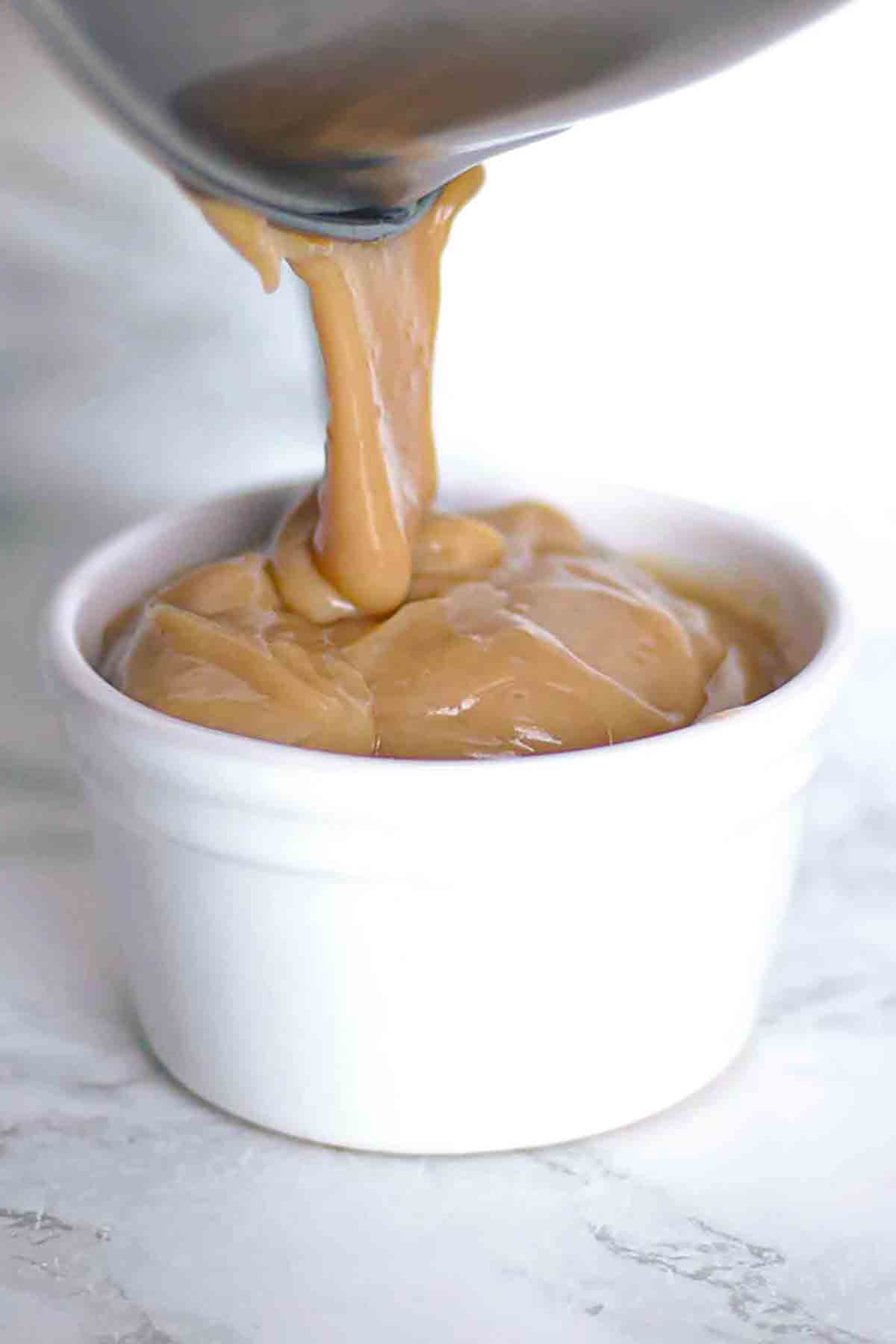 I hope you enjoy this 5-minute vegan caramel recipe! Let me know what you're going to use it for and how it turns out for you! xo

Vegan caramel (5 Minute Recipe)
A thick, dairy-free caramel recipe that takes just 5 minutes to make.
Ingredients
2

Tablespoons

Cornflour

(cornstarch)

250

ml

Unsweetened soy milk

(1 cup)

2

Tablespoons

Vegan margarine

(the spreadable kind, not the block)

80

g

Soft light brown sugar

(⅓ cup + 1 tablespoon)

3

Teaspoons

Vanilla extract
Instructions
Mix the cornflour with 2 tablespoons of the soy milk until smooth. Add that mixture to the rest of the soy milk and mix well.

Melt the margarine in a small saucepan over a very low heat. Once melted, add the rest of the ingredients to the pan, including the soy milk, and turn the heat up high.

Stir continuously until the caramel becomes thick. Remove from the heat and allow it to cool.
Recipe Notes
Store in an airtight container in the fridge for up to 5 days. Mix well before use.
Nutrition Facts
Vegan caramel (5 Minute Recipe)
Amount Per Serving (1 whole batch)
Calories 612
Calories from Fat 180
% Daily Value*
Fat 20g31%
Sodium 172mg7%
Carbohydrates 100g33%
Protein 6g12%
* All values are an estimate only and will vary depending on the food brands used.
BakedByClo is a participant in the Amazon Services LLC Associates Program, an affiliate advertising program designed to provide a means for sites to earn advertising fees by advertising and linking to Amazon.com. This site may contain some of these links to Amazon.com & other affiliate programs. If you make a purchase through one of those links, BakedByClo will receive a small commission from the purchase at no additional cost to you.