20 Vegan Truffle Recipes for Valentine's Day
Searching for a homemade gift for Valentine's Day 2023? Check out this list of vegan truffle recipes! There are over 20 recipes to choose from, including healthier truffles, strawberry truffles, Oreo truffles, and lots more. All easy to make with absolutely no dairy needed!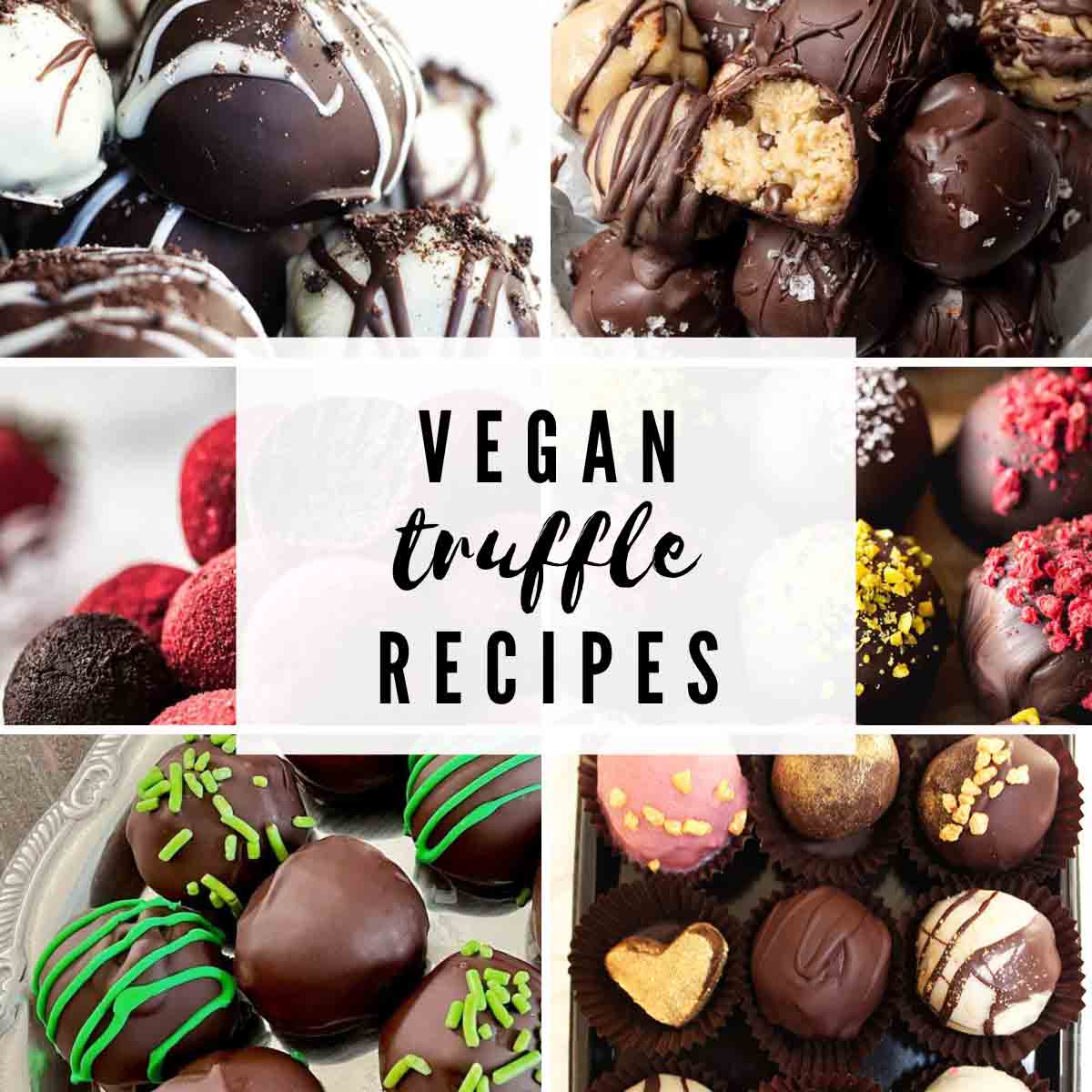 It's only a few weeks until Valentine's Day 2023 so I'm creating this post with the best vegan truffle recipes incase you're thinking of some homemade gifting!
Vegan truffles can be a little expensive if you buy them in the supermarkets, so if you'd like to save some money and get some more exciting flavours, try one of the recipes on this page! Your loved one (or yourself, whoever you're making them for) is sure to appreciate the effort as well as the unique flavours you can't buy without dairy! Plus, who doesn't love a good homemade chocolate truffle?
I teamed up with a few other food bloggers to bring you this list. Make sure to check out their blogs and let us know if you try any of the recipes. Enjoy!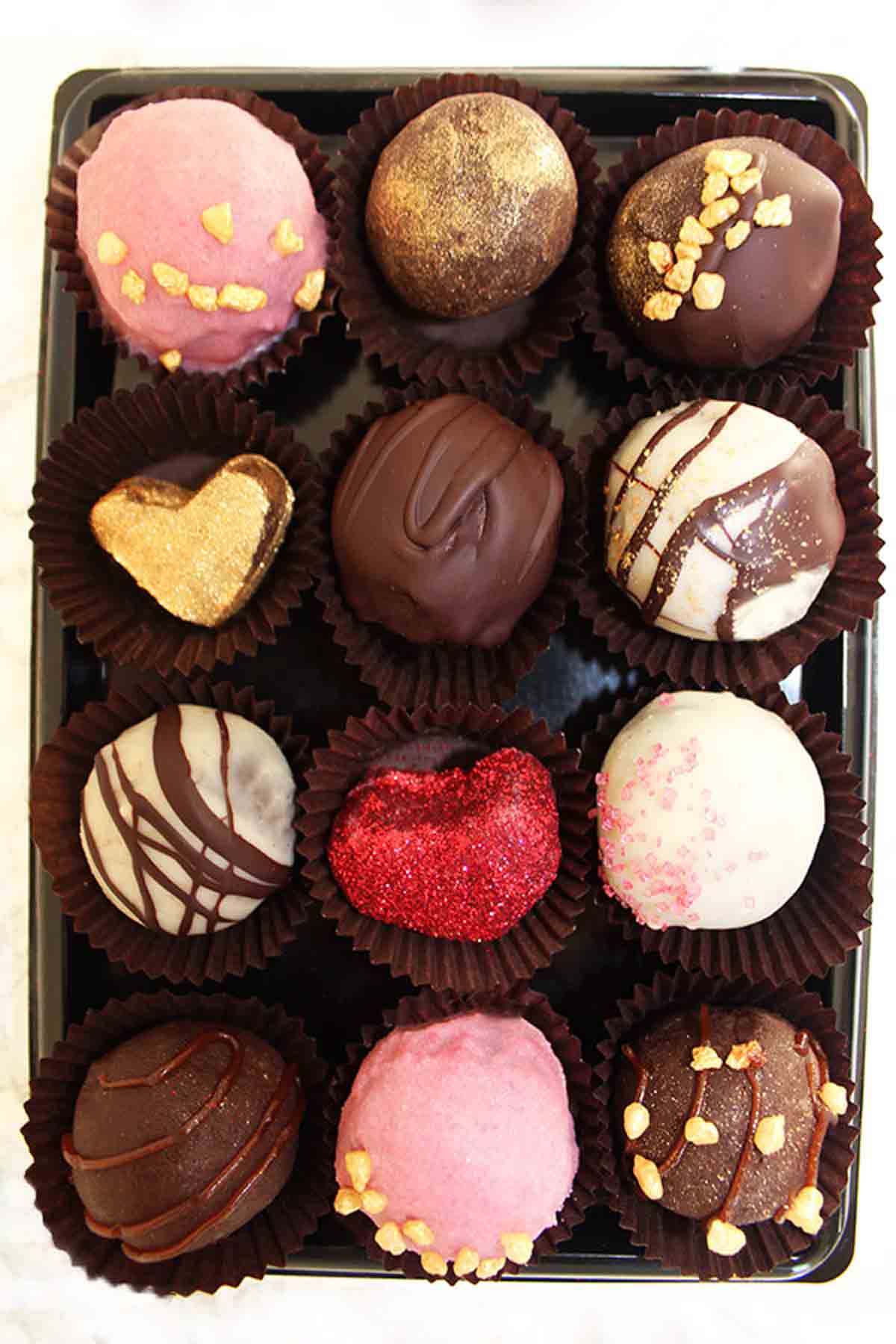 Classic, creamy chocolate truffles made with just 2 ingredients. You can enjoy them as-is or you can coat them with dairy-free chocolate and cake decorations to make them look just like shop bought truffles!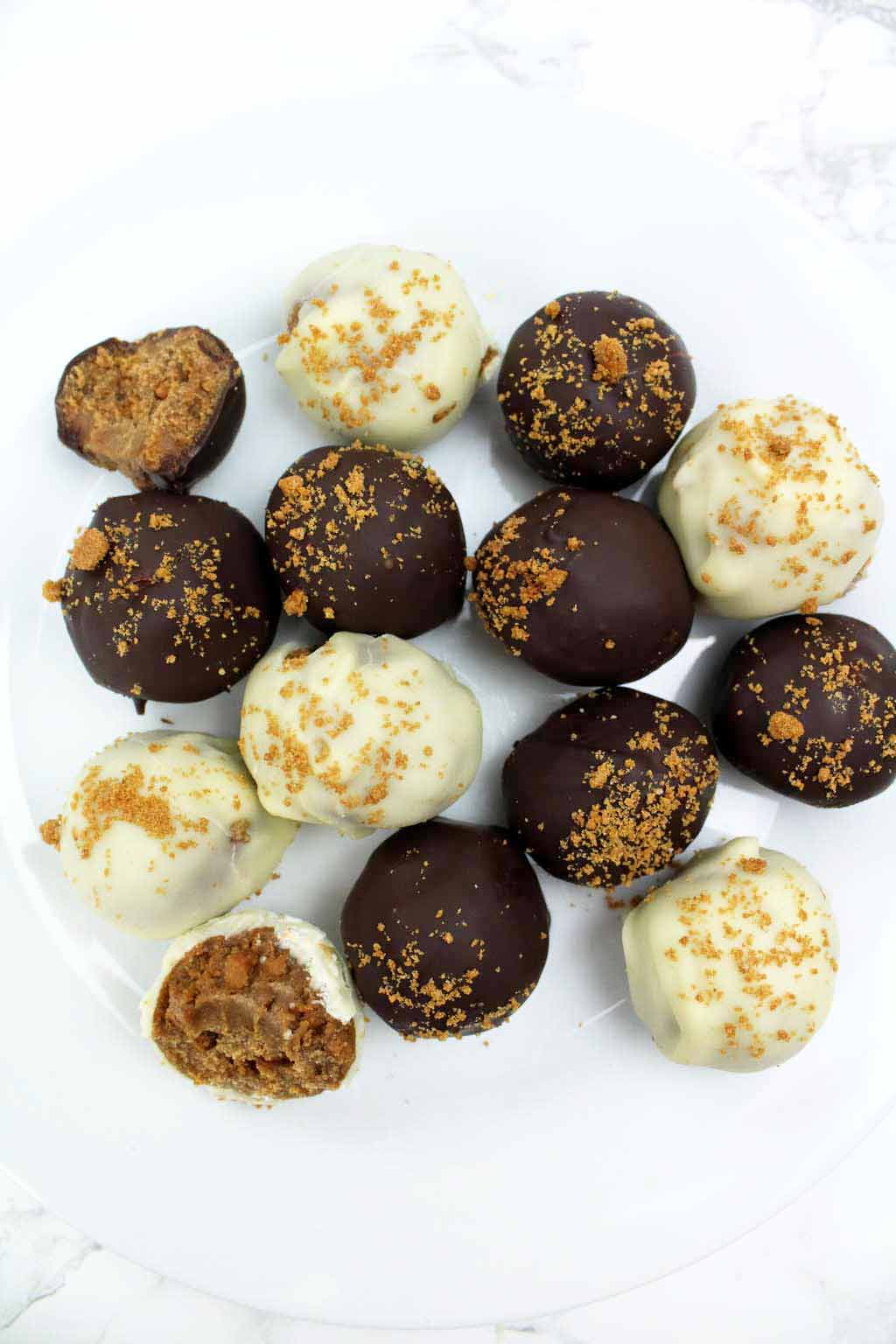 Dairy-free cream cheese and Biscoff biscuits make these super easy and delicious Biscoff truffles. Coat them in a mixture of dairy-free white and dark chocolate for a tasty treat that's perfect for parties.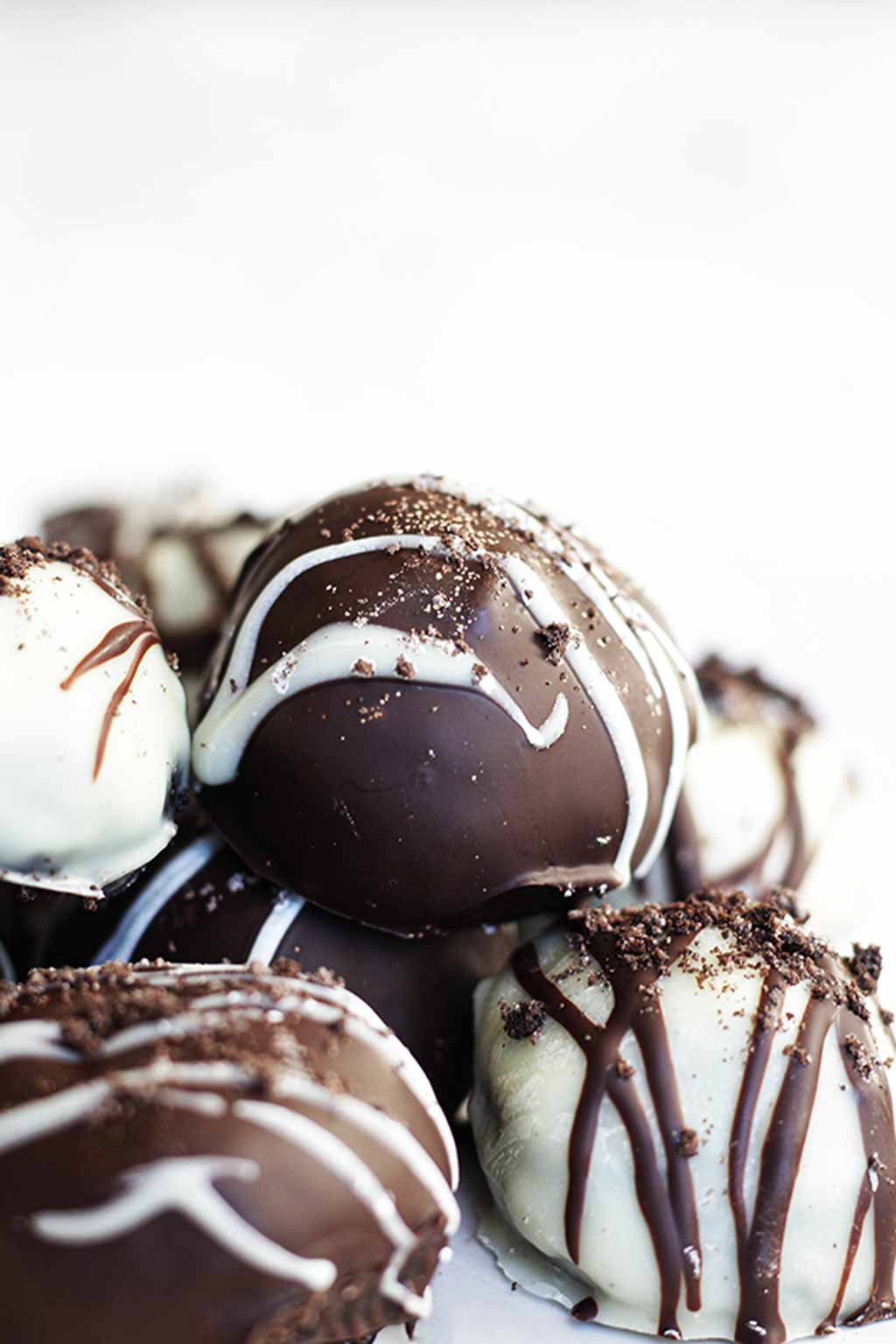 These are similar to the Biscoff ones but these are made with Oreo cookies instead. Think of them as mini bites of Oreo cheesecake. Yum!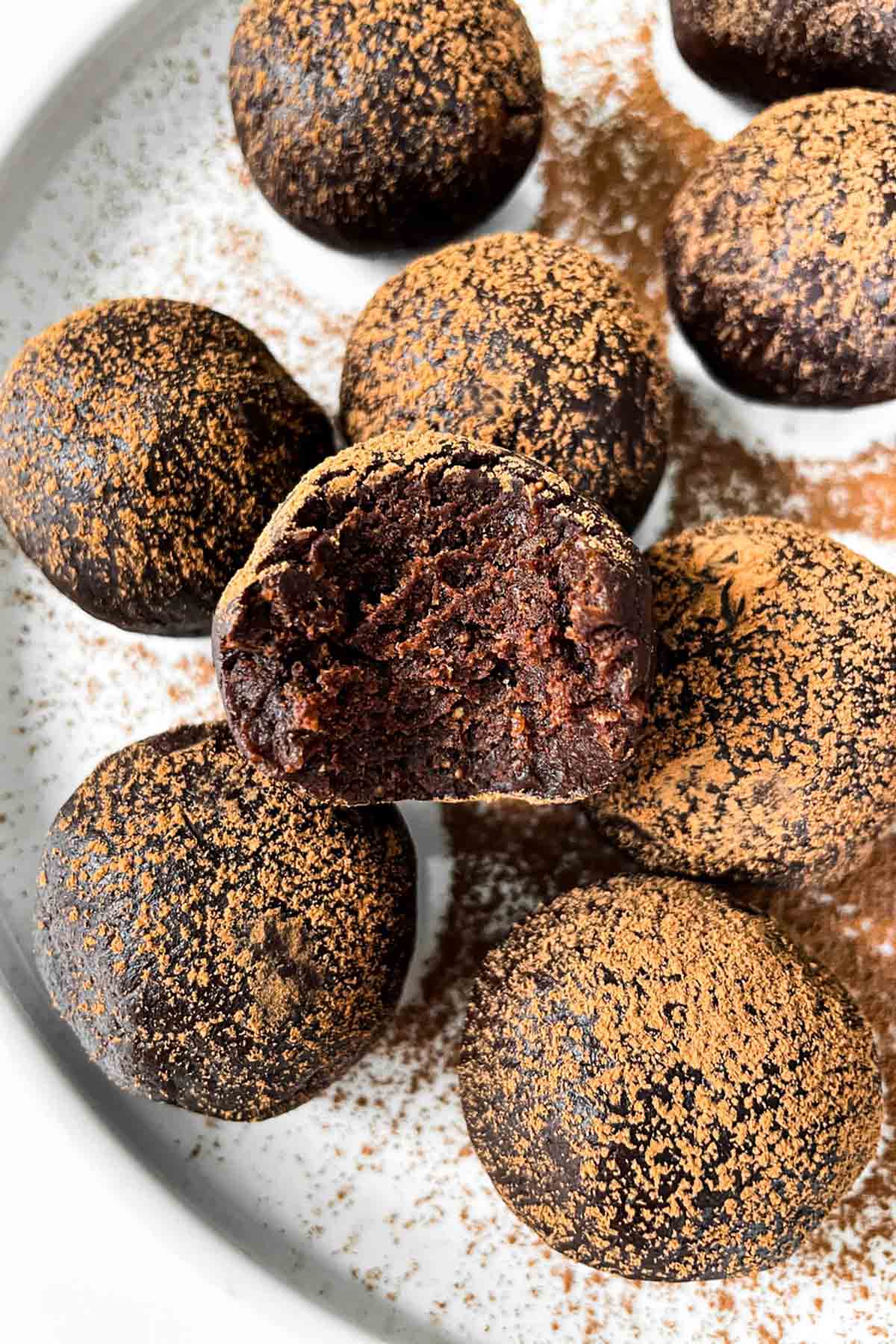 This no-bake brownie vegan truffle recipe is made with only 6 ingredients and you won't need any cream cheese! These bite-sized desserts are the perfect portions and great for any occasion!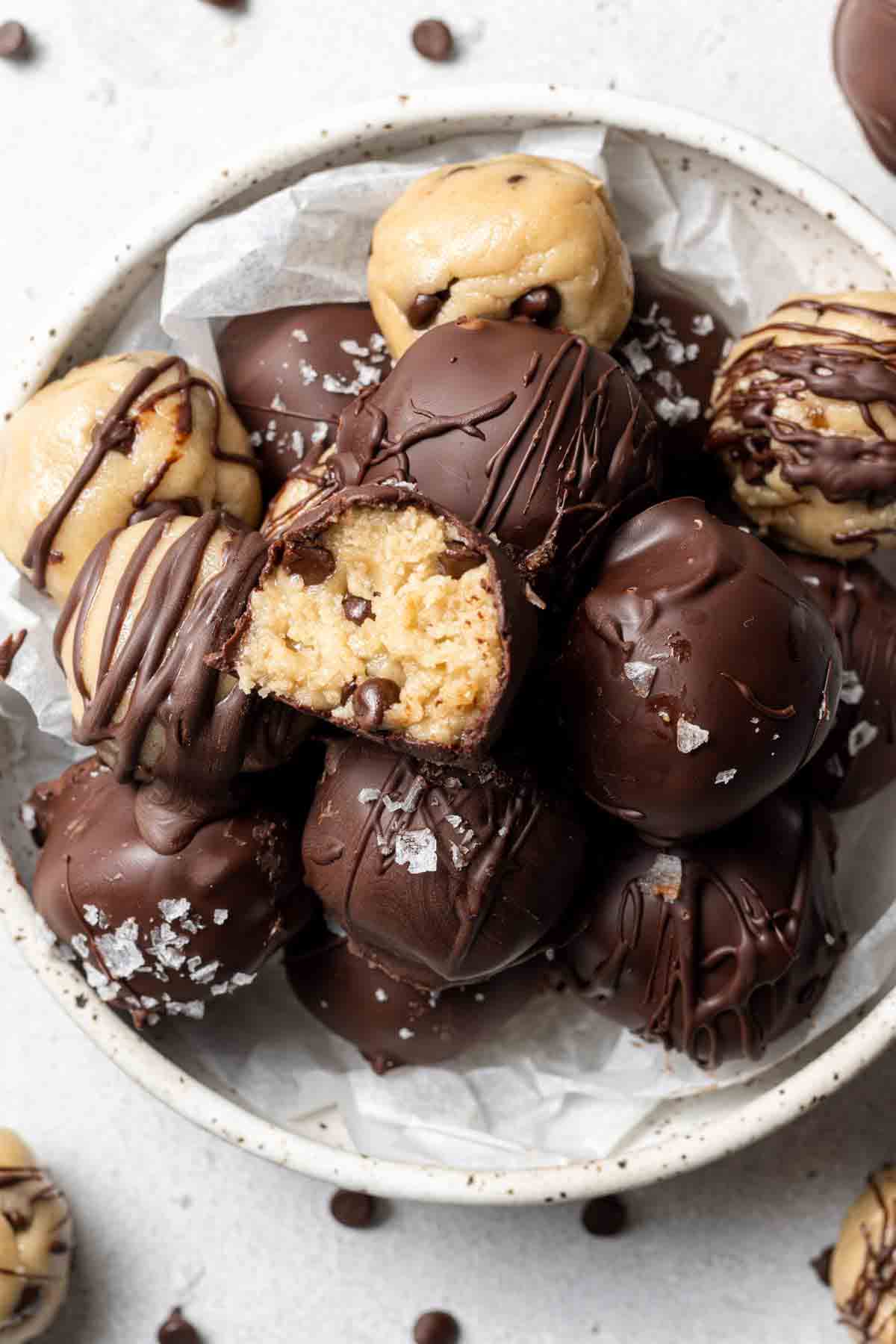 These no-bake chocolate chip cookie dough truffles make a perfect no bake dessert for when you're craving something sweet!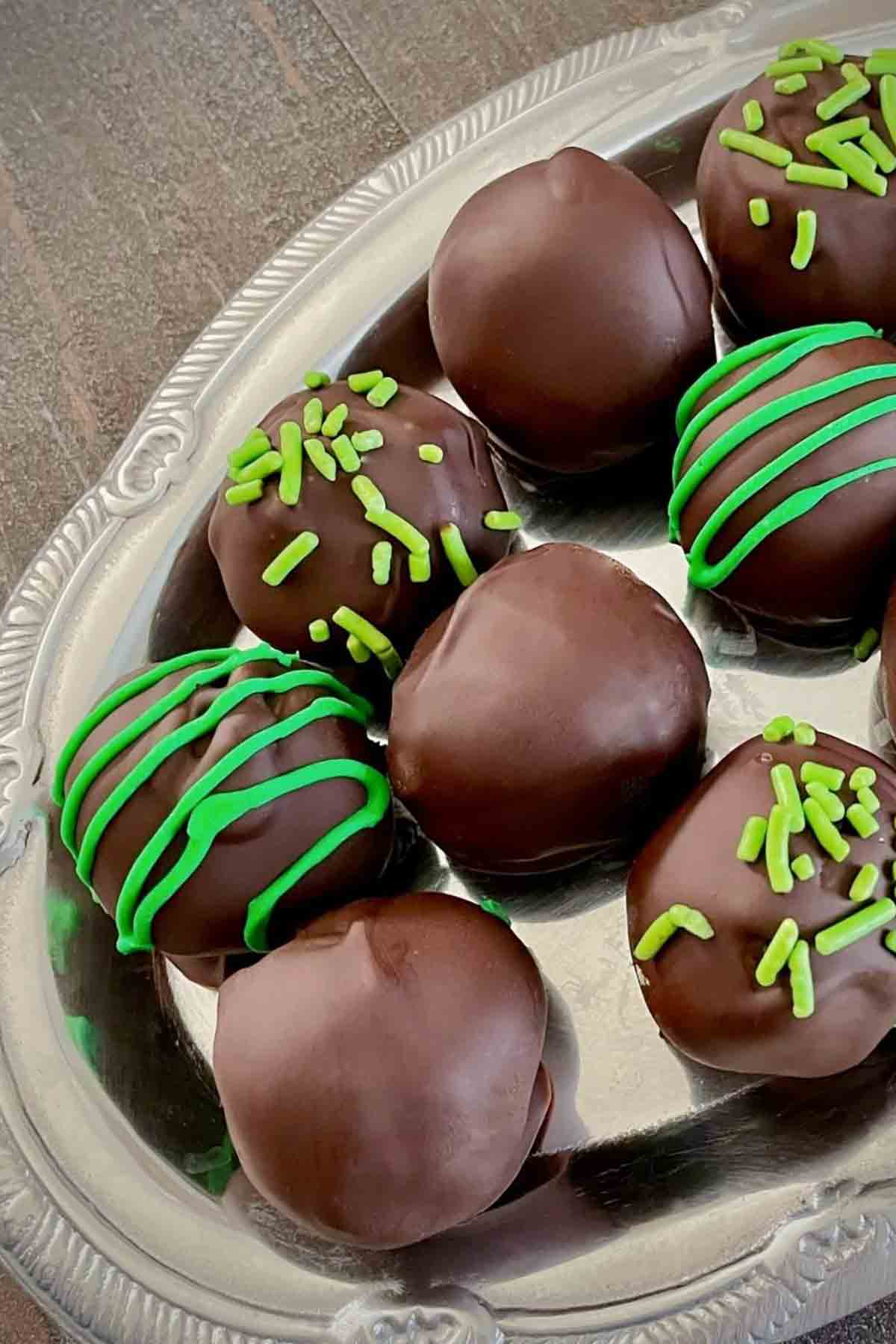 Decadent chocolate-mint cookies are combined with dairy-free cream cheese and covered with rich chocolate in these vegan thin mint truffles!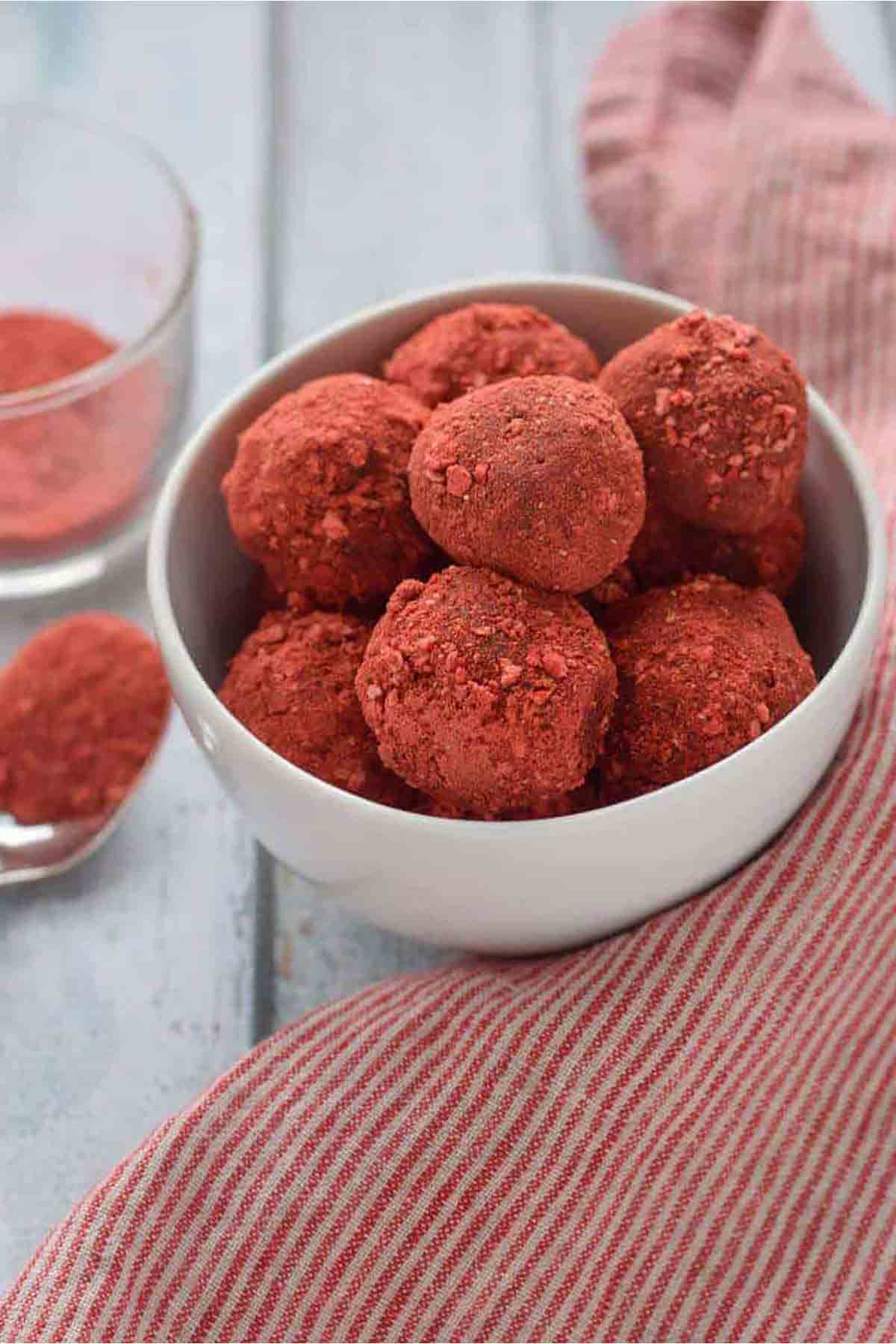 Need a paleo-friendly chocolate fix? Try these paleo truffles for a creamy and delicious bite-sized treat. Made with coconut cream for rich, decadent chocolate truffles.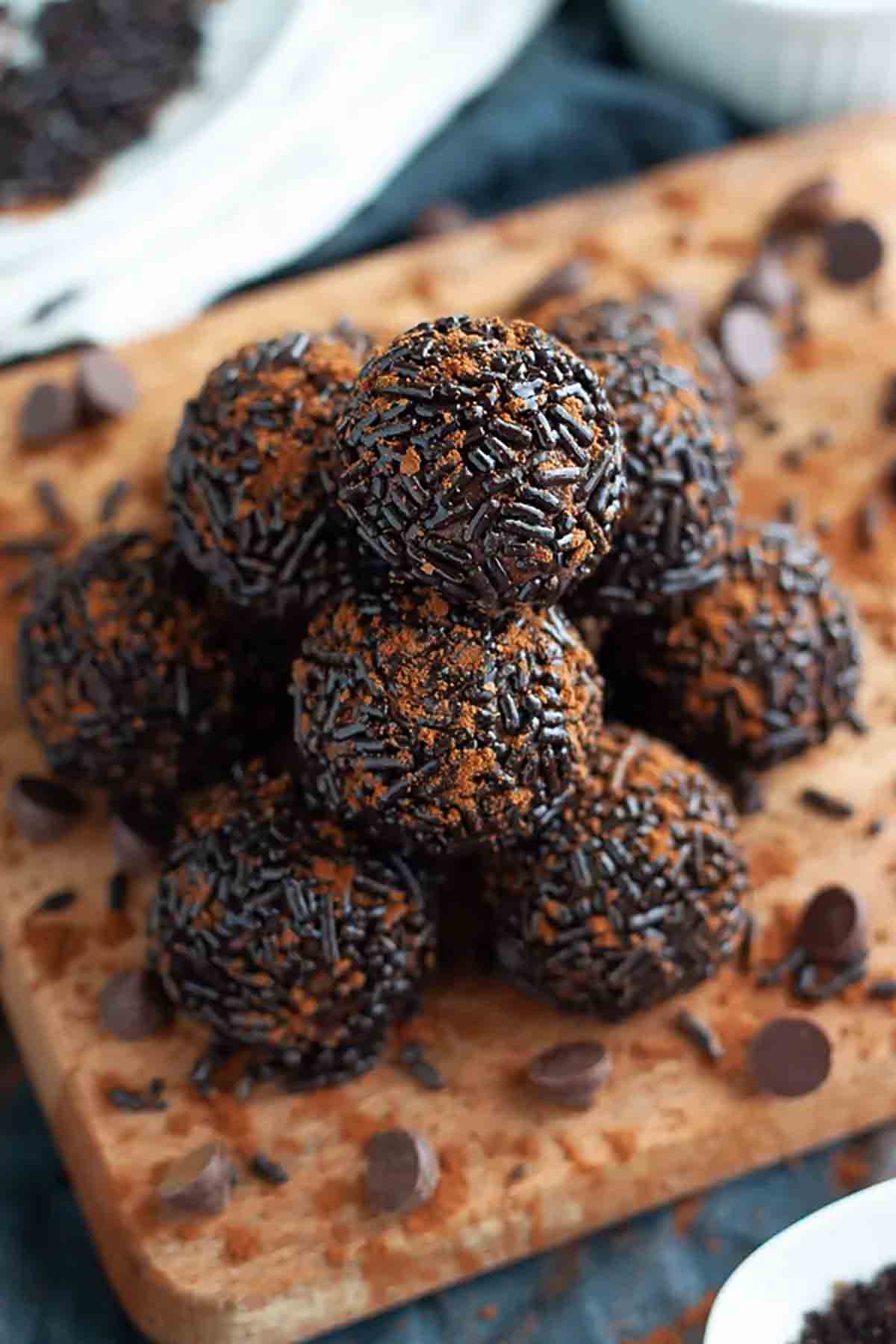 These decadent chocolate truffles are so rich and creamy and are coated in chocolatey sprinkles. These are some of the best homemade chocolates made with coconut milk!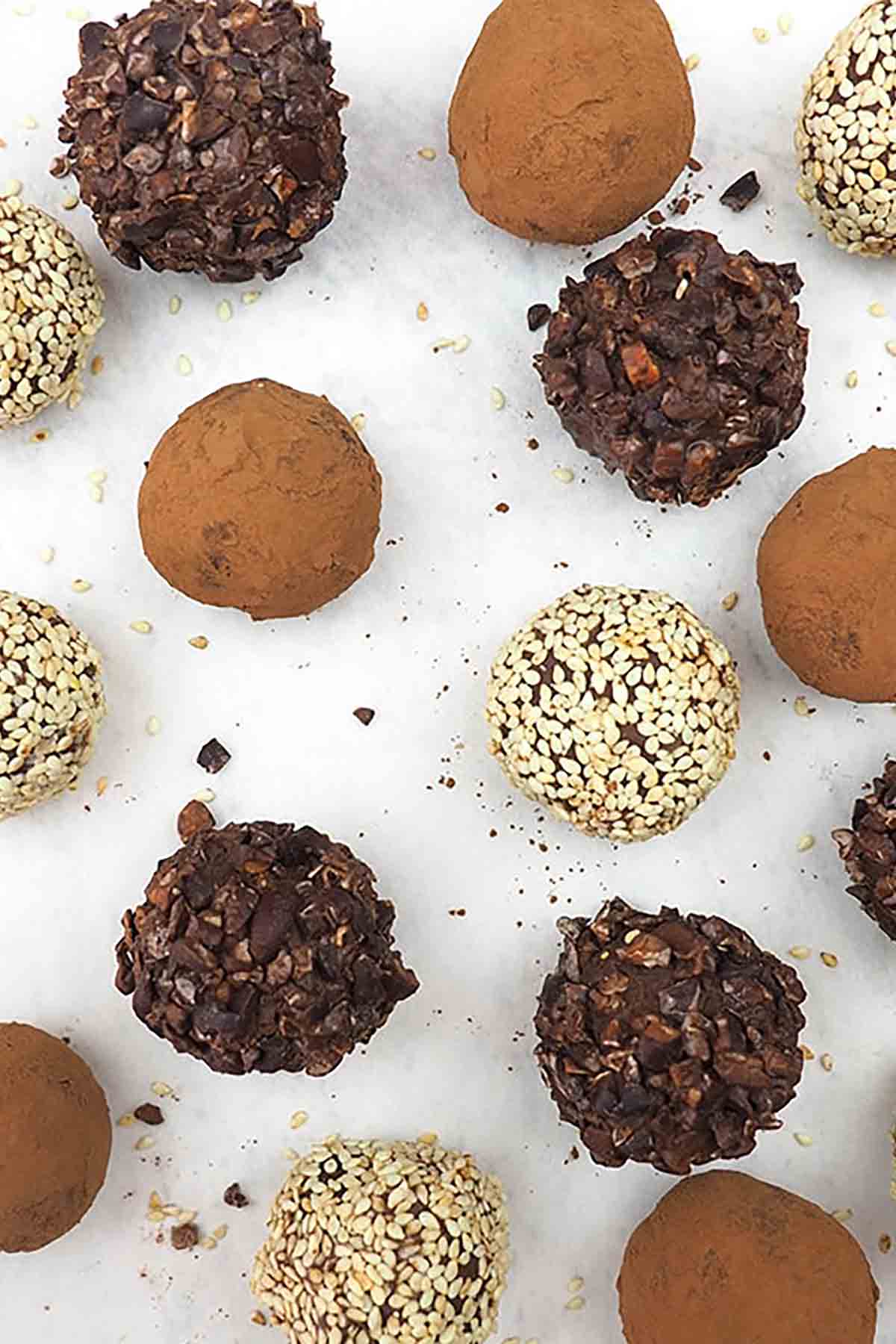 Chocolate and sesame paste combine deliciously in these luscious vegan tahini truffles. You'll need only these two ingredients plus 15 minutes to prep them!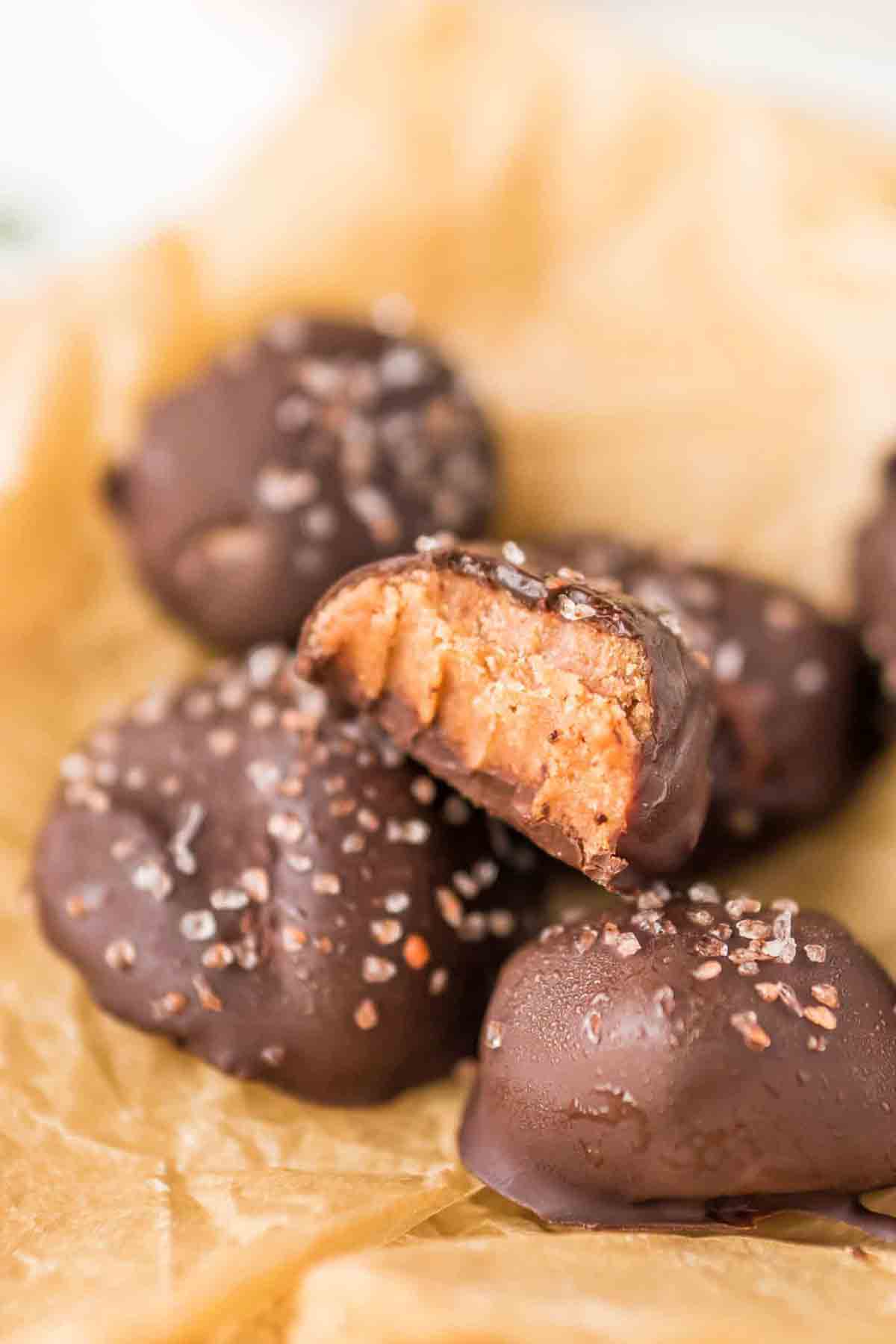 Try these chocolate covered tahini truffles for a quick, easy and delicious edible gift. Make them for a loved one or for yourself!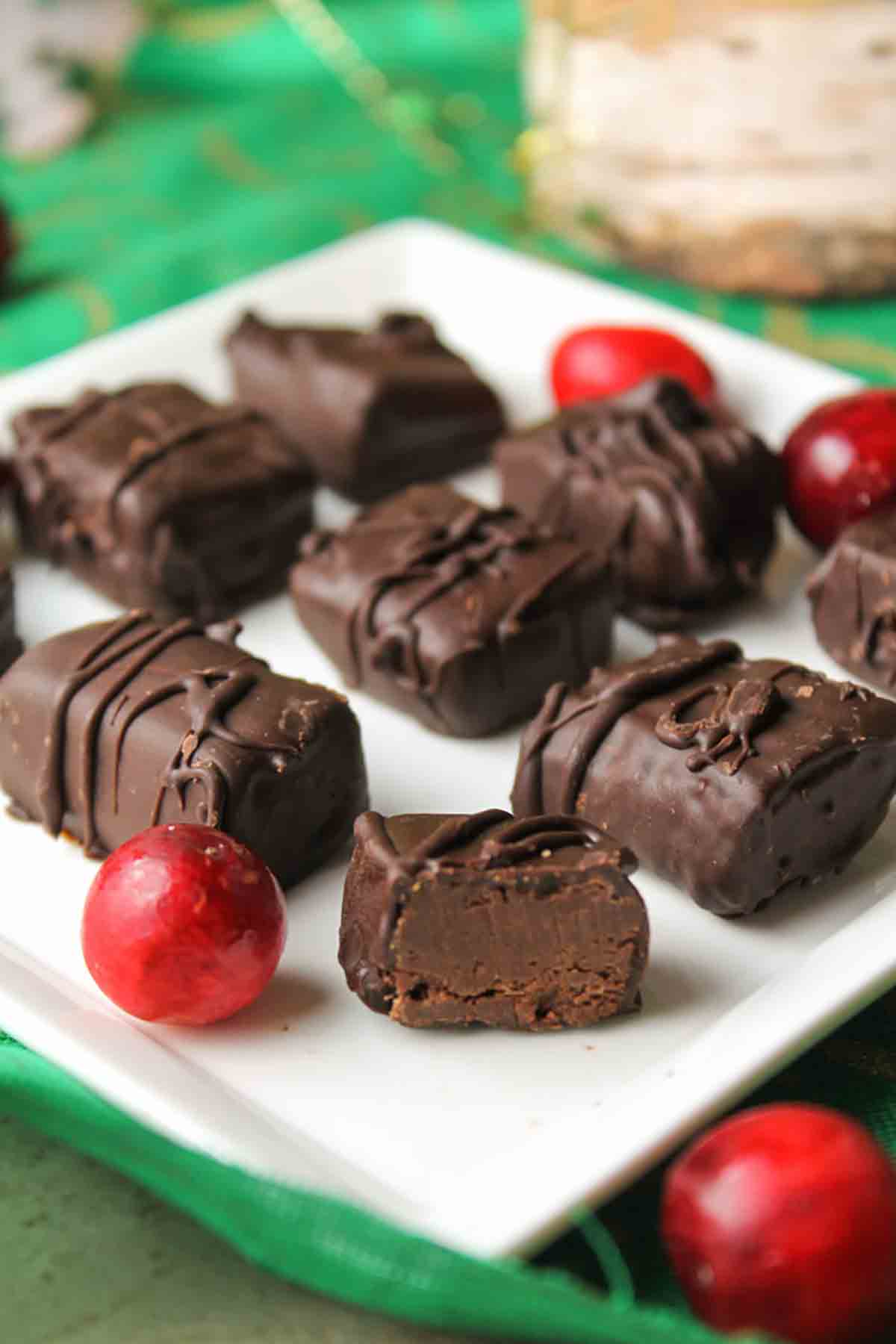 No one will ever guess these mint chocolate truffles are made with wholesome ingredients! They are so rich and decadent and will be loved by all!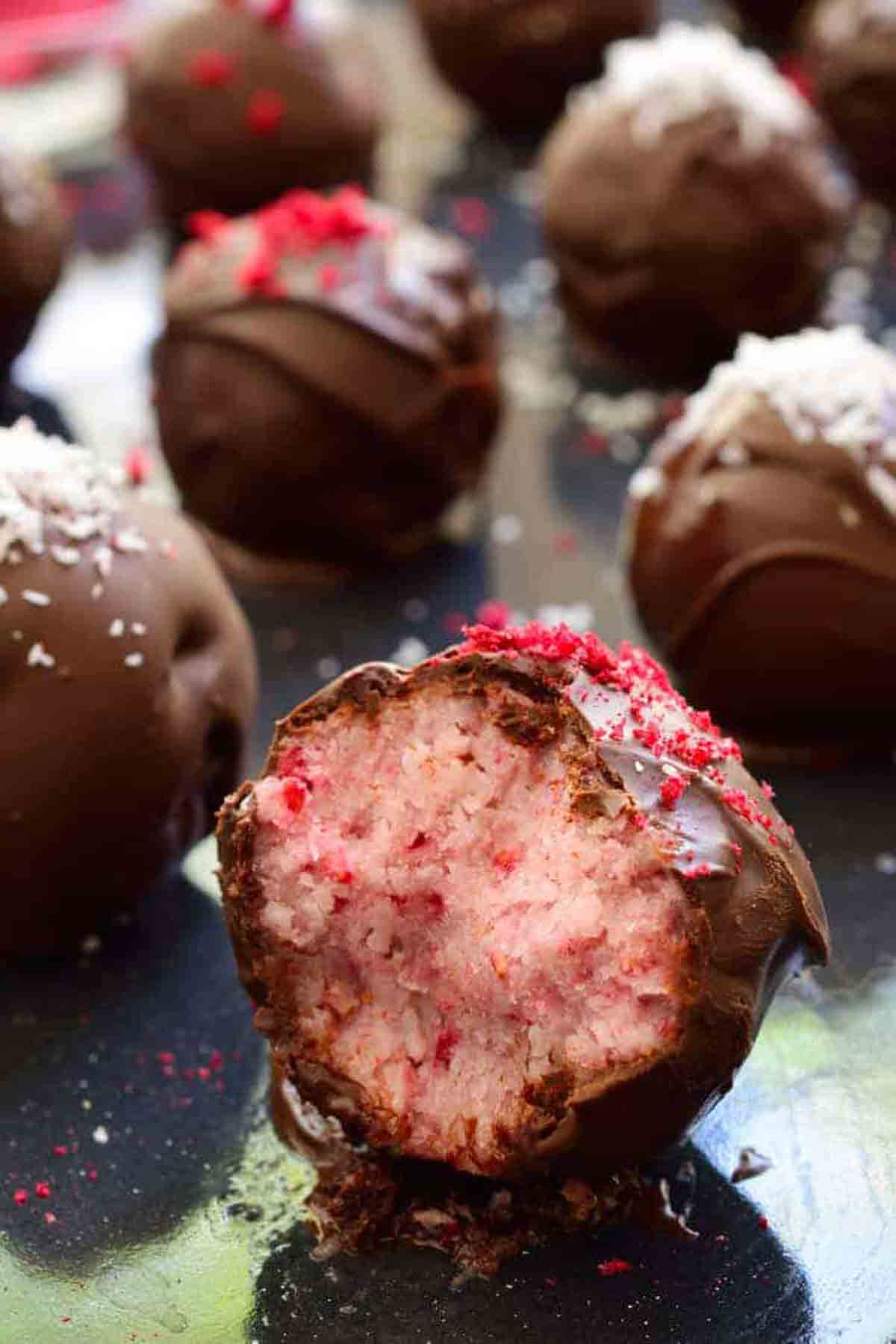 These raspberry Bounty truffles are a quick and easy sweet treat, featuring a creamy coconut and tangy raspberry filling, encased in a dark chocolate shell.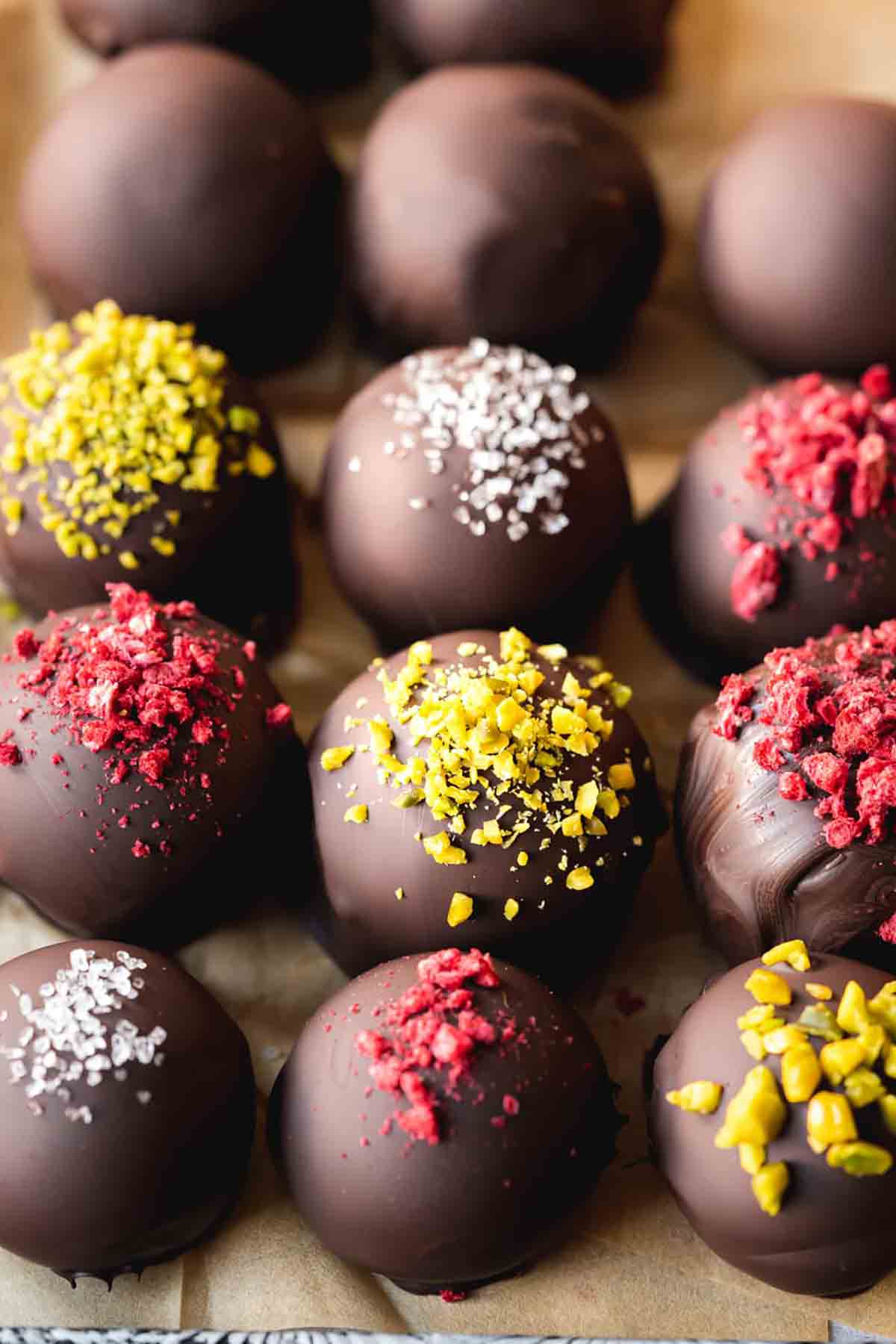 Delicious creamy vegan truffles with a hint of Amaretto. These are super easy to make and perfect for gifting for Valentine's Day!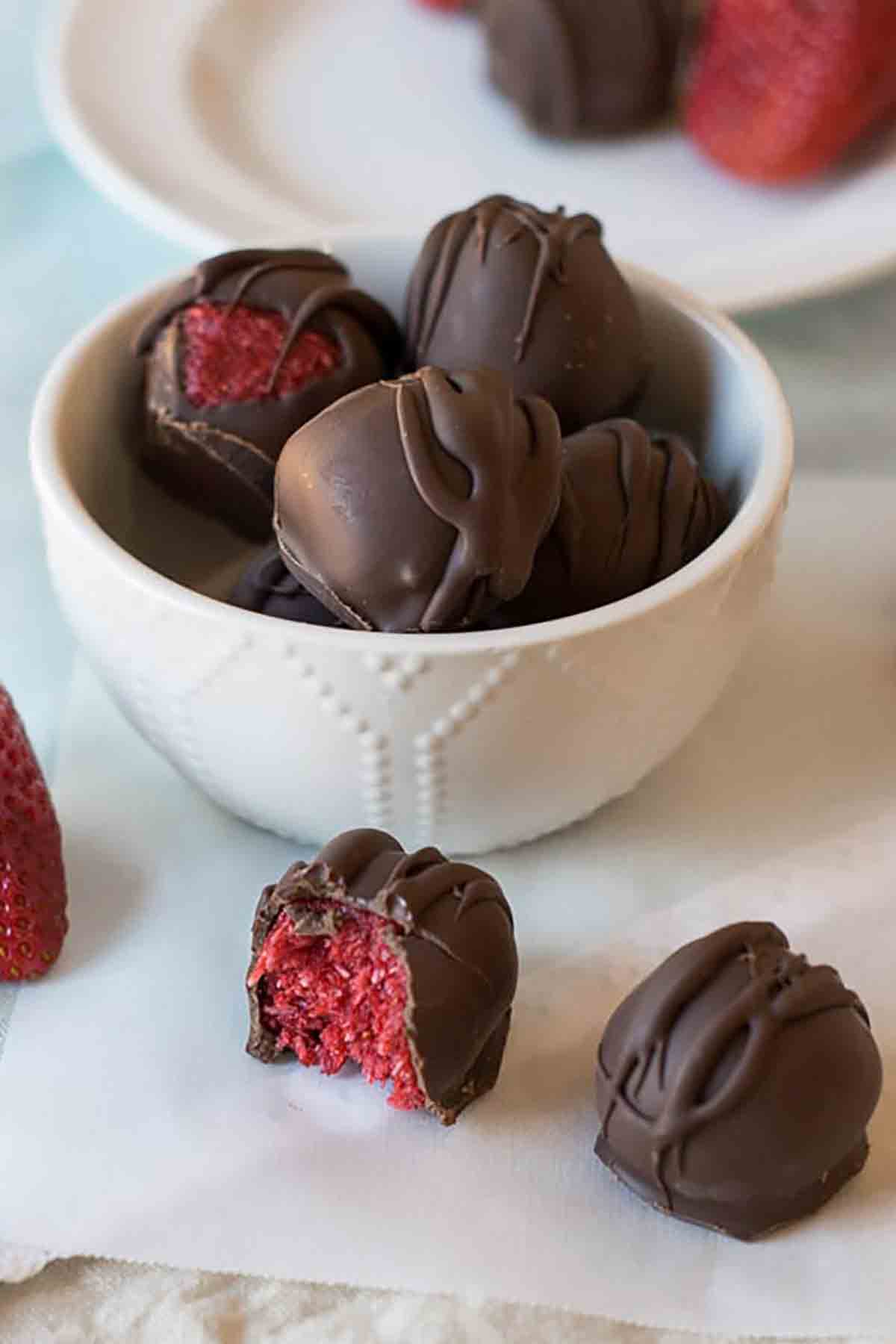 These truffles make a beautiful homemade gift for Valentine's Day. They're made with allergy-friendly ingredients so if you have a loved one with allergies or sensitivities, this would be the perfect recipe for them! They have a strawberry and coconut filling and a dairy-free chocolate shell.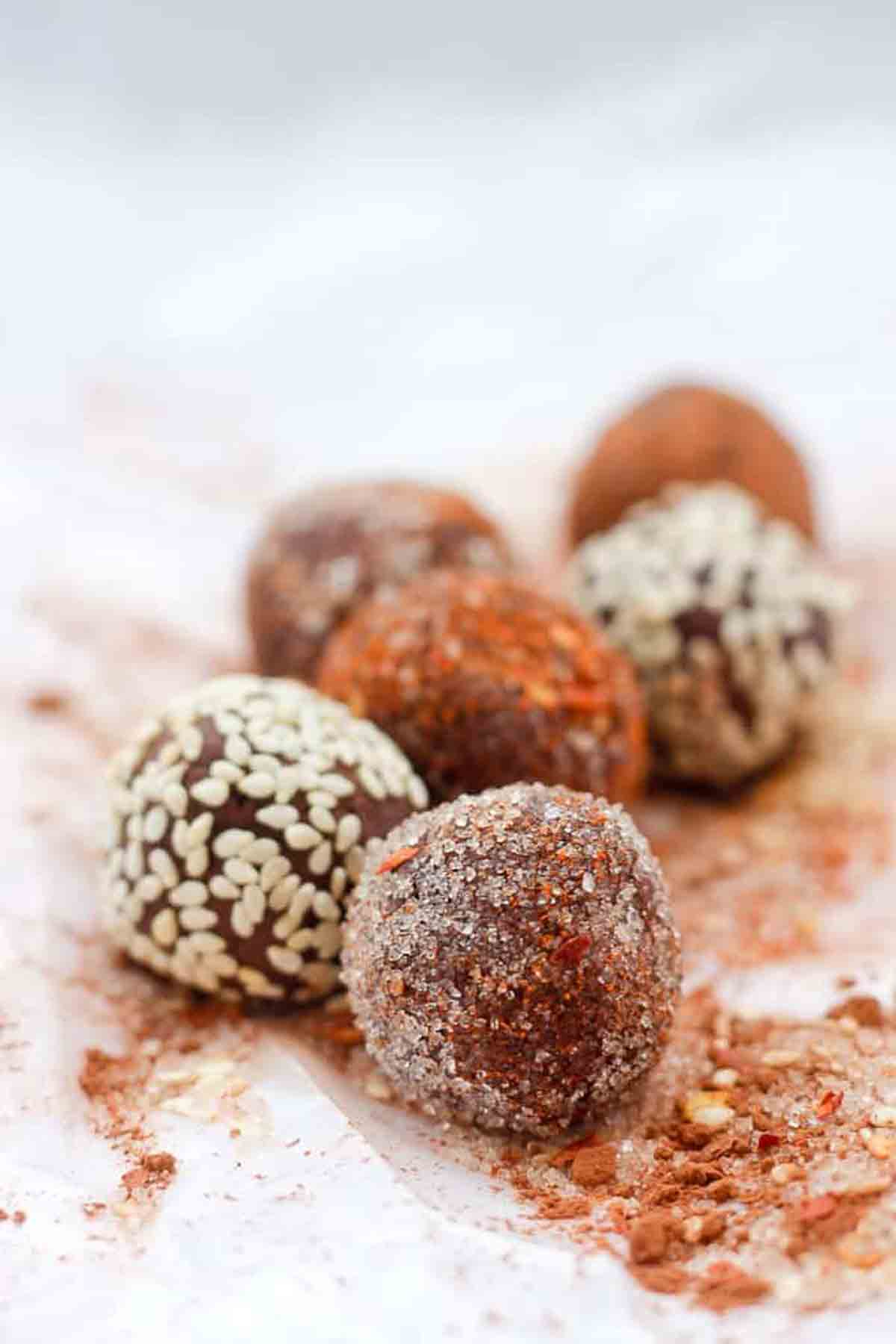 These chocolate mocha chilli truffles are made with heavy coconut cream, rich bittersweet chocolate, coffee liqueur, and cayenne pepper.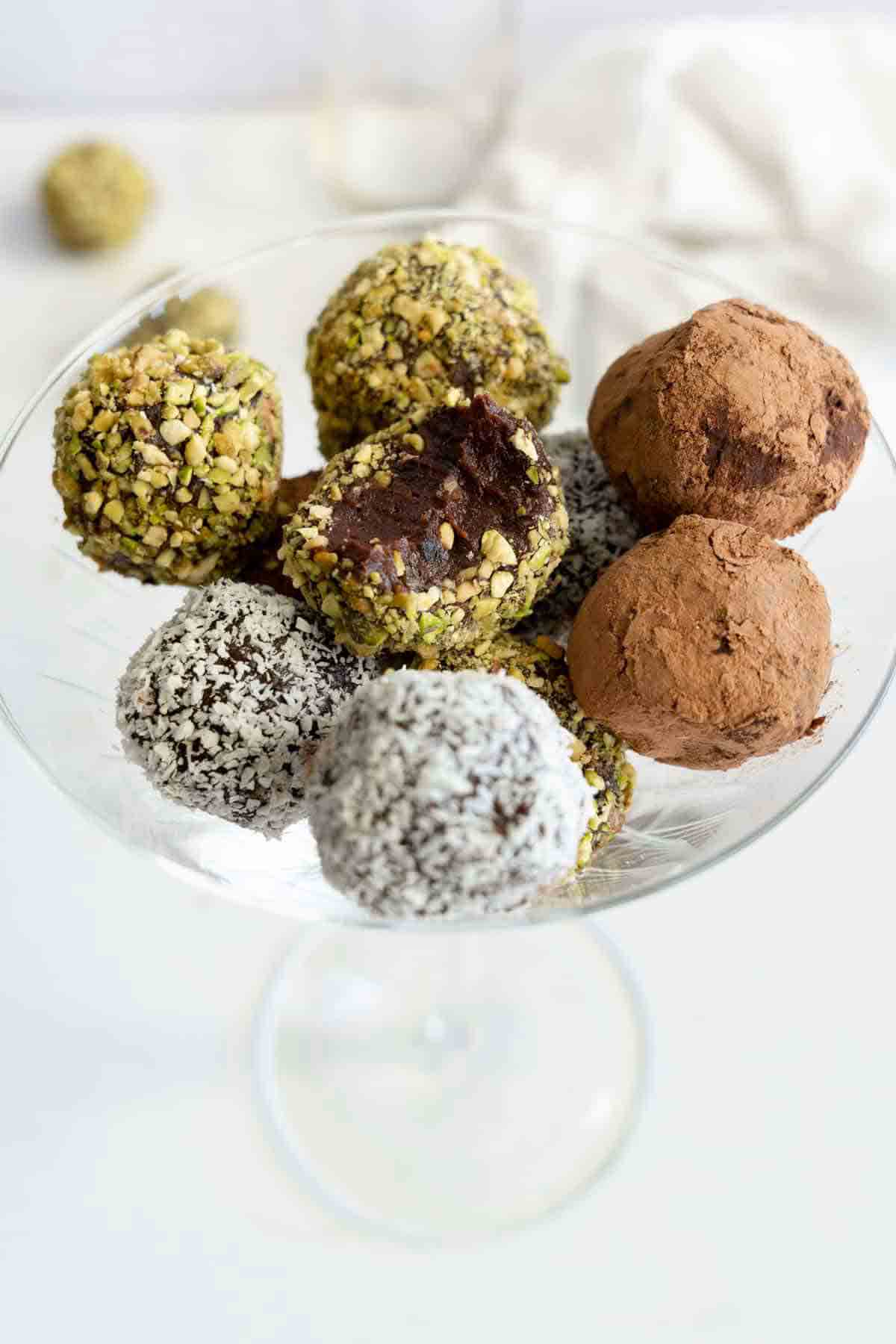 This healthy vegan truffle recipe is made with all-natural ingredients including cacao powder, Medjool dates and hidden avocado. You'd never know they are secretly good for you!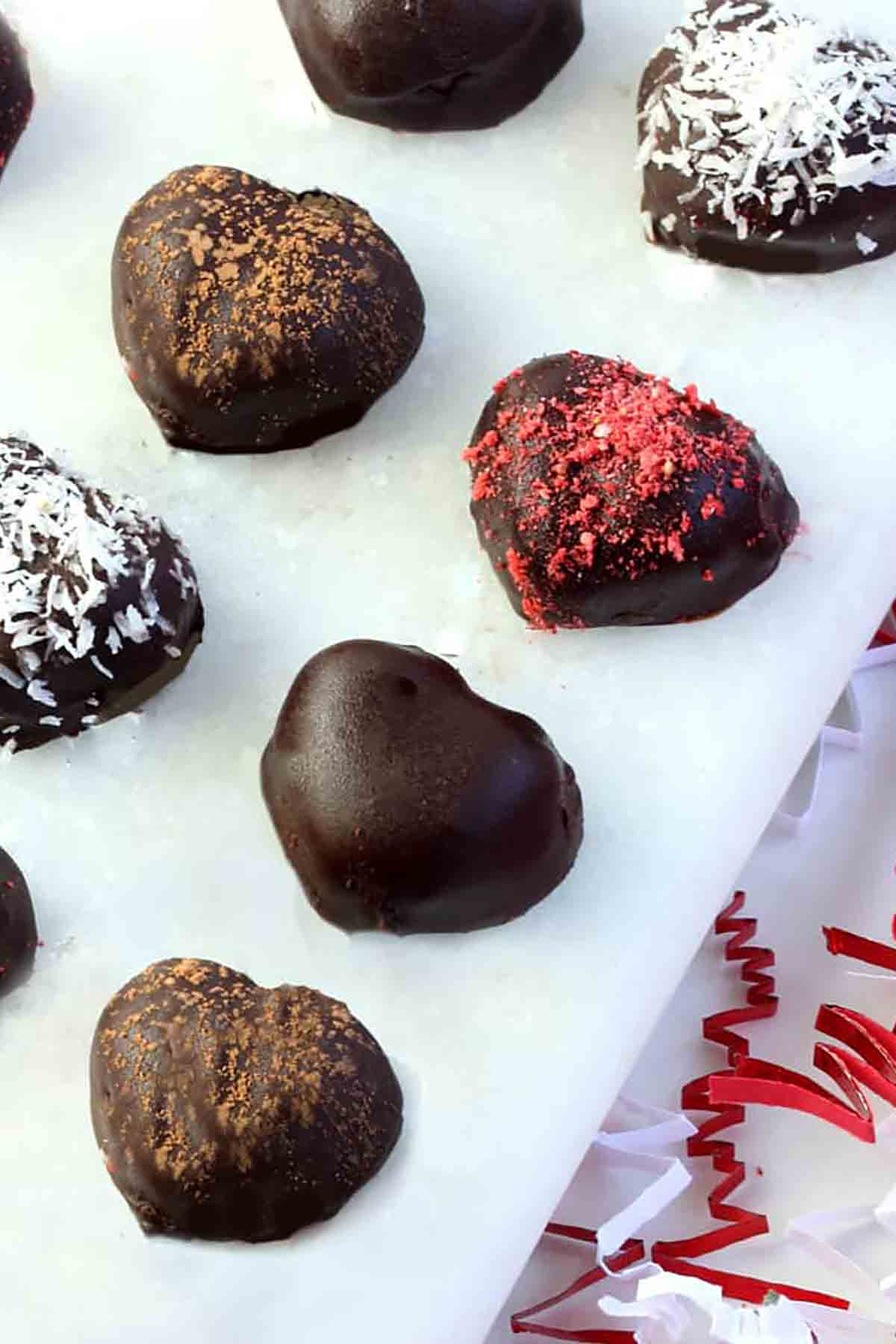 Perfect for someone with dietary restrictions, these artisan homemade heart chocolates are delicious, easy to gift, and beautiful.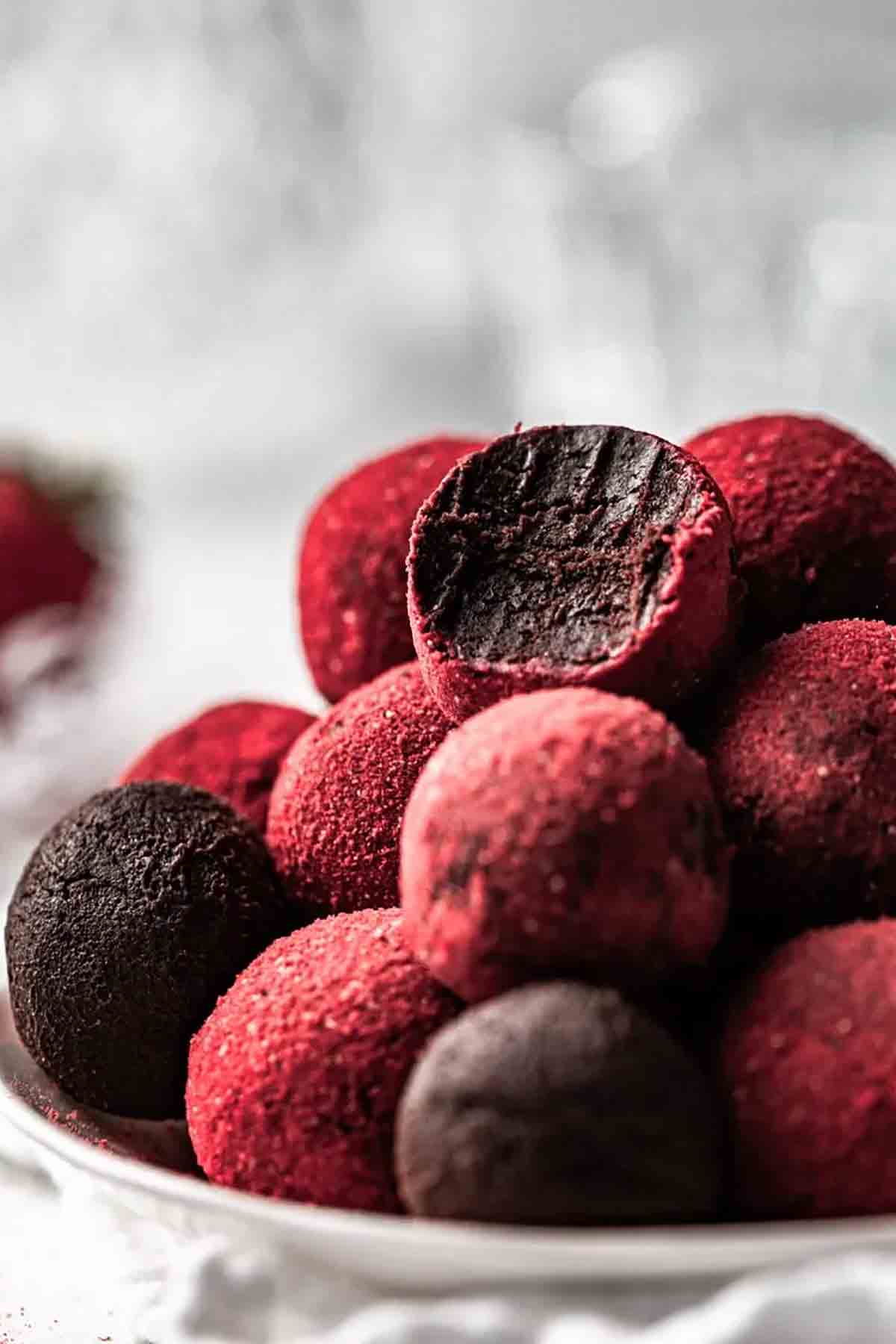 These luscious truffles are filled with strawberry infused vegan chocolate ganache. Coat them in freeze-dried strawberry powder or dip them into melted chocolate for a delicious homemade treat.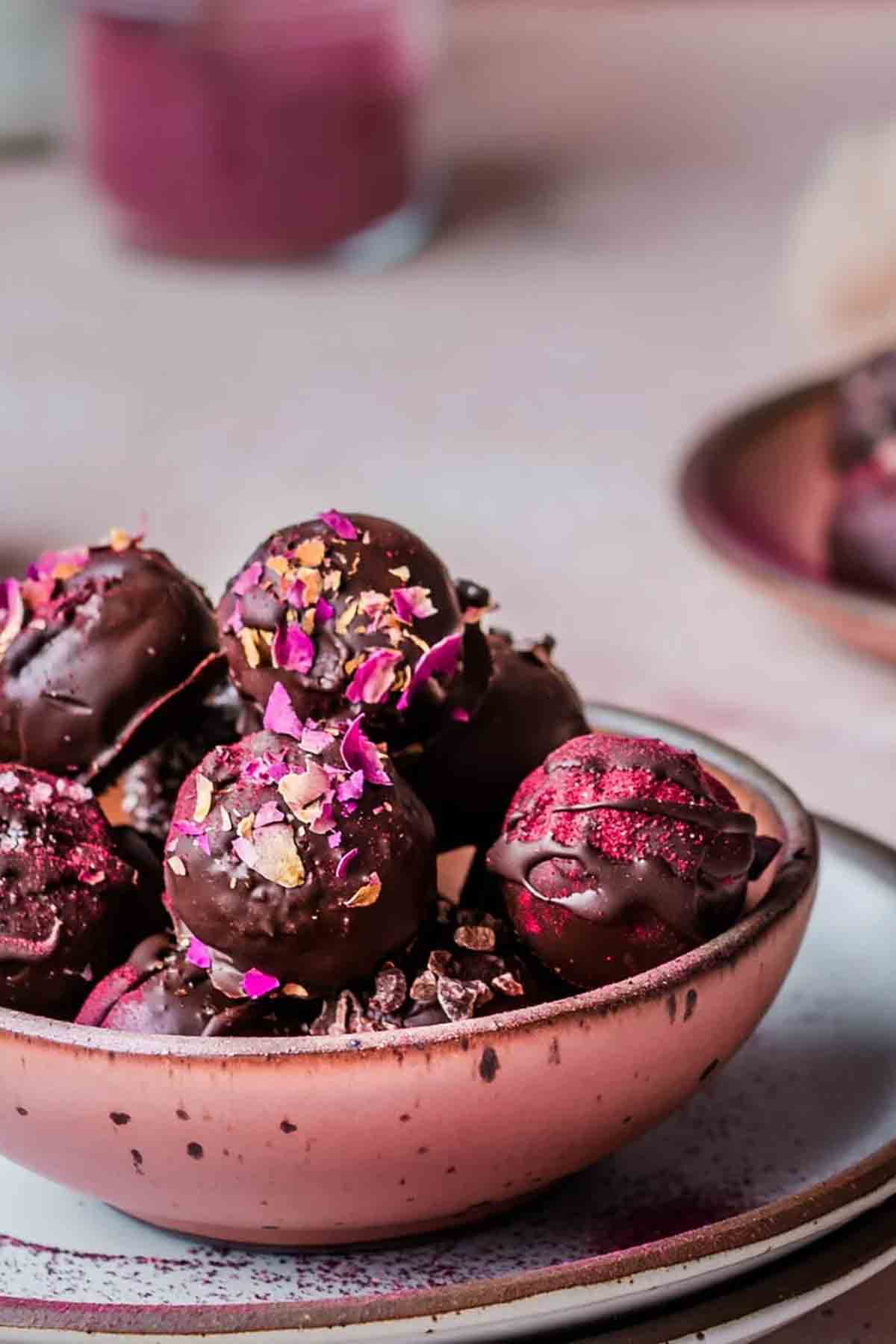 These chocolate beetroot truffles are made with 6 healthy ingredients but you'd never guess they are good for you. The addition of beetroot gives them a beautiful, vibrant pink colour, making them perfect for Valentine's Day!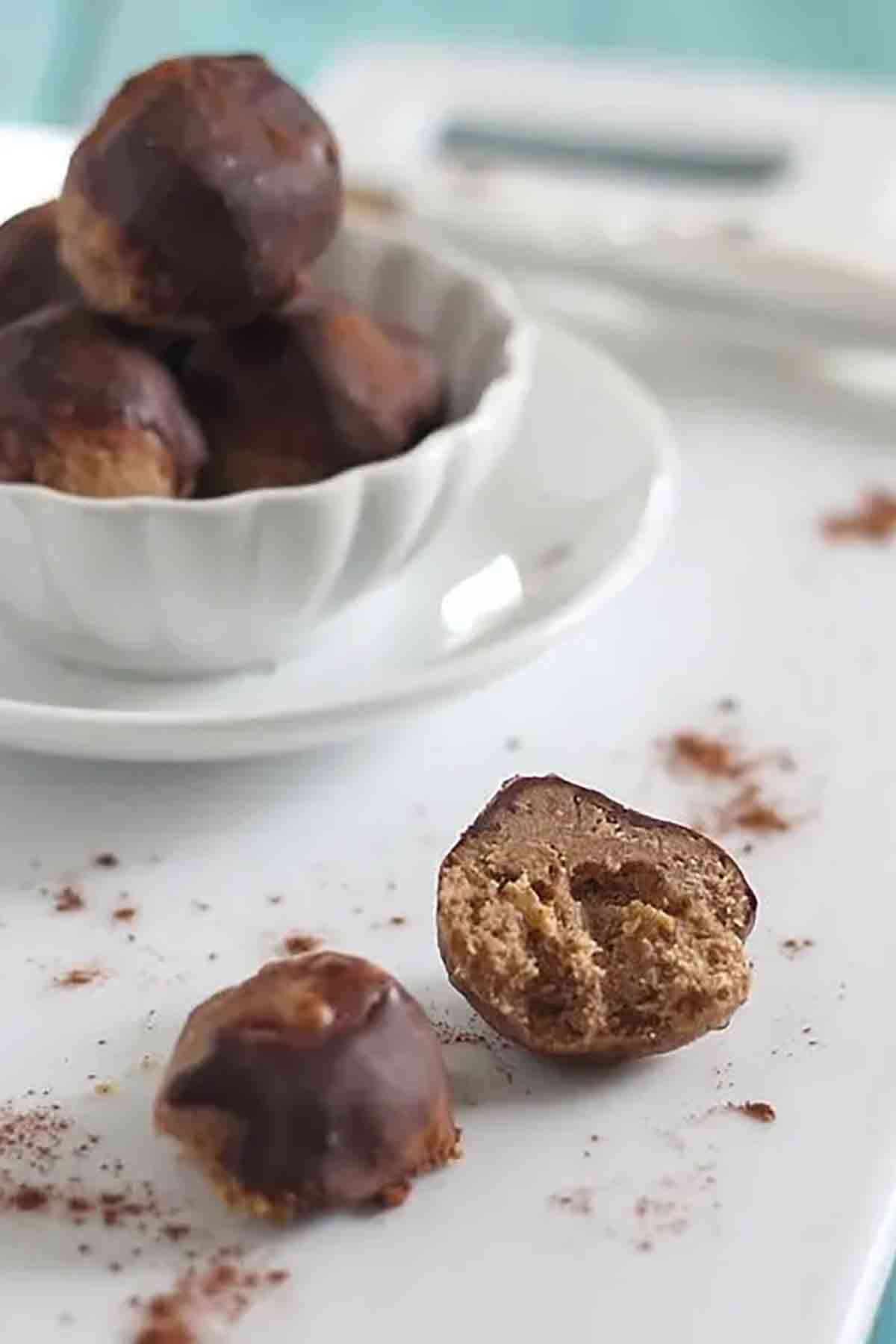 These simple, 3 ingredient coconut almond butter vegan truffles are a delicious guilt-free treat that come together in just minutes. Vegan, paleo and gluten-free.

20 Vegan Truffle Recipes For Valentine's Day
The best vegan truffles for edible gifting on Valentine's day.
I hope you love these vegan truffle recipes! If you make any of the recipes, please let me know how it goes by leaving a comment below. Enjoy! xo
BakedByClo is a participant in the Amazon Services LLC Associates Program, an affiliate advertising program designed to provide a means for sites to earn advertising fees by advertising and linking to Amazon.com. This site may contain some of these links to Amazon.com & other affiliate programs. If you make a purchase through one of those links, BakedByClo will receive a small commission from the purchase at no additional cost to you.