Vegan Apple Turnovers
These vegan apple turnovers with puff pastry are crispy, flaky and topped with a sweet vanilla glaze. They make the perfect on-the-go snack or breakfast.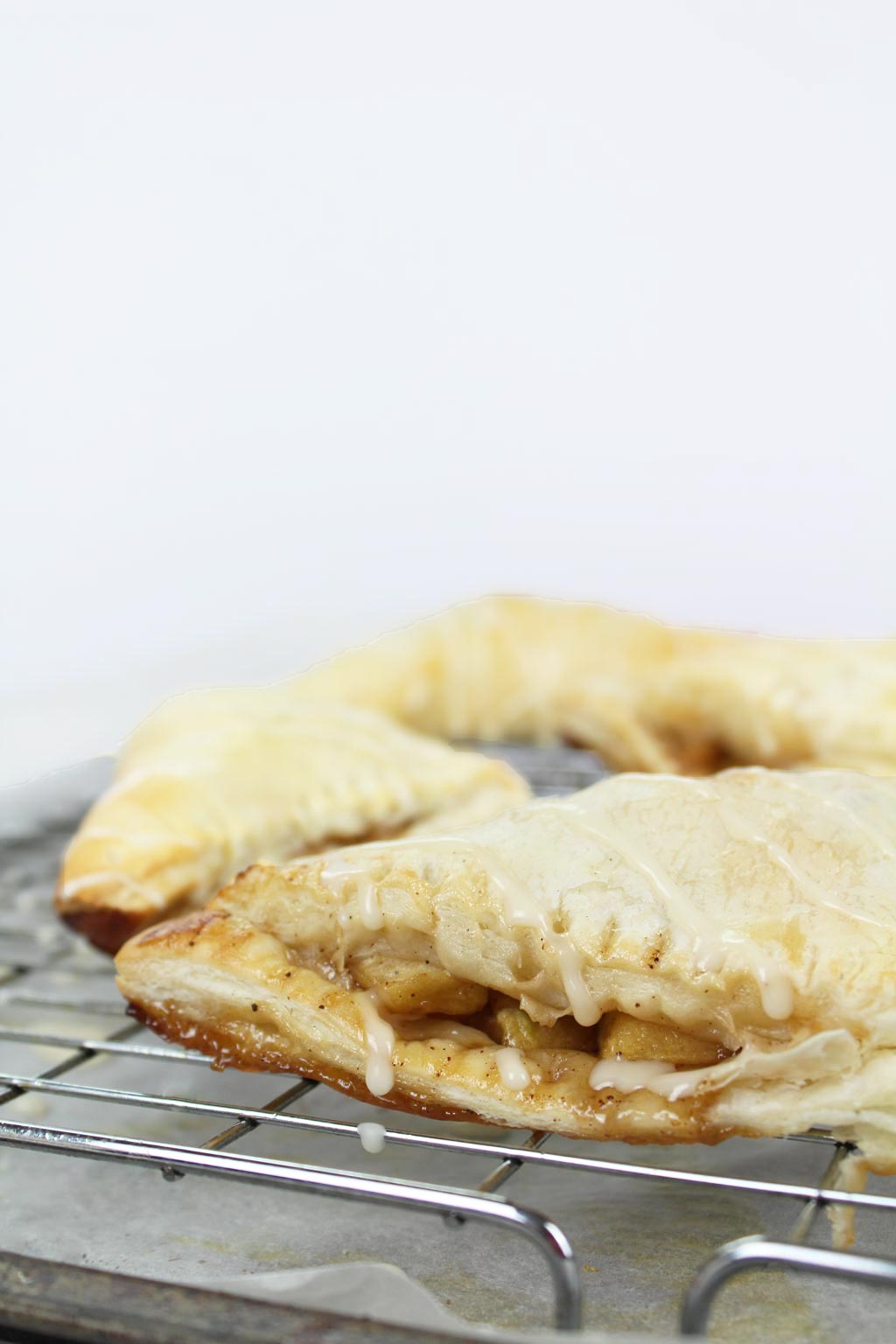 Every single time I'm in the supermarket, I'll eye up the bakery goods. Apple turnovers, cinnamon rolls, croissants…
And every single time I'm in the supermarket, I'll leave disappointed that there still aren't any ready-made pastries suitable for vegans.
*sigh*
But while there may not be much in the way of grab-and-go vegan pastries just yet, I was delighted to discover that most ready-to-roll puff pastry is actually vegan-friendly!
You know what that means?
Homemade dairy-free and egg-free pastries for days.
My first experiment was making these delicious apple turnovers. They turned out so nice and they were SO EASY.
All you have to do is prepare your filling which takes about 10 minutes or so, then pop that into a little pocket of puff pastry and bake it.
Want more sweet vegan breakfast recipes? Try these:
You can eat them just as they are, or you can go a step further and add some creamy vanilla glaze on top for an extra touch of sweetness.
Either way, you're going to love them!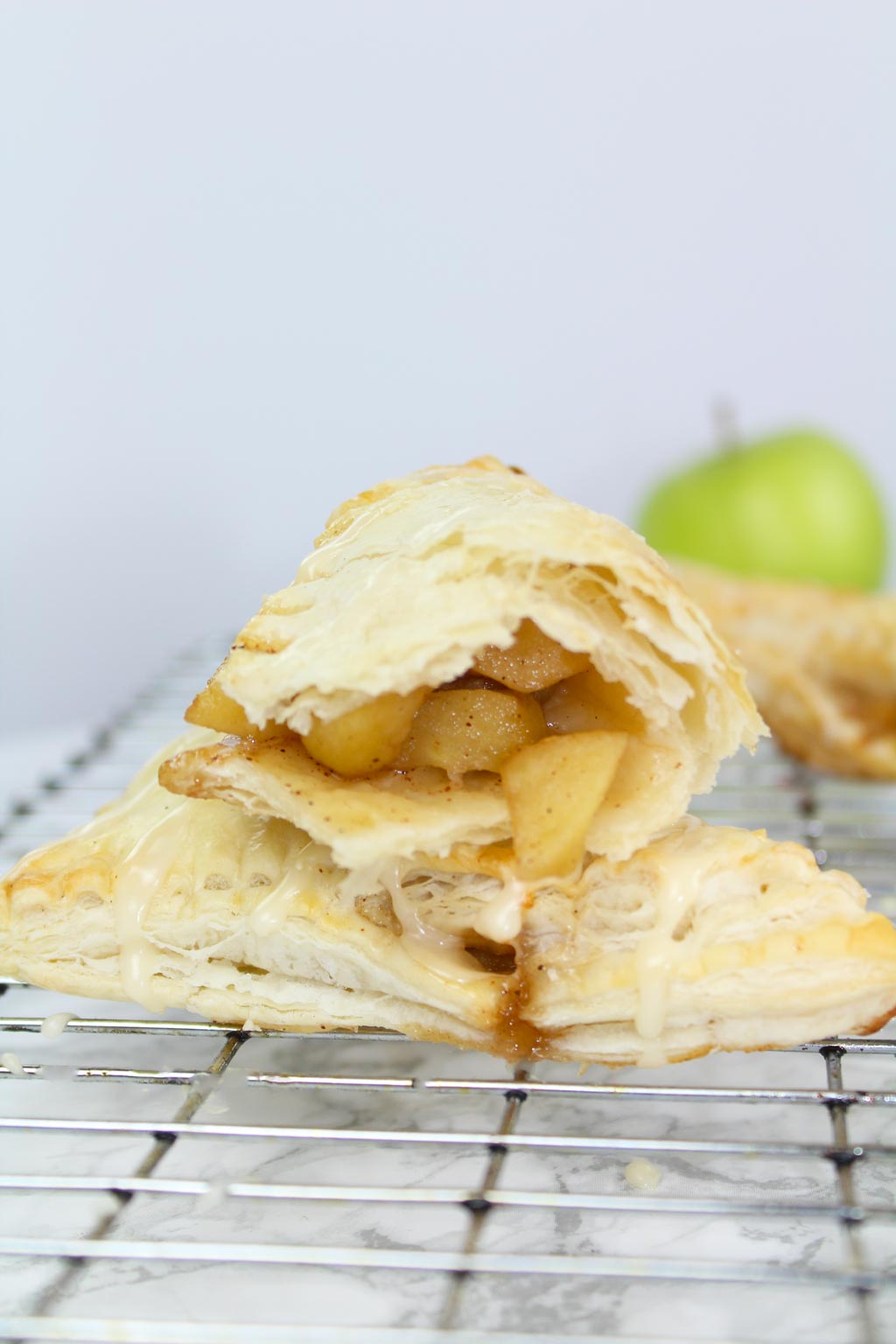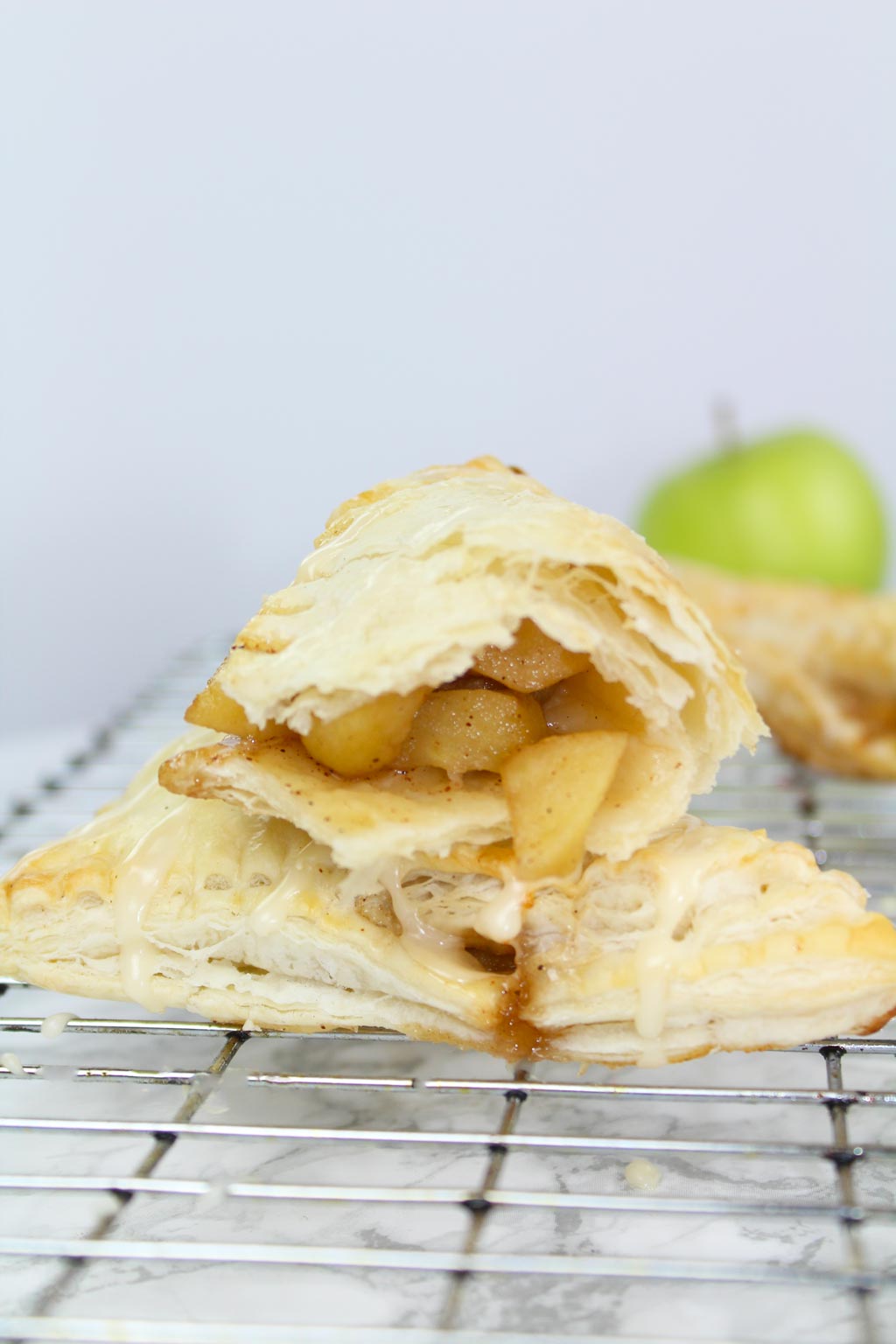 How To Make Vegan Apple Turnovers
The first step to the best puff pastry apple turnovers is to prepare your filling. This is loosely based on my apple crumble bars filling and consists of 5 things:
A splash of cold water
Apples
Corn flour (cornstarch)
Cinnamon (optional)
Brown sugar
I started off with Granny Smith apples. I love using these in my apple flavoured desserts because their tartness compliments the sweetness of the sugar very well.
Step 1 :
Chop, peel and core 4 Granny Smith apples, then place them into a large pan with 4 tablespoons of cold water.
Add 1/2 a teaspoon of cornflour. This will help to thicken the apple filling up a little bit when you begin to heat it, preventing it from spilling out of the pastry when it's baking.
Add 100g of soft brown sugar (1/2 cup) and 1 teaspoon of cinnamon if you're using it.*
Mix well while the ingredients are still cold.
*Adding cinnamon is totally optional here. But it will give your apple turnovers with puff pastry a warm, slightly spicy flavour that goes nicely with the richness of the brown sugar.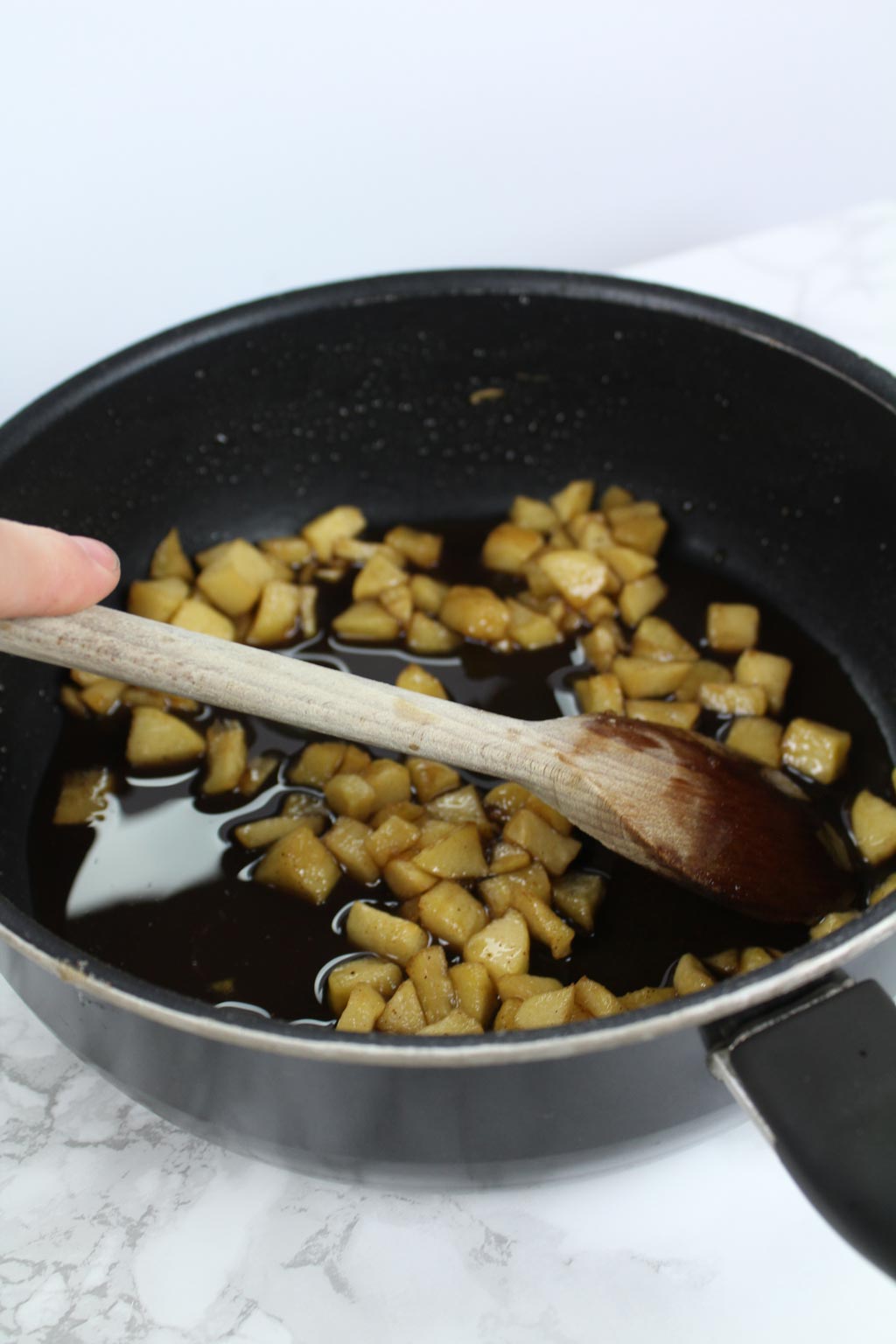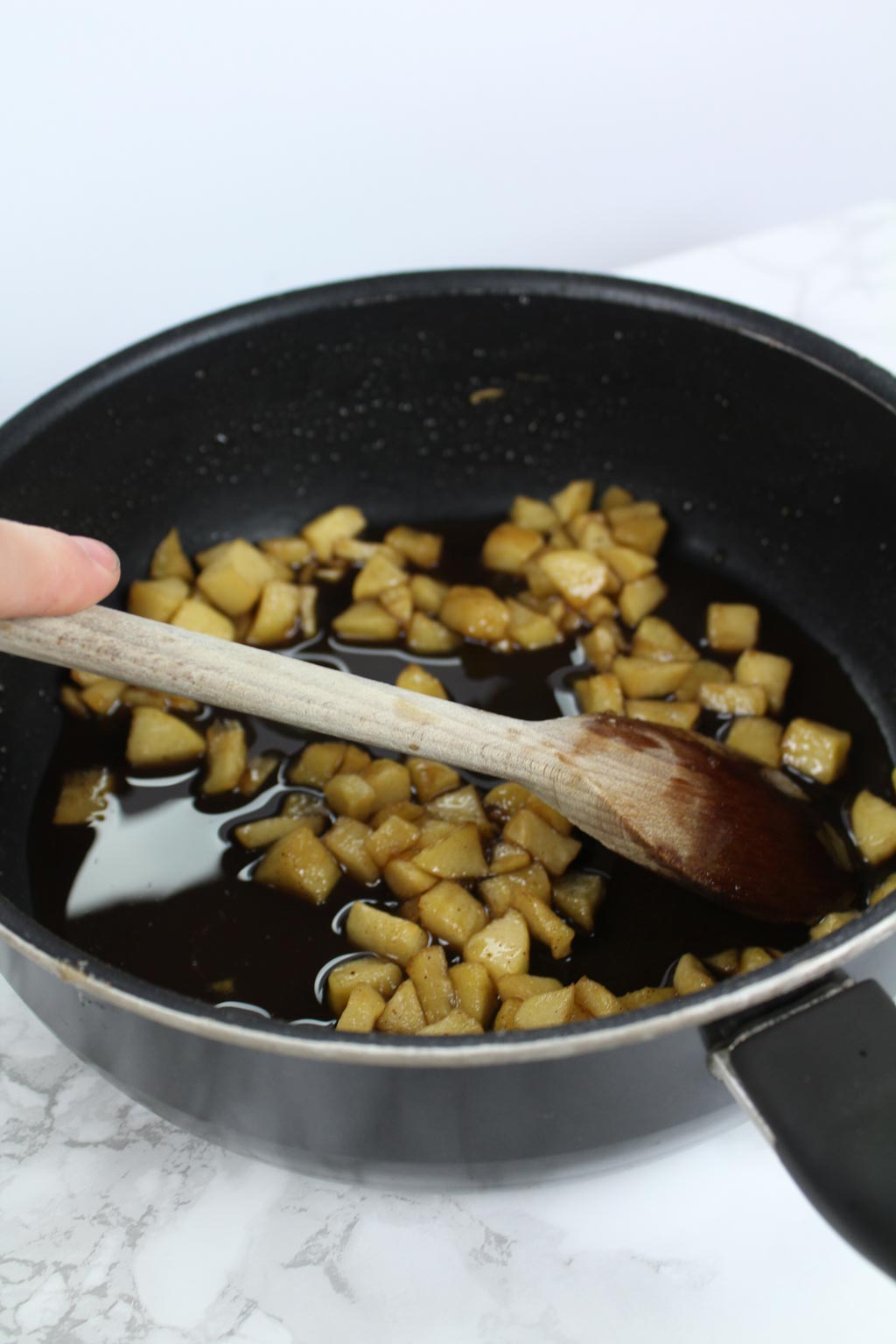 Step 2:
Once all of your filling ingredients are in the pan, turn up the heat and cook for around 10 minutes or so, stirring every so often to prevent the mix from sticking.
At this point, the filling mixture should be a little thicker and the apples should be slightly soft.
Step 3:
Roll out 500g (17oz) of room temperature ready-made puff pastry on a lightly floured surface.
Most are vegan-friendly but it's always best to double-check as there's a slight chance that some might have eggs or dairy in them.
I used the Jus Rol block when I made mine. Some other vegan-friendly ones are Tesco's own, Asda's, Morrisons' and Sainsbury's.
Step 4:
Cut the puff pastry into 8 even squares using a knife or pizza cutter. Cut away any rough edges too.
Put a little bit of the filling into the centre of each square. Be careful not to use too much though, or it will come spilling out the edges. I found that around 1 tablespoon was pretty much perfect.
Fold over the apple turnovers so that the corners meet diagonally, then seal the edges with a fork.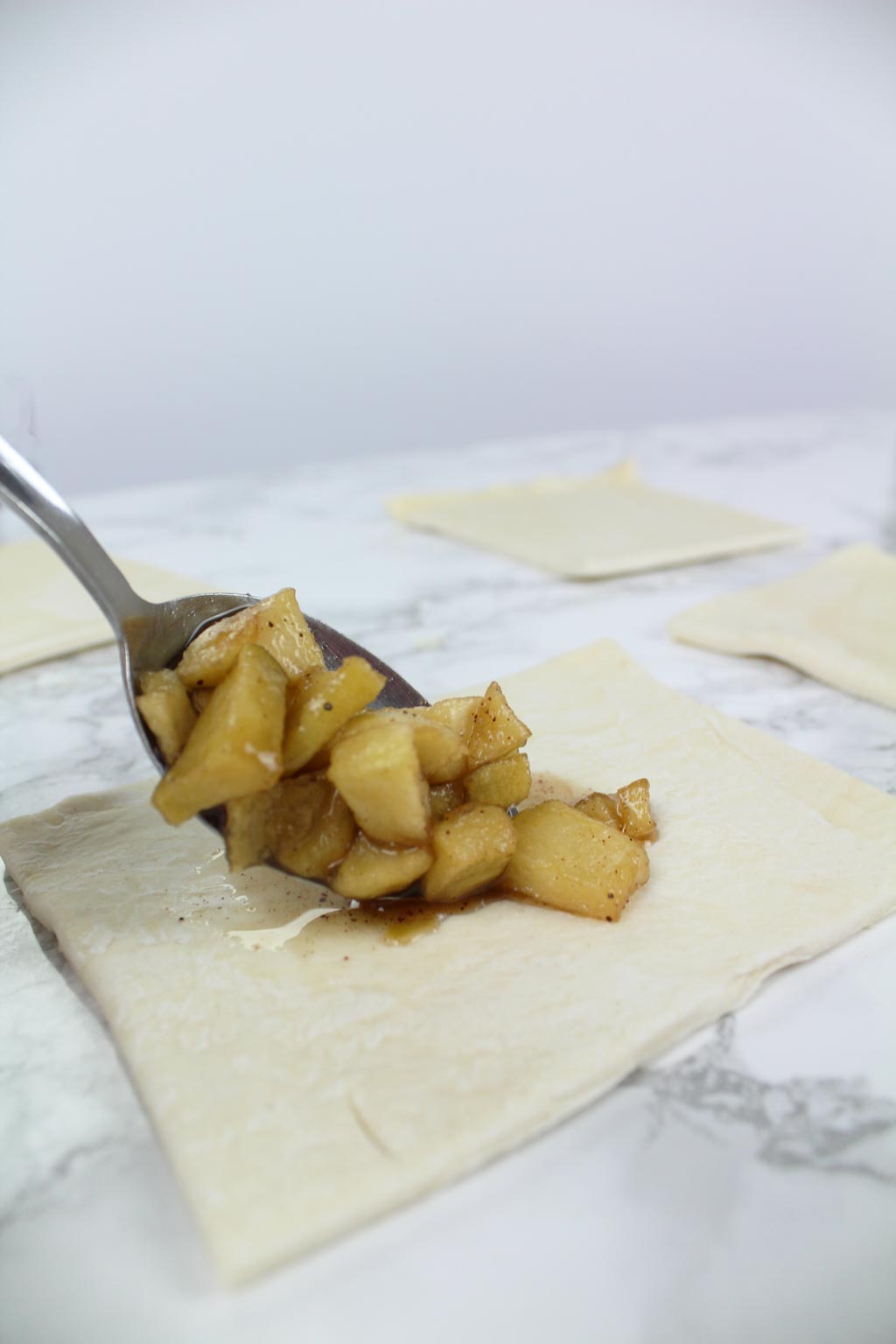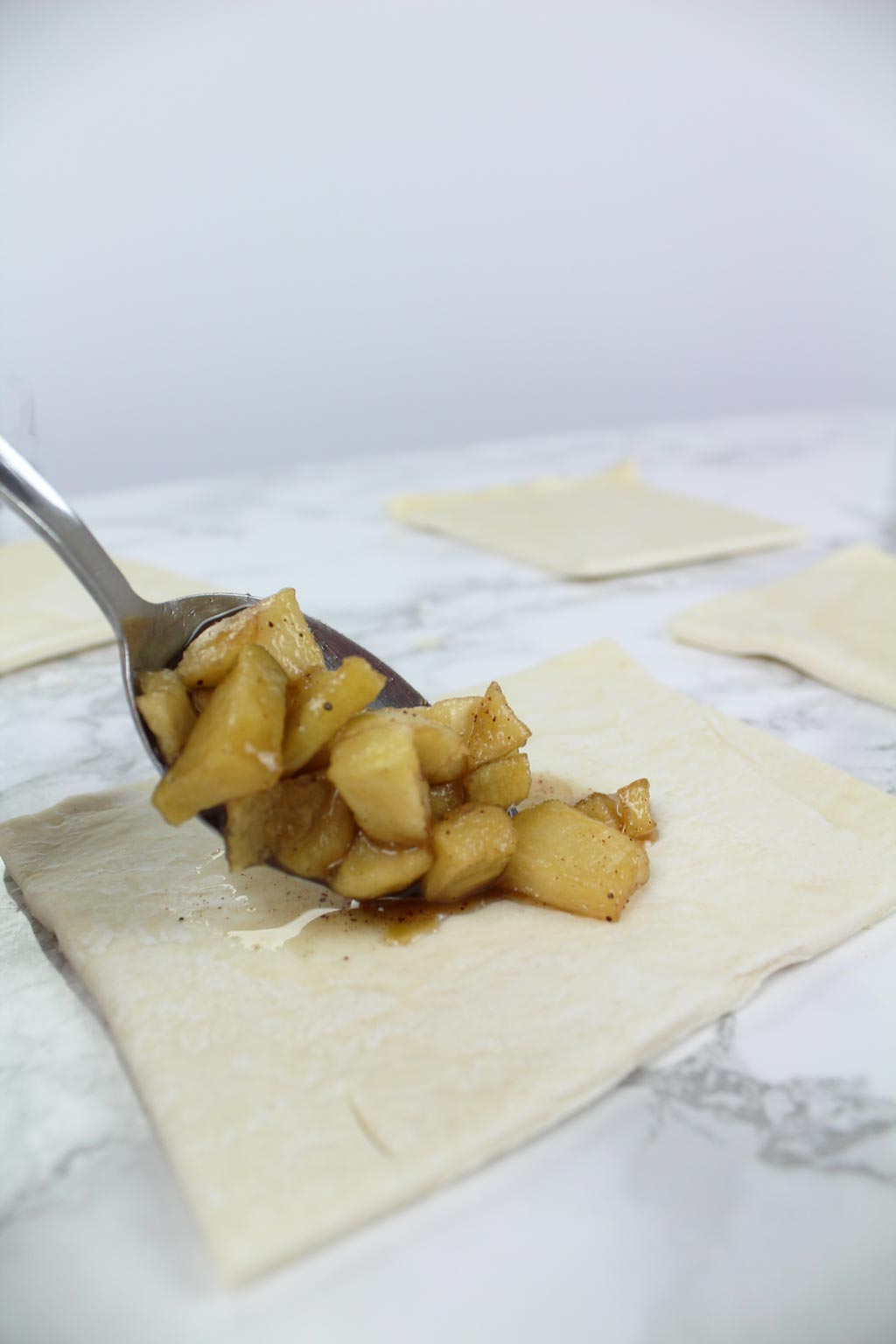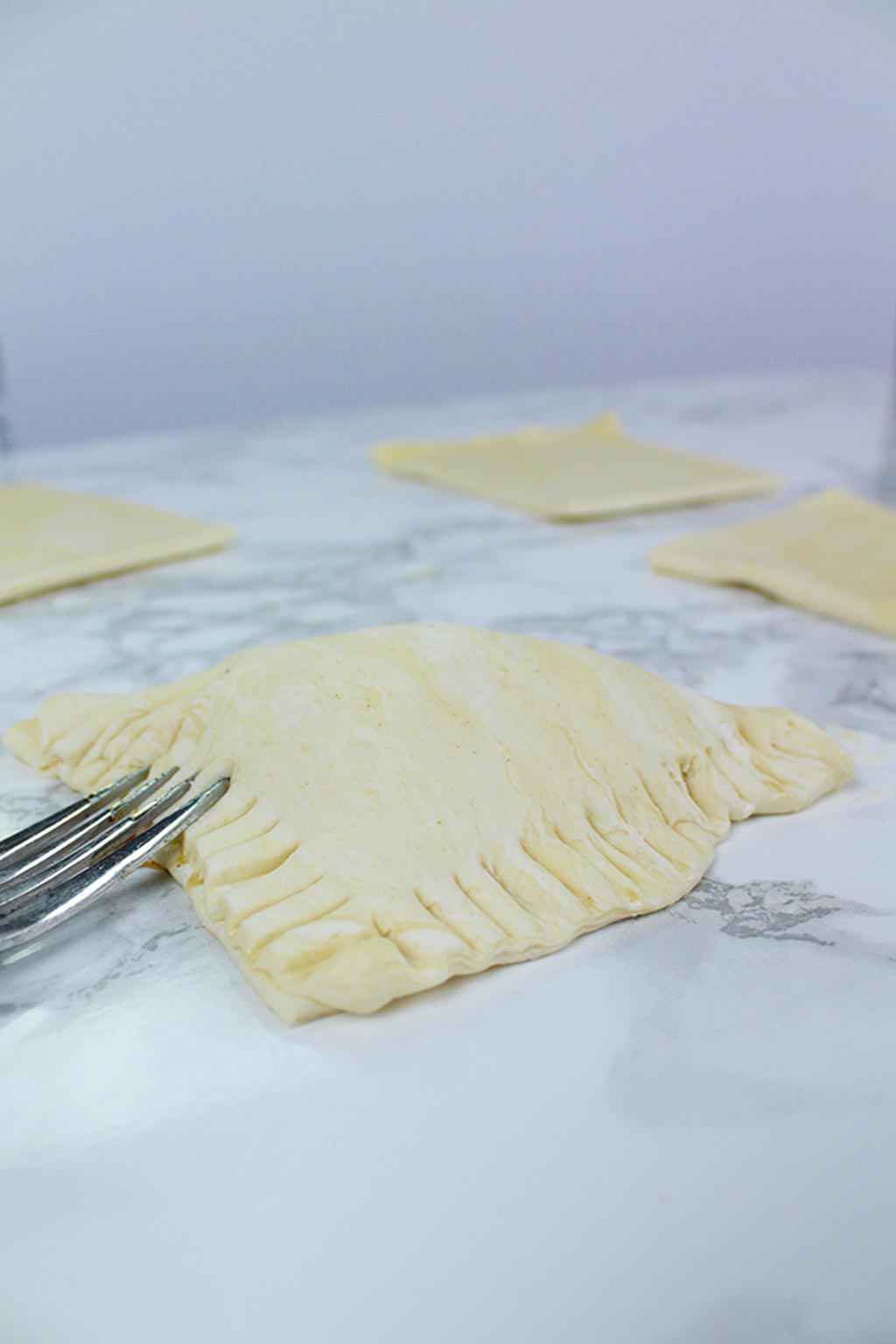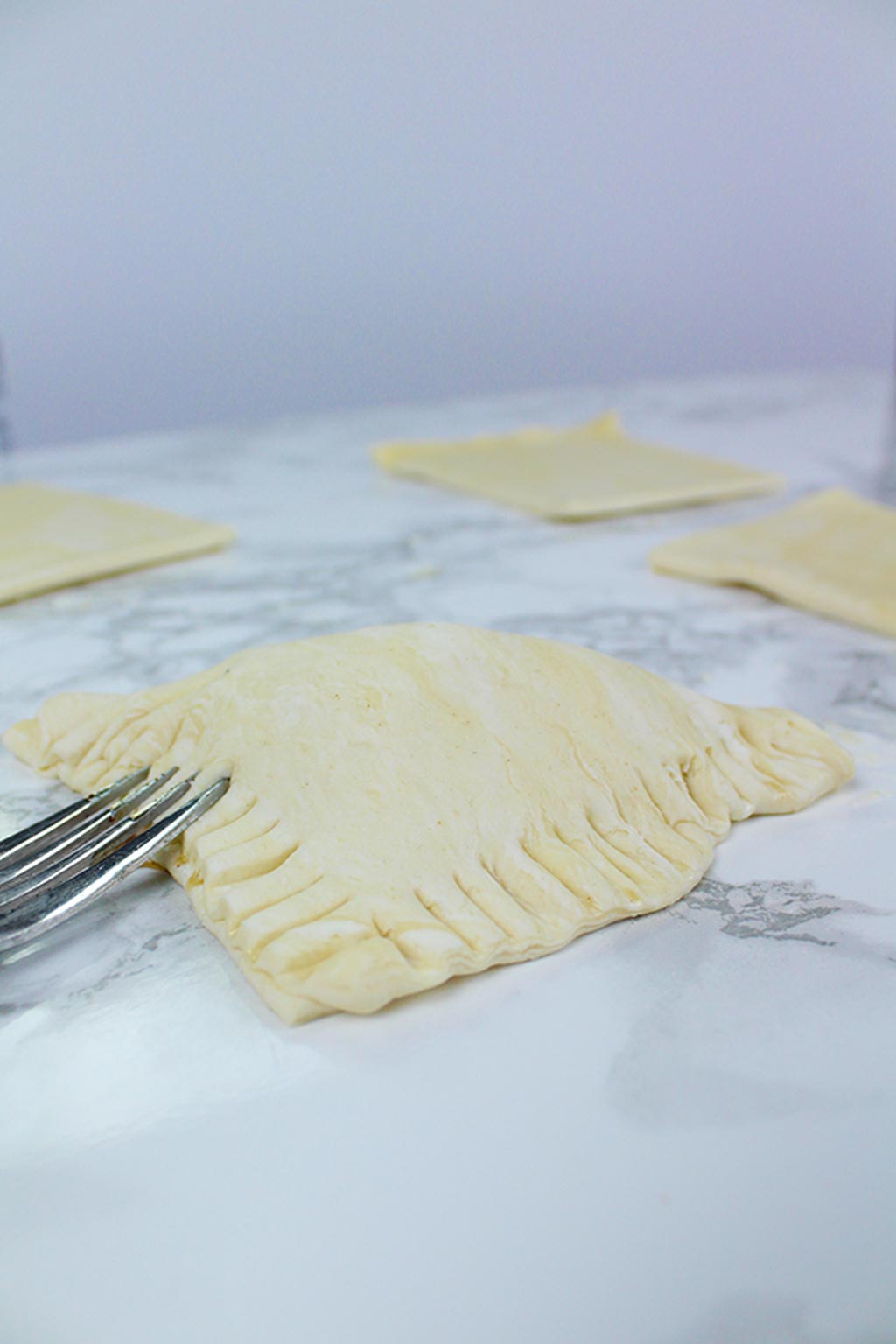 Step 5:
Lightly brush the pastries with melted vegan butter or plant-based milk, then bake them for around 15-20 minutes at 200°C/400°F. You'll know they're ready when they're lightly brown all over.
Once baked, transfer them to a wire rack to cool.
Step 6:
Prepare your vanilla glaze by mixing 45g icing sugar (1/3 cup), 1 teaspoon vanilla essence and 1 tablespoon of plant-based milk together. The consistency will be slightly runny but still thick enough to latch onto the pastry.
Gently drizzle your vanilla glaze over the apple turnovers and allow the glaze to harden.
You are now ready to enjoy!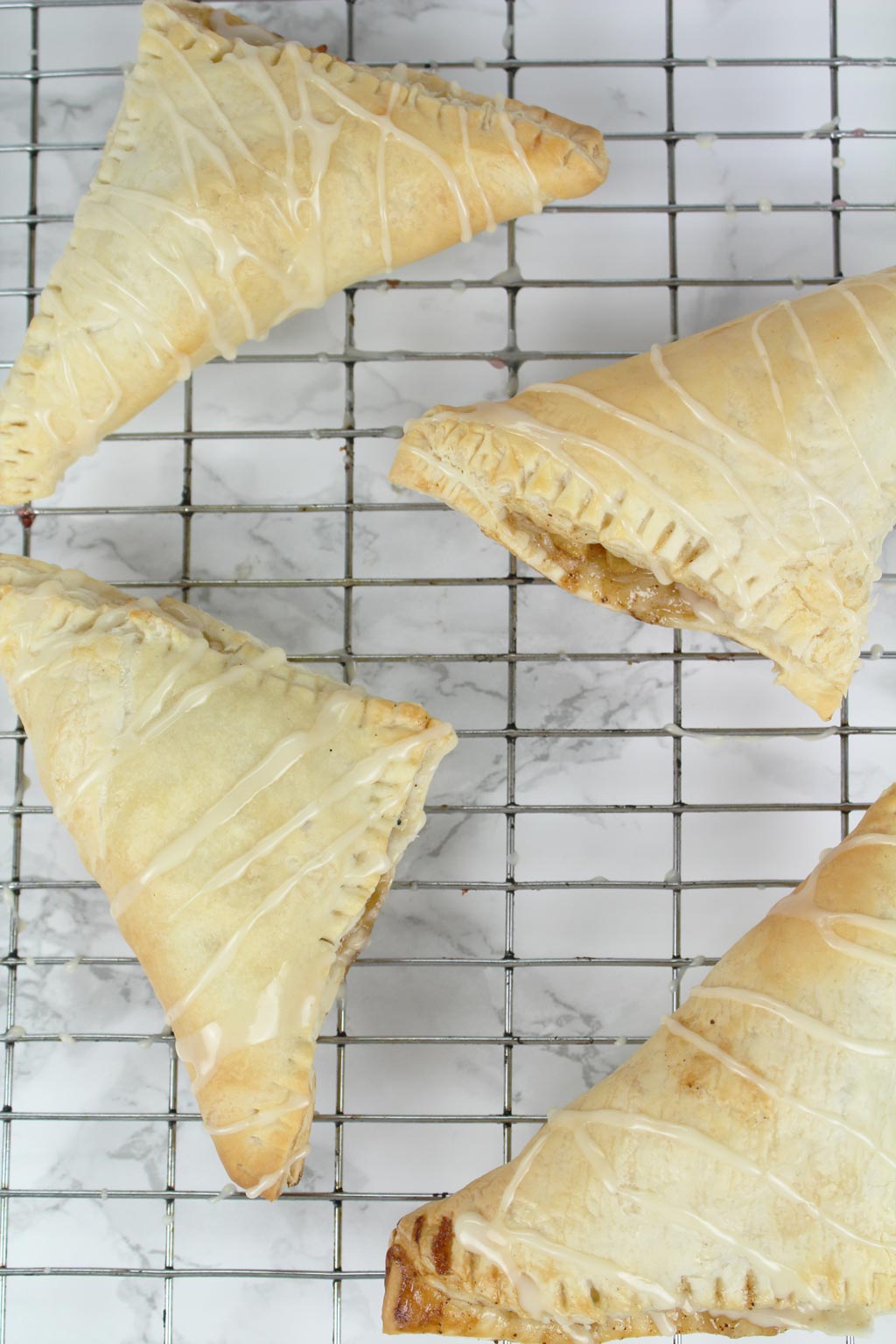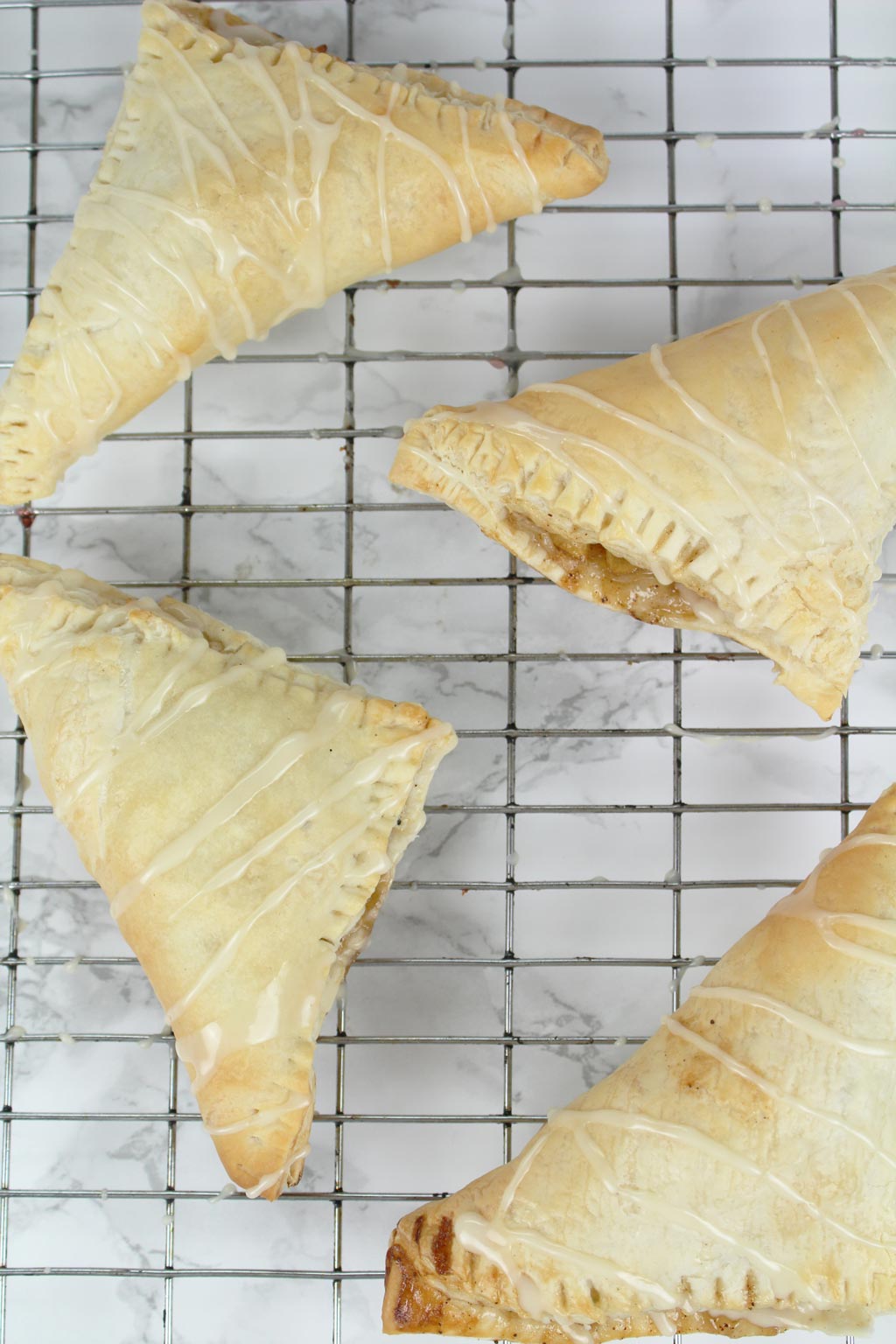 FAQ:
Should they be refrigerated?
Apple turnovers with puff pastry are best kept at room temperature. This prevents the pastry from becoming soggy from the moisture in the fridge.

I'd recommend placing them in an airtight container that's lined with parchment paper to keep them at their best. This way, they'll stay fresh for around 2-3 days.
Can apple turnovers be frozen?
Yes! These apple turnovers can be frozen once cooled, pre-icing. I'd recommend leaving the glaze part until the day you plan to serve them.

To freeze, place them on a baking tray lined with parchment paper and pop them into the freezer for a couple of hours. Once they're completely frozen, place them in a plastic seal bag and put them back in the freezer.

When you're ready to eat them, bake them from frozen at 180°C/350°F for around 10-15 minutes until warmed right through. Ice with the vanilla glaze as directed in the recipe.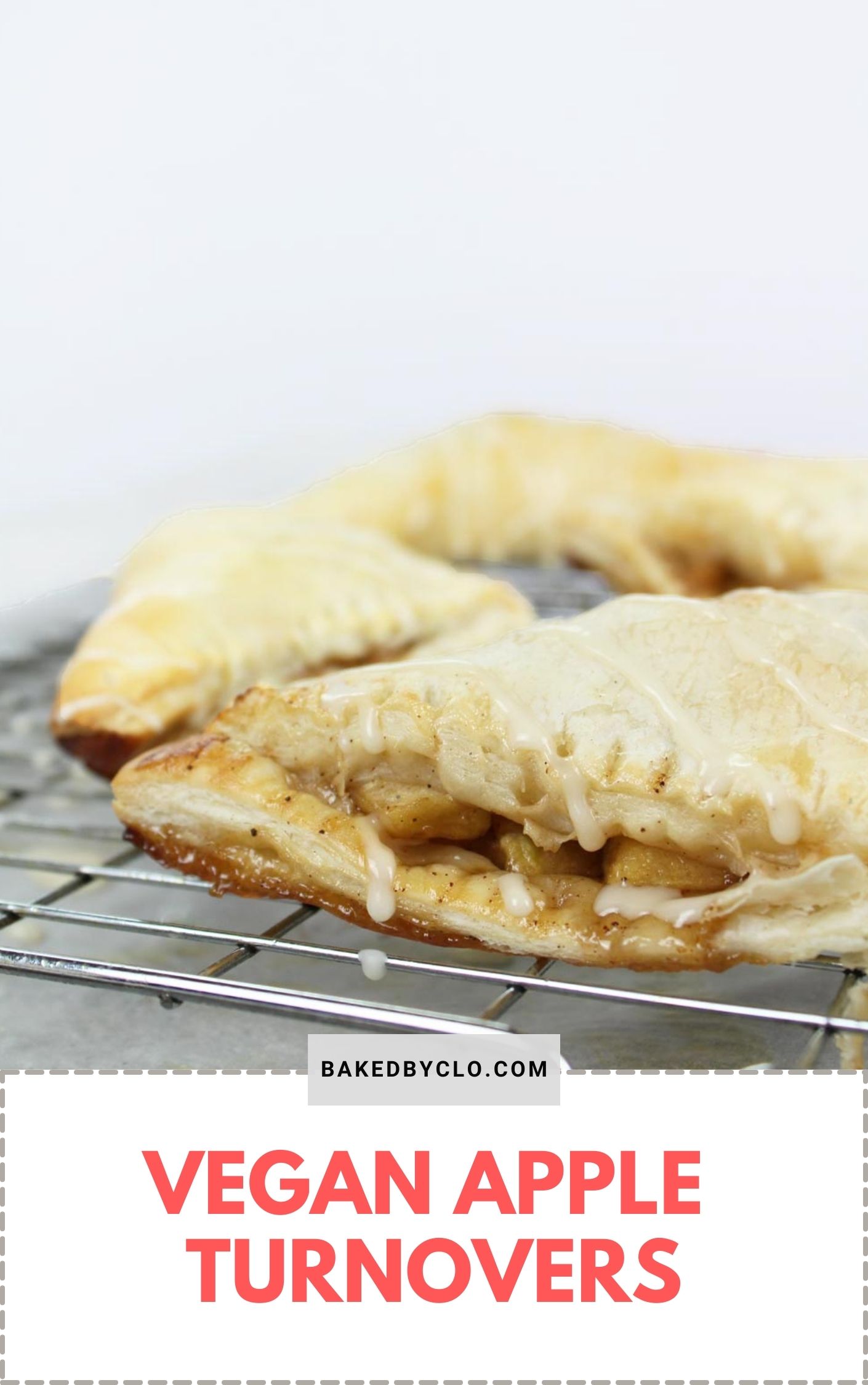 I hope you like the recipe! If you make these at home, please let me know how it goes by leaving a comment and/or rating below.
Happy baking! xo

Vegan Apple Turnovers
Eggless and dairy-free apple turnovers made with puff pastry and topped with a vanilla glaze.
Ingredients
4

Small or 2 large

Granny Smith apples

(chopped and peeled)

4

Tablespoons

Cold water

1/2

Teaspoon

Cornflour

(cornstarch)

100

g

Soft brown sugar

(½ Cup)

1

Teaspoon

Cinnamon

(optional)

500

g

Pack ready-to-roll puff pastry

(17.5 oz)

Melted butter or plant-based milk

(to brush the pastry)
For the glaze:
45

g

Icing sugar

(1/3 Cup)

1

Tablespoon

Plant-based milk

1

Teaspoon

Vanilla essence
Instructions
Preheat oven to 200°C/400°F (or 180°C/ 350°F if you're using a fan or convection oven) and line a baking tray with parchment paper.

Set the puff pastry out at room temperature to allow it to soften while you prepare the apple turnover filling.

Add the chopped apples to a large pan along with the water, cornflour, sugar, and cinnamon. Mix well.

Turn the heat on medium and cook for roughly 10 minutes, stirring often, until the mixture begins to thicken. Remove from the heat and leave to cool slightly.

Roll out your puff pastry to around 1/2 cm thick. Divide it evenly into 8 squares using a knife or pizza cutter. Discard any uneven edges.

Place 1-2 tablespoons of filling into the center of each pastry square. Fold the pastry diagonally over the filling to join at the corners, then seal the edges using a fork. Be careful not to overfill them.

Lightly brush each pastry with melted vegan butter or plant-based milk.

Bake for 15-20 minutes until the turnovers are golden brown all over. Once baked, transfer to a wire rack to cool.

Prepare your glaze by mixing together the icing sugar, plant-based milk and vanilla essence. Drizzle it over the cooled turnovers and allow it to harden.
Recipe Notes
Can be stored at room temperature for 2-3 days, in an airtight container lined with parchment paper.
Nutrition Facts
Vegan Apple Turnovers
Amount Per Serving (1 turnover)
Calories 326
Calories from Fat 126
% Daily Value*
Fat 14g22%
Sodium 286mg12%
Carbohydrates 46g15%
Protein 3g6%
* All values are an estimate only and will vary depending on the food brands used.
BakedByClo is a participant in the Amazon Services LLC Associates Program, an affiliate advertising program designed to provide a means for sites to earn advertising fees by advertising and linking to Amazon.com. This site may contain some of these links to Amazon.com & other affiliate programs. If you make a purchase through one of those links, BakedByClo will receive a small commission from the purchase at no additional cost to you.