20 Festive Vegan Christmas Cakes
If you're looking for some new and creative ideas for vegan Christmas cakes, this post has got you covered. It contains 20 tasty recipes for you to bake up this festive season, including gluten-free and allergy-friendly options.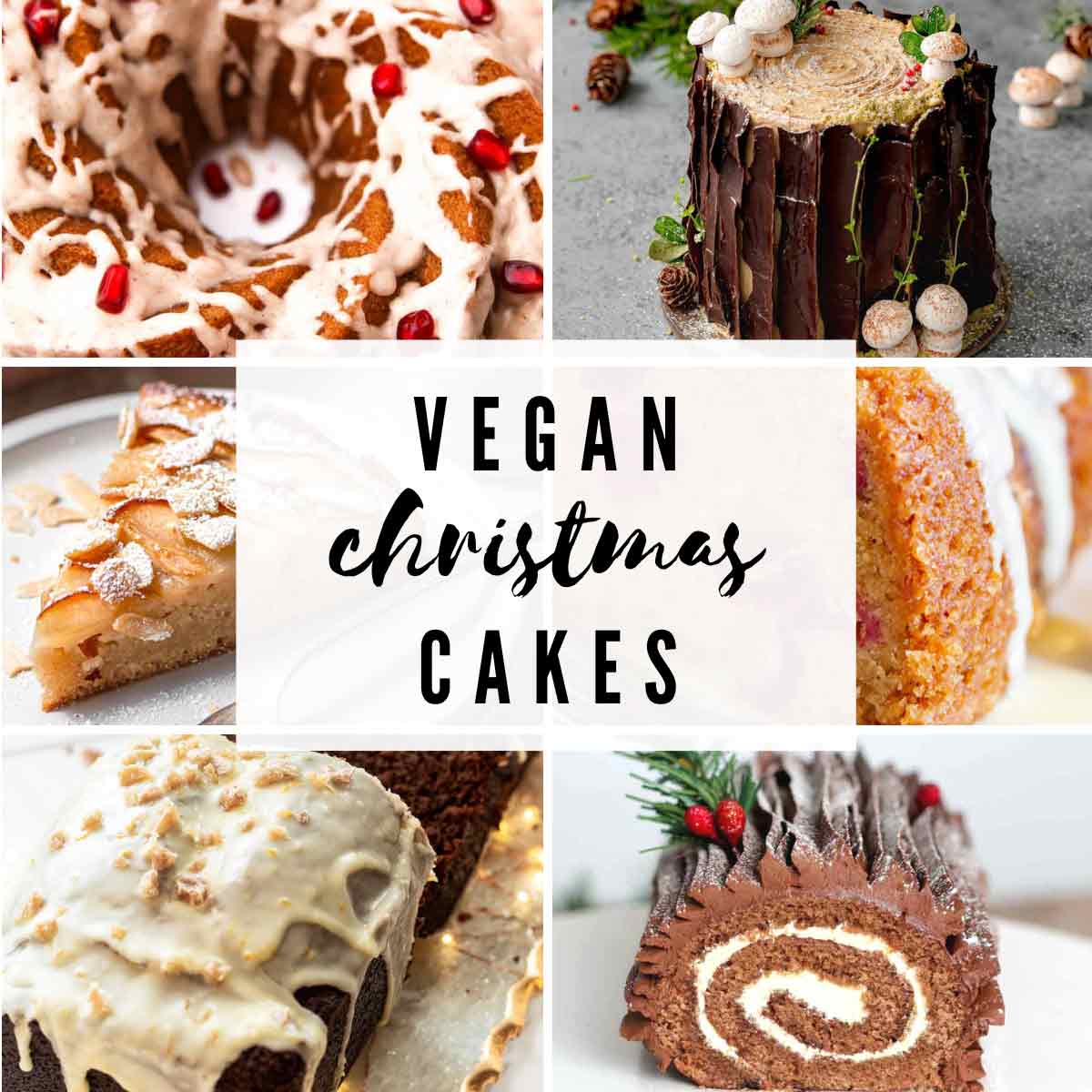 It's November tomorrow and in my opinion, it's the perfect time to start thinking about Christmas baking! I've been spending a lot of time on Pinterest lately and have seen so many gorgeous Christmas desserts. In particular, I've been saving lots of Christmas cake ideas and that's what inspired me to write this post. There's a lot more to Christmas cakes than just regular old fruit cake!
Using a couple of my own recipes plus recipes from other food bloggers (with permission of course), I'm bringing you this round-up of 20 delicious vegan Christmas cakes to try. I hope you enjoy!
The best vegan Christmas cakes
Without further ado, here are the recipes! Feel free to scroll at your own pace, or use the table of contents below to skip straight to the desired section. To access the full recipe pages, simply click on the highlighted titles.
This is one of my favourite ever vegan Christmas cakes because it's always a crowd pleaser! It consists of a chocolate roll cake, vanilla buttercream (dairy-free of course), and dark chocolate ganache. It's a show-stopping bake that you HAVE to try!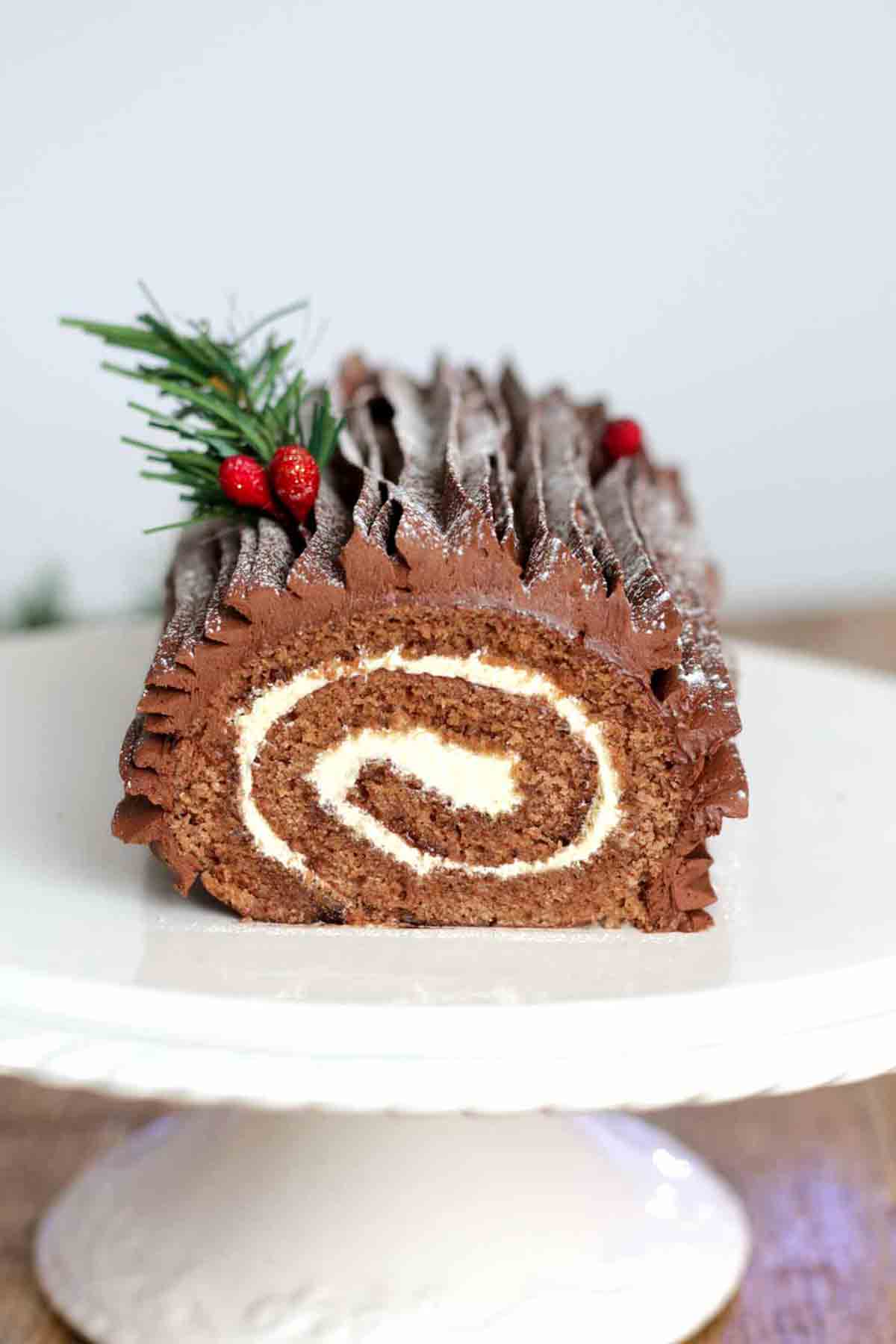 Soft, fluffy, flavourful and made without treacle, this ginger cake is perfect for easy festive baking. Top it with creamy dairy-free cream cheese frosting for a flavour match made in heaven.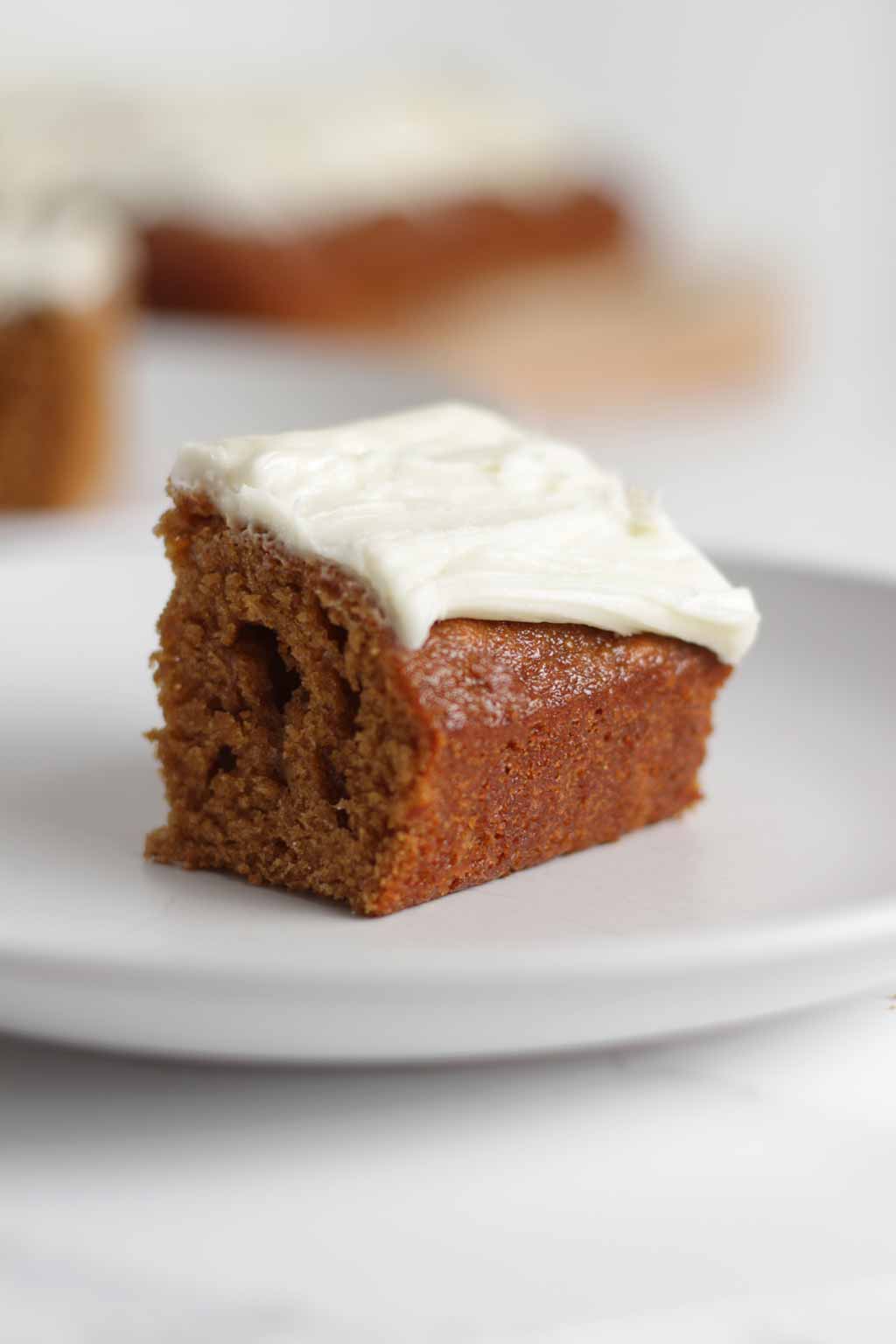 Although matcha is not specifically a Christmas flavour, its bright and bold colour makes it perfect for a vegan Christmas cake. This is a simple, 2-layer sponge cake that's filled and covered with vegan buttercream.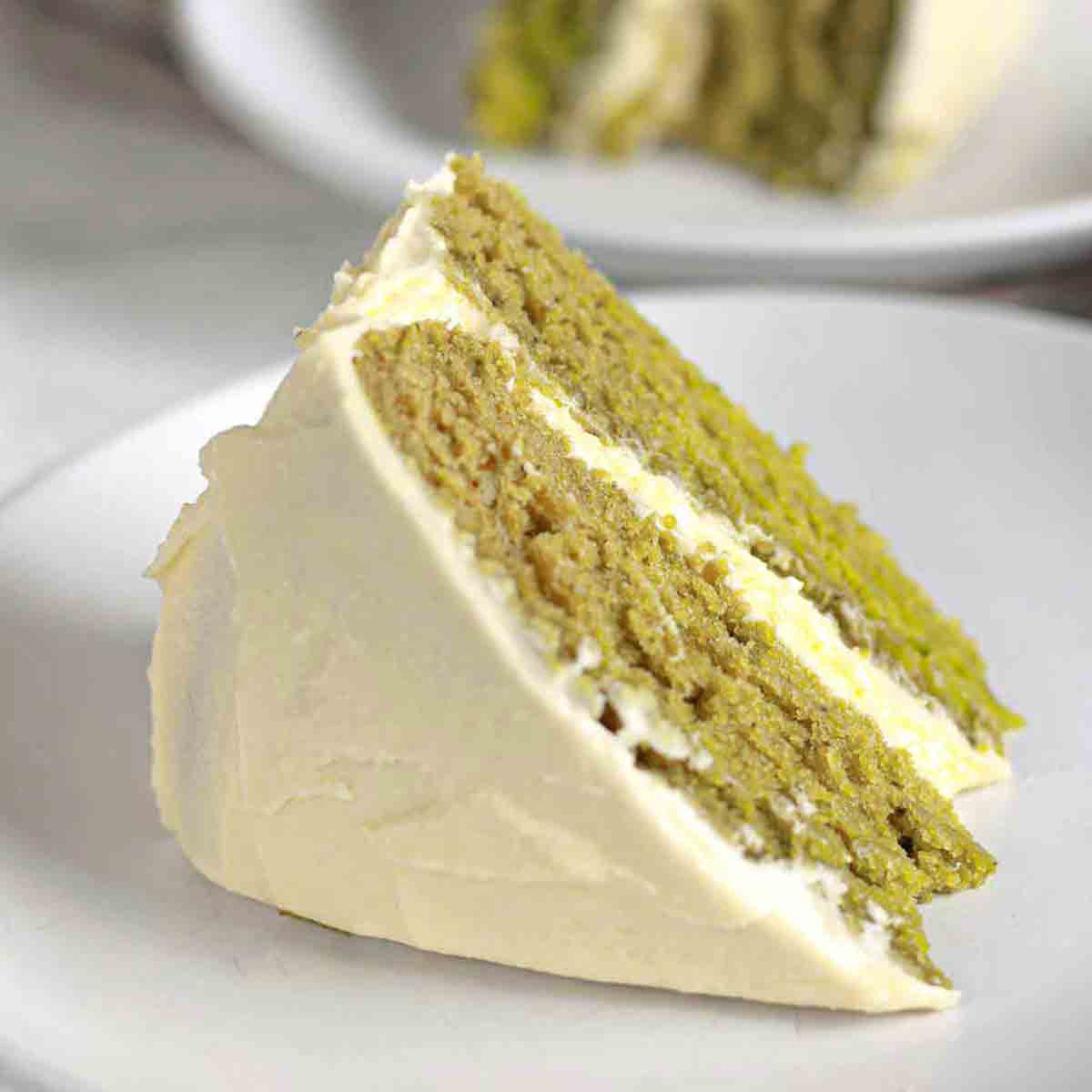 If you fancy something different from a sponge cake, you can try this cookie cake instead. It's basically a giant chocolate chip cookie, covered with colourful icing and sprinkles.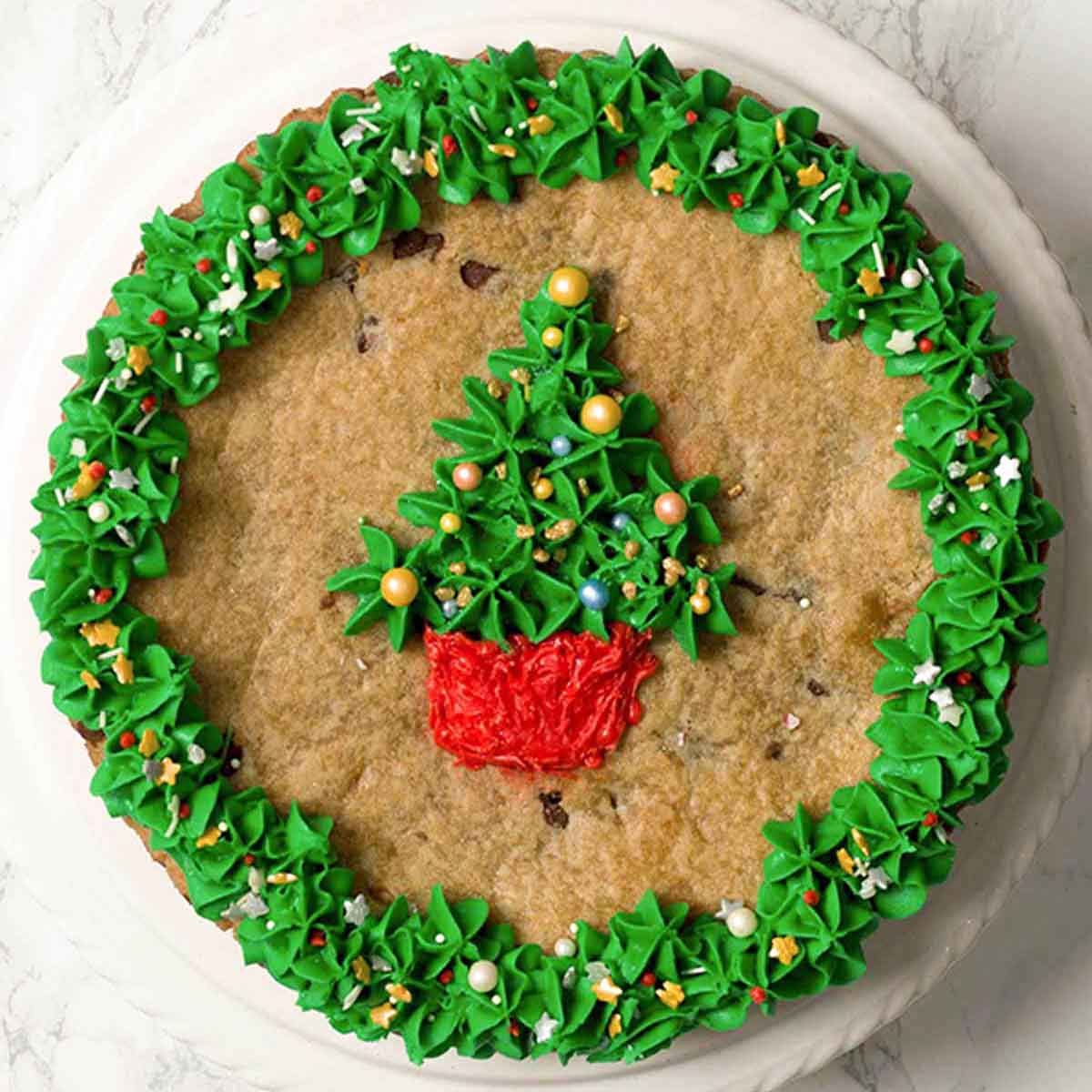 This cake is rich, moist and fudgy. It's made with two layers of chocolate sponge cake, chocolate cognac ganache and fresh figs.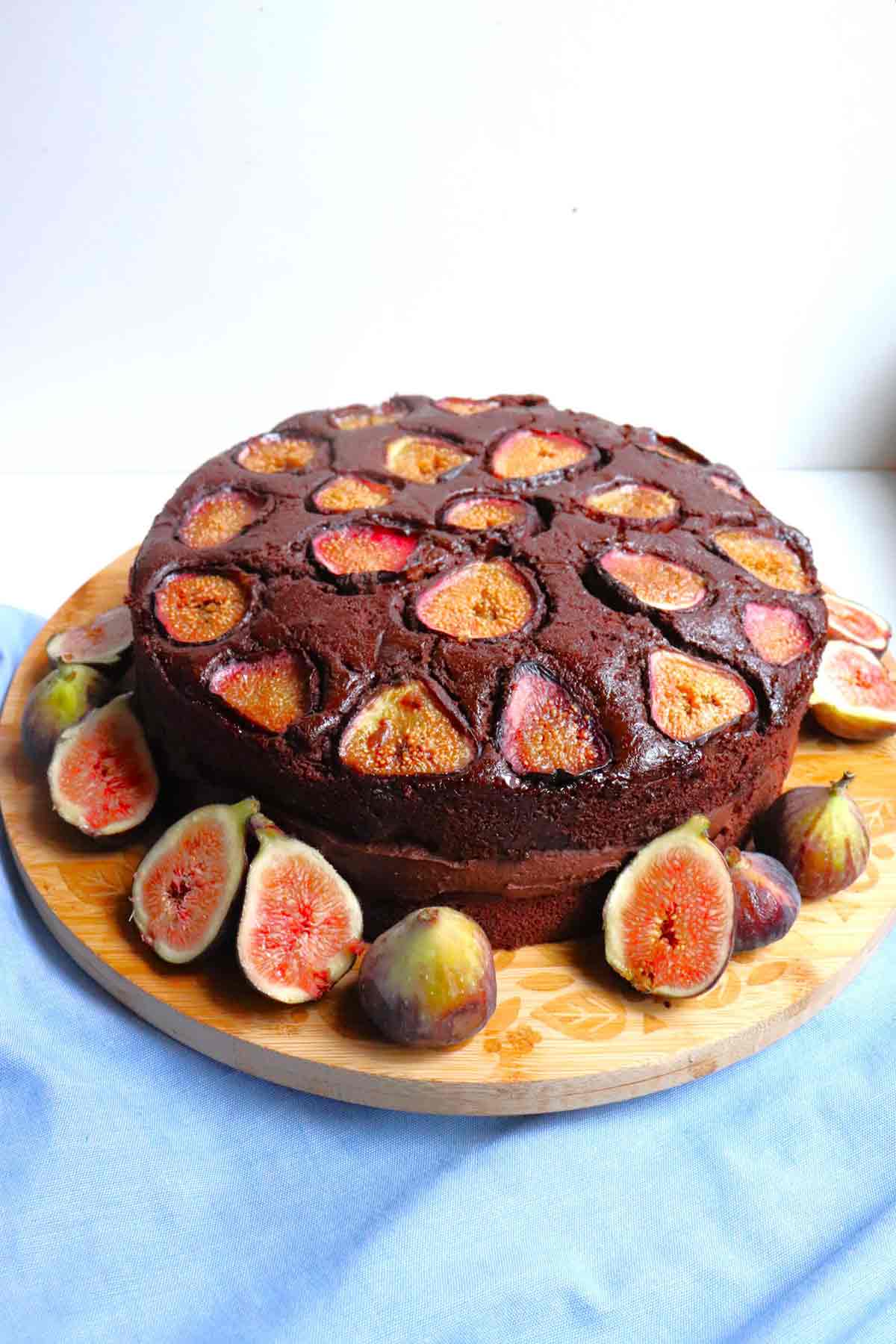 This vegan Christmas cake is packed with dried fruit and boozy flavour. It lasts for a long time too so if you're organised, you can make it up to 1 year in advance!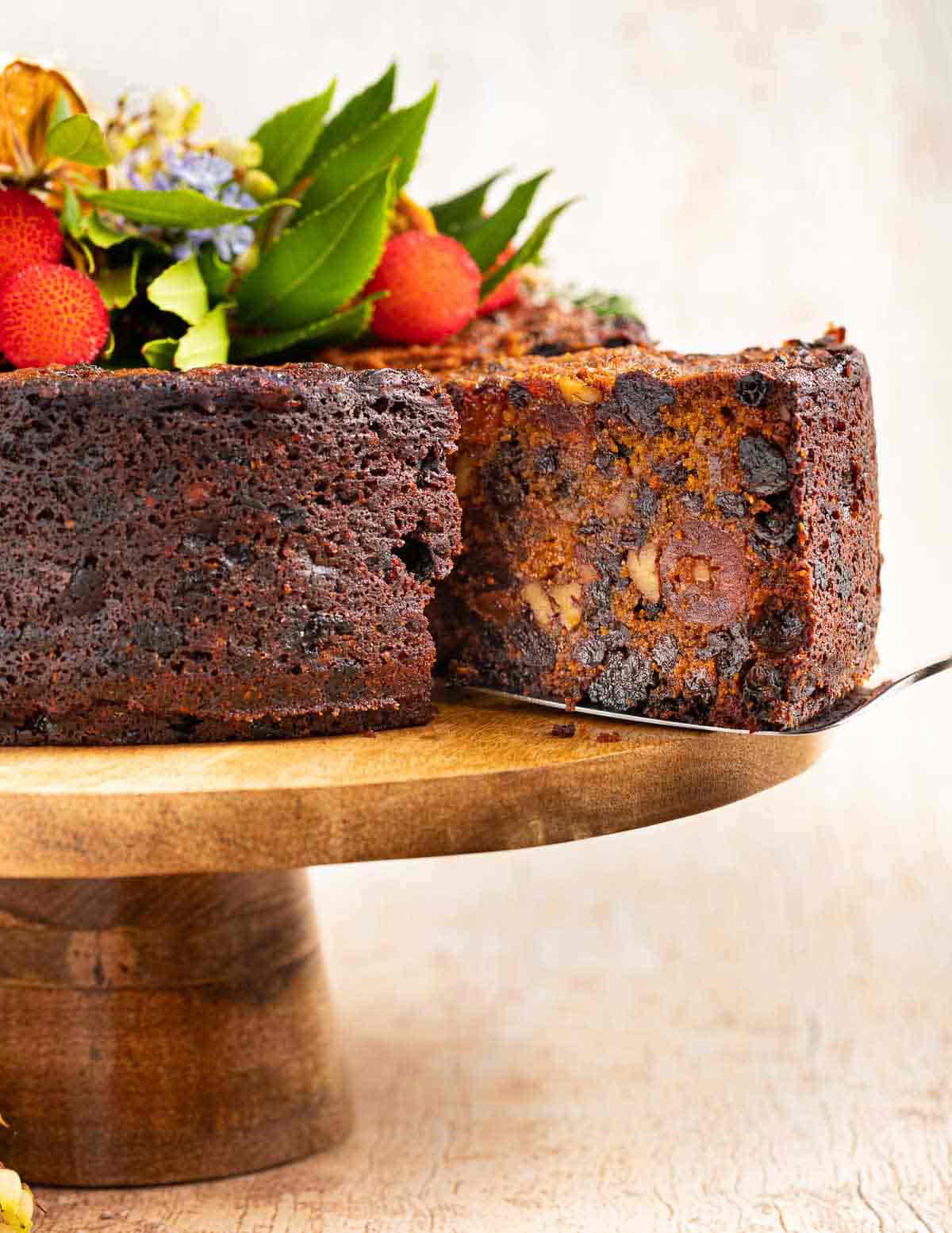 This bundt cake makes the perfect vegan Christmas cake, with white icing and pomegranate seeds for decoration. The recipe also includes several flavour variations so you can adapt the cake to your preference.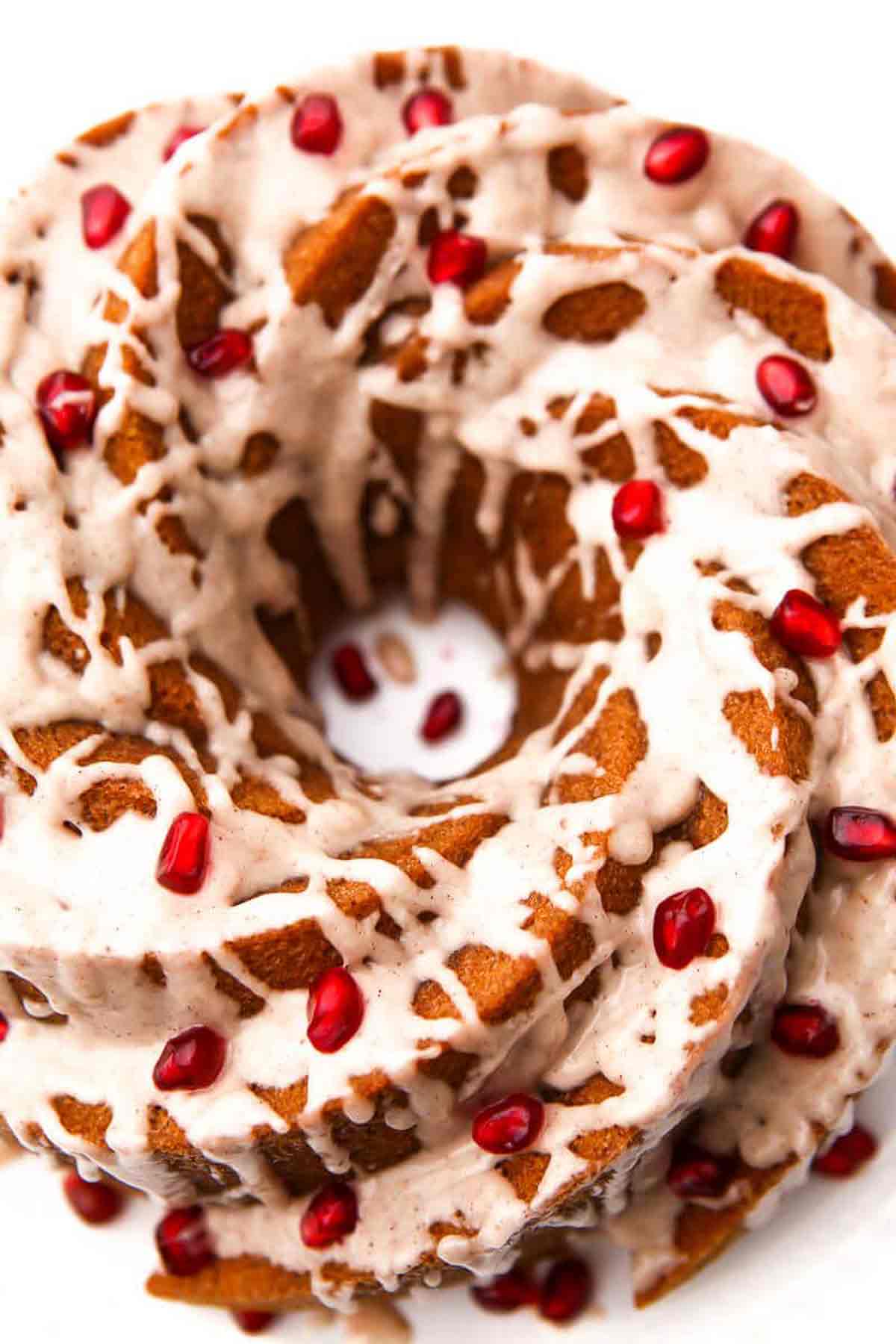 This gluten-free fruit cake is allergy-friendly, refined sugar-free and alcohol-free. It's perfect for dessert or can even be given as an edible gift.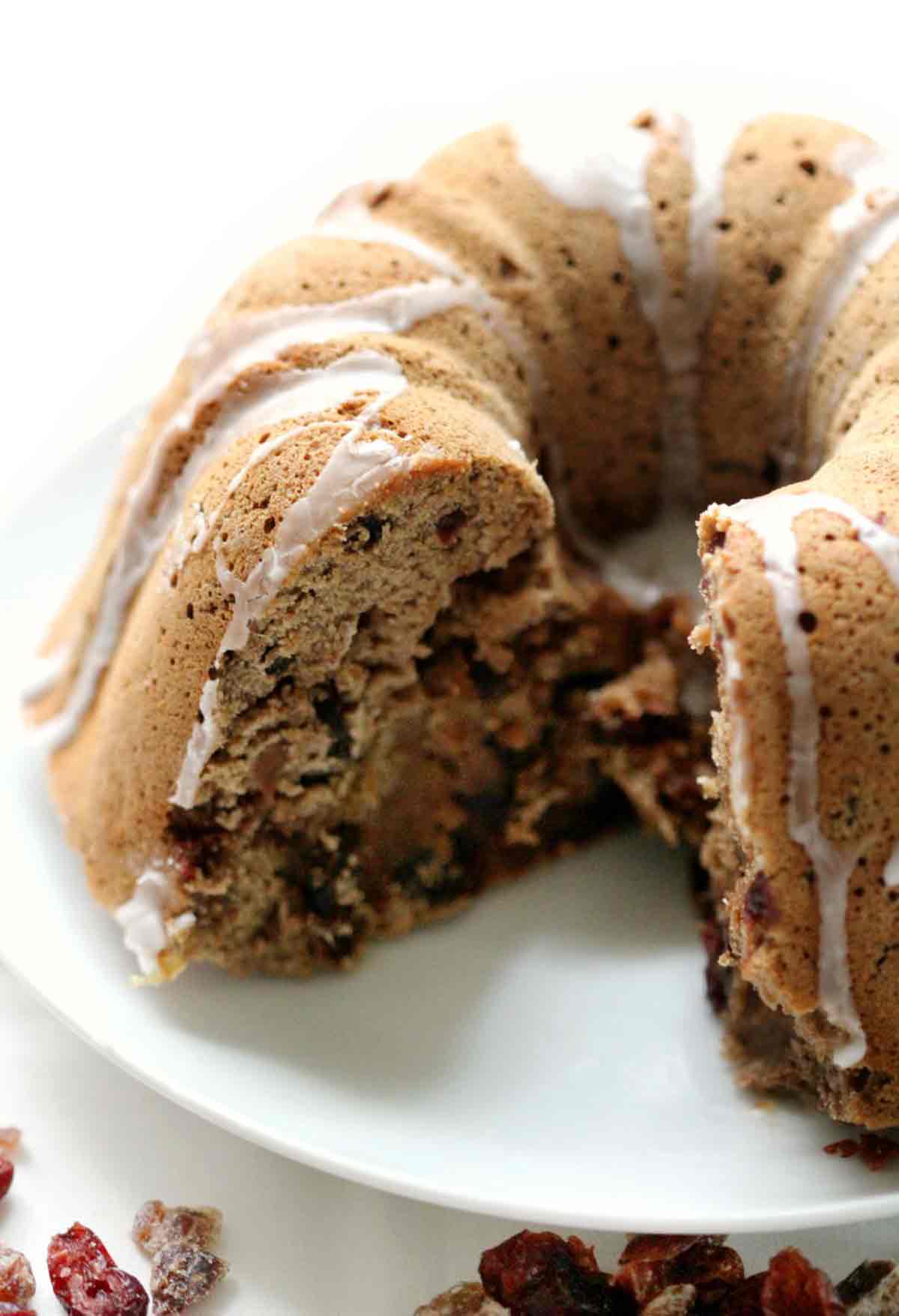 A tasty chocolate biscuit roll cake coated with chocolate ganache and filled with vanilla buttercream. This is a super easy alternative to traditional yule log.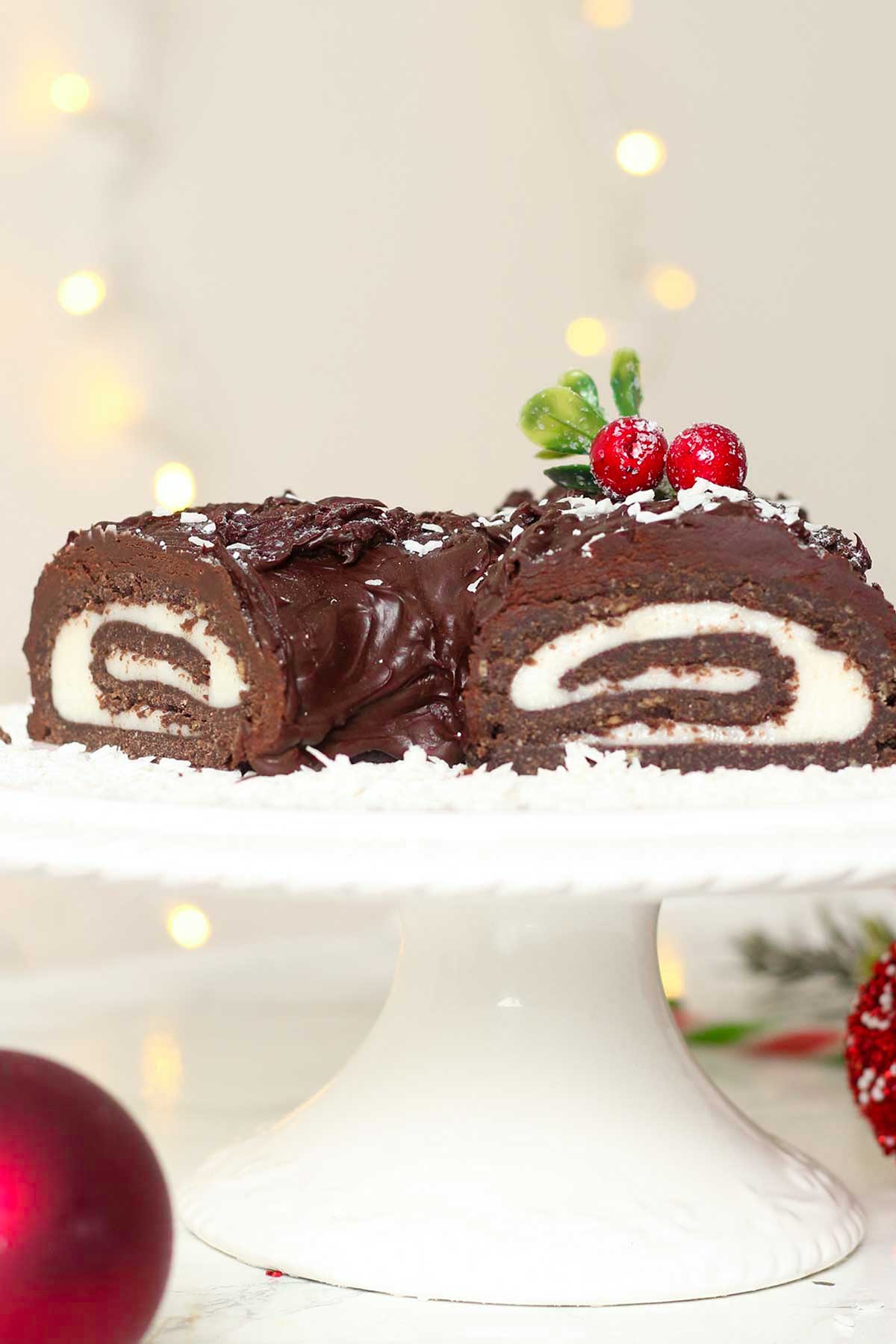 This sweet, tart cake is bursting with cranberry flavour. It's made with simple ingredients and you only need 15 minutes of prep time.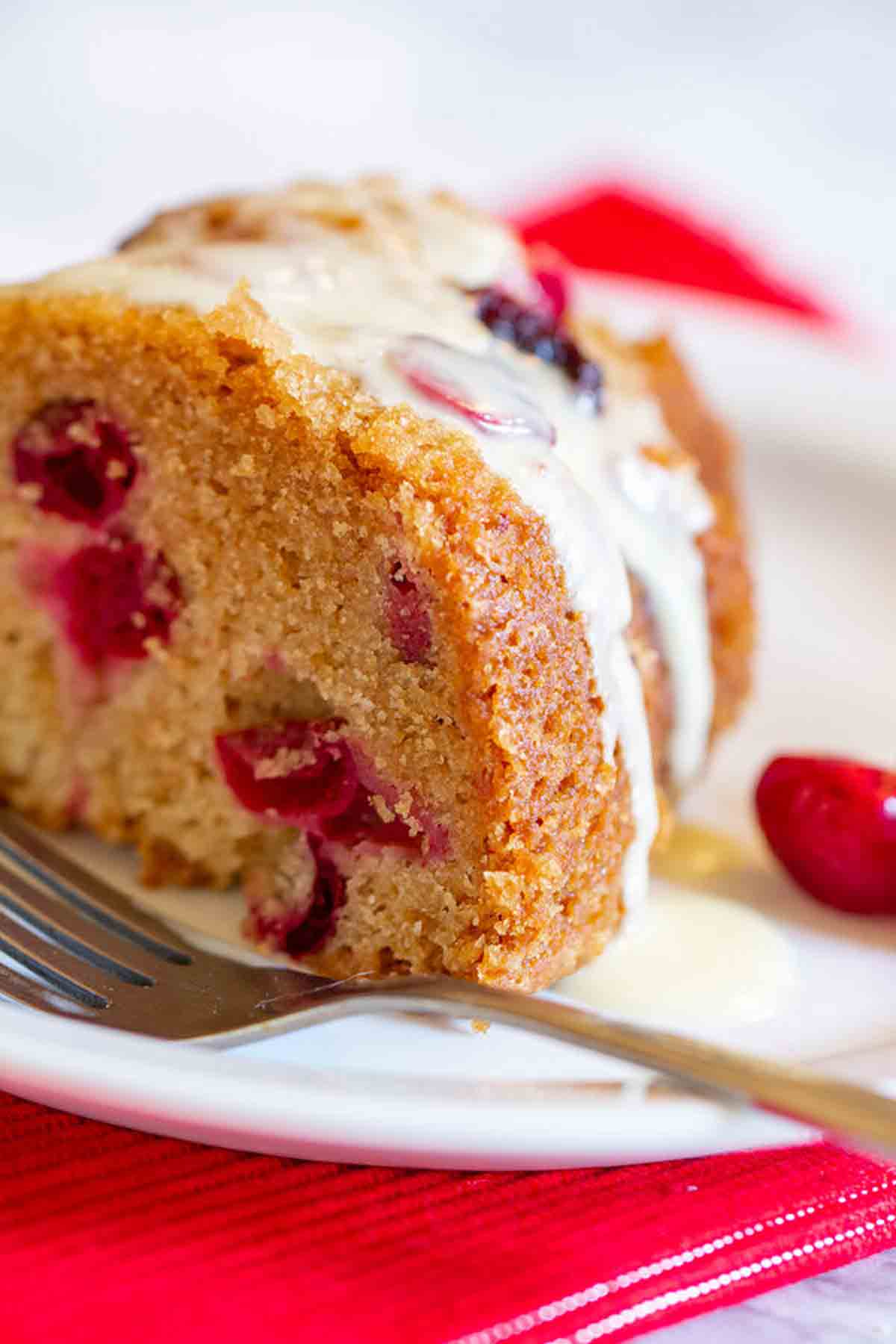 A soft and fluffy vanilla cake filled with layers of banana and caramel, topped with vegan whipped cream, banana slices, and caramel sauce. This is a great alternative to banoffee pie!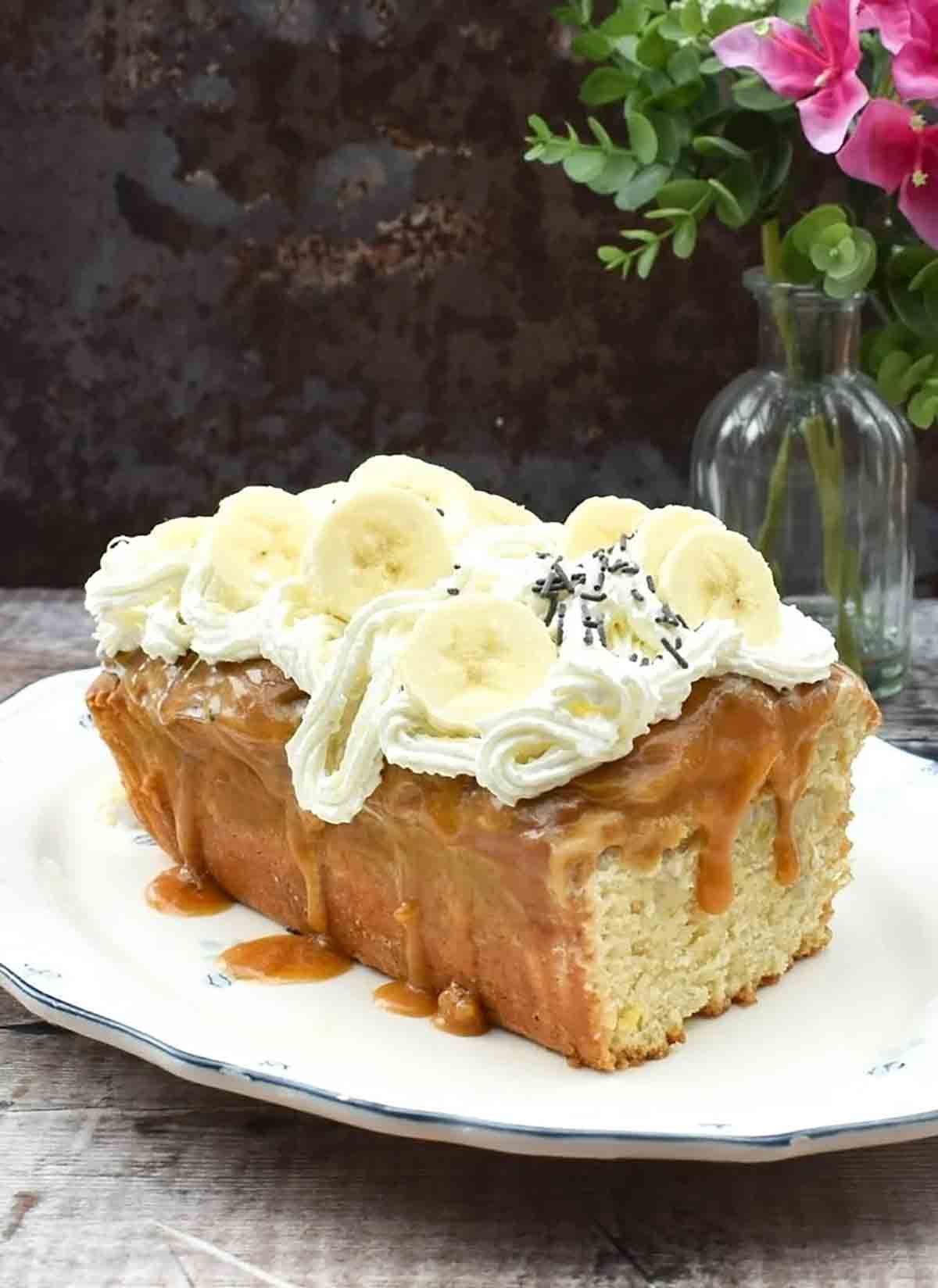 A sweetly-spiced, gluten-free gingerbread bundt cake that's perfect for Christmas. This cake is moist, flavourful and sure to be a hit with everyone who tries it.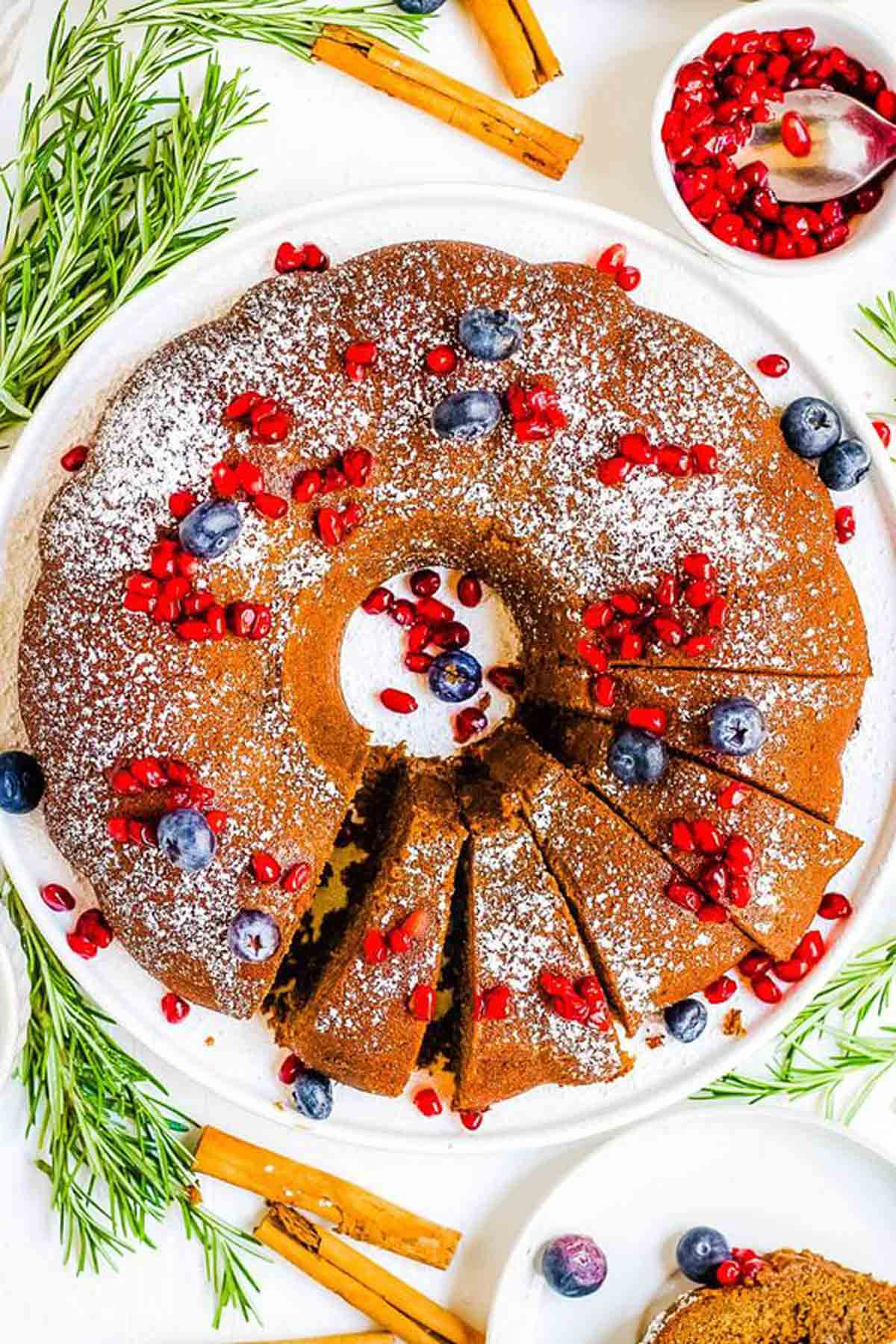 Juicy pear slices and crunchy almonds come together to make this delicious vegan Christmas cake. It's great for dessert, mid-morning snacking or an afternoon pick-me-up.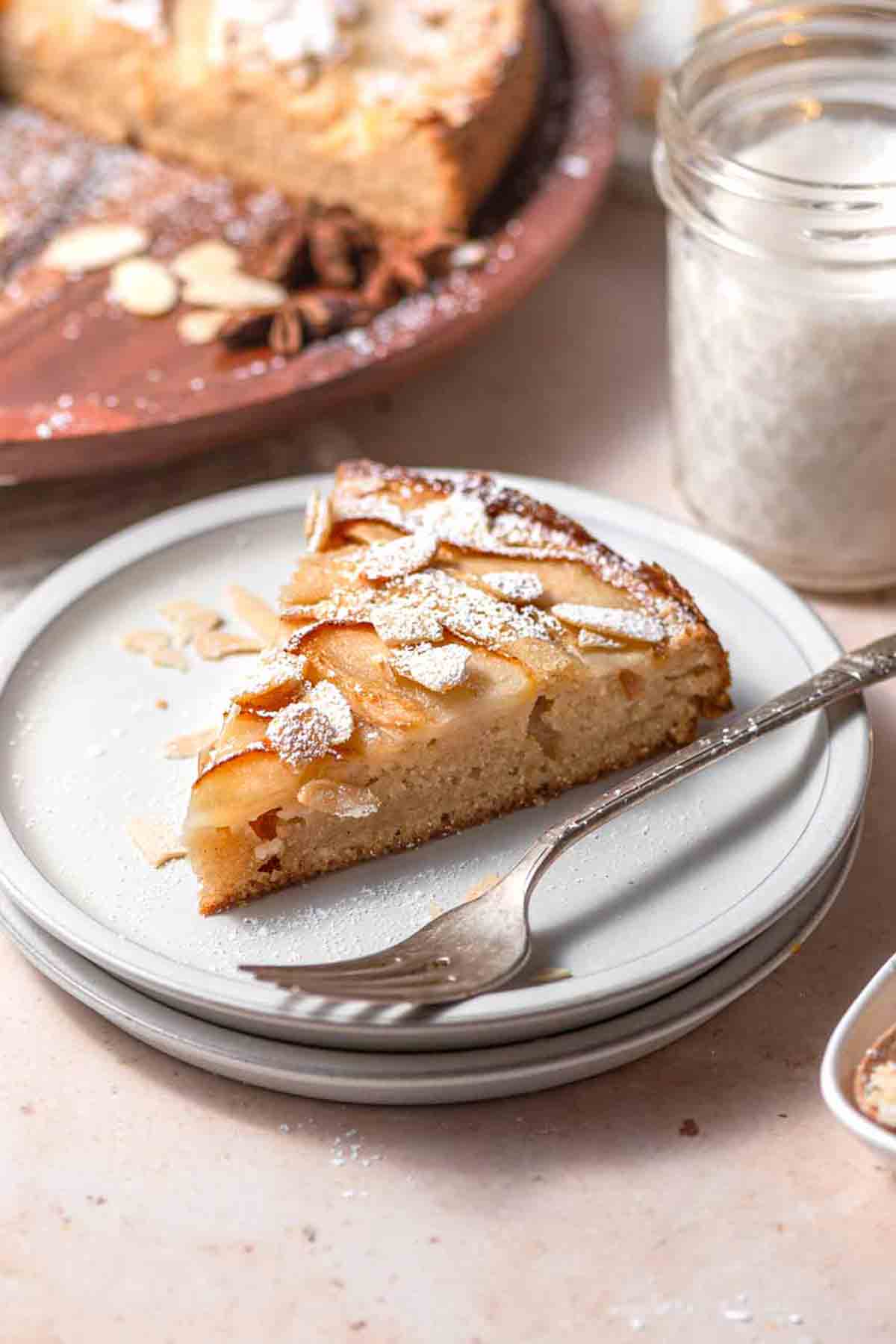 This loaf cake is packed with spices and rich candied fruits, meaning it looks and tastes super festive. It's easy to make and perfect for beginner vegan bakers.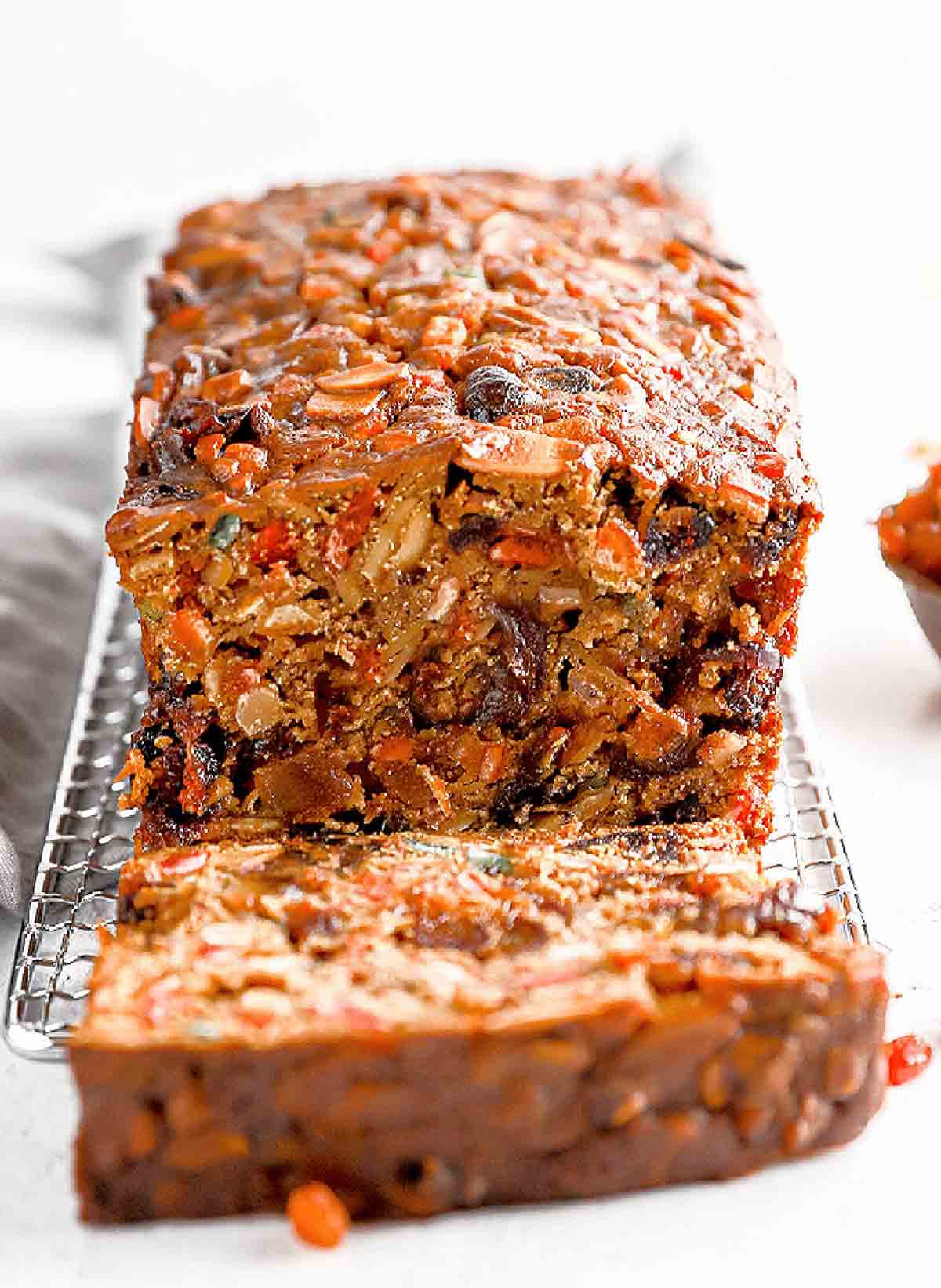 A dense, brownie-like chocolate hazelnut cake with cream chocolate ganache. If you miss Nutella, give this cake a go!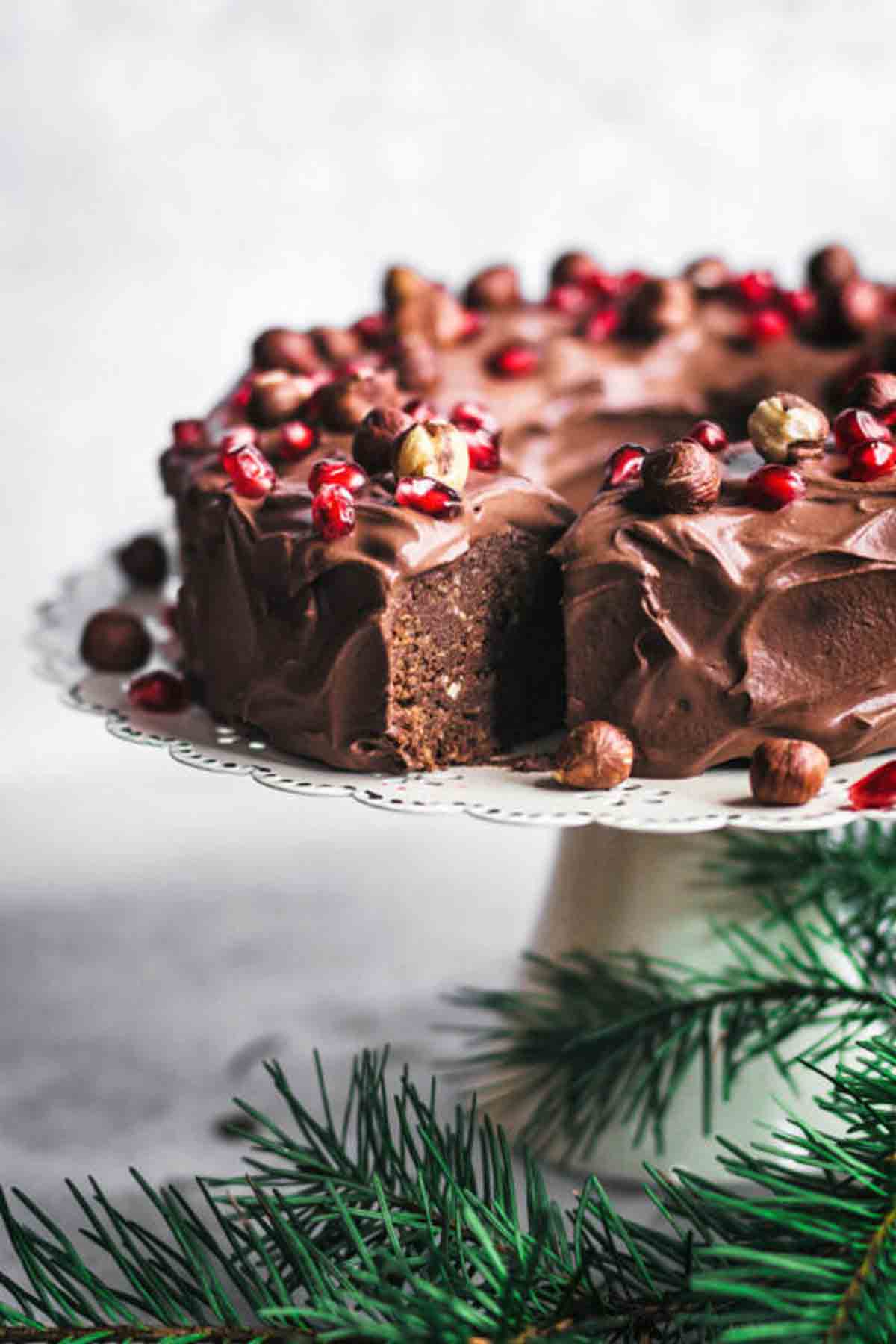 This gingerbread loaf cake is moist and sweet, topped with a zesty orange glaze. It's easy to make and is ready to eat in just over an hour.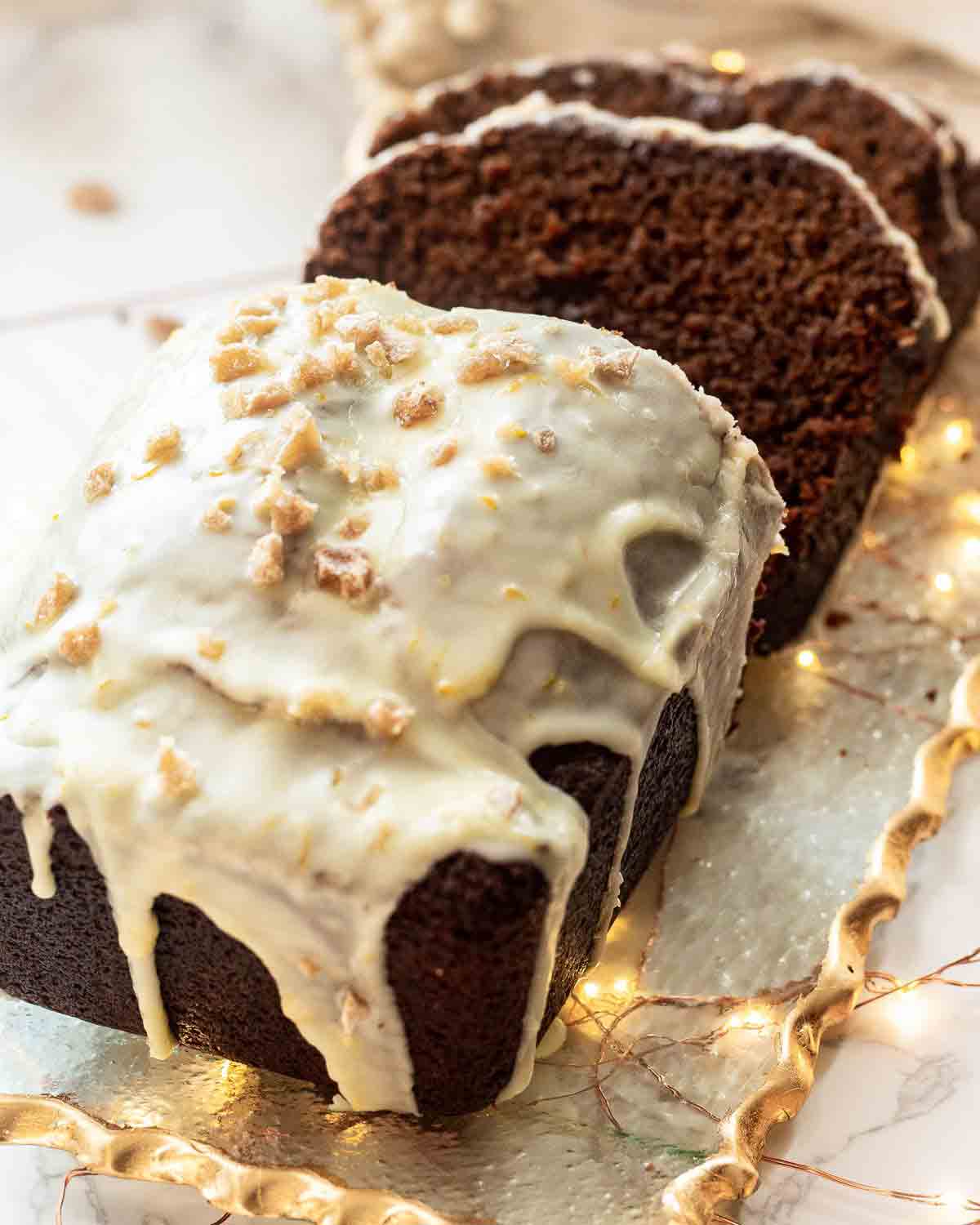 Layers of chocolate cake filled with dark chocolate orange ganache, covered with orange chocolate cookie buttercream. This is a must-try recipe for all chocolate orange lovers.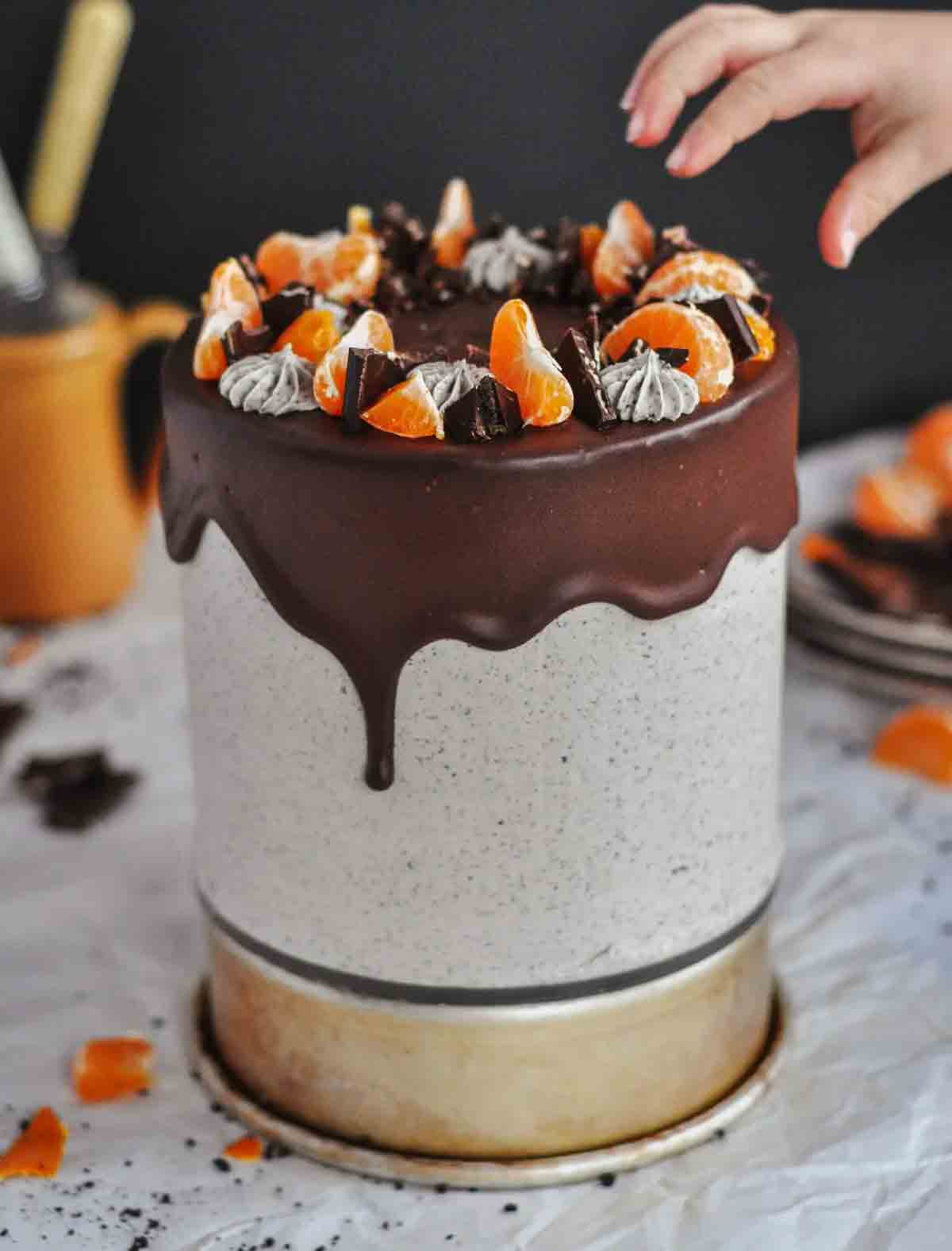 Vegan hazelnut vanilla cake covered with creamy ganache. This cake is also topped with homemade vegan Ferrero Rocher truffles, making it a show-stopping dessert fit for the festive season.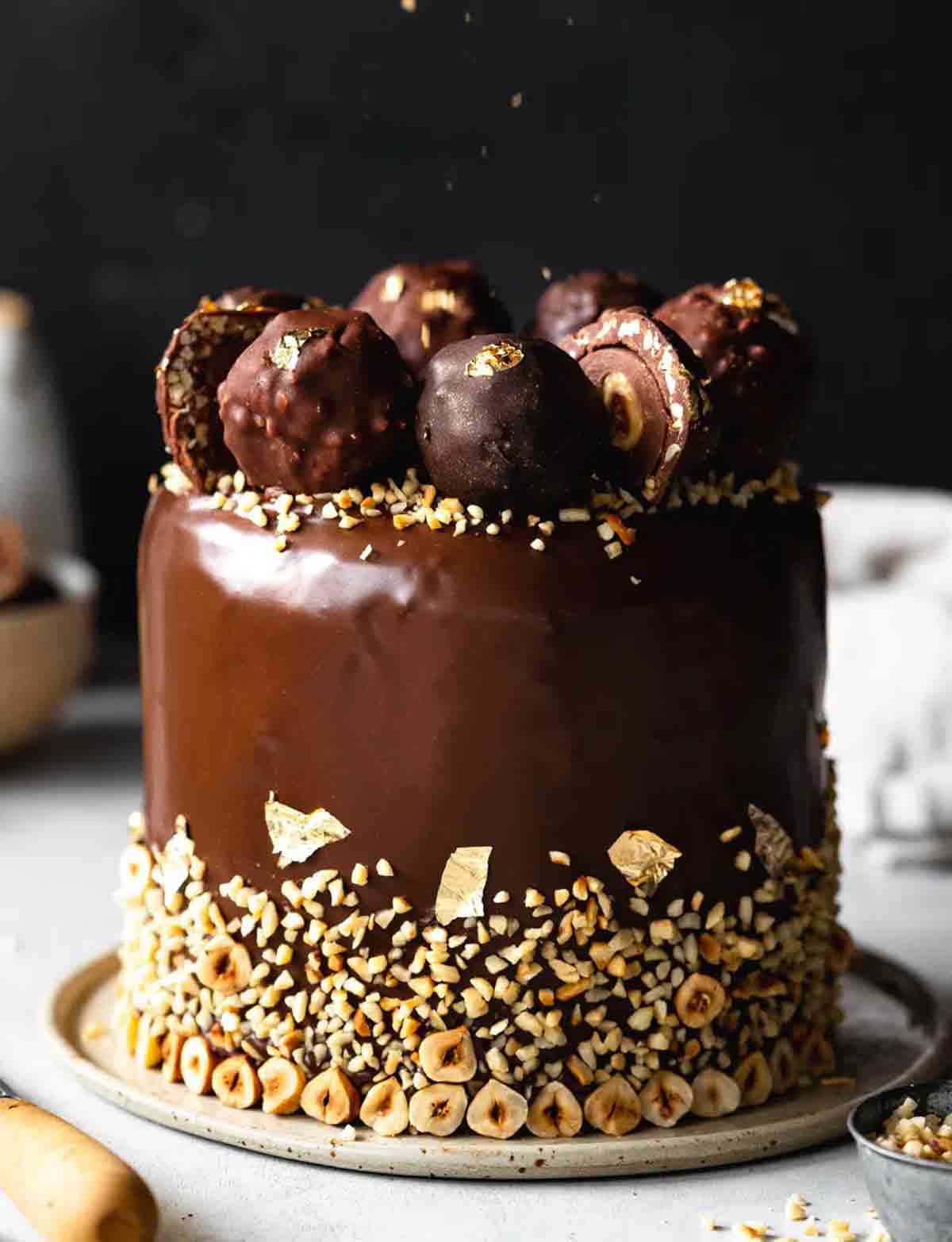 This super cute tree stump cake is great for both kids and adults to enjoy. It's made from chocolate sponge, chocolate cremeux, coffee meringue buttercream, chocolate bark and meringue mushrooms.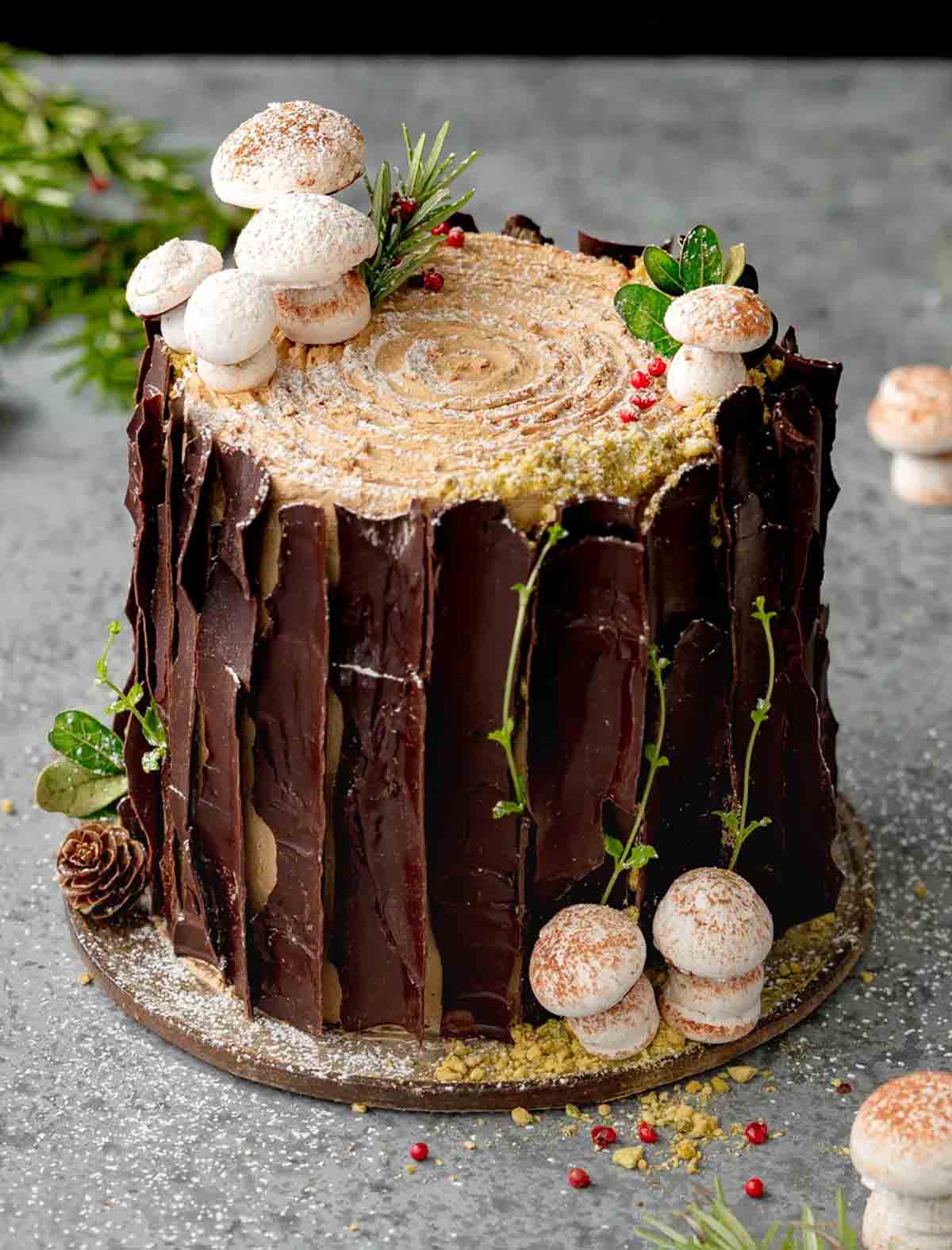 Not only is this peppermint chocolate cake vegan, it's gluten-free too! Chocolate sponge cake, peppermint buttercream, chocolate ganache and crushed candy canes come together to make this beautiful vegan Christmas cake.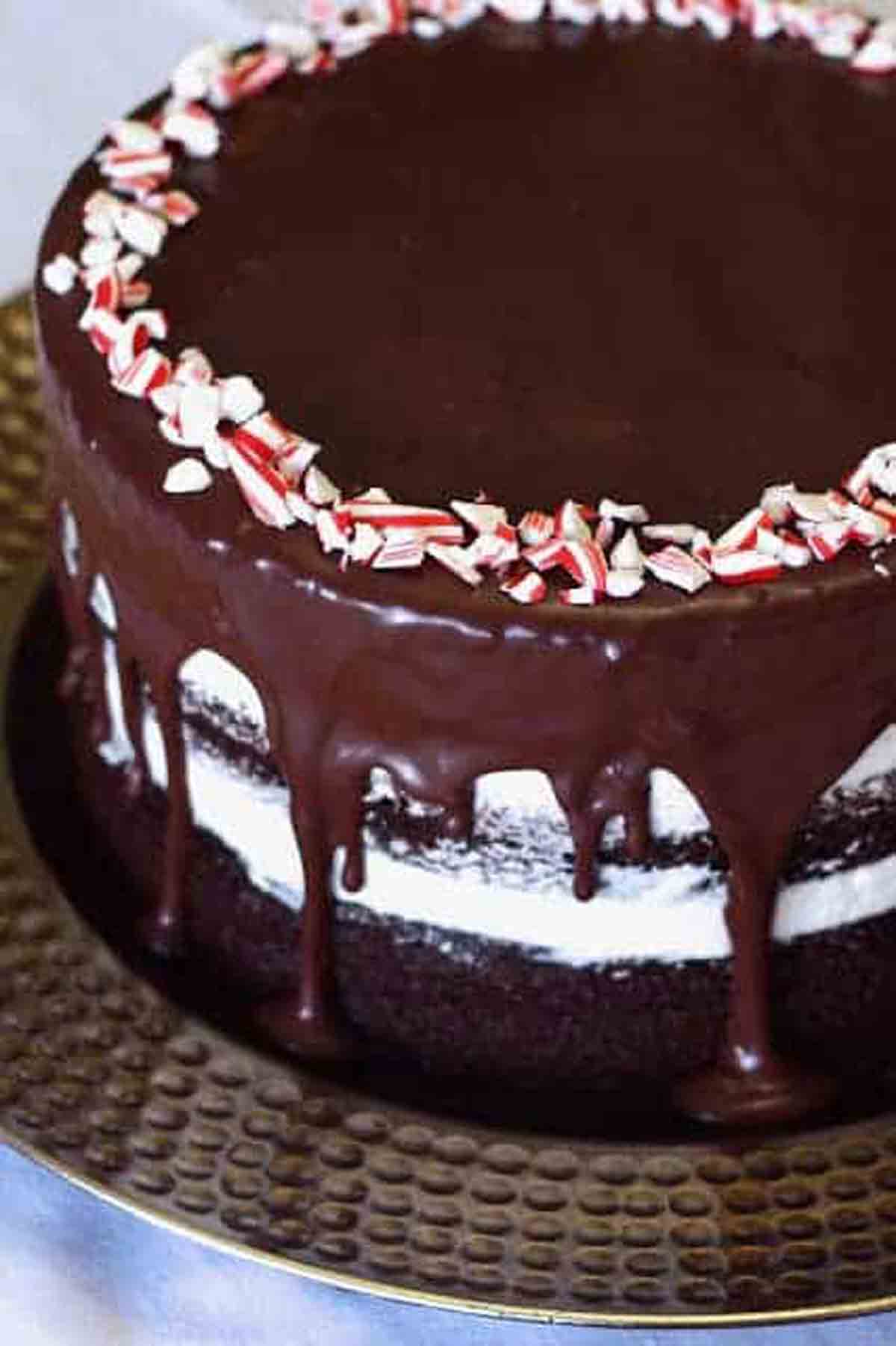 That's all for now. I hope you enjoy these vegan Christmas cakes. If you find this post useful, please give it a share using the share buttons on this page. Happy baking! xo
Related posts:

20 Festive Vegan Christmas Cakes
Fun and festive Christmas cake recipes without eggs or dairy.
BakedByClo is a participant in the Amazon Services LLC Associates Program, an affiliate advertising program designed to provide a means for sites to earn advertising fees by advertising and linking to Amazon.com. This site may contain some of these links to Amazon.com & other affiliate programs. If you make a purchase through one of those links, BakedByClo will receive a small commission from the purchase at no additional cost to you.