Vegan Biscoff Brownies
These vegan Biscoff brownies are chewy and fudgy with a slight crunch. They're super easy to make, using basic ingredients, and best of all there's NO chocolate required!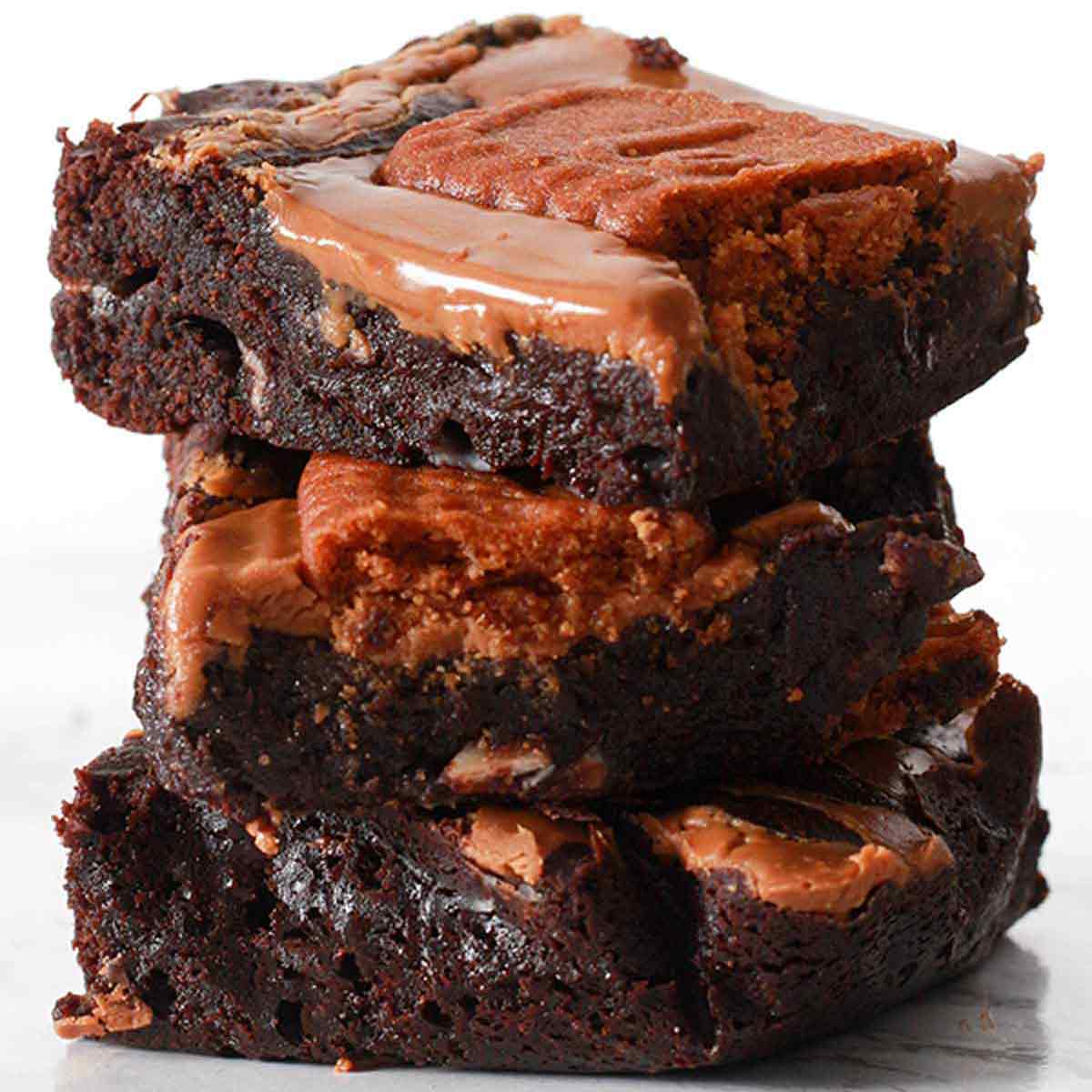 It's finally here! My eggless Biscoff brownies recipe!
I've been wanting to make these for my blog for theee longest time. I tried to make a batch sometime last year and they ended up far too dry. And I don't know why but I never tried again! I think I've been subconsciously too scared of making them again incase I failed!
I prefer to test my recipes in small batches because I really don't like wasting food. But with a recipe like brownies, it's harder to do that. You really do need to use the full amount of ingredients in order to test for an accurate baking time. A single brownie will need to be baked for a lot less time than a whole tray-full!
Anyway, I finally got over my fear of failing and started testing them again earlier this month. It only took 2 attempts before I was happy! (The first time, I cut into them too early and the biscuits sunk into the brownies but don't worry, we still ate them!)
I'd recently perfected my cocoa powder brownie recipe so adding Biscoff spread and biscuits on top was a breeze! There was no messing around with different types of chocolate and trying to alter the fat levels in the recipe to account for the Biscoff spread. It was a super simple process.
Because these vegan Biscoff brownies are made with cocoa powder only, they are much more failproof than my other brownie recipe, which a few people had trouble with due to not being able to find high cocoa chocolate. There are no real variables to this recipe that could cause it to go wrong so I'm really excited to share it with you!
Ingredients for Biscoff brownies:
Dry
Flour. Use plain (or all-purpose) flour, not self-raising. This ingredient provides structure to the brownies. There's a delicate balance between the fat to flour ratio. Too much flour and you'll end up with cakey brownies, and too little will result in greasy brownies. I used as little flour as I could use without the brownies falling apart because I like them fudgy!
Baking powder. I tested this recipe with and without baking powder and I much preferred them with! When I didn't use the baking powder, the brownies ended up a little more dense, but not in a way that I liked. Baking powder gives a slight lift, adds more texture and gives you the classic brownie crust at the edges.
Cocoa powder. Because these brownies don't need to have actual chocolate in them, we need to use a little more cocoa powder than usual. This gives the chocolatey flavour without the stress of having to find the correct type of chocolate for brownies!
Wet
Caster sugar. Because of the bitterness of the cocoa powder, brownies need a lot of sugar. I chose to use caster sugar as it dissolves easier and won't give a gritty texture in the end result.
Dairy-free margarine. The amount of fat (and flour, as mentioned above) you use determines how fudgy or cakey your brownies will be. I recommend using the spreadable, margarine type and not the block, "butter" style.
Soy milk. Since these are dairy-free brownies, we need to replace the cow's milk. I used unsweetened soy milk and this is what I recommend in all of my baking recipes.
Other
Dairy-free chocolate chips. These are optional but I like the extra texture and flavour they add. I used Moo-Free white baking drops.
Biscoff spread. Of course, no Biscoff brownies would be complete without this spread. I recommend using the smooth version as the biscuits on top provide a good bit of crunch.
Biscoff biscuits. You could crush these up and sprinkle the crumbs over the brownies if you prefer, but I really like the way the biscuits look when they're placed on whole.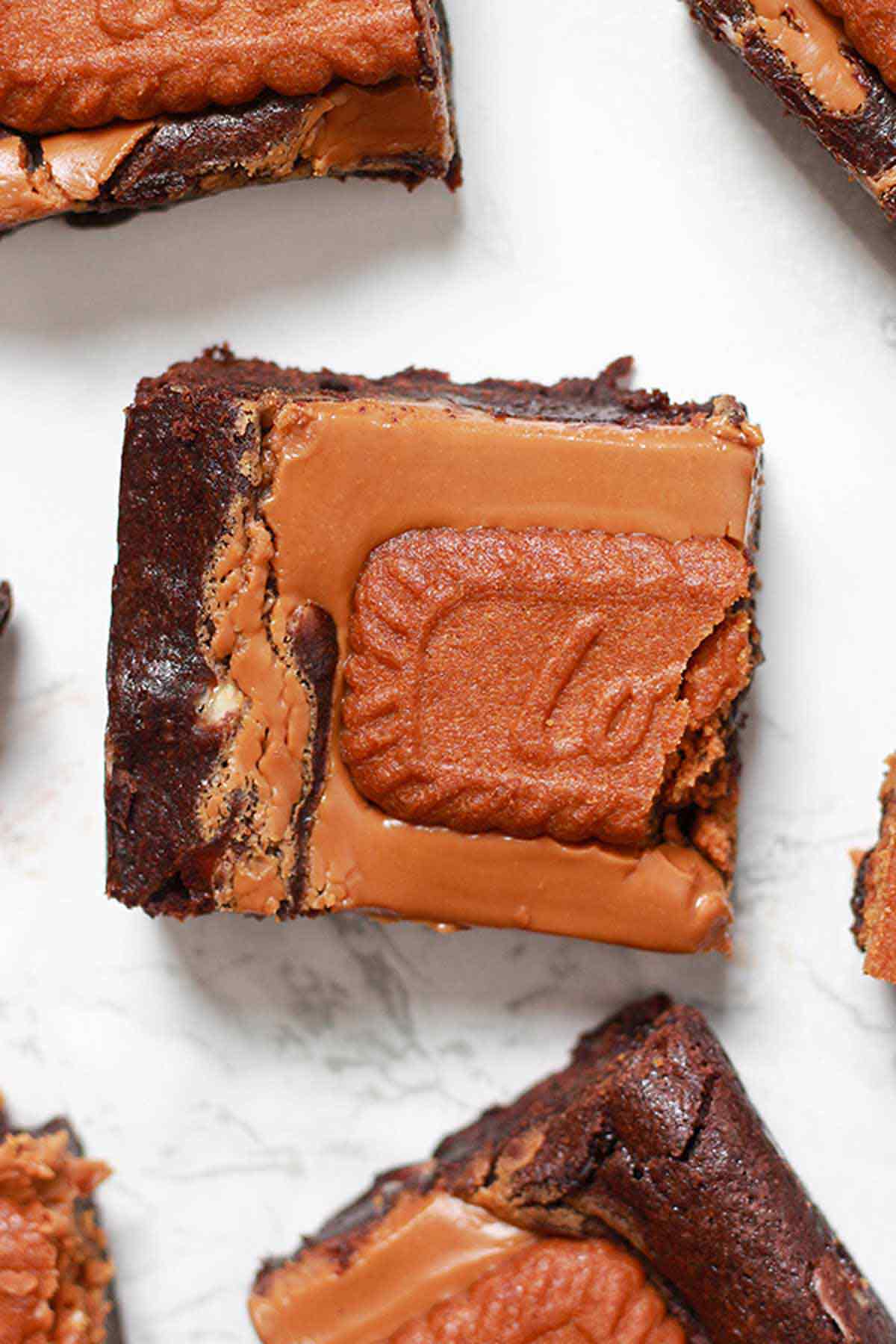 More vegan brownie recipes:
How to make vegan Biscoff brownies
Step 1:
Preheat your oven to 180°C/350°F and line an 8×10-inch tin with baking paper. Leave a bit hanging over the edges to make removing them from the tin easier once they're cool.
Step 2:
In a large bowl, mix together 160g plain flour, 1 teaspoon of baking powder, 80g cocoa powder and 250g of caster sugar.
Step 3:
Next, measure out 120g of dairy-free margarine and melt it in the microwave. Add it to your bowl of dry ingredients, along with 160ml of soy milk. Mix well.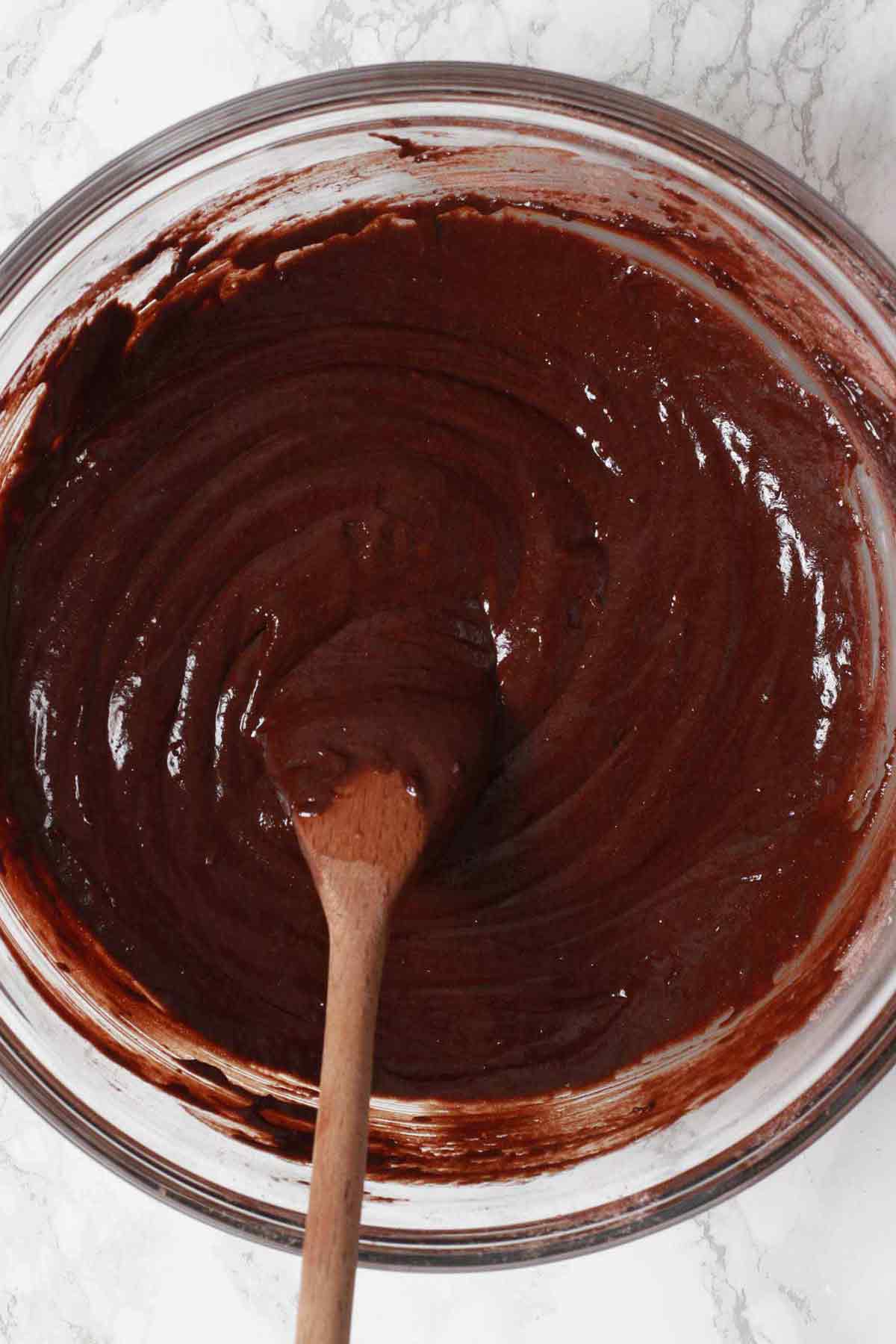 Step 4:
Add 100g of dairy-free chocolate chips if using and stir them in gently.
Step 5:
Transfer the mixture into your lined baking tin and spread it out. It'll be quite thick but try to get it as even as you can. If it's unevenly spread, the edges will be cakier and the middle will be too gooey.
Step 6:
Next, the topping! Measure out 120g of smooth Biscoff spread and pop it in the microwave for 10-20 seconds until melted.
Drizzle the melted spread over the brownie batter in the tin. It doesn't matter about the pattern as the biscuits will cover it up anyway.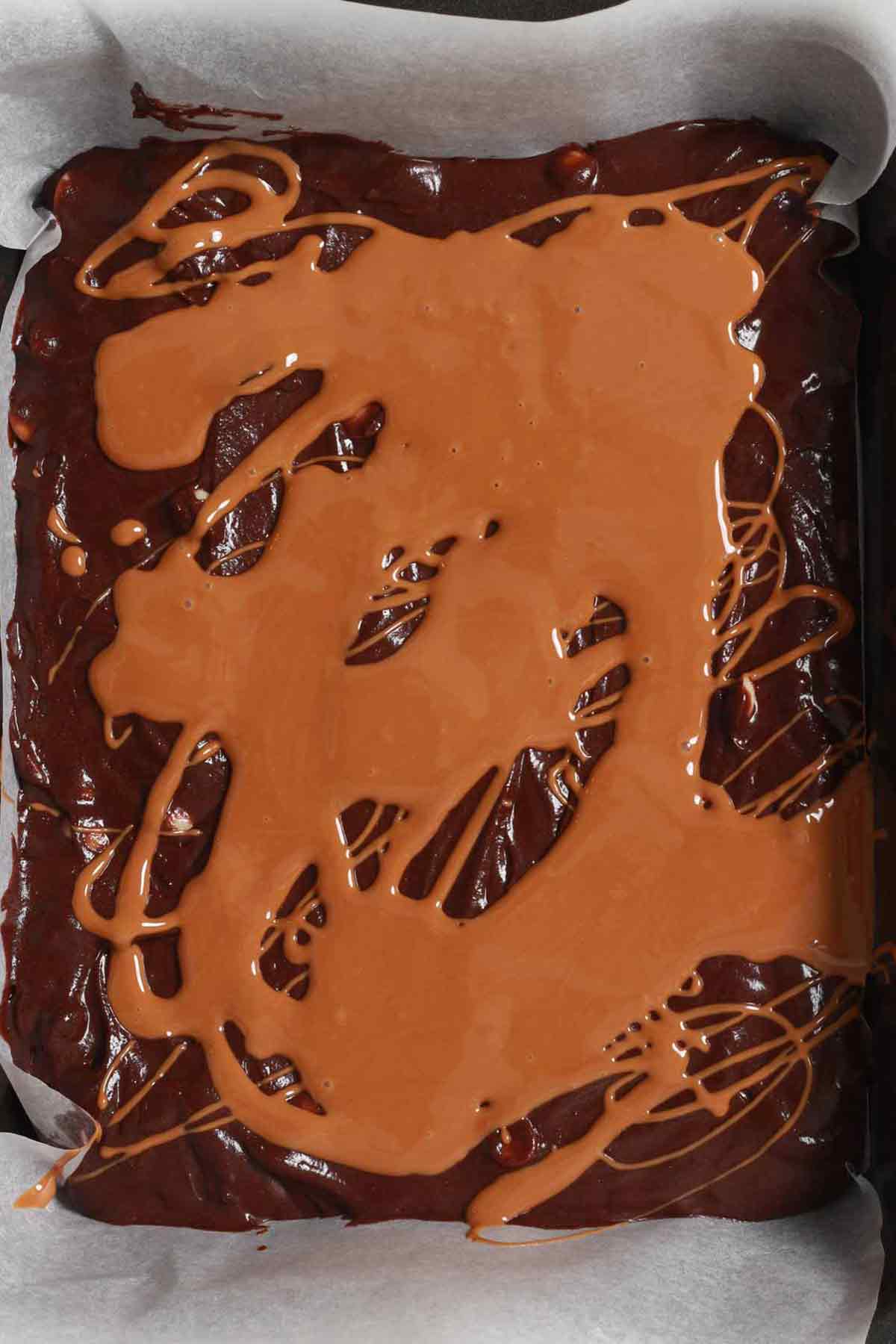 Step 7:
Place 10 whole Biscoff biscuits on top, in 2 lines of 5 as pictured below.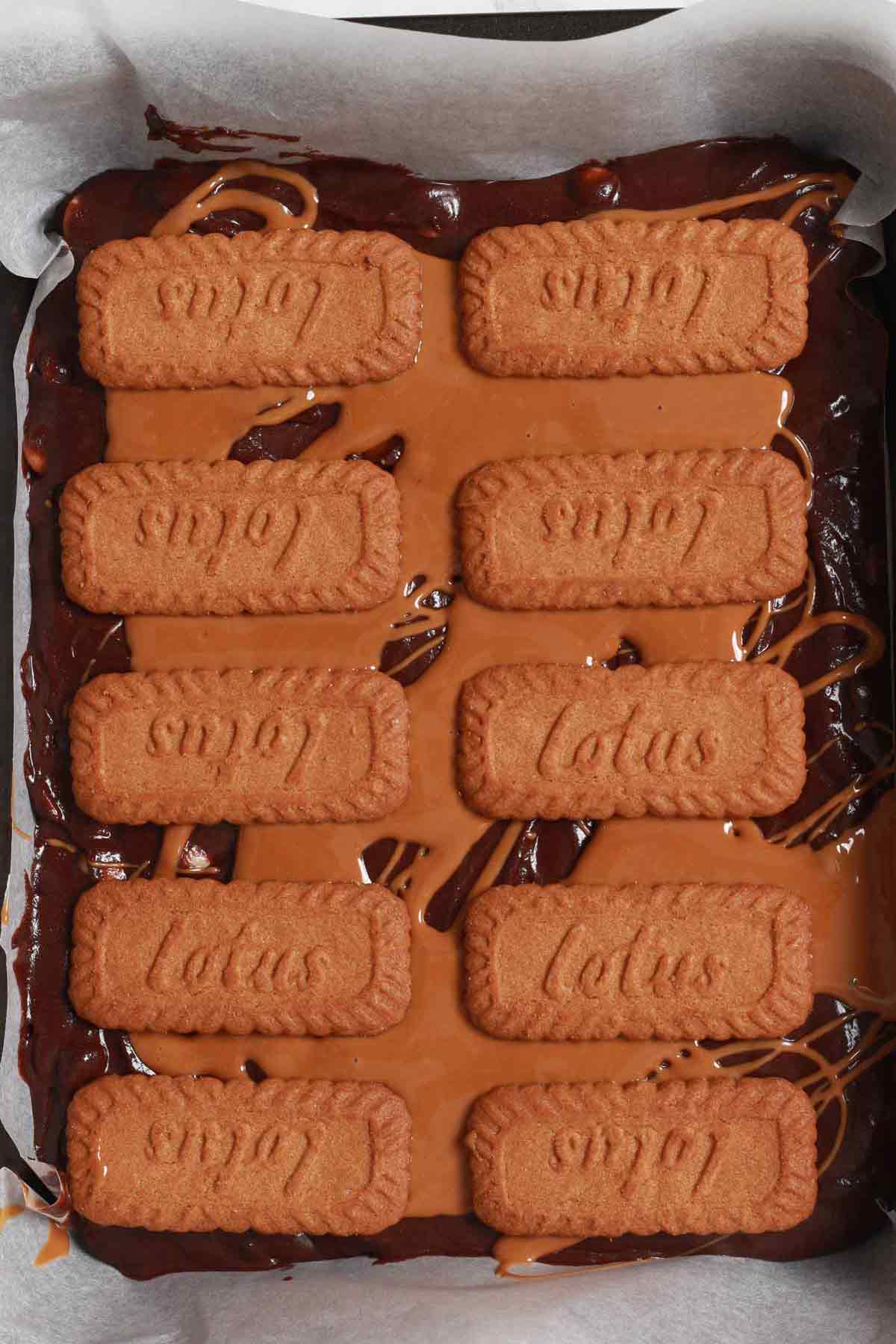 Step 8:
Bake your eggless Biscoff brownies for 22 minutes.
Let them cool in the tin at room temperature for around 30 minutes then transfer them to the fridge for 2 hours to set. Do not try to cut into them before this time as the Biscoff biscuits will break if they're still a bit gooey inside.
Step 9:
After the 2 hours are up, remove the brownies from the tin and cut into 12 equal-sized pieces. Then all that's left to do is enjoy them!
FAQ:
How should vegan Biscoff brownies be stored?
Keep them in the fridge, in an airtight container for up to 4 days. After this time, the biscuits on top will be starting to get a little soggy. See freezing instructions below.
Can I freeze them?
Absolutely! These are great for freezing, which is perfect if you're making them in advance, or if you want to bake them for yourself and take one out whenever you feel like it! Freeze them in an airtight container for up to 2 months. When you want to defrost them, transfer them to the fridge the night before you plan to eat them. Do not refreeze.
Where can I buy Biscoff spread?
Biscoff biscuits are quite common in most countries nowadays but some of you have trouble locating the Biscoff spread. In the UK, it's available in most of the larger supermarkets and you'll find it near the peanut butter, jams and other spreads. If you're elsewhere in the world, it's available to buy directly from the Biscoff website, or you can buy it from the Vegan Kind Supermarket.
More vegan Biscoff desserts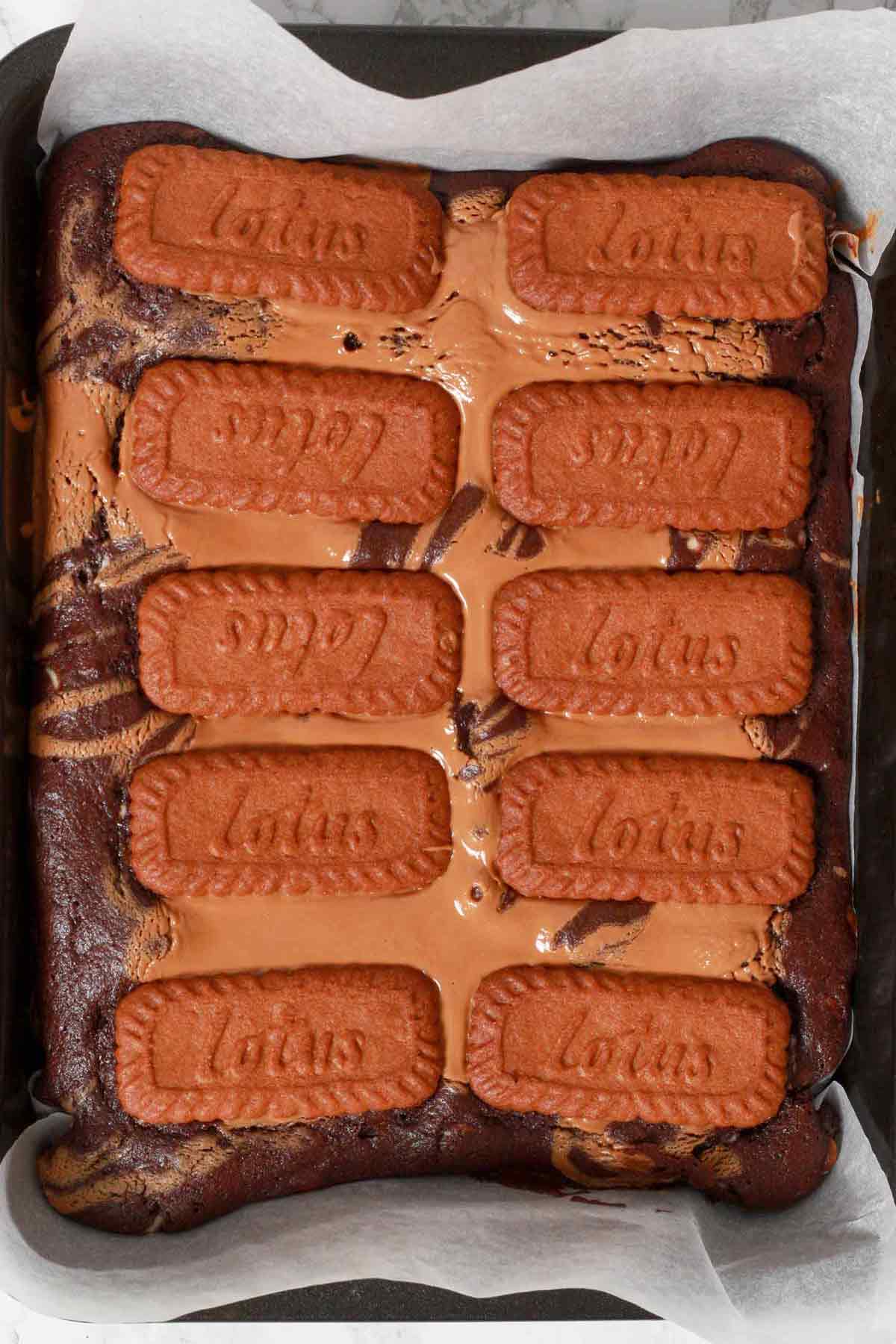 I really hope you enjoy these eggless Biscoff brownies. If you make them yourself, please let me know how you get on by leaving a rating and/or comment below. And if you enjoy the recipe, check out my other vegan Biscoff dessert recipes. Happy baking! xo

Vegan Biscoff Brownies (Eggless)
Eggless, dairy-free Biscoff brownies topped with Lotus spread and biscuits.
Ingredients
160

g

Plain flour

(1 cup + 2 tablespoons)

80

g

Cocoa powder

(⅔ cup)

1

Teaspoon

Baking powder

250

g

Caster sugar

(1+¼ cups)

120

g

Dairy-free margarine, melted

(½ cup)

160

ml

Unsweetened soy milk

(½ cup + 2 tablespoons)

100

g

Dairy-free chocolate chips

(⅔ cup) I used Moo-Free white baking drops

120

g

Smooth Biscoff spread

(½ cup)

10

Biscoff biscuits
Instructions
Preheat your oven to 180°C/350°F (or 160°C/325°F if you're using a fan or convection oven). Line an 8×10-inch tin with baking paper, leaving some hanging over the edge for easy removal later on.

In a large bowl, mix together the flour, cocoa powder, baking powder and sugar.

Add the melted margarine and soy milk. Mix well until you have a smooth, thick batter.

Stir in the chocolate chips.

Transfer the thick batter to your lined tin and spread it out as evenly as you can.

Melt the Biscoff spread in the microwave (around 10-20 seconds) and drizzle it over the brownie batter. Place the Biscoff biscuits on top.

Let the brownies cool in the tin at room temperature for around 30 minutes, then transfer them to the fridge for 2 hours. This is an important step which allows the brownies to fully set.

When the 2 hours are up, remove the brownies from the tin and cut into 12 square slices.
Recipe Notes
Store in an airtight container in the fridge for up to 4 days.
Nutrition Facts
Vegan Biscoff Brownies (Eggless)
Amount Per Serving (1 Biscoff brownie)
Calories 348
Calories from Fat 135
% Daily Value*
Fat 15g23%
Sodium 108mg5%
Carbohydrates 47g16%
Protein 4g8%
* All values are an estimate only and will vary depending on the food brands used.
BakedByClo is a participant in the Amazon Services LLC Associates Program, an affiliate advertising program designed to provide a means for sites to earn advertising fees by advertising and linking to Amazon.com. This site may contain some of these links to Amazon.com & other affiliate programs. If you make a purchase through one of those links, BakedByClo will receive a small commission from the purchase at no additional cost to you.