20+ Sweet Vegan Cranberry Desserts
A collection of the best vegan cranberry desserts, with something to suit everyone's tastebuds. Recipes include treats such as scones, cakes, pies, cookies, cupcakes and more!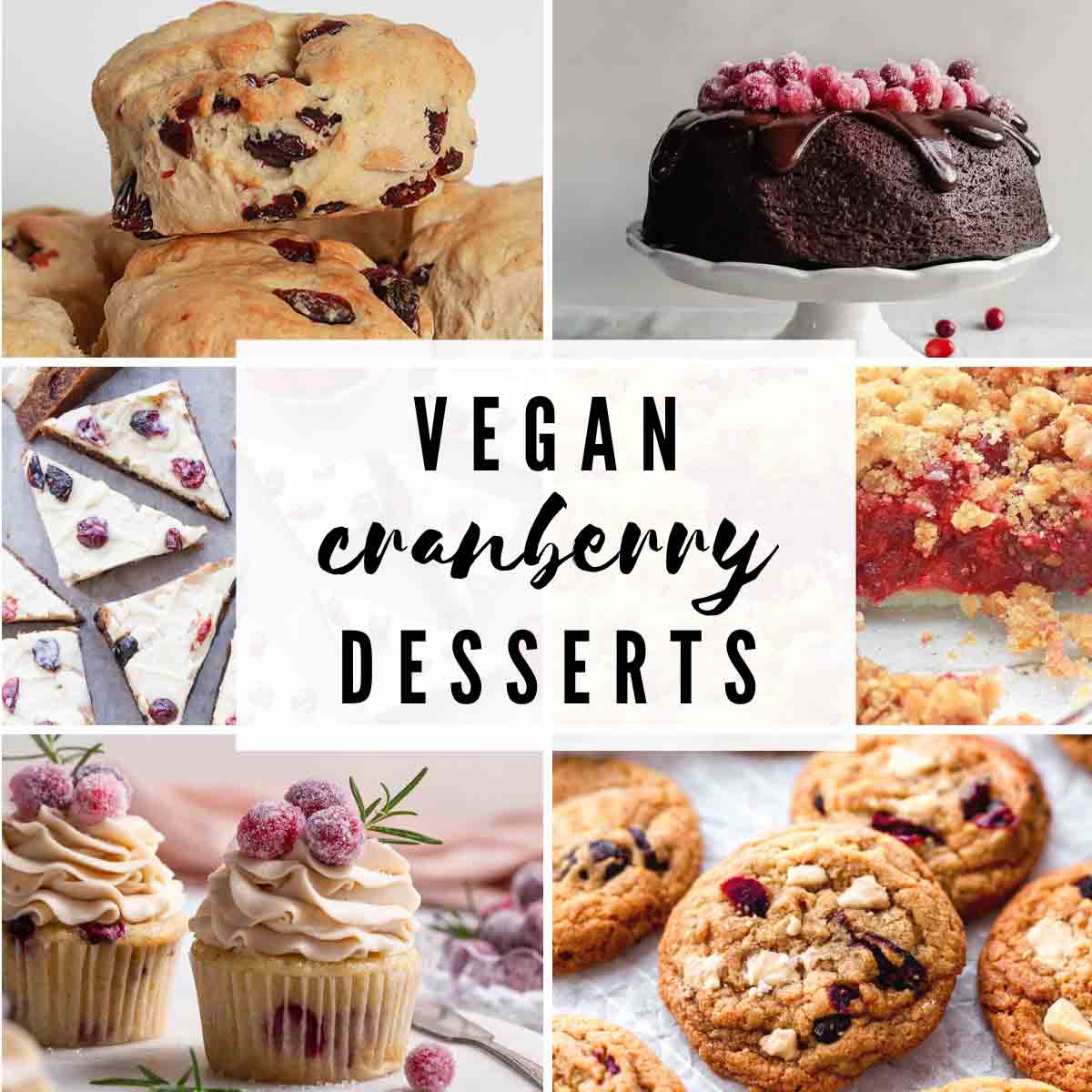 I don't know about you, but I've always had a soft spot for cranberry sweet treats during the Christmas season. However, when I first went vegan, finding tasty vegan cranberry desserts wasn't always easy. I distinctly remember ordering what was promised to be a "vegan cranberry traybake" at a cafe in 2017, only to be served a dry, crumbly piece of chocolate with a couple of dried cranberries scattered on top. Talk about disappointment!
Thankfully, the vegan dessert world is a lot more vast these days and people have gotten a lot more creative. Whether you're looking to whip up a batch of homemade cookies or want to make a vibrant, crowd-pleasing pie, I've got you covered with this roundup of cranberry dessert ideas. Many thanks to the other bloggers involved for letting me use your recipes!
The best vegan cranberry desserts
Without further ado, let's get to the recipes. To access your chosen recipe, simply click on the highlighted title and you'll be taken straight to the recipe page. Enjoy!
These cranberry scones would be perfect for a festive afternoon tea. Serve them warmed up with some vegan whipped cream and jam for a delicious treat.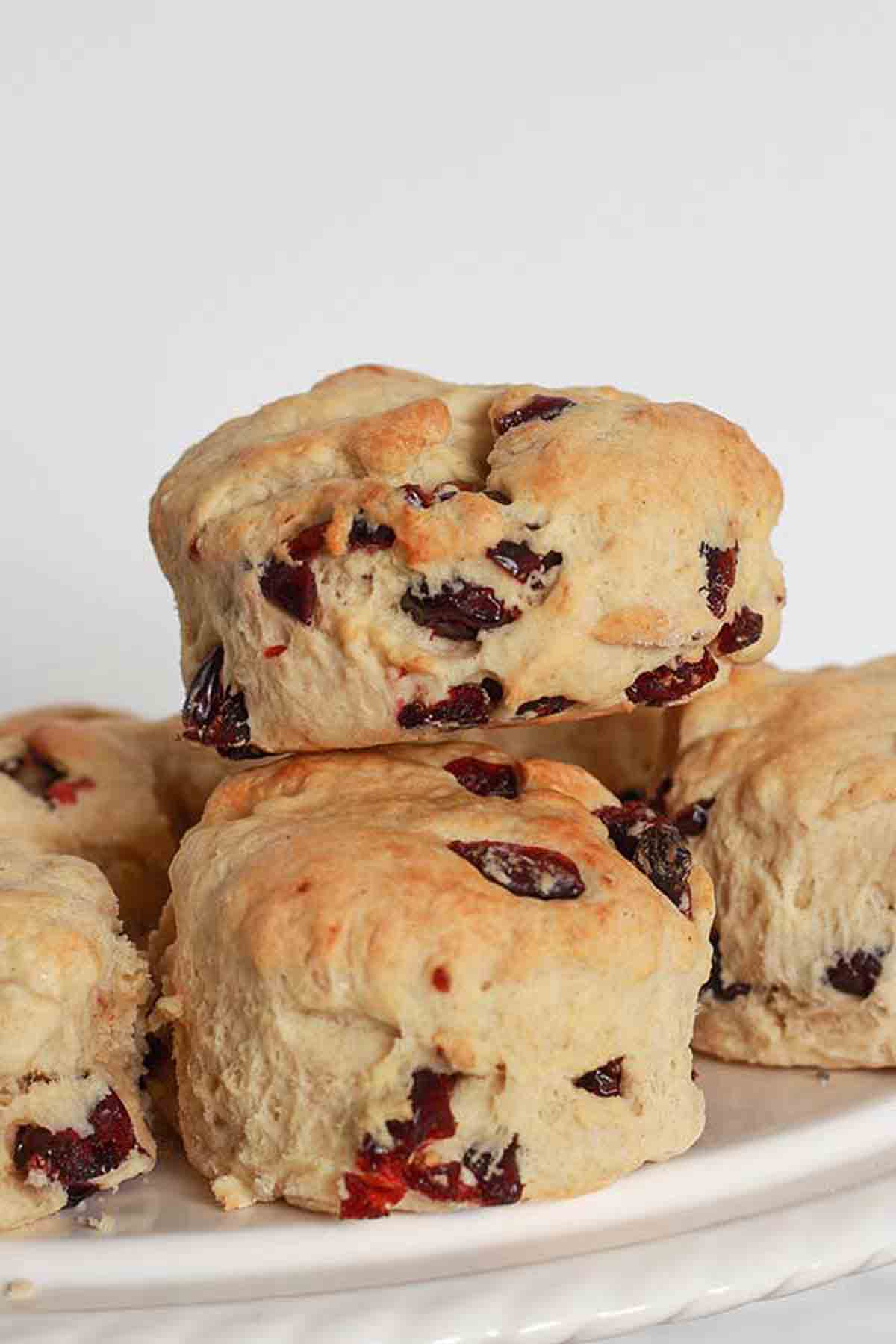 Italian biscotti but make it vegan and Christmassy! These biscotti slices are filled with orange zest and dried cranberries, then dipped in dairy-free white chocolate for an extra dose of sweetness.
These crunchy, 'buttery' shortbread rounds with dried cranberries are sure to be popular with the whole family. They're super easy to make with just 6 ingredients.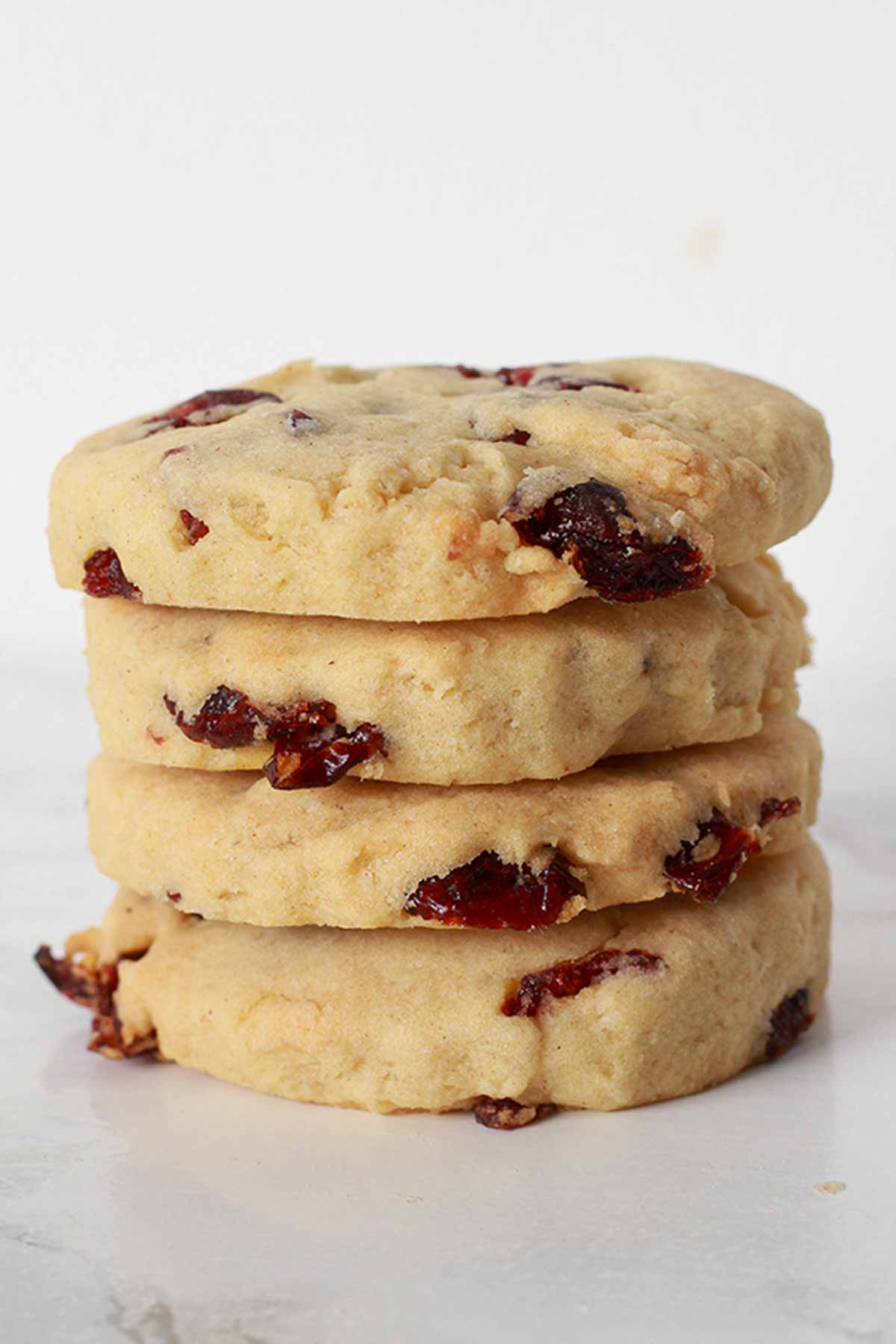 Light, fluffy, yet moist cranberry muffins that are ready to eat in less than an hour. This is one of my favourite vegan cranberry desserts to make- they're great for snacking on, adding to lunchboxes or enjoying as an on-the-go breakfast treat.
Use leftover cranberry sauce to make these tasty cranberry crumb bars. They're not only vegan, they're free from gluten and refined sugar too, meaning anyone can enjoy them regardless of dietary requirements.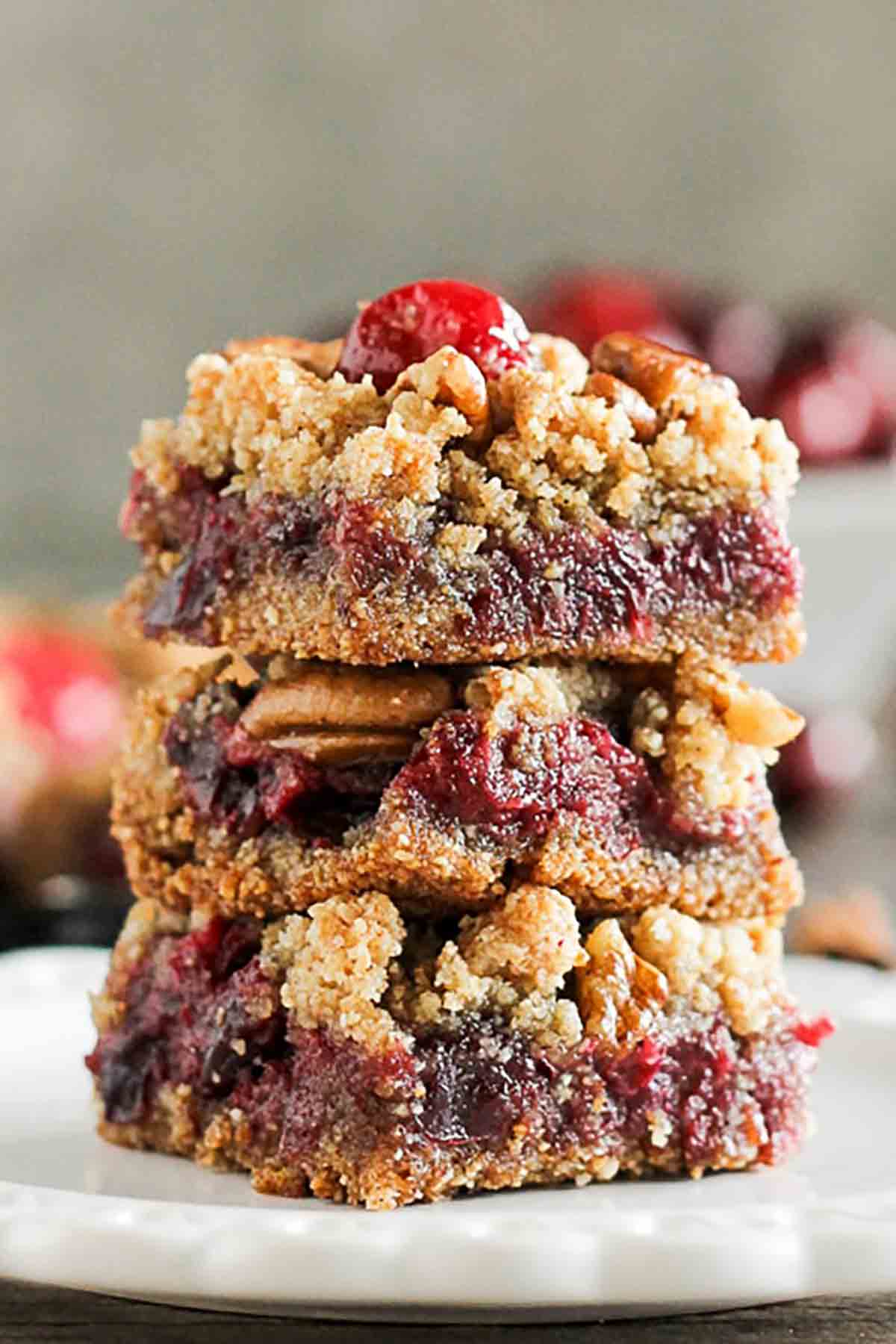 Tasty, chewy cookies packed with dairy-free chocolate chips and dried cranberries. An ideal dessert for Christmas time.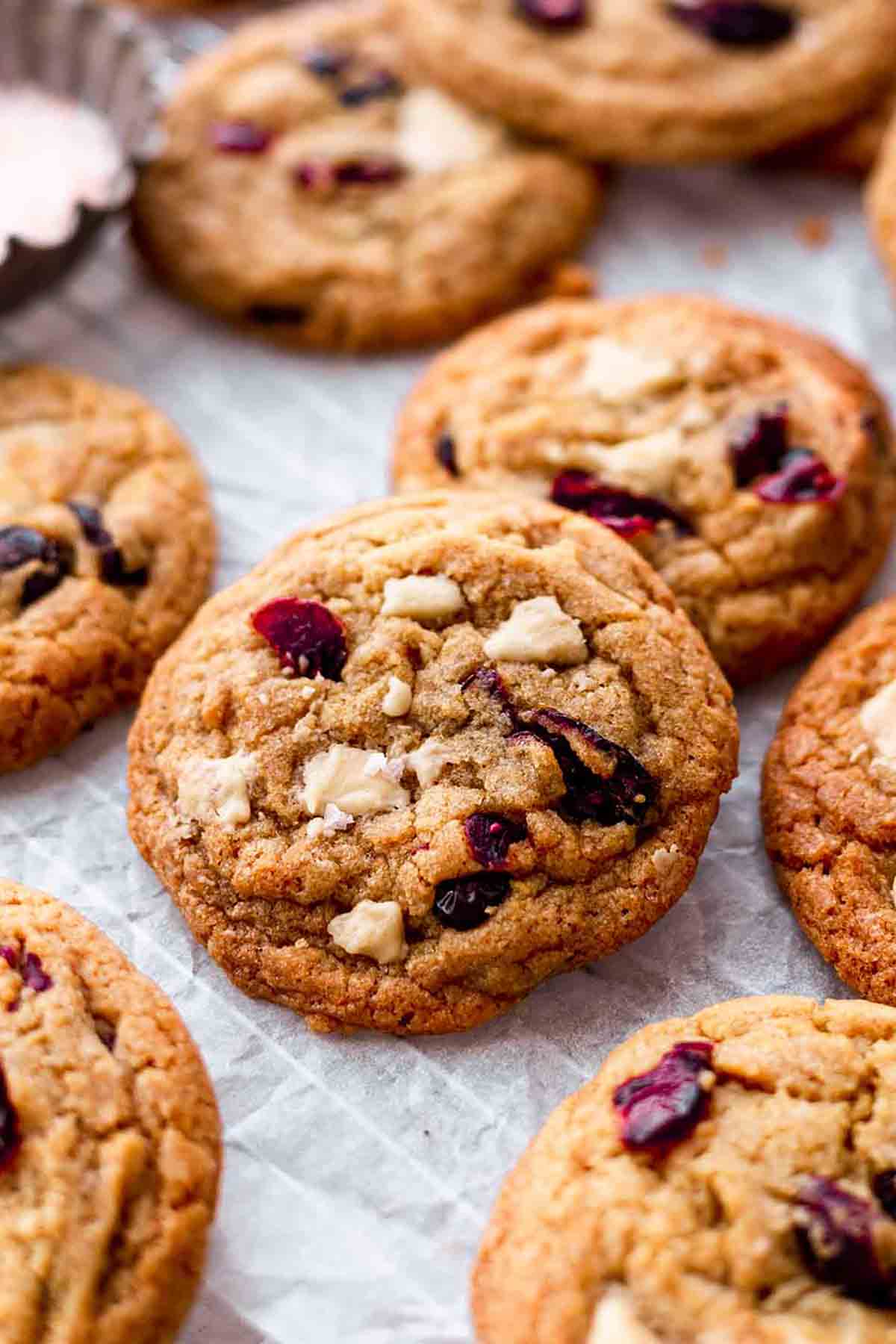 Vanilla coffee cake infused with fresh, tart cranberries and a crunchy streusel topping. This recipe serves up to 16 people so it's great for sharing.
These homemade bliss bars and loaded with cranberry, orange and white chocolate flavours. They're paleo, gluten-free and of course, vegan.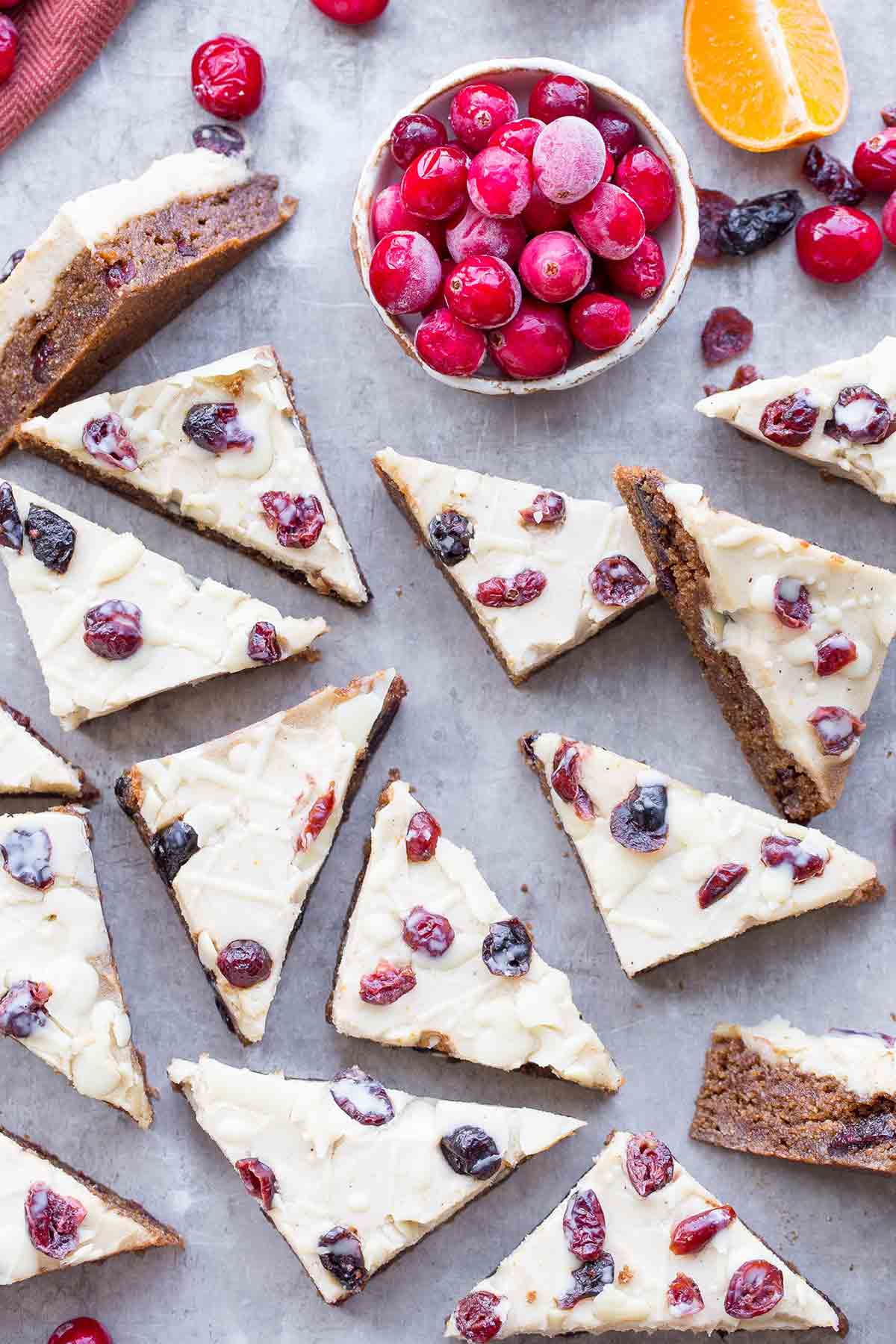 These muffins are the perfect blend of zesty, tart and sweet. They come together in just 25 minutes and are made with simple ingredients, making them a great bake for beginners in the kitchen.
Make room on the dessert table for this fresh cranberry streusel pie. It's the perfect balance of sweet and tart, and its vibrant colour makes it great for the festivities.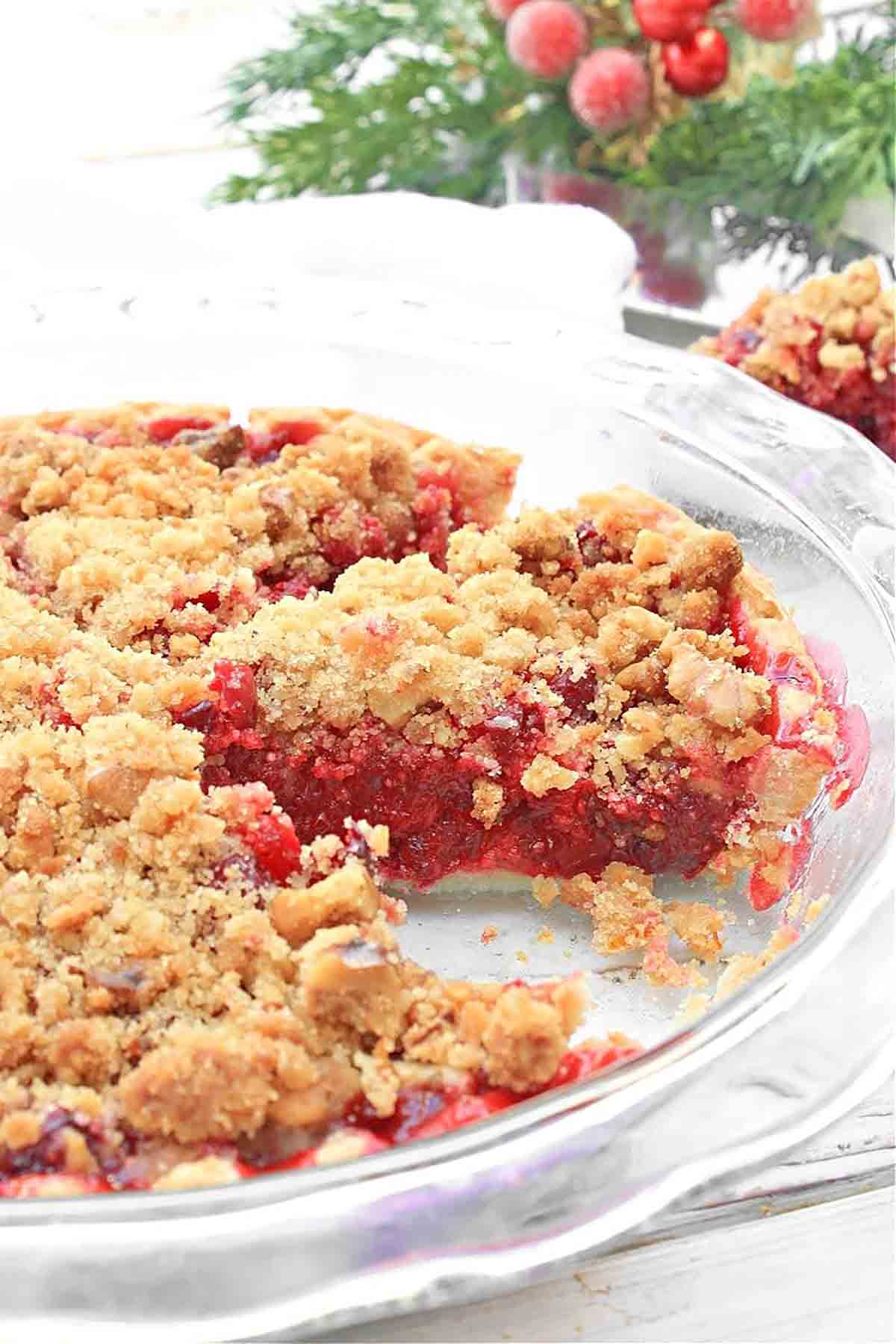 This sweet bread is tangy and soft, and tastes delicious served with a cup of coffee for breakfast! For those who wish to avoid oil, this is one of the best vegan cranberry desserts for you!
Sweet apples, tart cranberries, and fragrant vanilla and cosy cinnamon come together to make this delicious crisp. It's a dessert that everyone will love, regardless if they're vegan or not.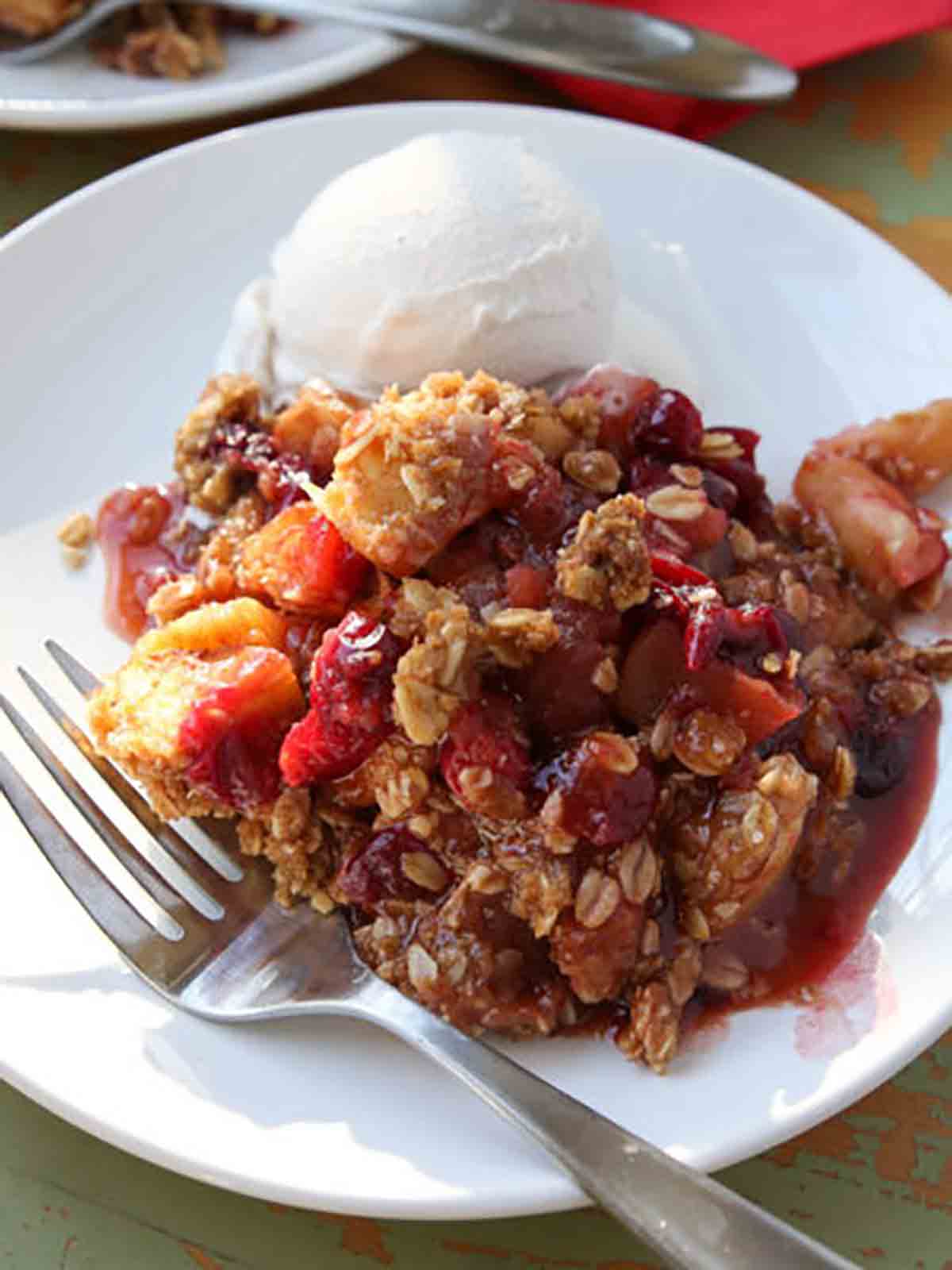 These cranberry bars are made with nutritious ingredients such as dates, seeds and nuts. So healthy that you can enjoy them for breakfast!
Rich dark chocolate mixed with crunchy almonds, dried cranberries and a touch of sea salt. These make a great healthy treat that will satisfy your sweet tooth.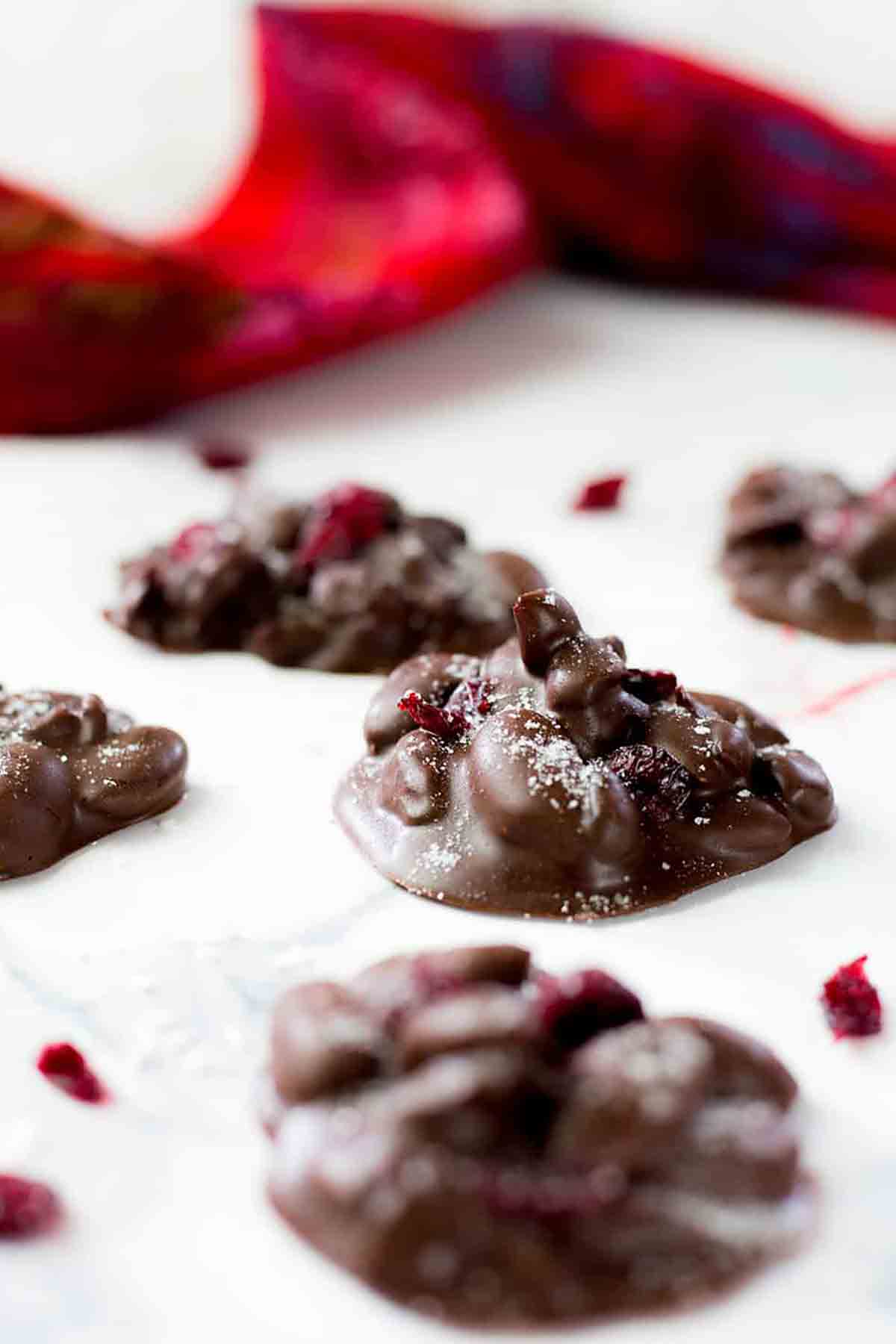 Made with chopped apples and a sweet cranberry glaze, these scones are a must-try recipe this festive season! Enjoy them for breakfast, dessert, or as a sweet snack.
How impressive does this cranberry chocolate fudge cake look?! The cake itself has fresh cranberries inside and the candied cranberries on top add an extra festive touch.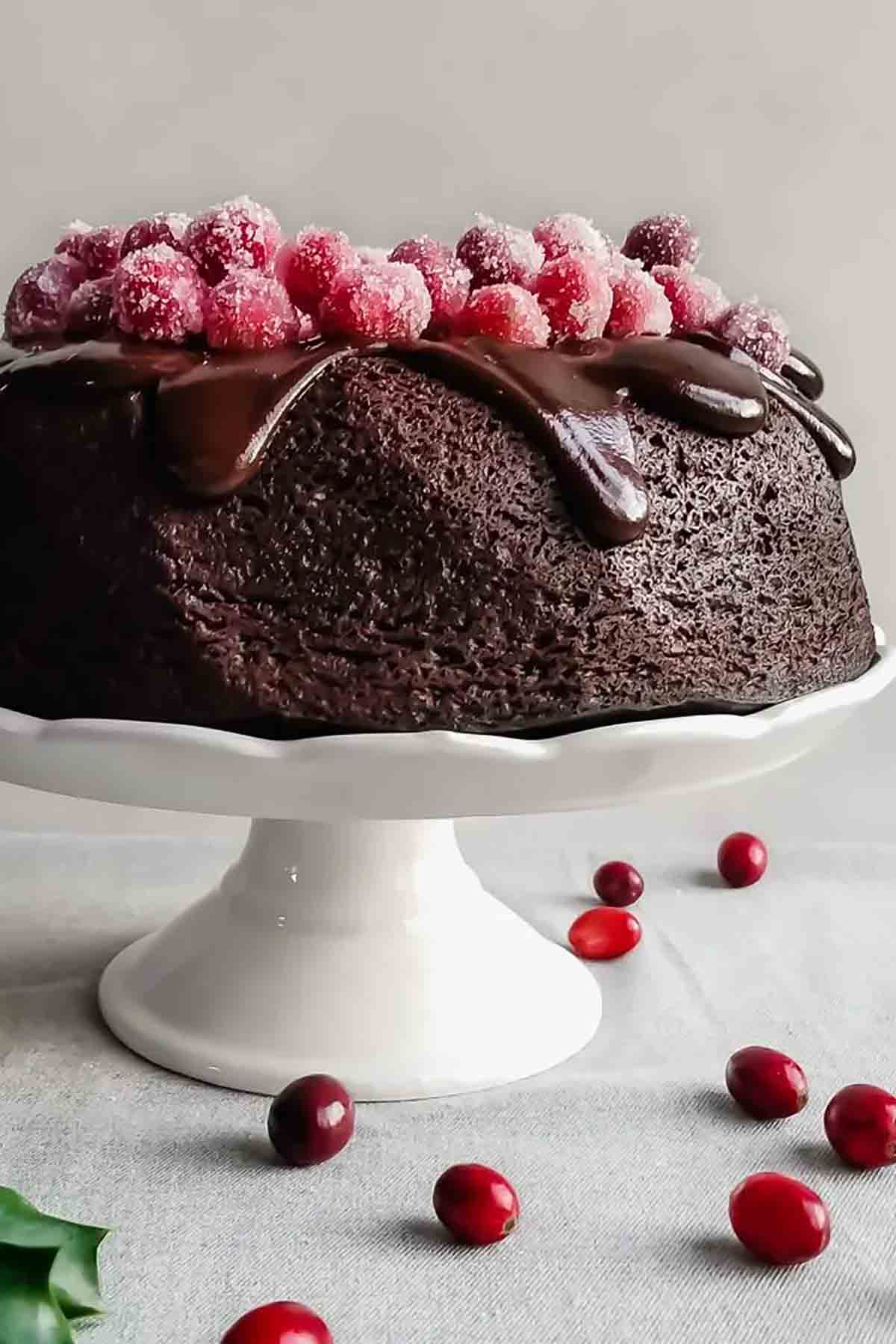 These lightly sweetened muffins are made with olive oil and yoghurt, making them super moist and flavourful. They're a great way to use seasonal produce in the colder months.
For anyone on a low-carb or refined sugar-free diet, this is the dessert for you! These chocolate cranberry fat bombs contain just 6 ingredients and you'll only need 15 minutes of prep time to make them.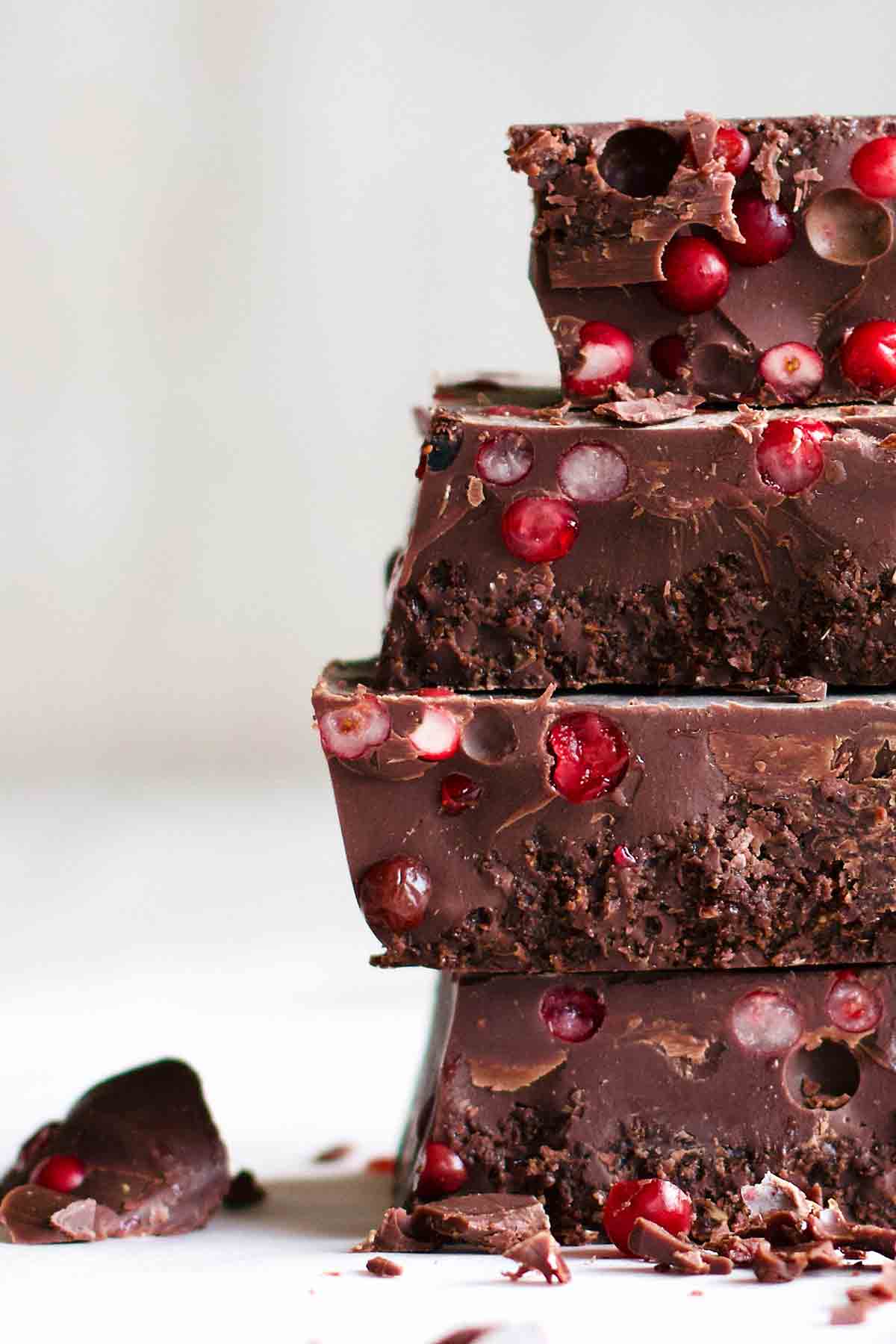 Chunky oatmeal cookies with cranberries and dark chocolate throughout. They're gluten-free, soy-free and refined sugar-free too- how's that for a healthy treat?!
The gluten-free cranberry coffee cake muffins are a great way to take advantage of cranberry season. They're light and fluffy and topped with a crunchy cinnamon topping.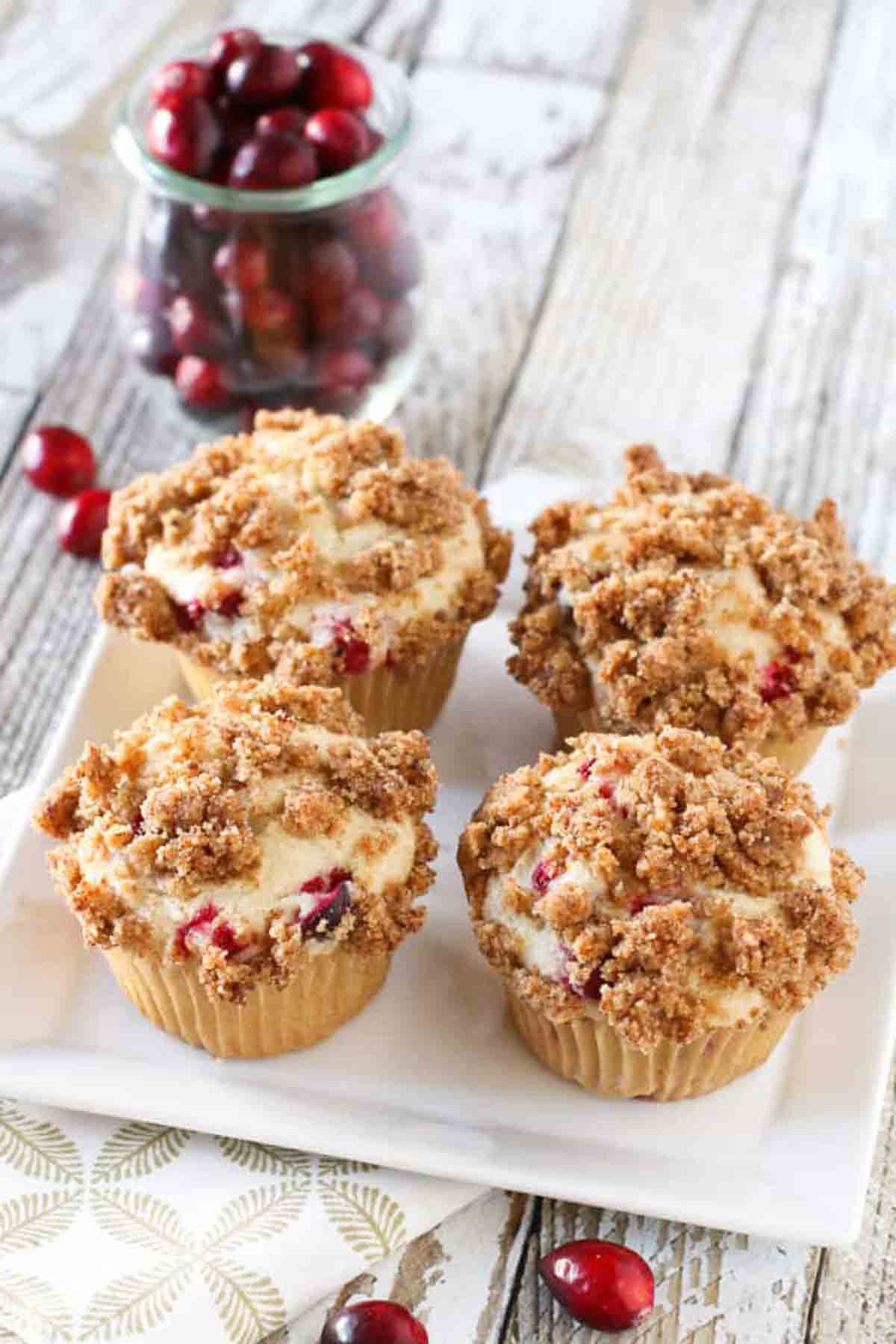 Buckle is a fruity cake with a crumbly streusel topping. It's usually made with blueberries, but this one is made with gingerbread and fresh cranberry flavours. Serve with some vegan vanilla ice cream for a comforting dessert that will see you through the winter.
This cranberry tart is a bold and vibrant dessert that would make a lovely addition to any party or gathering. It's free from gluten and there's no baking required.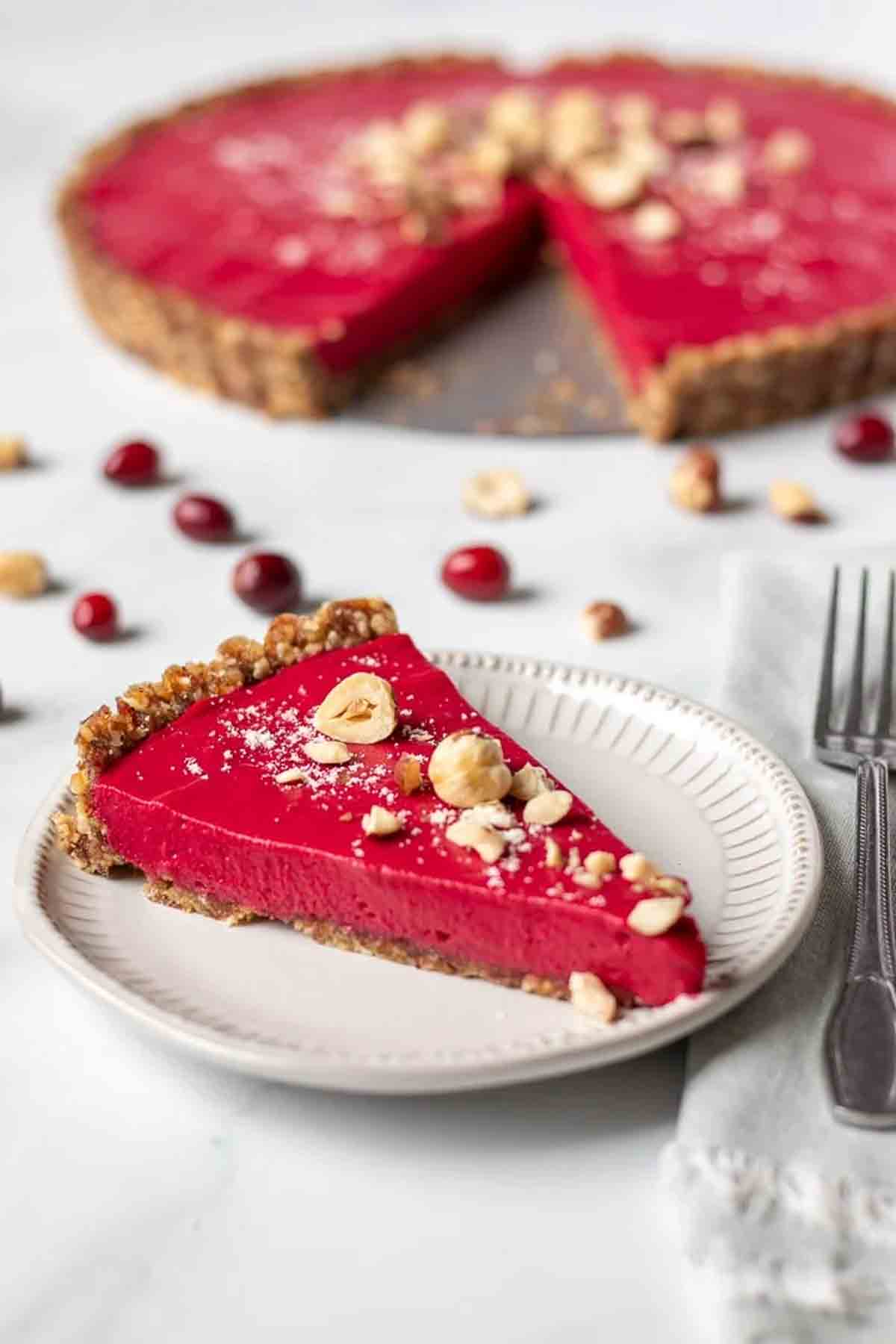 These gorgeous cupcakes are infused with orange zest, a little ginger, and tart cranberries. Top them off with some fluffy brown sugar buttercream for a simple yet elegant dessert.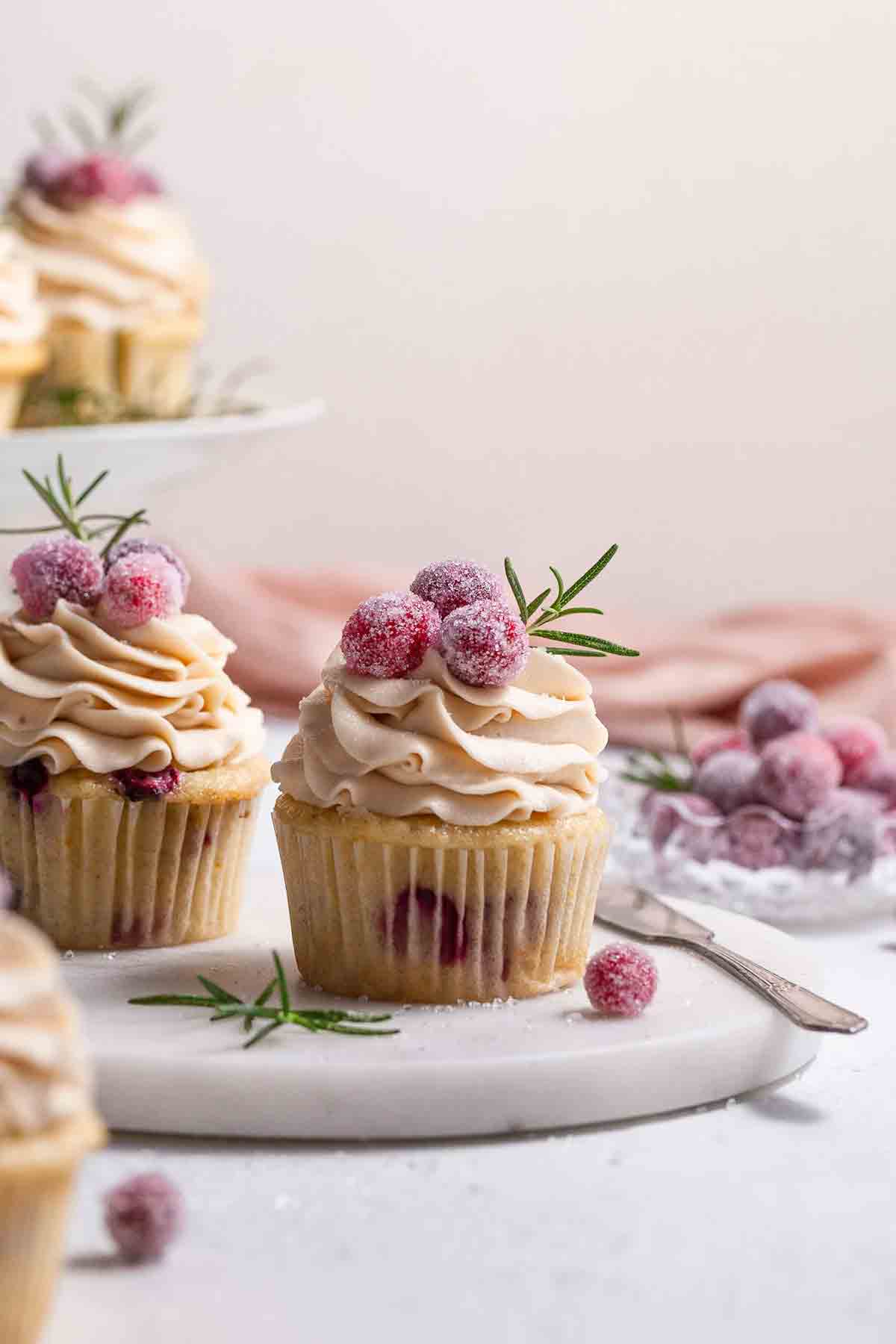 I hope you like these vegan cranberry desserts. If you find this post useful, please give it a share using the share buttons on this page. Enjoy! xo

20+ BEST Vegan Cranberry Desserts
The best cranberry dessert recipes, made without eggs or dairy.
BakedByClo is a participant in the Amazon Services LLC Associates Program, an affiliate advertising program designed to provide a means for sites to earn advertising fees by advertising and linking to Amazon.com. This site may contain some of these links to Amazon.com & other affiliate programs. If you make a purchase through one of those links, BakedByClo will receive a small commission from the purchase at no additional cost to you.