20 Easy Vegan Single Serve Desserts
Looking for the best vegan single serve desserts to make for 1 person? This post will help you out! It contains 20 tasty recipes, including healthy recipes and allergy-friendly options.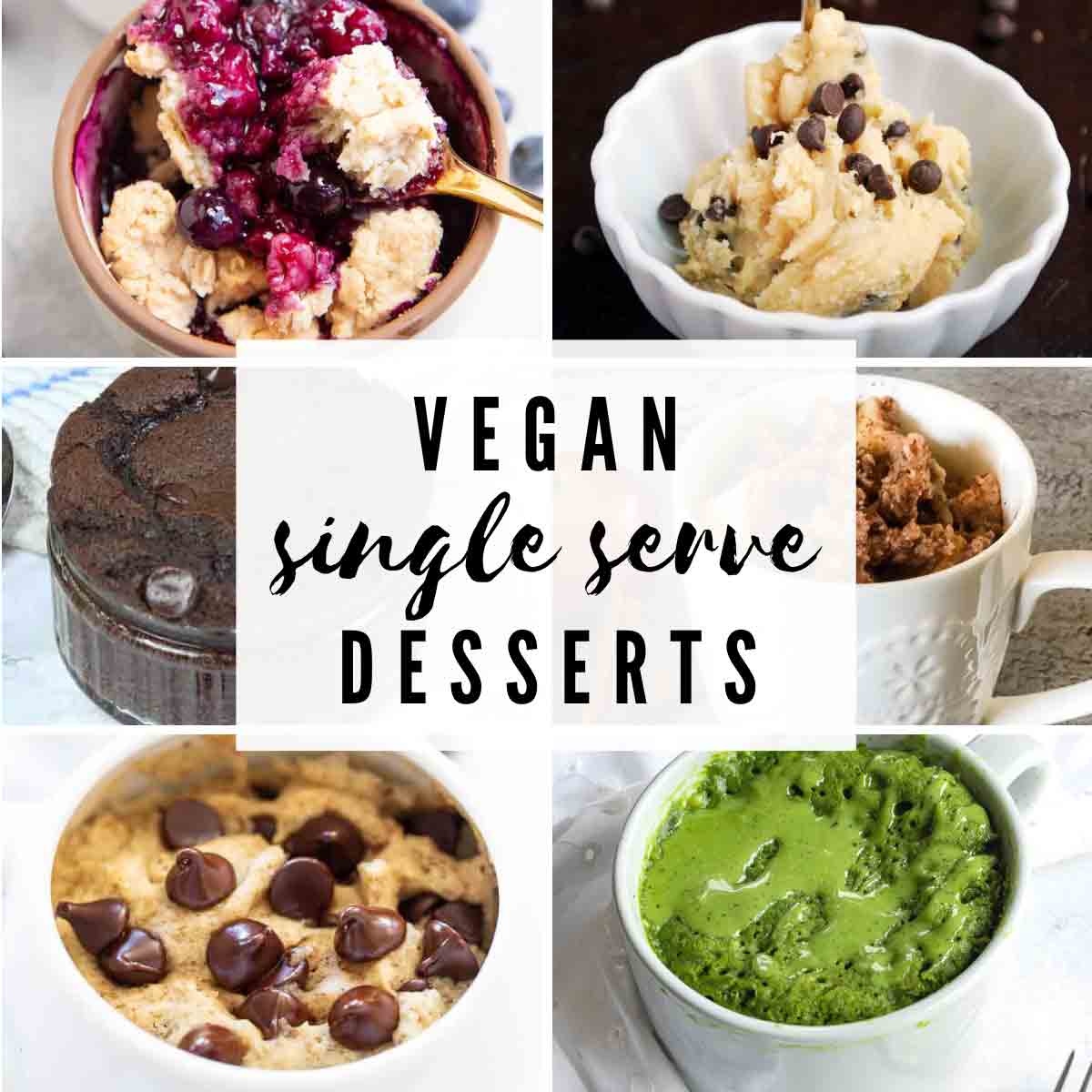 Have you ever been sitting home alone in the evening, craving dessert but you don't want to commit to an entire cake or batch of cookies? I've been there many times! I mean, who wants to deal with a big pile of dishes and the temptation of leftover sweet treats when you could just *not*?
Making single serving desserts means that you have just the right amount for 1 person, and most of the time they take just minutes to make and there's very little cleaning up to do.
So whether you live alone and prefer not to make a large batch of cookies or cake, or you simply want to make a healthy vegan single serve dessert, then these recipes are sure to satisfy all of your cravings. I hope you enjoy them.
The BEST vegan single serve desserts
Without further ado, let's get to the recipes. To access the full recipe, simply click on the highlighted title and you'll be taken directly to the correct page.
One of the easiest, most simple vegan single serve desserts you'll ever try! It's soft and fluffy, with a dash of rainbow sprinkles on top for extra colour and flavour. Super cute and ready in less than 5 minutes.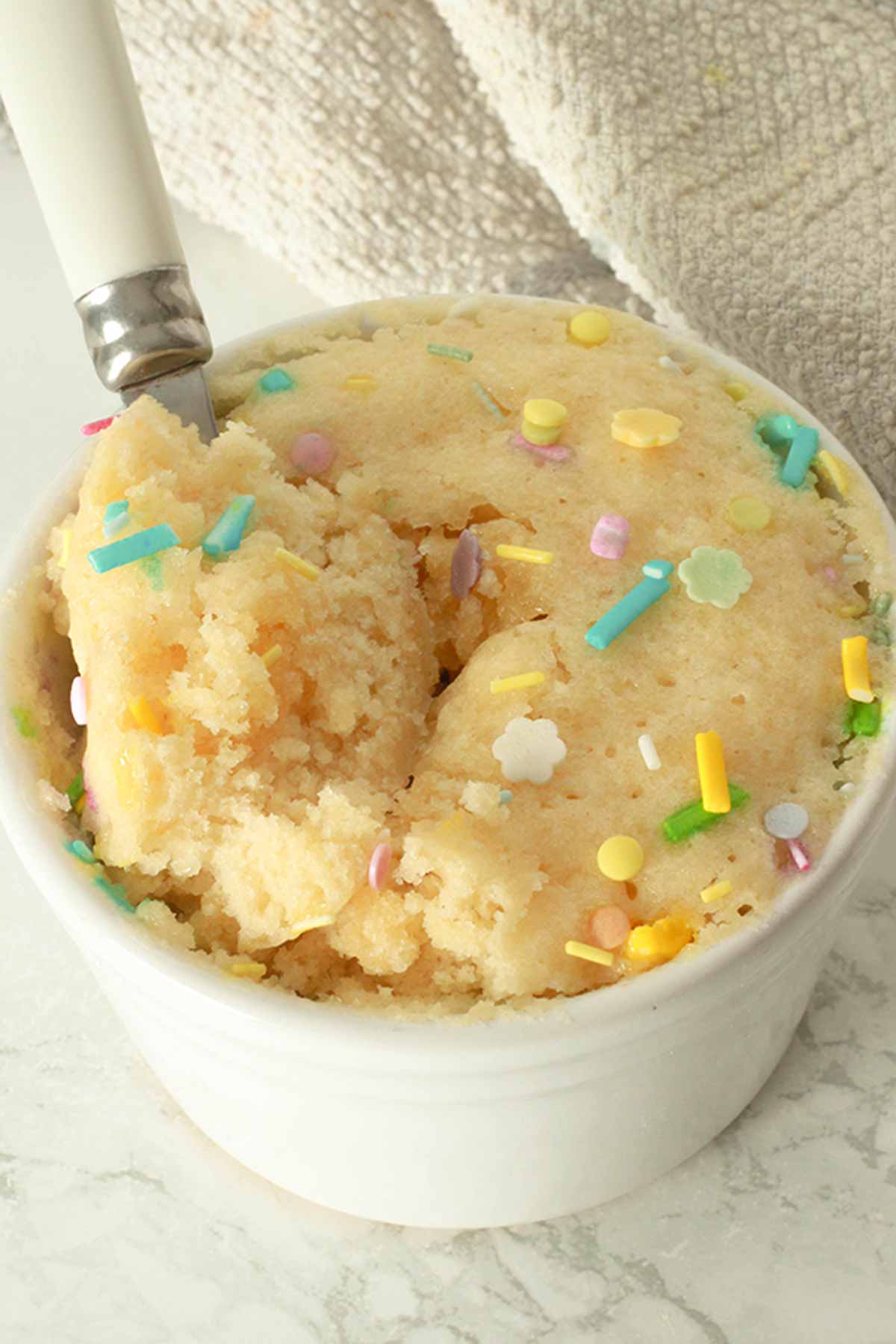 Who doesn't love red velvet cake? Now you can enjoy it in single serving size with this recipe! It's bold and vibrant, with hints of chocolate and vanilla, and is packed with dairy-free white chocolate chunks for a gorgeous contrast.
Gingerbread isn't just for Christmas; this mug cake can be enjoyed all year round! It's filled with warming spices such as ginger and cinnamon and it has an optional sweet icing glaze for the topping.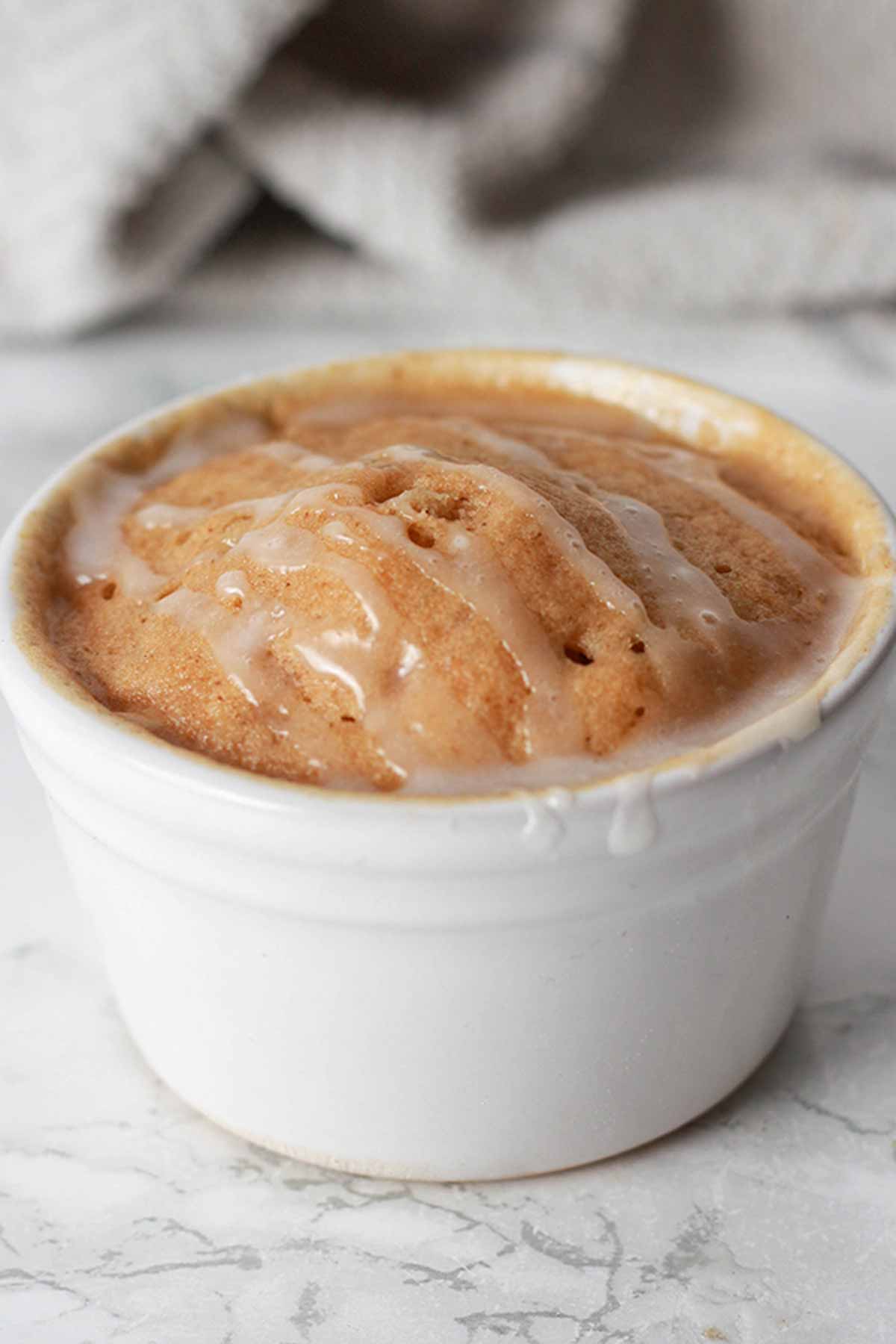 Chocolate mug cake was the first vegan single serve dessert I ever made and I've been hooked ever since! All you need to make it is a teaspoon, a mug or ramekin, and just 7 simple ingredients.
If you love fudgy, gooey chocolate brownies then this is the recipe for you! Serve it immediately with a scoop of dairy-free ice cream for a tasty treat that you'll want to make again and again.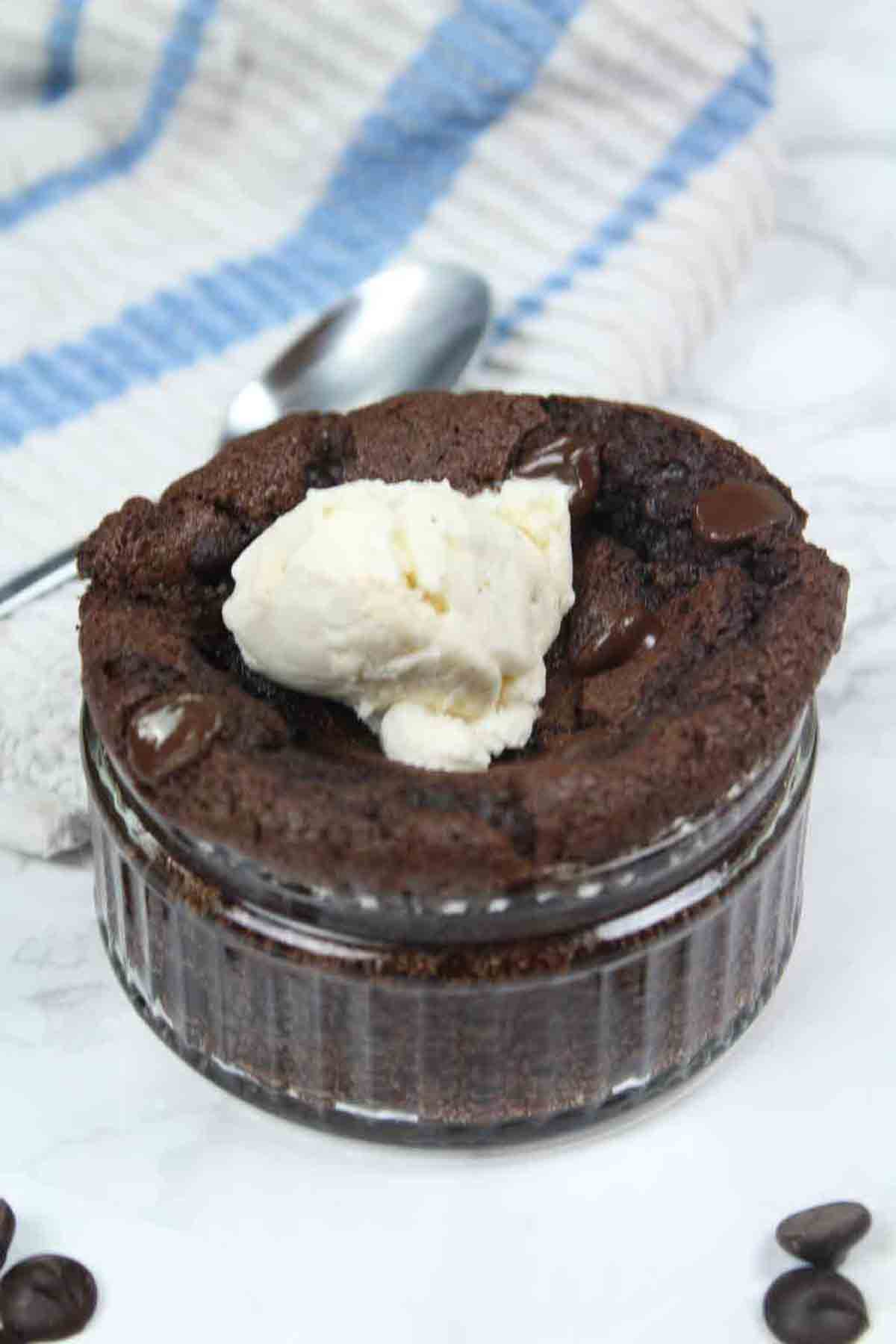 This is a must try recipe for all of you peanut butter lovers out there. It's super gooey and decadent and it takes just a few minutes to make.
Fresh blueberry flavour meets a buttery, crumbly cobbler topping. This dessert is not only vegan, it's gluten-free and refined sugar-free too. Perfect for cosy nights in.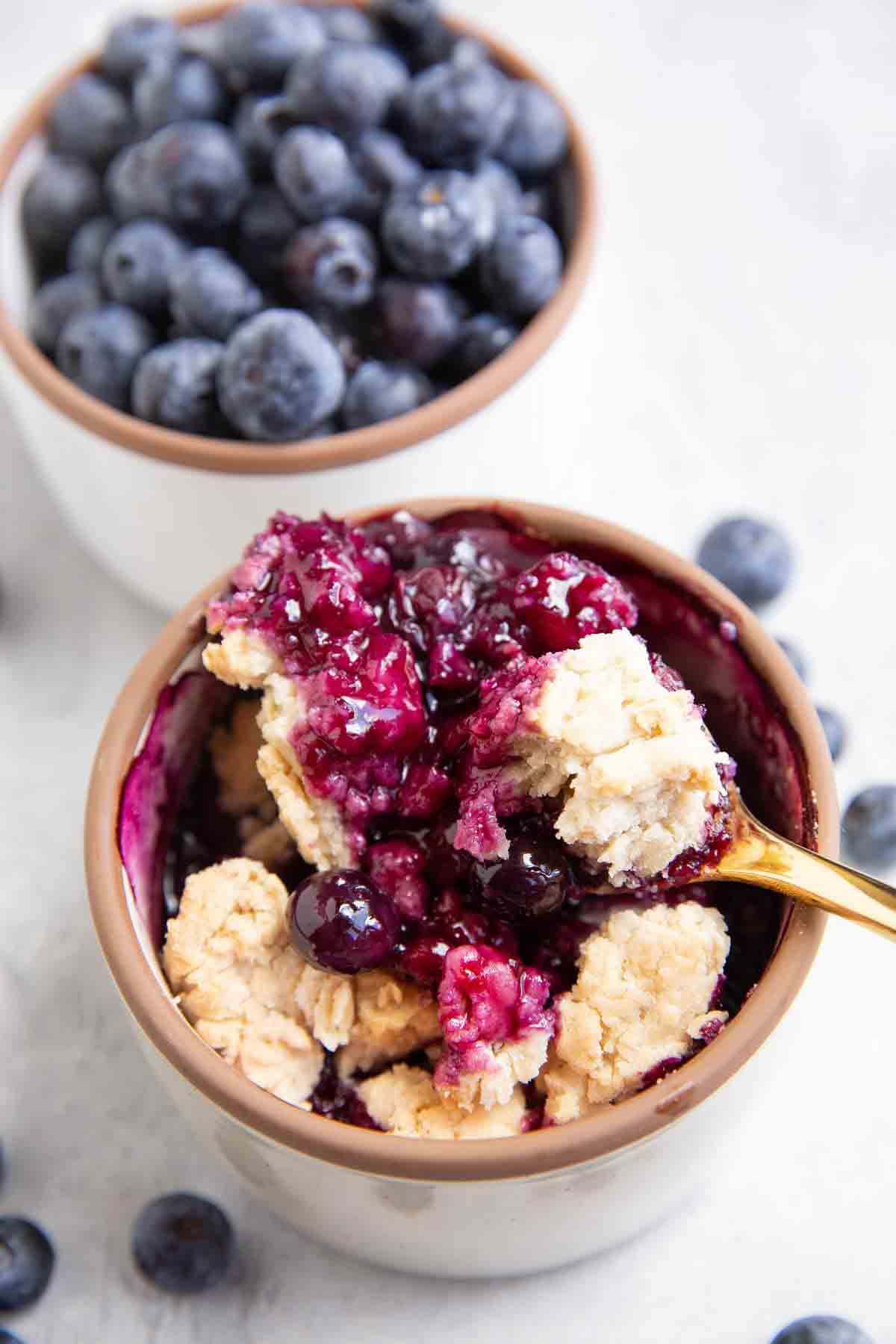 Turn classic pumpkin loaf into a mini vegan dessert with this easy recipe. It's made with simple ingredients and takes just a few minutes to make.
This single serving cookie dough is sure to satisfy your sweet tooth. It's naturally sweetened and there's no baking required.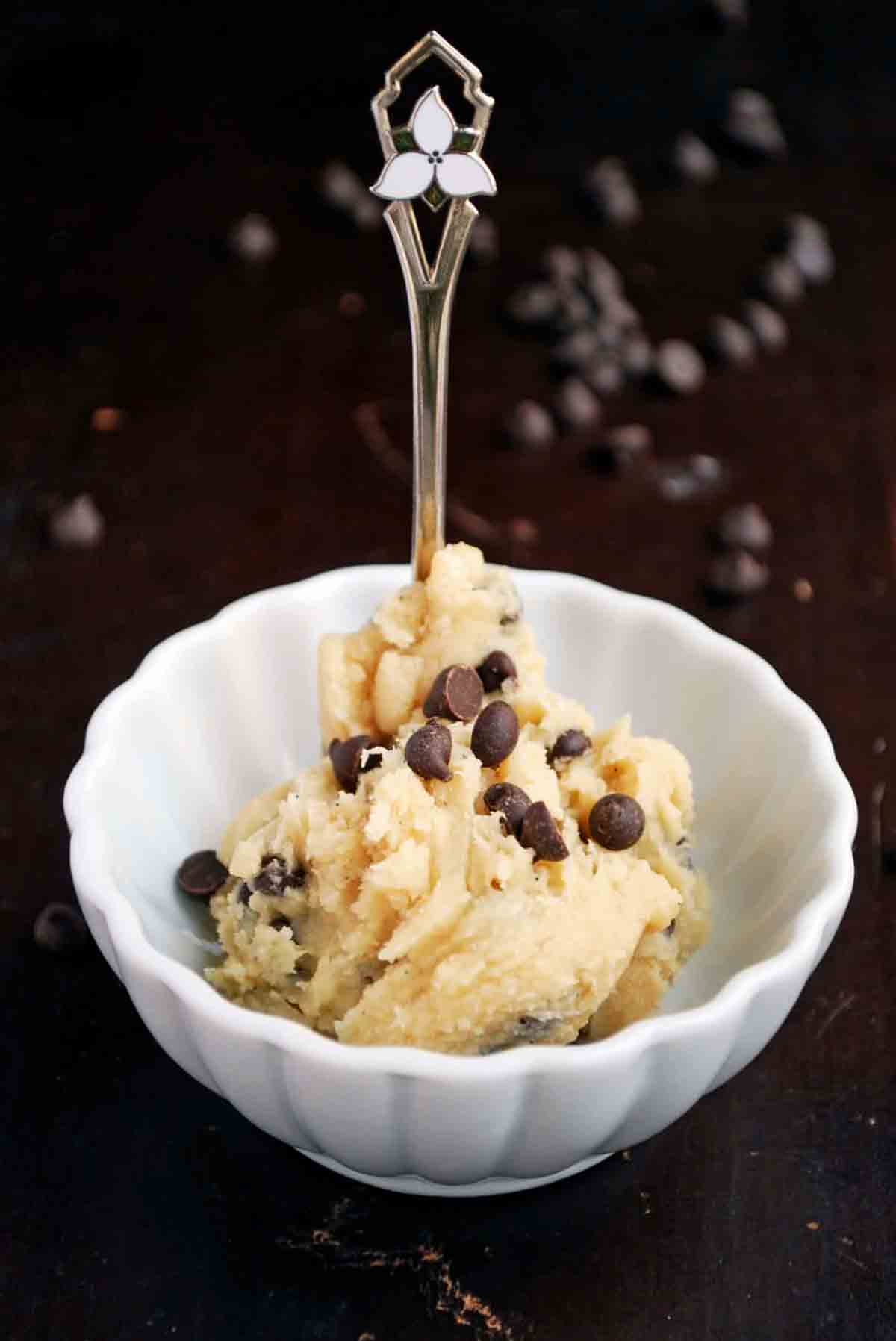 Have you ever fancied a cookie but don't trust yourself not to eat the whole batch in one go? Me neither. This single chocolate chip cookie is the answer! Enjoy it warm straight from the oven for a delicious and comforting dessert.
Related post: Vegan mug cake recipes
Go from zero to cookie in minutes with this clever mug cookie recipe. Made with simple ingredients and packed with dairy-free chocolate chips, this is sure to be a new favourite.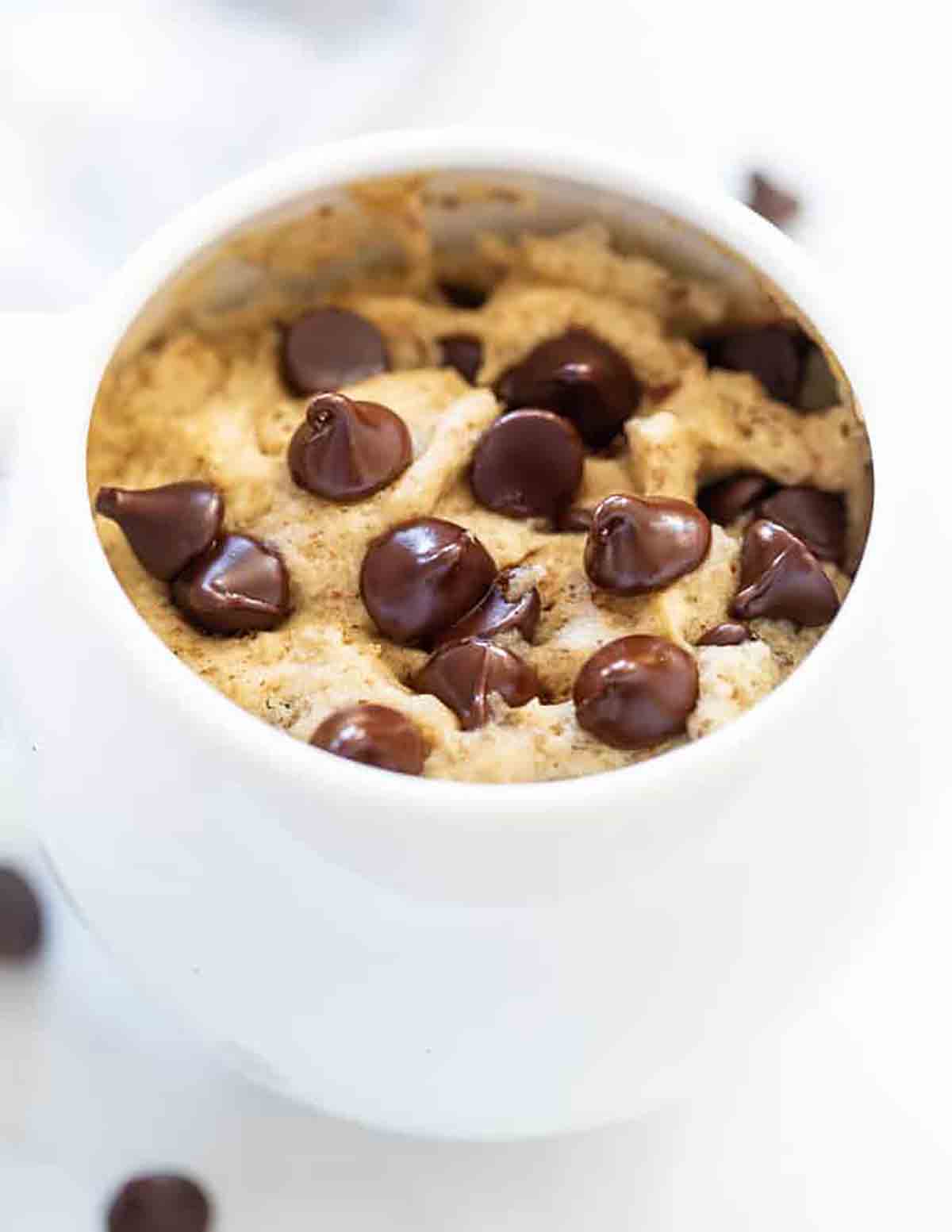 A fluffy chocolate cake with a rich molten chocolate centre. Top this decadent dessert with a dusting of cacao powder and a little vegan vanilla ice cream.
Forget the campfire, now you can make smores the lazy way in the microwave! This 3-ingredient recipe is free from the top 8 allergens, making it the perfect treat for those with allergies.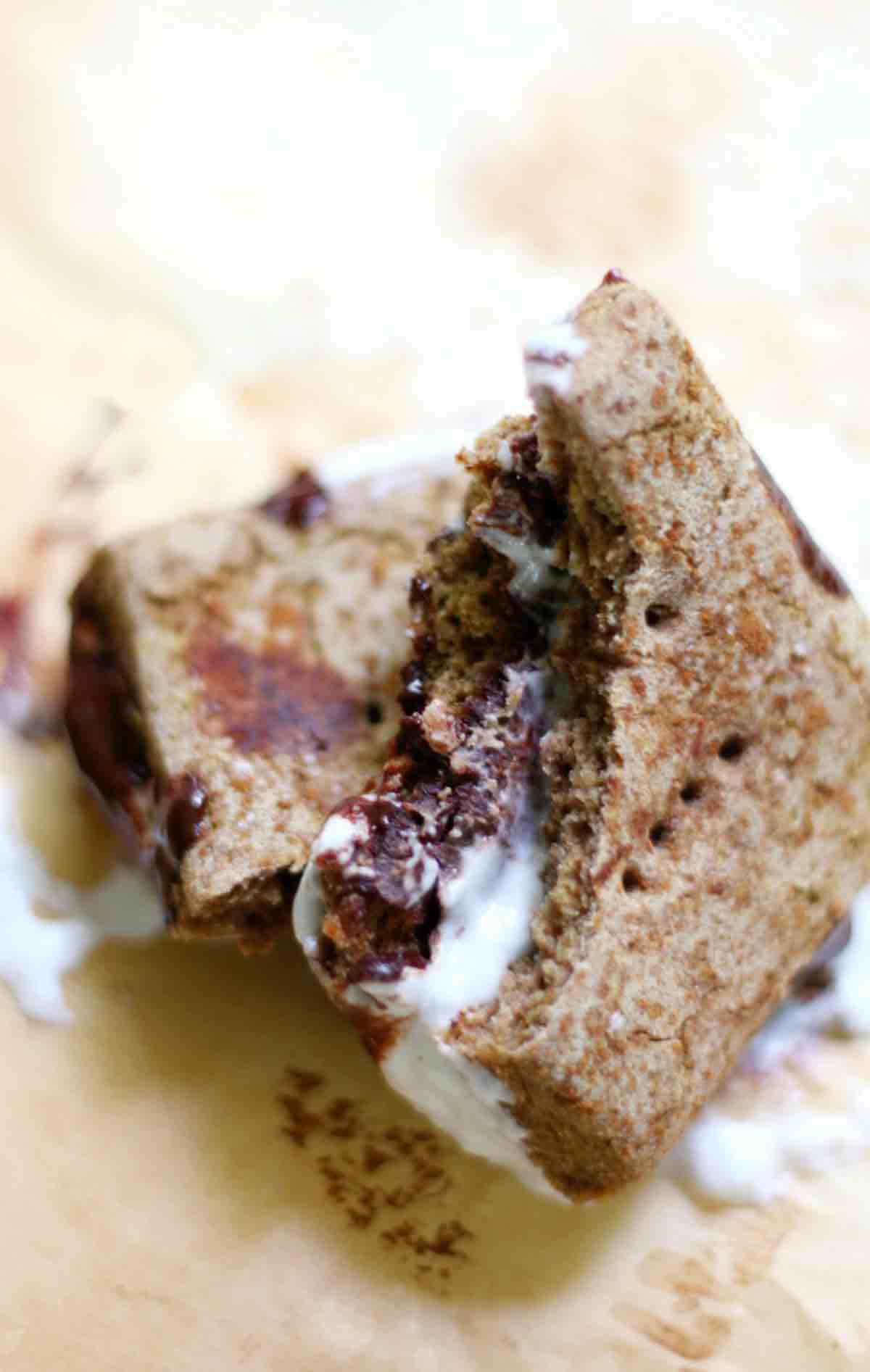 If you don't feel like cooking up a whole stack of pancakes for breakfast, try this easy mug version instead. It's soft, fluffy and filling, and can be served with your toppings of choice.
This cinnamon roll is the perfect dessert to keep you warm during the colder months. It takes just 15 minutes to cook so it couldn't be easier!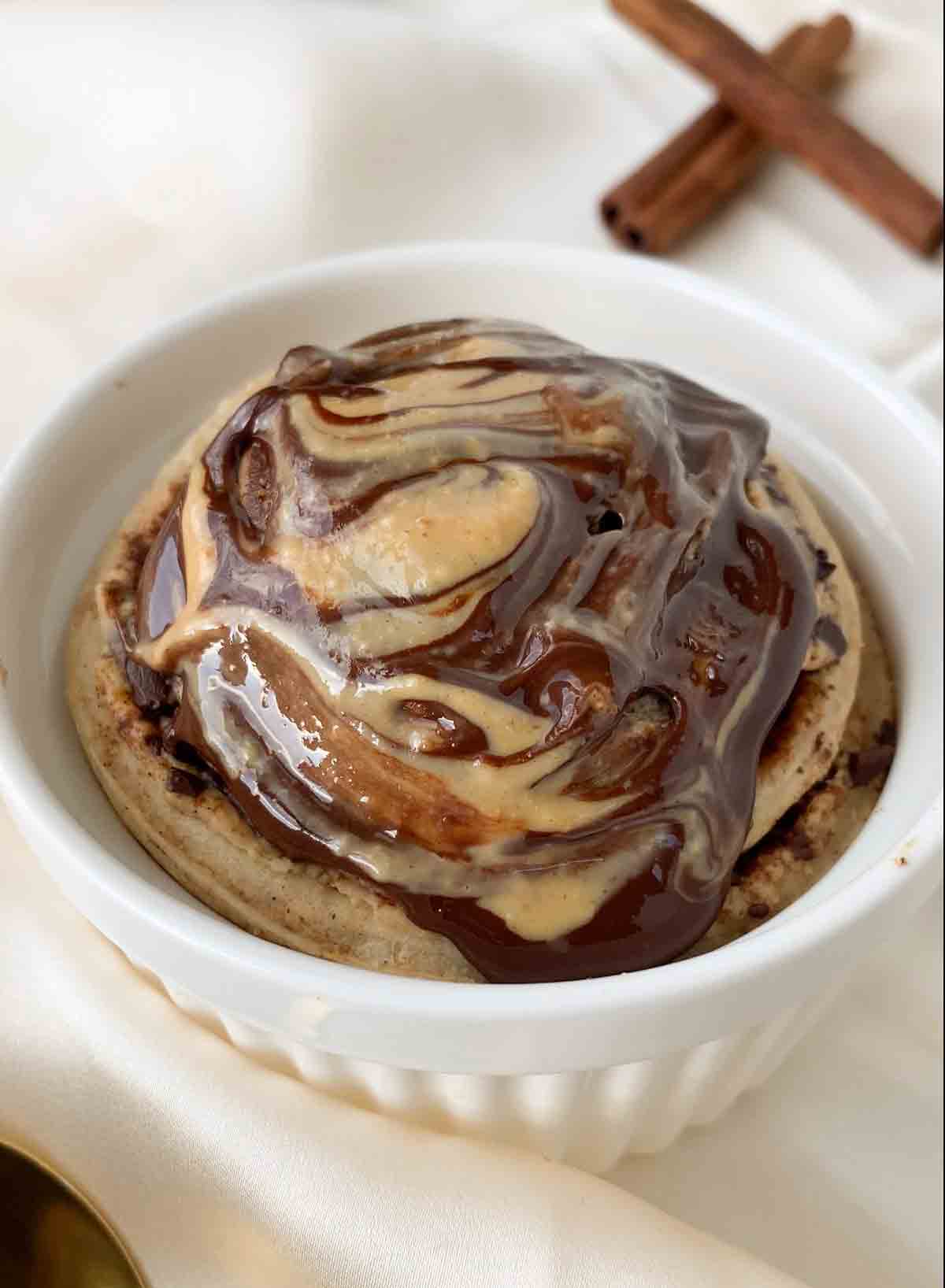 This edible brownie batter is gluten-free, paleo-friendly and keto. It's also high in protein and healthy fats, meaning you can enjoy it at any time of day, even for breakfast!
If you love matcha then you'll love this matcha mug cake. This bold, vibrant treat makes a great breakfast or dessert.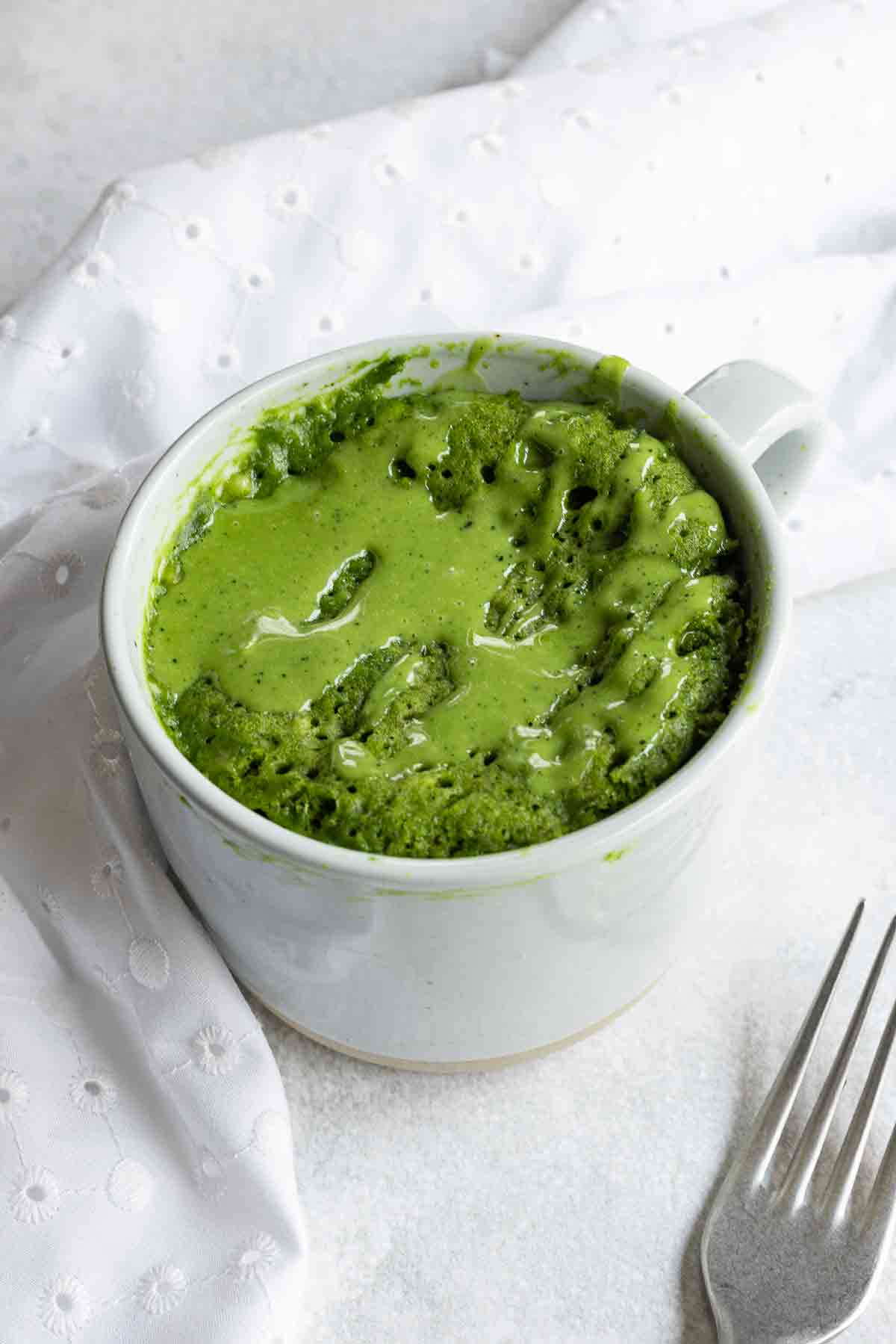 This healthy vegan single serve dessert is made using ingredients like oats and pea protein, meaning it's packed full of protein and fibre. It's light and fluffy and tastes just like a chocolate chip muffin!
Gluten-free apple cobbler without refined sugar? Sign me up! This cosy vegan single serve dessert contains less than 10 ingredients and it takes just a few minutes of prep time.
For those of you looking for a healthy vegan single serve dessert, this is for you. A cute and dainty chocolate cake made with wholesome ingredients and ready to eat in less than 30 minutes.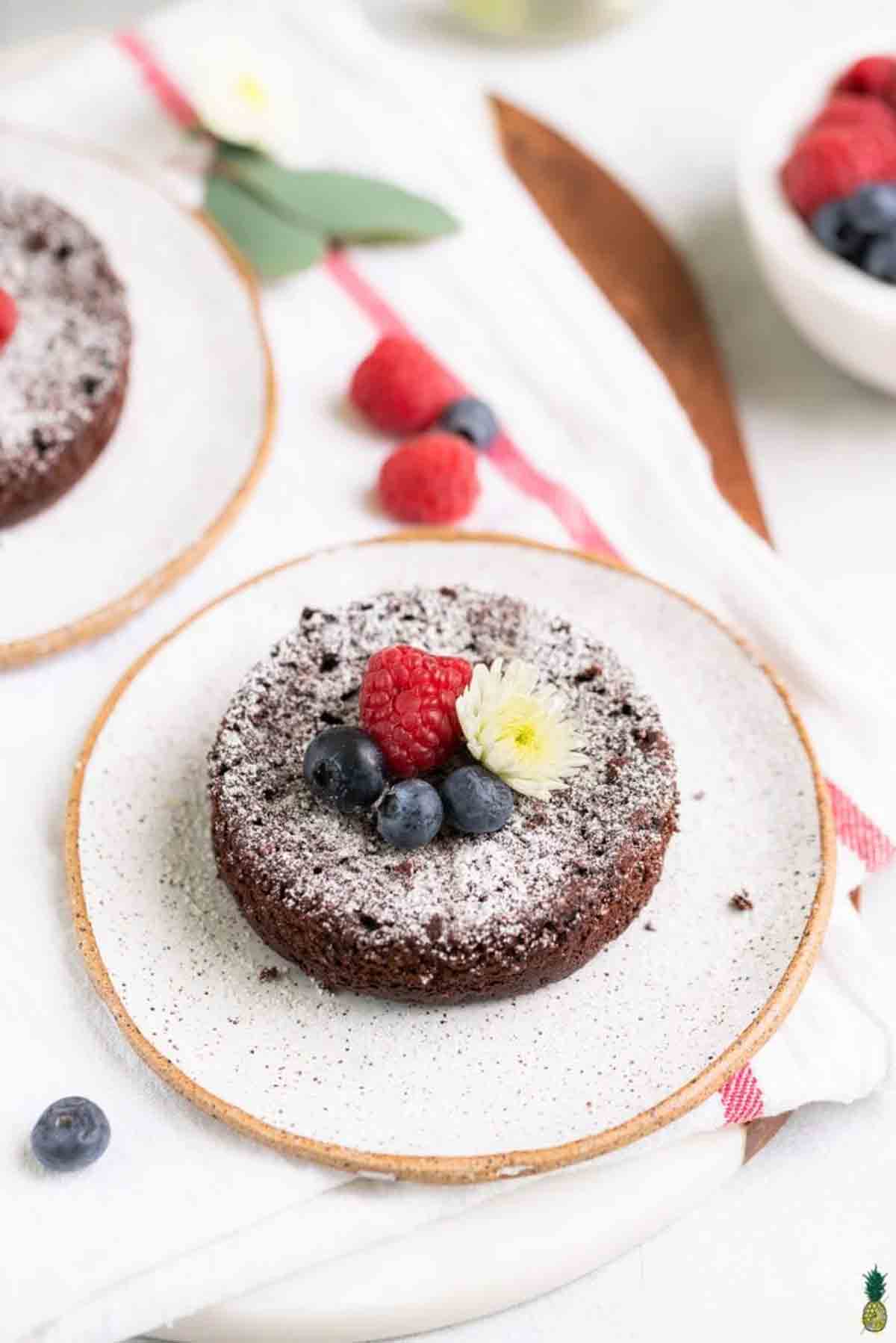 That's all for now! I hope you like these vegan single serve desserts. If you find this post useful, please give it a share using the share buttons on this page. Enjoy! xo

20 EASY Vegan Single Serve Desserts
Easy single serving dessert recipes including healthy and allergy-friendly options.
BakedByClo is a participant in the Amazon Services LLC Associates Program, an affiliate advertising program designed to provide a means for sites to earn advertising fees by advertising and linking to Amazon.com. This site may contain some of these links to Amazon.com & other affiliate programs. If you make a purchase through one of those links, BakedByClo will receive a small commission from the purchase at no additional cost to you.