30+ BEST Vegan Halloween Sweets, Chocolate & Treats To Buy In 2023
Wondering what sweet treats and chocolate the UK supermarkets have for Halloween 2023? This post is here to help! Here you'll find over 30 of the best vegan Halloween sweets and treats to buy from M&S, Sainsbury's and more! The list contains vegan Halloween chocolate, gummy snacks and even plant-based trick-or-treat sweets. There is something for everyone, including toffee apples, chocolate pumpkins, cupcakes and more. I hope you enjoy!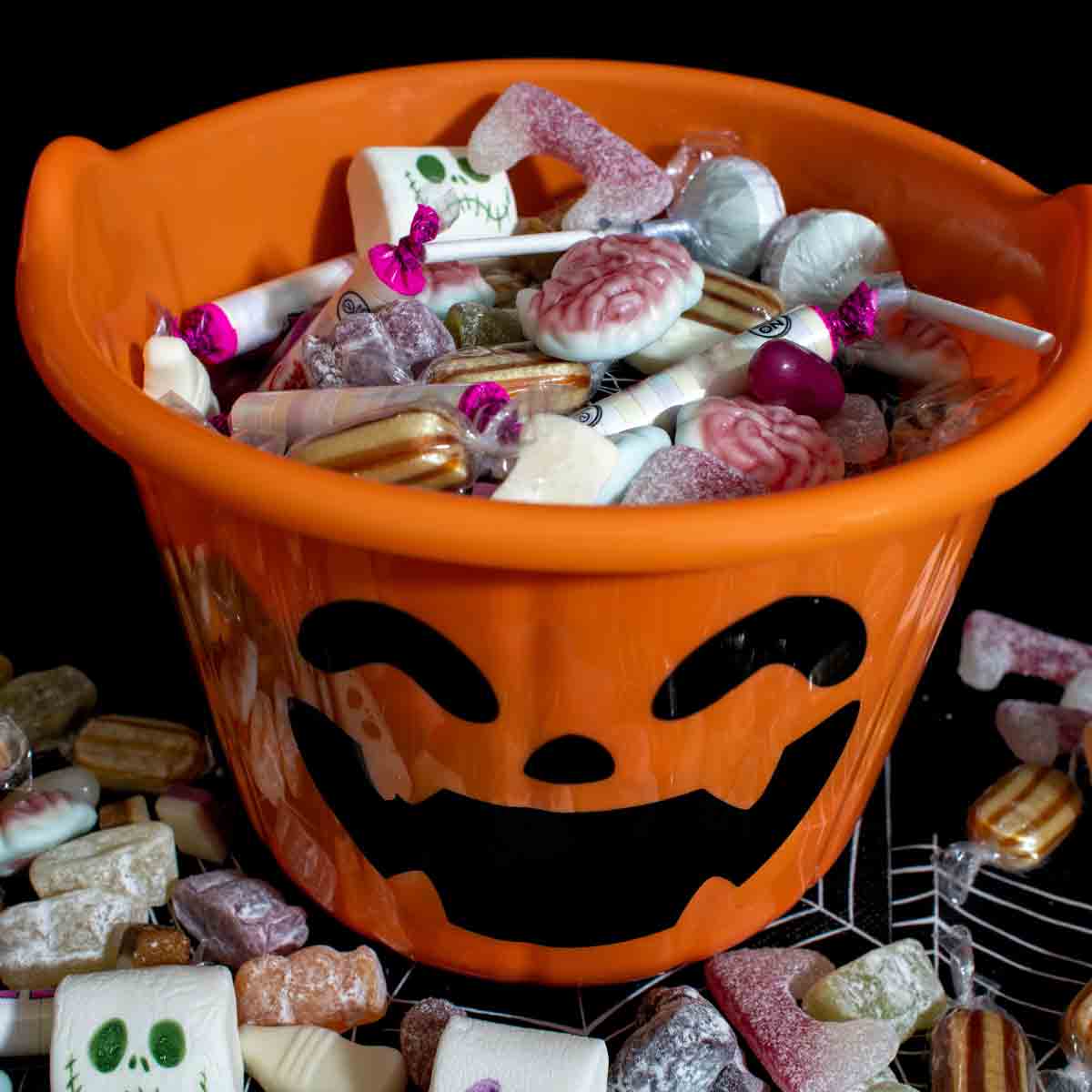 We're now officially in October, which is the month of Halloween, and I'm sure lots of you will be planning your spooky parties! And no Halloween party is complete without some vegan sweets, is it?
I'm not typically one for spooky-themed baking so I thought I'd have a little look to see what the UK supermarket Halloween sweets were like, and I was pleasantly surprised. There were a lot more options than I expected!
Some of the sweets I've listed are Halloween-themed and only sold seasonally. Others are sold all year round but would make great vegan trick-or-treat sweets.
If you fancy getting busy in the kitchen this October, make sure to check out my vegan Halloween desserts post for 18 ghoulish recipes. Otherwise, keep reading to find out the best vegan Halloween sweets for 2023!
Vegan Halloween Sweets
The best vegan Halloween sweets to buy in the UK. This section includes all of the gummy and fizzy candy, and there are quite a few options.
The classic M&S Percy Pig sweets but with a Halloween twist! These fruit flavoured gums look like mini pumpkin pigs! These are available to buy from M&S stores or from Ocado.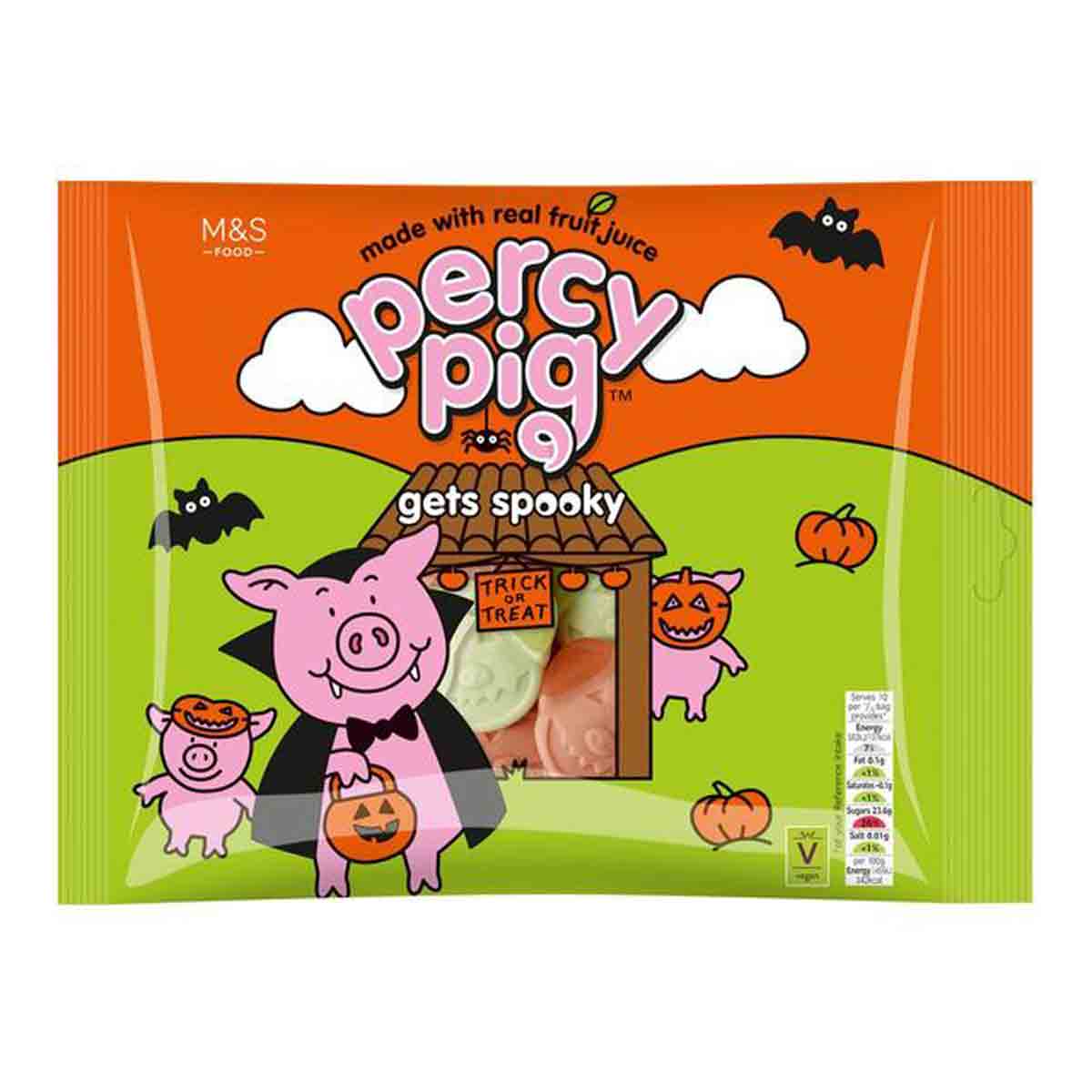 These multi-coloured Halloween Percy Pig sweets are perfect for sharing at parties. Just like the spooky Percy Pigs, you can grab these from M&S stores or the Ocado website.
Super sour Colin The Caterpillar sweets in Halloween colours. Make sure to get yourself a pack the next time you're visiting your local M&S!
All of the classic Swizzels favourites in one bag, including Refreshers bars, Fizzers, Love Hearts, Drumstick bars and Parma Violets.
This one has similar sweets to the Mummy Mix but with the addition of some Swizzels lollies such as Double Lollies and Fruity Pops.
There is another Swizzels Halloween mix, the Trick or Treat lolly mix, but this is not vegan-friendly because gelatine is listed as an ingredient.
A mixed bag of mini Wham bars in original, extreme sour and sour apple flavours.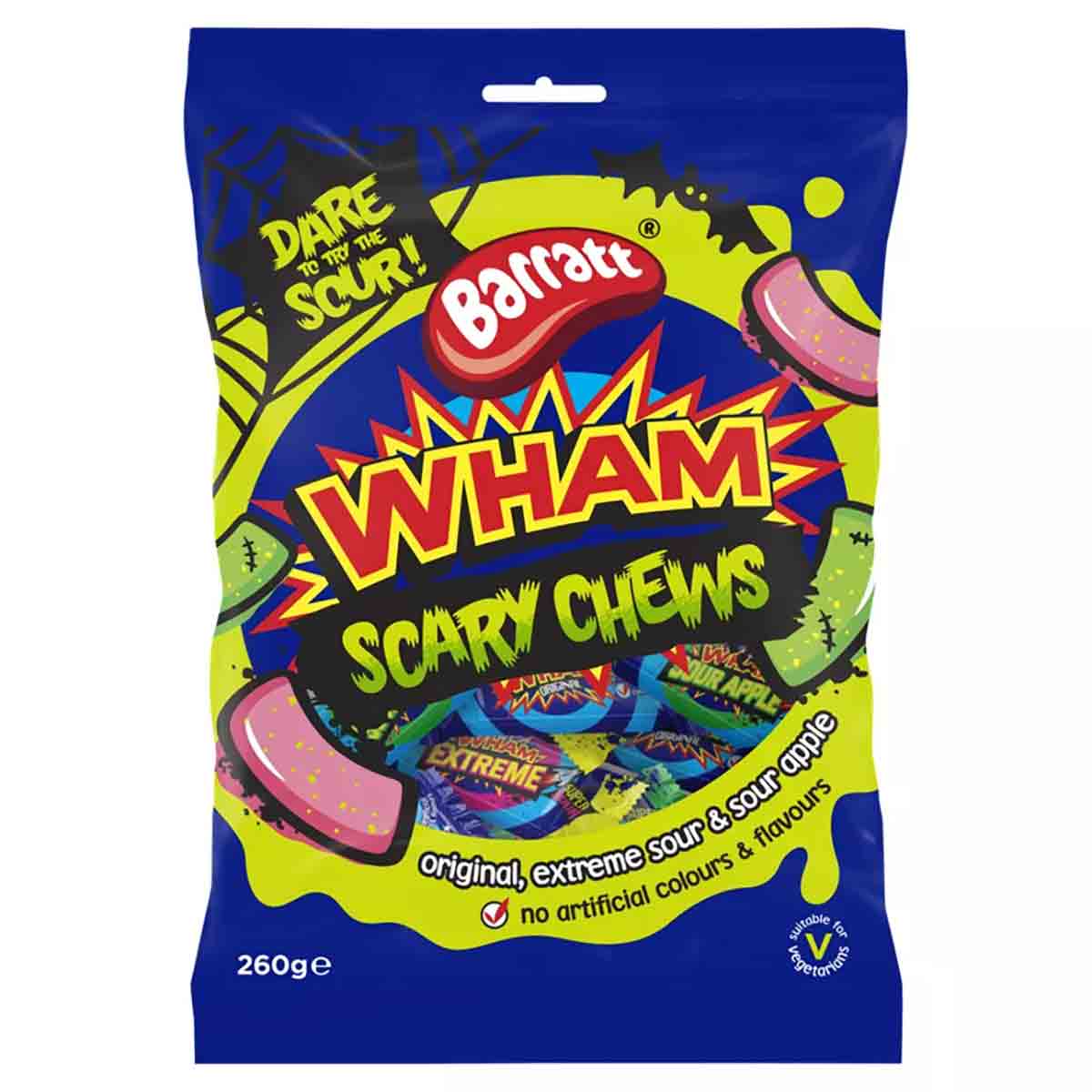 I came across Bebeto sweets when browsing the Asda website and I was pleased to find out that their Halloween sweets are vegan! Their fizzy fangs are available from Asda and Spar stores.
Gummy brain-shaped sweets that are great for Halloween pick-n-mix or parties. Grab these on Amazon or from Asda and Spar stores.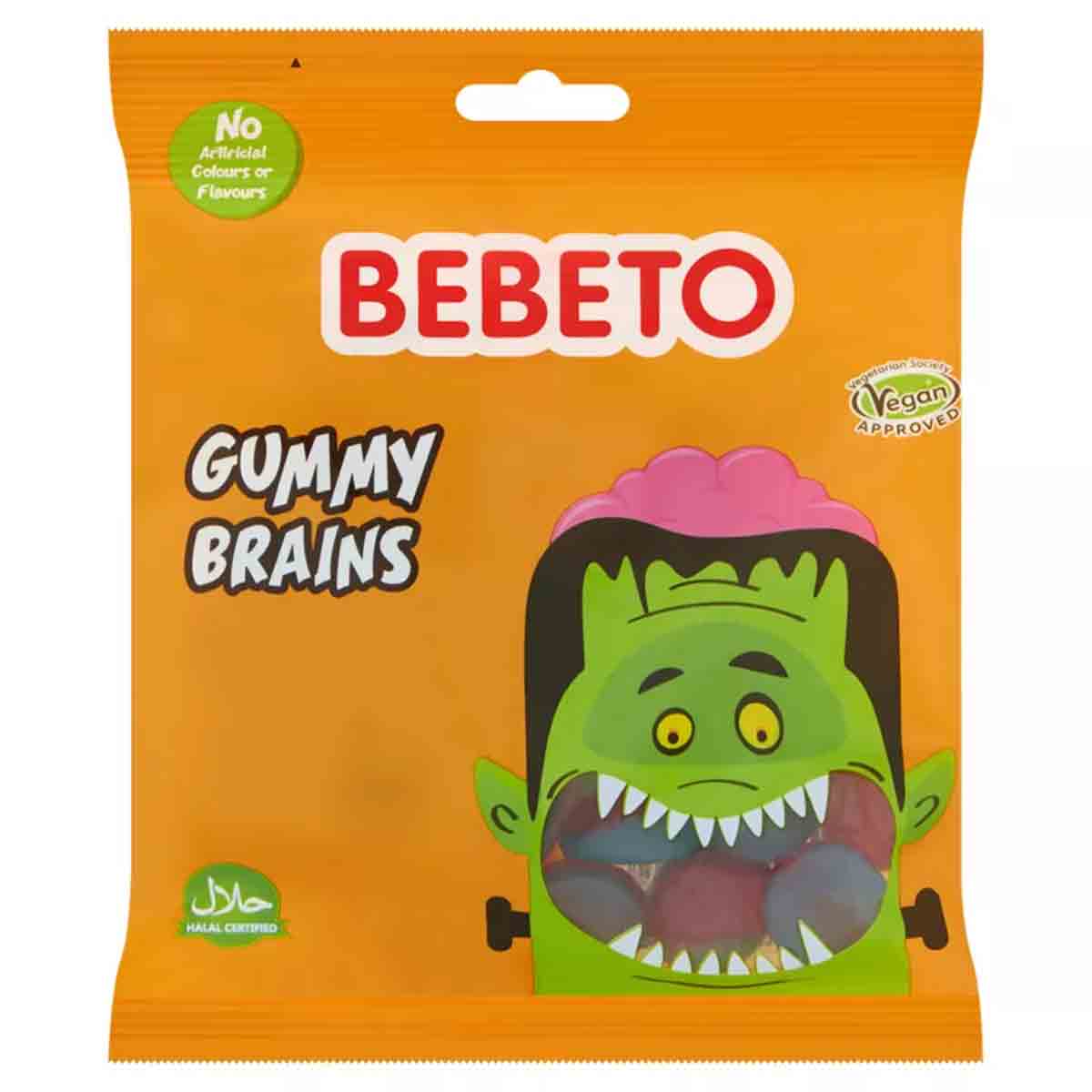 These are a mixture of soft Halloween-shaped fruit gummies. You can get these from Amazon, Spar or Asda.
Almost all flying saucers are vegan-friendly, including Asda, Sainsbury's, Tesco & Morrisons' own-brand.
These fizzy fangs from Sainsbury's are made with plant-based gelling agents instead of gelatine, so vegans can happily enjoy them!
Vegan Halloween Chocolate Treats
All of the themed chocolate sweets and treats for Halloween 2023.
Spooky Chums are dairy-free chocolate bars that are shaped like spooky characters like bats and witches!
Vegan white chocolate bars with popping candy pieces throughout.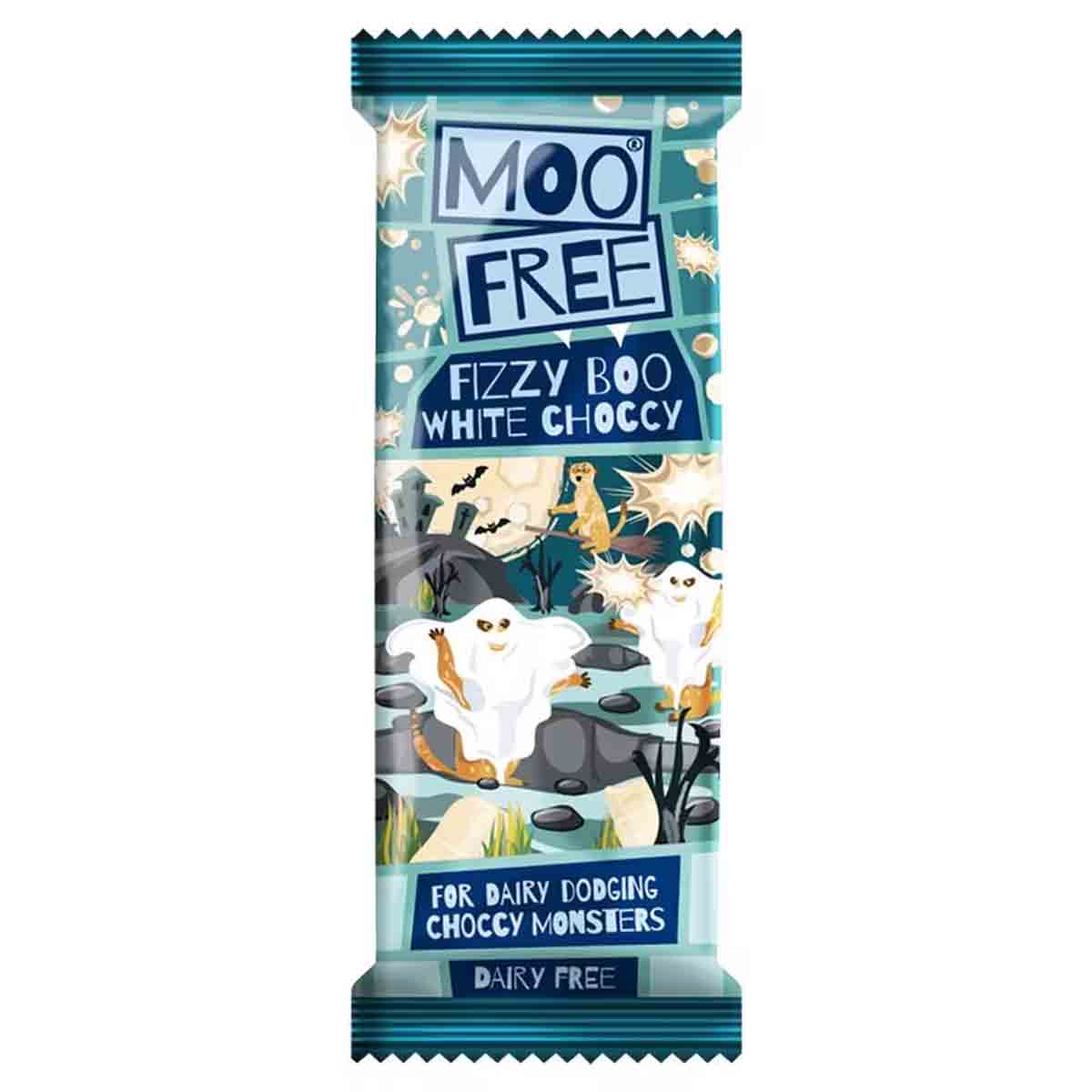 This pack of 5 vegan chocolate bars with Halloween characters on the packaging is great for kids. You can buy all three Moo-Free vegan Halloween chocolate bars from the Moo-Free website or in Asda and Sainsbury's stores.
Hotel Chocolat has gone all out with their vegan Halloween option! "Wingston the Bat" is a box of 16 individually wrapped dark chocolates, all moulded into spooky shapes.
An individual-sized bag of gluten-free and vegan pumpkin-shaped chocolates.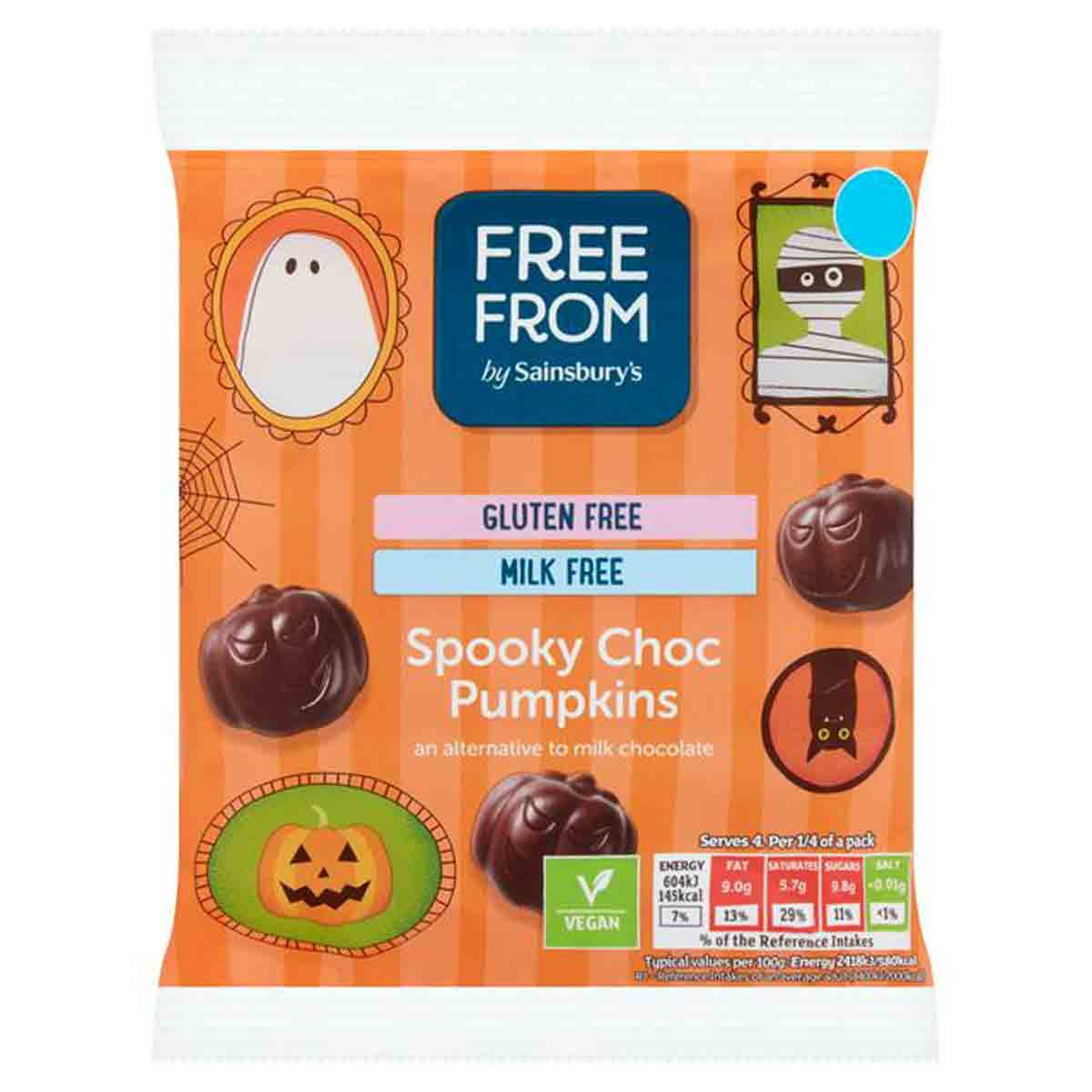 Vegan Halloween candy to buy for trick-or-treaters
Year-round candy that you can buy from UK supermarkets. Great for handing out as trick-or-treat snacks. For more vegan trick-or-treat sweet ideas, check out my accidentally vegan posts.
Crunchy iced ring biscuits in a variety of different colours. They're accidentally vegan and so delicious!
If you didn't know, Skittles are vegan. You can bulk buy them in mini packs which are great for handing out to kids.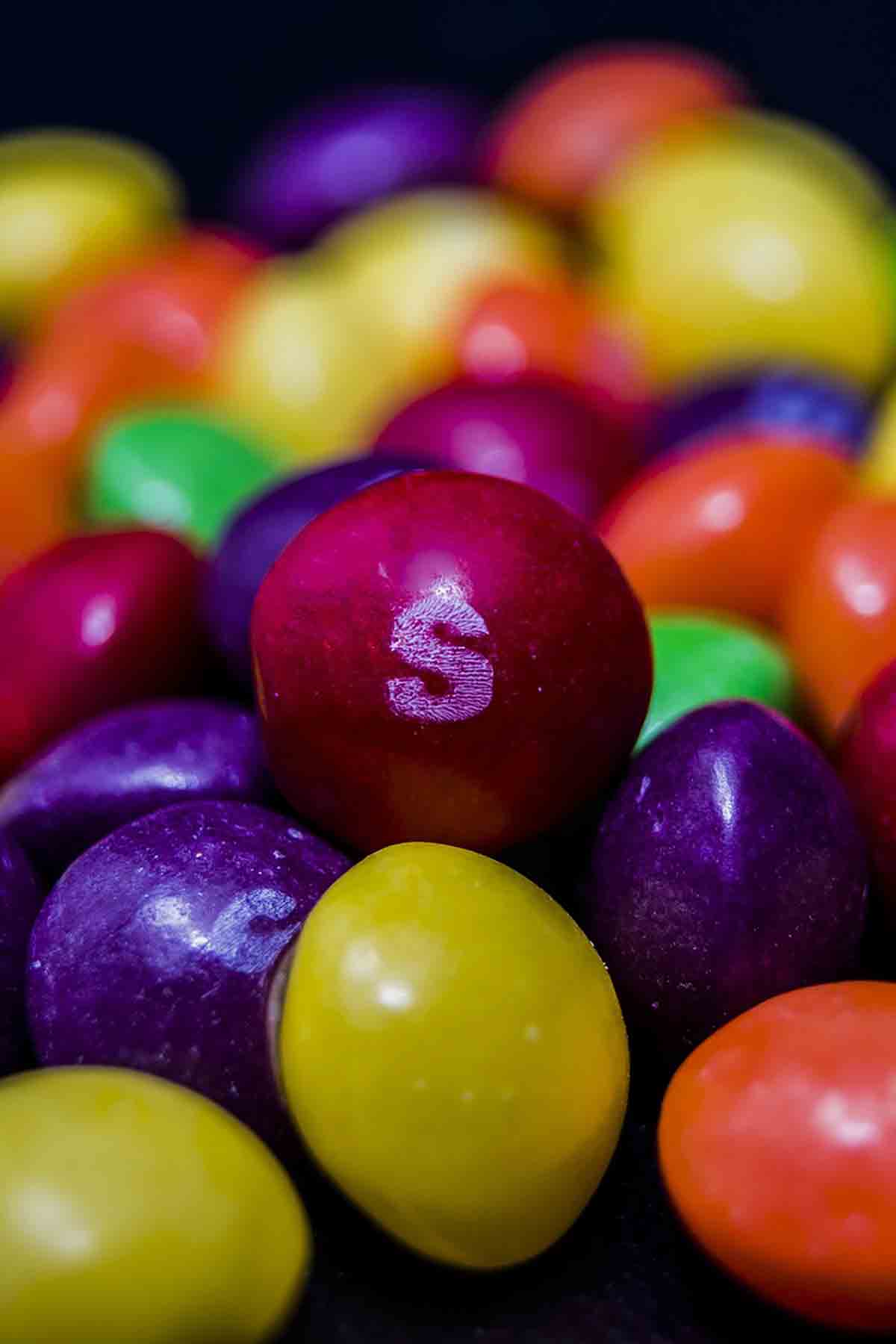 Grab some mini bags of Oreos to pop outside your door for trick or treaters.
Jammie Dodgers and choccie dodgers are both vegan-friendly. Again, they come in mini snack packs which are perfect for sharing out on Halloween.
Fruity flavoured fizzy sweets that come in mini-sized rolls.
Related post: Are Love Hearts vegan?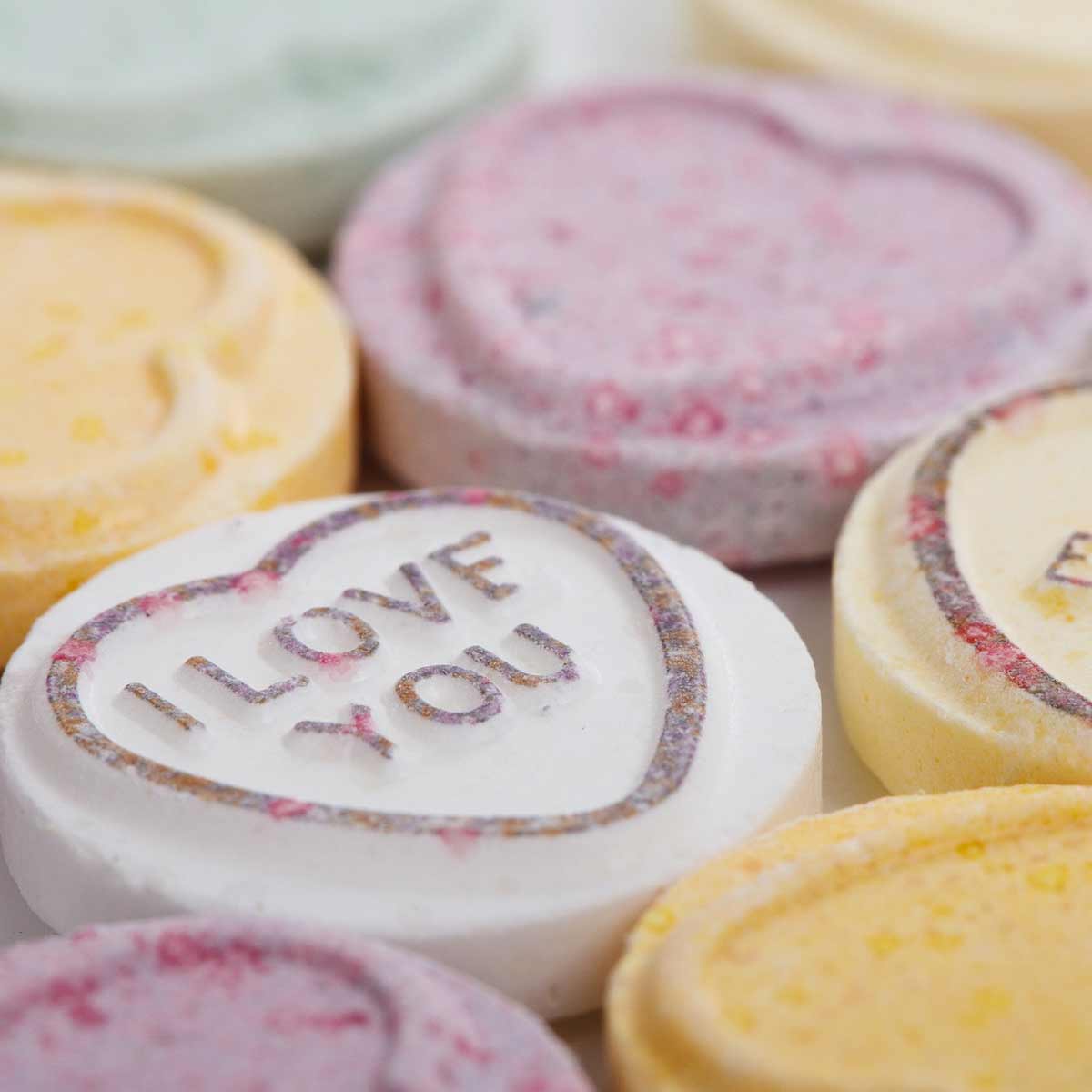 Jelly Tots are chewy, gummy dots in different fruity flavours. They also come in handy snack packs.
These are a great alternative to the more obvious sweets and treats to offer children on Halloween, and they come in a variety of flavours.
Other Halloween treats
Toffee apples
Toffee apples are still one of my favourite vegan Halloween sweets to have. You can get them in October from most supermarkets, including Tesco, Asda, Sainsbury's & Waitrose. Almost all toffee apples are vegan but make sure to double-check for non-vegan ingredients such as some e-numbers. Note that I am referring to toffee apples and not caramel apples, which usually contain milk.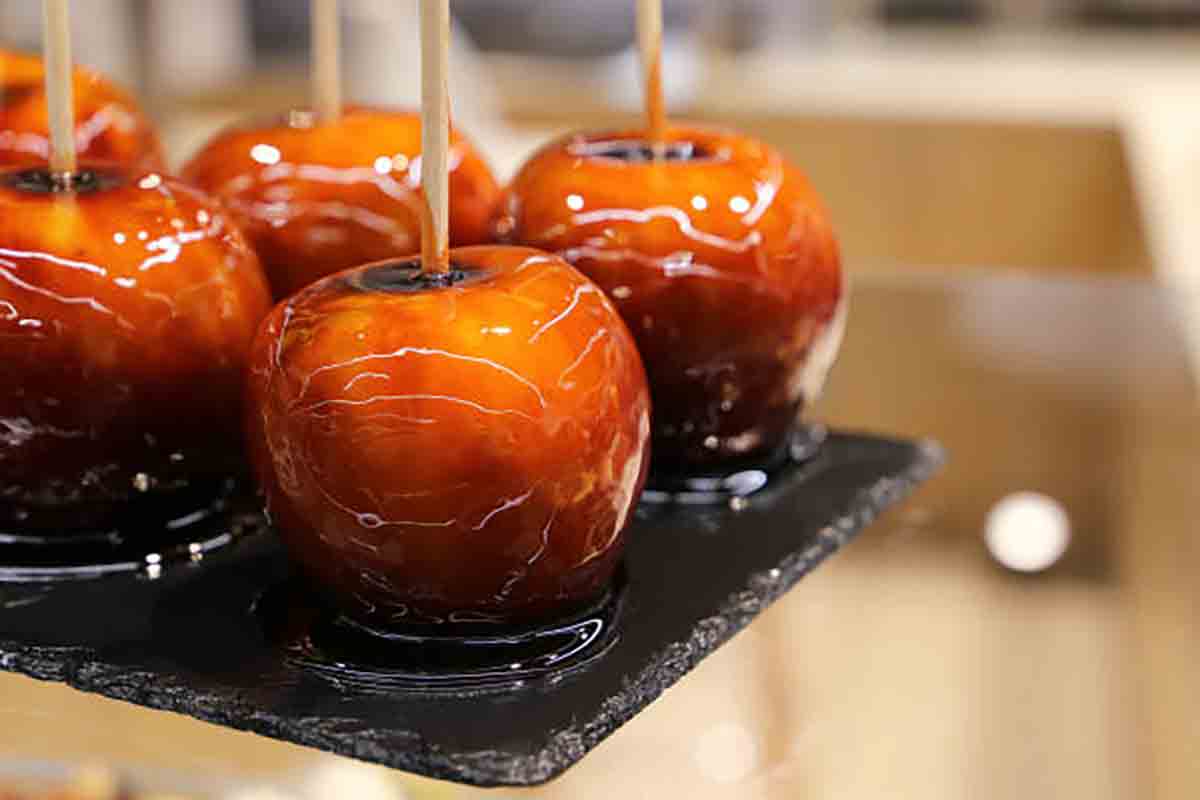 If you didn't know, all of Soreen's lunchbox loaves are vegan-friendly! They've released a toffee apple flavour for the spooky season.
Pumpkin spice flavoured cupcakes with creamy vanilla frosting.
This biscuit kit is available from most UK supermarkets. Although it requires you to add butter, you can use equal amounts of vegan butter instead, as the rest of the ingredients are vegan-friendly!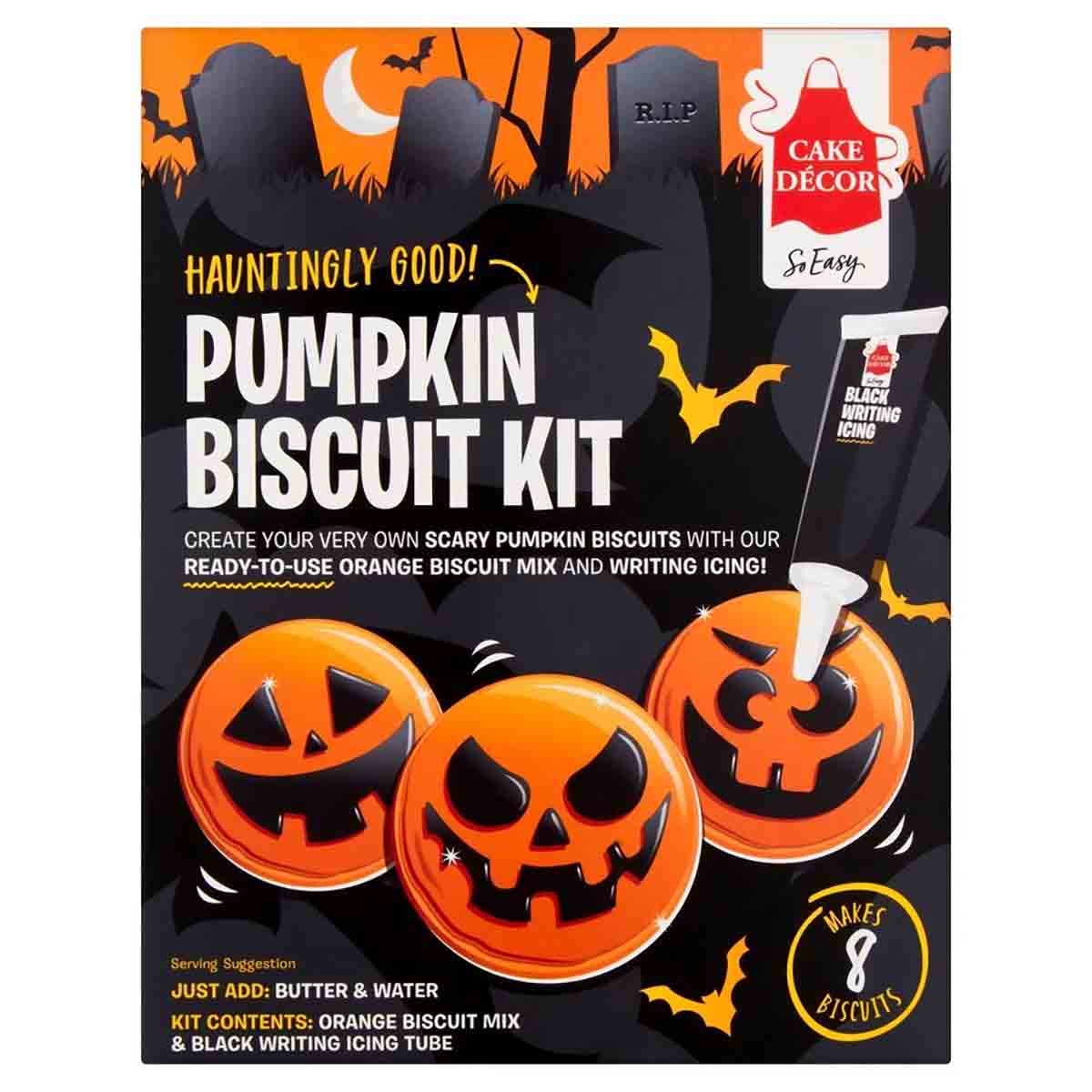 Decorate pre-made gingerbread people with some white icing to make your own spooky biscuits!
Last but not least is this toffee apple and cinnamon popcorn, which in my opinion is the perfect flavour for a Halloween party!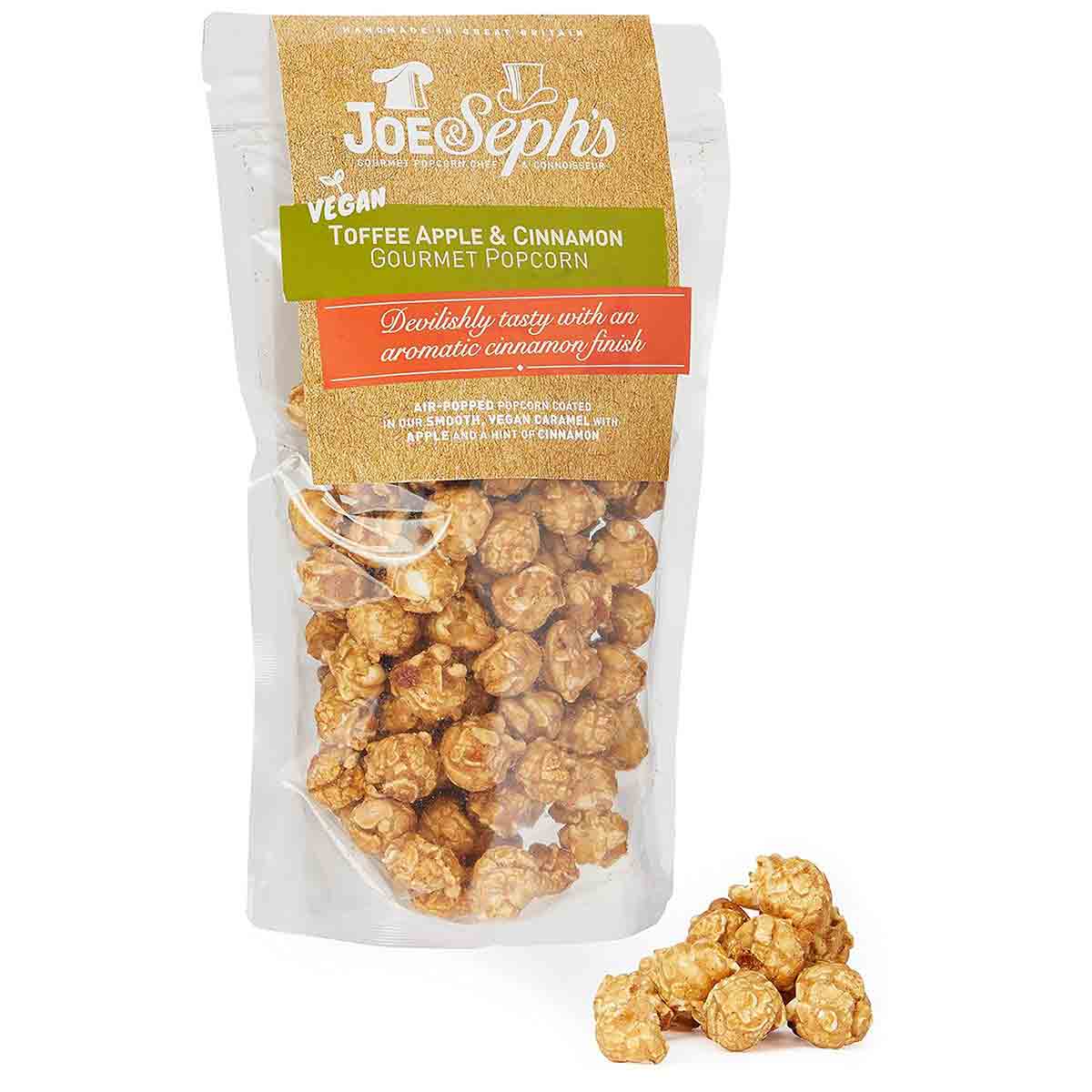 That's all for now! I hope you find this list of vegan Halloween sweets helpful. Let me know if there's anything I've missed, and which of these sweet treats or chocolates you'll be trying this Halloween. Enjoy! xo
BakedByClo is a participant in the Amazon Services LLC Associates Program, an affiliate advertising program designed to provide a means for sites to earn advertising fees by advertising and linking to Amazon.com. This site may contain some of these links to Amazon.com & other affiliate programs. If you make a purchase through one of those links, BakedByClo will receive a small commission from the purchase at no additional cost to you.