Are Gingerbread Cookies Vegan? Everything You Need To Know
Are gingerbread cookies vegan? This post will tell you everything you need to know about buying and making dairy-free and eggless cookies, decorations and icing.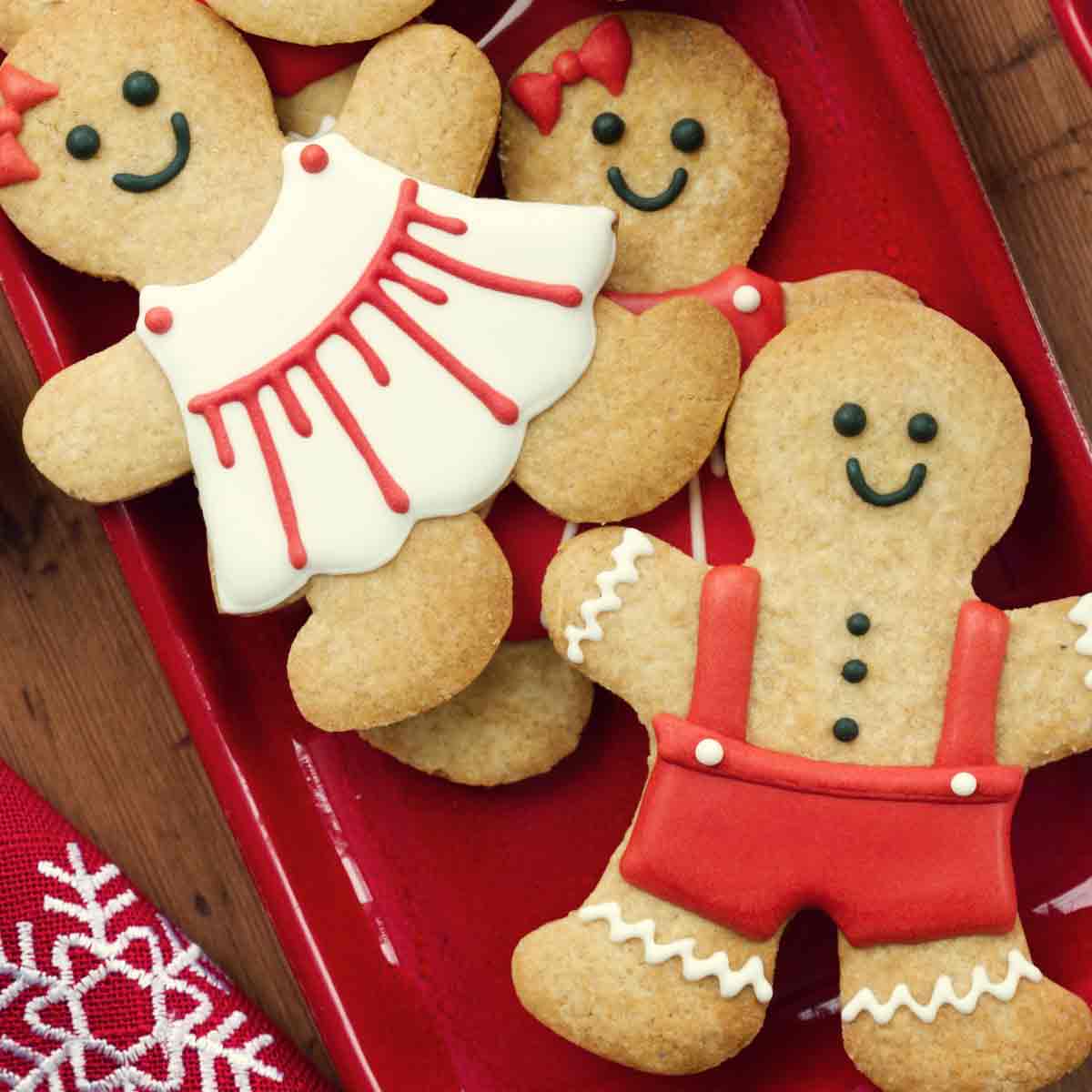 When it comes to Christmas traditions, baking gingerbread cookies is always the first thing that comes to mind for me. These sweet and spicy treats, often shaped like people or festive figures, have been a cherished Christmas tradition for centuries.
If it's your first Christmas on a plant-based diet, you might be wondering if gingerbread cookies are vegan. I remember how overwhelming food choices became when I went vegan in 2017, so I started an "Is It Vegan?" series on this blog to help any newbies who might be feeling the same.
In this post, we'll take a deep dive into the world of gingerbread cookies, exploring the ingredients in a traditional recipe and decorations, as well as seeing which supermarket gingerbread cookies are vegan.
Gingerbread Cookie Ingredients
To determine whether or not gingerbread cookies are vegan, let's take a look at the ingredients in a traditional recipe.
Flour. Flour is one of the most important ingredients in any cookie recipe and is naturally vegan.
Brown sugar. Brown sugar is vegan-friendly in the UK, but it's best to buy organic in countries like the USA where animal bone char is sometimes used for processing.
Molasses. Molasses is a key ingredient in gingerbread cookies, providing that iconic deep, dark flavour, although some British recipes use golden syrup. Both ingredients are vegan.
Butter. Traditional gingerbread recipes use butter, which is not vegan.
Eggs. Eggs act as the binding agent in gingerbread. As they come from hens, eggs aren't vegan either.
Spices. The spices used in gingerbread such as ginger and cinnamon are plant-derived and suitable for vegans.
Baking soda. Baking soda is a leavening agent used in many gingerbread recipes. This is vegan-friendly too.
Decorations. Many gingerbread decorations contain non-vegan ingredients such as milk, gelatine, egg, honey and certain e-numbers.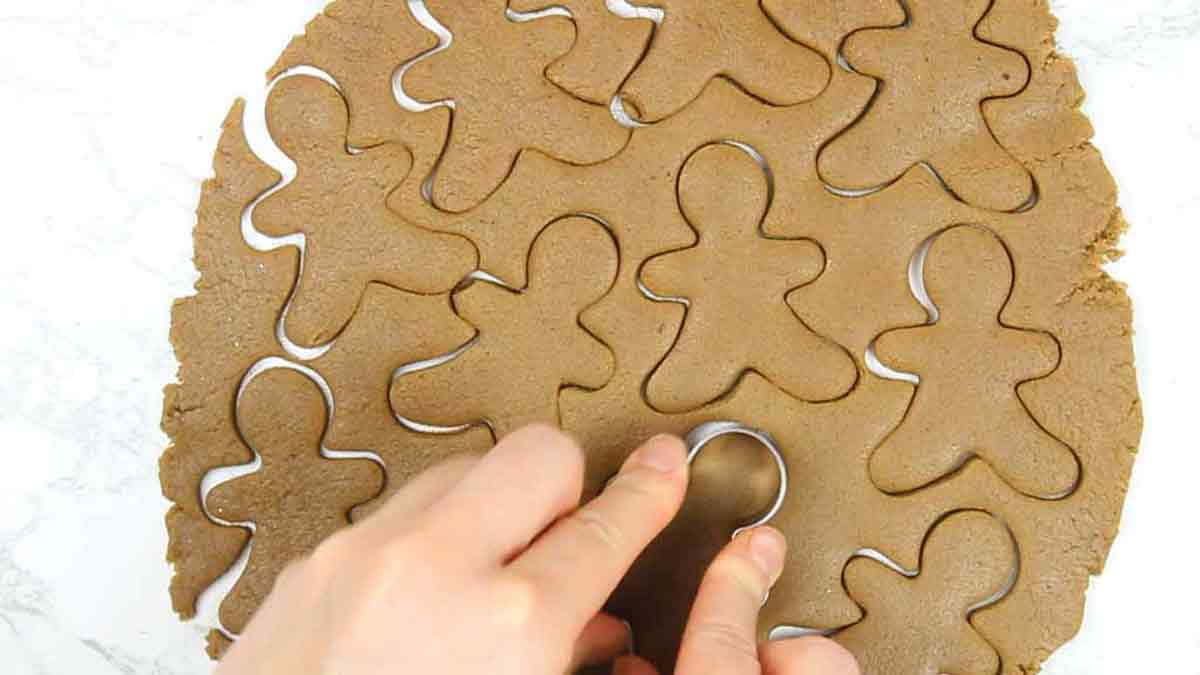 Easy vegan ingredient swaps
Now that we've identified the non-vegan ingredients (eggs, butter and some decorations), let's take a look at vegan-friendly alternatives.
Butter. Butter is the easiest ingredient to replace in baking because you can simply swap it out at a 1:1 ratio for a vegan alternative. I like Flora Plant butter when I need to replace butter and Vitalite when I need to replace margarine.
Eggs. My favourite egg substitute for cookies is a flax 'egg'. To make it, simply mix 1 tablespoon of ground flaxseeds with 1 tablespoon of cold water per egg. Let it sit for 5 minutes to thicken, then add it to your cookie dough when the recipe calls for eggs.
Decorations. My go-to vegan gingerbread cookie decorations are royal icing, Jelly Tots and rolled up balls of fondant. I've written some informational posts about vegan sprinkles, royal icing, fondant, and food colouring that should help.
Vegan gingerbread cookies to buy
If you prefer to skip the baking and get straight down to the eating, there are actually quite a few options available. Here are some of my favourites:
The Bakery at Asda Gingerbread Men Mini Bites
Sainsbury's gingerbread men
Morrison's Market Street mini gingerbread
McVitie's mini gingerbread men
Tesco mini gingerbread men
Tesco free-from gingerbread men
Organix gingerbread men
Please note that not all of these gingerbread cookies are allergy-friendly. Although they are made with vegan ingredients, some have cross-contamination warnings. Always check the labels before buying if you have allergies.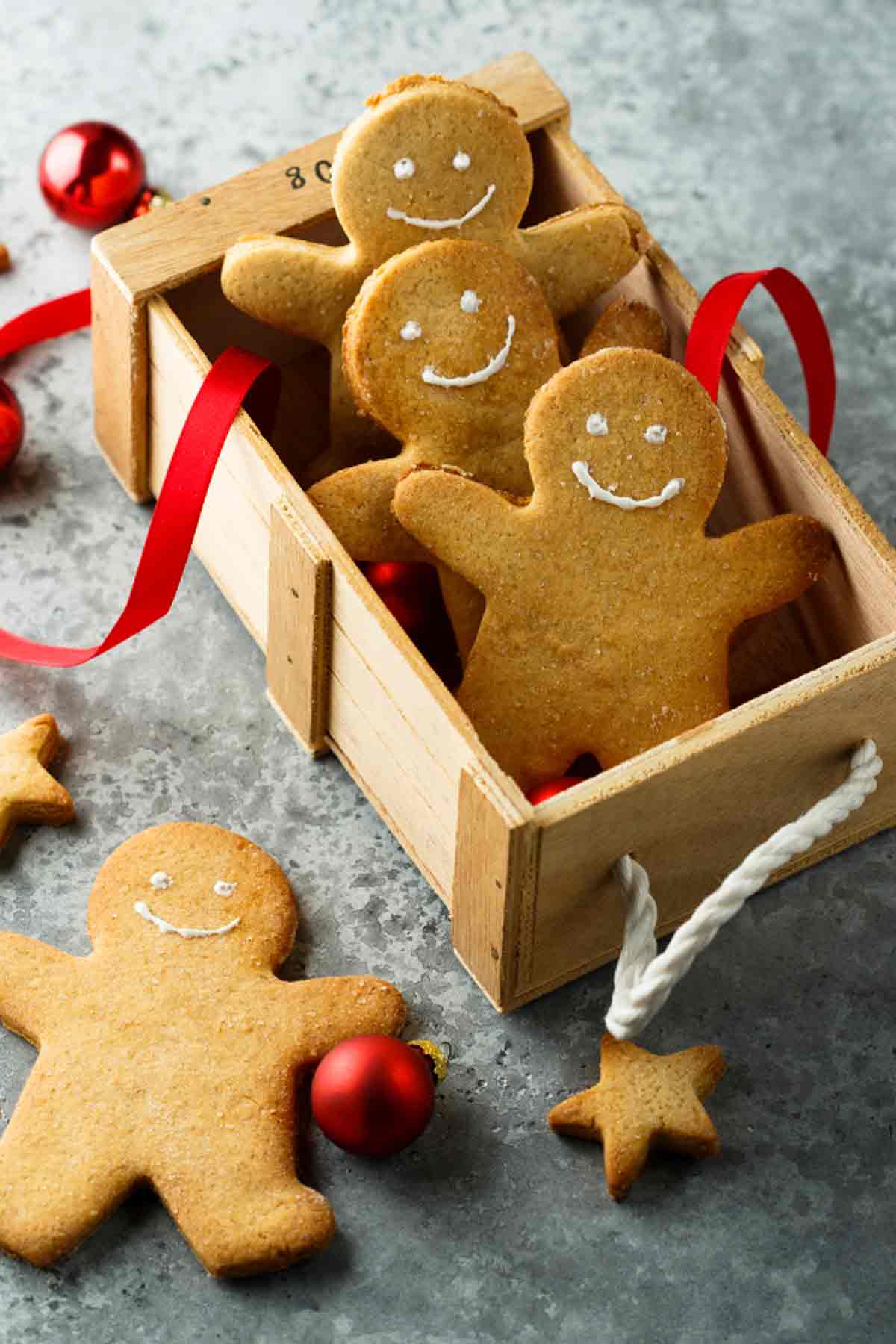 Summary
So, are gingerbread cookies vegan? Traditional recipes are not because they contain milk and eggs but many ready-made options are vegan-friendly. It's also possible to make your own vegan gingerbread cookies at home, with a few simple ingredient substitutions and a bit of creativity. Whether you're baking them from scratch or indulging in the ready-made options, you can absolutely enjoy these sweetly spiced treats this Christmas!
So go ahead, make or buy some plant-based gingerbread cookies, share them with friends and family, and enjoy eating your way through the festive season. Happy baking!
BakedByClo is a participant in the Amazon Services LLC Associates Program, an affiliate advertising program designed to provide a means for sites to earn advertising fees by advertising and linking to Amazon.com. This site may contain some of these links to Amazon.com & other affiliate programs. If you make a purchase through one of those links, BakedByClo will receive a small commission from the purchase at no additional cost to you.