Vegan Black Bean Brownies (No Oil)
These vegan black bean brownies are fudgy, chewy and intensely chocolatey! They taste super indulgent but are actually secretly healthy! They're gluten-free, oil-free and refined sugar-free but are still packed full of flavour.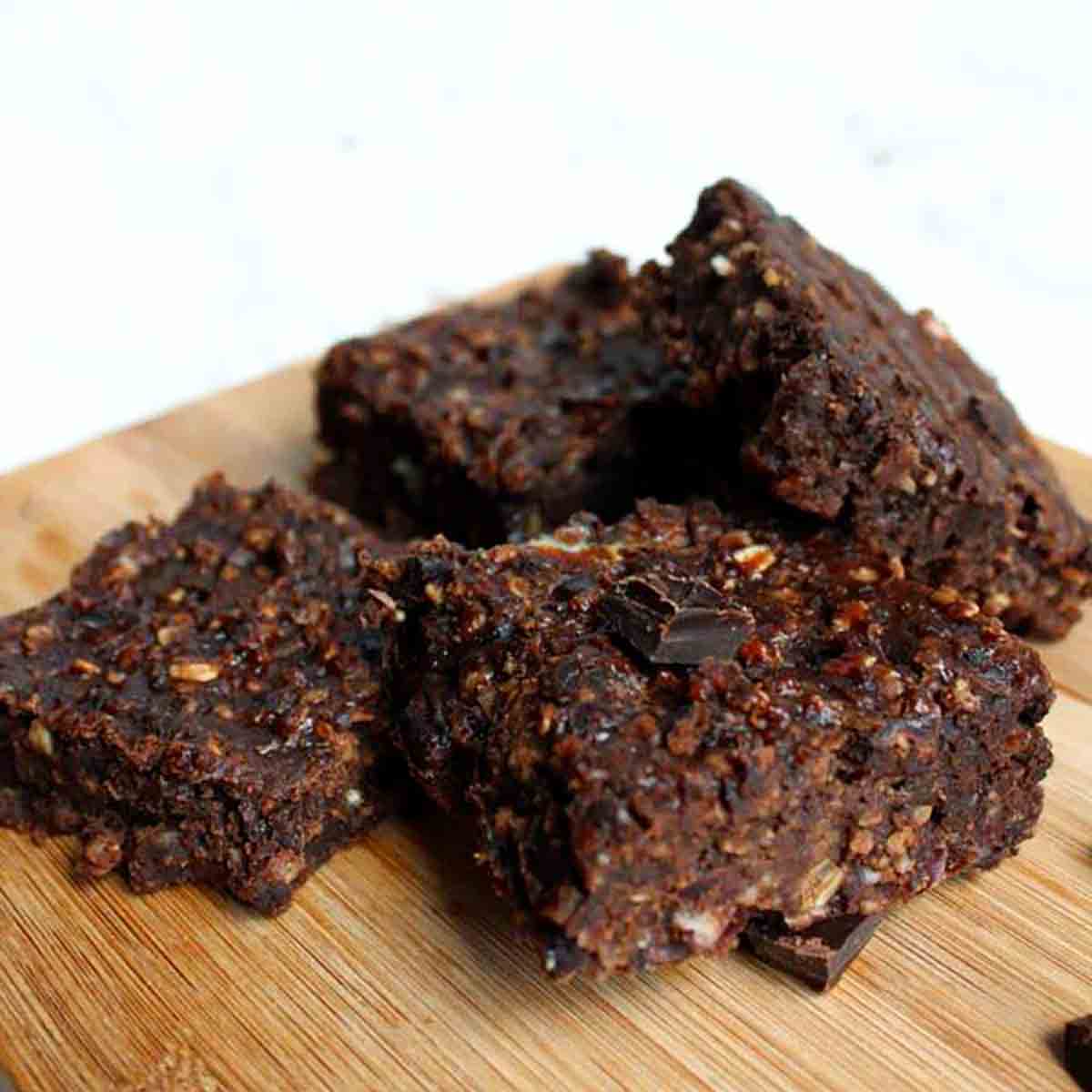 Beans and brownies. Not two words I ever thought I'd be saying in the same sentence.
Yes, I know what you're thinking… And not too long ago, I felt the same. I mean, what business do BEANS have in chocolate brownies?
I'd tried baking chickpea "protein" brownies a while back, when I first started trying to eat a little healthier. And oh my gosh… Let me just say that you could definitely tell there were chickpeas in them.
They were certainly not the best brownies I've ever made. You could taste the intense chickpea flavour and because I didn't have a great blender at the time, you would get a mouthful of chunky chickpeas with every bite you took. Yikes.
But after seeing Chocolate Covered Katie's vegan black bean brownie recipe pick up in popularity over the years, I thought it was high time I gave this bean brownie thing another go. And low and behold…. They were delicious! But to be fair, all of the recipes I've tried from Katie's blog in the past have been fabulous. That girl is talented!
It's been a few months since I last made them but because I loved them so much, I wanted to share them on my blog. Although these brownies are highly inspired by Chocolate Covered Katie, I made a few changes to put my own little twist on them.
Healthier, Oil-Free Brownies
The first change that I made is that I switched the oil for peanut butter to make them completely oil-free. And I doubled almost all of the ingredients to make super thick and chunky brownies because mine were a little on the thin side when I first tried them.
But don't worry if you're allergic to peanut butter- you can replace it in equal amounts with an alternative such as sunflower seed butter, or another nut butter such as almond or cashew.
Because I omitted the coconut oil and replaced it with peanut butter, I figured that the brownies would be missing the firmness the coconut oil gives as it cools and hardens. To combat this, I added some flax seed "eggs" too, to help the batter stick together and firm up a little better.
I also added a few chunks of vegan white chocolate, because what's a Baked by Clo recipe without a little extra chocolate? I just love the way the white chocolate chunks look in the brownies after they've been baked.
You can obviously omit the chocolate chunks if you want a totally healthy and refined sugar-free brownie. Alternatively, you can replace them with macadamia nuts so you still get that little pop of colour without the added sugar!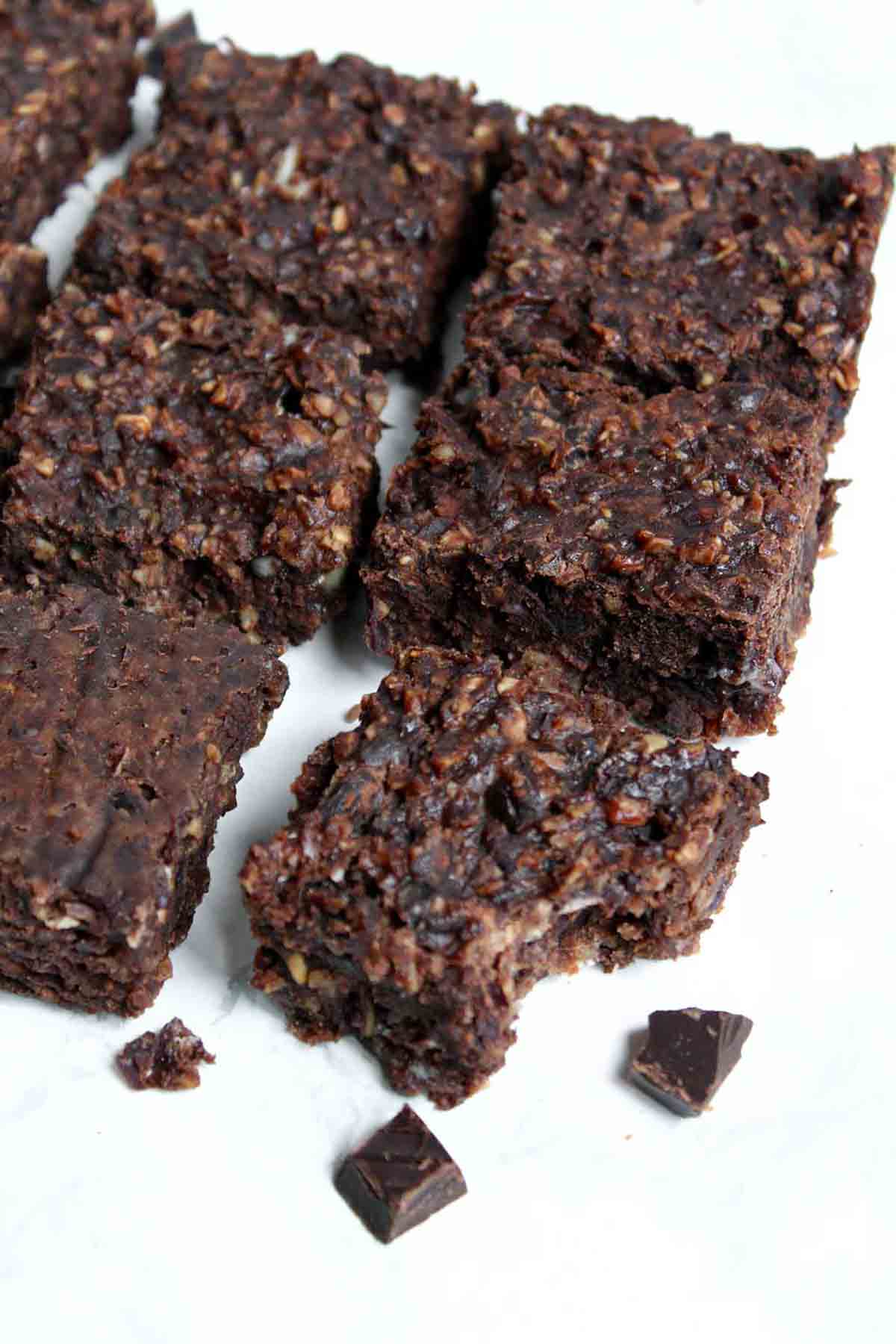 I know you are going to love my take on these vegan black bean brownies. They are:
Oil-free
Gluten-free
Dairy-free
Eggless
Refined sugar-free
Flourless
Fudgy
Indulgent
Full of fibre
High in protein
Wow! How's that for an "indulgent" dessert?
I love grabbing these when I'm rushing out the door in the mornings. Because even though it feels like an indulgent treat, it sets me up for the day and makes me feel good inside.
Anyway, enough blabbing from me… Let's get to the point. Let me tell you how to actually make these oil-free black bean brownies for yourself!
How To Make Vegan Black Bean Brownies Without Oil
Step 1:
Preheat your oven to 180°C (or 160°C if you're using a fan oven) and line an 8×10-inch rectangular tin with baking paper.
Step 2:
Mix together your flax "eggs". As I noted above, flax seeds act as a great binding agent in vegan baking.
To make the flax eggs, mix 2 tablespoons of ground flax seeds with 4 tablespoons of cold water. Leave it to sit for around 5 minutes or so, during which time it will become a little sticky and gloopy.
Step 3:
Mash your black beans! If you want to skip this step, you can. You can just throw them straight in a blender or food processor with the other ingredients but I find it works best to mash them first. You want the final batter to be as smooth as possible to disguise any of the bean flavour from coming through.
You'll need 2 cans of rinsed and drained cooked black beans, around 470g in total. Place them in a medium-sized bowl and use a fork or potato masher to squash them to the best of your ability.
Note that they don't need to be perfectly lump-free at this point- check out the video below to see how I did it.
Step 4:
To a food processor or blender, add 60g of peanut butter, the flax eggs you prepared earlier, 300g of agave nectar or maple syrup, 3 teaspoons of vanilla extract, the mashed black beans, 5 tablespoons of cocoa powder and 140g of oats.
You'll still have some "chunkiness" from the oats which is OK- just make sure there are no lumps of beans. If you don't have a food processor or blender, just mash the brownie mixture again with a fork or potato masher. It will take a little longer this way but it works just the same!
Step 5:
After processing/blending/mashing, add in 150g of vegan chocolate chips or chunks and stir them in gently. You can use vegan dark, milk or white chocolate, or a combination of both, depending on your preference.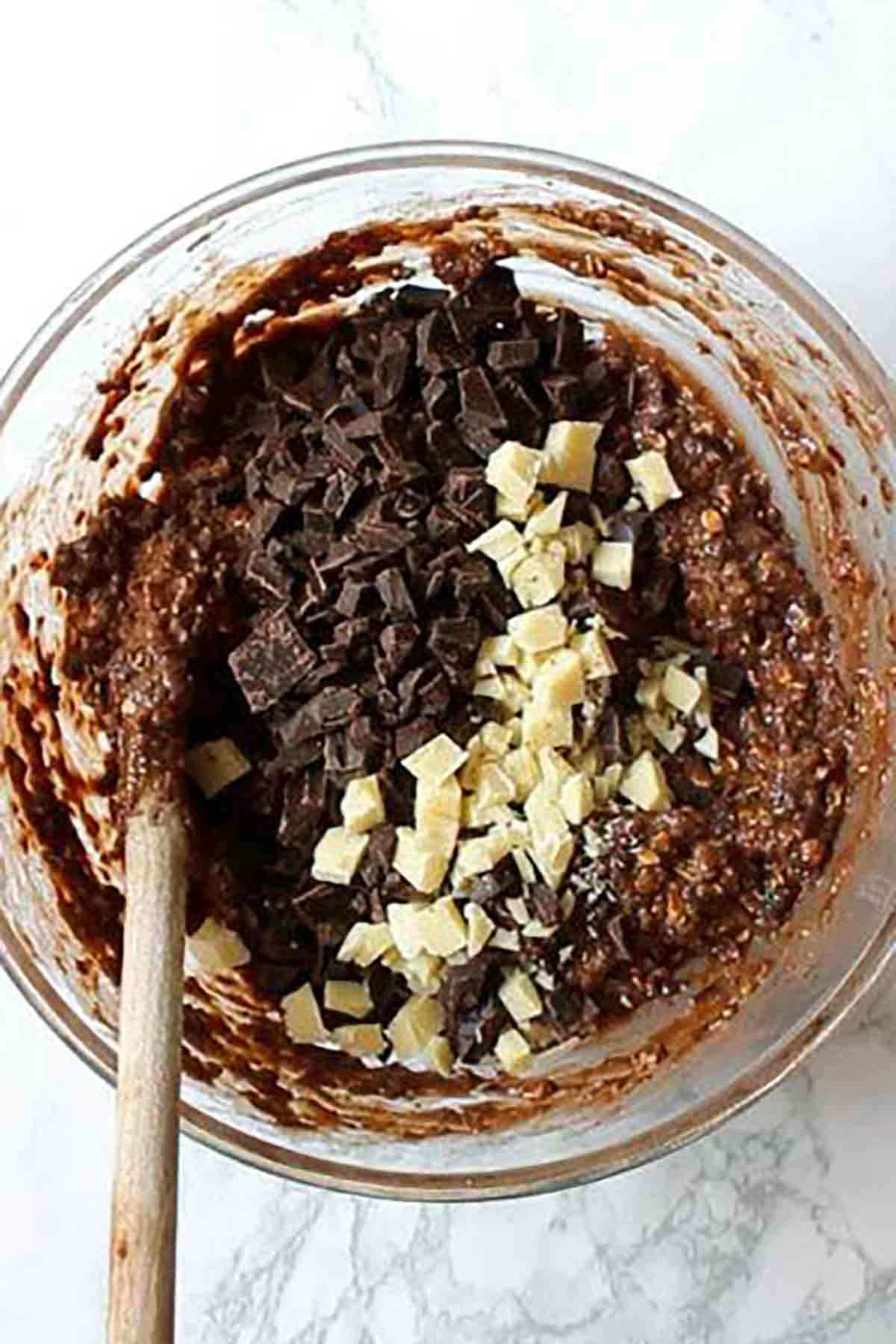 Step 6:
Transfer your brownie mixture into your pre-lined baking pan and bake for 35 minutes. When they come out, they might still be a little gooey in the middle but they should be slightly firm on top.
Step 7:
Leave your oil-free black bean brownies in the pan until they are completely cool. As they cool, they will firm up even more and become easier to handle. Once they're set, just cut into squares and enjoy.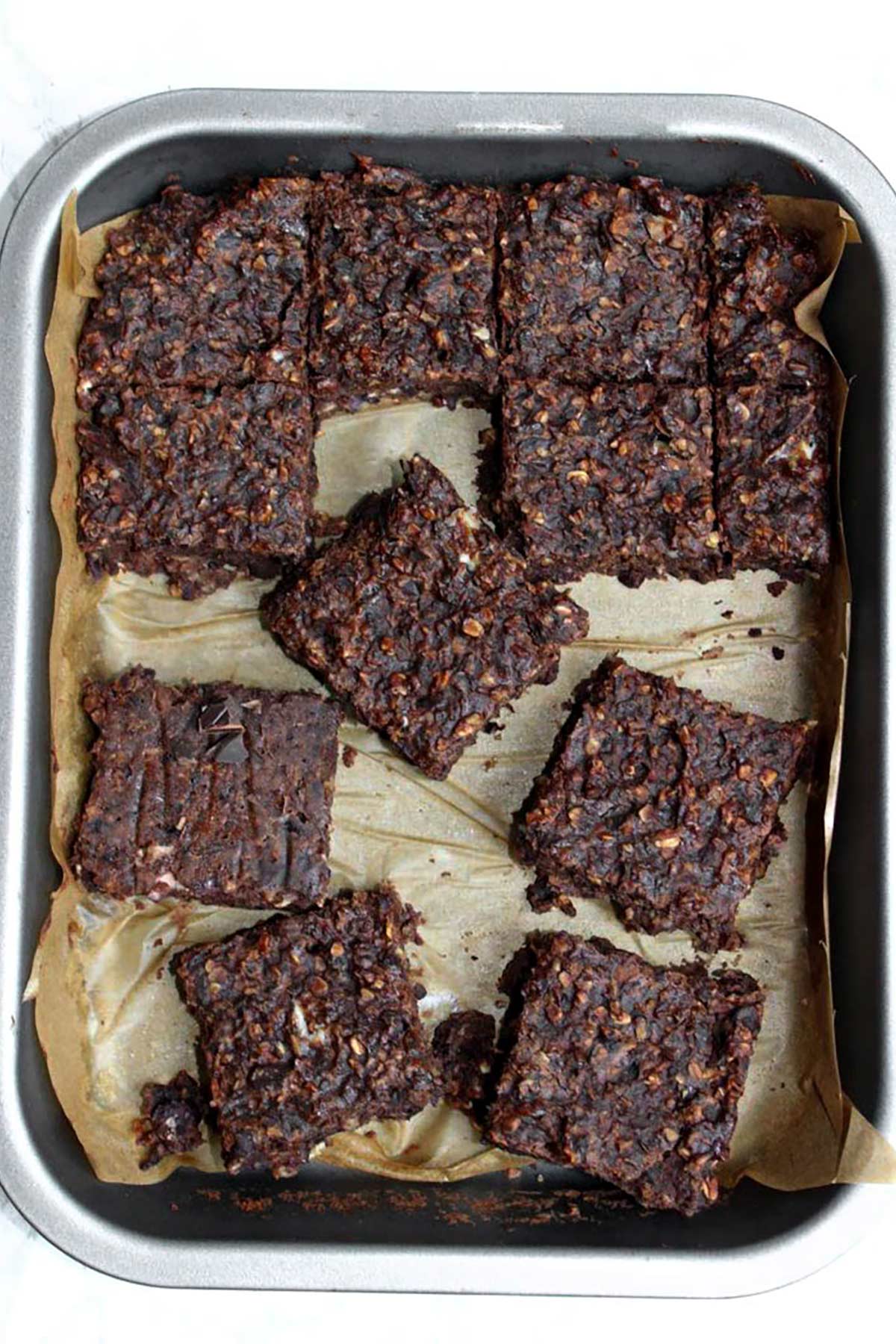 FAQ
How long will vegan black bean brownies last?
Keep them in an airtight container and they'll keep well for around 5 days. I recommend storing them in the fridge for extra fudginess.
Can I freeze them?
Yes! These are perfect for freezing. You can either wrap the whole pan up tightly with plastic wrap and freeze it, or you can freeze individual squares in an airtight container. To defrost, just transfer them to a plate and place them in the fridge for a few hours and enjoy!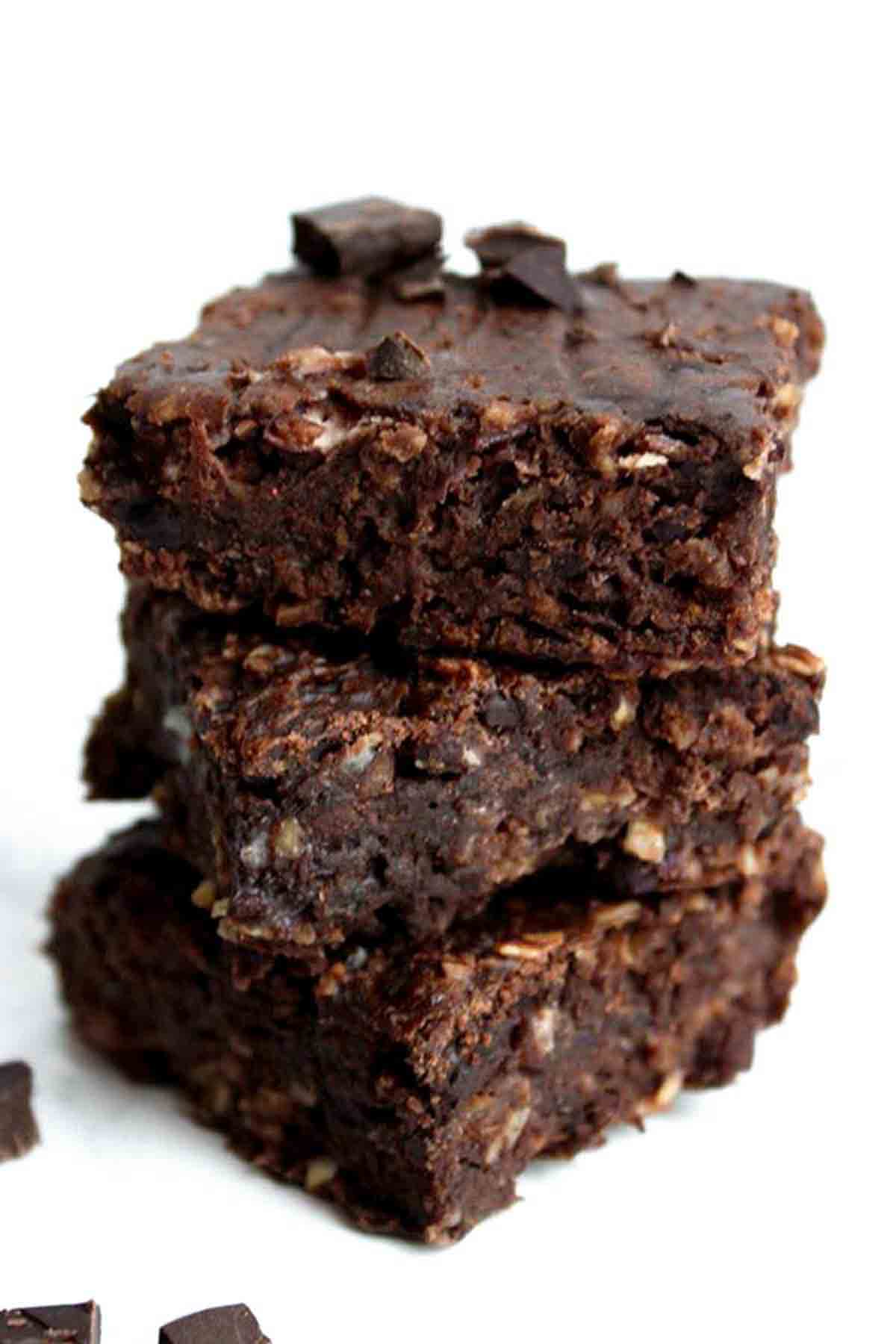 More vegan brownie recipes:
I hope you enjoy these oil-free vegan black bean brownies! Let me know what you think by leaving a review below. And if you make the brownies yourself, be sure to leave a comment to share your experience! Happy baking! xo

Vegan Black Bean Brownies (No Oil)
A fiber-packed, protein-filled vegan chocolate brownie made with healthy ingredients!
Ingredients
2

Tablespoons

Ground flax seeds + 4 Tablespoons water

60

g

Natural peanut butter

300

g

Agave nectar or maple syrup

3

Teaspoons

Vanilla extract

2

Cans

Black beans, mashed roughly with a fork

(470g drained weight)

5

Tablespoons

Cocoa powder

140

g

Oats

1

Teaspoon

Baking powder

180

g

Vegan chocolate chips or chunks
Instructions
Preheat your oven to 180°C (160° fan). Line an 8 x 10-inch tin with baking paper.

Mix the flax seeds with the water and set aside for 5 minutes to thicken.

Place the flax seed mixture along with the rest of the ingredients except the chocolate chips into a food processor or high power blender.

Blend until smooth. It's really important that you get all of the "beany" lumps out of the mixture to disguise the taste. If you still have any lumps after blending, mash them out using a fork or potato masher.

Transfer the mixture back into the bowl and stir in your chocolate chips. Spoon the thick mixture into your lined tin.

Bake for 30-35 minutes until they're slightly firm to the touch. Leave the brownies in the pan until they are completely cold, which will allow them time to set.

Cut into squares and enjoy! Store in the fridge for up to 5 days.
Recipe Notes
Store in the fridge for up to 5 days.
Recipe is inspired by Chocolate Covered Katie's black bean brownies.
Nutrition Facts
Vegan Black Bean Brownies (No Oil)
Amount Per Serving (1 brownie)
Calories 185
Calories from Fat 63
% Daily Value*
Fat 7g11%
Sodium 16mg1%
Carbohydrates 25g8%
Protein 6g12%
* All values are an estimate only and will vary depending on the food brands used.
BakedByClo is a participant in the Amazon Services LLC Associates Program, an affiliate advertising program designed to provide a means for sites to earn advertising fees by advertising and linking to Amazon.com. This site may contain some of these links to Amazon.com & other affiliate programs. If you make a purchase through one of those links, BakedByClo will receive a small commission from the purchase at no additional cost to you.