Want to learn how to make chocolate fondue? You've come to the right place! This vegan fondue is healthy, quick and easy, and contains only 2 ingredients!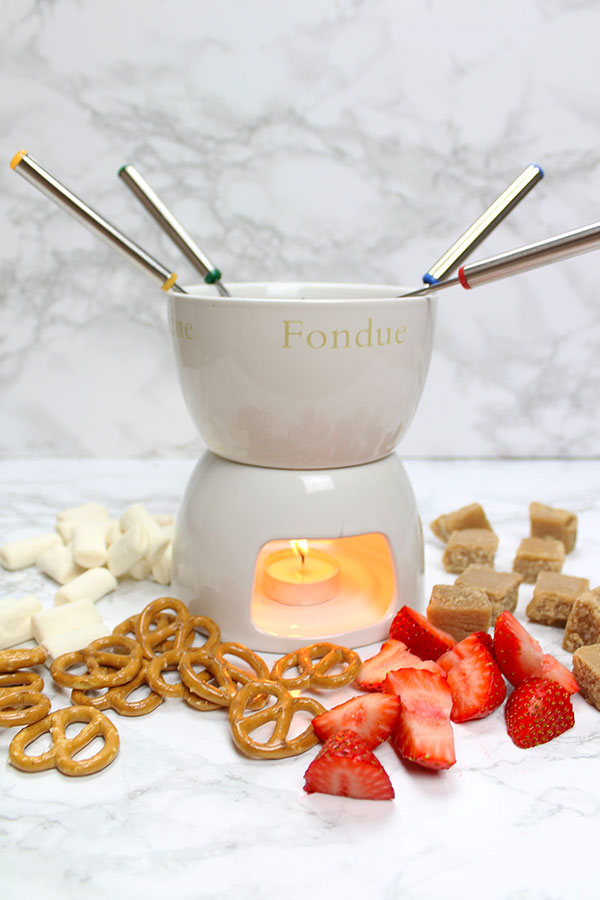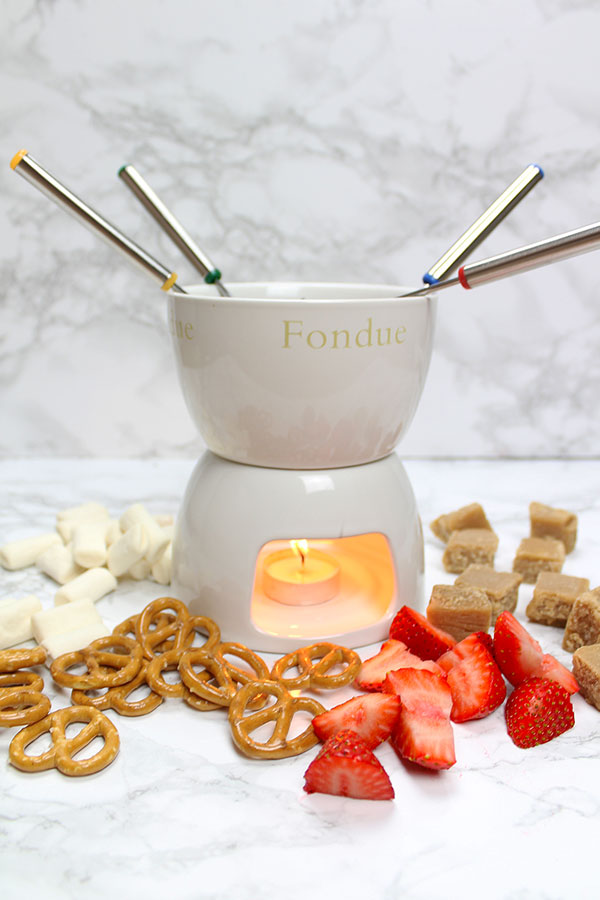 How do you make chocolate fondue without dairy?
Traditional fondue is made with double cream and milk chocolate. Sometimes even butter!
By switching the cream to coconut milk (you can't taste it, promise) and the milk chocolate to dark, you've got yourself a tasty and simple chocolate fondue recipe.
With just 2 ingredients, this recipe couldn't be easier. And if you choose healthy dippers for your fondue, this can totally be a nutritious treat!
To get started with this super easy recipe, put some full-fat coconut milk into a pan over medium-low heat.
Once bubbles start to form, it's time to add the chocolate. I recommend dark chocolate with at least 60% cocoa for best results, to prevent the chocolate from burning easily.
Stir continuously until the chocolate has completely melted into the coconut milk, then transfer into a fondue pot.
If you don't have a proper fondue kit, you can either transfer the fondue to a slow cooker or simply keep the pot on the hob, on a very low heat. To dip, just use a regular fork or skewer.
Now it's time to choose what to dip!
Chocolate fondue ideas for dipping
Before going vegan, I didn't put too much effort into my chocolate fondue ideas. I basically just dipped anything I wanted.
But of course, being a vegan isn't always quite as simple! I had to do a bit more thinking this time.
To help you out, I've compiled a list of my favourite vegan-friendly fondue dipping ideas. I used these 5 things to dip into my vegan fondue:
Sliced bananas
Pretzels (most are vegan-friendly)
Chopped strawberries
Unfortunately, my little tum can only hold so much food, so I didn't get to try the rest of my vegan fondue dipping ideas. But here they are:
Biscuits and cookies
The cheaper versions of these cookies/biscuits are more likely to be vegan-friendly. But be sure to double check as different brands will vary.
Oreos
Pink Wafers
Rich Tea biscuits
Digestives
Bourbon biscuits
Ginger nuts / Gingersnaps
Biscoff cookies
Healthy
Strawberries
Cherries
Bananas
Apple slices
Mandarin segments
Dried fruit
Nuts (I think hazelnuts and pistachios go particularly well with chocolate fondue)
Popcorn
Misc
Churros
Breadsticks
Rice cakes
Bonus tip for leftover vegan fondue!
If you have any leftover fondue, wait for it to cool down then place it in the fridge overnight. In the morning, roll the mixture into little balls to make super creamy vegan truffles! Check out my latest chocolate truffles post for decorating ideas.
I hope you enjoy this chocolate fondue tutorial! If you decided to give it a go, use the hashtag #bakedbyclo on Instagram so I can see and share!
xo

Vegan Chocolate Fondue Recipe
A dairy-free, healthy chocolate fondue that is perfect for sharing!
Ingredients
UK Measures
150

g

Chopped dark chocolate

(at least 60% cocoa)

300

ml

Coconut milk

(full-fat)
US Measures
1

Cup

Chopped dark chocolate

(or chocolate chips)

1 + 1/4

Cup

Coconut milk

(full-fat)
Items to dip (see post above for more ideas)
Fruit

Pretzels

Vegan Marshmallows

Dairy free fudge
Instructions
Gently heat the coconut milk over a low heat. When it starts to bubble, add the chocolate.

Stir continuously until the chocolate has completely melted into the coconut milk.

Pour into a fondue pot and serve with dipping items.
Recipe Notes
*Refrigerate any leftover fondue overnight and roll the stiffened mixture into dairy-free truffle balls!