Why Does My Vegan Cake Fall Apart?
If you're new to baking without eggs or dairy, it can be frustrating to put so much hard work into a recipe only for it to fall apart at the last minute when you take it out of the tin! Why do vegan cakes fall apart? Let's take a look.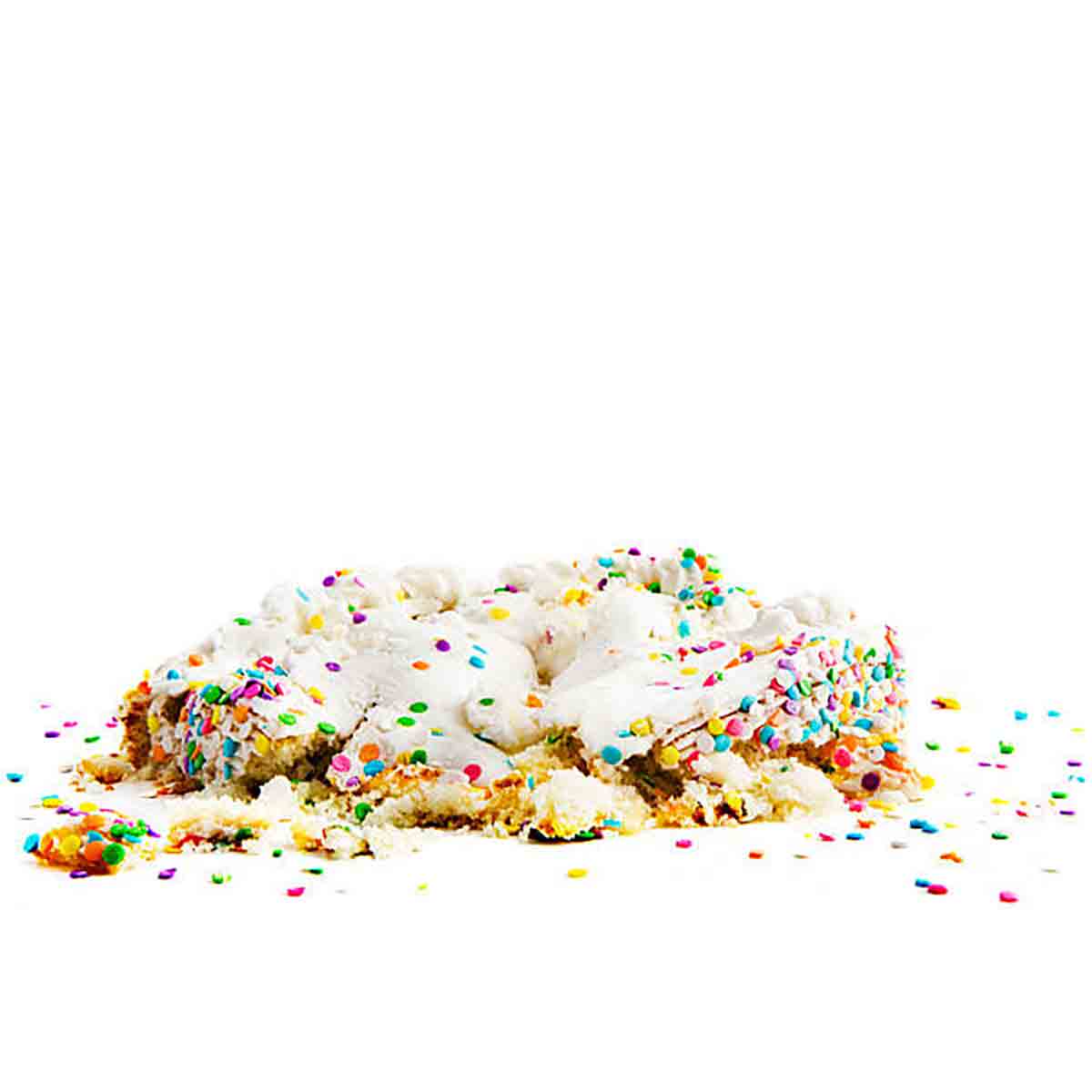 Have you ever spent hours of your precious time trying to make a homemade vegan cake, only to end up with a dry, crumbly mess? I have definitely been there. When I first started vegan baking, it did take me quite a long time to perfect my cake recipe. I had many, many fails!
Related post: Why are my vegan cakes dense?
Sadly, it isn't always as simple as just adding dairy and egg replacements to a traditional cake recipe. There are a lot of things to consider but hopefully, by the end of this post you will have a better idea of how to make a vegan cake that doesn't fall apart. I've also included some of my own tried and tested cake recipes for you to try.
Why does my vegan cake fall apart?
If you've clicked on this post, I am sure you're wondering how to make a vegan cake that doesn't fall apart. There are a few mistakes that I made when I first started vegan baking and I've done my best to explain each one. If there's anything that is still a little unclear, just leave a comment at the bottom of this page and I'll get back to you as soon as I can.
1. Your cake is lacking in moisture
This is probably the number one reason why your cakes are falling apart. Because you're not using eggs, you need to make up for the extra fat and moisture that they provide. You can't just stick a flax egg in there, keep everything else the same and expect the end result to taste like a regular cake.
The ratio of wet ingredients (fat and vegan milk) to dry ingredients (flour, cocoa powder etc.) has to be in perfect balance. If you have too much fat and too little milk and/or flour, you'll get a greasy cake. If you have too much milk and not enough fat, you'll end up with a gummy, dense cake. And if you use too little fat/liquid in general, or too much flour, your cake will be dry and crumbly, causing it to fall apart.
If you remove eggs from a cake recipe, you also have to add a little extra fat such as vegan butter or oil, and probably some extra raising agent of sorts. I must reiterate that it is a delicate balance so it's a good idea to follow an already vegan recipe to ensure best results.
2. You didn't use enough binding ingredients (or the wrong type)
In traditional baking, eggs do a lot of the work when it comes to helping the ingredients bind together. You may have read about egg substitutes already but you should know that some are better than others when it comes to baking cakes.
For example, cornflour can be a good egg replacement in some recipes but not for vegan cakes. It is a thickening agent but it lacks moisture. And going back to point number one: lack of moisture = crumbly cakes.
You may be using a suitable egg replacement but just using too little of it. As I mentioned above, the ratio of wet ingredients to dry ingredients has to be in perfect balance.
I personally recommend using homemade dairy-free buttermilk along with some baking soda for vegan cakes. It produces a rich, moist and fluffy cake that holds together beautifully. I cover this in more detail in my vegan egg substitutes post but you can also just follow any of my cake recipes because I use it in every one of them.
3. You used too much fat (or flour)
Just like too little fat, too much of it can also cause your cake to fall apart. This was a mistake I made a lot in the beginning! Using too much butter or oil in a cake will cause it to become wet and heavy, meaning it might collapse or break when you try to cut a slice out.
On the other hand, if the level of fat is correct but you've used too much flour, your cake will turn out dry and is more likely to crumble when you cut into it.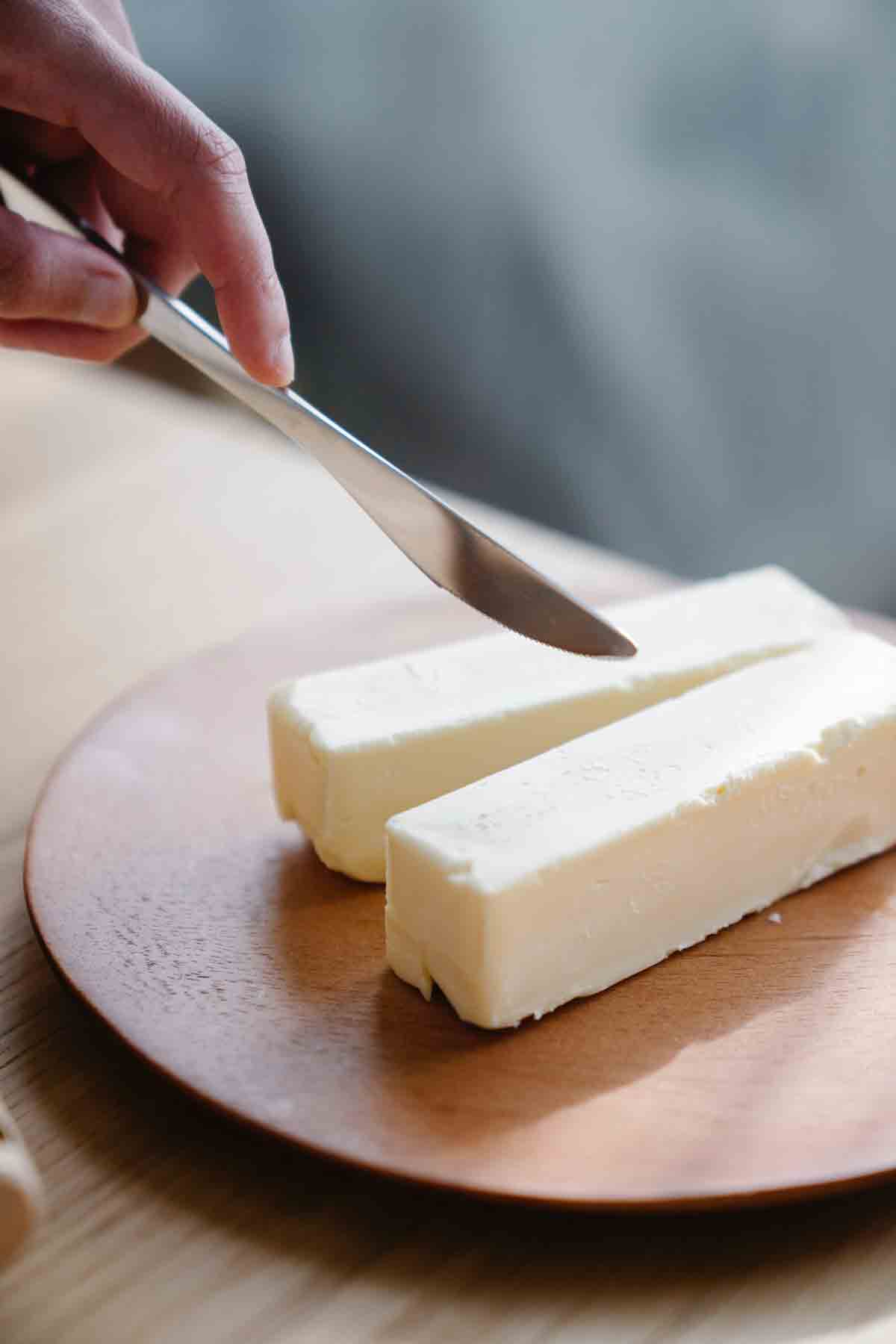 4. You overbaked it
Baking a vegan cake for too long or at too high a temperature can cause crumbling.
You can test if your cake is ready by inserting a toothpick through the centre. If it comes out with batter on it then the cake needs to be baked a little bit longer. Make sure to check on it often. As soon as you can stick a toothpick through the centre without any batter coming out, the cake is done.
To ensure your oven temperature is correct, it's best to use an oven thermometer. It's also a good rule of thumb to bake your cakes on the middle oven shelf. Using the top shelf might burn your cake on the outside and using the bottom one will prolong the baking time.
5. You removed it from the tin too soon
Cakes are a lot more fragile while they are still warm. If you try to remove it from the tin as soon as it comes out of the oven, it's probably going to break.
I recommend leaving the cake in the tin for around 15 minutes until it's cool to the touch. Then you can carefully transfer it to a wire rack, remove the baking paper and let it cool completely.
6. You didn't line or grease the tin correctly
It's almost guaranteed that your cake will fall apart if you didn't grease the tin properly. If the cake batter gets stuck to the tin, you'll have a hard time getting it out in one piece.
My personal recommendation would be to grease, flour and line your cake tins. It may seem excessive but it works perfectly every time- the cake comes right out without any poking or prodding, and the flour prevents it from becoming too greasy.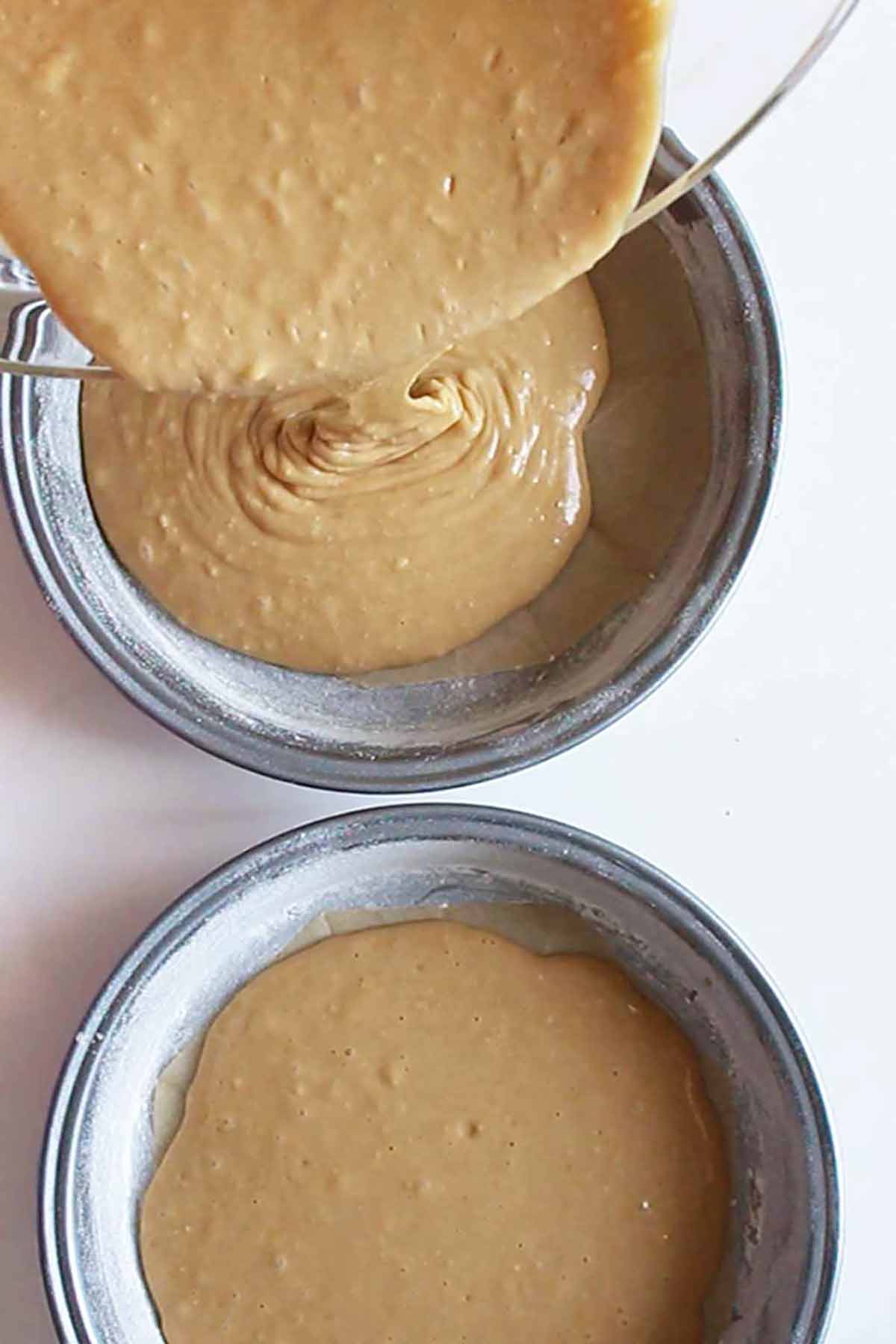 7. You tweaked the recipe
Vegan baking is not always an easy feat, especially if you're a beginner. Vegan cake recipes that you'll find online or in cookbooks have been tested with the ingredients and methods listed. Vegan desserts are not quite as forgiving as regular ones, and a lot of the time, changing one ingredient (or quantity of ingredient) can mess up the whole recipe.
An example of this would be using gluten-free flour instead of wheat flour. It might seem like a simple swap but the lack of gluten means the cake is more likely to fall apart. You'll actually need to add more binding ingredients if using gluten-free flour, especially because there are no eggs.
Another example is using vegan margarine instead of vegan butter and vice versa- they seem similar but both contain different amounts of water and fat and will produce different results.
It's best to follow a vegan cake recipe to the tee if you don't want it to fall apart. If you want to try substituting ingredients, be prepared for some experimenting and probably a few re-makes!
Vegan cakes that won't fall apart
I was only able to write this post about cake baking mistakes because I have made them all myself! After many years of practice, I've perfected my vegan cake recipes and can guarantee that they won't fall apart if you follow them closely. Here are some of my favourites: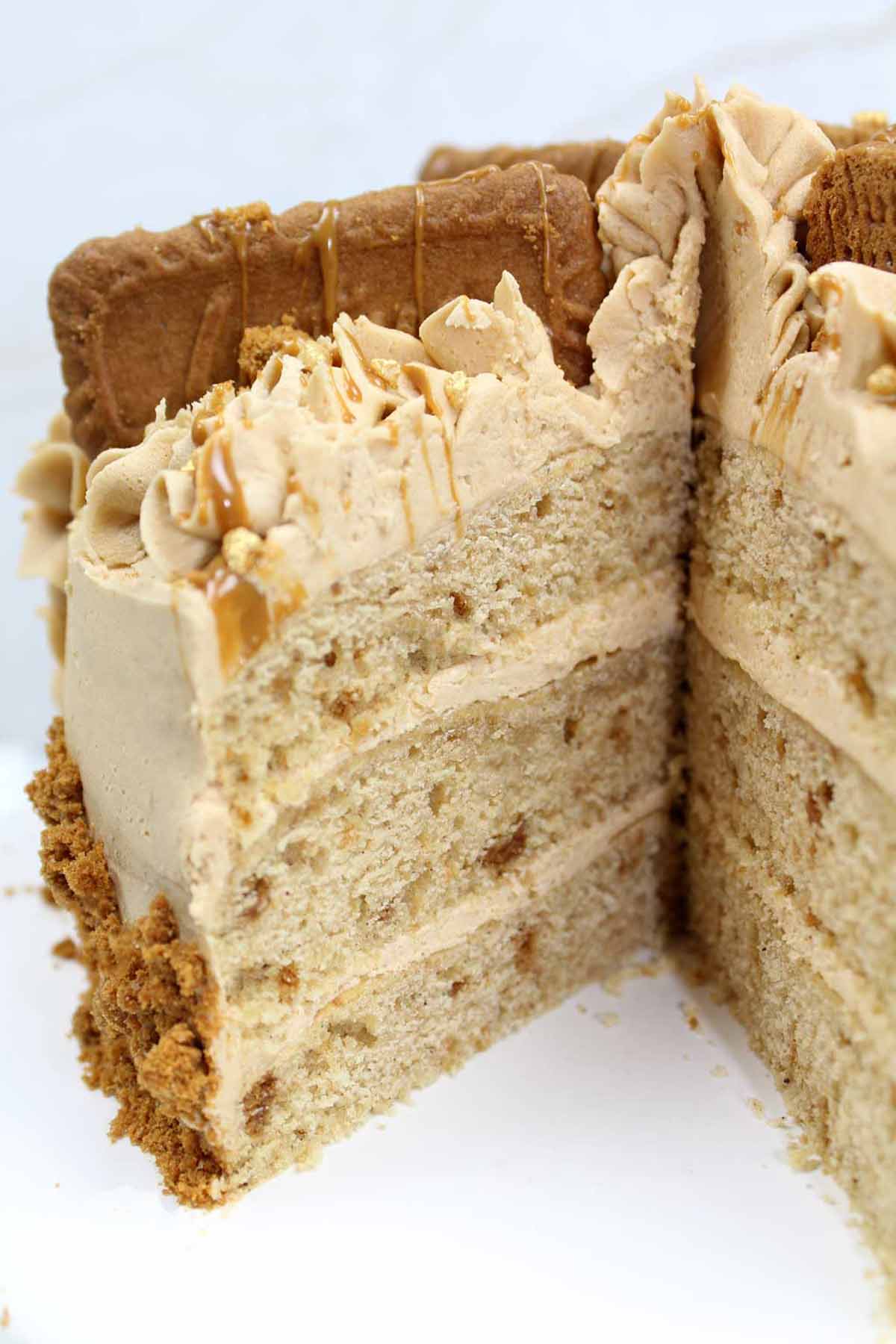 I hope you enjoyed this post! If you found it useful, please share it with your friends using the share buttons on this page. Happy baking! xo
BakedByClo is a participant in the Amazon Services LLC Associates Program, an affiliate advertising program designed to provide a means for sites to earn advertising fees by advertising and linking to Amazon.com. This site may contain some of these links to Amazon.com & other affiliate programs. If you make a purchase through one of those links, BakedByClo will receive a small commission from the purchase at no additional cost to you.