25 Vegan Desserts With Coconut Milk
If you like vegan desserts with coconut milk then you'll love these recipes! With 25 to choose from, you're sure to find something you love, whether that's cake, pie, pudding or ice cream.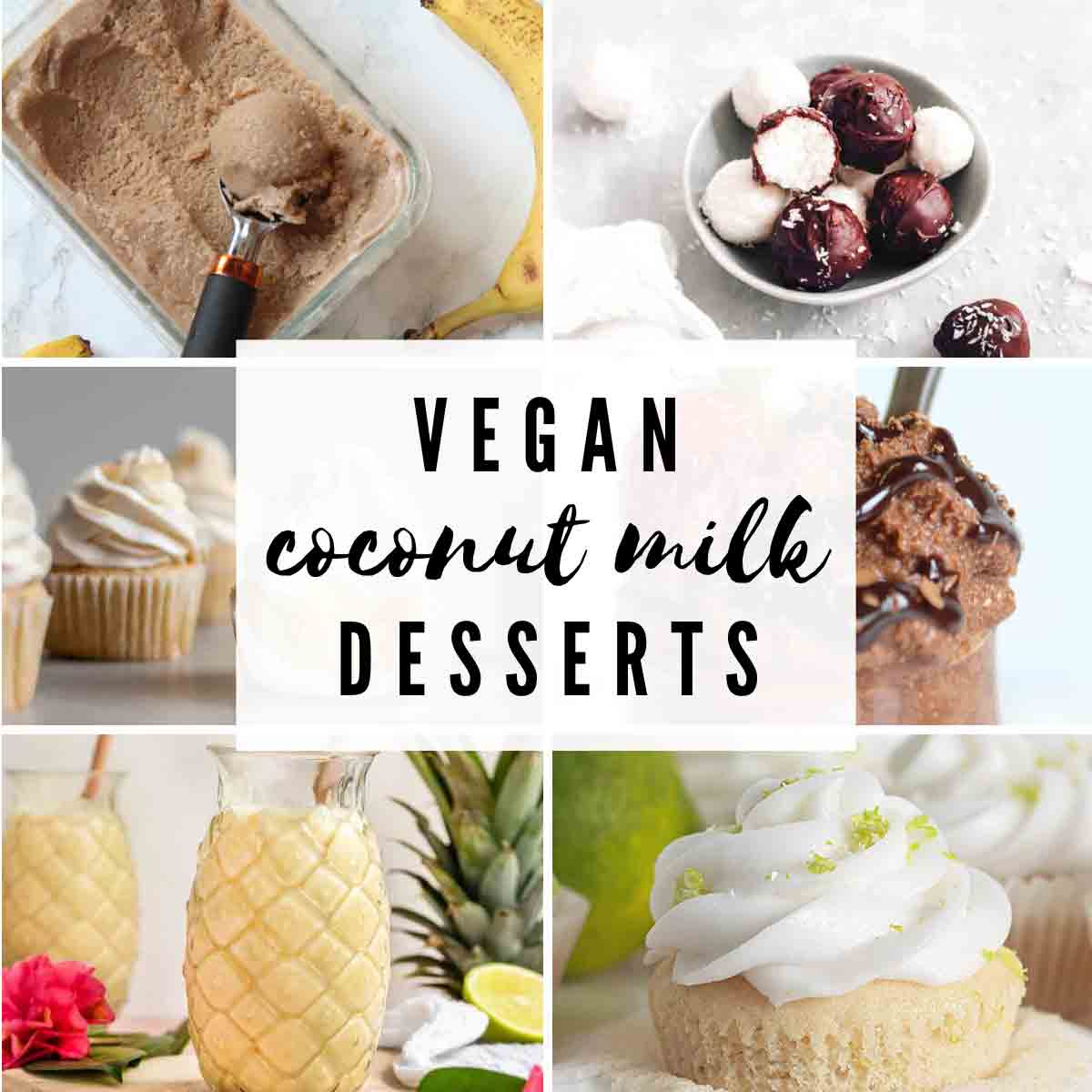 I recently started using coconut milk in my breakfast again and it reminded me how much I used to bake with it. There are so many different kinds of sweet treats you can make using coconut milk. Because it has a higher fat content than other plant-based milks, it produces a rich, creamy texture that is quite similar to dairy. This is especially good for cream-based desserts like ice cream.
Today, I'm bringing you this post full of vegan coconut milk desserts to enjoy. It includes something for everyone and there are 25 recipes to choose from. Some of the recipes are my own and some are from other bloggers, used with permission. Make sure to check out their blogs too because they are a talented bunch!
The best vegan desserts with coconut milk
As with most of my other roundup posts, I've split the recipes into groups so that the post is a little easier to skim through. The categories are: Cakes & pies, puddings, no-bake desserts, frozen treats & everything else.
I hope you like the recipes. If you make anything from the list, please leave me a comment to let me know how it goes.
Cakes & pies
Let's start with the cakes, shall we? This category includes recipes for cupcakes, traditional cakes, coconut macaroons, and pies.
Puddings
Here are 5 of my favourite pudding recipes, including mango sticky rice, panna cotta and chia pudding.
No-bake desserts
3 easy recipes that require no baking. All of them are full of coconut milk goodness!
Frozen treats
If you love frozen desserts, try out one of these ice cream or popsicle recipes. There are 7 to choose from.
Other vegan coconut milk desserts
These last 3 recipes are not quite desserts but they are sweet and delicious. Here are recipes for whipped cream, lemon curd and a piña colada smoothie.
There you have it, 25 vegan desserts with coconut milk! If you found this post helpful, please share it with a friend using the share buttons on this page. Enjoy! xo
BakedByClo is a participant in the Amazon Services LLC Associates Program, an affiliate advertising program designed to provide a means for sites to earn advertising fees by advertising and linking to Amazon.com. This site may contain some of these links to Amazon.com & other affiliate programs. If you make a purchase through one of those links, BakedByClo will receive a small commission from the purchase at no additional cost to you.