60+ Easy Vegan Comfort Food Recipes
If you're looking for some hearty, vegan comfort food recipes, this post is for you! There are over 60 easy recipes to choose from, including both sweet and savoury dishes.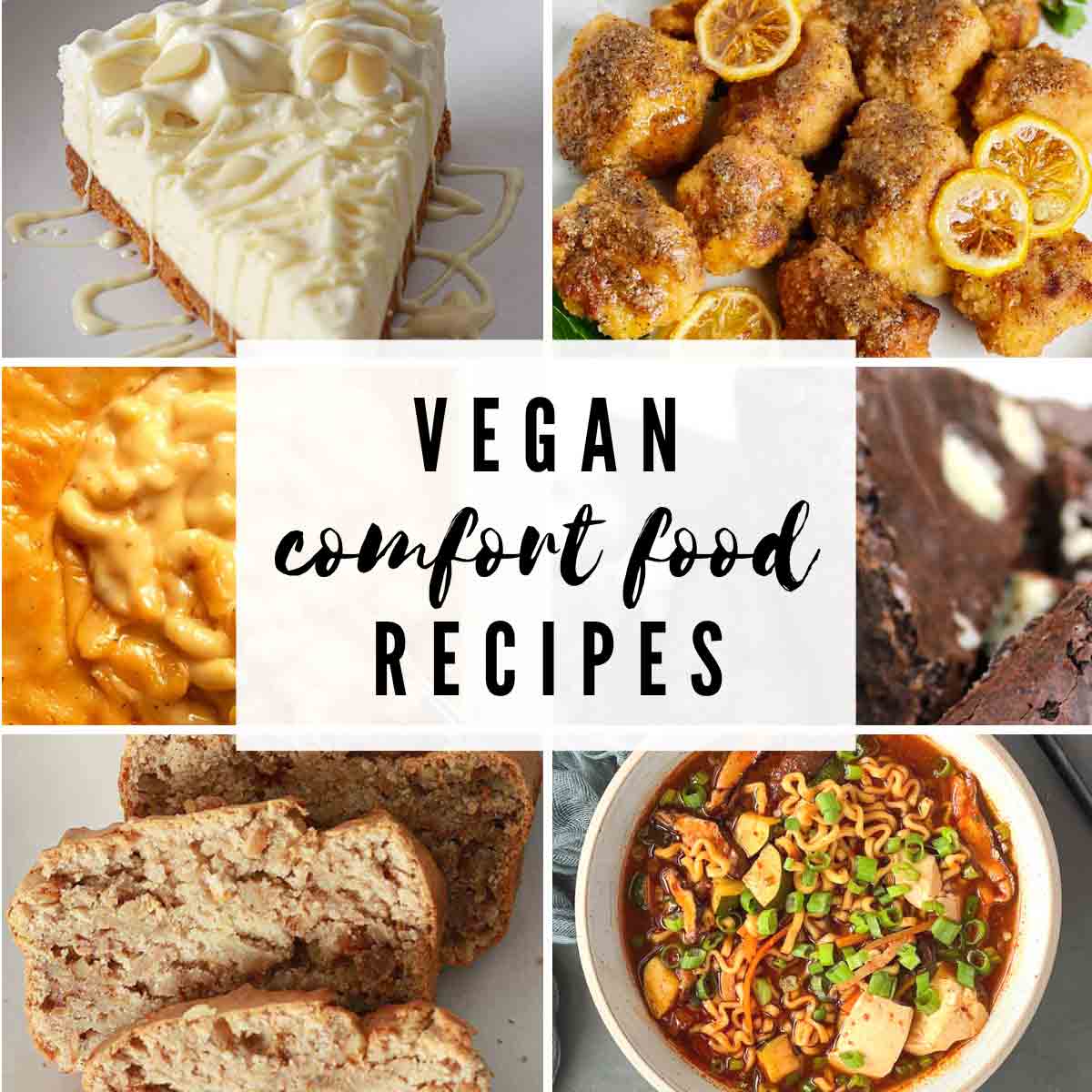 Last week, I came down with a bad cold and coupled with the rainy, dull weather in Scotland, I felt pretty miserable. I am a huge foodie so I immediately started to think of some of my favourite foods that could help me get by.
I ended up making some spicy ramen and chocolate brownies and I can tell you, I was definitely comforted! This sparked the idea for this post so, using help from some other food bloggers, I'm bringing you this huge list of vegan comfort food recipes.
Whether you're sick, going through a stressful time, or have cold weather where you are, I hope that these recipes can help to bring a little bit of joy to your life. There are plenty of options to choose from- whether you prefer a hearty stew, a gooey mac and cheese or a rich chocolate fudge cake, you'll find something to suit your needs in this post.
The best vegan comfort food recipes
I've split this post into savoury and sweet recipes, then split them further into categories with other similar recipes. Feel free to use the links below to quickly navigate to the section you're most interested in.
Savoury Comfort Food
I'm starting with the savoury recipes first. There are all kinds of cuisines to choose from so you're sure to find a recipe you love.
Soups & Stews
These soups and stews are perfect to warm you up from the inside out.
Pasta & Rice
Pasta has got to be one of the best vegan savoury comfort foods out there! It's so delicious and versatile. Here are 7 pasta recipes and one risotto recipe.
'Meat' Dishes
These recipes replicate meat-based dishes in a cruelty-free way.
Curries
If you love spices then try one of these flavourful curry recipes.
Pies
A pie feeds the soul, not just the stomach! Here are 3 tasty pie recipes to choose from. I have a whole post dedicated to savoury pies if you'd like more recipes.
Other savoury vegan comfort meals
These last 3 savoury recipes didn't quite fit into any of the other categories above but are equally as delicious and comforting.
Sweet Comfort Food
Next, we have the sweet vegan comfort foods. I don't know about you but I much prefer desserts to savoury foods when I'm in need of comfort. I've included the most indulgent vegan desserts I could find for you. I hope you like them.
Cheesecakes
Cheesecake tends to be a popular sweet comfort food so I had to include a few of them in this post!
Puddings
For different types of vegan sweet puddings.
Brownies
For me personally, brownies are the ultimate comfort food dessert. Here are 5 of my favourite recipes.
Cakes & Sweet Breads
Everyone loves a good cake, don't they? Here are 9 cakey comfort desserts to choose from.
Cookies
Last but not least are the cookie recipes.
There you have it! More than 60 delicious vegan comfort food recipes. I hope you liked the post; if you found it helpful, please give it a share using the share buttons on the page. Enjoy!
BakedByClo is a participant in the Amazon Services LLC Associates Program, an affiliate advertising program designed to provide a means for sites to earn advertising fees by advertising and linking to Amazon.com. This site may contain some of these links to Amazon.com & other affiliate programs. If you make a purchase through one of those links, BakedByClo will receive a small commission from the purchase at no additional cost to you.