60+ Easy Vegan Comfort Food Recipes
If you're looking for some hearty, vegan comfort food recipes, this post is for you! There are over 60 easy recipes to choose from, including both sweet and savoury dishes.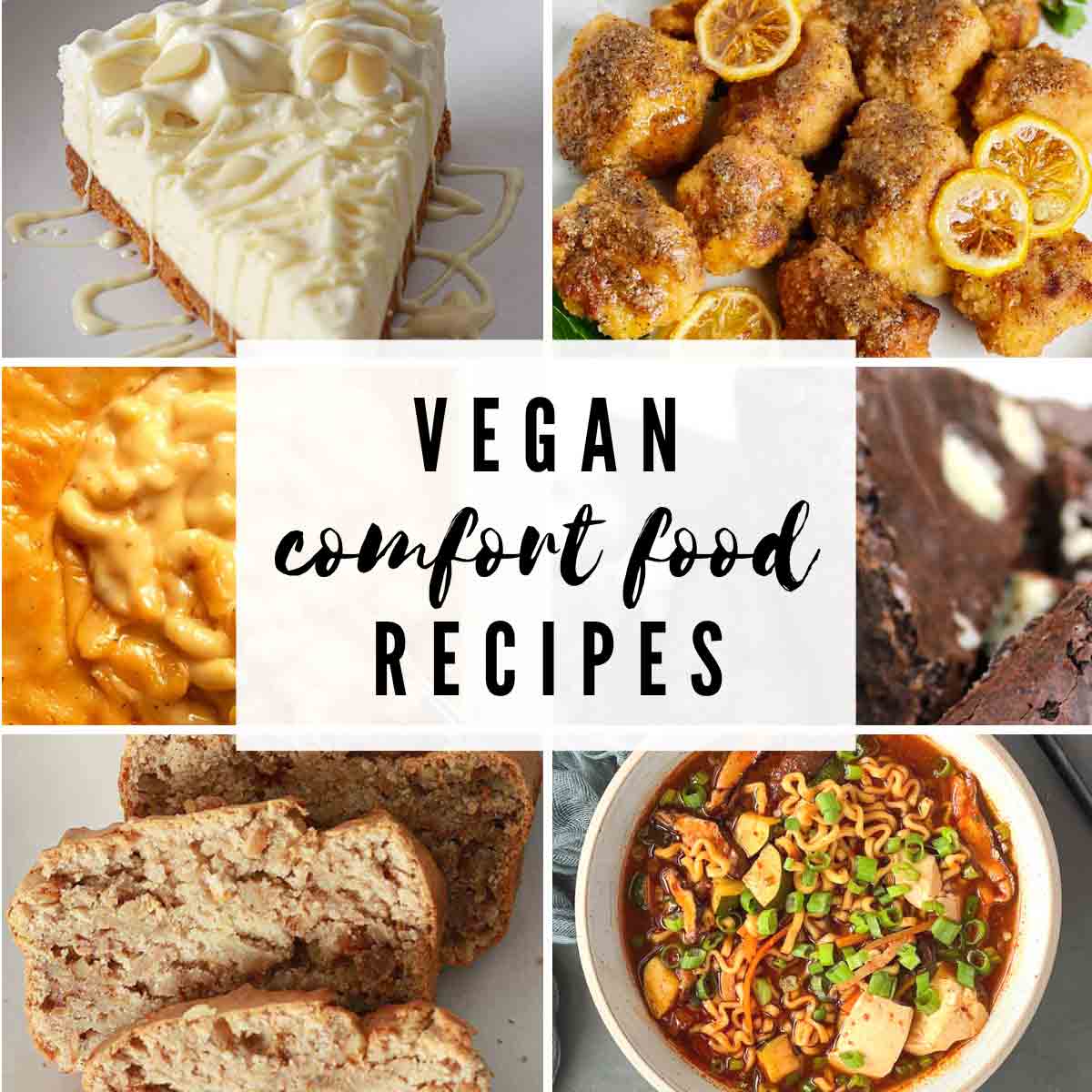 Last week, I came down with a bad cold and coupled with the rainy, dull weather in Scotland, I felt pretty miserable. I am a huge foodie so I immediately started to think of some of my favourite foods that could help me get by.
I ended up making some spicy ramen and chocolate brownies and I can tell you, I was definitely comforted! This sparked the idea for this post so, using help from some other food bloggers, I'm bringing you this huge list of vegan comfort food recipes.
Whether you're sick, going through a stressful time, or have cold weather where you are, I hope that these recipes can help to bring a little bit of joy to your life. There are plenty of options to choose from- whether you prefer a hearty stew, a gooey mac and cheese or a rich chocolate fudge cake, you'll find something to suit your needs in this post.
The best vegan comfort food recipes
I've split this post into savoury and sweet recipes, then split them further into categories with other similar recipes. Feel free to use the links below to quickly navigate to the section you're most interested in.
Savoury Comfort Food
I'm starting with the savoury recipes first. There are all kinds of cuisines to choose from so you're sure to find a recipe you love.
Soups & Stews
These soups and stews are perfect to warm you up from the inside out.
This hearty, filling 'beef' stew is made with jackfruit and fresh veggies. Takes just 15 minutes of prep time.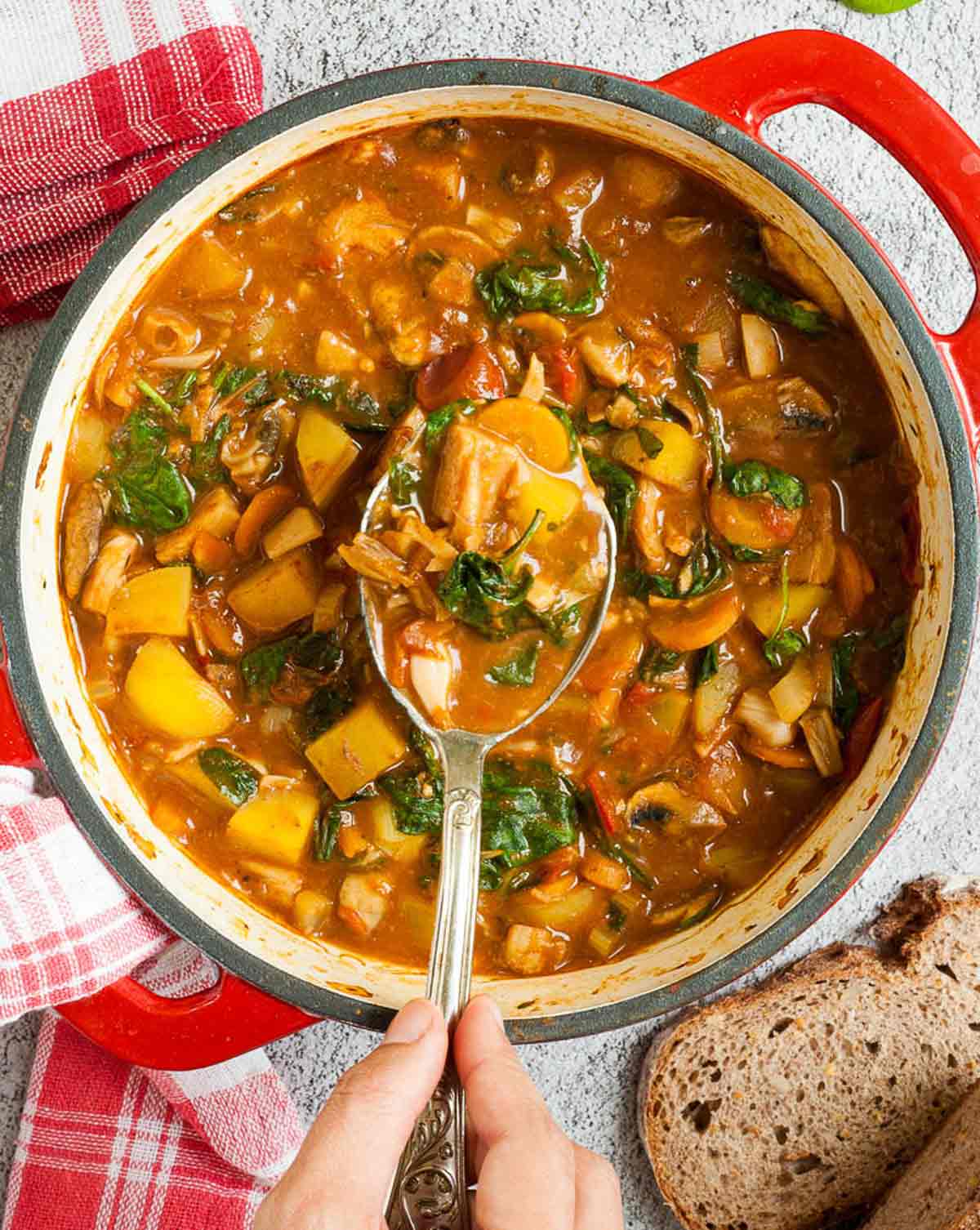 This vegan wonton soup tastes super authentic. Packed with garlic and ginger, it's great a delicious comfort food recipe that can help you heal from a cold.
An easy, tasty Asian soup that's ready in just 25 minutes. A great alternative to chicken noodle soup.
Potatoes and soup in one meal- you can't get much more of a comfort food than that, can you?! It's thick, creamy and made with wholesome ingredients.
This soup is full of fresh seasonal veggies, beans and orzo pasta. It's a nutritious yet delicious meal that is sure to satisfy.
This easy ramen recipe combines traditional ramyeon and Japanese ramen to make a spicy, flavourful dish. Perfect for keeping warm on chilly days.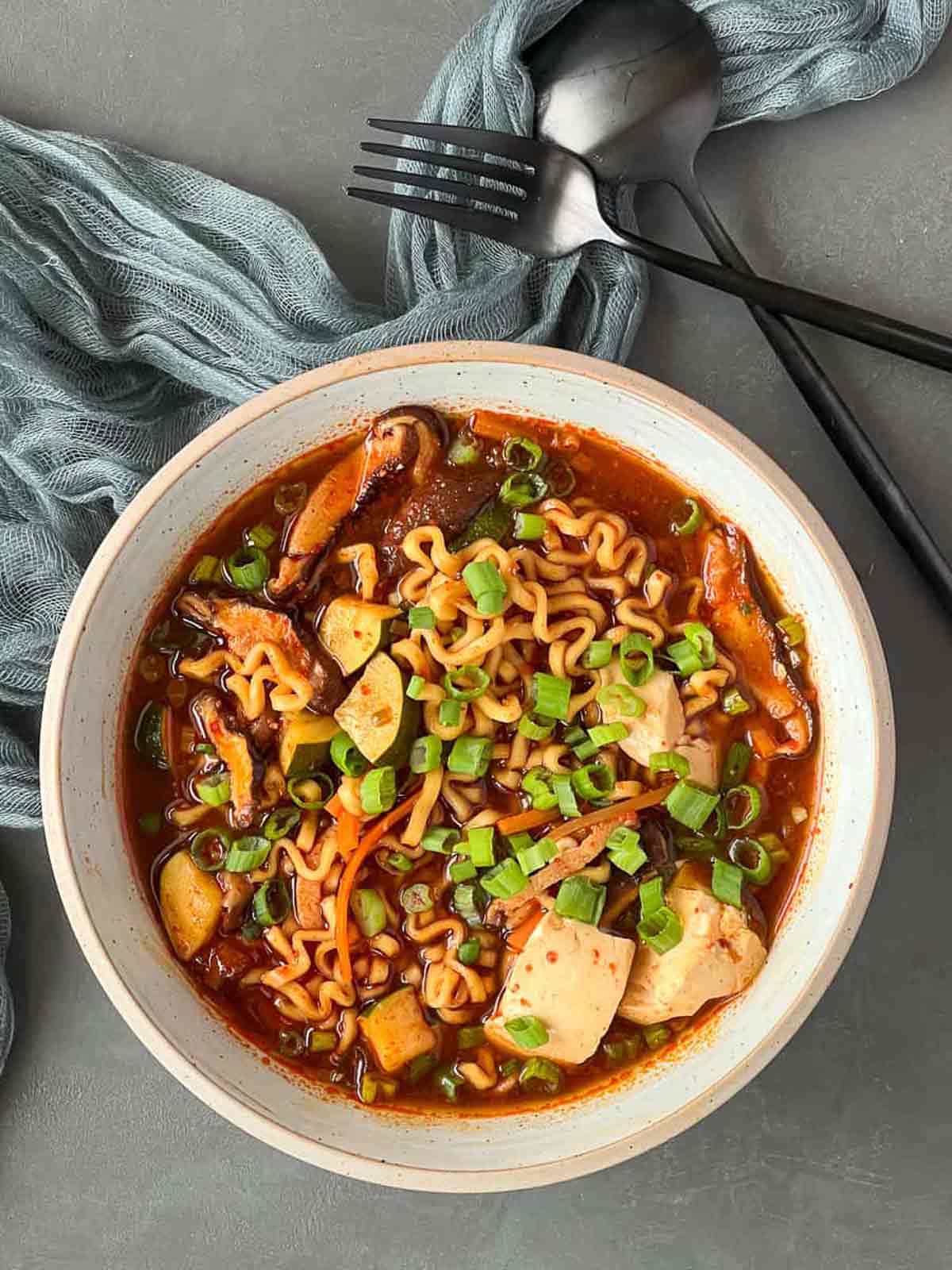 This French vegetable stew is packed with fresh veggies, basil and lots of flavour. A healthier take on comfort food that you'll love.
This vegan-friendly chilli can be made in one pot with just a handful of simple ingredients.
Pasta & Rice
Pasta has got to be one of the best vegan savoury comfort foods out there! It's so delicious and versatile. Here are 7 pasta recipes and one risotto recipe.
This is a surprisingly healthy version of the classic Fettuccini Alfredo. It's made with simple, wholesome ingredients and is ready to eat in less than an hour.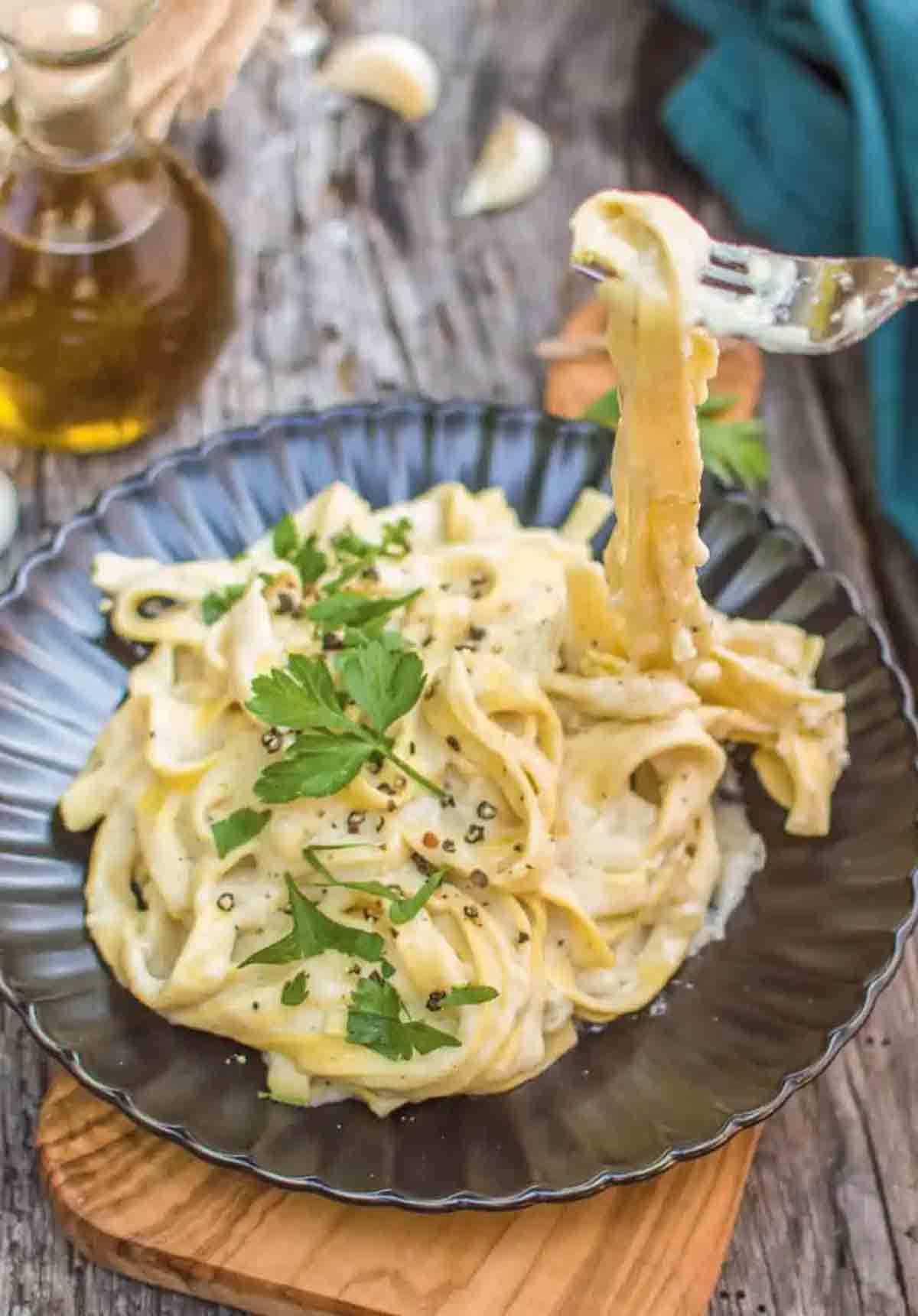 A rich, hearty bolognese with a 'meaty' texture. A great way to sneak some extra veggies into your vegan comfort food dish!
This Asian-inspired recipe combines chewy udon noodles, salty-spicy peanut sauce, mushrooms and chilli oil. It's super quick and easy to make.
The ultimate vegan comfort food recipe! This mac and cheese is creamy, cheesy and nut-free. It doesn't require much prep time and is super simple to make.
This delicious pasta sauce is sure to satisfy even the hungriest of eaters. It's ready to eat from scratch in just over 1 hour.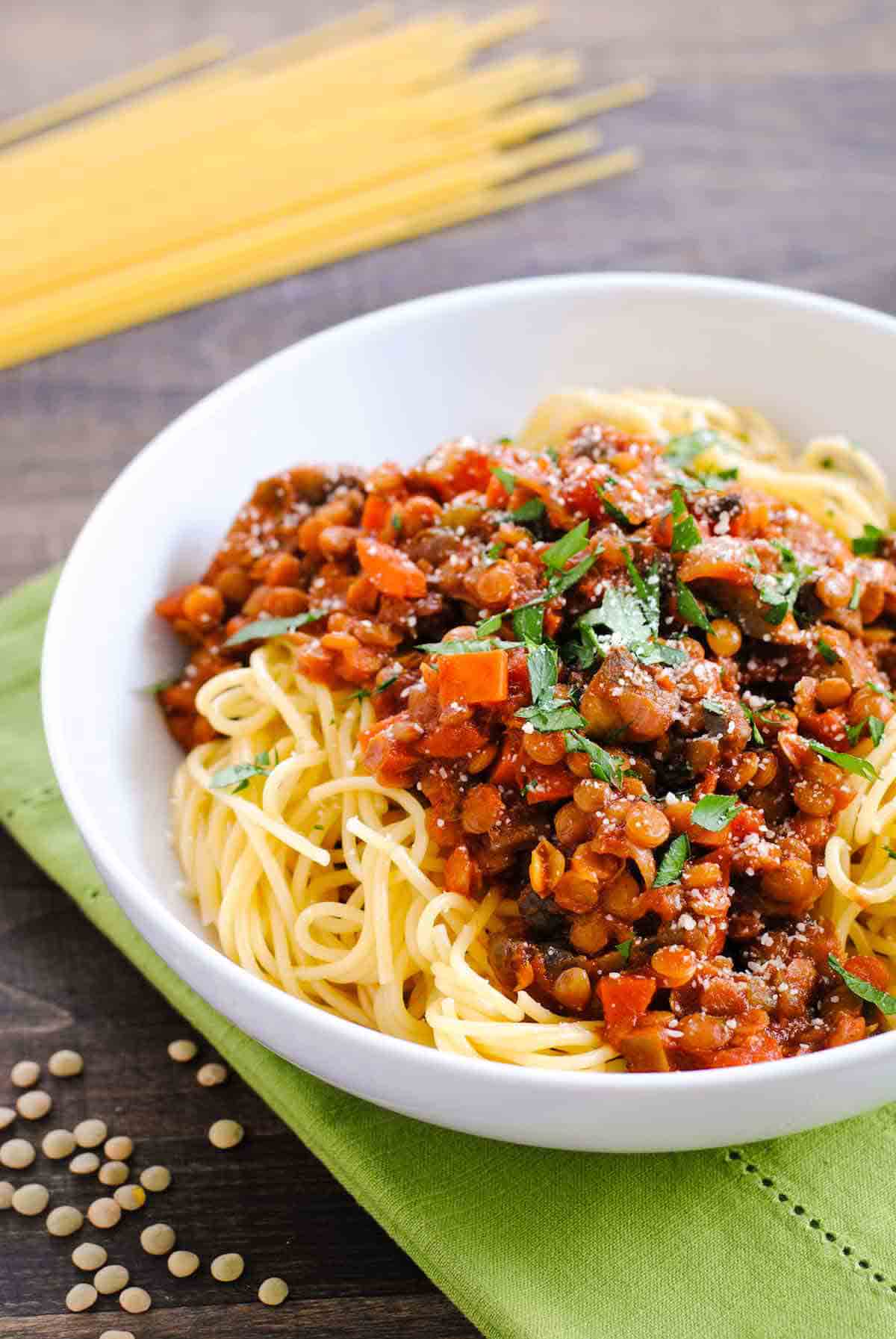 This hearty lasagna is made with layers of pasta, vegetables, two kinds of vegan cheese and a rich marinara sauce. Yum!
Stuffed shells filled with homemade vegan ricotta cheese, spinach and seasonings. Takes just 50 minutes from start to finish.
A classic Italian rice dish that's packed with flavour from fresh veggies and herbs. It's naturally gluten-free so perfect for anyone with gluten intolerance.
'Meat' Dishes
These recipes replicate meat-based dishes in a cruelty-free way.
Meat-free shawarma with dairy-free garlic yoghurt sauce. This is a healthier alternative to takeaway yet it's still packed full of flavour.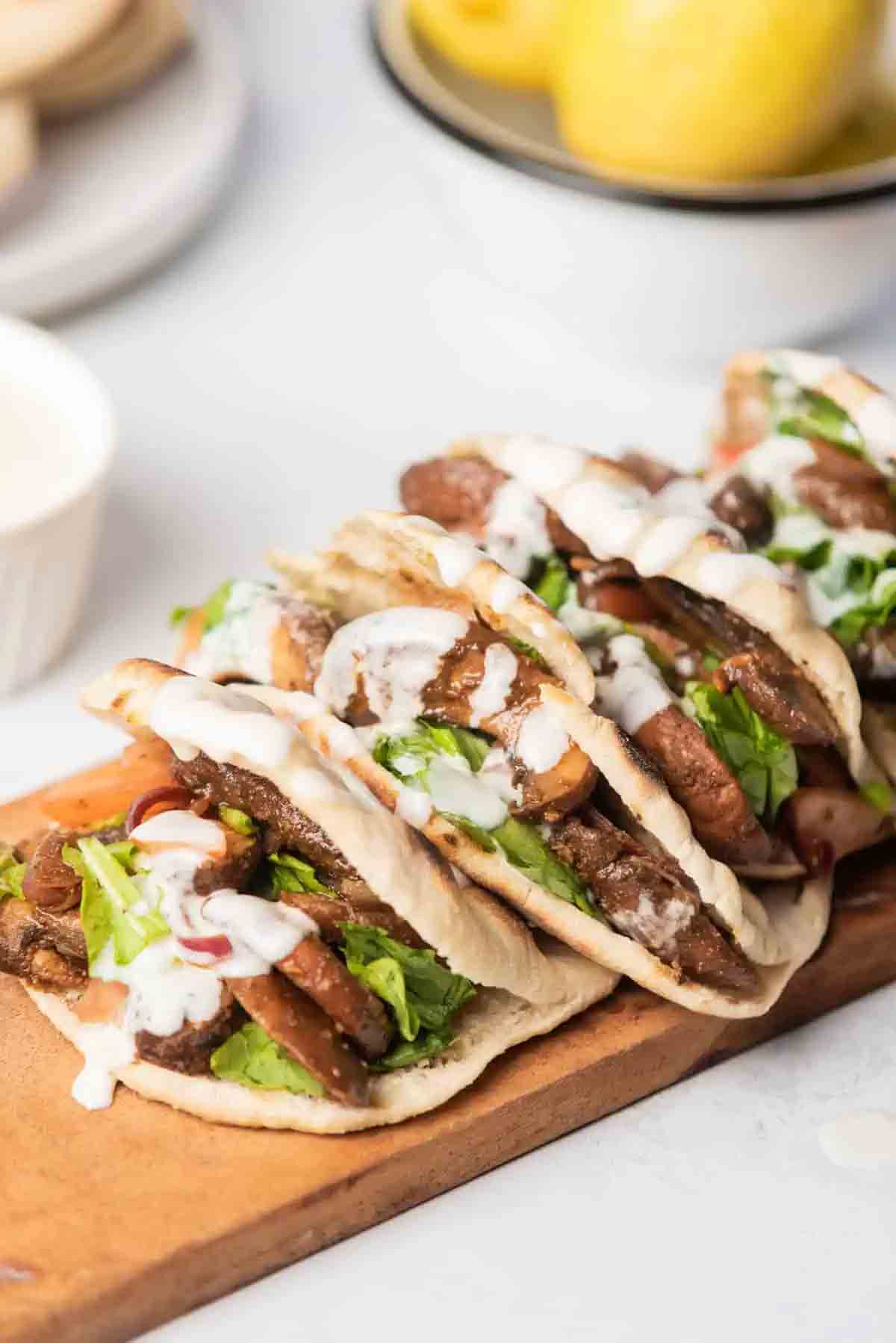 These crispy vegan-friendly nuggets are healthy, packed with protein and full of flavour. Take your pick between oven-baked or air-fried.
When it comes to vegan comfort food, you just can't beat a good meatloaf. Serve with creamy mashed potatoes and vegan gravy.
These wings are made with cauliflower but I put them in this category because they make a great cruelty-free alternative to chicken wings. Baked to perfection in a sweet, lemon pepper sauce.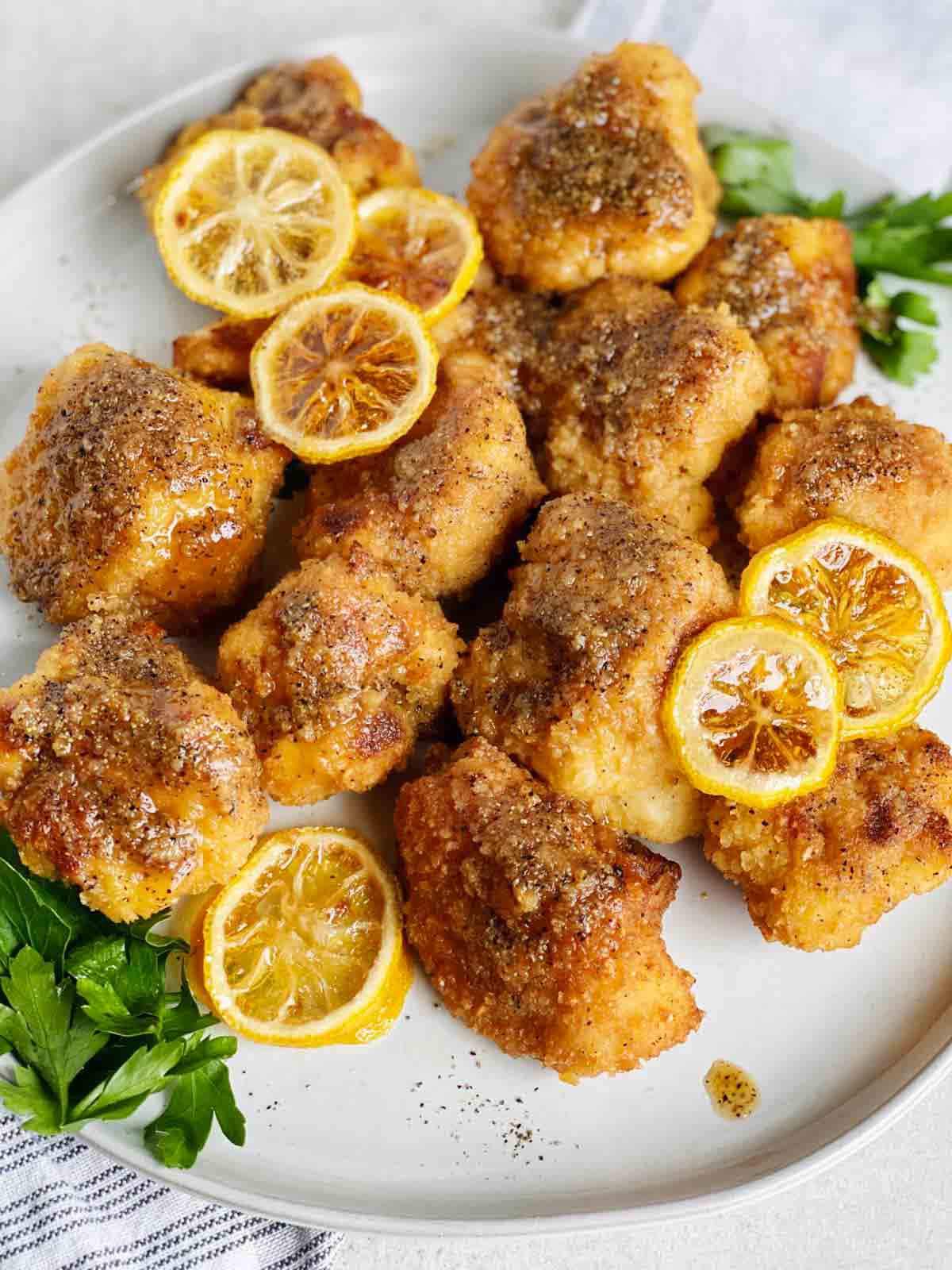 Crunchy vegan popcorn chicken coated with a sweet and spicy sauce. This easy dish can be made in the oven or the air-fryer.
Enjoy this tasty dish as is or add some hot dog buns for an extra dose of deliciousness.
A healthier take on the classic burger and fries combo. A whole serving contains less than 400 calories and 2g of fat!
These hearty, plant-based meatballs are crispy on the outside and tender on the inside. Packed full of flavour with just 10 simple ingredients.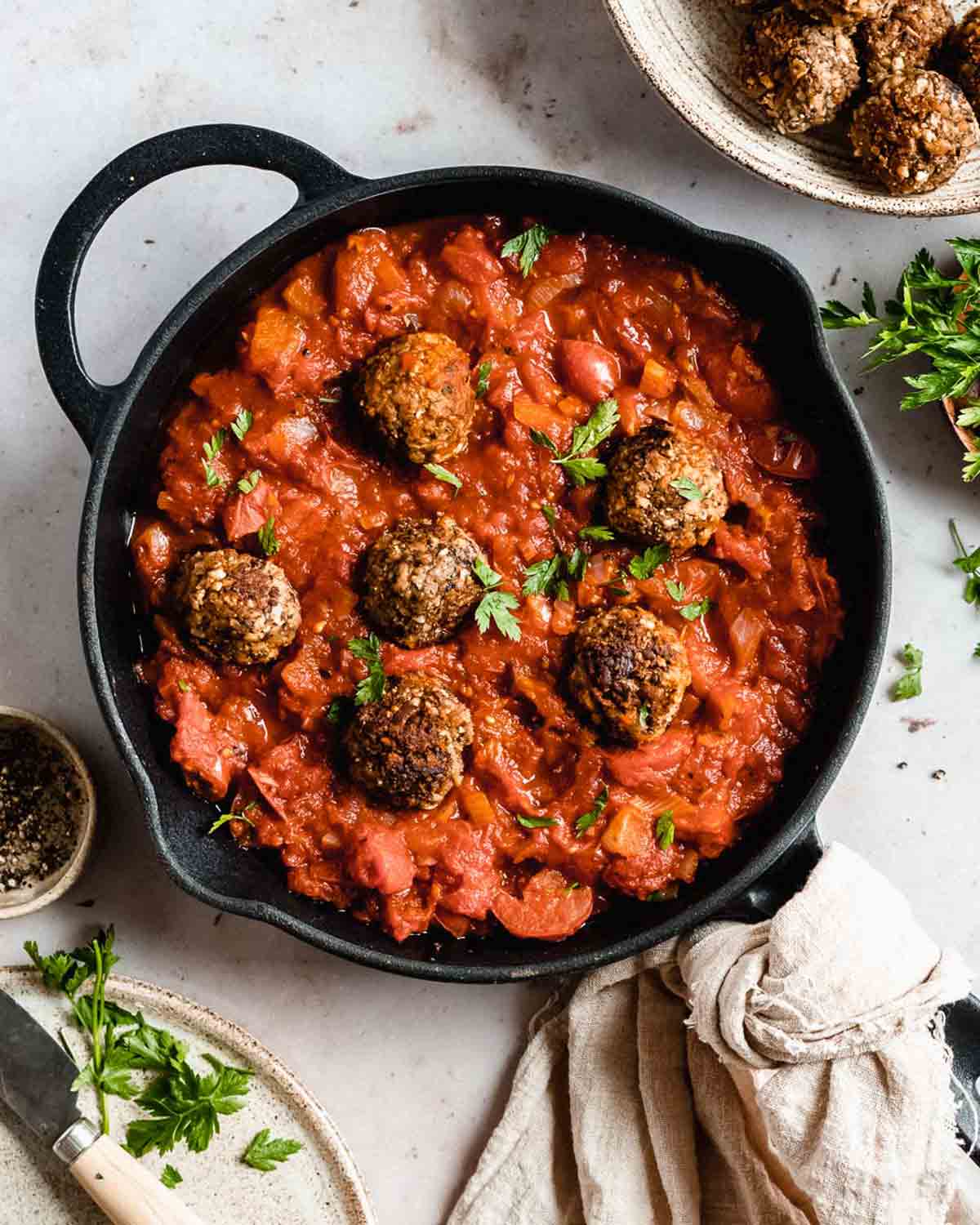 Curries
If you love spices then try one of these flavourful curry recipes.
Chana saag is a vegetarian Indian dish made with chickpeas, tomatoes and spinach in an aromatic sauce. A comforting curry that's perfect for dinner.
A 30 minute recipe that's filling, warm and comforting. This curry is full of deep, rich flavours, packed with plant-based protein and fibre.
This sweet potato curry is creamy and full of bold flavours, and it can be made easily in one pot.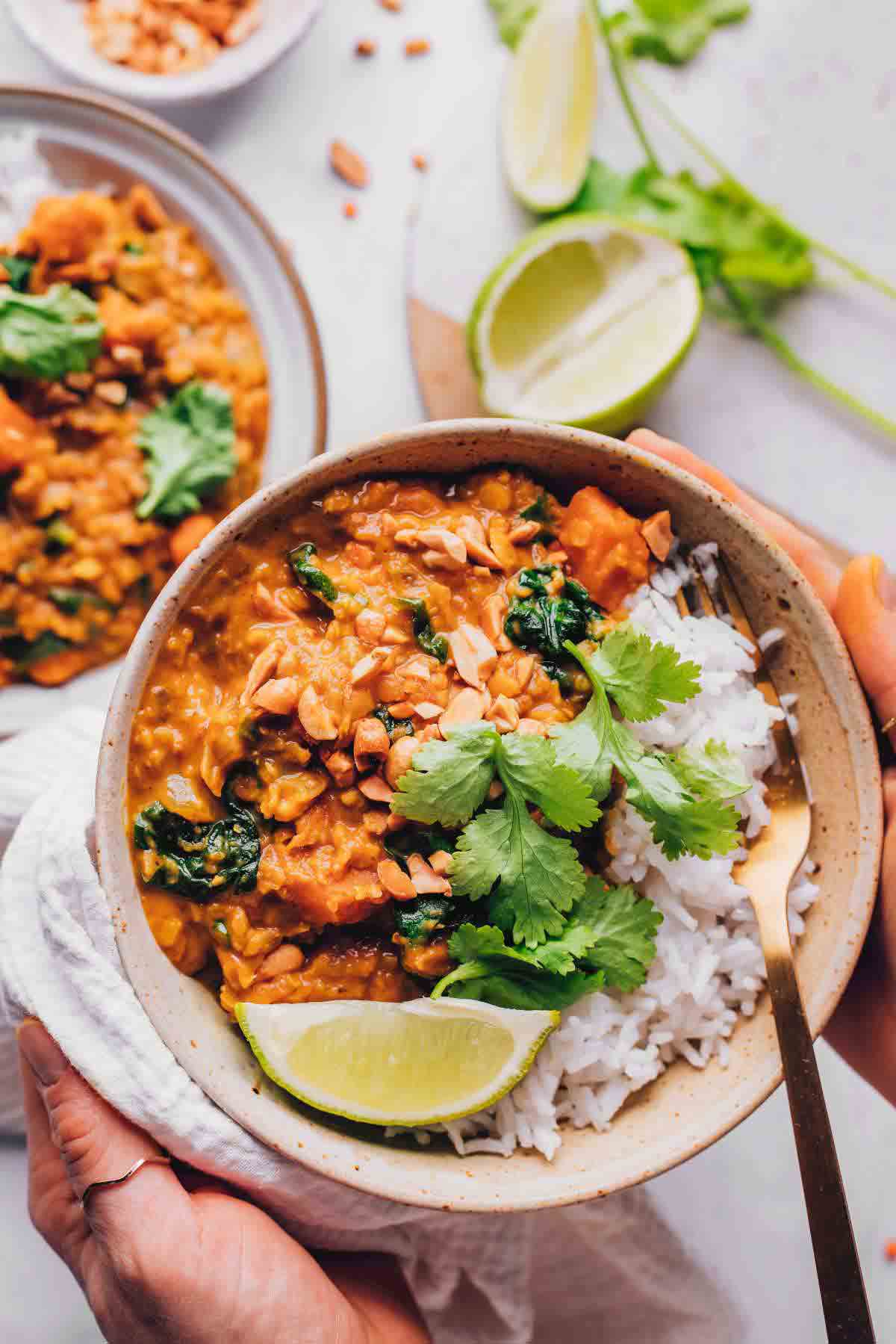 Creamy coconut curry made with staple pantry ingredients. Serve with brown rice for a healthy, hearty meal.
Pies
A pie feeds the soul, not just the stomach! Here are 3 tasty pie recipes to choose from. I have a whole post dedicated to savoury pies if you'd like more recipes.
Broccoli, potatoes and carrots baked into a flaky pie crust with creamy vegan cheddar cheese sauce. Cosy, comforting and satisfying!
This comforting filo-crust pie is made with veggies and a smooth, nutty homemade bechamel sauce.
A veggie-friendly Shepherd's pie made with lentils instead of meat. A filling main dish that's budget friendly.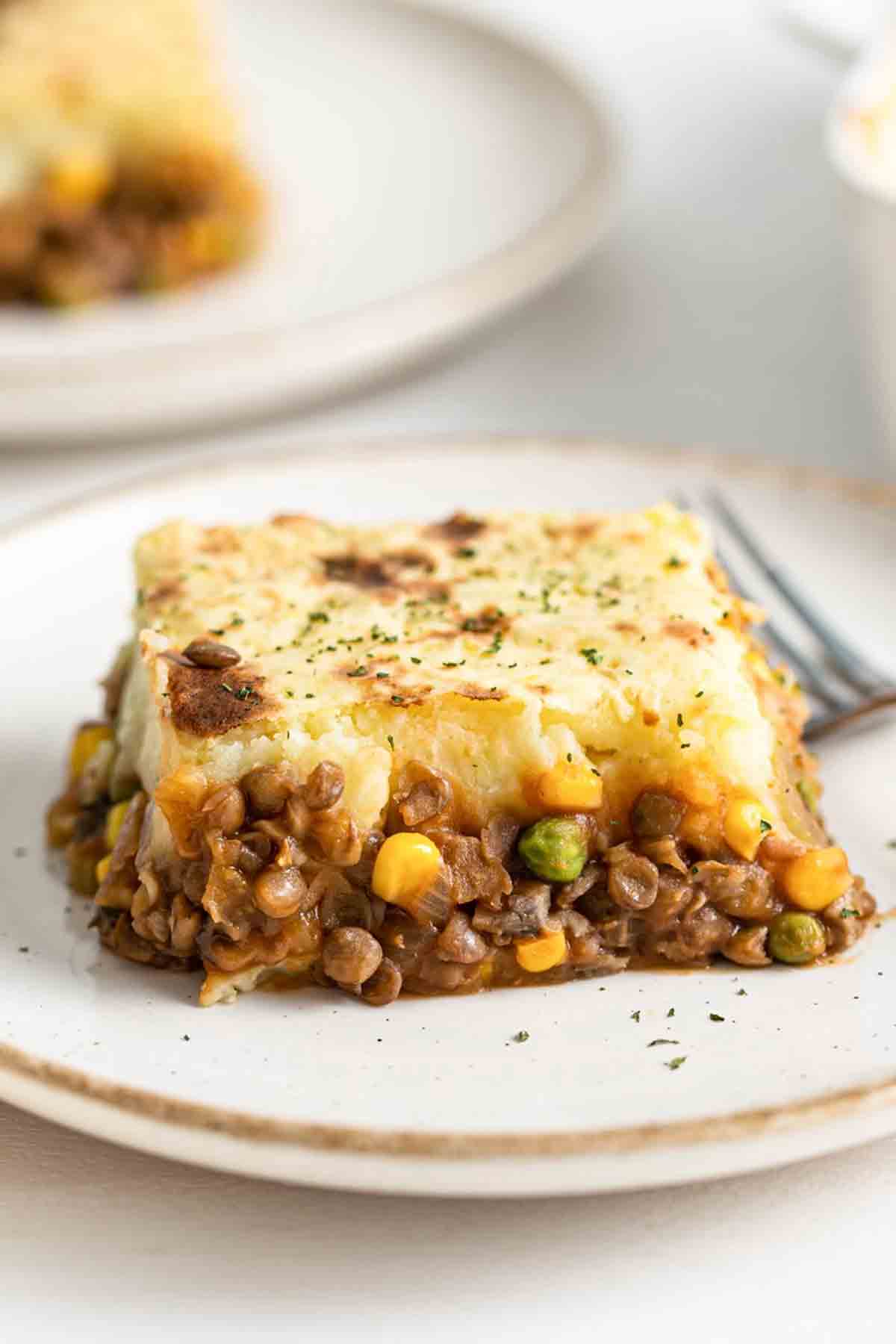 Other savoury vegan comfort meals
These last 3 savoury recipes didn't quite fit into any of the other categories above but are equally as delicious and comforting.
These chickpea stuffed peppers have a savoury flavour, crunchy texture and a hint of spice. A low fat recipe that tastes super comforting.
Pan-fried cakes made with mashed potatoes, vegan cheese and scallions. They're soft and fluffy on the inside and crispy on the outside.
Nachos are one of my favourite vegan comfort foods! This recipe uses dairy-free cheese, beans, salsa, vegan sour cream and guacamole, piled up high on top of corn tortilla chips.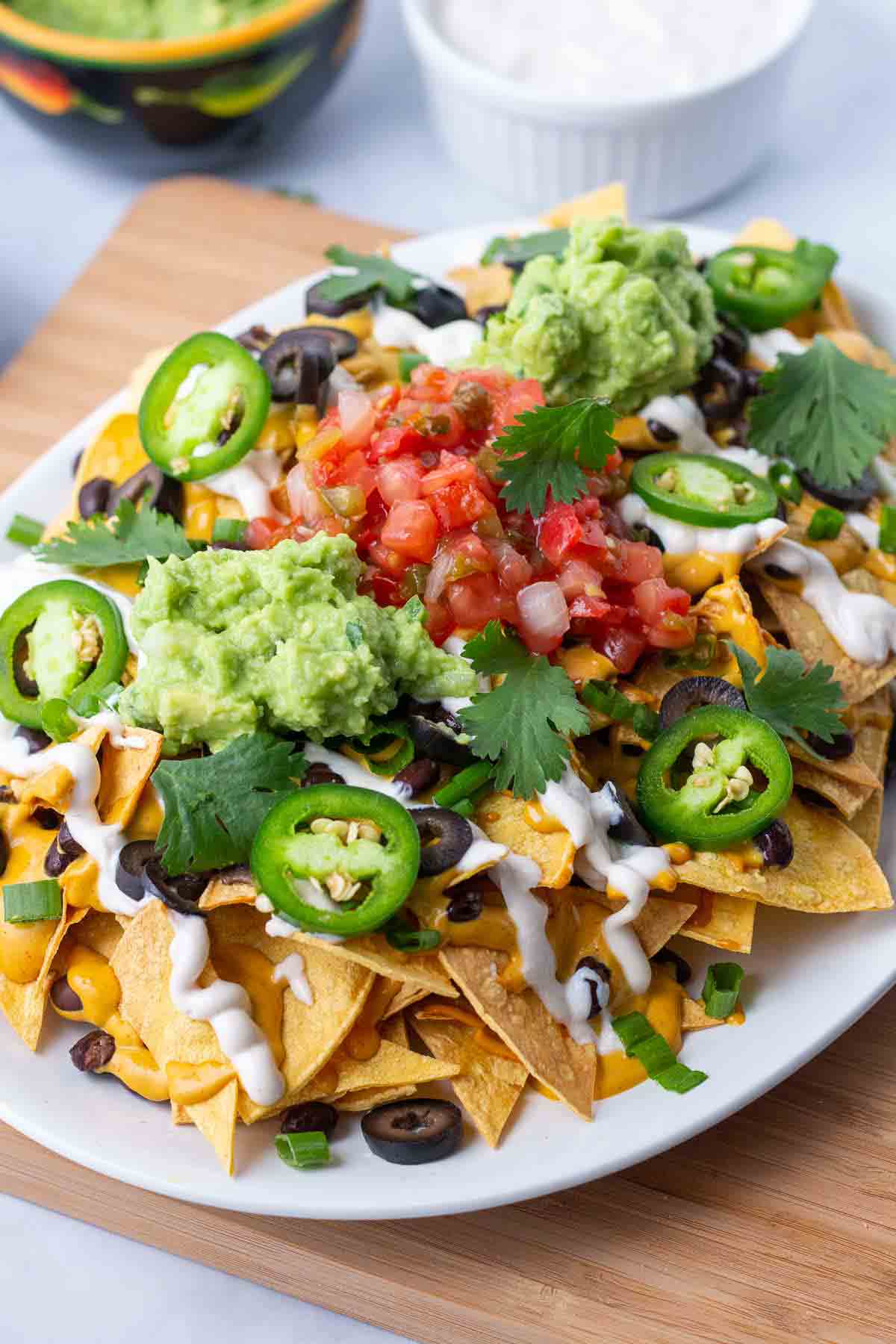 Sweet Vegan Comfort Food
Next, we have the sweet vegan comfort foods. I don't know about you but I much prefer desserts to savoury foods when I'm in need of comfort. I've included the most indulgent vegan desserts I could find for you. I hope you like them.
Cheesecakes
Cheesecake tends to be a popular sweet comfort food so I had to include a few of them in this post!
This is one of my (non-vegan) family's favourite desserts of mine and it's also one of the most visited recipes on my blog, with multiple 5-star reviews.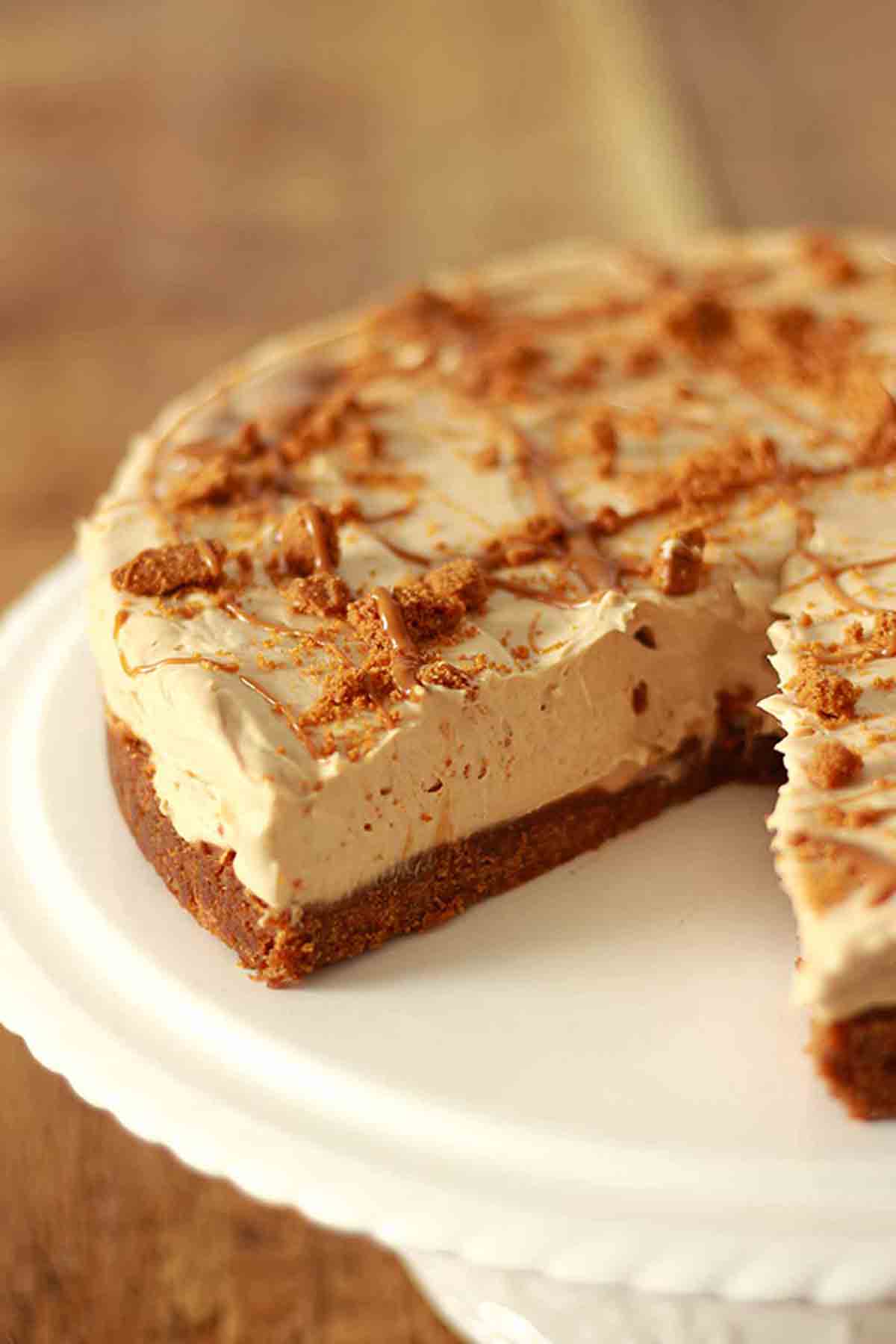 A simple but comforting vanilla cheesecake with fresh strawberries and a sticky strawberry sauce on top.
This chocolate cheesecake is paired with a Hobnob biscuit base for an extra special flavour and texture.
This cheesecake is ultra rich and creamy. It tastes a bit similar to how I remember Milkybar chocolate tasting! The super sweet filling is paired with a fiery gingernut biscuit base for the perfect balance.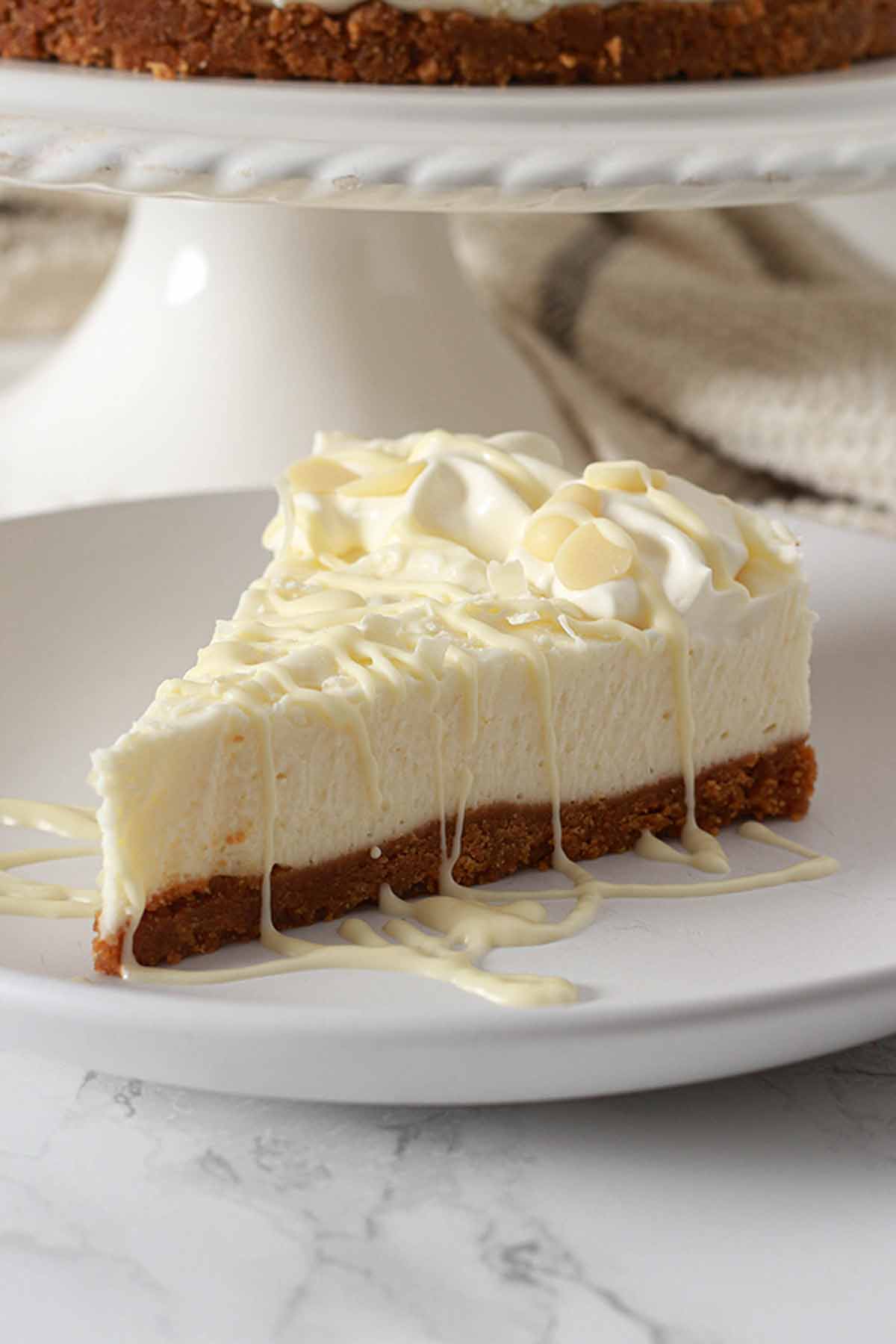 Just like the classic version but this one is vegan and gluten-free. A decadent dessert that you'll want to make again and again.
Puddings
For different types of vegan sweet puddings.
This strawberry trifle is made with fresh fruit, strawberry jam, vanilla cake, custard and whipped cream- all vegan-friendly of course!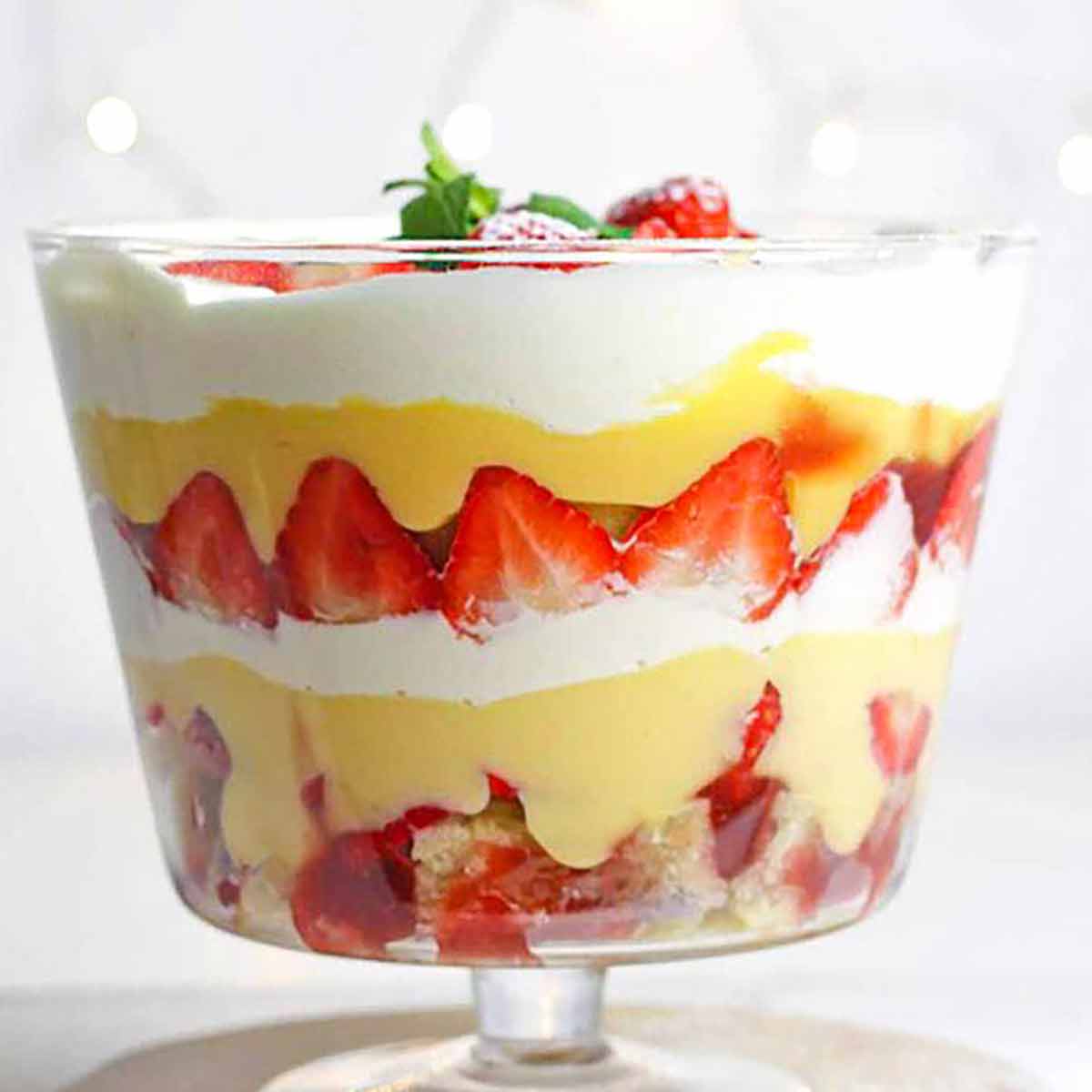 This rice pudding is an easy, simple breakfast or dessert made with basic ingredients. It's made with oat milk instead of dairy to produce a rich, creamy texture.
This bread pudding is a delicious way to use up stale bread. It melts in your mouth and will make your whole house smell lovely!
This chocolate pudding is self-saucing, with a rich, gooey chocolate sauce underneath the sponge. Tastes delicious served with vegan ice cream, pouring cream or custard.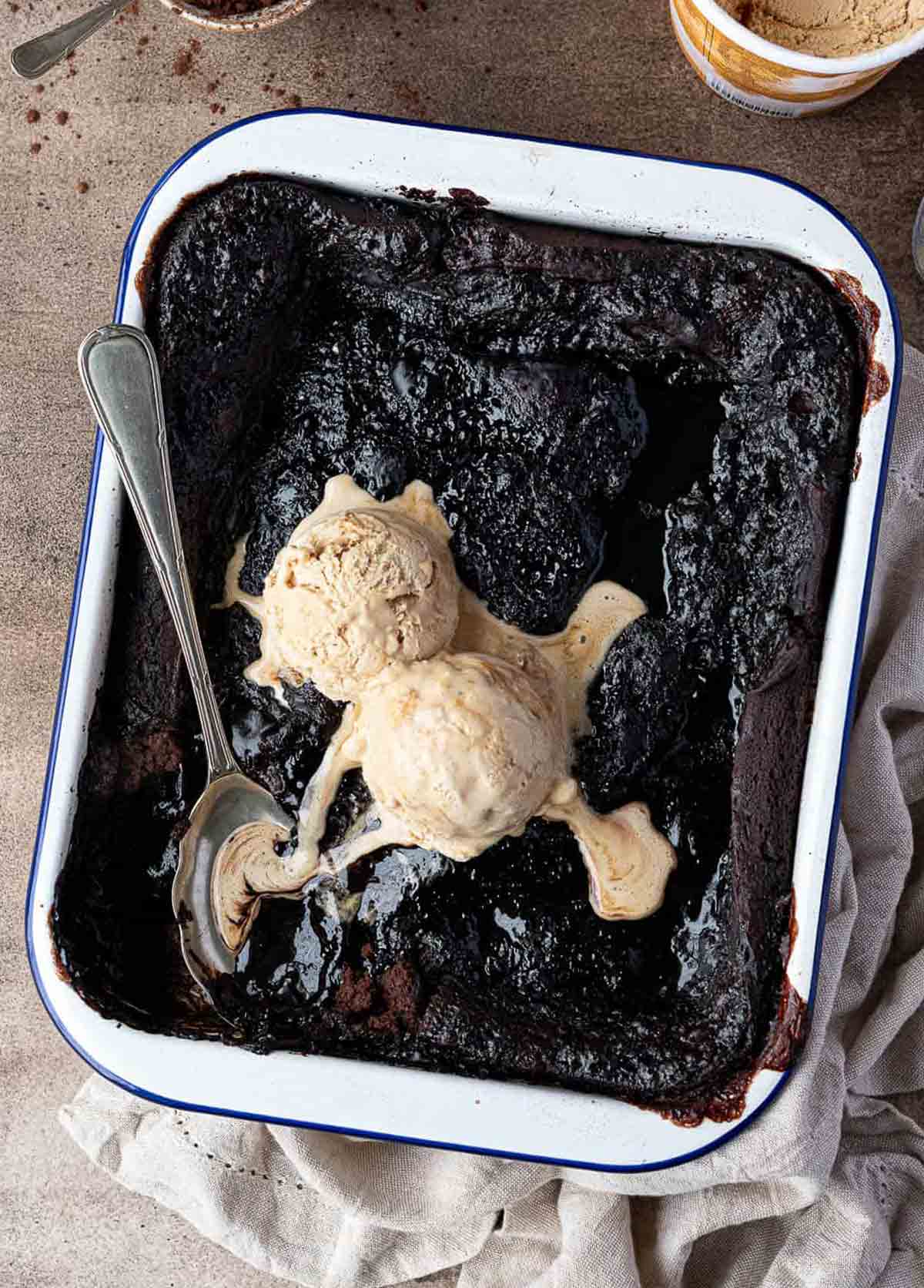 Brownies
For me personally, brownies are the ultimate comfort food dessert. Here are 5 of my favourite recipes.
These are just like the classic brownies but with a swirl of peanut butter on top. The nutty flavour makes a great addition to this comforting dessert.
These are my favourite brownies ever and possibly my most favourite recipe on my blog! They're super rich and fudgy with the classic papery crust on top.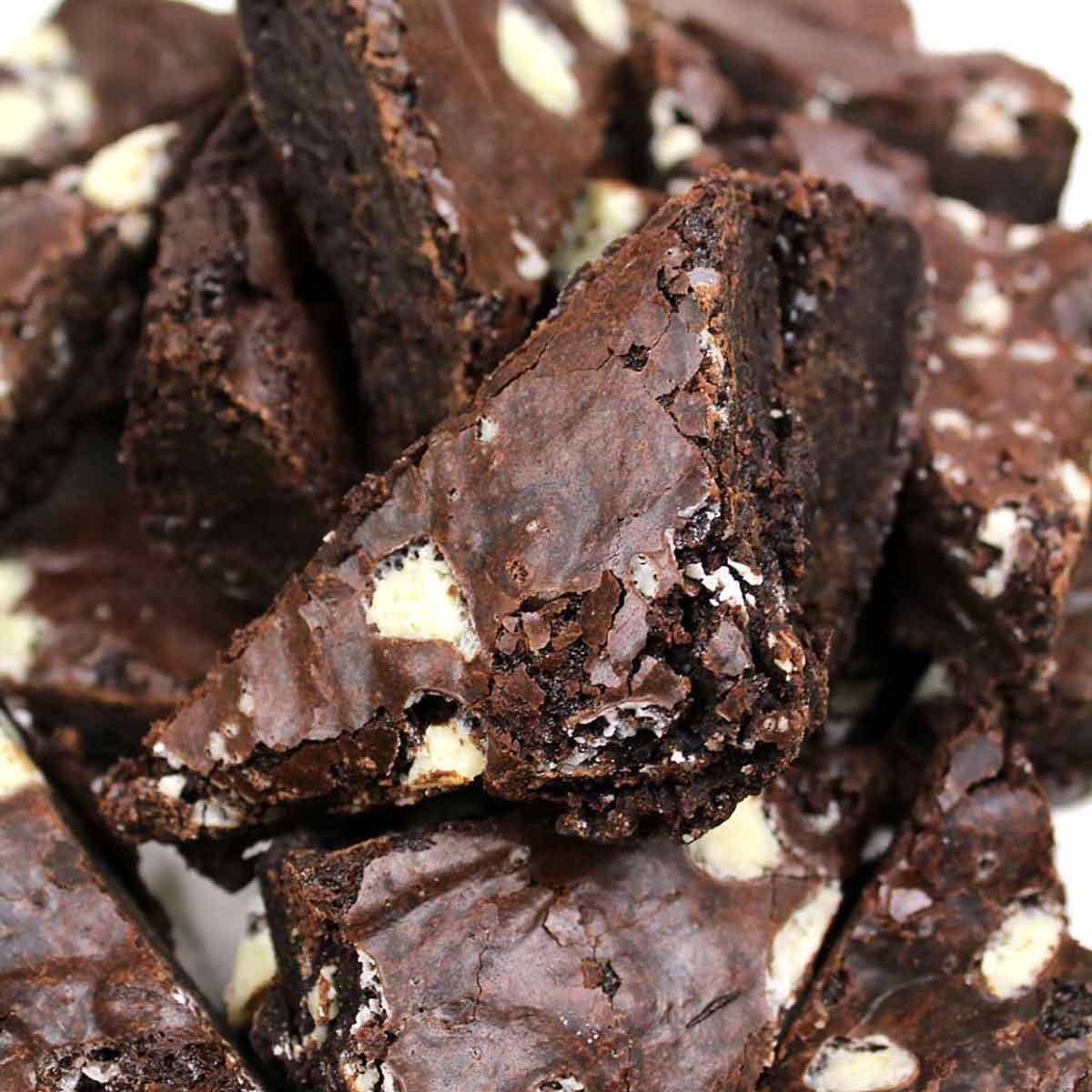 These brownies are made with vegan thin mints so they taste just like After Eight brownies. Yum!
These brownies are made with cocoa powder so you don't need any chocolate bars to make them. They're topped with smooth Biscoff spread and Biscoff biscuits.
Cocoa powder brownies topped with Oreo biscuits throughout. Vegan comfort food at its finest!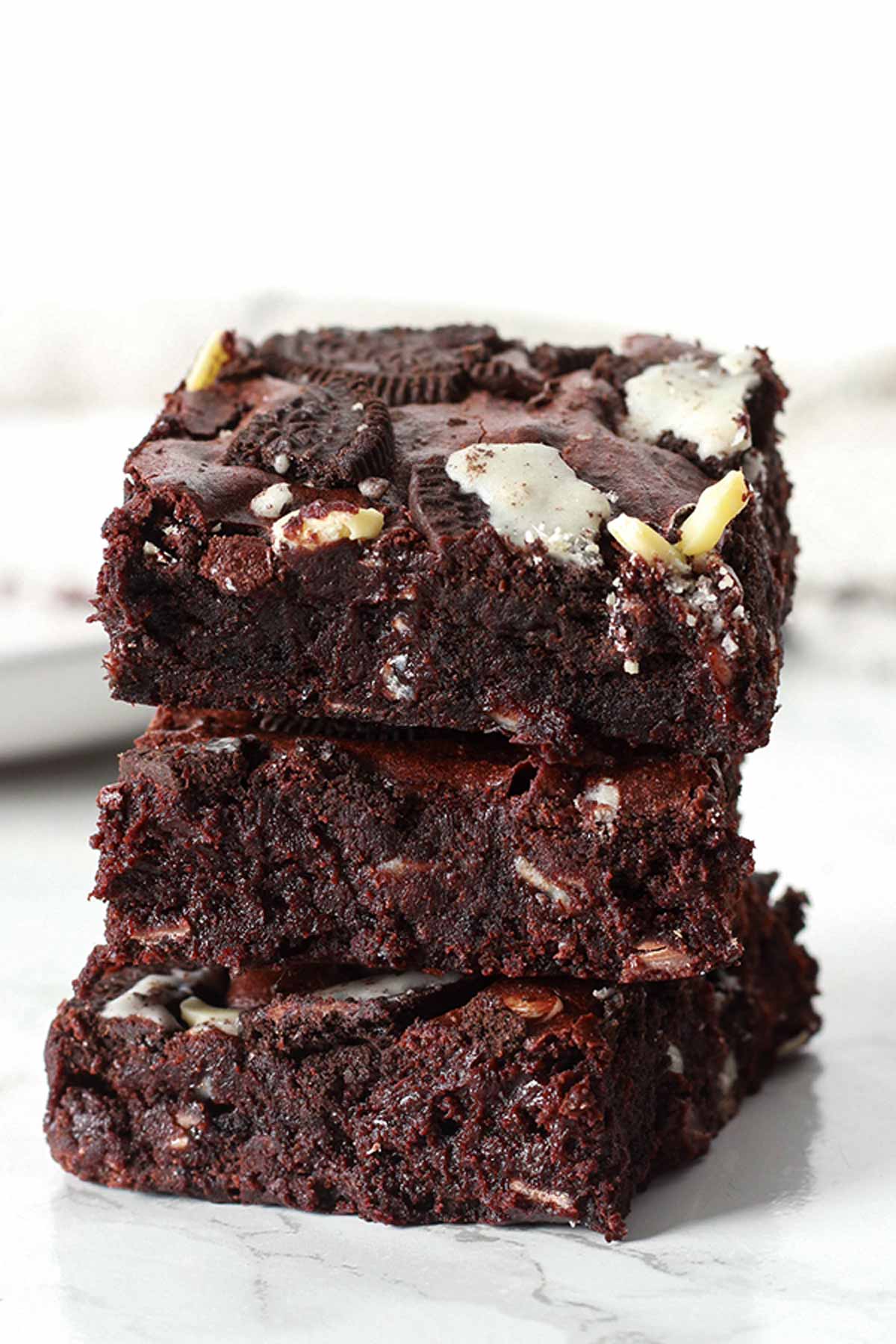 Cakes & Sweet Breads
Everyone loves a good cake, don't they? Here are 9 cakey comfort desserts to choose from.
You'll never be able to tell that these delicious honey buns are vegan. They're soft, pillowy and sweetly-spiced with cinnamon.
Two layers of chocolate sponge cake sandwiched and covered with rich, decadent chocolate fudge frosting. A must-try for all chocolate lovers.
This is the best sweet vegan comfort recipe! It's a dairy-free, eggless version of the classic school dinner cake, best served with warm vegan custard.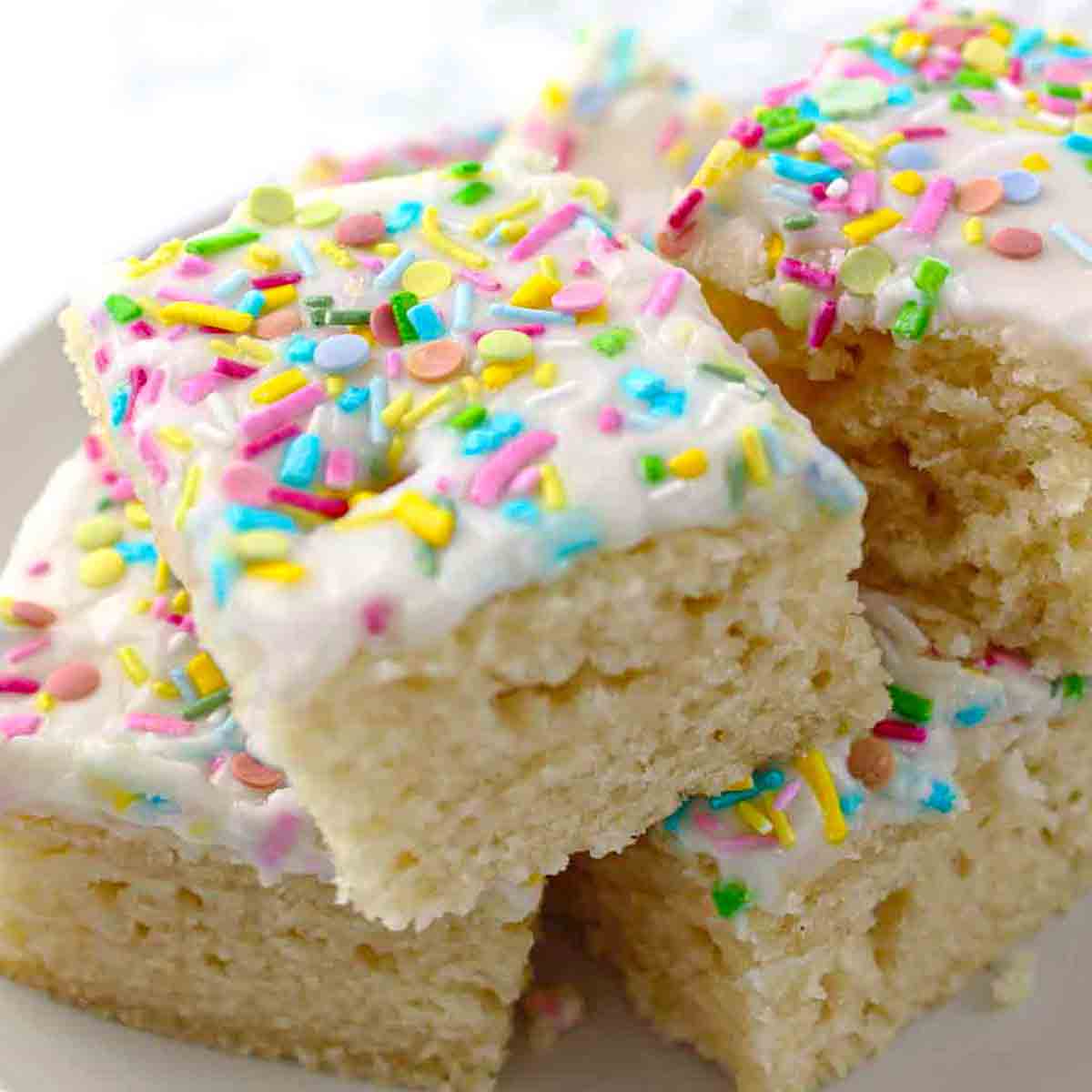 This is the moistest vegan lemon cake that you'll ever try! It's rich, 'buttery' and bursting with lemon flavour.
Coffee flavoured sheet cake with walnuts, topped with a decadent homemade vegan cream cheese frosting.
This banana bread is the perfect rainy day bake. It's soft and moist and tastes delicious served warmed up with some dairy-free butter or almond butter.
This cake can be made with only 3 ingredients! It's super simple to make but will definitely satisfy your sweet tooth.
Take cinnamon rolls to the next level by adding sticky Biscoff cream cheese glaze on top. These soft, fluffy rolls are sure to satisfy your sweet tooth.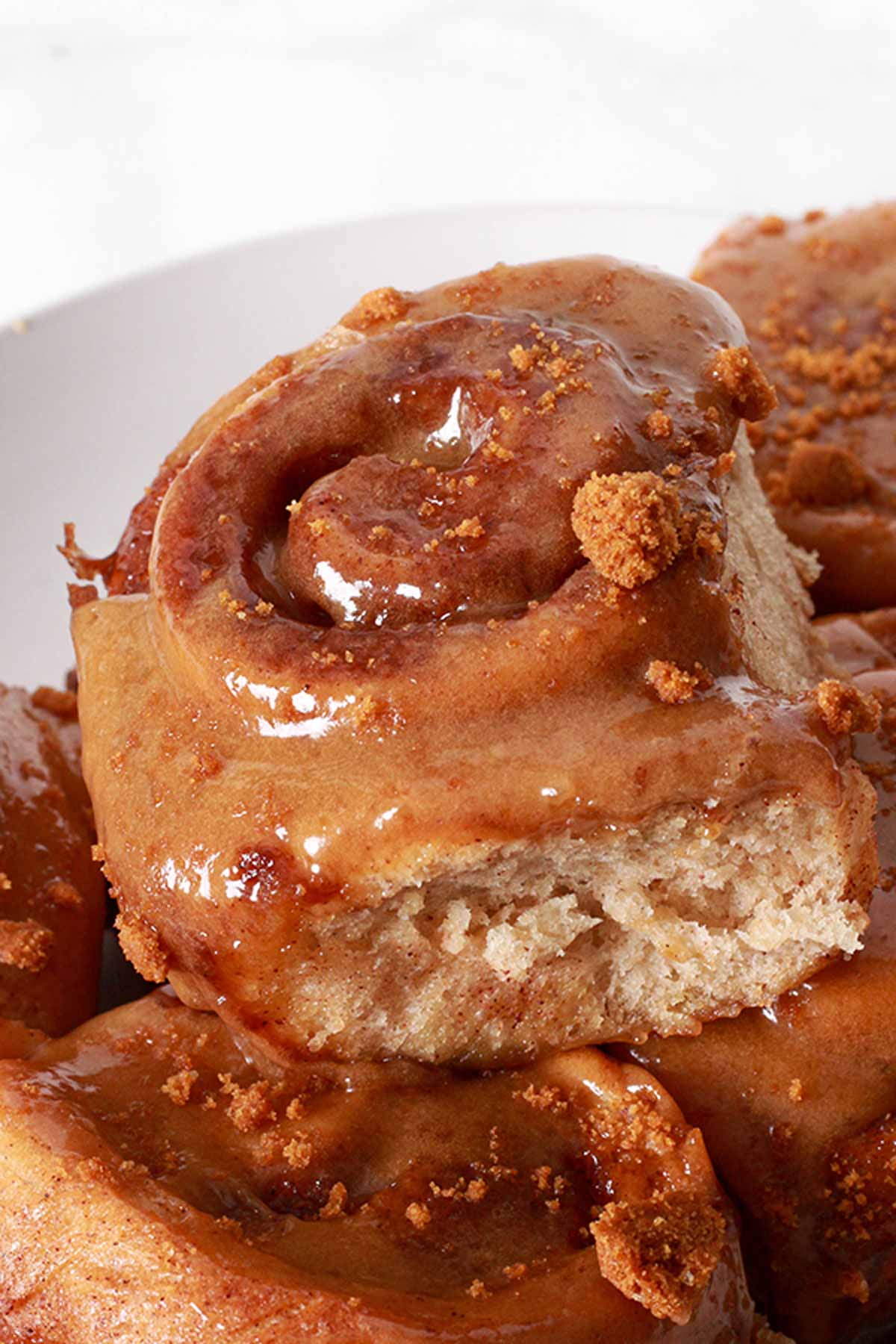 This scrumptious tiramisu cake is not only vegan, it's gluten-free too! Two layers of espresso-soaked vanilla sponge cake, sandwiched and topped with coconut whipped cream and grated chocolate.
Cookies
Last but not least are the cookie recipes.
I made this recipe to replicate my old favourite non vegan comfort food, Pizza Hut's cookie dough. This is best served fresh from the oven with some dairy-free vanilla ice cream.
Soft, chewy cookies with creamy Biscoff spread inside. Pair with dairy-free white or dark chocolate chips- the choice is yours!
These soft, chewy peanut butter cookies are super comforting. You'll only need 8 ingredients and less than 30 minutes to make them.
These cookies are heavy-duty and make an incredibly indulgent treat. They're full of flavour with a soft, chewy, slightly cakey texture, and are packed with vegan chocolate chunks.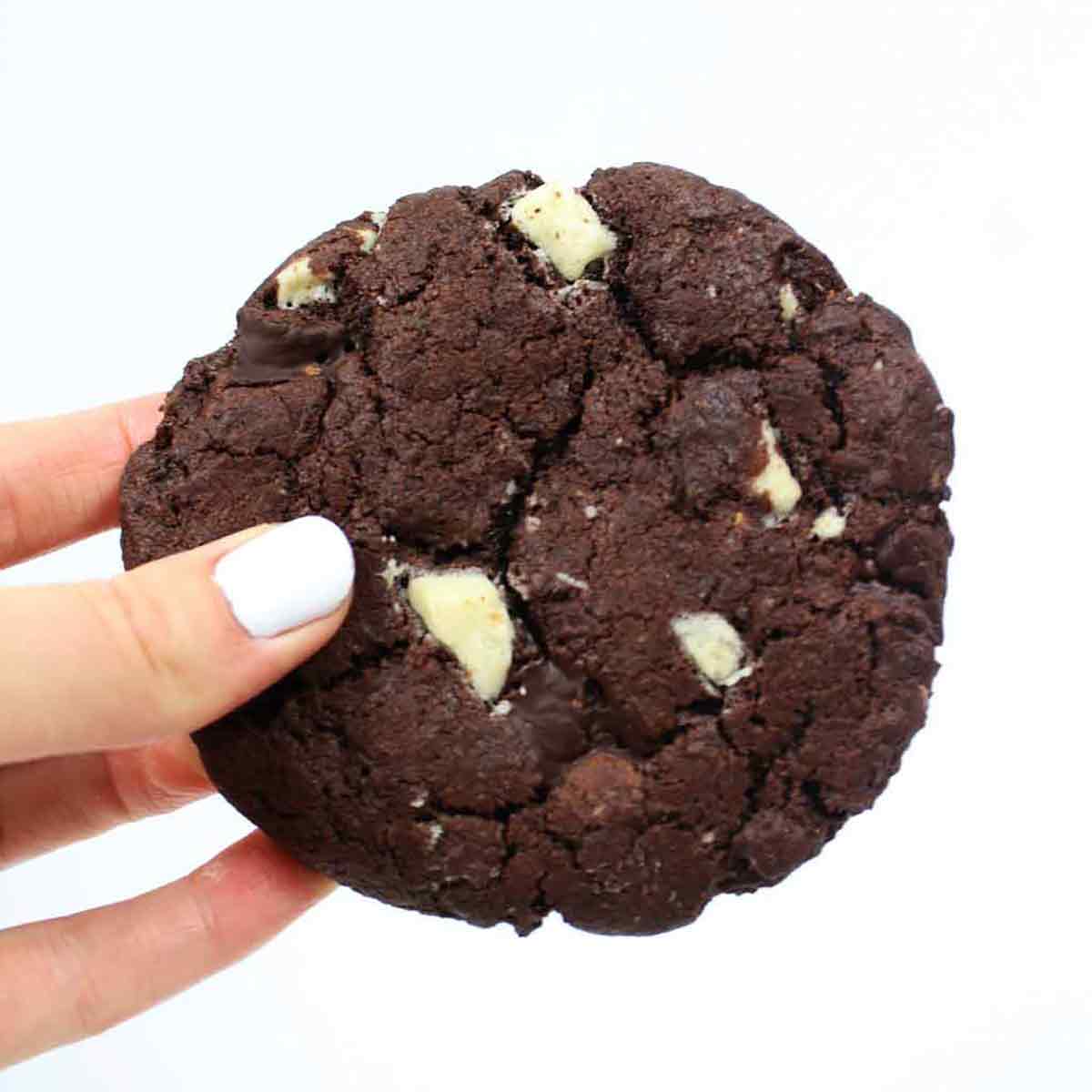 There you have it! More than 60 delicious vegan comfort food recipes. I hope you liked the post; if you found it helpful, please give it a share using the share buttons on the page. Enjoy!

60+ Vegan Comfort Food Recipes
Comforting vegan sweet and savoury recipes to get you through autumn and winter.
BakedByClo is a participant in the Amazon Services LLC Associates Program, an affiliate advertising program designed to provide a means for sites to earn advertising fees by advertising and linking to Amazon.com. This site may contain some of these links to Amazon.com & other affiliate programs. If you make a purchase through one of those links, BakedByClo will receive a small commission from the purchase at no additional cost to you.