30 Tasty Vegan Oil-Free Dessert Recipes
If you like your vegan desserts oil-free then you'll love this post! It contains 30 delicious recipes for all kinds of sweet treats, including cakes, brownies, cookies and more.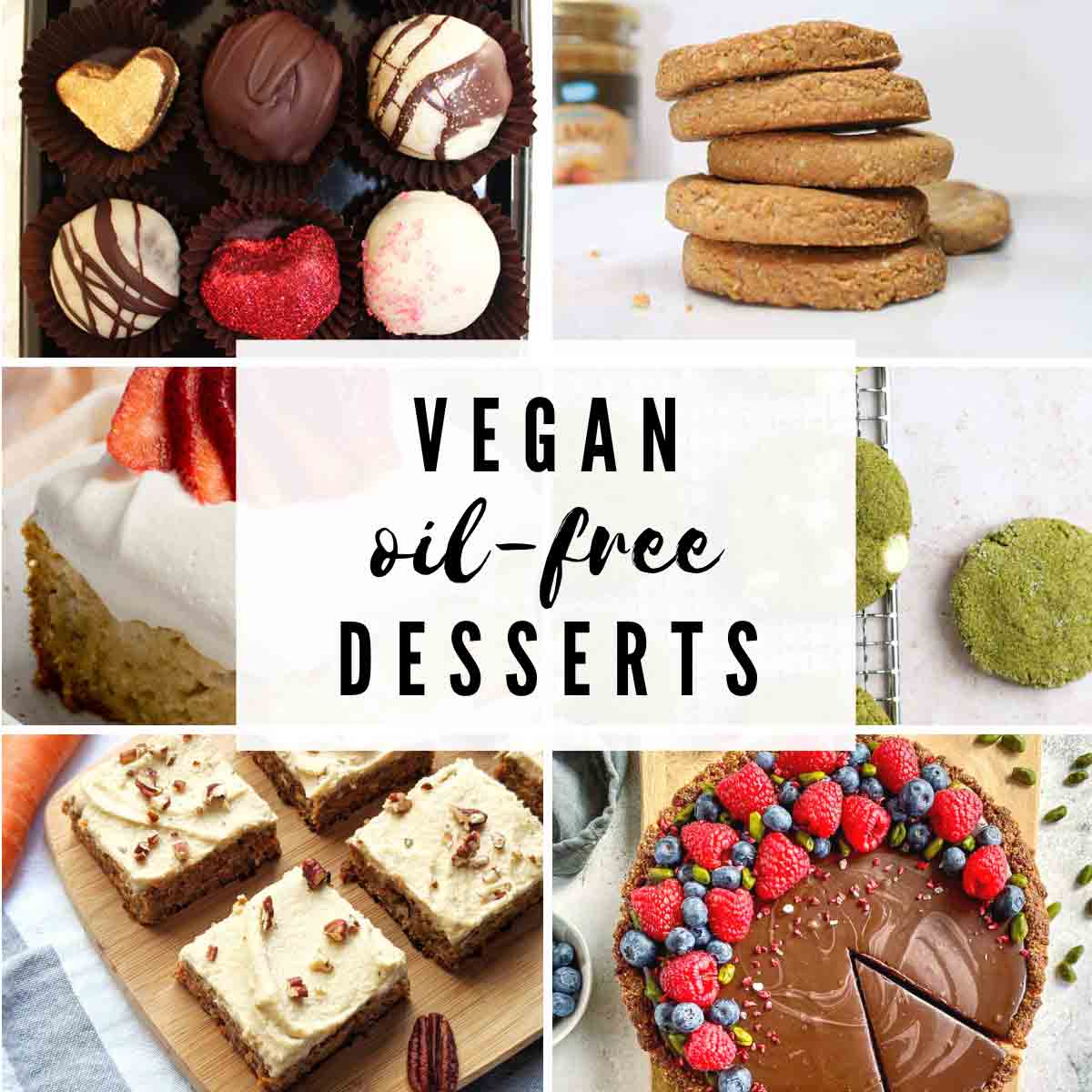 I have been a vegan dessert blogger for quite some time now and one thing I've never really delved too much into is oil-free baking. You'll probably notice that most of my recipes contain vegan butter, which is made up of a blend of oils.
It came to my attention recently how many vegans avoid oil in their diet and I thought it would be nice to create a list of the best oil-free desserts so that they can be found all in one place.
I do have a couple of recipes that are accidentally oil-free on my blog but it's never something I've tested in great detail. With that in mind, I teamed up with some other food bloggers to create this post, who kindly gave permission for me to use their recipes. Do make sure to show their blogs some love if you try any of their desserts.
The best vegan oil-free desserts
I have split this post into a few different categories: Chocolate recipes, cookies, cakes, bars and bites, puddings, and everything else. I hope you enjoy!
Chocolate Recipes
Here are 5 of my favourite vegan oil-free desserts with chocolate, which also happens to be my favourite flavour!
Cookies
First up are the oil-free cookie recipes. There are 5 to choose from, in a variety of different flavours.
Cakes
Next up are the cakes. Oil-free cakes can be quite tricky to make but these recipes have been tried and tested.
Bars & Bites
All kinds of bars and bites, including blondies, brownies and protein bars.
Puddings
Mousse, puddings, and panna cotta. If you like sweet, creamy desserts then you will love these recipes.
Other vegan oil-free desserts
These are the last few recipes that didn't really fit into the other categories. There are recipes for gummy bears, scones, pavlova and cookie dough.
That's all for now. I hope you enjoy these vegan oil-free desserts. If you find this post useful, please share with a friend using the share buttons on this page. Happy baking! xo
BakedByClo is a participant in the Amazon Services LLC Associates Program, an affiliate advertising program designed to provide a means for sites to earn advertising fees by advertising and linking to Amazon.com. This site may contain some of these links to Amazon.com & other affiliate programs. If you make a purchase through one of those links, BakedByClo will receive a small commission from the purchase at no additional cost to you.