30 Easy Vegan Desserts To Feed A Crowd
If you're looking for vegan desserts for a crowd, check out this post! It contains 30 recipes that are perfect for sharing, with everything from traybake cakes and trifles to cheesecakes and brownies.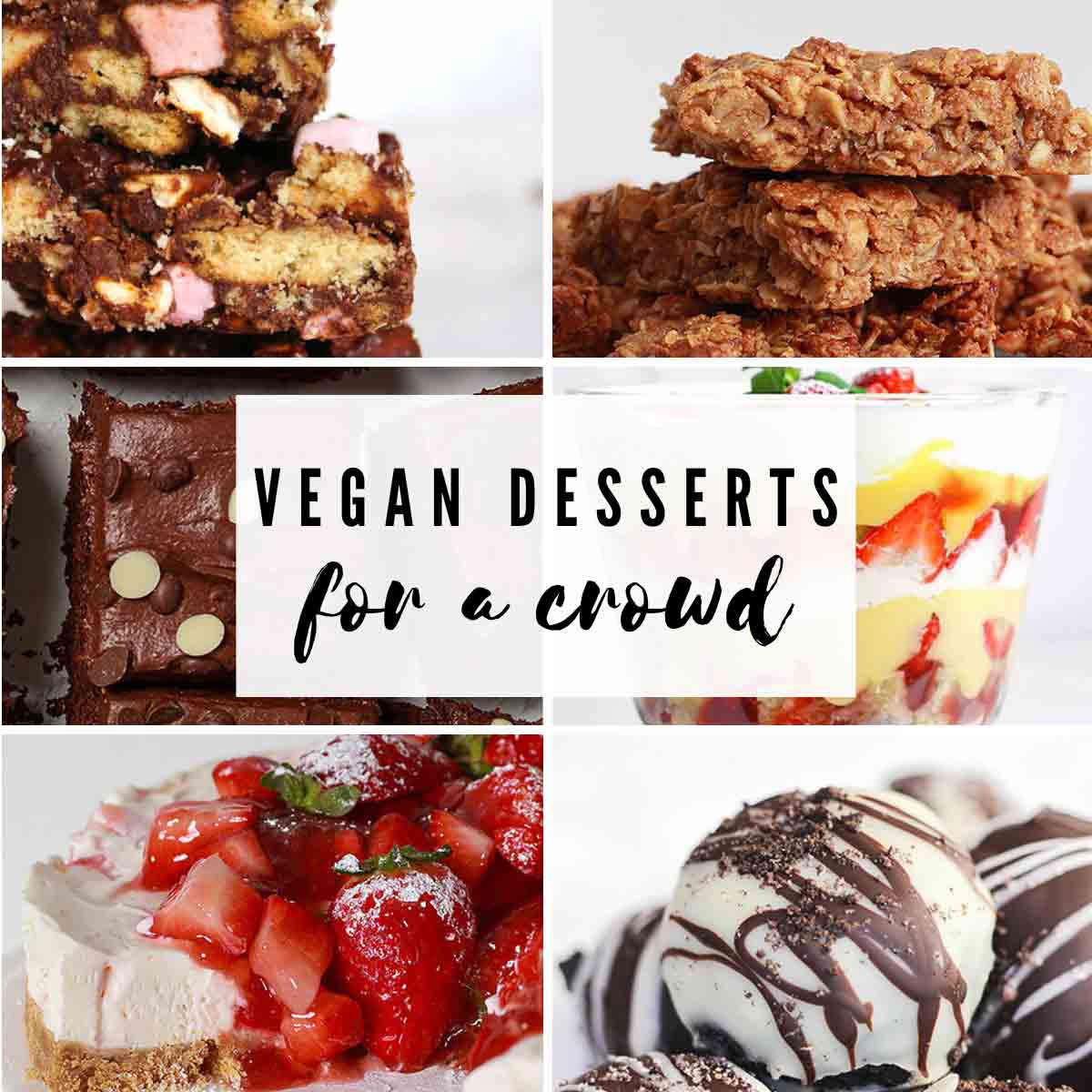 If you have a birthday party, potluck or any other special occasion coming up, you'll probably need some dessert. And when it comes to vegan desserts, you don't need to limit yourself to fruit salads!
I've put together this post with 30 of my favourite desserts for you to make when you need to feed a crowd. It includes something for everyone, whether that's a quick and easy sponge cake or a rich and creamy no-bake cheesecake.
The best easy vegan desserts for a crowd
I have split this post into categories so that you can quickly scroll to the recipes you're most interested in. The categories are: Cakes & puddings, cheesecakes, no bake desserts, biscuits & cookies, brownies, flapjacks, and pies & tarts.
I hope you enjoy the recipes. If you make any of these desserts at home, make sure to leave me a comment to let me know how it goes. Happy baking! xo
Cakes & Puddings
First, we'll start with the cakes and puddings because I have the most recipes for this category. The recipes below include traybake cakes, layer cakes, trifle and cinnamon rolls.
Cheesecakes
Next up are the cheesecakes. I think cheesecakes are one of the best vegan desserts for a crowd because they are always tend to be popular.
No-bake desserts
Here are 4 of my no-bake vegan desserts for a crowd.
Biscuits & cookies
Next up are the biscuits and cookies. Below you'll find recipes for millionaire's shortbread and chocolate orange cookie bars.
Brownies
Who doesn't love a good brownie?! Here are three delicious recipes to choose from:
Flapjacks
Flapjacks are great for a crowd because you can cut them up as big or as small as you like.
Pies and tarts
Last but not least are the pies and tarts. Here are recipes for Bakewell tart, banoffee pie, and chocolate tart.
I hope you get the chance to make one of these vegan desserts for a crowd. If you found this post useful, please share it with a friend using the share buttons on this page. Enjoy! xo
BakedByClo is a participant in the Amazon Services LLC Associates Program, an affiliate advertising program designed to provide a means for sites to earn advertising fees by advertising and linking to Amazon.com. This site may contain some of these links to Amazon.com & other affiliate programs. If you make a purchase through one of those links, BakedByClo will receive a small commission from the purchase at no additional cost to you.