Vegan Ginger Cookies
These vegan ginger cookies taste just like bakery-style. Made without molasses, they're super easy to make with just a handful of simple ingredients. Sweetly spiced, soft and chewy cookies that the whole family will love.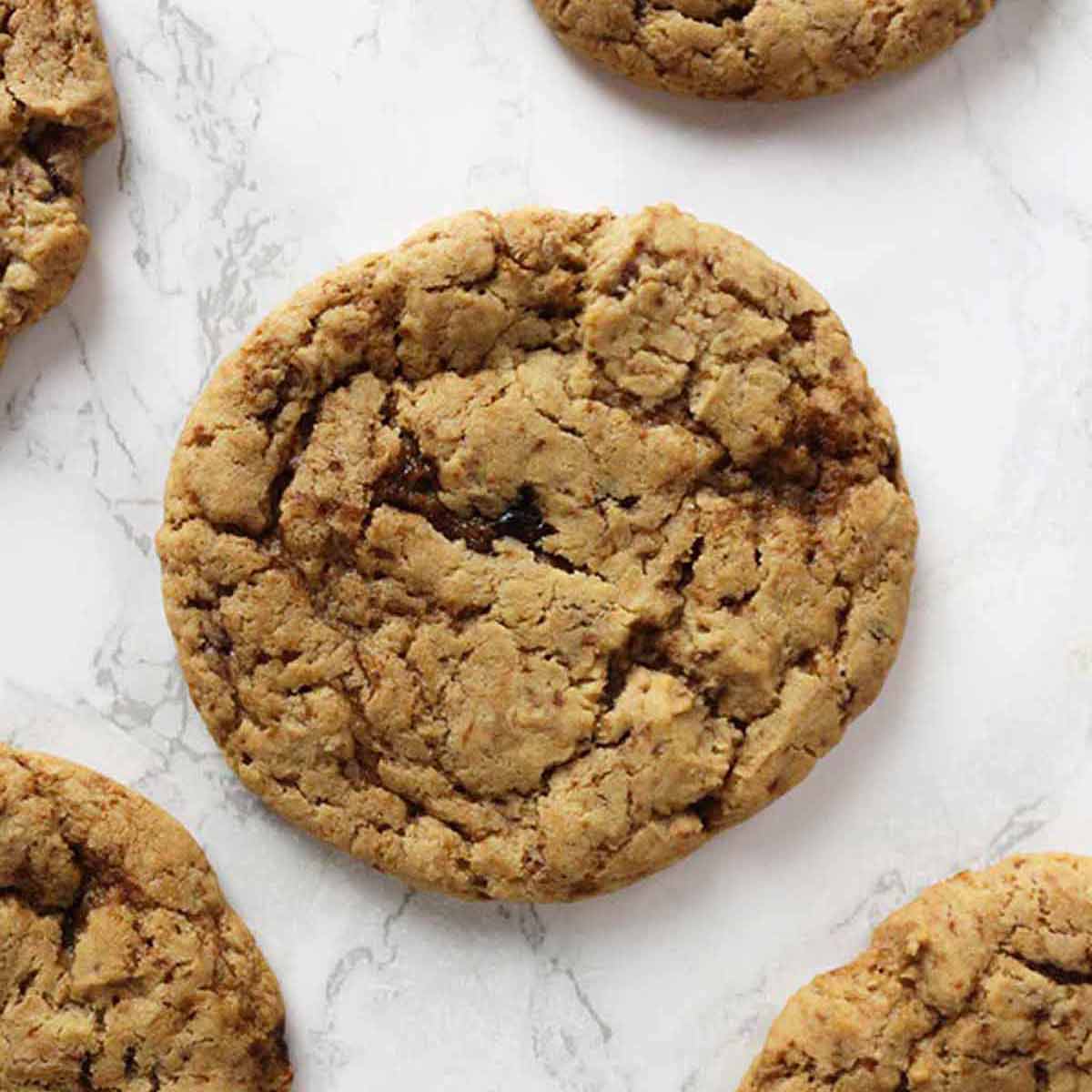 Another cookie recipe from me?
Shocker.
I don't know if it's immediately apparent from looking at my blog, but I'm much more of a cookie person than I am a cake person!
That is, as long as the cookies are super soft, "buttery" and chewy. Chewy cookies > crunchy cookies any day.
So this is my next recipe to add to the collection! Sweetly spiced eggless ginger cookies.
These make a delicious treat at any time of the year but they're particularly good to have in Winter!
Since everything else Christmassy/Wintery is flavoured with ginger and other warming spices, you may as well chuck some into your cookies too!
This cookie recipe was originally born when I made my white chocolate chip version and because it's one of my absolute faves, I've adjusted it slightly to make a few different flavours.
Want more vegan cookie recipes? Try these:
What makes these eggless cookies chewy?
The key to super chewy cookies is the brown sugar! It holds moisture very well and prevents them from becoming too crispy.
I always use a mix of caster sugar and brown sugar. The combination produces a cookie that's super chewy and soft in the middle but firm and crispy around the edges.
In my opinion, these are the BEST kind of cookies!
For vegan ginger cookies in particular, I use dark brown sugar. There's no molasses needed for this recipe because you get the dark and rich flavour from the sugar alone.
I also prefer to use vegan margarine over vegetable or coconut oil which you'll see in some other recipes.
I think the margarine gives a much nicer flavour and I love that it firms up as it cools. This means that the more the cookies cool, the chewier they will become.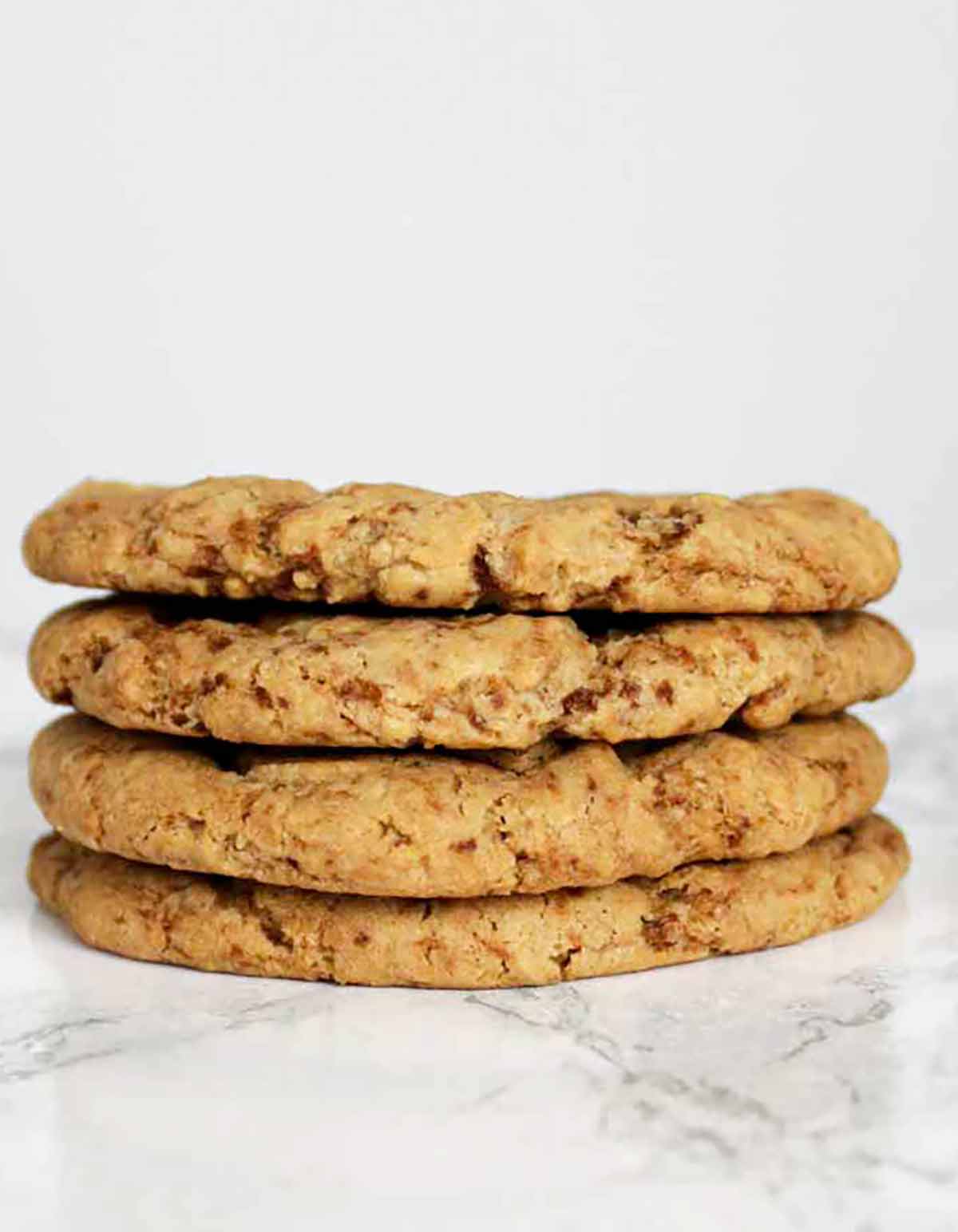 How to make vegan ginger cookies
Step 1:
The first step, like most other baking recipes, is to preheat your oven. Preheat it to 200°C/400°F (or 180°C/350°F if you're using a fan or convection oven).
Line a large baking tray or two with baking paper. The cookies need a lot of space (around 3 inches) to spread out so I typically bake 5-6 per tray.
You can use multiple trays if you wish but I usually just wait until the first batch is done so I can use the same tray.
Step 2:
Next, mix 1 tablespoon of ground flax seeds with 1 tablespoon of water. Let it sit for 5 minutes or so and it'll become gelatinous, which will help bind the rest of the ingredients together.
It's important that the flax seeds are ground otherwise they will not absorb the water properly. You can buy them pre-ground or you can grind up whole seeds yourself in a food processor or blender.
Step 3:
In a large bowl, cream 200g of vegan margarine with 150g of caster sugar and 100g of soft brown sugar.
Since the cookies are made without molasses, I prefer to use dark brown sugar. It gives the cookies a rich colour and flavour similar to molasses, but you can totally use light brown if you prefer that.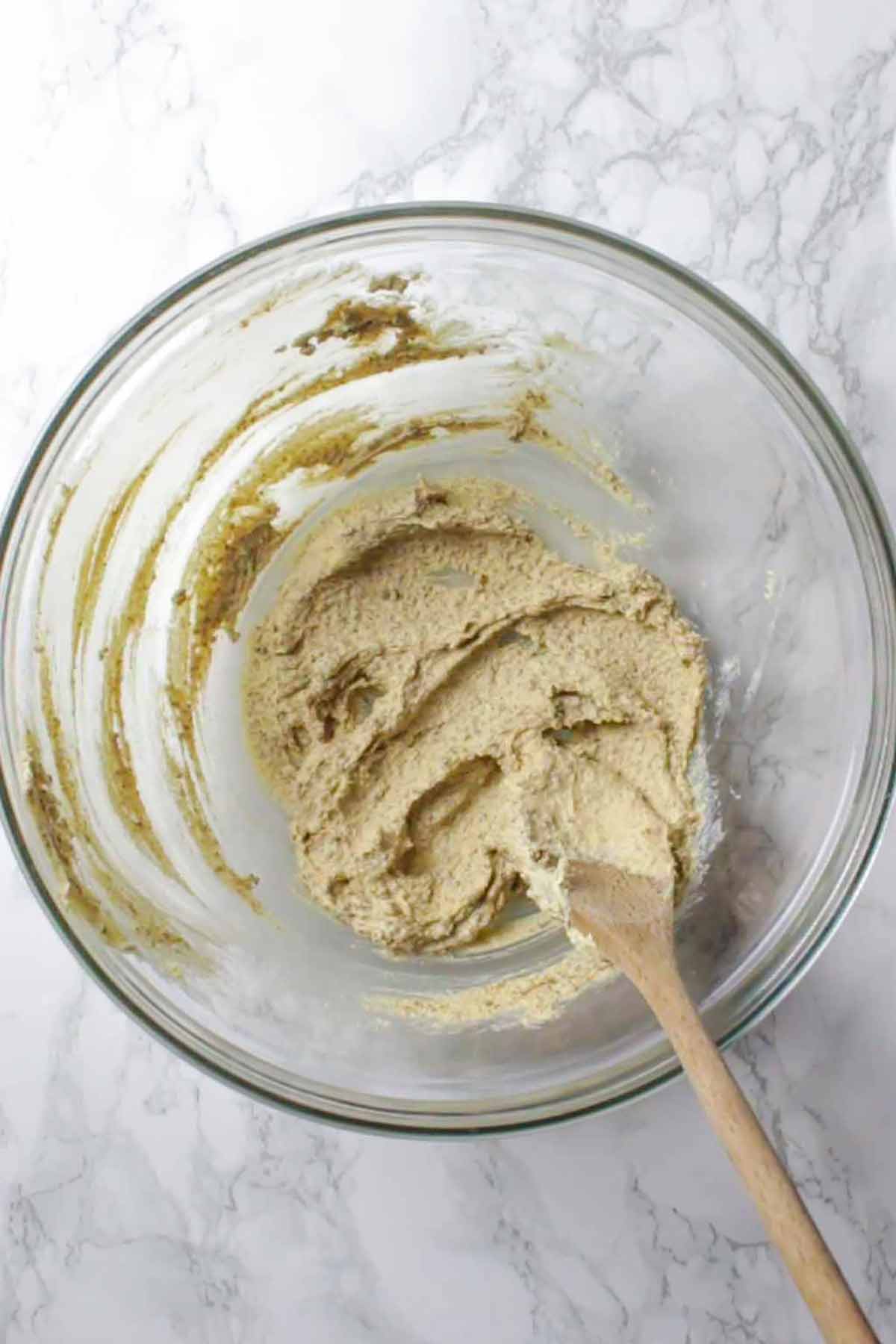 Step 4:
Once you've mixed together the margarine and sugar, add 1 teaspoon of vanilla extract to the bowl and stir it in, along with the flax seed mixture that you made earlier.
Step 5:
In a separate bowl, mix 320g of self-raising flour with 1 teaspoon of ground ginger.
Add less ginger if you want a more subtle flavour and up to 2 teaspoons if you prefer a stronger spice flavour.
Step 6:
Add the dry ingredients to the wet mixture and stir. When the mixture starts sticking together, use your hands to press it together into a dough.
At this point, you can add any extras you like such as chocolate chips or chopped nuts. Add as much or as little as you like.
You can of course leave them without any add-ins. They are super flavourful without.
Step 7:
Divide the cookies into 12 equal sized pieces and roll each piece into a ball.
Place the balls onto the lined baking tray(s), leaving around 2-3 inches of space between each one. I typically bake 5 or 6 per baking tray.
Flatten the balls using your fingers until they are around 1-inch thick. This will help them to spread nicely as they bake.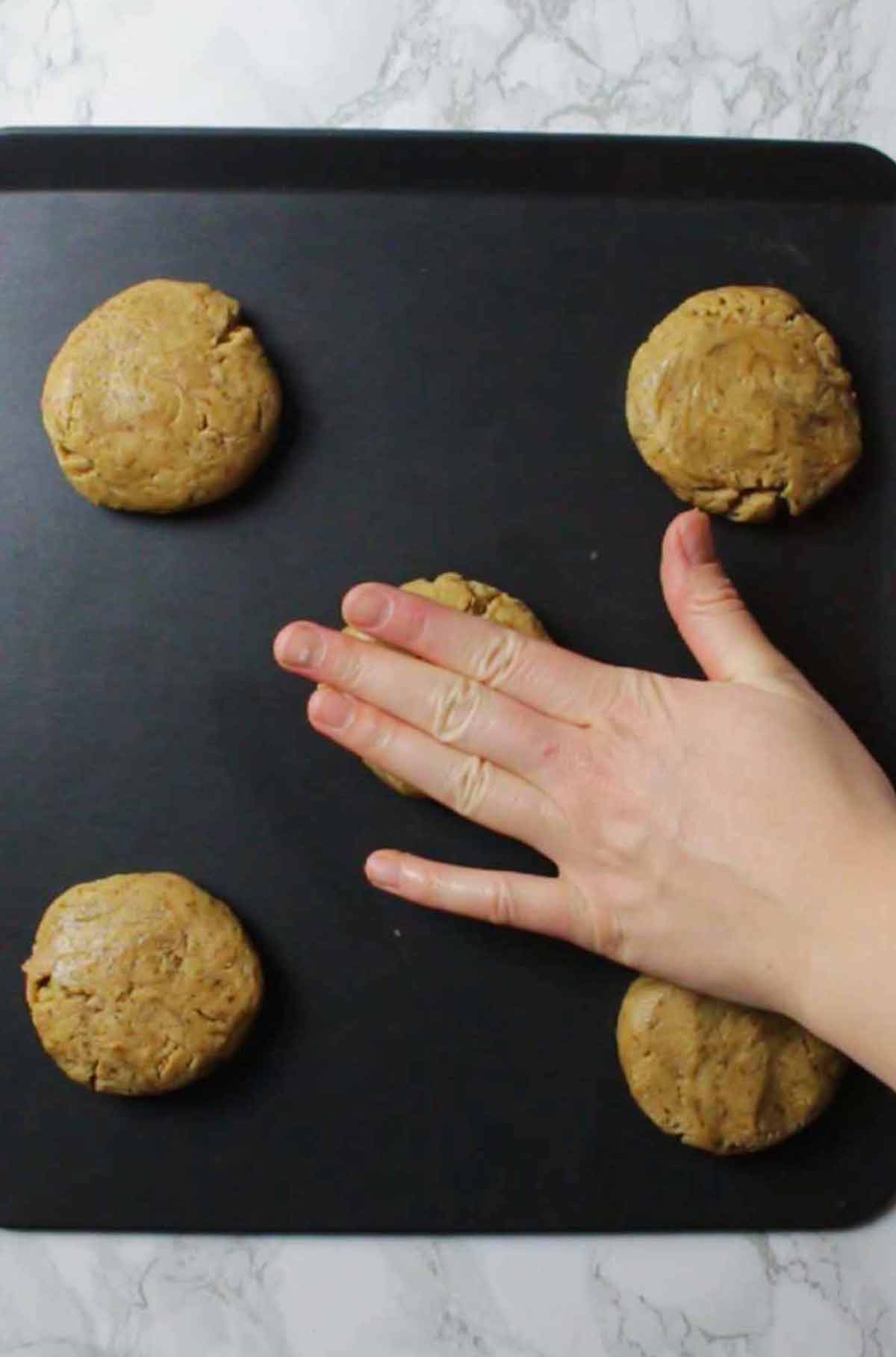 Step 8:
Bake the cookies for 15 minutes. Let them cool on the tray completely before you remove them otherwise they will break.
The longer you leave them after baking, the chewier they will become. I like to pop them in the fridge for an hour after they've cooled to speed this process up.
FAQ:
How should vegan ginger cookies be stored?
These cookies should be stored in an airtight container, either at room temperature or in the fridge. I love to store mine in the fridge as they stay super firm and chewy that way.
How long will they last?
They'll last around 4-5 days if stored appropriately.
Can I use fresh ginger?
I wouldn't recommend it as it would change the texture of the cookie dough. Ground, dried ginger is best for this recipe!
Will gluten-free flour work?
Sadly not, unless you don't mind the taste of gluten-free flour. I tested this recipe with gluten-free flour and found the taste very overpowering for some reason. The texture wasn't that great either so I wouldn't use this particular recipe if you want gluten-free cookies.

I recommend using my gluten-free chocolate chip cookie recipe with some ginger added.
Can they be frozen after baking?
Yes! Just place them into an airtight container and freeze for up to 3 months. I recommend placing a sheet of baking paper in between each layer of cookies if you're stacking them, so that they don't stick together in the freezer.

To defrost, transfer them to a wire rack and let them sit at room temperature for a few hours until fully thawed. Do not refreeze.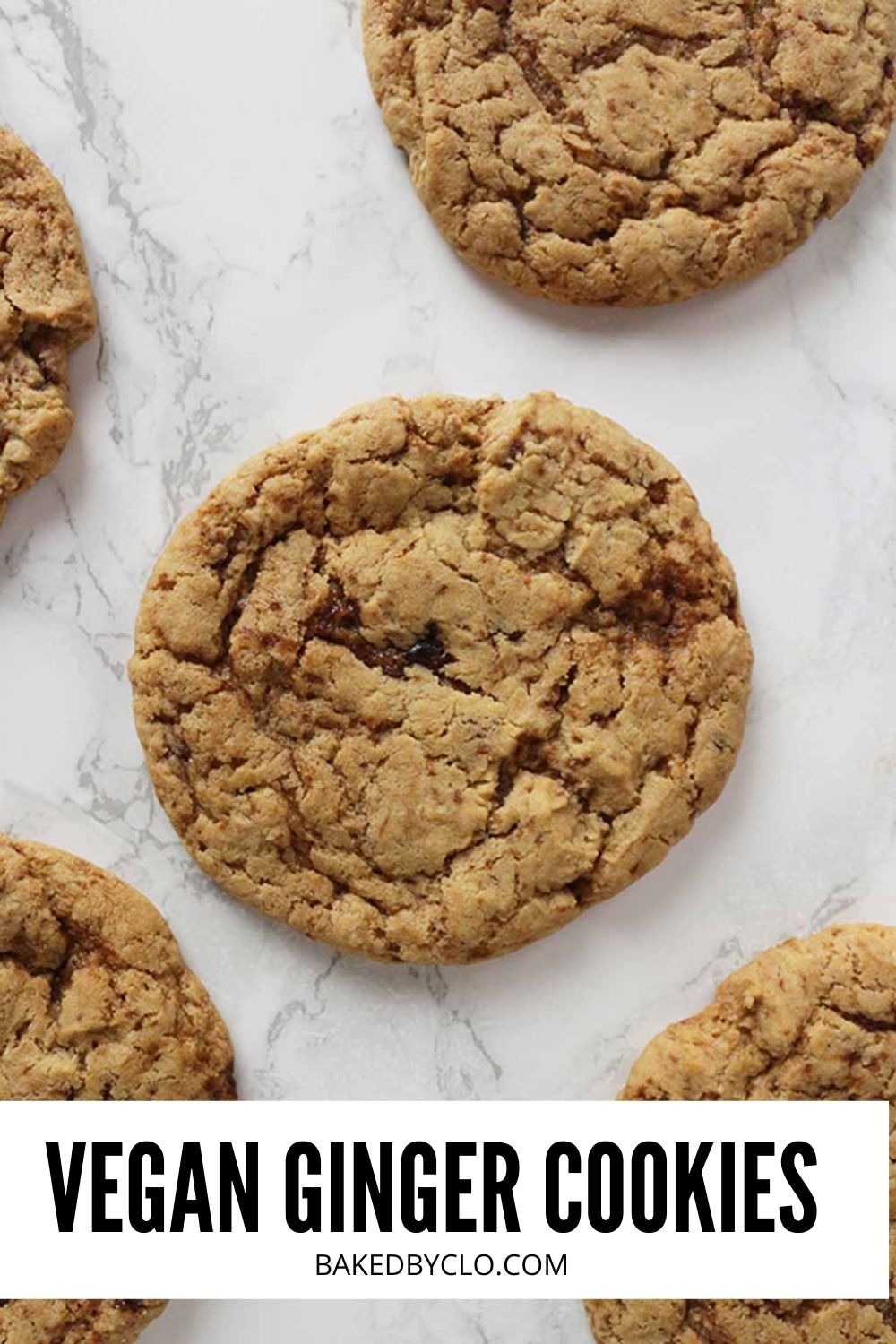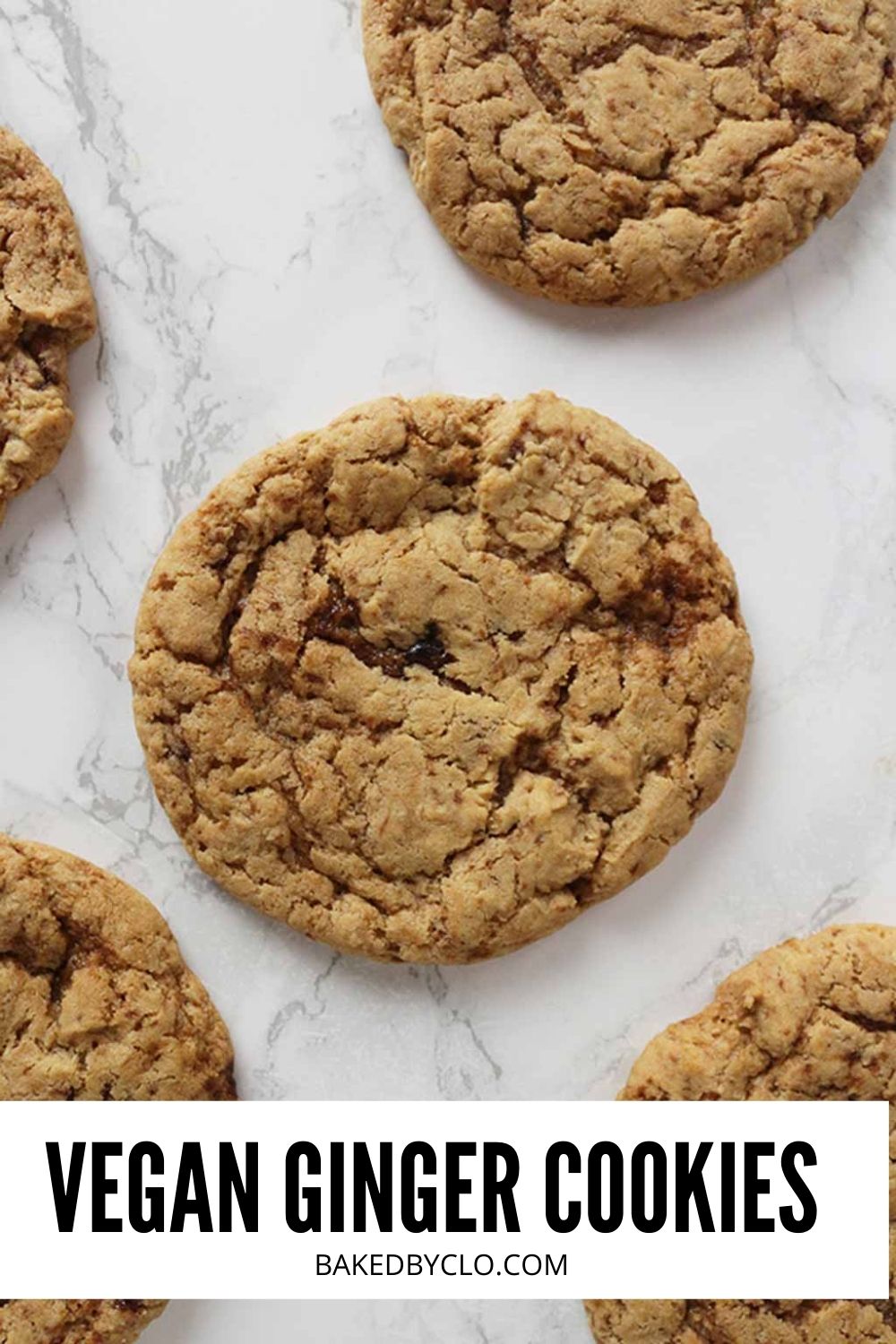 That's all for now! I hope you enjoy these tasty eggless ginger cookies. If you make them yourself at home, please let me know how you get on by leaving a comment and/or rating below. Happy baking! xo

Vegan Ginger Cookies
Chewy, buttery vegan cookies with a subtle spiced flavour. No molasses required!
Ingredients
1

Tablespoon

Ground flax seeds

1

Tablespoon

Water

200

g

Vegan margarine

(¾ cup + 1 tablespoon)

150

g

Caster sugar

(¾ cup)

100

g

Soft dark brown sugar

(½ cup)

1

Teaspoon

Vanilla extract

320

g

Self-raising flour

(2 + ½ cups)

1

Teaspoon

Ground dried ginger

(use more or less according to preference)
Instructions
Preheat your oven to 200°C/400°F (or 180°C/350°F if using a fan or convection oven). Line a large baking tray with baking paper, or two trays if you have them available.

Mix the flaxseeds with the water and set it aside for 5 minutes.

In a large bowl, mix the margarine, caster sugar and brown sugar together. Add the vanilla and the flaxseed mixture and stir again.

Combine the flour and ginger in a separately then add it to the bowl with the rest of the ingredients. Mix everything with a large spoon until it begins to stick together then use your hands to press it together into a dough.

Divide the dough into 12 equal-sized pieces and roll each piece into a ball. Place the balls onto your lined tray(s), leaving around 3-inches of space between them. I usually bake 5 or 6 at a time.

Use your fingers to gently flatten the cookie balls until they're around 1-inch thick. This will help them to spread out nicely as they bake.

Bake for 12 minutes. Let the cookies cool completely on the tray before removing them as they will be fragile when hot.
Recipe Notes
If the dough is too wet, add more flour. If it's too dry, add a splash of plant-based milk.
Store in an airtight container at room temperature or in the fridge (for extra chewiness) for up to 5 days.
Nutrition Facts
Vegan Ginger Cookies
Amount Per Serving (1 cookie)
Calories 260
Calories from Fat 90
% Daily Value*
Fat 10g15%
Sodium 95mg4%
Carbohydrates 39g13%
Protein 3g6%
* All values are an estimate only and will vary depending on the food brands used.
BakedByClo is a participant in the Amazon Services LLC Associates Program, an affiliate advertising program designed to provide a means for sites to earn advertising fees by advertising and linking to Amazon.com. This site may contain some of these links to Amazon.com & other affiliate programs. If you make a purchase through one of those links, BakedByClo will receive a small commission from the purchase at no additional cost to you.