Vegan Gingernut Biscuits
Posted on - Last updated: This post may contain affiliate links
These vegan gingernut biscuits are sweetly spiced, super crunchy and perfect for dunking into a hot cup of tea. They're really easy to make, with just 6 ingredients, and are ready to eat in less than an hour.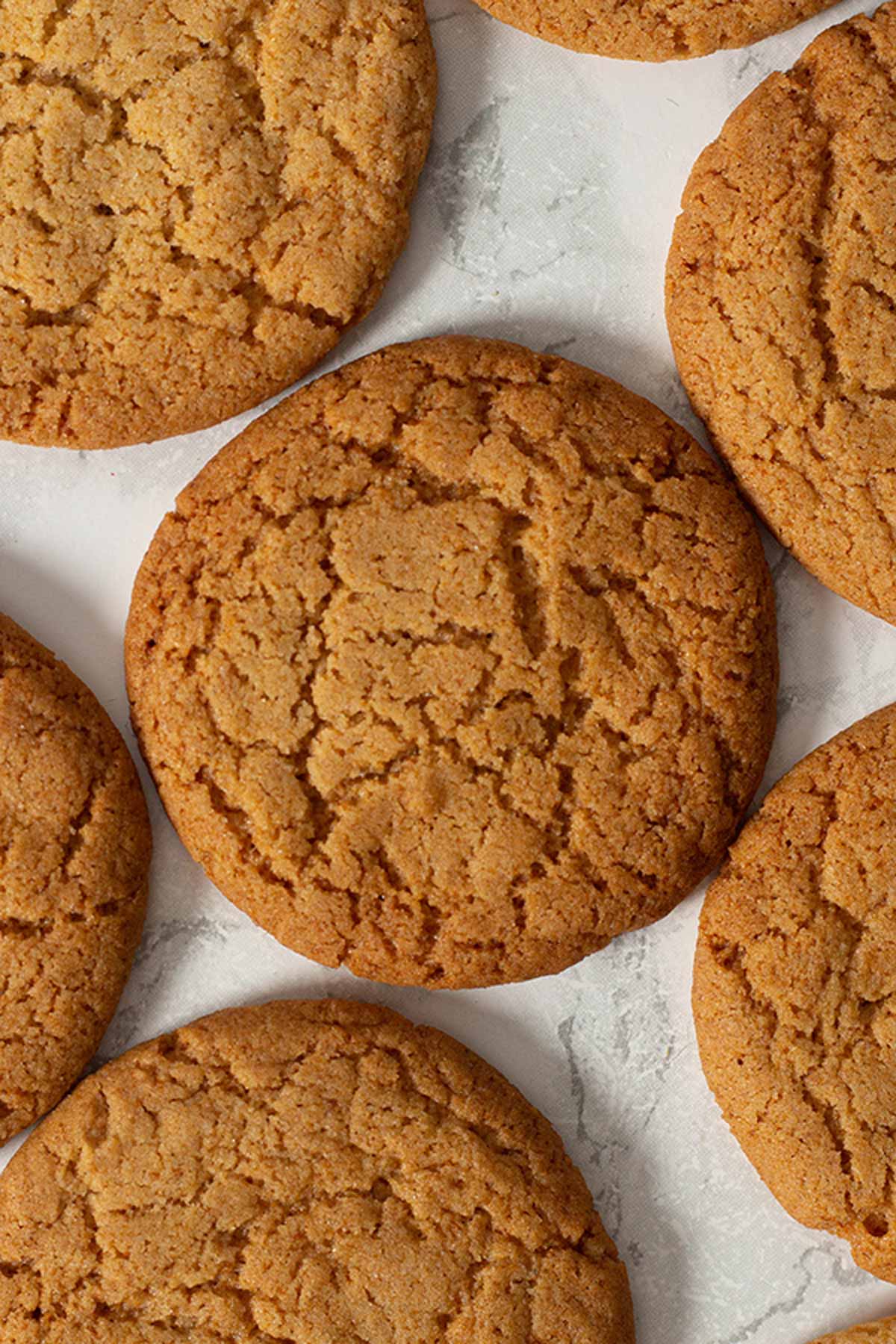 It's day 9 of my 12 days of Christmas cookies series and today I'm sharing my gingernut biscuit recipe. I have not stopped eating these since I first made them!
If you're unfamiliar with gingernuts, they're also known as gingersnaps, and are a popular biscuit here in the UK. They're really crunchy, crinkly on top and are flavoured with powdered ginger.
If you buy them from the supermarkets, gingernuts are usually accidentally vegan biscuits. The cheaper ones are typically made with vegetable oils instead of dairy fat. But nothing beats a home-mader, am I right? I used to eat these a lot as a child so I thought it would be fun to have a go at making my own from scratch.
It took me a good few attempts before I finally got my desired result. The first few batches I made were too chewy in the middle, which tasted delicious but it's not the texture you want for gingernuts!
I reduced the amount of fat and sugar I was using, increased the golden syrup slightly and added a little more flour. The end result was delicious but it took two more tests to perfect the baking time and temperature. After that, the recipe was complete! Crunchy, sweet, flavourful, dairy-free gingernuts.
These are tasty just to eat as a snack but I reckon they would also be great crushed up and mixed with some melted vegan butter to make a cheesecake base. I hope to find the time to make one soon. I'm thinking a white chocolate one would be delicious!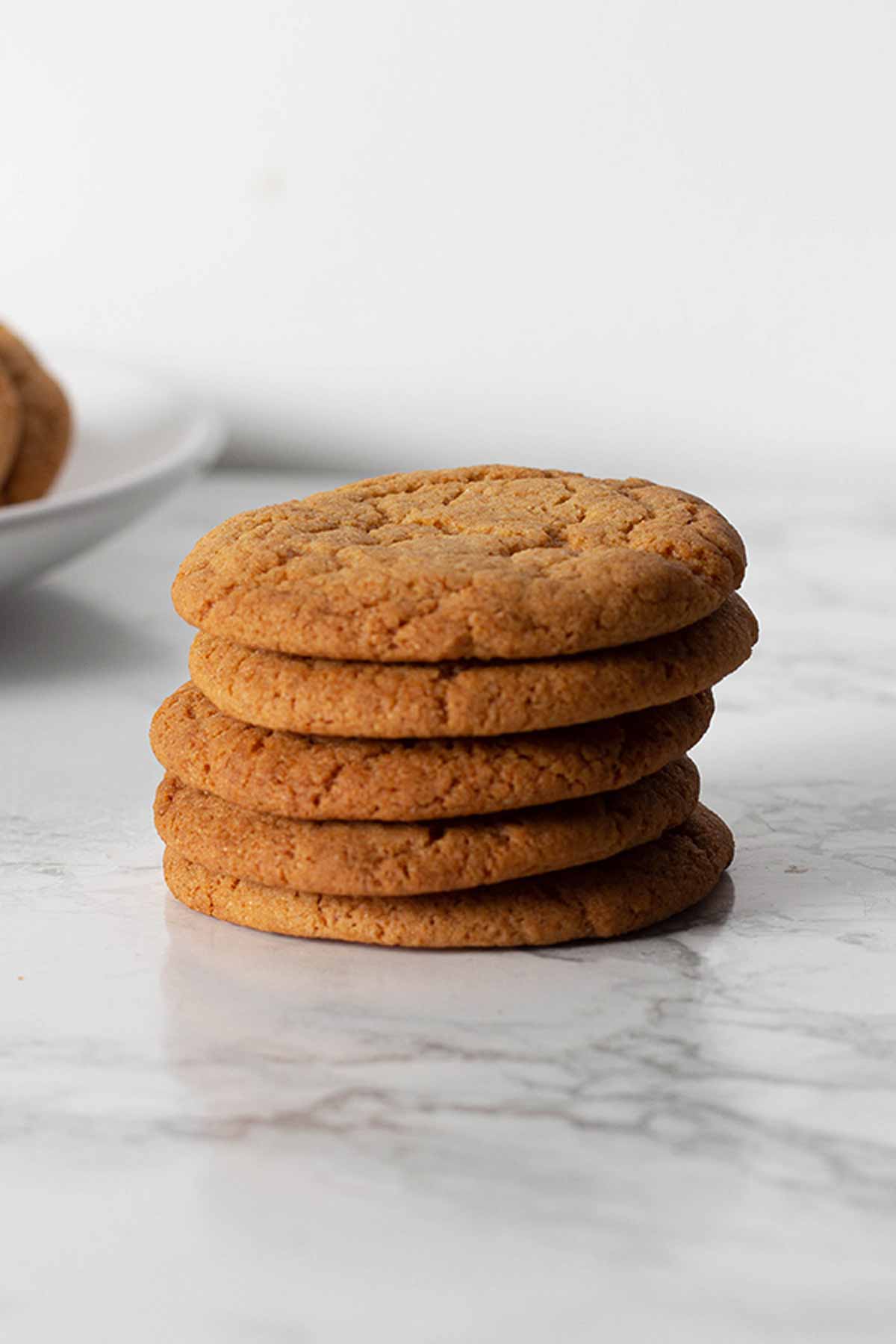 More vegan ginger desserts
Ingredients you'll need:
Gingernuts couldn't be easier to make with just 6 ingredients! If you're a keen vegan baker, it's likely you'll already have all of these ingredients lying around at home!
Vegan margarine. This provides just the right amount of fat in this recipe. There's not so much that it takes away the crunchy texture but it does prevent them from being dry and crumbly. Make sure to use margarine and not the blocky vegan 'butter'. I like to use Vitalite.
Golden syrup. This is the key ingredient to gingernuts. It provides sticky-sweet moisture and helps the biscuits to 'snap' when broken, without crumbling or falling apart.
Caster sugar. Provides sweetness and crunchiness. I recommend using caster sugar if possible as the grains are a lot finer.
Self-raising flour. Because this is an eggless biscuit dough, we use slightly less flour than usual. If you don't have self-raising flour to hand, use 1/2 a teaspoon of baking soda instead of 1/4 a teaspoon, plus 1/2 teaspoon of baking powder, to give the gingernuts the extra lift that they need.
Baking soda. Also known as bicarbonate of soda, this provides some extra leavening for the biscuits. They'll rise quickly then fall as they bake, which will help to give them that classic crinkly top.
Ginger. The main ingredient for ginger biscuits, obviously! Make sure to use ground, dried ginger- the powdered type. I used 1 teaspoon but you can add an extra 1/2 teaspoon if you want a stronger flavour. I don't recommend adding much more than this as it can cause the biscuits to taste bitter.
How to make vegan gingernut biscuits
Step 1:
Preheat your oven to 180°C/350°F (or 160°C/325°F if you're using a fan or convection oven). Line a large tray with baking paper.
Step 2:
To a medium-sized bowl, add 40g of vegan margarine, 45g of golden syrup and 50g of caster sugar. Mix together until smooth.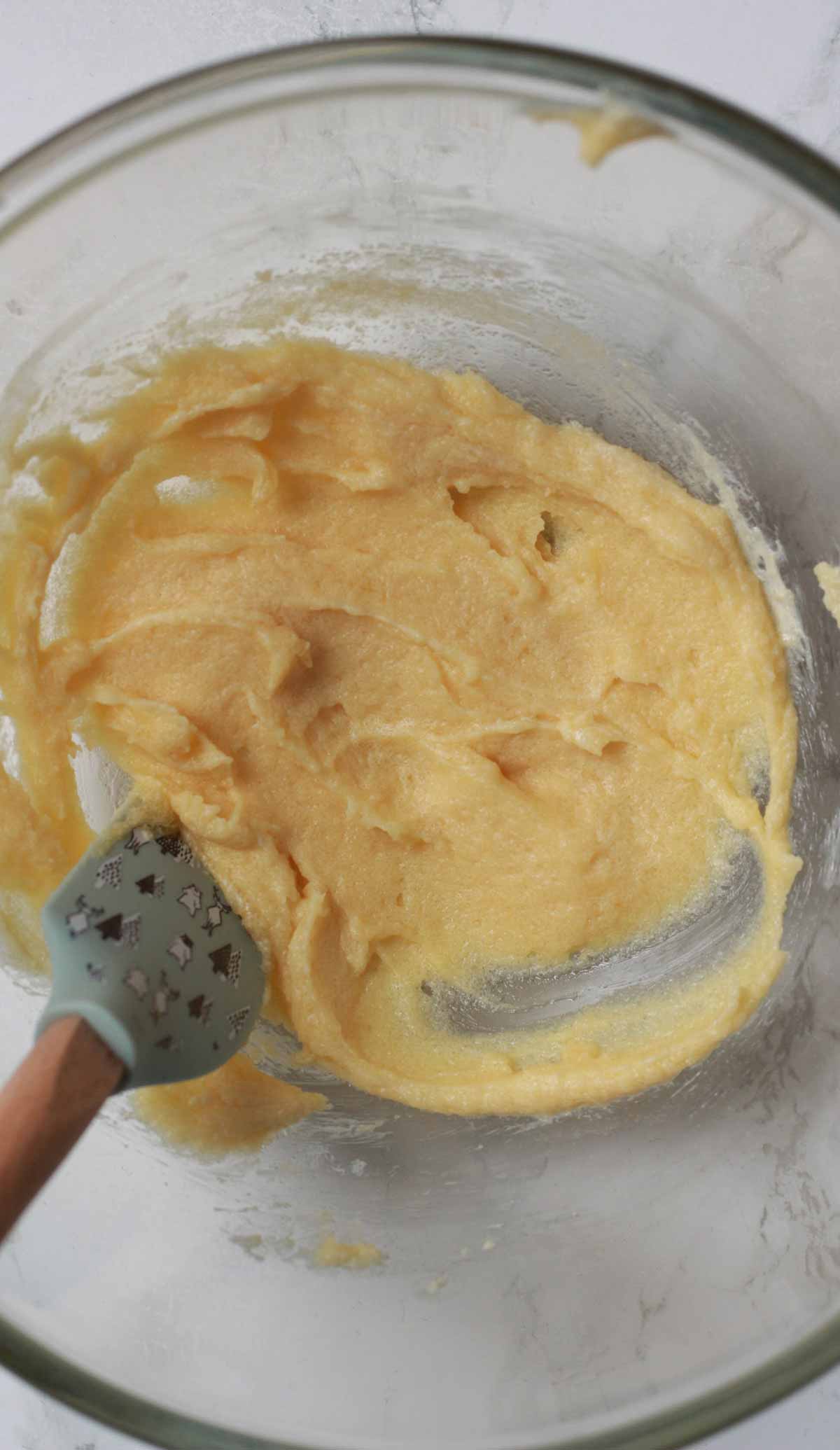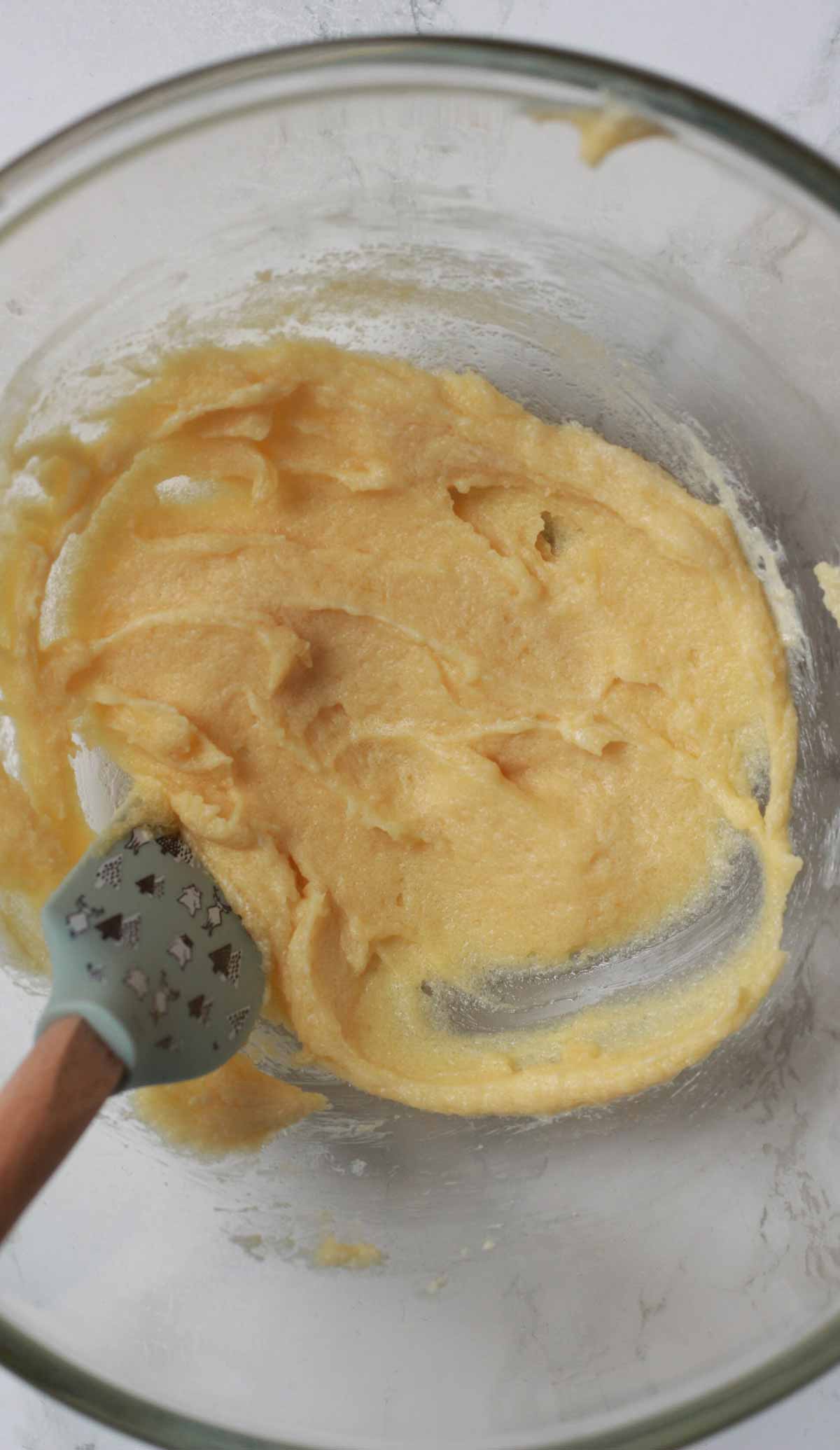 Step 3:
Next, add in 100g of self-raising flour, 1/4 teaspoon of bicarbonate of soda and 1 teaspoon of ground, dried ginger.
Mix it into the wet mixture until it starts to stick. Then use your (clean!) hands to press it together until it comes together in a firm ball of dough.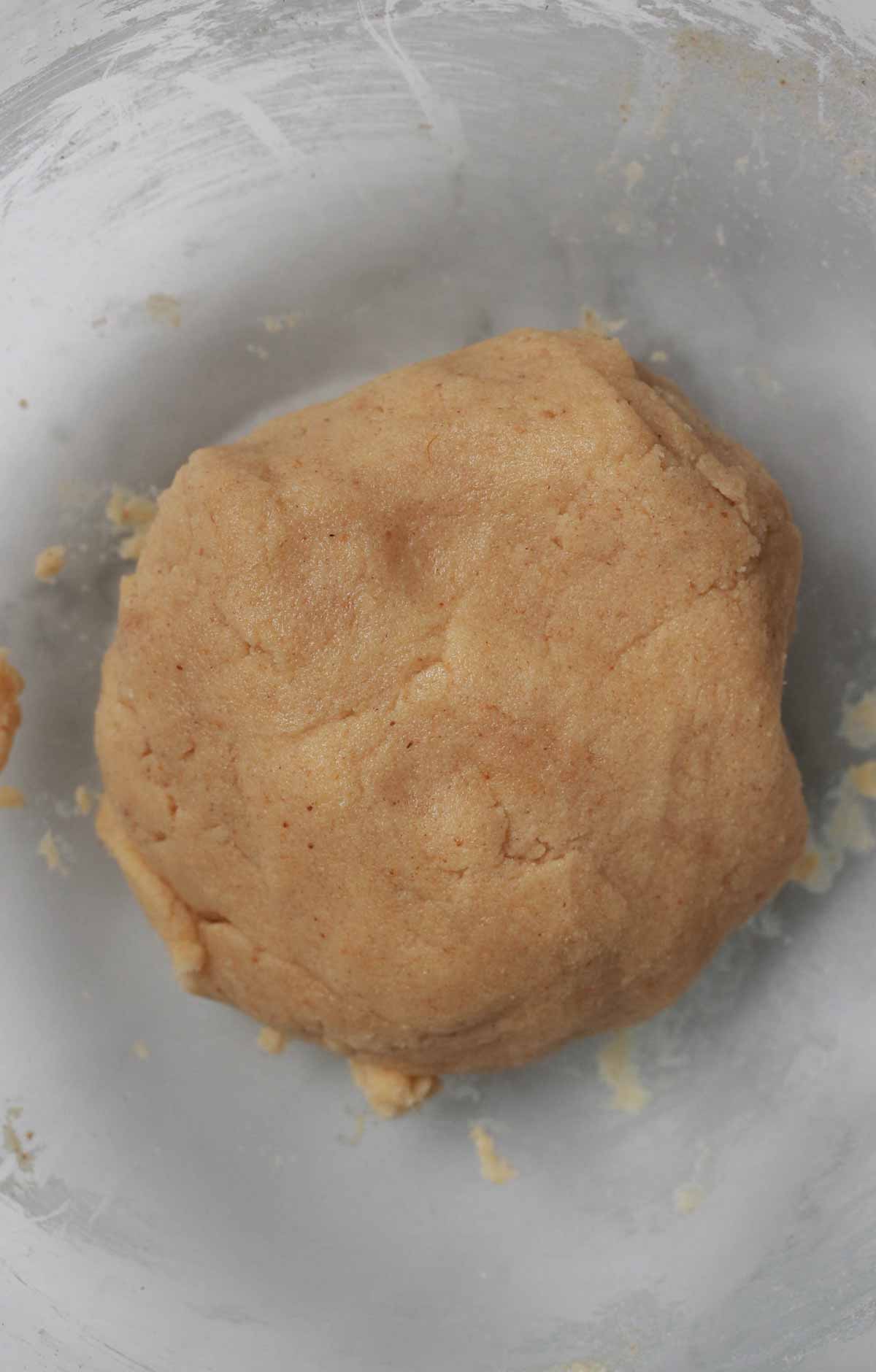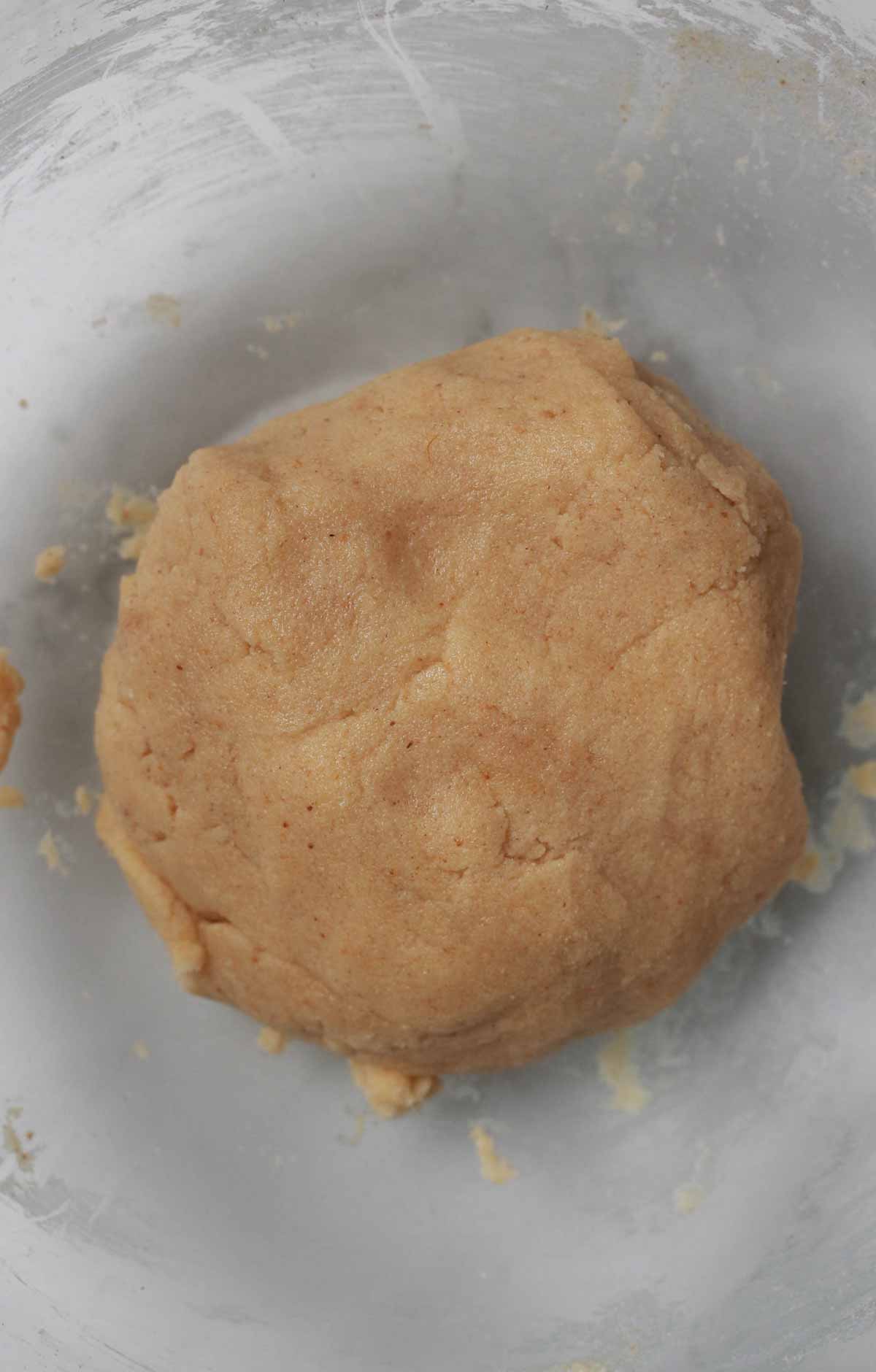 Step 4:
Divide your dough up into 12 equal-sized pieces. I used a food scale to make sure they were all exactly the same size.
Roll each piece into a ball, place them onto your lined tray and use your fingers to flatten them slightly. The pieces of dough will look very small but will spread out and become larger as they bake.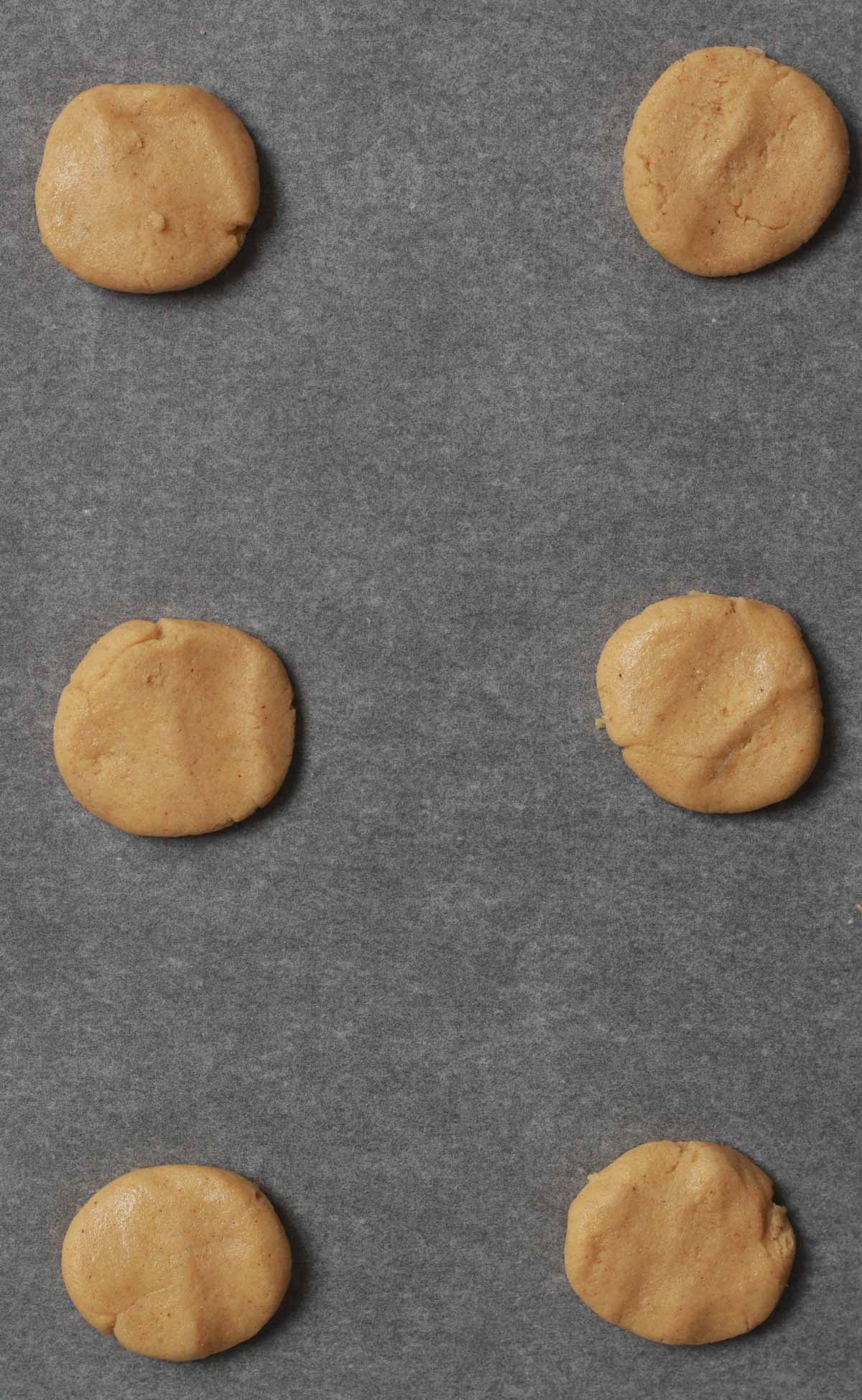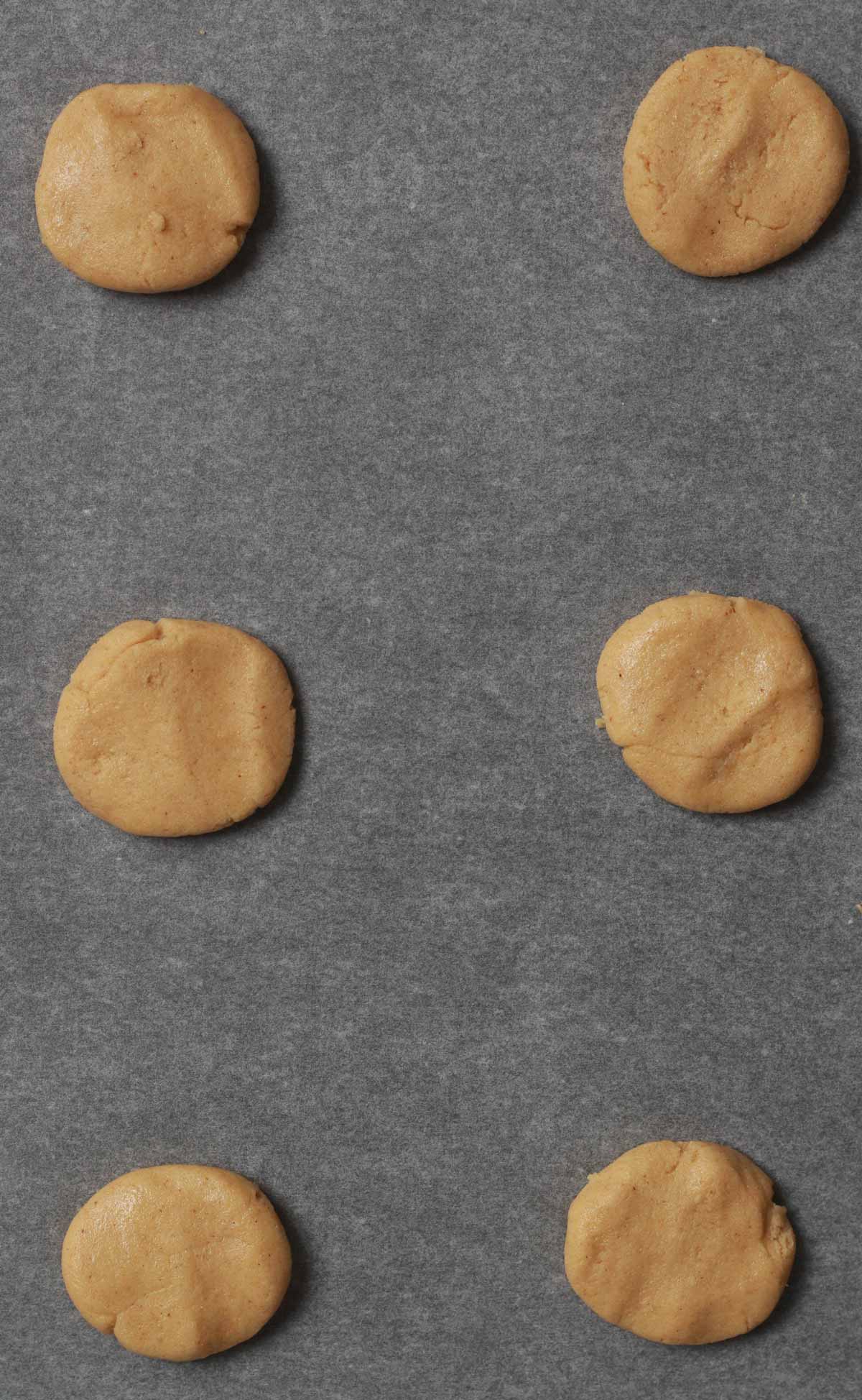 Step 5:
Bake the biscuits for 12-15 minutes. You'll know they're done when they are golden all over.
They'll be soft to the touch when they come out of the oven but will quickly firm up as they cool. I recommend leaving them on the tray until they've fully cooled to avoid breakage.
Once cool, enjoy alone or dunk them into a hot drink!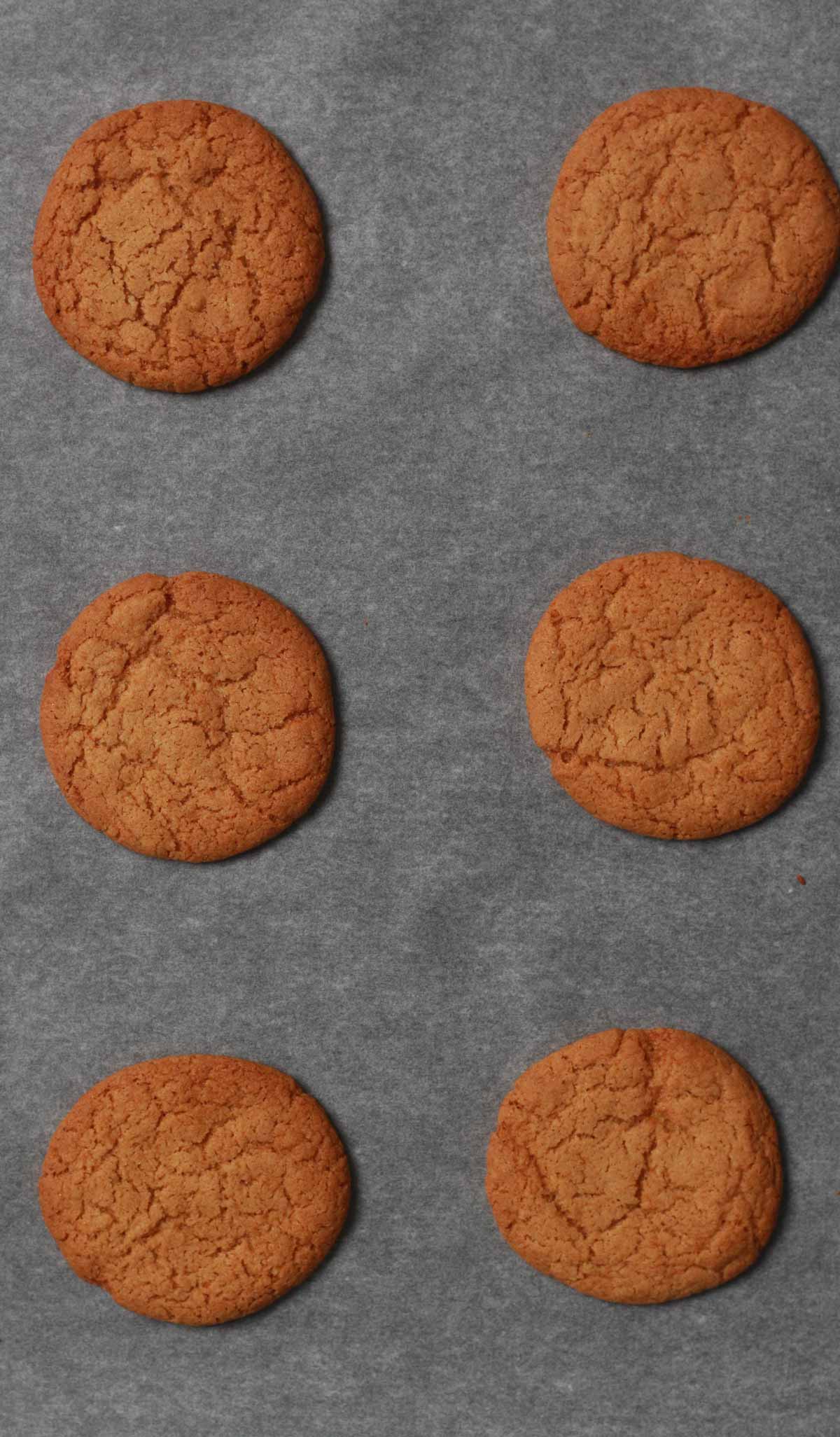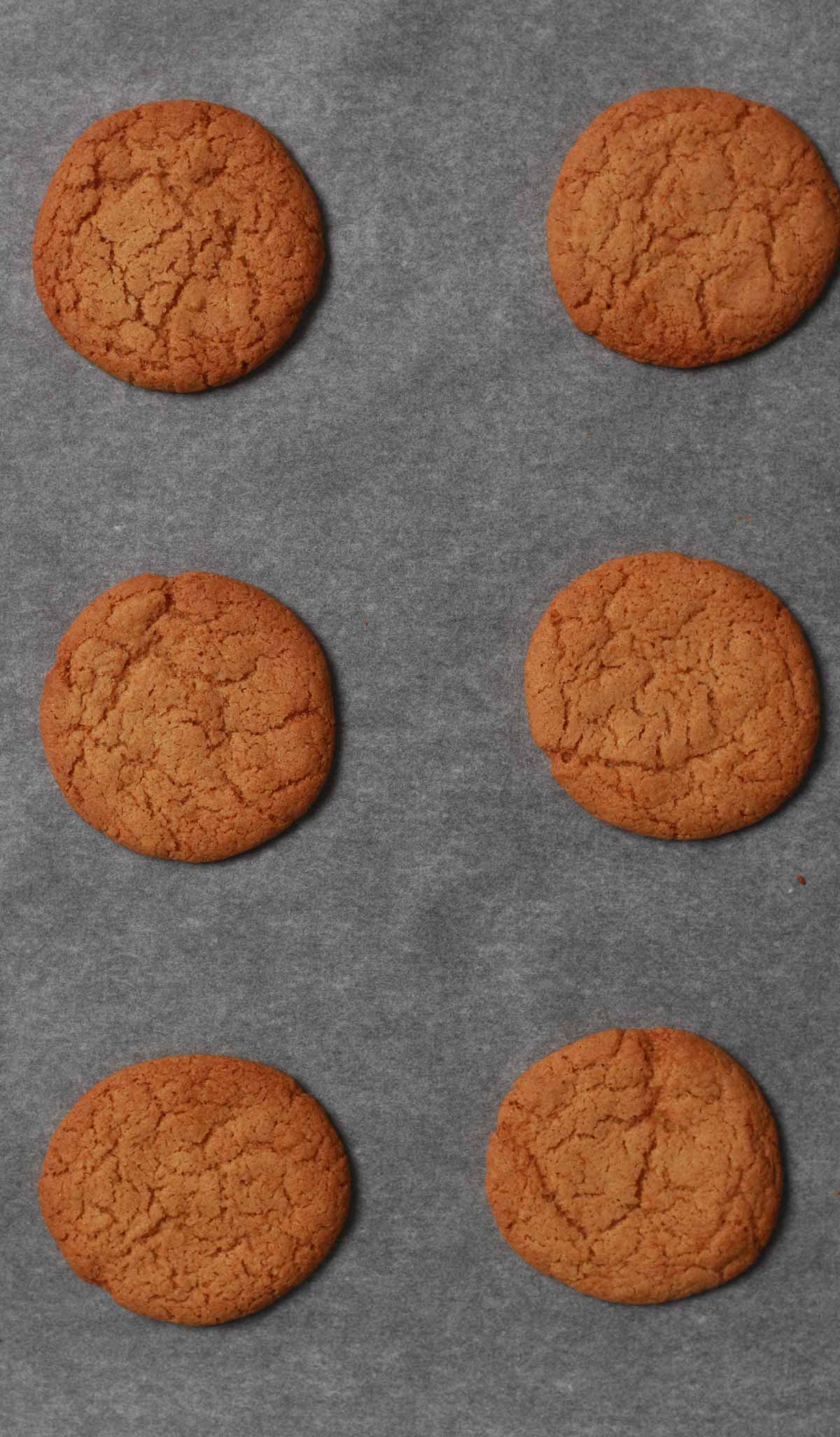 FAQ
Can I use fresh ginger?
I get this question a lot in my ginger recipes but I have never tried it in this biscuit recipe. I wouldn't recommend it as the extra moisture will probably throw the texture off. I've seen recipes for ginger biscuits that use chopped candied (aka crystallised) ginger so that could be a good alternative.
How should vegan gingernut biscuits be stored?
Keep them in an airtight container and store them at room temperature or in a cool, dark place like a kitchen cupboard. They'll keep well for around 5 days this way.
Can I freeze them?
Yes. These biscuits will freeze and defrost beautifully. To freeze, simply pop them into an airtight container and freeze for up to 3 months. Alternatively, freeze them on a lined baking tray until solid then pop them in a ziplock bag before returning to the freezer. Do not refreeze.

When you want to defrost them, transfer them to a plate or wire rack and let them sit out at room temperature for an hour or two until they're fully thawed.
---
I hope you enjoy these tasty, dairy-free gingernut biscuits. If you make them yourself, please let me know how it goes by leaving a rating and/or comment below. Happy baking! xo

Vegan Gingernut Biscuits
Easy, crunchy vegan ginger biscuits that can be made with just 6 ingredients.
Ingredients
45

g

Golden syrup

(~2 tablespoons)

40

g

Vegan margarine

(~3 tablespoons)

50

g

Caster sugar

(¼ cup)

100

g

Self-raising flour

(~¾ cup)

¼

Teaspoon

Bicarbonate of soda

1

Teaspoon

Ground dried ginger

(add an extra ½ teaspoon if you want a stronger flavour)
Instructions
Preheat your oven to 180°C/350°F (or 160°C/325°F if you're using a fan or convection oven). Line a large tray with baking paper.

In a medium-sized bowl, mix together the golden syrup, margarine and caster sugar.

Next, add in all of the flour, the bicarbonate of soda and the ginger. Mix it in until everything starts to stick together then use your hands to press it into a firm ball of dough.

Divide the dough into 12 equal-sized pieces. I used a scale for accuracy.

Roll each piece of dough into a ball and place onto your baking tray. Flatten slightly by gently pressing on them with your fingers. They will look very small but will spread out as they bake.

Bake for 12-15 minutes, until golden all over. Leave to cool completely before removing them from the tray.
Recipe Notes
Store in an airtight container at room temperature for up to 5 days.
Nutrition Facts
Vegan Gingernut Biscuits
Amount Per Serving (1 gingernut biscuit)
Calories 72
Calories from Fat 18
% Daily Value*
Fat 2g3%
Sodium 37mg2%
Carbohydrates 13g4%
Protein 1g2%
* All values are an estimate only and will vary depending on the food brands used.
BakedByClo is a participant in the Amazon Services LLC Associates Program, an affiliate advertising program designed to provide a means for sites to earn advertising fees by advertising and linking to Amazon.com. This site may contain some of these links to Amazon.com & other affiliate programs. If you make a purchase through one of those links, BakedByClo will receive a small commission from the purchase at no additional cost to you.