Vegan Brownie Mix – Everything You Need to Know
Brownie mix is a chocolatey, tasty powder that can be transformed into gooey brownies with the help of some liquid and fat! But are boxed brownie mixes vegan? And can you make box brownies without eggs? This post will tell you everything you need to know, including how to replace eggs in box brownies, vegan box mix brands and lots more!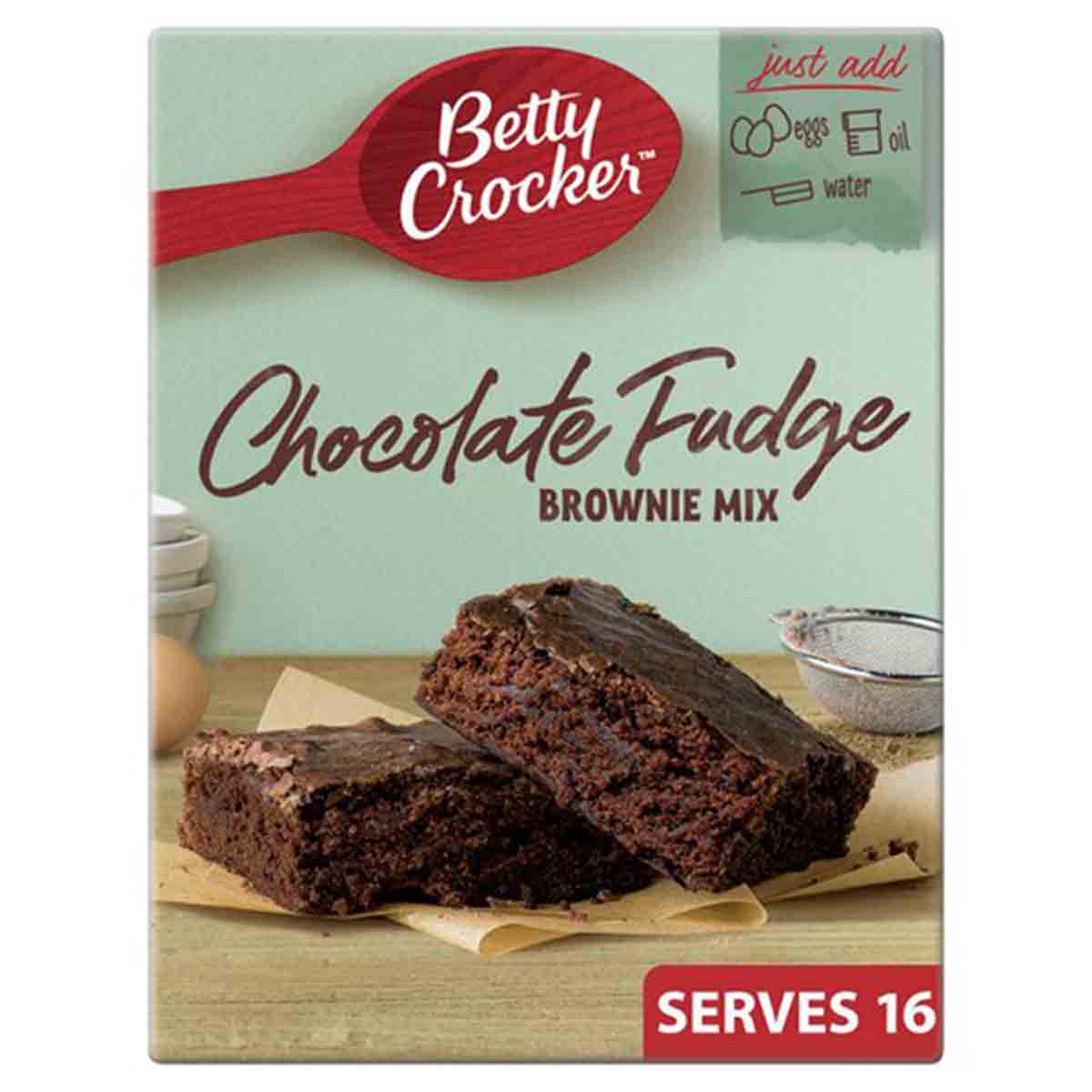 Almost every baker I know has started out their hobby by using boxed brownies and cake mixes. The boxed mixes such as Betty Crocker are perfect for beginner bakers because you usually only need to buy an additional one or two ingredients, rather than the 10 or so that a typical from-scratch dessert recipe calls for. They're a quick, foolproof way to get some tasty brownies or cakes!
Ready-made brownie mixes are usually made up of a mixture of flour, cocoa powder, sugar and some form of chocolate chips. The additional ingredients you need to add to boxed brownies typically include some or all of the following: Milk, eggs, butter, oil, water. These ingredients provide the moisture and fat needed for your brownies.
Is brownie mix vegan?
Despite most boxed brownie mixes calling for eggs, butter or milk, many boxed brownie mixes are accidentally vegan. That means, if you don't add any of the additional ingredients, the mixes themselves do not contain any animal byproducts. This is great news because it makes it easier to make vegan brownies from a box mix!
Just like anything else that's accidentally vegan, box brownies have their exceptions. Some do include milk, eggs, honey or other animal-derived ingredients that are not vegan. Certain e-numbers can be another potential thing to look out for but they're not so common in brownie mixes, especially in the UK.
Related post: 10 BEST vegan brownie recipes
How to make brownie mix vegan
So how do you veganize box brownies? There are a few different ways but the method you use depends on the type of brownies you like.
Cakey brownies
If you like cakey brownies, you can use the classic soda water hack. The formula is 0.62ml of soda water per 1g of brownie mix. So if you have a 400g box of brownie mix, you'd multiply 400 by 0.62 and get 248. We can round this up to 250ml and add this amount to the brownie mixture.
If you're using the soda water, note that this is all you should add. You do not need to add the additional butter, oil, milk, water or anything else that the box calls for!
You could also use soda such as Coca Cola, lemonade or Dr. Pepper for a richer flavour.
Fudgy brownies
Fudgy box brownies are a little bit trickier because we won't be using eggs. There are a few things to consider when using egg, butter and dairy replacements in fudgy brownies. I explain further below.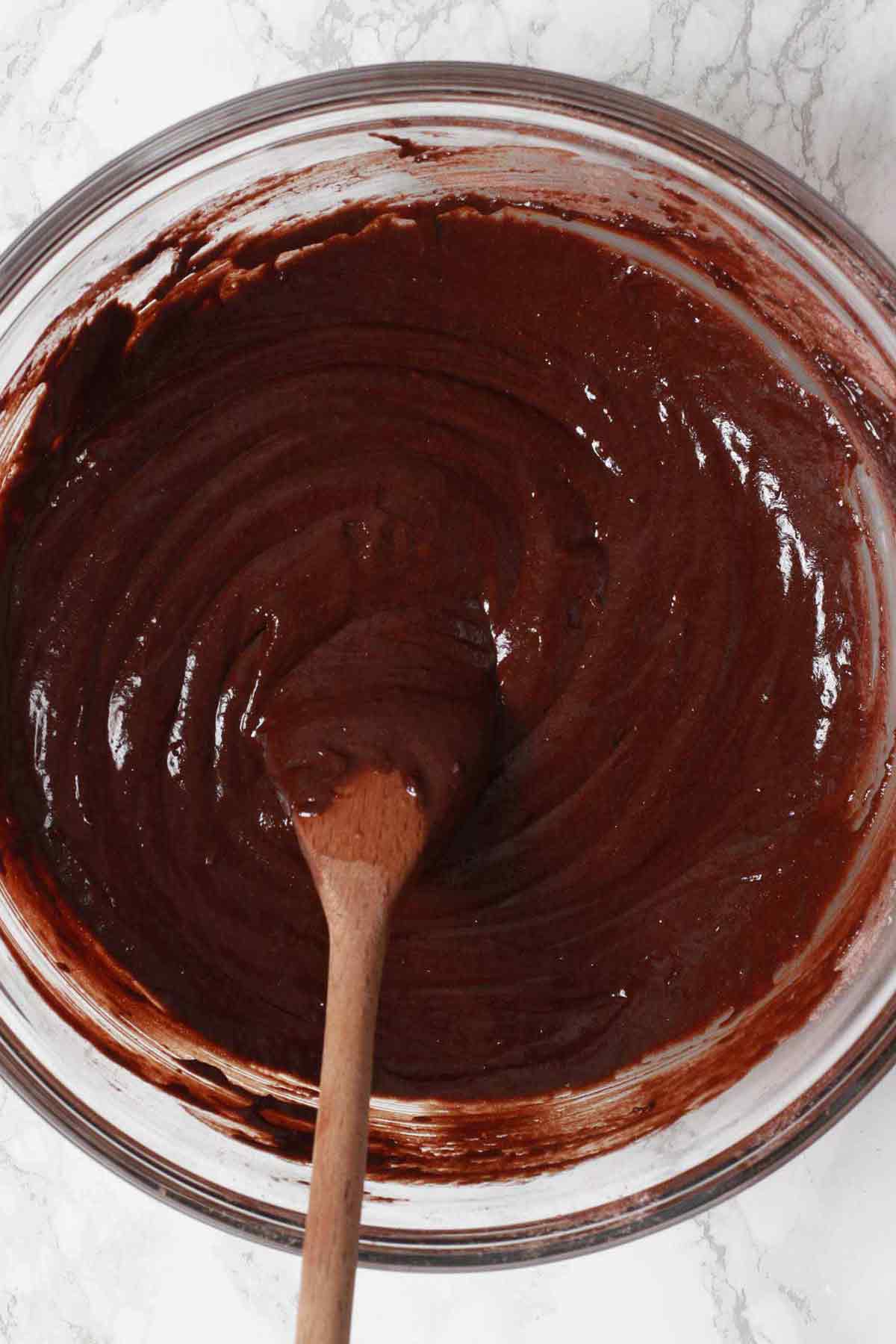 How do you replace eggs in brownie mix?
You can use egg replacements for box brownies but you need to make some additional adjustments. To make up for the lack of eggs in the recipe, we must reduce the fat and increase the amount of liquid. Otherwise, you'll end up with a bubbly, oily mess! My general rule of thumb is to reduce the fat by half and make it up with additional water or (vegan) milk.
Personally, I find dairy-free buttermilk to be the best egg and dairy substitute for brownies. In general, 60ml of vegan buttermilk should roughly replace 1 egg. You can make a simple buttermilk by mixing 250ml unsweetened soy milk with 1 tablespoon of apple cider vinegar, lemon juice or white vinegar.
Other good egg substitutes for baking are flax seed eggs, chia seed eggs and dairy-free yoghurt.
What about butter, oil and milk?
As mentioned above, without eggs, we need to reduce the fat in the brownies so they don't become too oily. So if your brownie box calls for oil, butter or margarine, use half of that amount.
For oil or butter, I'd recommend a blocky vegan butter such as Stork baking block. If you're substituting dairy-free butter for oil, make sure to melt it first!
Next, because you're reducing the fat, you need to add some extra liquid to make the overall liquid volume similar. This liquid can be water or plant-based milk, but preferably vegan buttermilk for the best texture.
I am sure that is all quite overwhelming and perhaps a little confusing so allow me to give some examples:
Tesco chocolate brownie mix asks you to add 50g of butter and 2 eggs. In this case, I would add 120ml of homemade vegan buttermilk to replace the 2 eggs, 25g of vegan butter, plus an extra 2 tablespoons or so to make up for the reduced butter. If I wanted cakey brownies, I could add nothing but 180ml (176.7 rounded up) of soda water or soda, using the formula mentioned earlier in this post.
Betty Crocker chocolate fudge box brownies asks you to add 40ml of oil, 75ml of water and 1 egg. If I was making these at home, I'd add 20ml of melted vegan butter to replace the oil, 60ml of vegan buttermilk to replace the egg, plus an additional 95ml of water or vegan buttermilk. Alternatively, I could add roughly 260ml of soda water or soda for cakey brownies.
I hope this helps to explain my ramblings a bit better but do just leave a comment if you're unsure! The exception to this rule would be if you're using a certified vegan box brownie mix, which will usually tell you add something like mashed banana or flax eggs. In this case, you can just follow the instructions on the box.
Accidentally vegan brownie mix
An accidentally vegan brownie mix is one that has not been specifically marked as such, nor targeted towards vegans, but is free from milk, eggs and other animal byproducts. Let's take a look at some of the accidentally vegan box mix brands.
Is Betty Crocker brownie mix vegan?
Some Betty Crocker brownie mixes are vegan-friendly but not all of them. The Betty Crocker chocolate fudge brownie mix and tempting chocolate brownie mix are both accidentally vegan. Betty Crocker's triple chocolate chunk brownie mix, gluten-free chocolate brownie mix and salted caramel brownie mix are not vegan. They're not vegan because the actual mixes contain milk.
As far as I know, these 5 options are the only Betty Crocker brownie box mixes that we have available in the UK.
Related post: Is Betty Crocker frosting vegan?
Other vegan brownie mix brands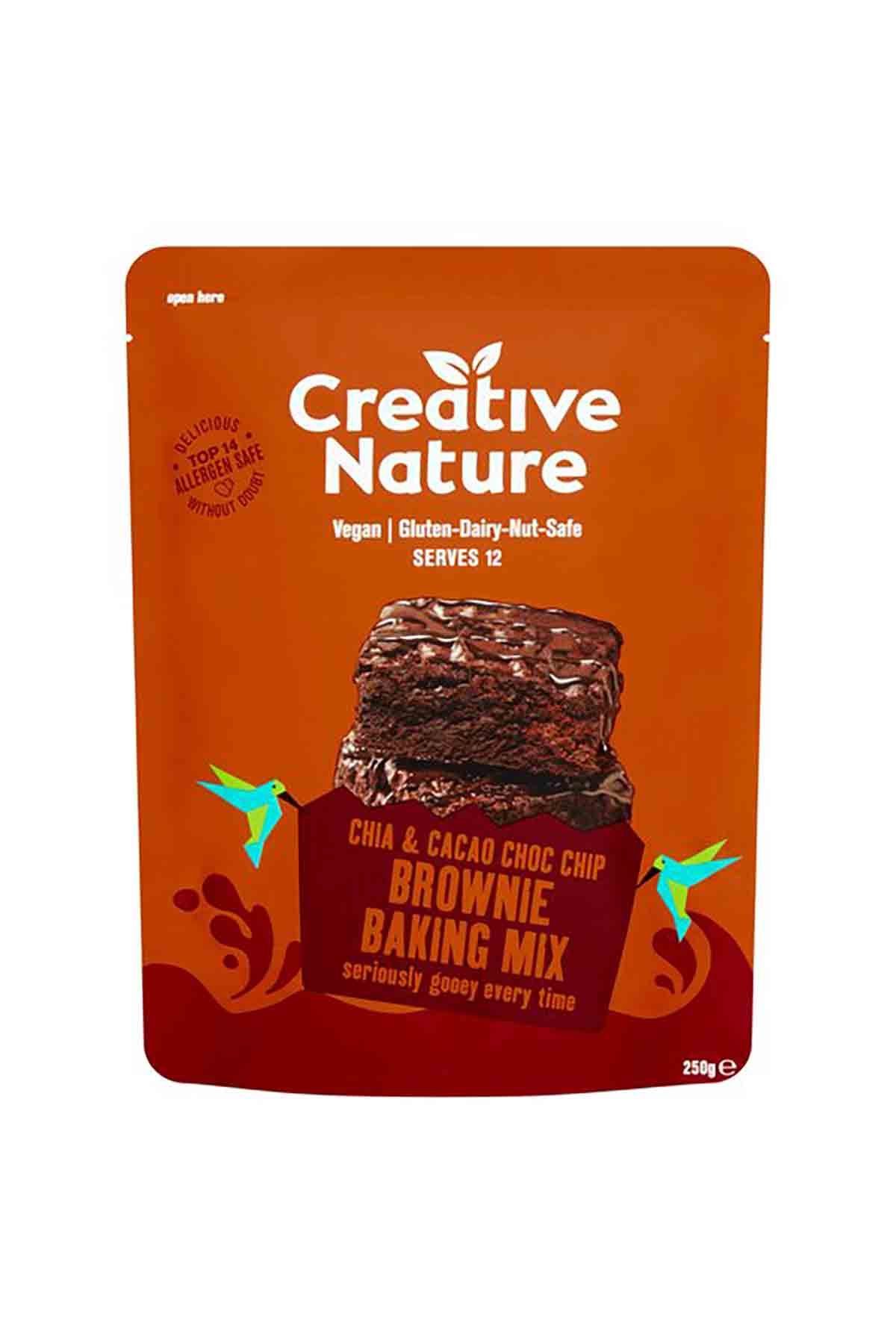 Now that we've covered Betty Crocker brownie mix, let's look at the other vegan brownie mix brands in the UK.
Vegan box brownie tips
Lastly, here are my best tips to get the most out of your boxed brownie mix.
Use the correct tin size
This is SO important for getting the correct brownie texture. If you use a tin that's too large or too small, you'll either end up with raw, underbaked brownies or dry, overbaked brownies. If you've ever made brownies from a box and they've ended up really thin, it's probably because your tin was too large.
Add extra chocolate chips
In my opinion, box brownies never seem to include enough chocolate chips! I like to add a mixture of dairy-free white and dark chocolate chips on top of my brownies before they go in the oven, to help improve texture and flavour. My go-to brand for chocolate chips is Moo-Free.
Use vegan butter instead of oil
This will give you a richer, more buttery flavour, which will really improve the taste of your brownies. I like Stork baking block and Flora plant butter.
Keep an eye on the baking time
Because you're not using eggs, the baking time for your brownies may not be exactly the same. I recommend checking them 10 minutes or so before the recommended baking time is up, then every so often until they're done. Brownies are not like cakes- opening the oven door won't affect them too much!
You'll know your brownies are done when you stick a toothpick through the centre and a few wet crumbs are stuck to it. If the toothpick comes out covered in chocolate batter, the brownies are not done yet and you can pop them back in the oven for a bit longer. You don't want your toothpick to come out totally dry like when you're testing a cake. If it comes out dry, this means that the brownies are overdone and will not be fudgy.
Refrigerate them
After baking, and once the brownies have cooled down completely, put them into the fridge for a few hours. This will help the fats to become firm, creating a lovely fudgy texture! I store my brownies in the fridge for this reason.
Vegan brownie recipes
If you fancy making brownies from scratch rather than from a box, try one of these recipes out: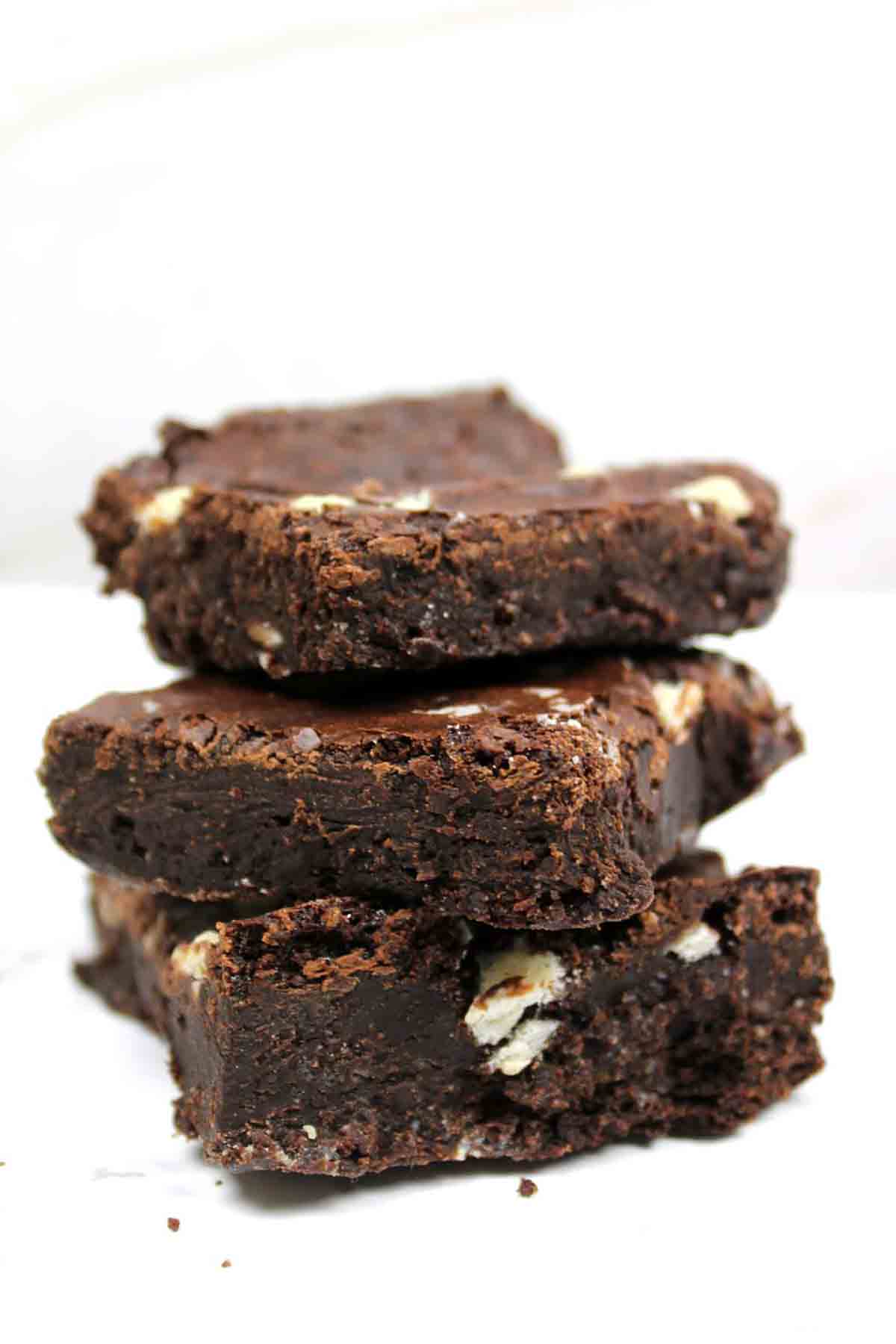 Summary
Are box brownies vegan? Yes, they can be. There are many accidentally vegan brownie mixes, including popular brands like Betty Crocker. You can veganize box brownies by using dairy and egg alternatives.
BakedByClo is a participant in the Amazon Services LLC Associates Program, an affiliate advertising program designed to provide a means for sites to earn advertising fees by advertising and linking to Amazon.com. This site may contain some of these links to Amazon.com & other affiliate programs. If you make a purchase through one of those links, BakedByClo will receive a small commission from the purchase at no additional cost to you.