45+ Tasty Vegan Packed Lunch Recipes For Adults & Kids
Looking for the best vegan packed lunch recipes? This post has got you covered! It contains over 45 lunchbox ideas for kids and adults alike, including sandwiches, salads, soups and desserts for school or work!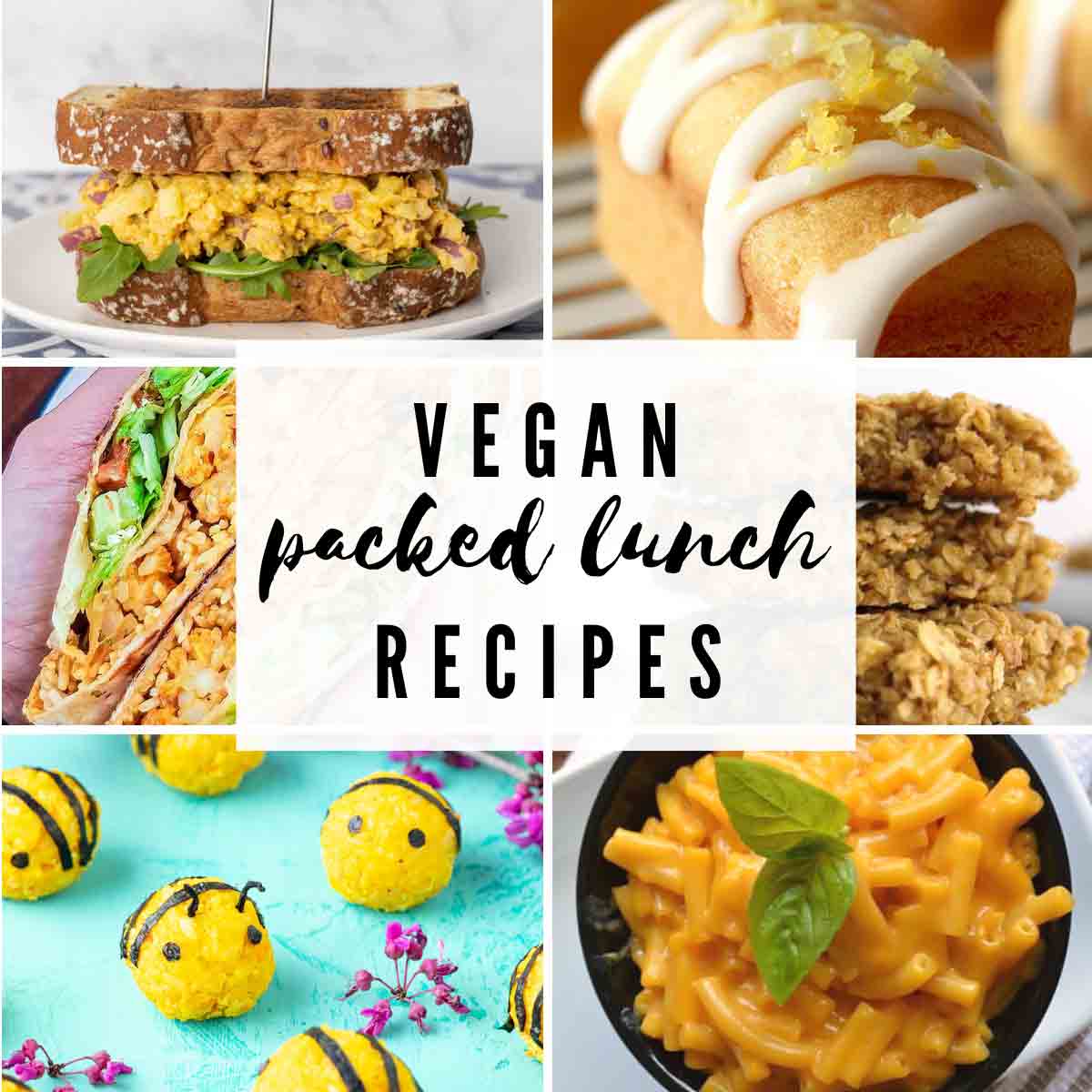 I've been thinking about what to write this summer and I'm slowly working my way through a bunch of summer-themed posts, like afternoon tea recipes, picnic recipes, and potluck recipes. One thing I didn't have on my blog yet was vegan lunchbox ideas.
I've collaborated with many other food bloggers to bring you this list of over 45 packed lunch recipes for school or work, including lots of kid-friendly ideas.
To make this post easier for you to navigate, I've included a table of contents below. The vegan packed lunch ideas are also split up into categories: sandwiches, wraps & salads, pasta, rice & noodles, soups, snacks, sweet treats, and lunchbox recipes for kids. Simply click the links below to be taken straight to the desired section.
Vegan packed lunch recipes for adults
I separated all of the recipes into 'vegan lunchbox ideas for adults' and 'vegan lunchbox recipes for kids' but of course, anyone can enjoy any of the recipes! The 'adult' recipes include things like salads and soups which are great lunches for work but aren't necessarily always kid-favourites, and the 'kid' recipes include more bite-sized, colourful recipes that are quick and easy to make in a hurry for school lunch.
Sandwiches, wraps and salads
First off are the sandwiches, wraps and salads- the classic ideas for a work lunchbox! There are 13 scrumptious recipes to choose from here.
This egg salad substitute makes a great filling for sandwiches, wraps and salads. It's packed with plant proteins and takes just 10 minutes to make!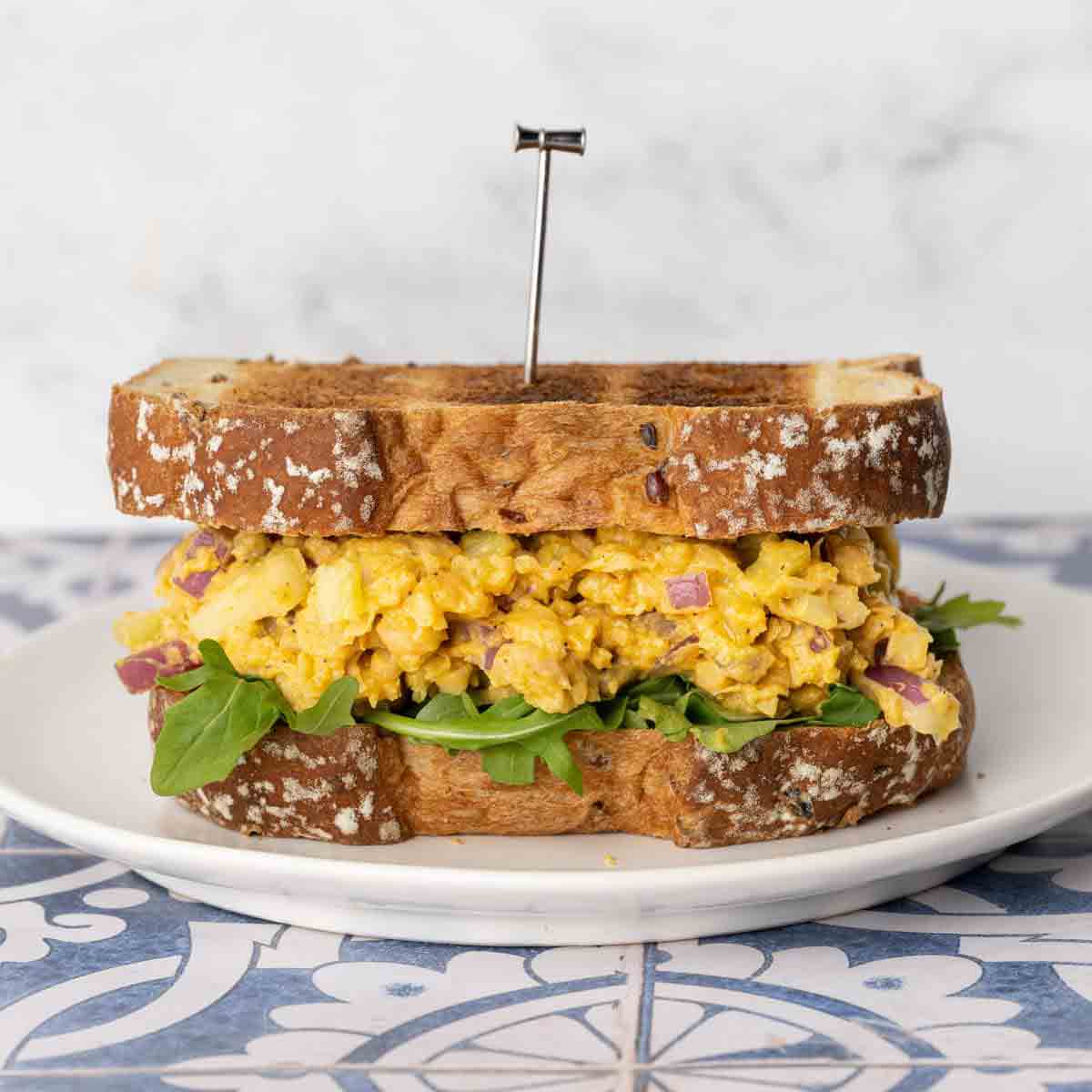 This mock chicken salad uses beans, herbs and spices to create a similar texture and flavour to the traditional version. Great for salads or sandwiches.
This fish-free tuna alternative is satisfying and delicious, packed with nutrition. It makes such a great vegan packed lunch idea!
A vegan twist on a British classic! This coronation 'chicken' is made with jackfruit and is sure to impress your taste buds.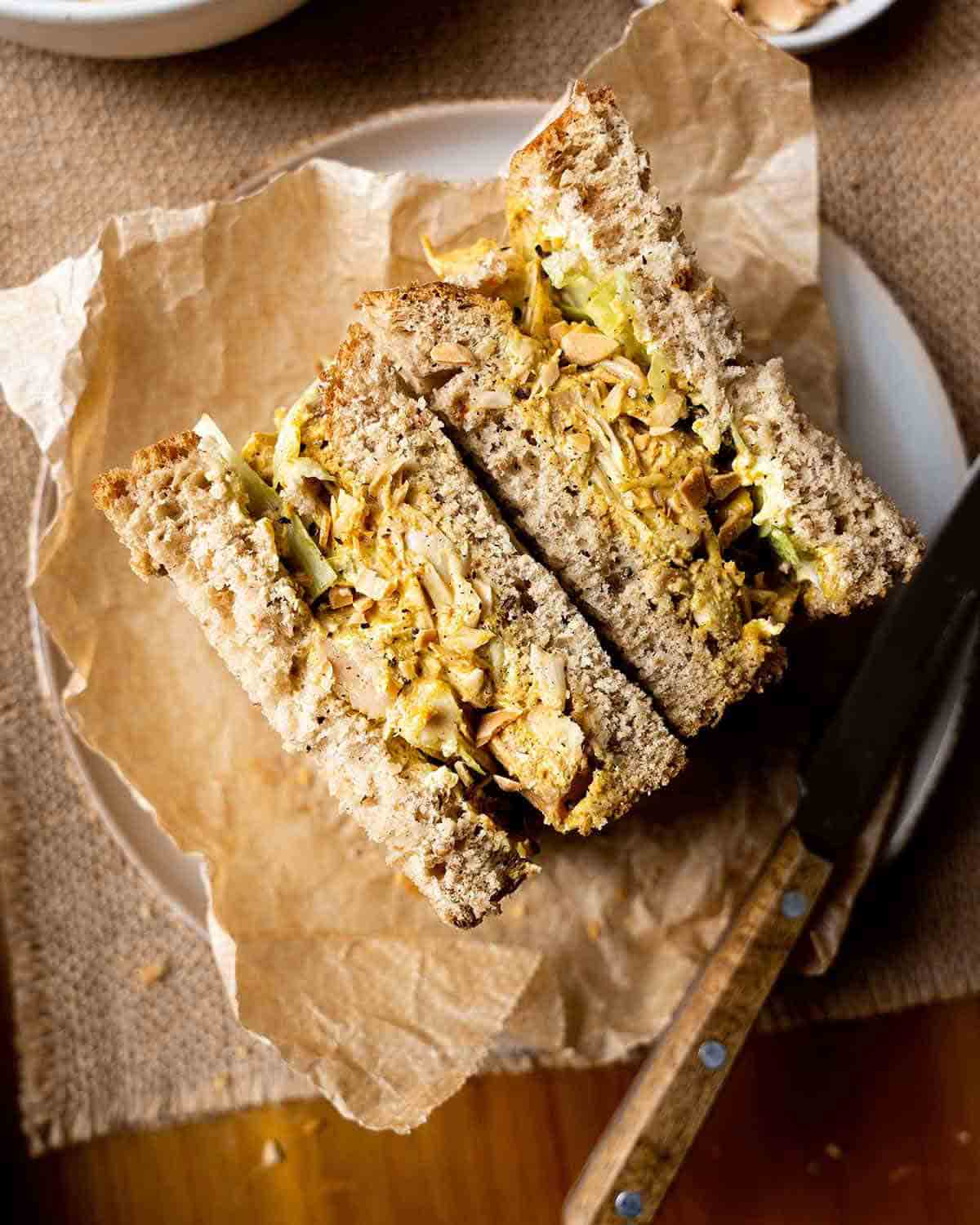 This smashed chickpea avocado is simple and easy to make. There's no vegan mayo needed- just fresh, wholesome ingredients!
Cauliflower salad sandwich is a must-try for the next time you're in need of a vegan lunchbox recipe! It's super delicious and makes a great alternative to the usual vegan sandwich fillings.
This tasty Crunchwrap is filled with cauliflower curry, rice and fresh salad. It's a creamy, spicy, crunchy lunchtime treat that is packed full of flavour.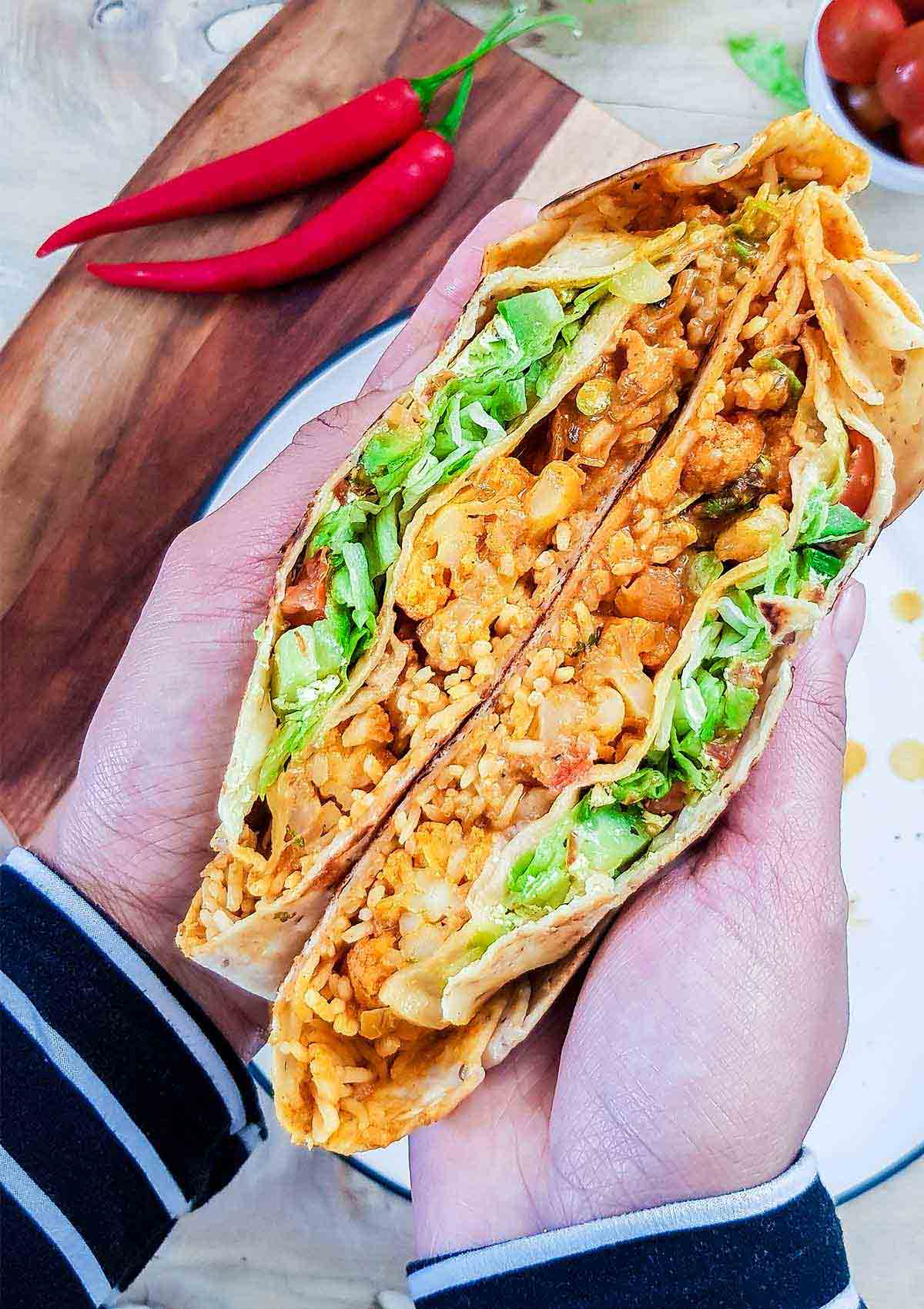 This tofu sandwich can be made the classic way or open-face. It's a great staple recipe that you'll want to make again and again.
No more boring vegan packed lunch ideas! These green goddess wraps taste delicious but are packed full of nutrition. They're gluten-free and nut-free too, meaning the whole family can enjoy them.
This pasta salad is made with vibrant, juicy strawberries, balsamic tofu, fresh spinach and basil, and creamy vegan feta cheese. It's ready to eat in just 30 minutes.
This colourful pasta salad is made with pearl couscous, fresh herbs and veggies, and a simple lemon olive oil dressing. It keeps well for days and can be popped into mason jars for packed lunches.
This salad is full of vegan protein and healthy fat, meaning it will help you to avoid the post-lunch afternoon slump! It comes together in just 20 minutes.
This BLT made with tempeh is one of my favourite vegan lunchbox ideas. Just marinate, bake and pack!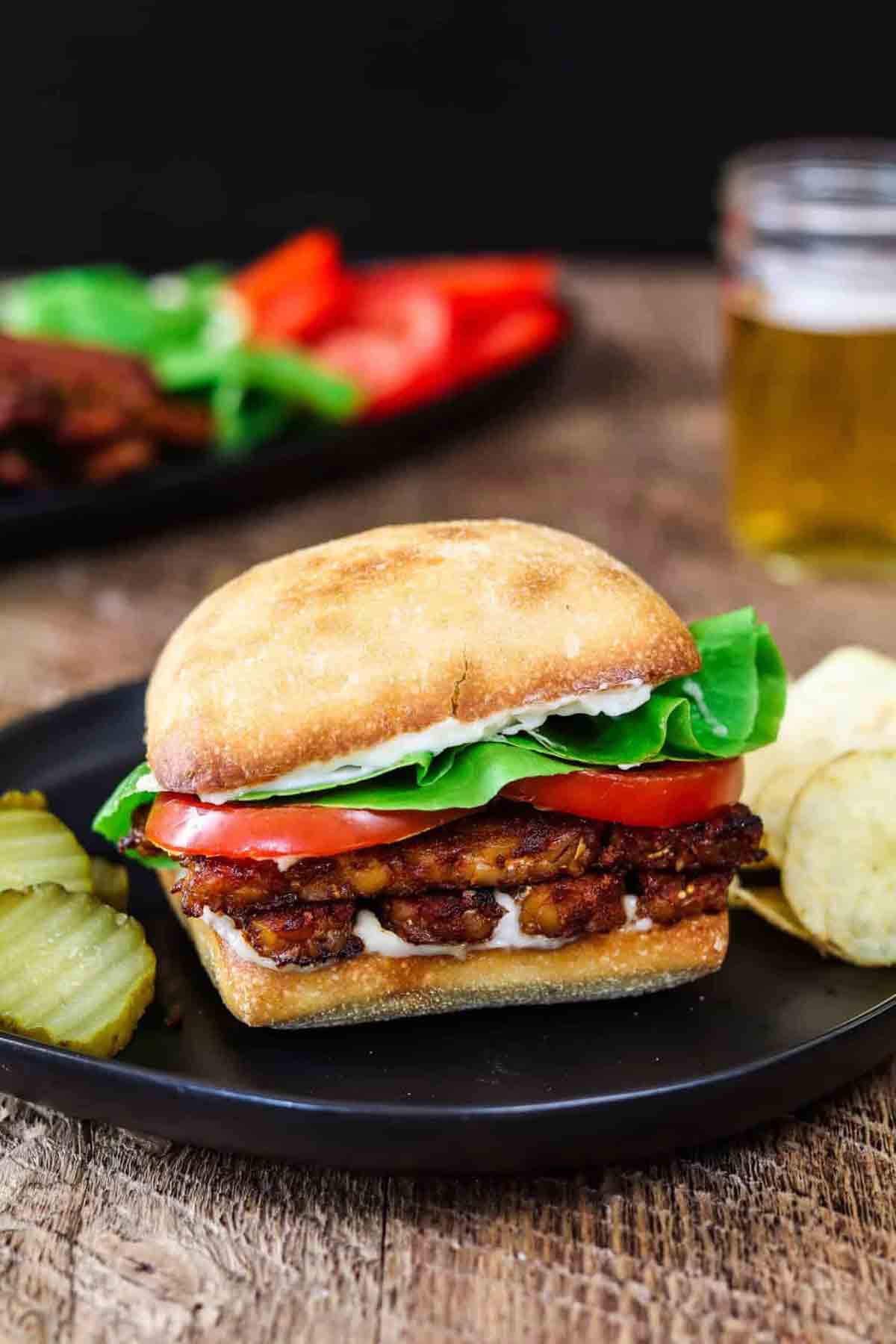 Pasta, rice & noodles
Next are the pasta, rice and noodles. Pasta was my ultimate comfort food for a work packed lunch when I worked in an office. Here are 4 tasty recipes to try:
A classic comfort food made vegan. This version is made with butternut squash and cashew nuts for a rich flavour and creamy texture.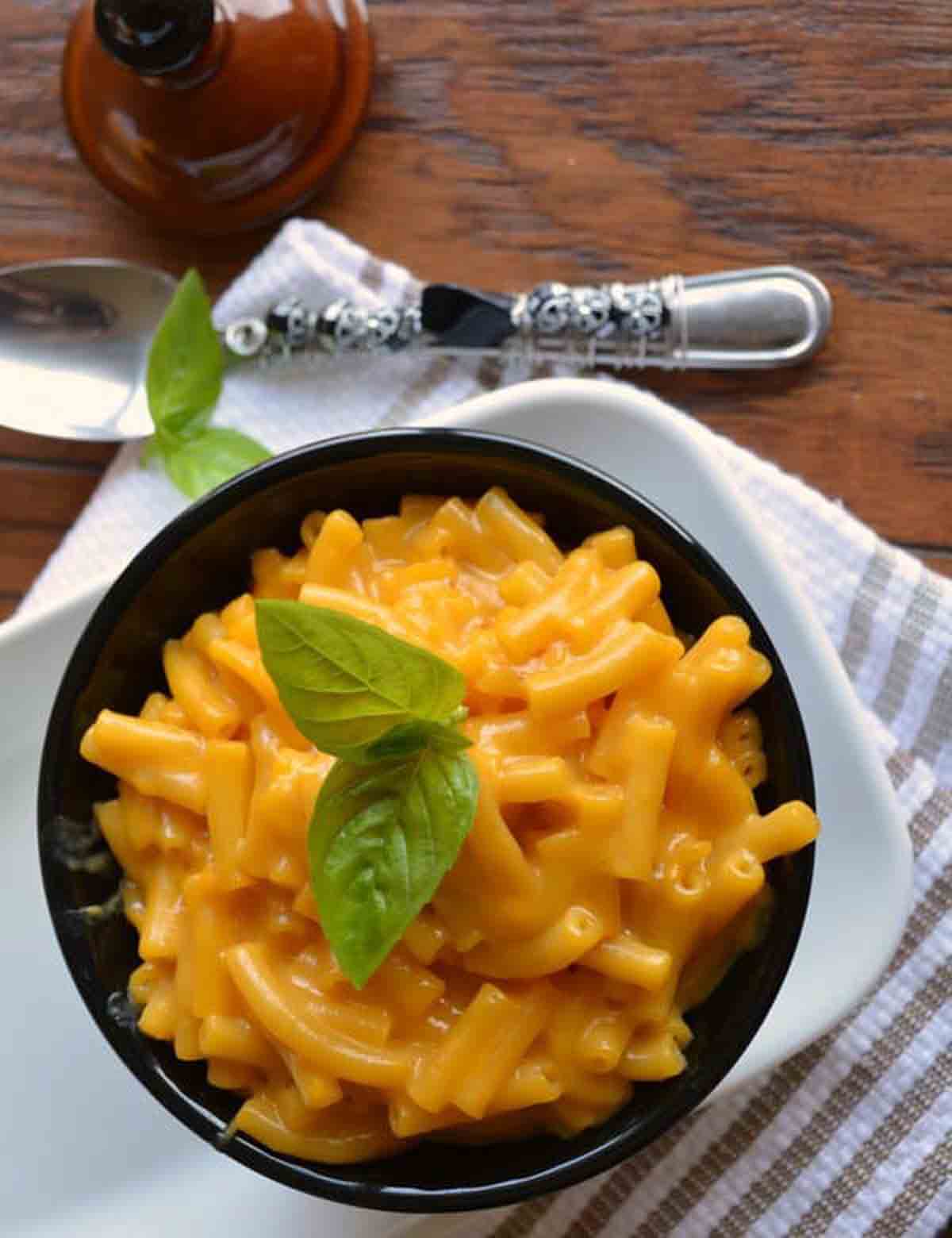 This Chinese noodle dish is full of flavour and is sure to be a new favourite packed lunch recipe! Comes together in less than 30 minutes.
This spicy, savoury Korean rice dish is made with simple, wholesome ingredients and makes a great main or side for your packed lunch.
Fish-free sushi makes a great vegan lunchbox addition. Pack your sushi rolls with your favourite vegan fillings and enjoy!
Soups
You can beat a good old warming soup in your packed lunch for work or uni! Here are two vegan soups you can try.
This soup is creamy, indulgent and healthy. It's made with anti-inflammatory ingredients and is low-carb and paleo-friendly.
Pop some of this miso coconut butternut squash soup into a flask and enjoy it for lunch at work or school! It's smooth, creamy and full of veggies!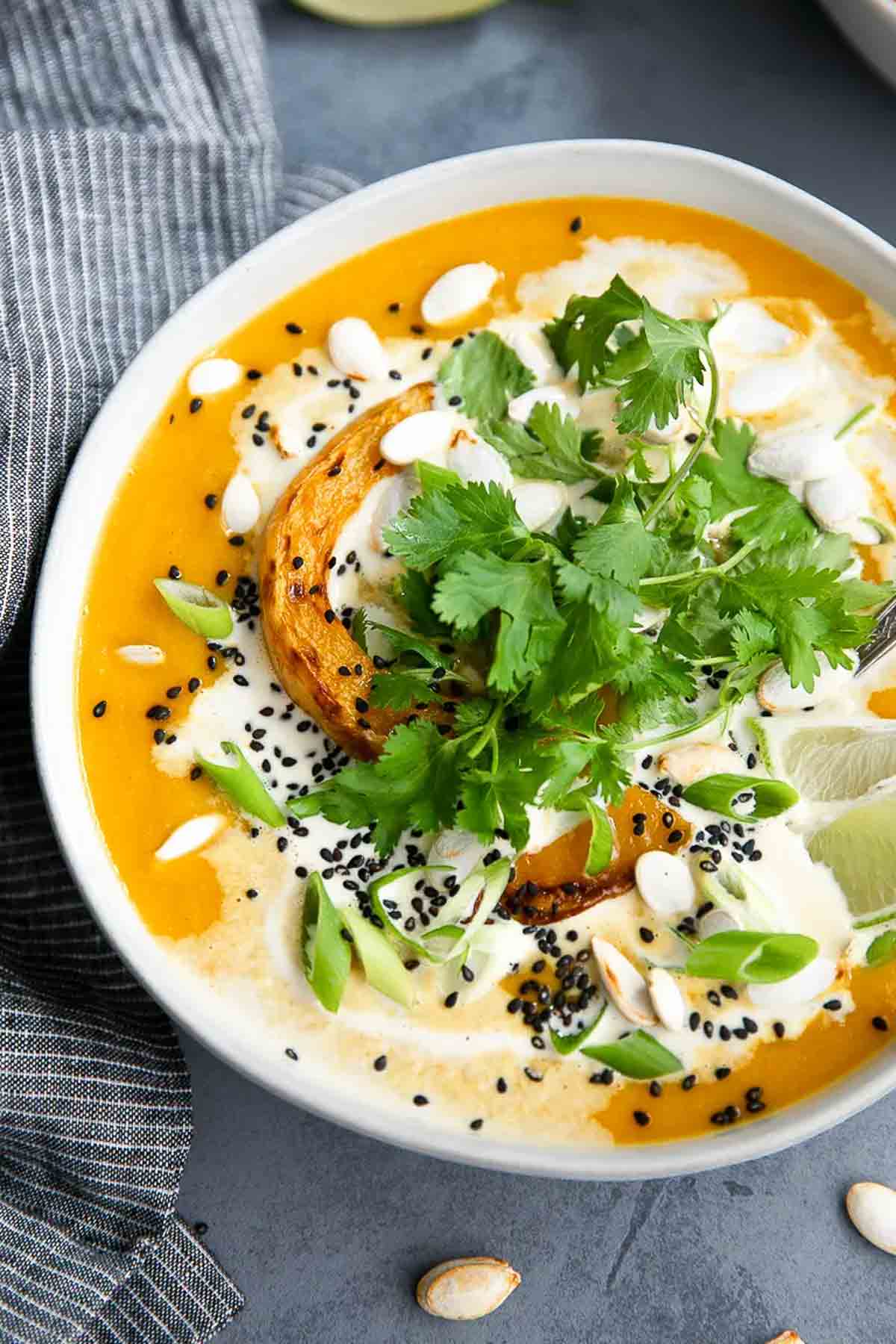 Packed lunch snacks
Next up are the snacky foods. These can be served as a side to your main meal or as an afternoon snack later in the day.
This vegan spam has a smoky flavour and is high in protein. It's made with only 10 ingredients and comes together so easily.
These sausage rolls are delicious served hot or cold. You can't get much more of a classic lunchbox snack than these!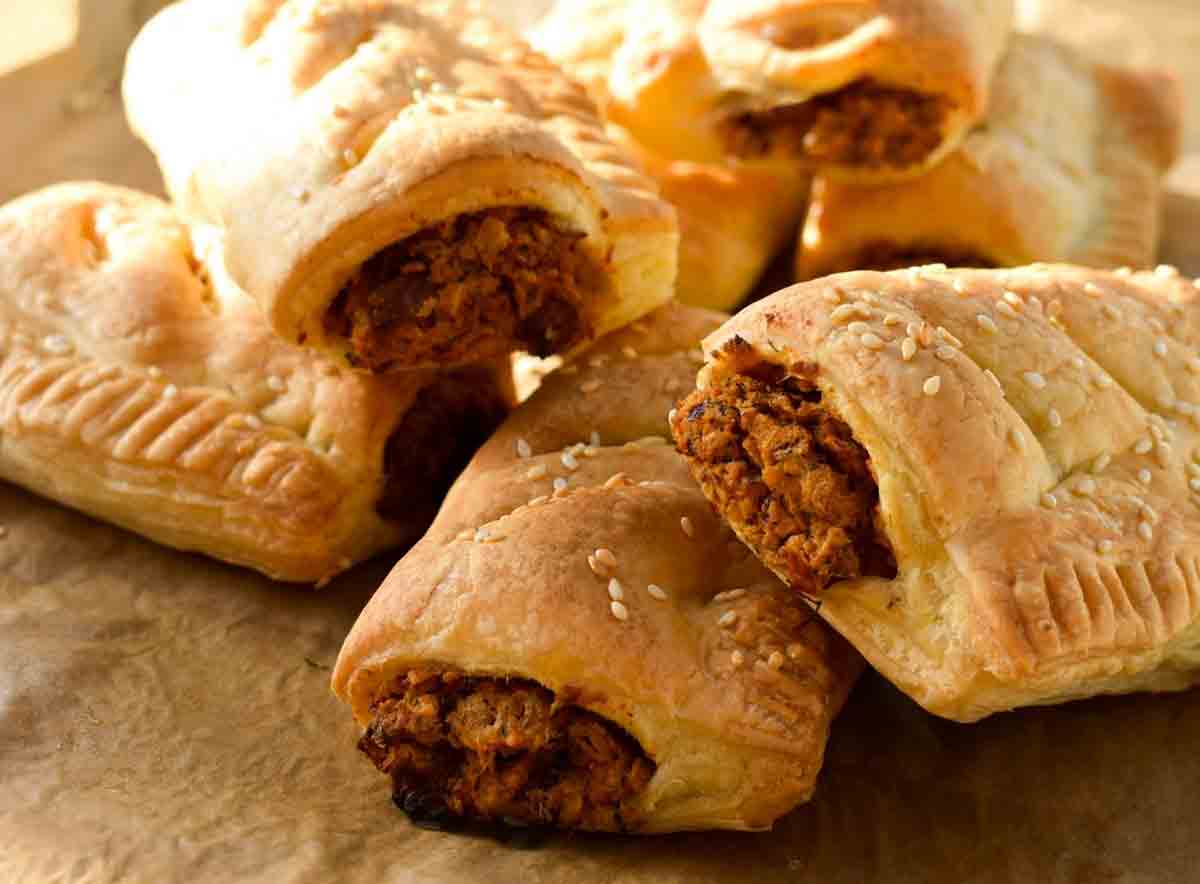 These vegan sausages are juicy, meaty and will please even non-vegans! Enjoy them as a snack in your lunchbox, slice them up and put them on a sandwich, or serve them on top of your favourite salad.
These crunchy roasted chickpeas can be made sweet, spicy or plain and simple! They're naturally vegan and gluten-free, and packed with protein and fibre.
Sweets & Treats
Lastly for the adult packed lunch recipes are the sweets- my speciality! I've picked out 7 of my favourite recipes that I think would be great in a work lunchbox.
Chewy, gooey, oaty flapjacks are the perfect vegan lunchbox dessert. They're made with just 4 ingredients and you probably already have them all in your kitchen!
These brownies are great for preparing in advance because they keep so well. Make a batch on Sunday evening and enjoy a chocolatey-packed lunch dessert all week!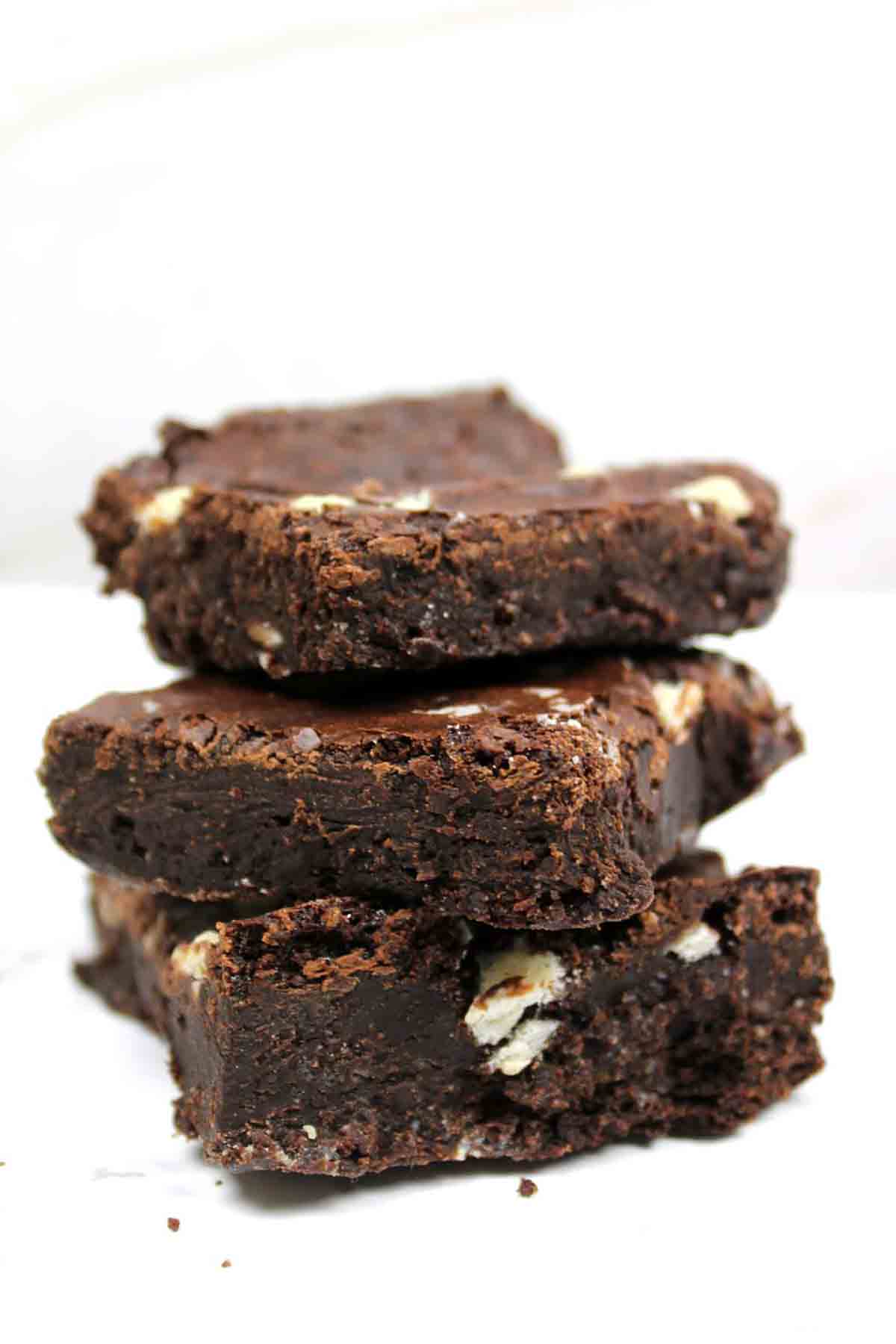 Nothing beats a good slice of banana bread in a packed lunch for work or school! This vegan banana bread is soft and fluffy and tastes great served with peanut butter.
Protein balls are a great healthy vegan lunchbox snack to pack. This recipe uses cinnamon and maple syrup for flavour. Yum!
These muffins are tall, light and fluffy, packed with juicy fresh blueberries. They're super easy to make with simple ingredients.
Millionaire's shortbread is a Scottish bakery classic, with a buttery shortbread base, gooey caramel filling and a chocolate topping. This version is made without the eggs and dairy that traditional recipes use.
This cake is flavoured with coffee, making it a great vegan packed lunch recipe for adults. It's light and fluffy, topped with a rich and creamy vegan cream cheese frosting.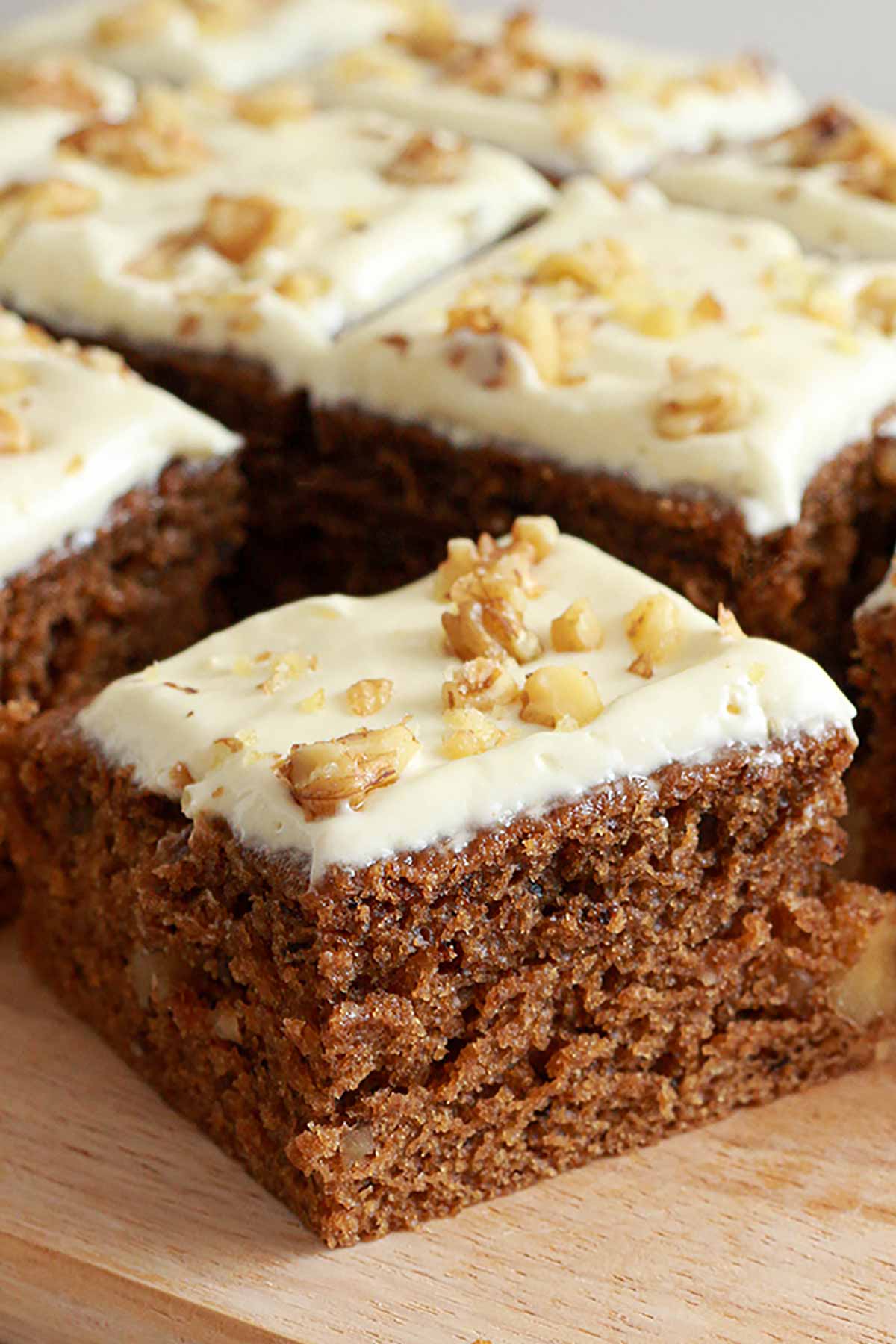 Vegan lunchbox recipes for kids
Now for the kid-friendly recipes. Below you'll find a mix of sweet and savoury vegan lunchbox recipes for school or home.
If you thought vegans can't have Rice Krispie treats, think again! This recipe uses gelatine-free marshmallows to make chewy, gooey, crispy treats that your kids will love.
These Korean rice balls, or Jumeok-bap, make such a perfect vegan packed lunch for kids! Seasoned rice is mixed with eggless salad and then rolled into balls. Enjoy them as is or decorate with seaweed to make them look like cute bumble bees as pictured.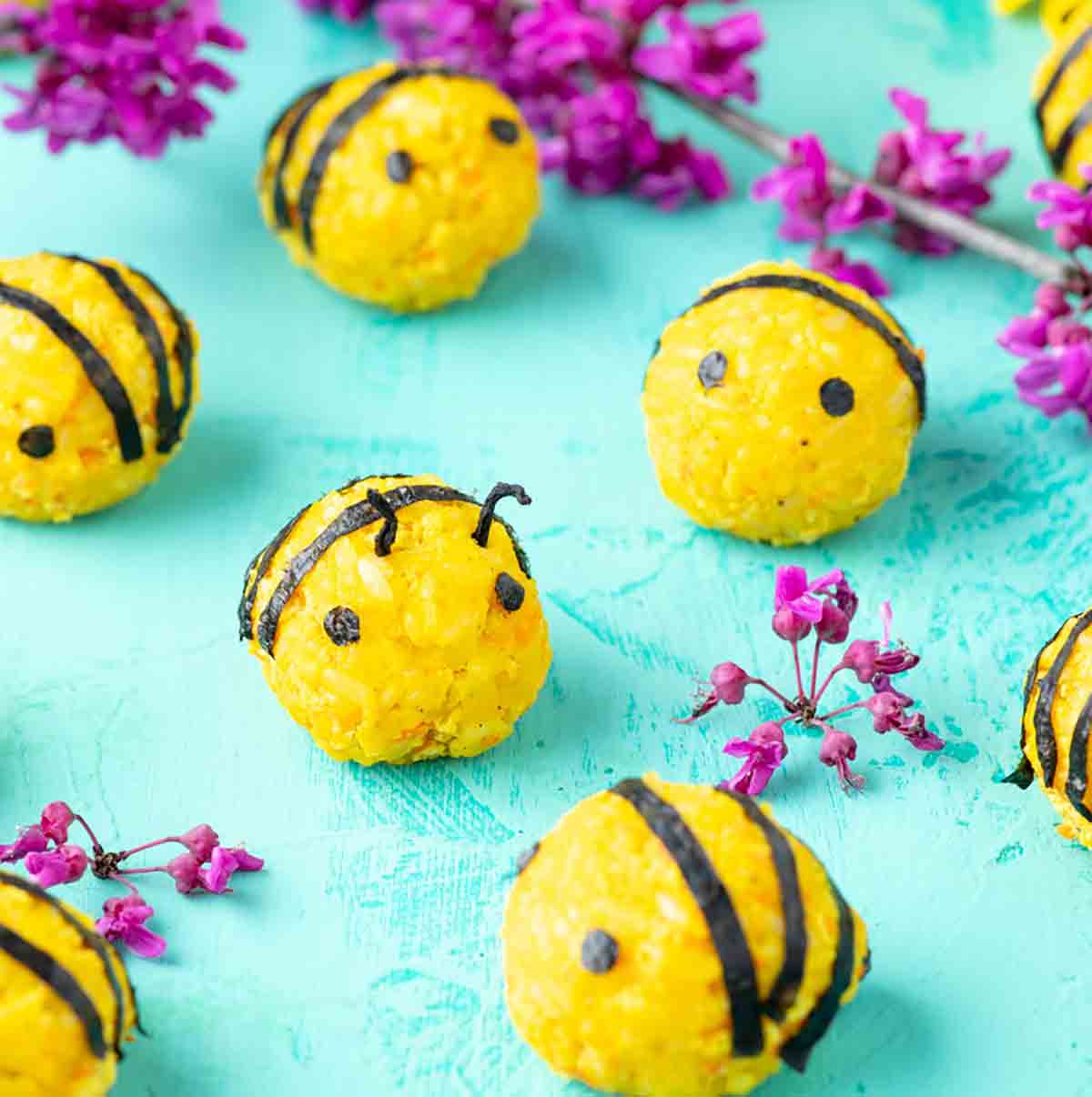 Vegan mac and cheese is baked in muffin cups to make a handy, portable, kid-friendly snack or light lunch. They keep well in the fridge for up to 1 week so you can prep them once and enjoy all week.
Rocky road but in cookie form! Soft chocolate cookies filled with Digestive biscuit pieces, mini marshmallows and vegan chocolate chunks.
Cooked quinoa, beans, veggies, herbs and spices come together to make these crispy quinoa bites. They're pan-fried too, making them healthier than the deep-fried version.
These mini lemon loaves are such a cute alternative to a slice of lemon loaf. Baked in a mini loaf pan, they make the perfect individual-sized treat.
If you've been looking for Goldfish without the nasties, this is the recipe for you! These are grain-free, sugar-free, top 8 allergy free, and secretly protein packed!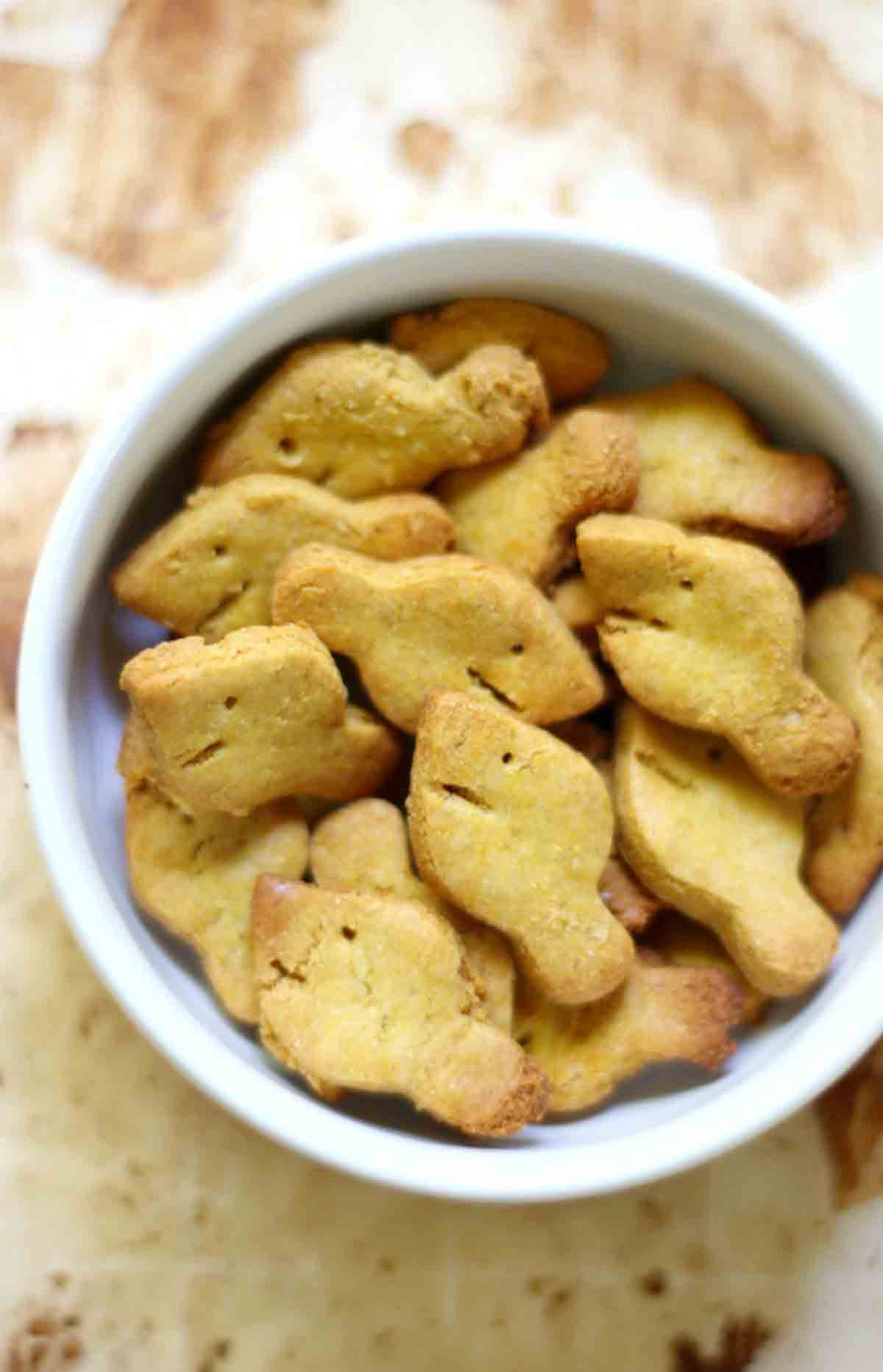 Use fun pasta shapes and colourful veggie to turn a regular pasta salad into an exciting vegan packed lunch for kids. This recipe is super simple and is sure to be loved.
Fairy cakes were one of the most classic lunchbox recipes when I was a kid! They're bite-sized vanilla cupcakes, topped with icing and colourful sprinkles.
You can make these crispy breaded tofu sticks with only 5 base ingredients! They're delicious and versatile, adaptable with your favourite seasonings and coating of choice.
These Oreo truffles are one of my favourite kid-friendly treats to make. They contain just 3 simple ingredients and they're so easy to make that the kids can help too!
These bold and vibrant pinwheels are loaded with veggies and paired with vegan cream cheese. Easy and quick to make.
This fluffy cake is always a hit with everyone who tries it. It's a vegan version of the classic UK school lunch cake- a vanilla tray bake cake topped with icing and sprinkles.
Savoury muffins are a great lunchtime snack for those who don't like sweets. They're stuffed with juicy tomatoes, sweetcorn, caramelised onions and Italian herbs. Yum!
Chocolate crispy cakes are another classic childhood dessert, made vegan! Only 4 simple ingredients and no baking required.
This gummy bear recipe uses agar powder instead of gelatine to make them vegan-friendly. You can make lots of different colours and flavours using various fruit juices.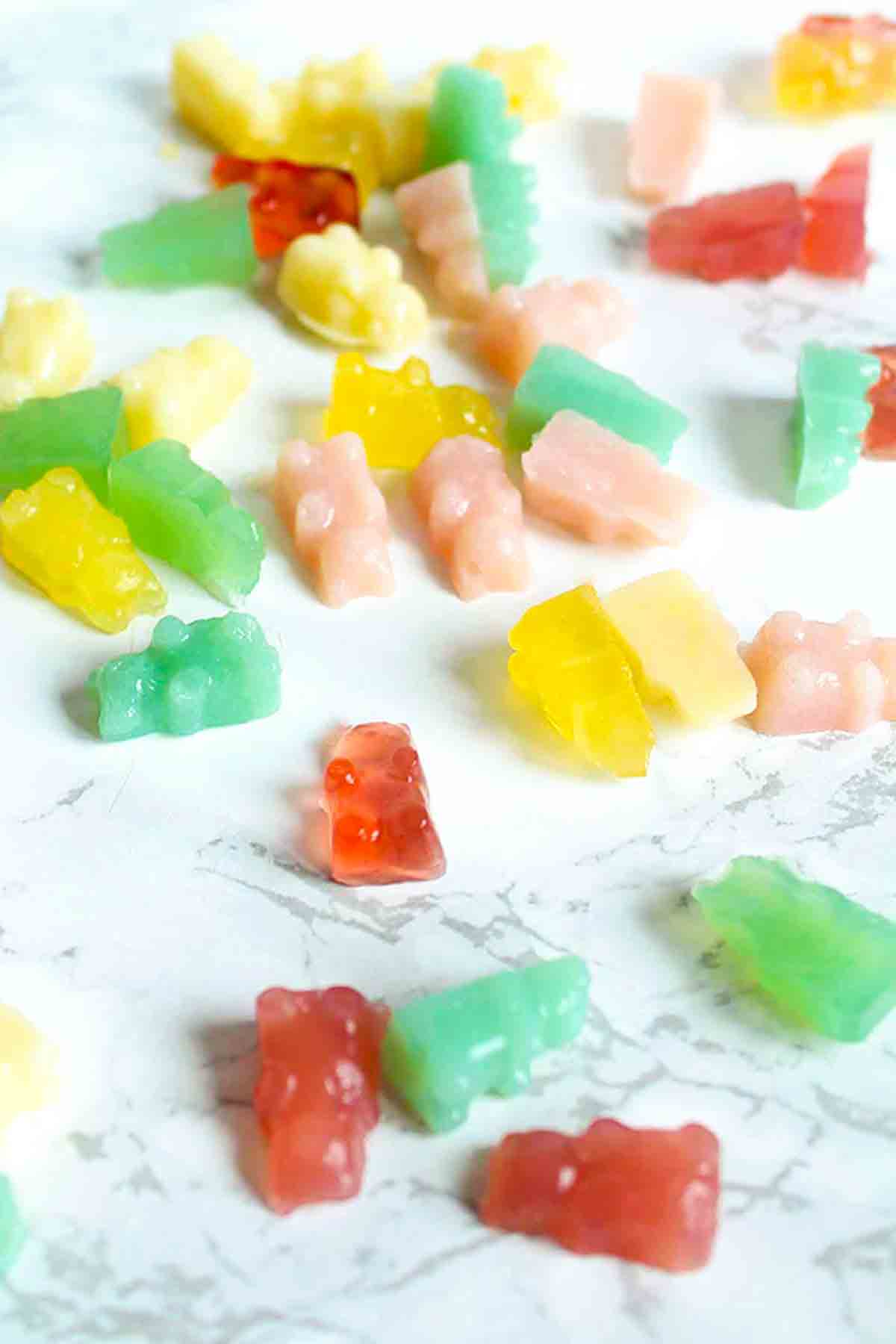 That's all for now! I hope you like these vegan packed lunch recipes for school and work. If you find this post useful, please give it a share using the share buttons on this page. Enjoy! xo

45+ BEST Vegan Packed Lunch Ideas For Adults & Kids
Over 45 delicious sweet and savoury vegan lunch box ideas for school or work.
BakedByClo is a participant in the Amazon Services LLC Associates Program, an affiliate advertising program designed to provide a means for sites to earn advertising fees by advertising and linking to Amazon.com. This site may contain some of these links to Amazon.com & other affiliate programs. If you make a purchase through one of those links, BakedByClo will receive a small commission from the purchase at no additional cost to you.