40+ Vegan Potluck Recipes
Looking for some vegan potluck recipes? This post will help you out. It contains over 40 recipes for sweet and savoury potluck ideas, including sushi, salads, cheesecakes and cookies.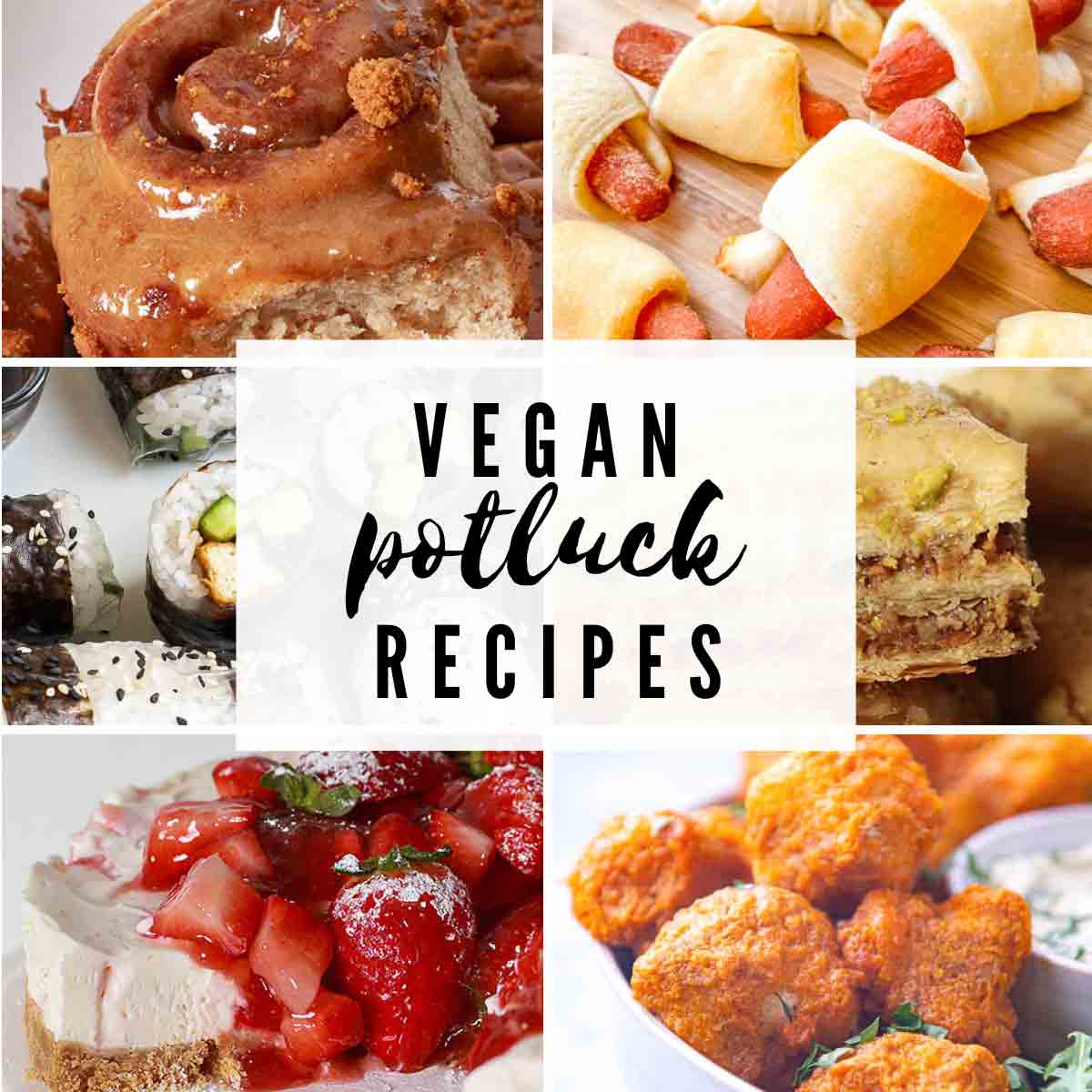 Following on from my vegan picnic ideas post, I thought it'd be a good idea to make a compilation of the best vegan potluck recipes too, seeing as summer is coming up. Tis the season for sharing food!
What to bring to a vegan potluck
It can be tricky to decide what vegan food to bring to a potluck, especially if only some guests are vegan and you're not. But there are tonnes and tonnes of options out there so don't worry!
Using the help of some other food bloggers, I'm bringing you this list of over 40 sweet and savoury potluck recipes. I've tried to include as much of a variety as possible so I hope everyone can find at least a few recipes that suit their taste buds.
If you give any of the recipes a go, please let me know how you get on by leaving a comment near the bottom of the page. Enjoy!
Savoury potluck recipes
First, I'm starting with the savoury potluck recipes. There are all sorts of recipes to choose from, including salads, dips, pasta and buffalo wings. If you prefer the sweet stuff, you can skip straight to the vegan potluck desserts.
How cute are these sushi spring rolls?! There's no fish needed for this recipe- the rolls are packed full of tofu, teriyaki sauce, fresh veggies and herbs.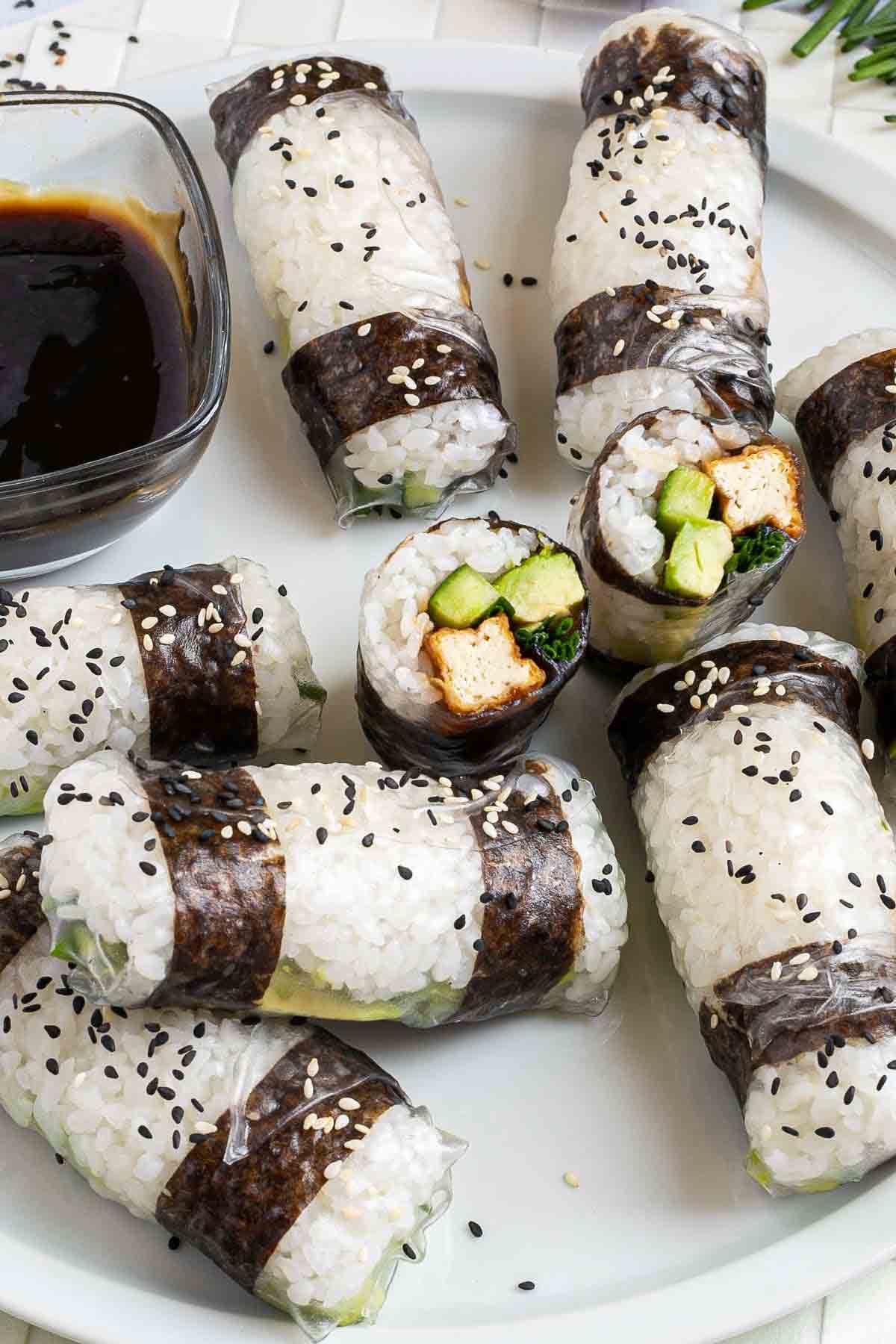 These pigs in blankets are actually made with carrots! They are one of the cutest vegan potluck ideas!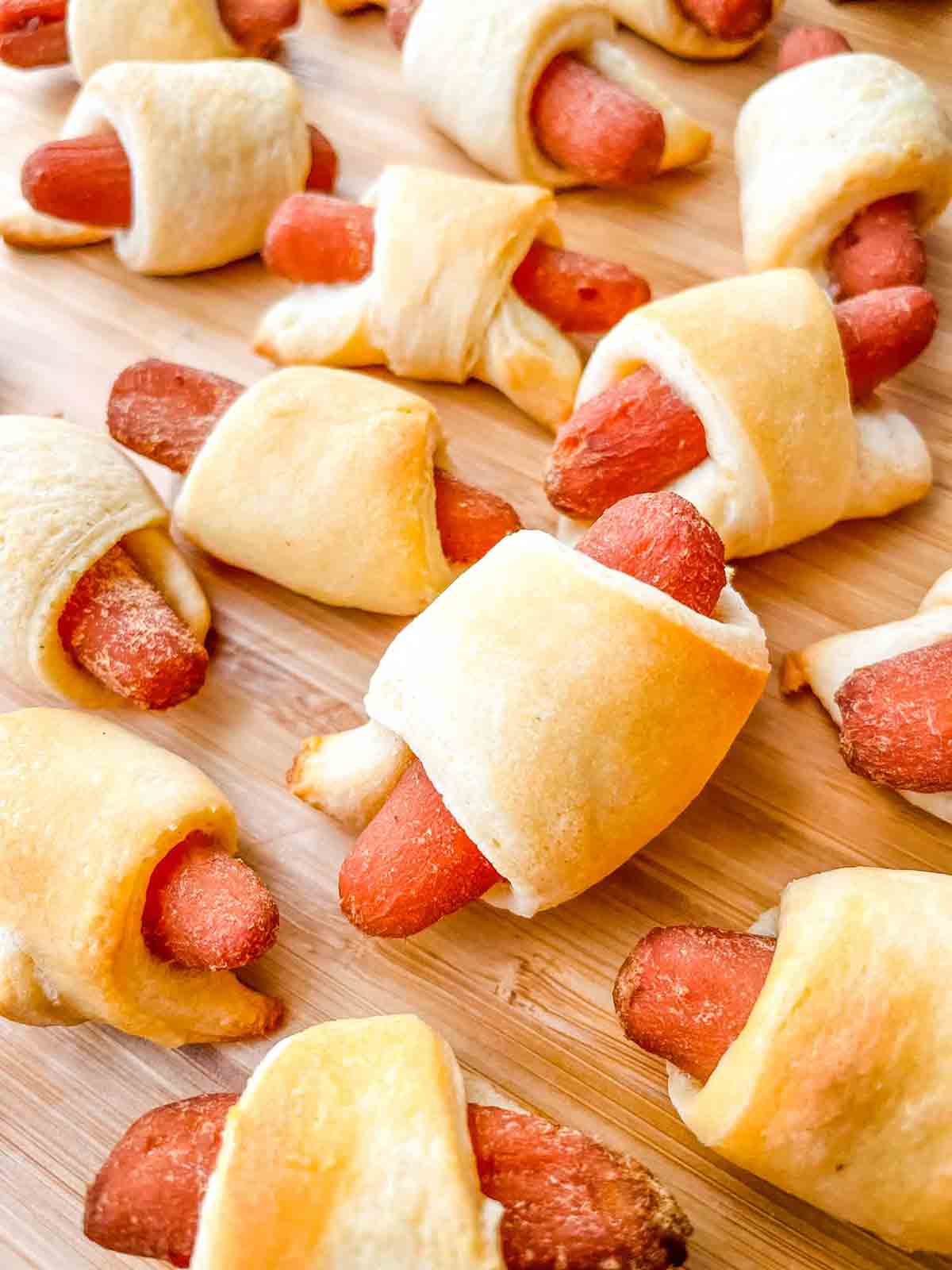 These cauliflower wings are the perfect meat-free alternative to chicken buffalo wings. They're crispy on the outside and tender on the inside, with that classic tangy buffalo flavour.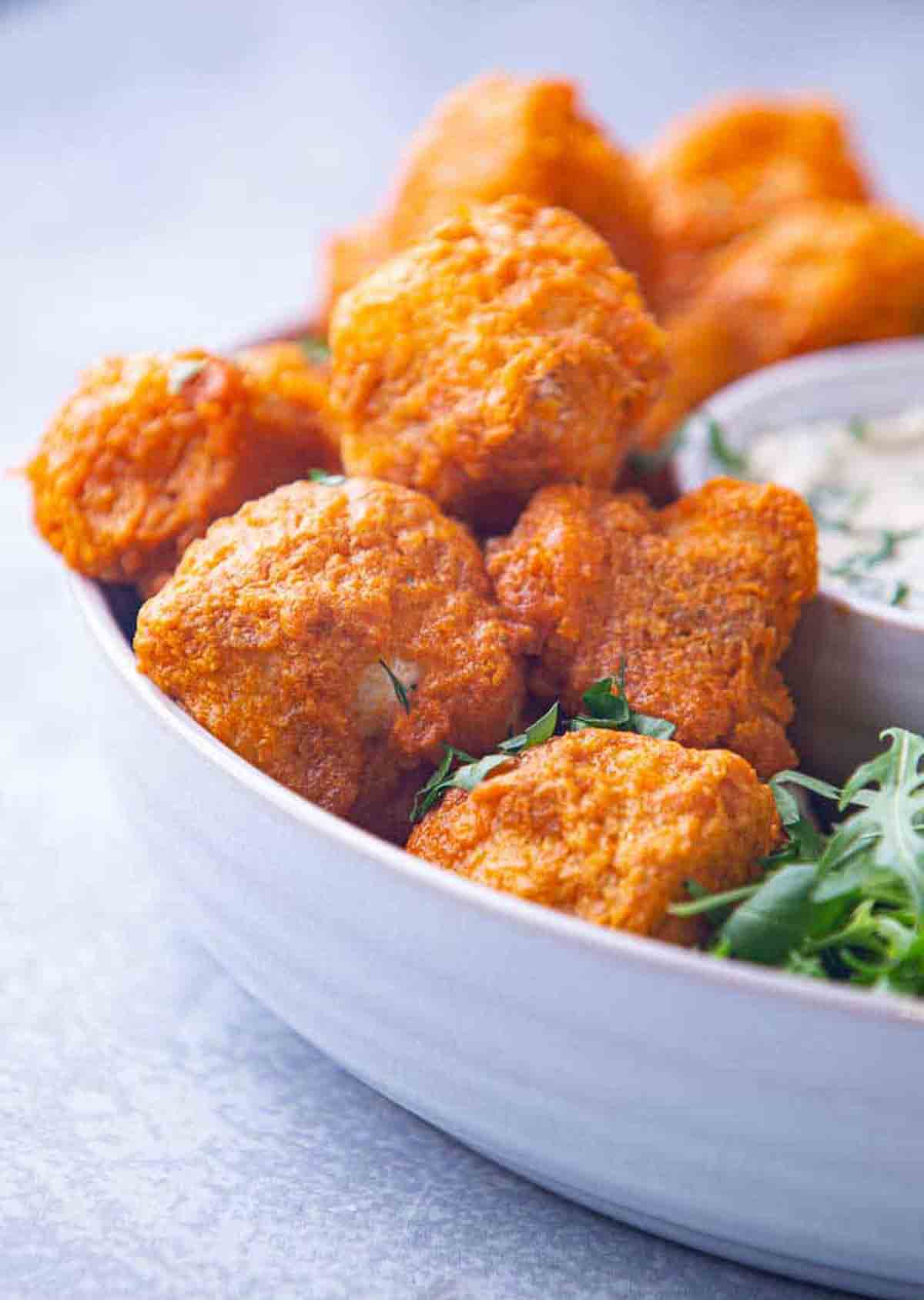 If you love fresh and vibrant vegan potluck recipes, these pinwheels are just the thing. They're filled with fresh vegetables, veggie meat, beans and Mexican spices.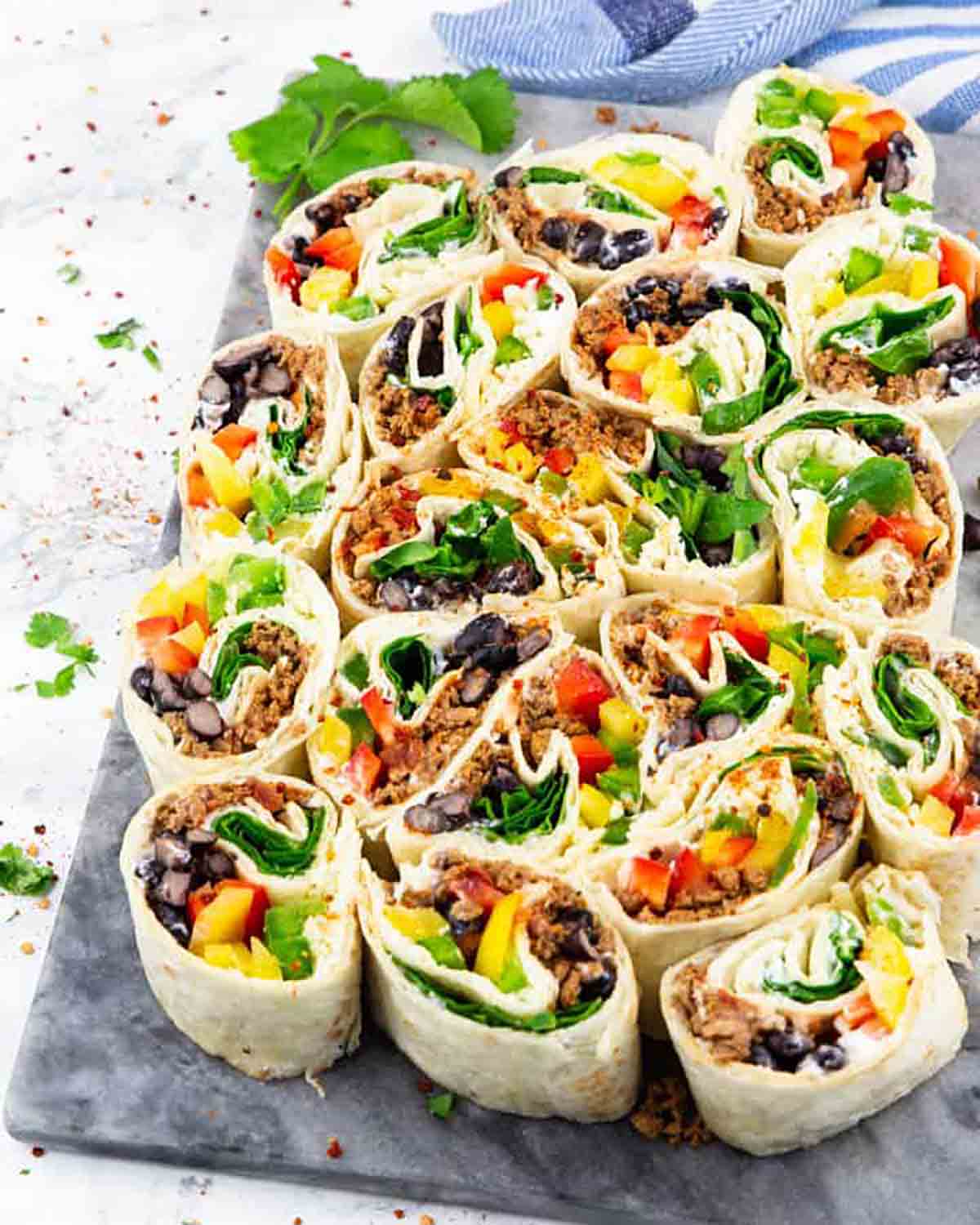 These mini puff pastry cases filled with vegan broccoli quiche are so easy to make. The quiche filling is made with tofu, spices and nutritional yeast, giving it a similar taste and texture to traditional quiche.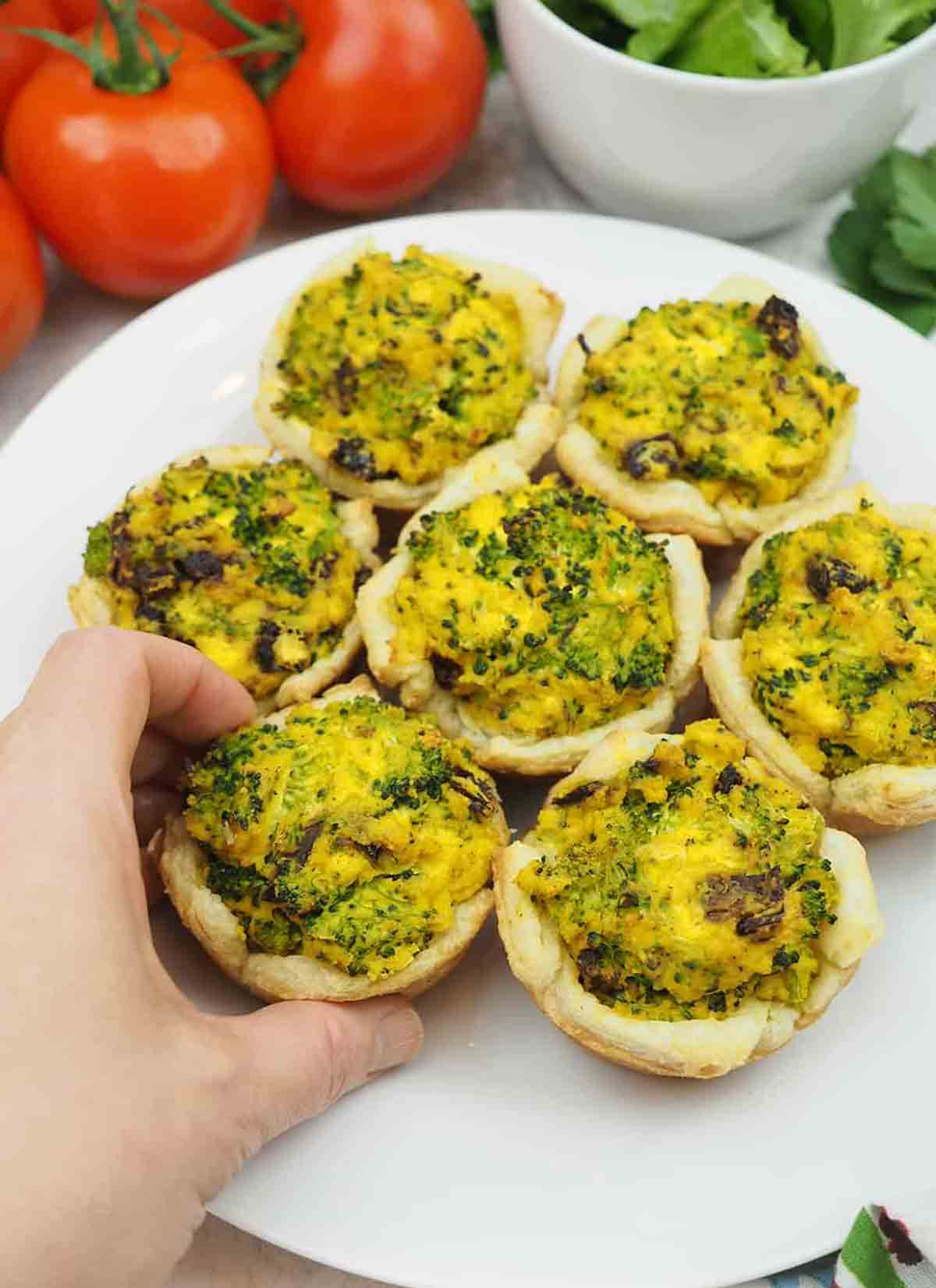 These onion fritters are packed with fragrant spices and make a great sharing snack. Serve them alone or your choice of dips.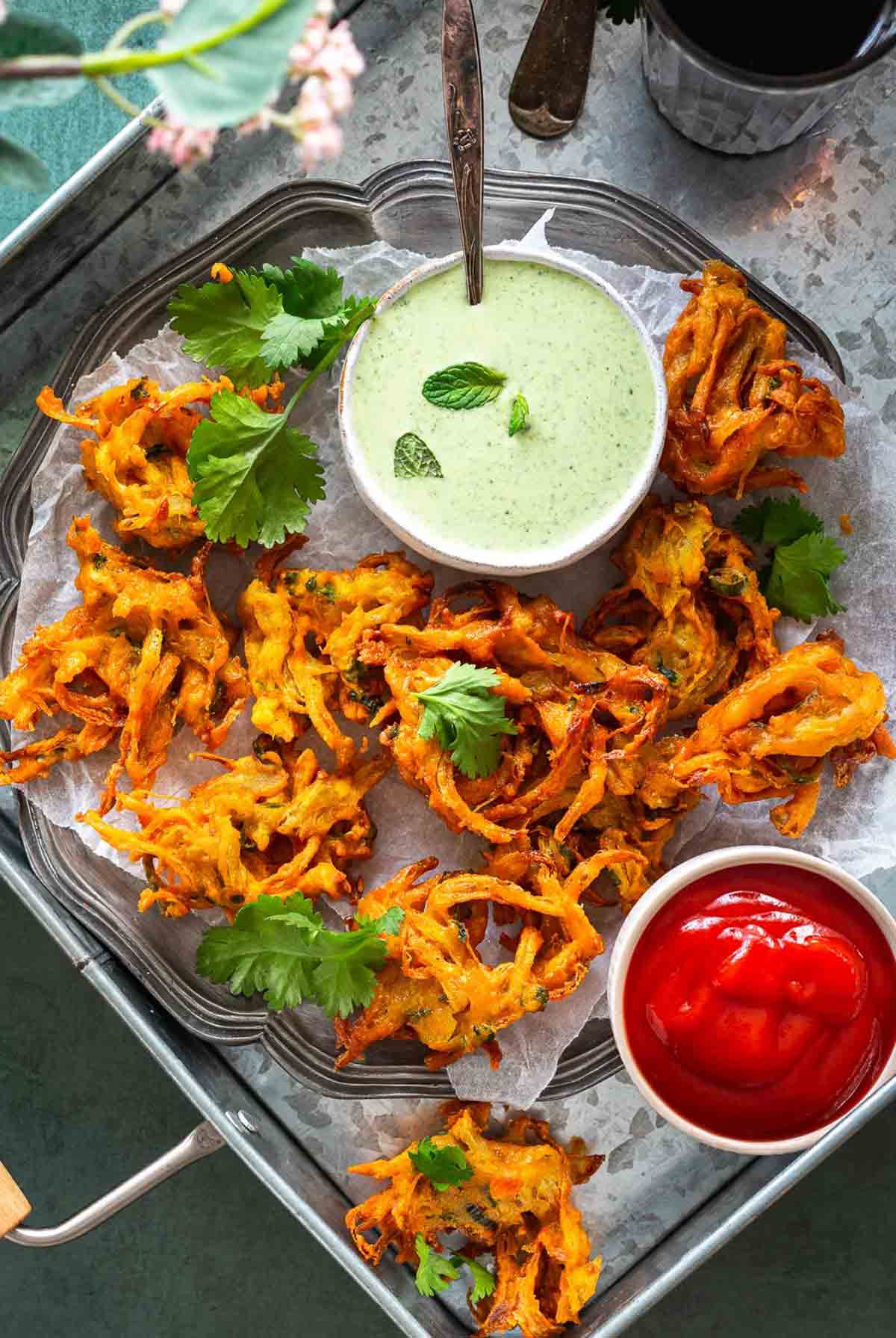 These crispy taquitos are filled with jackfruit and melted vegan cheddar cheese. Delicious enjoyed on their own or with your choice of dip.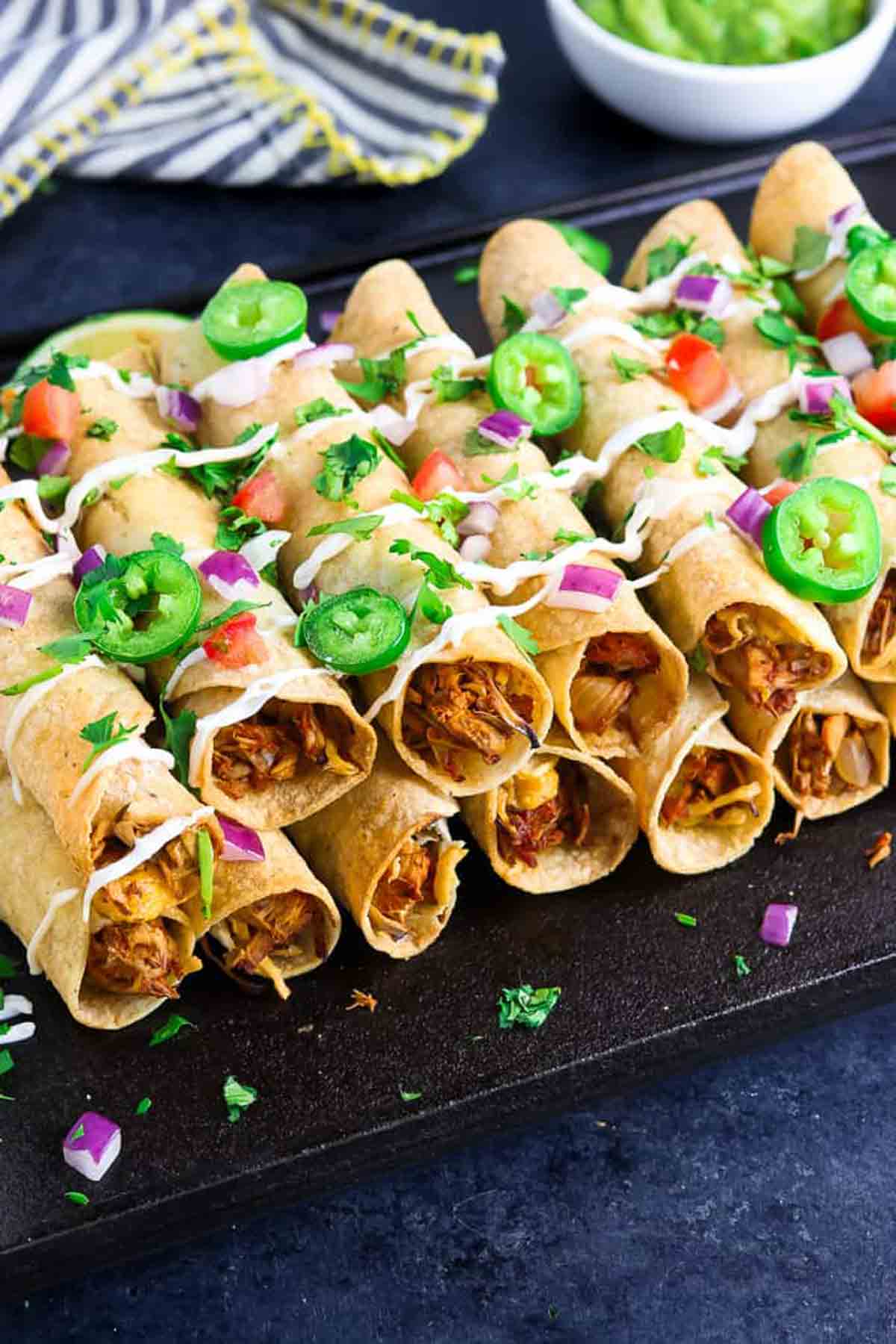 This tasty white bean dip is perfect for dipping pita chips or crackers into. It's creamy, tangy, and full of fresh herbs.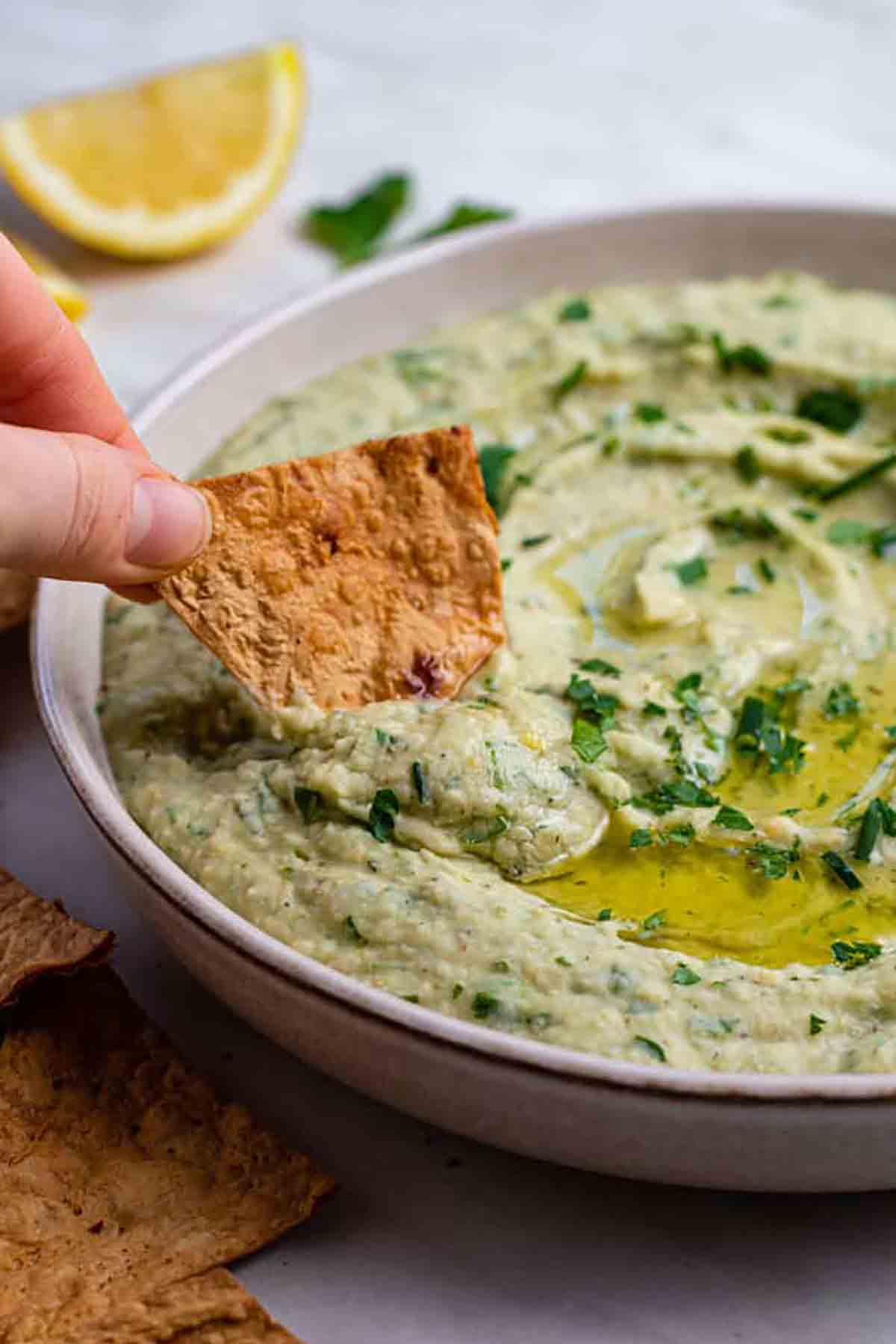 This vegan cheese sauce is sure to be a crowd pleaser. The recipe uses tofu to make a super rich and creamy texture that pairs perfectly with nacho chips.
This salsa is light, fresh and perfectly sweet. It makes a healthy dip to serve with tortilla chips or can be served as a side alongside your favourite main dishes.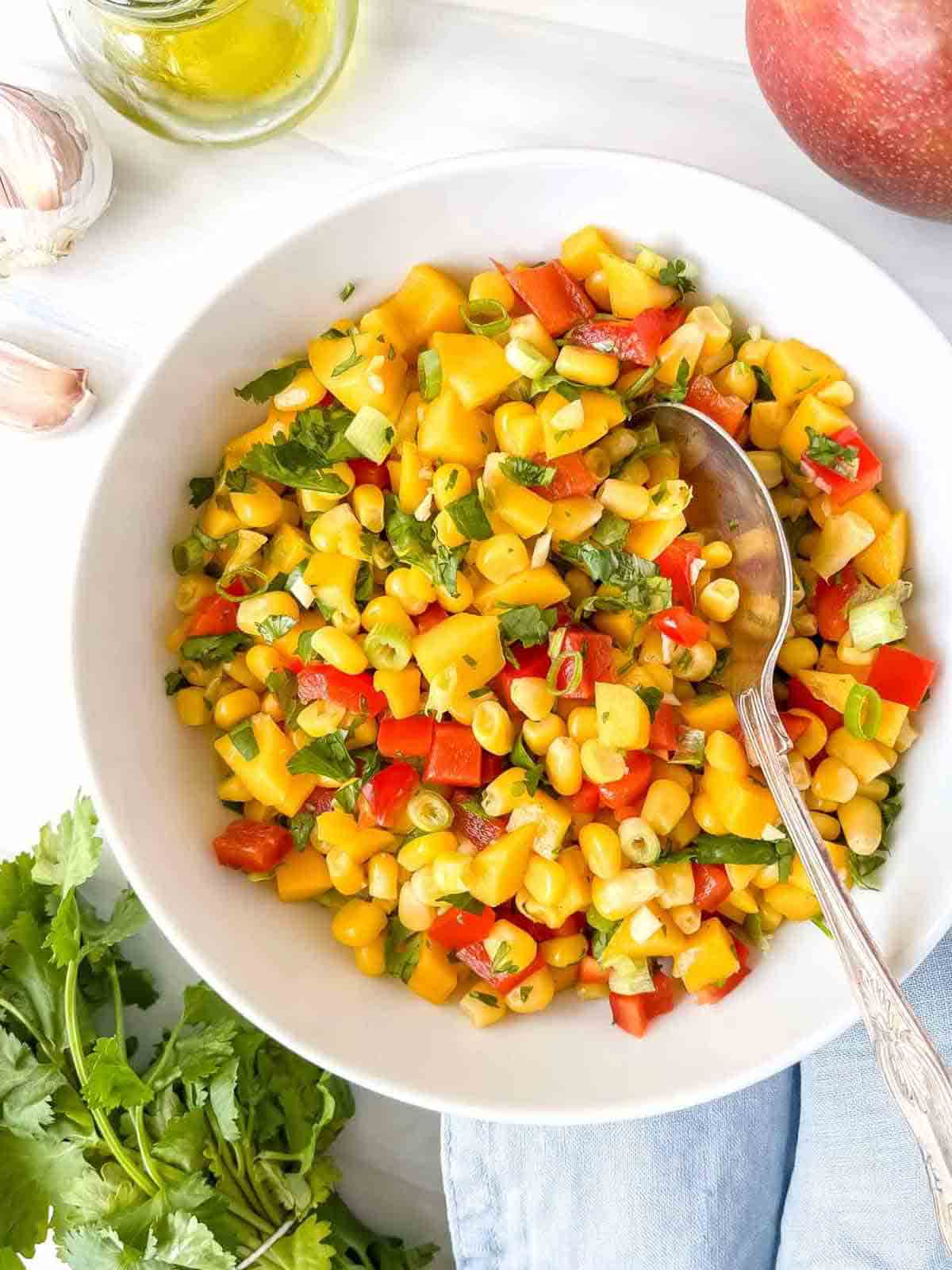 This spicy, tangy, Korean-inspired cucumber salad will make a delicious addition to your plate. It's quick and easy, and naturally gluten-free.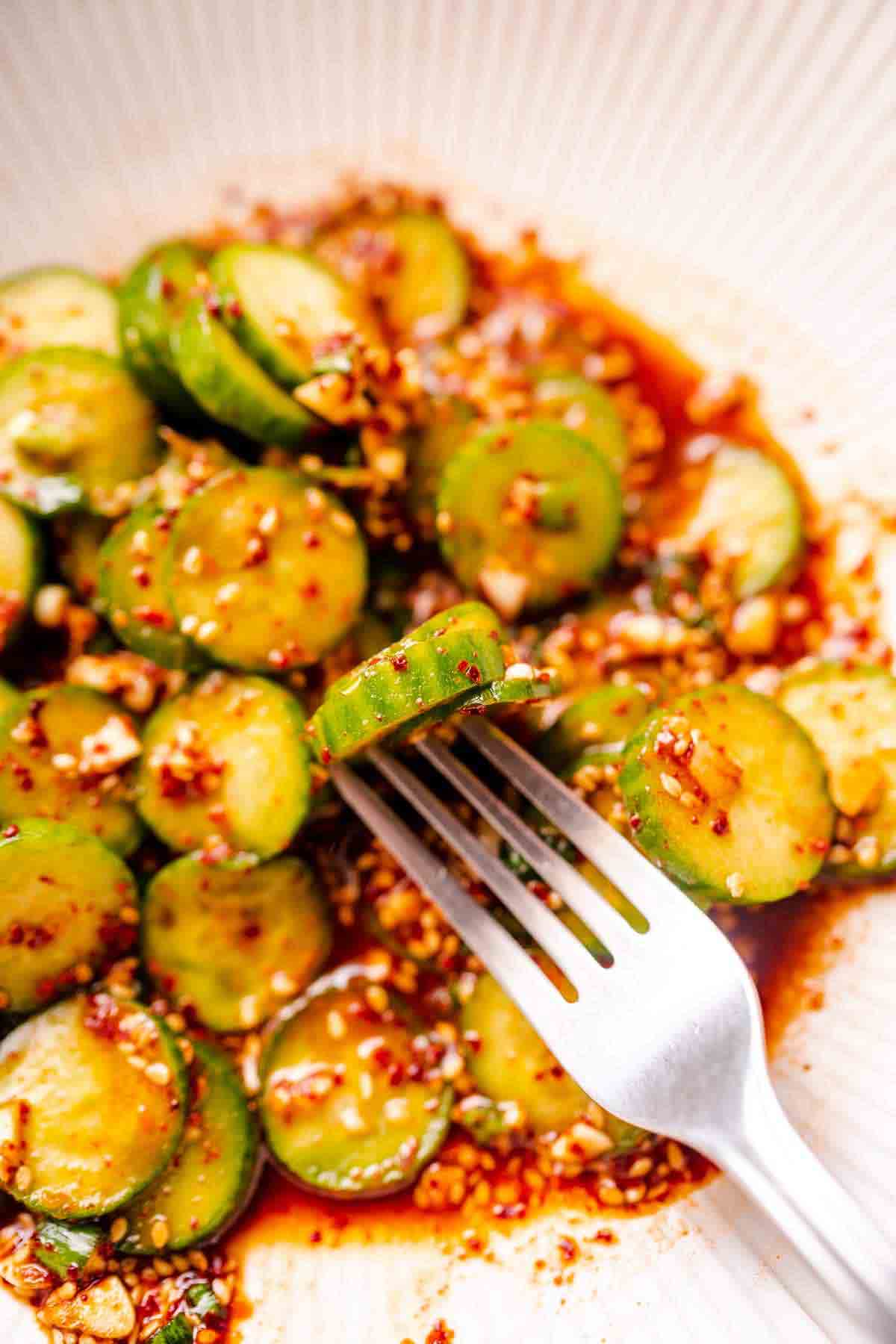 Sweet, nutty dressing and fresh, crunchy vegetables come together to make this scrumptious Thai peanut salad. This is guaranteed to be a favourite!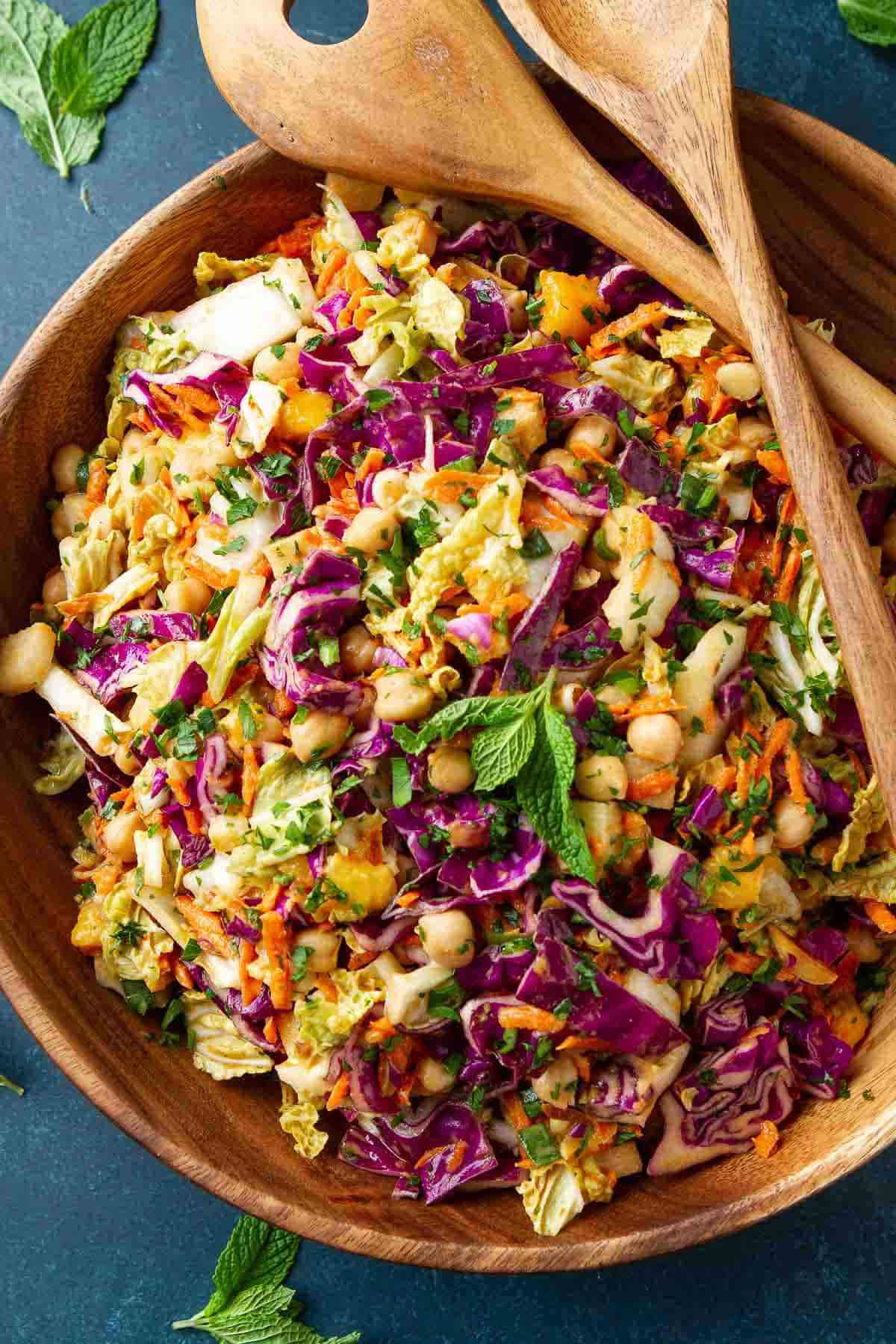 This salad is filled with fresh ingredients like chickpeas, tomatoes, cucumber and red onion, and it's paired with a scrumptious red wine vinegar dressing.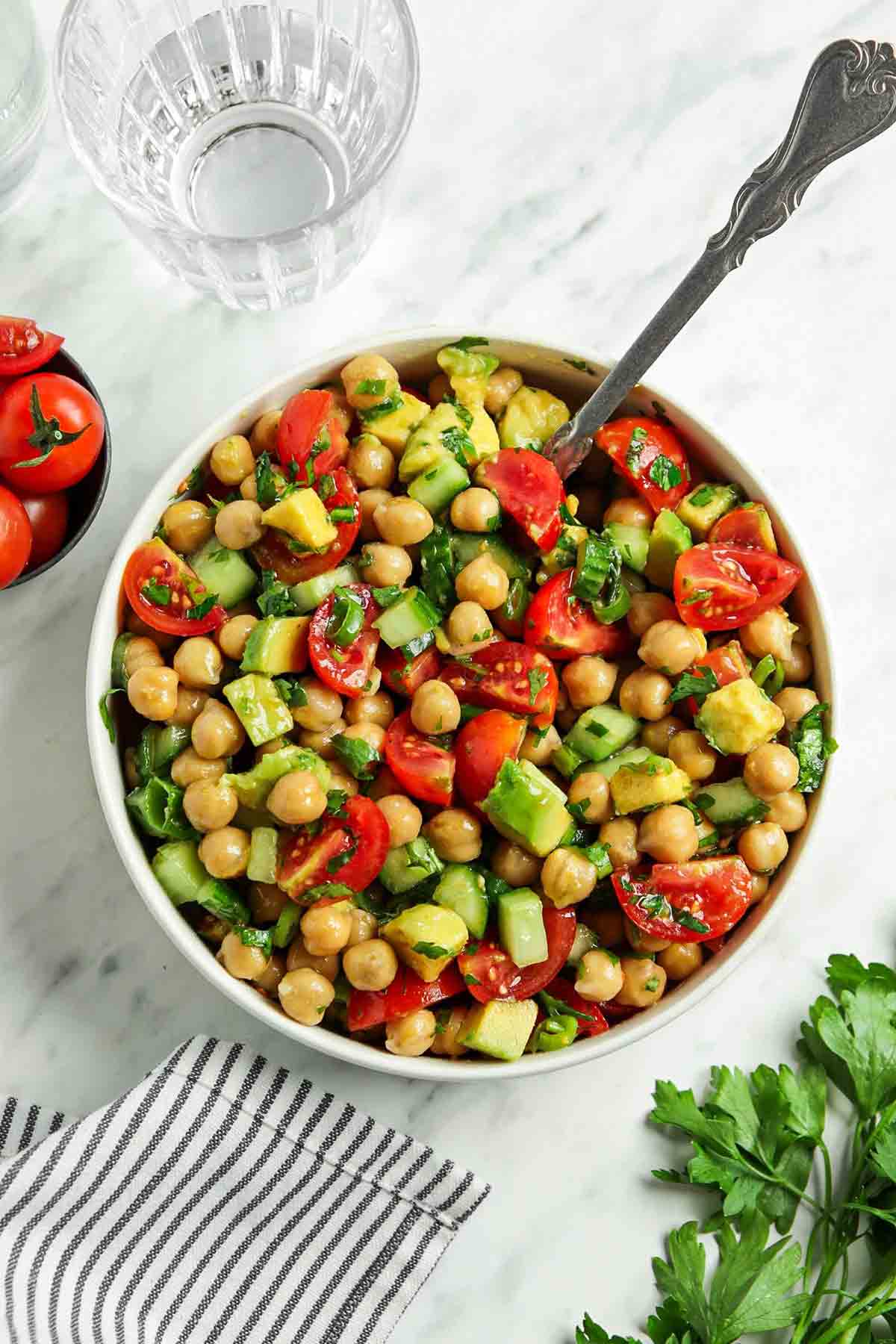 If you've been looking for a potato salad without eggs, this is the one to try! It's full of classic flavours and has a rich, creamy texture.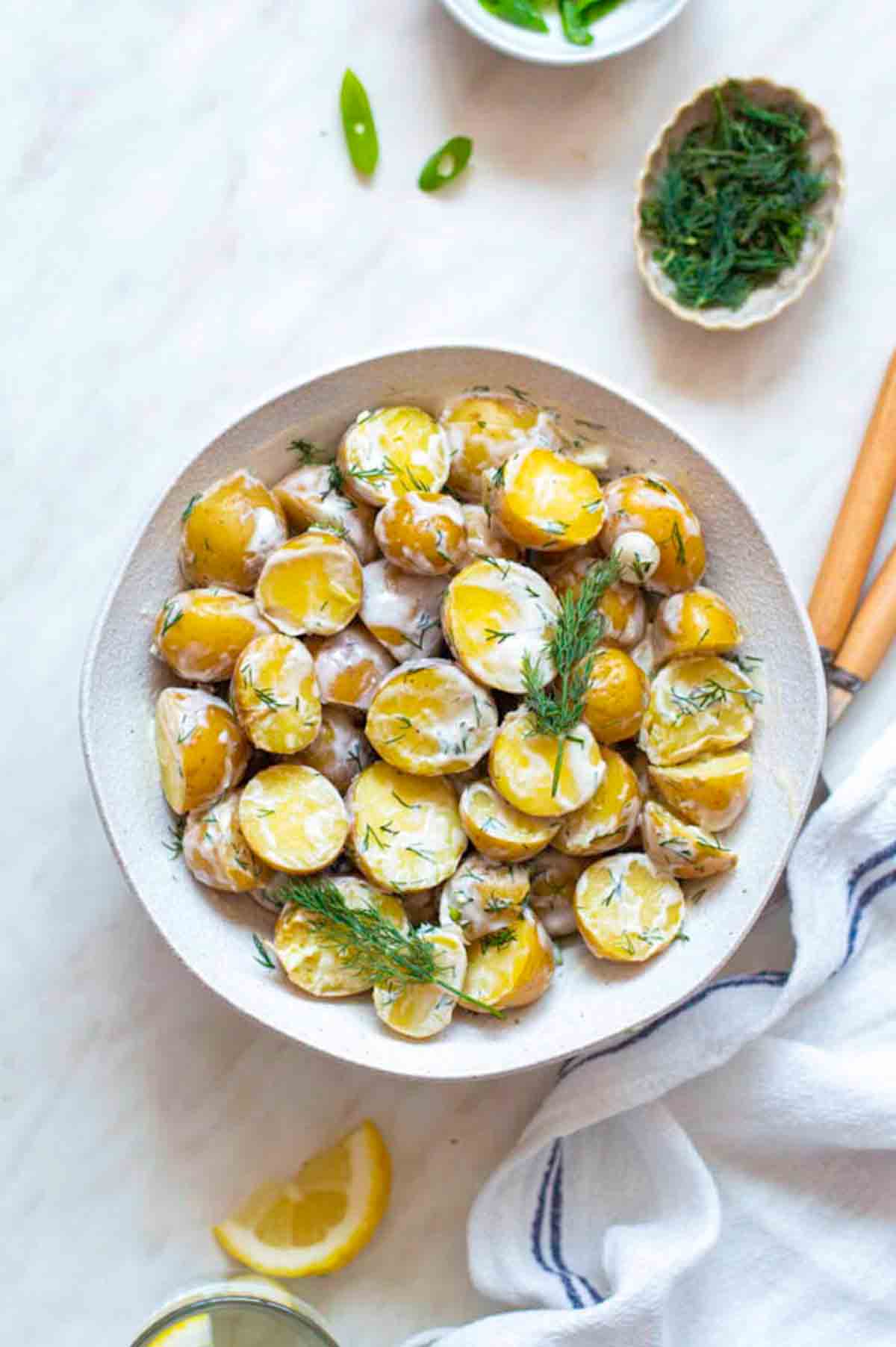 Ramen noodle salad is a great alternative to a traditional veggie salad. It's made with crunchy cabbage, carrots and uncooked ramen noodles, and a tasty Asian style dressing.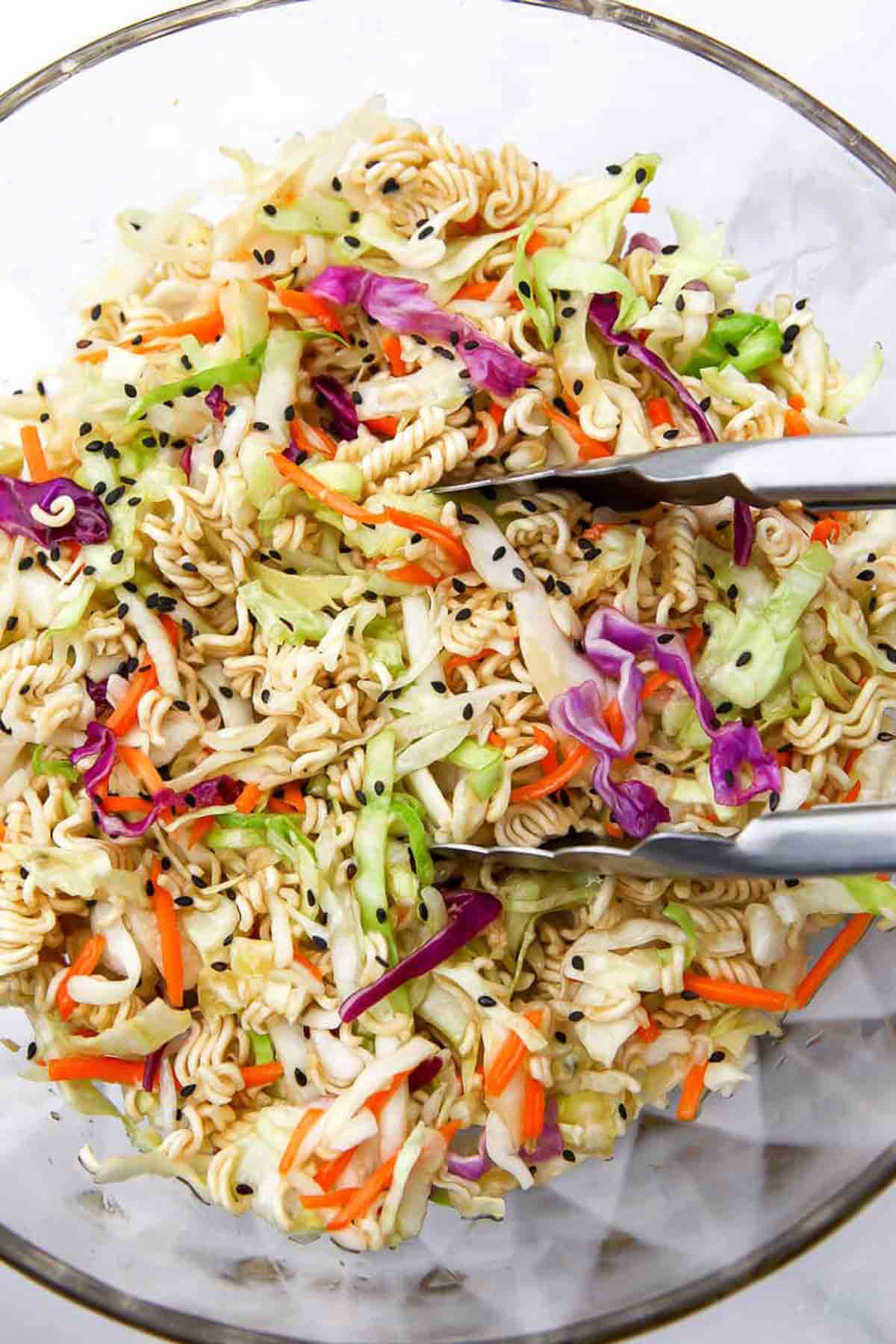 This is the ultimate sharing salad, full of vibrant, flavourful ingredients like avocado, strawberries, pecans and vegan bacon bits! It's quick and easy to make.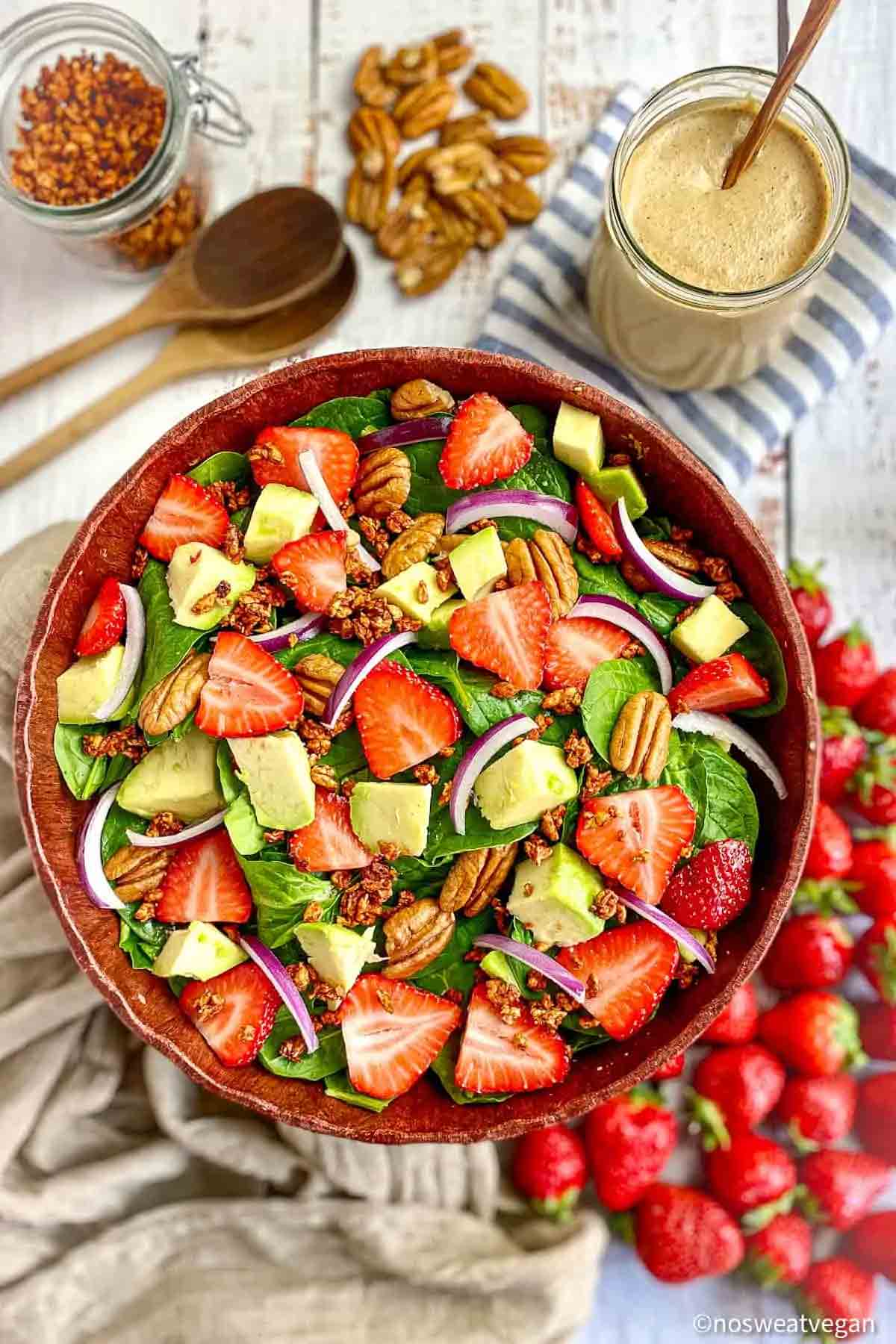 Combine pasta, hummus, basil and freshly-squeezed lemon to make this creamy hummus pasta. It's made with simple ingredients and is ready to eat in just 30 minutes.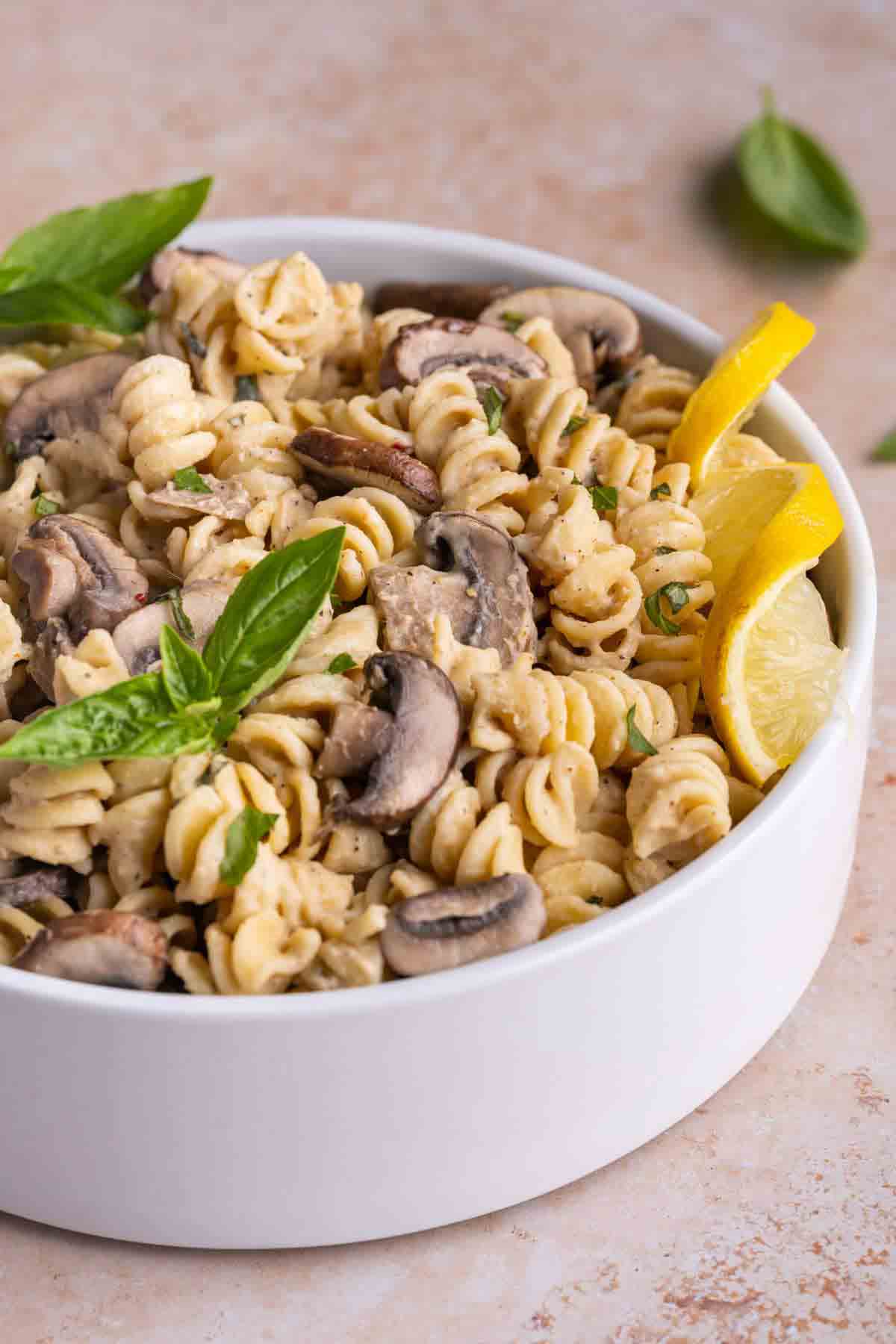 This pie is a delicious vegan twist on the classic Greek pie. It's a filo pastry pie full of juicy spinach and creamy, lemony vegan feta and ricotta. Yum!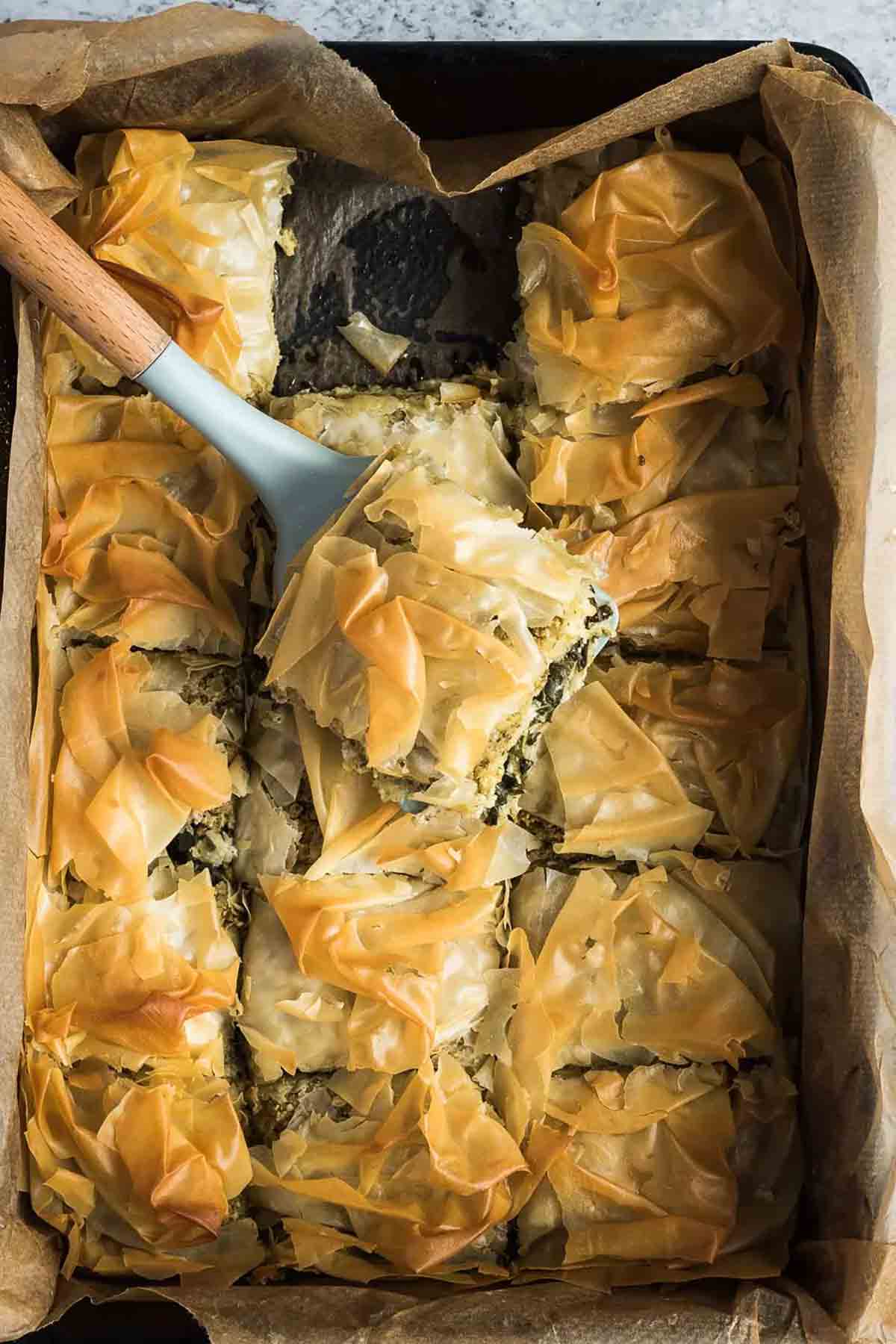 This fluffy garlic couscous can be made in less than 15 minutes so it makes the perfect last minute vegan potluck recipe. You'll only need 7 ingredients to make it, most of which you'll probably already have at home!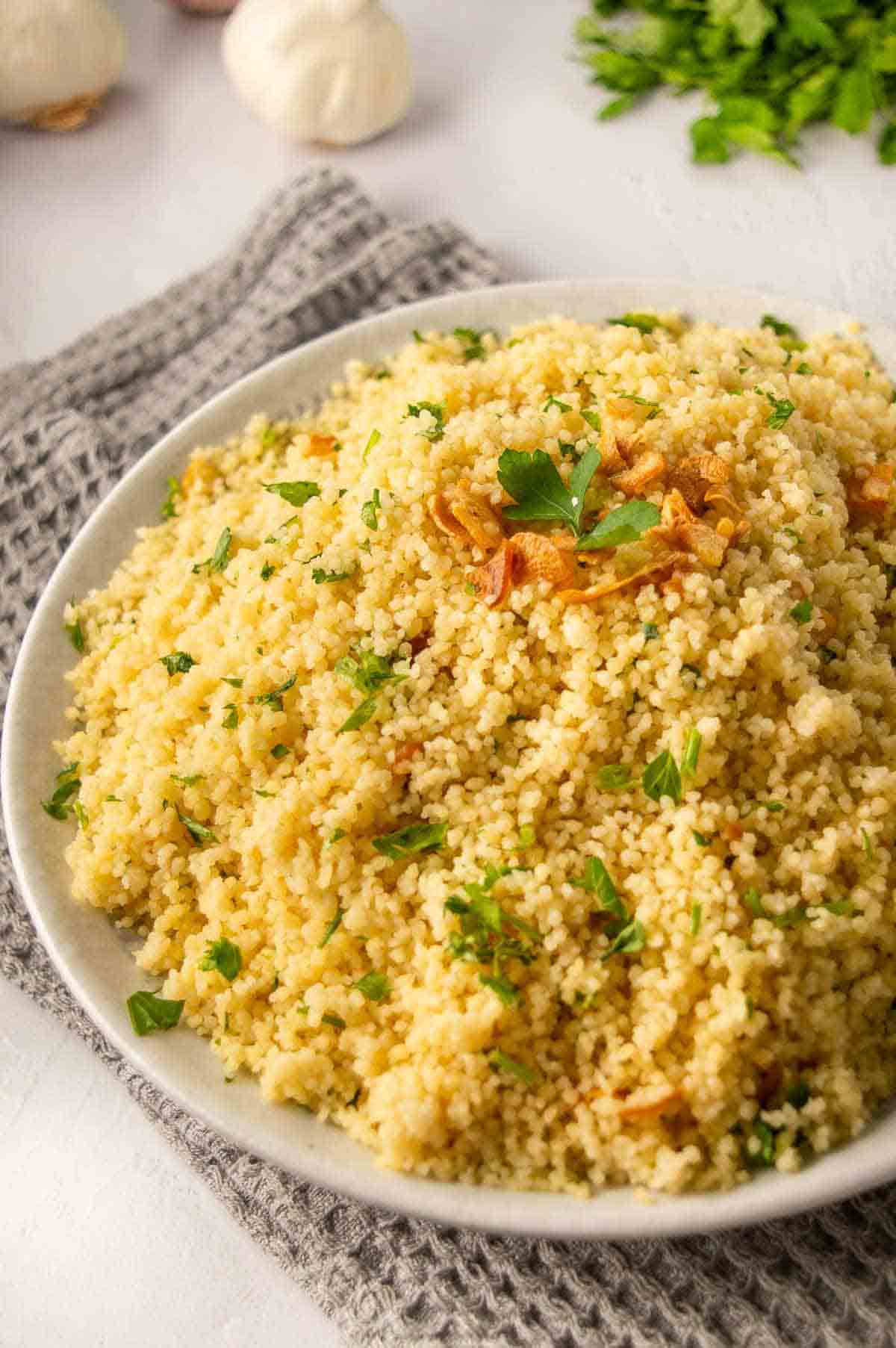 You're in for a treat with this tasty Filipino tofu dish! It's aromatic, spicy, and subtly sweet, packed with lots of different flavours.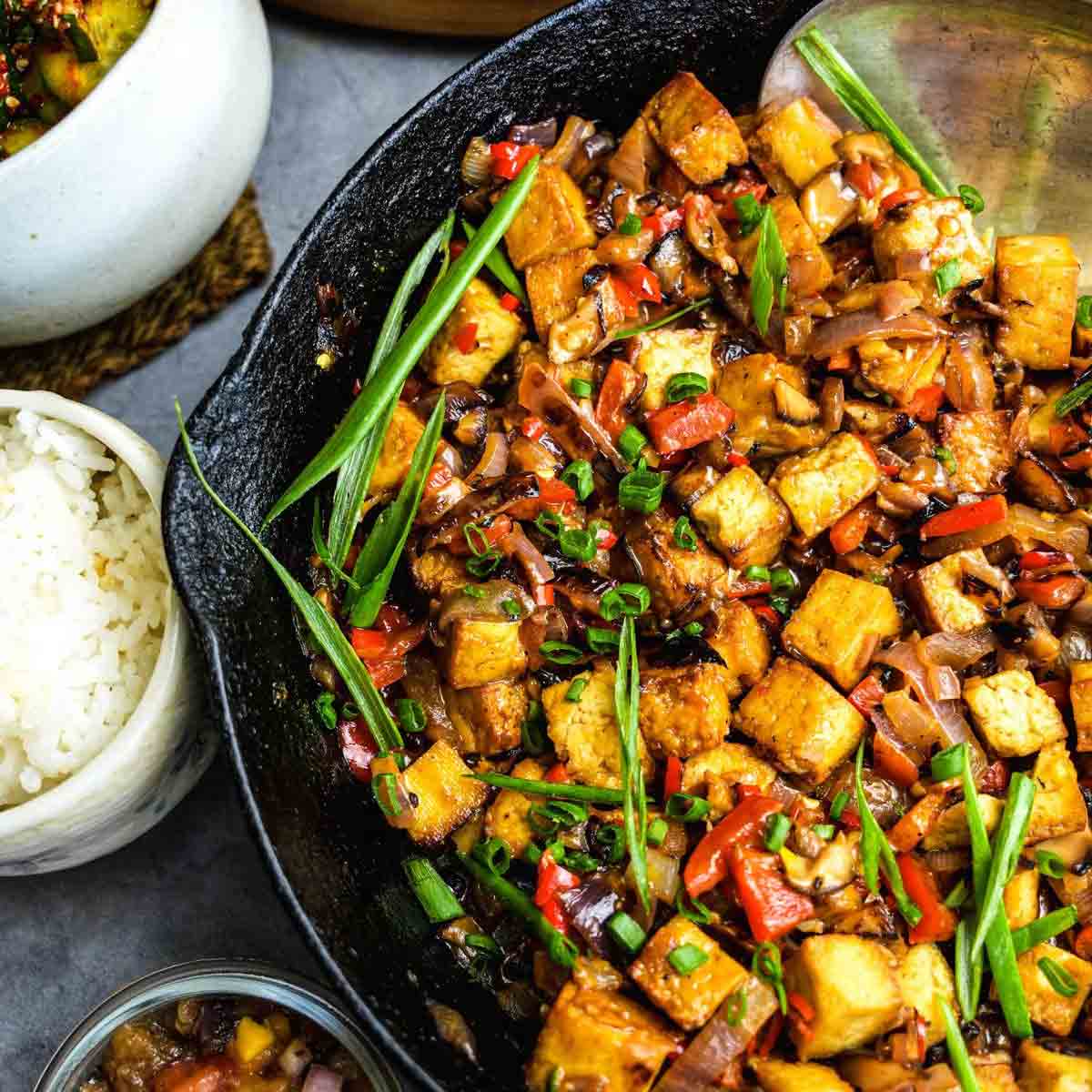 Sweet vegan potluck recipes
Next up are the vegan potluck ideas for dessert. The recipes below include cheesecakes, cakes, cookies, cinnamon rolls and more.
This light and fluffy traybake cake is a UK classic! Topped with icing and colourful vegan sprinkles, it's sure to be a hit with both kids and adults.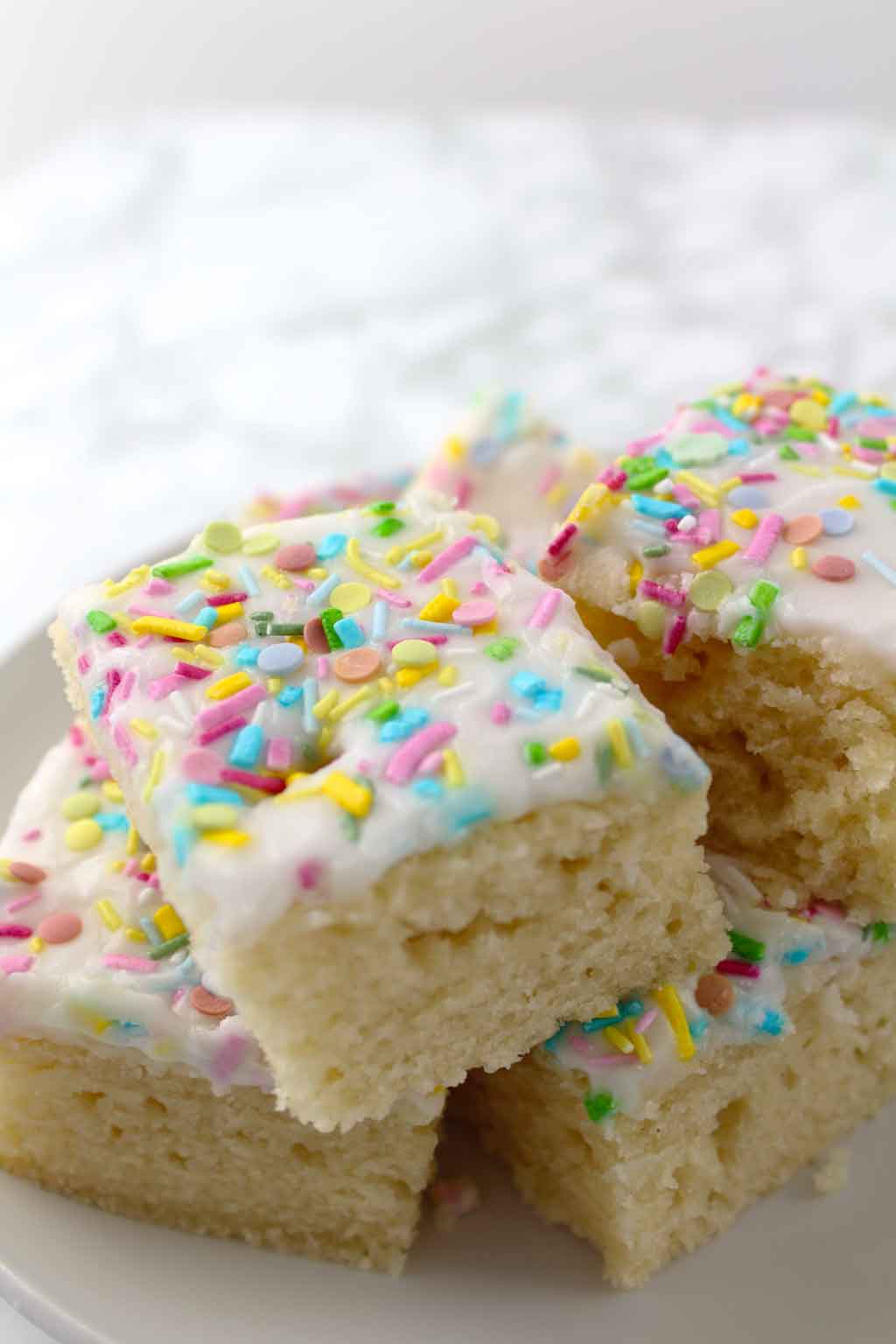 Layers of crispy filo pastry, homemade sugar syrup, and sweetly-spiced mixed nuts make this tasty vegan baklava. A tray serves up to 24 people so it's the ideal sweet vegan potluck food.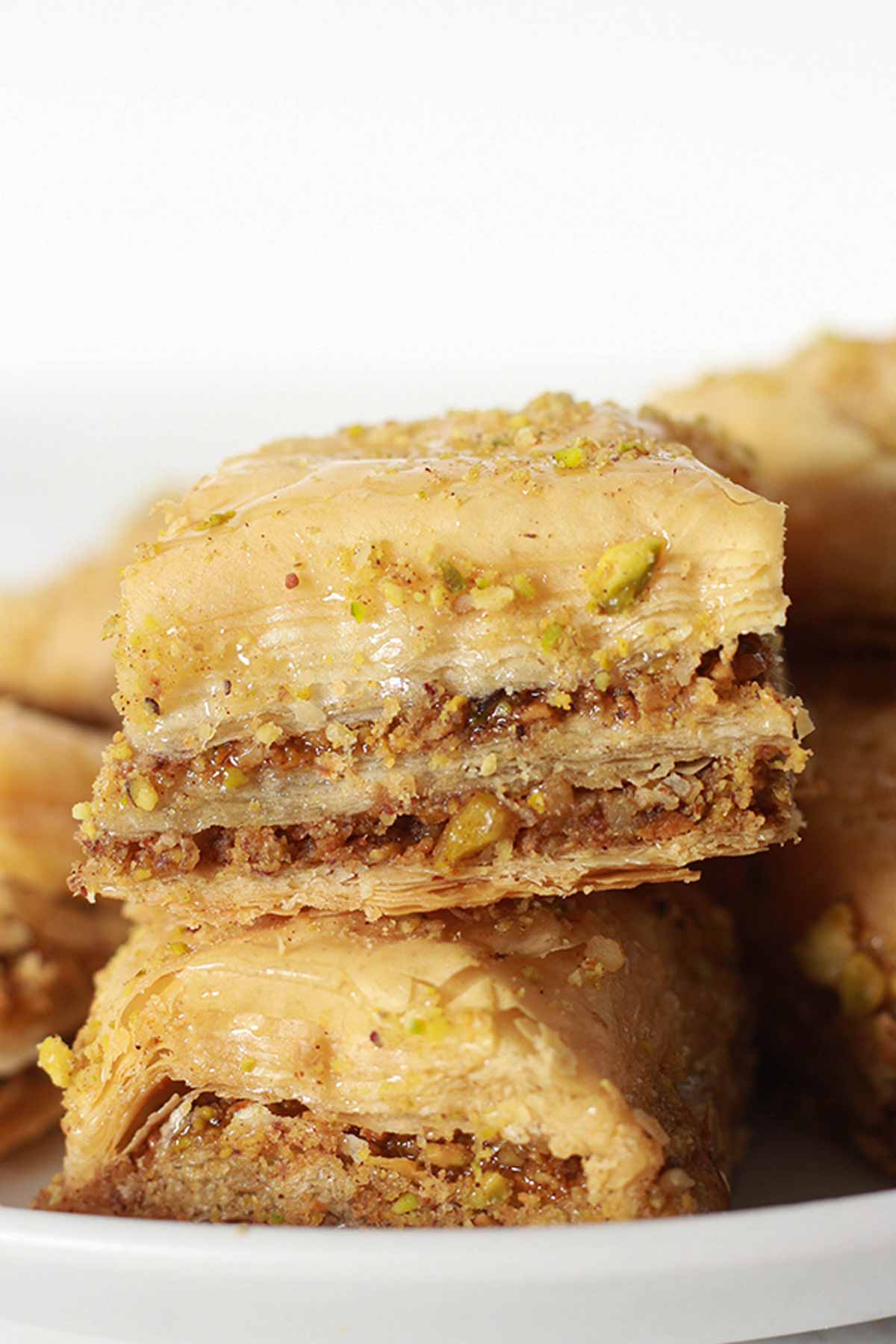 Pavlova can be enjoyed by vegans too, thanks to the super versatile aqua faba. Top it with vegan whipped cream and your favourite fruits.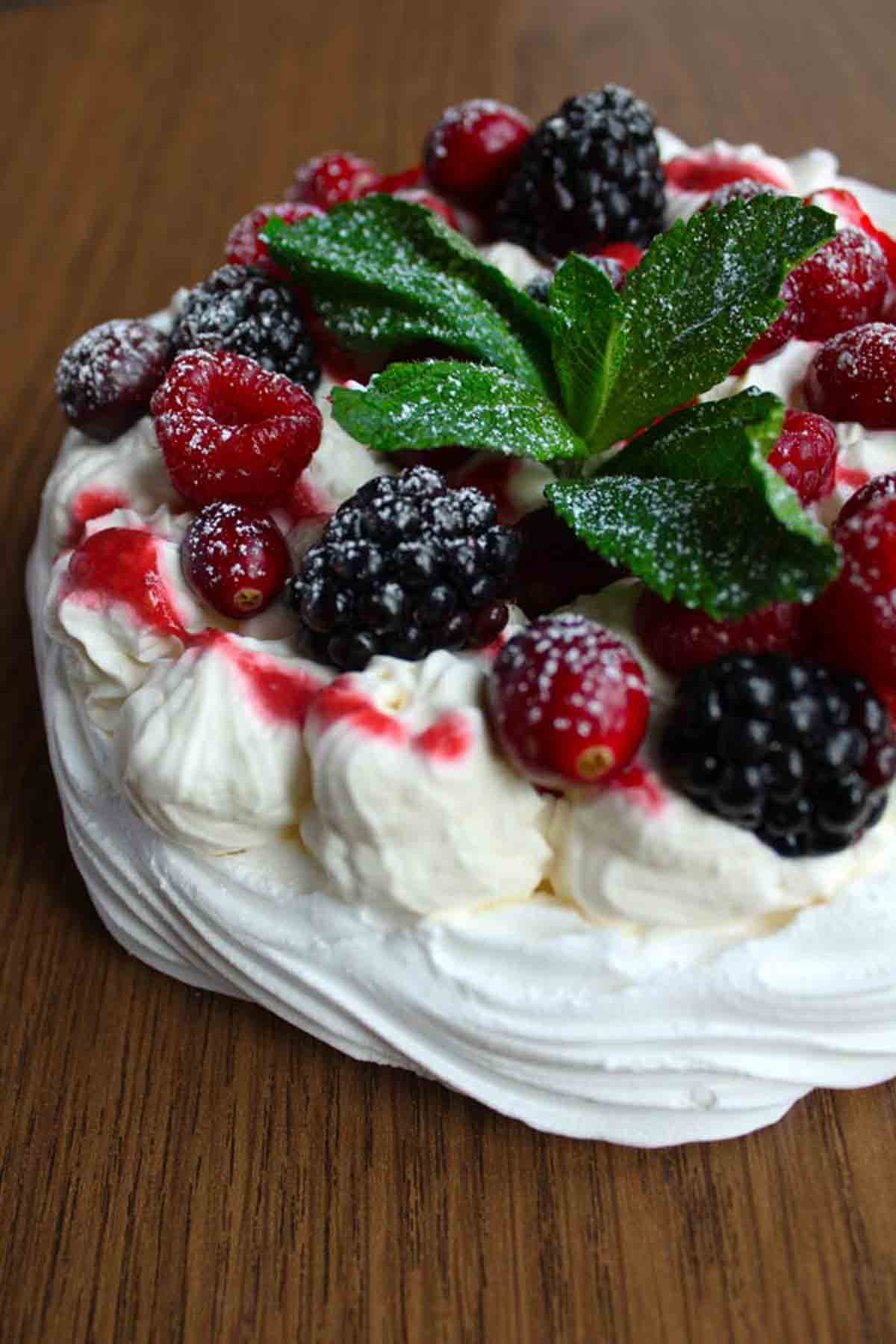 Light, fluffy cinnamon rolls topped with a sticky Biscoff cream cheese frosting. These tear and share treats are one of my favourite vegan potluck ideas.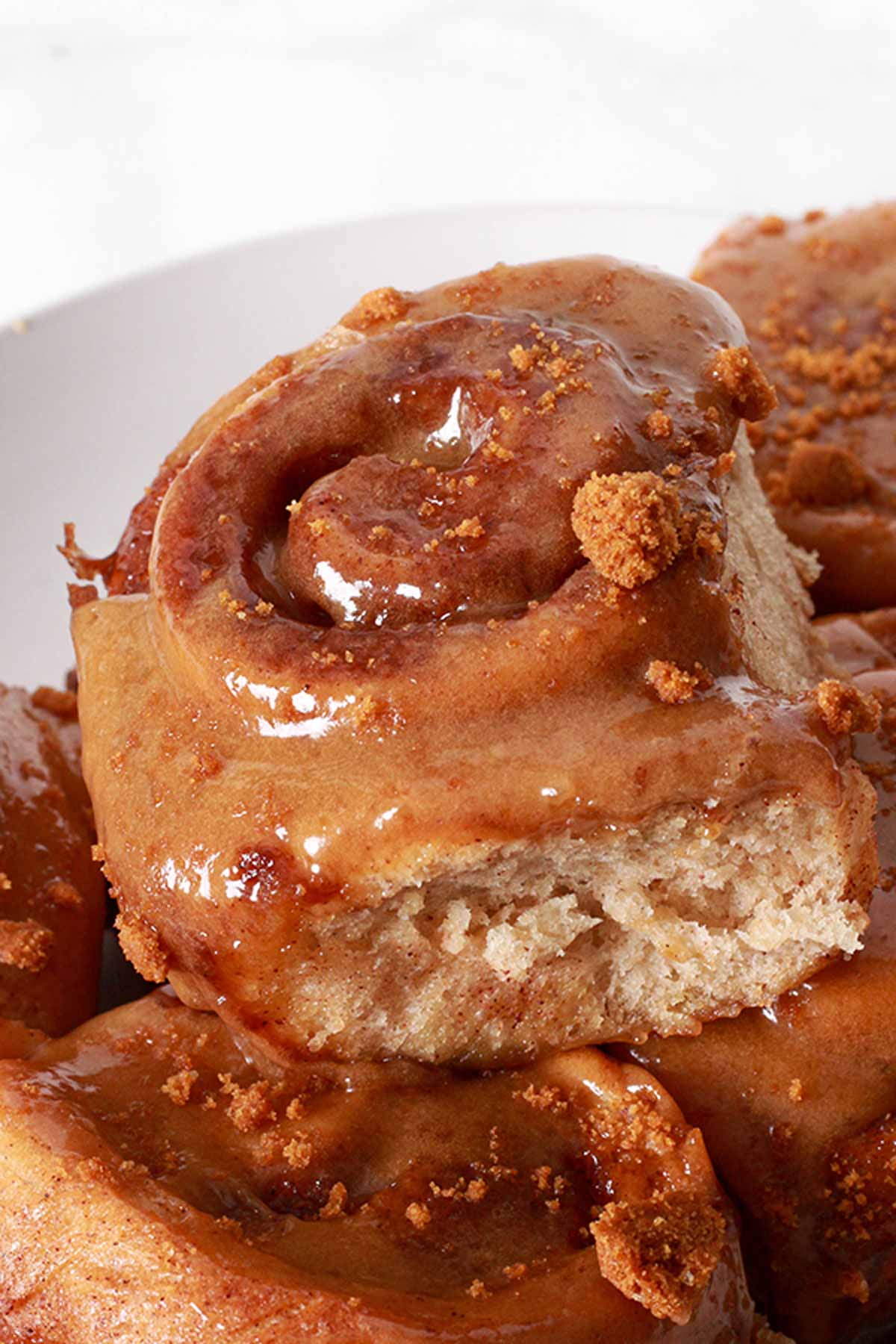 This chocolate traybake cake is light, fluffy and SO easy to make. It's topped with dairy-free chocolate buttercream and vegan milk and white chocolate buttons to make it even tastier.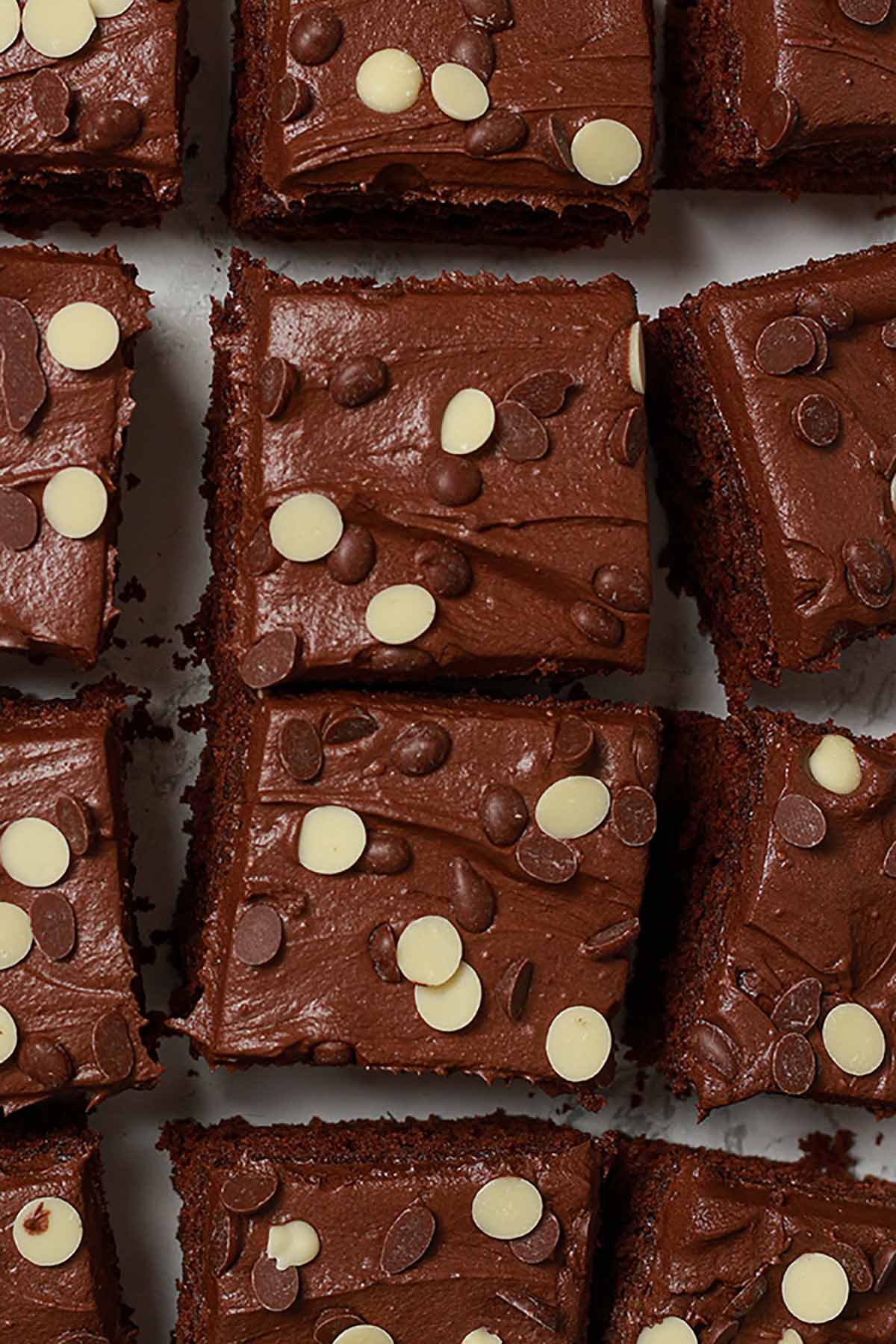 This is a great dessert for those who like minimal, no-fuss recipes. It can serve up to 12 people and although it looks simple, it's seriously delicious!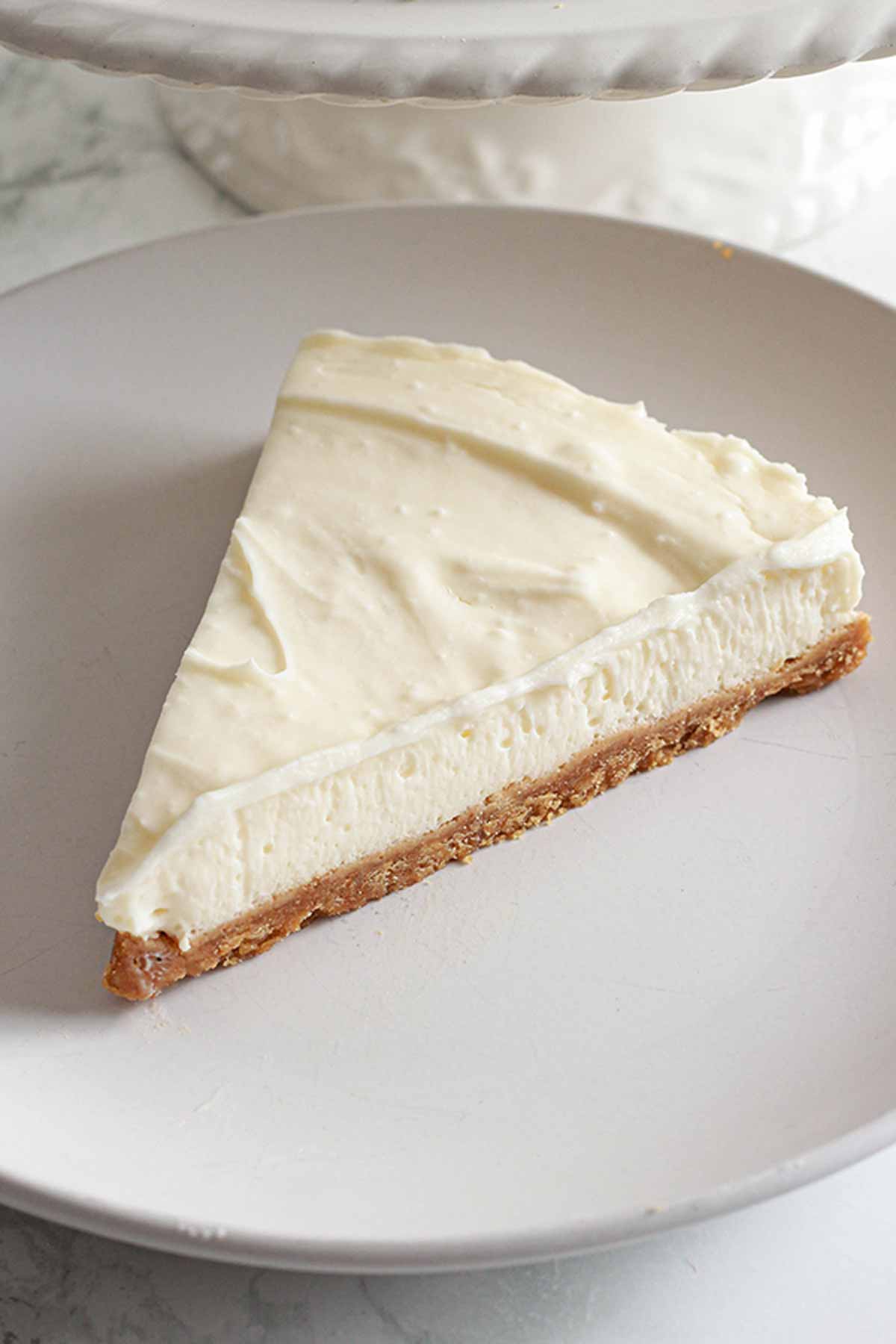 Chocolate tiffin is a Scottish bakery classic, filled with juicy raisins and crunchy Digestive biscuit pieces. It's an easy, no-bake vegan potluck recipe.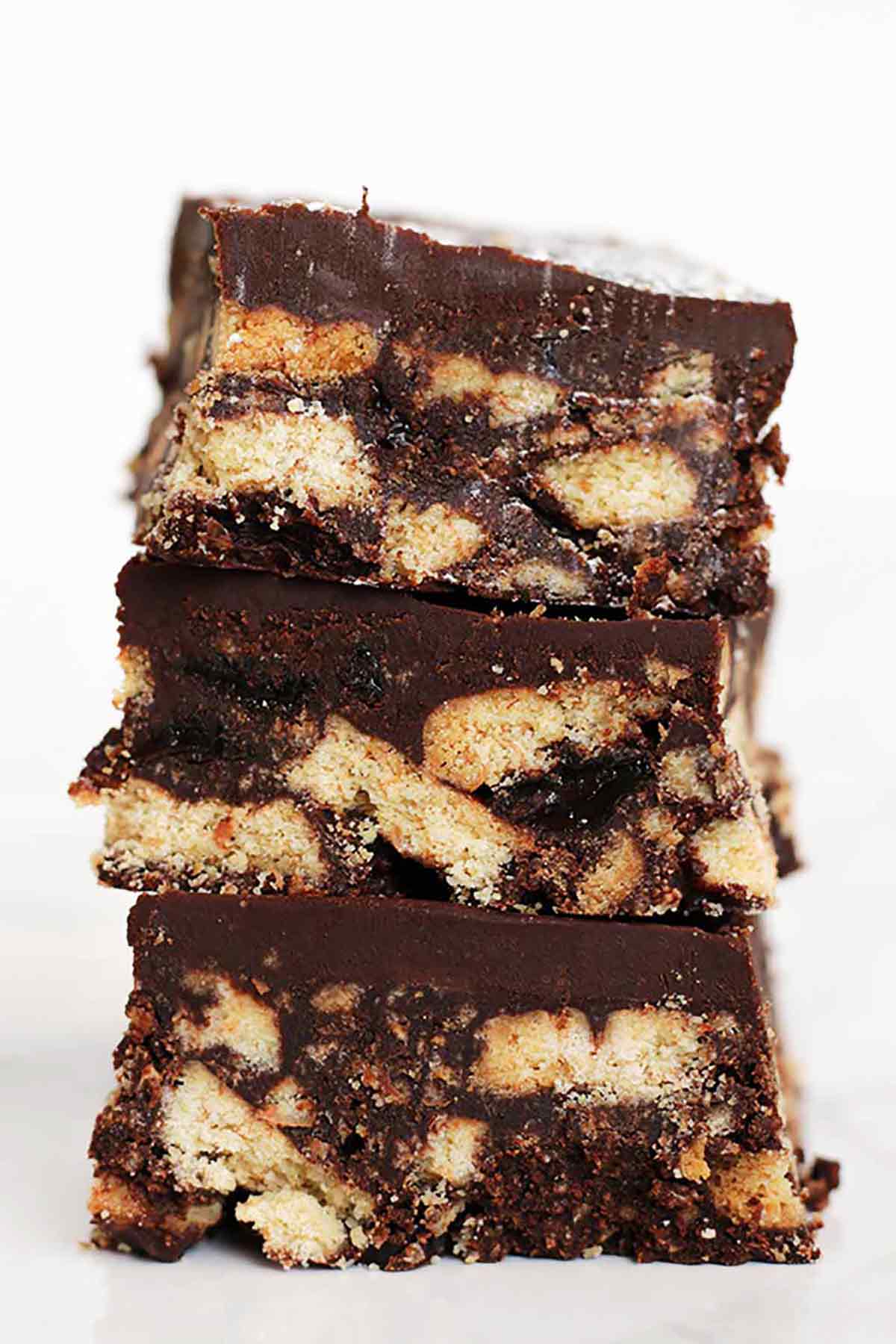 Not a fan of tiffin? Try this rocky road as an alternative. It's made without raisins- instead, it has mini vegan marshmallows throughout.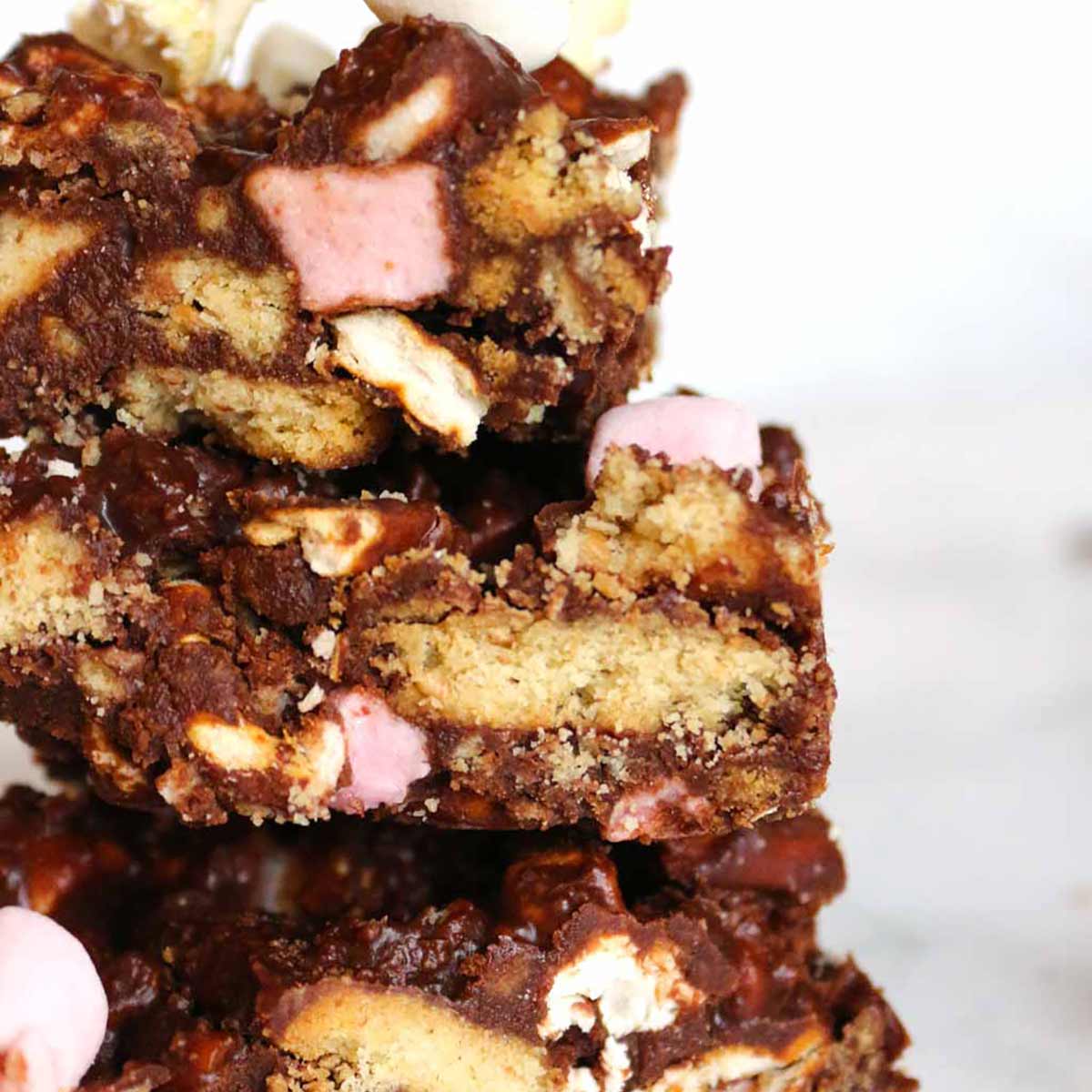 This is one of my most popular vegan desserts on the blog and for good reason! It's a creamy, no-bake cheesecake with a Biscoff biscuit base.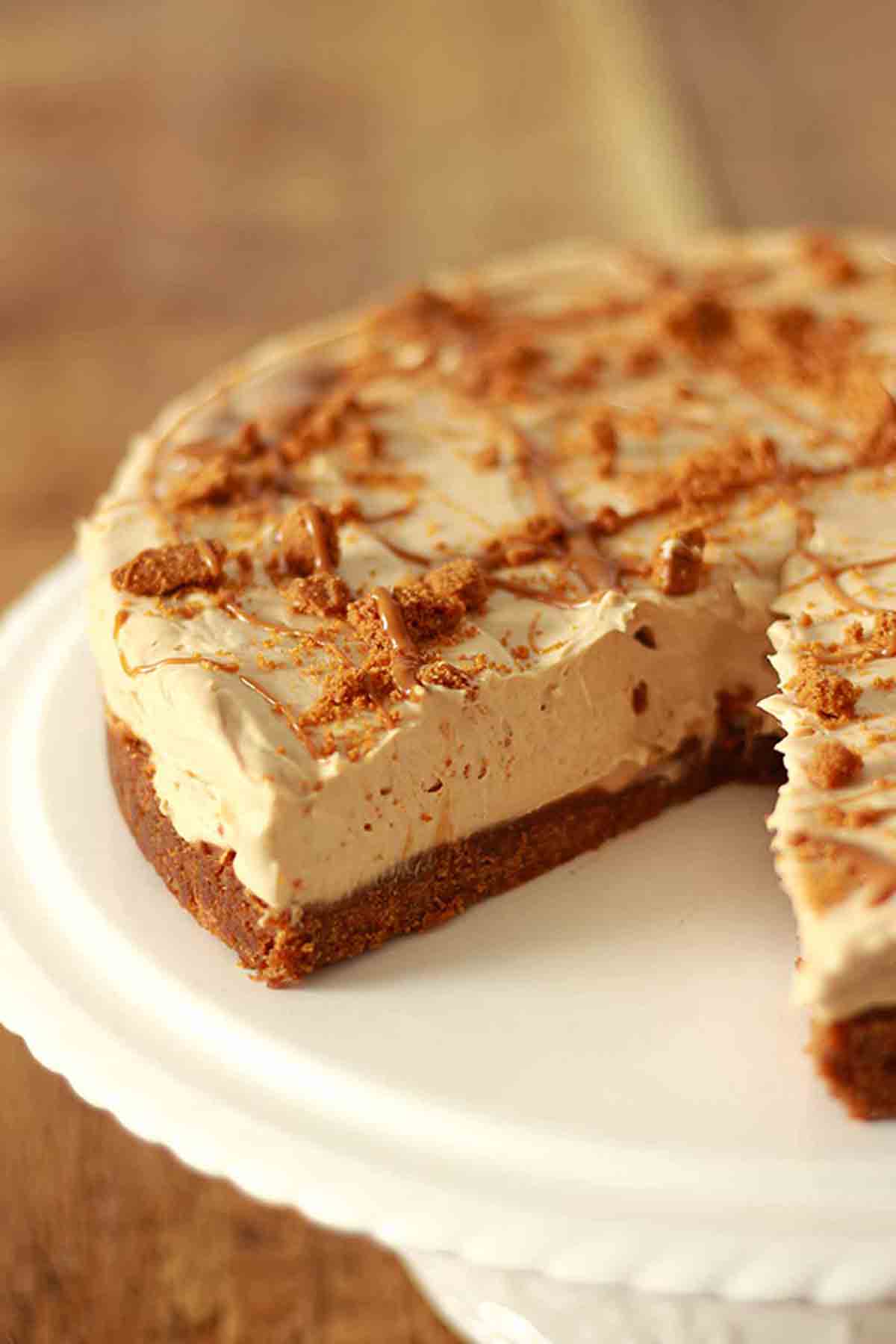 Make these dainty mini loaves as a cute alternative to a larger loaf cake. They're light, fluffy, and topped with a zesty drizzle of lemon icing.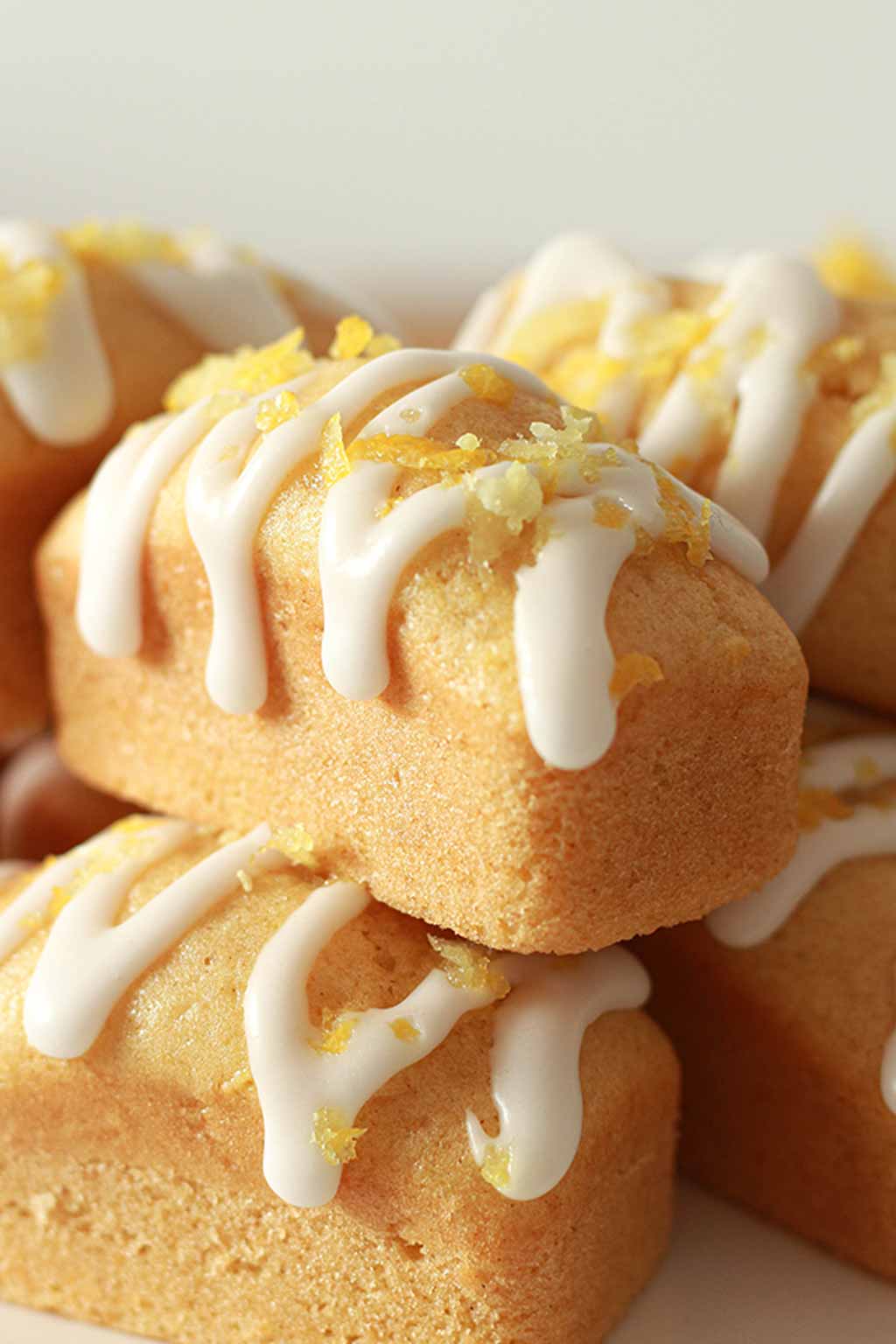 If you like your brownies chewy and fudgy, this is the recipe for you! These brownies are ultra decadent and have always been popular with everyone who's tried them.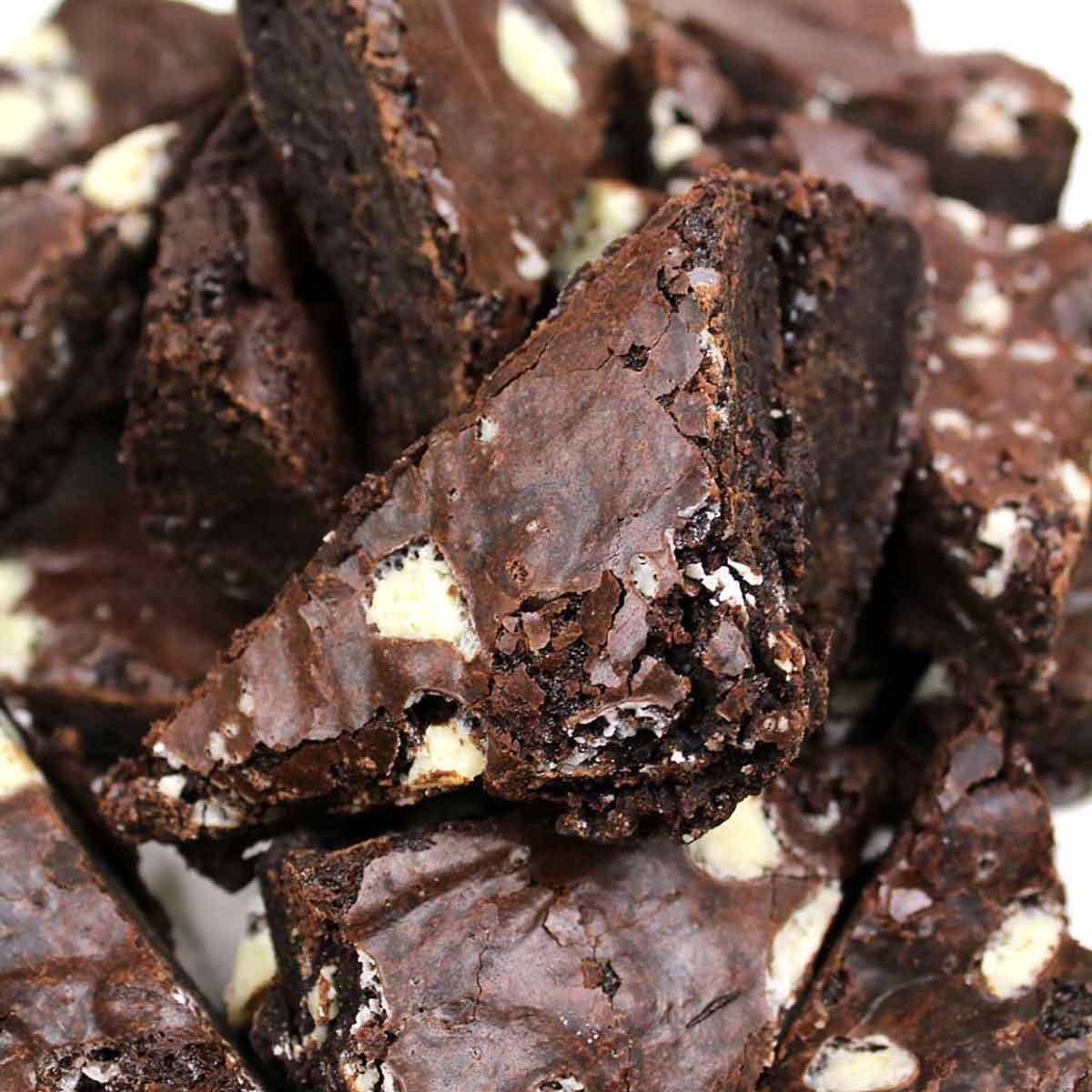 This strawberry cheesecake is great for Summer potlucks or picnics. It has a classic Digestive biscuit base, a strawberries and cream filling, and a sticky strawberry topping.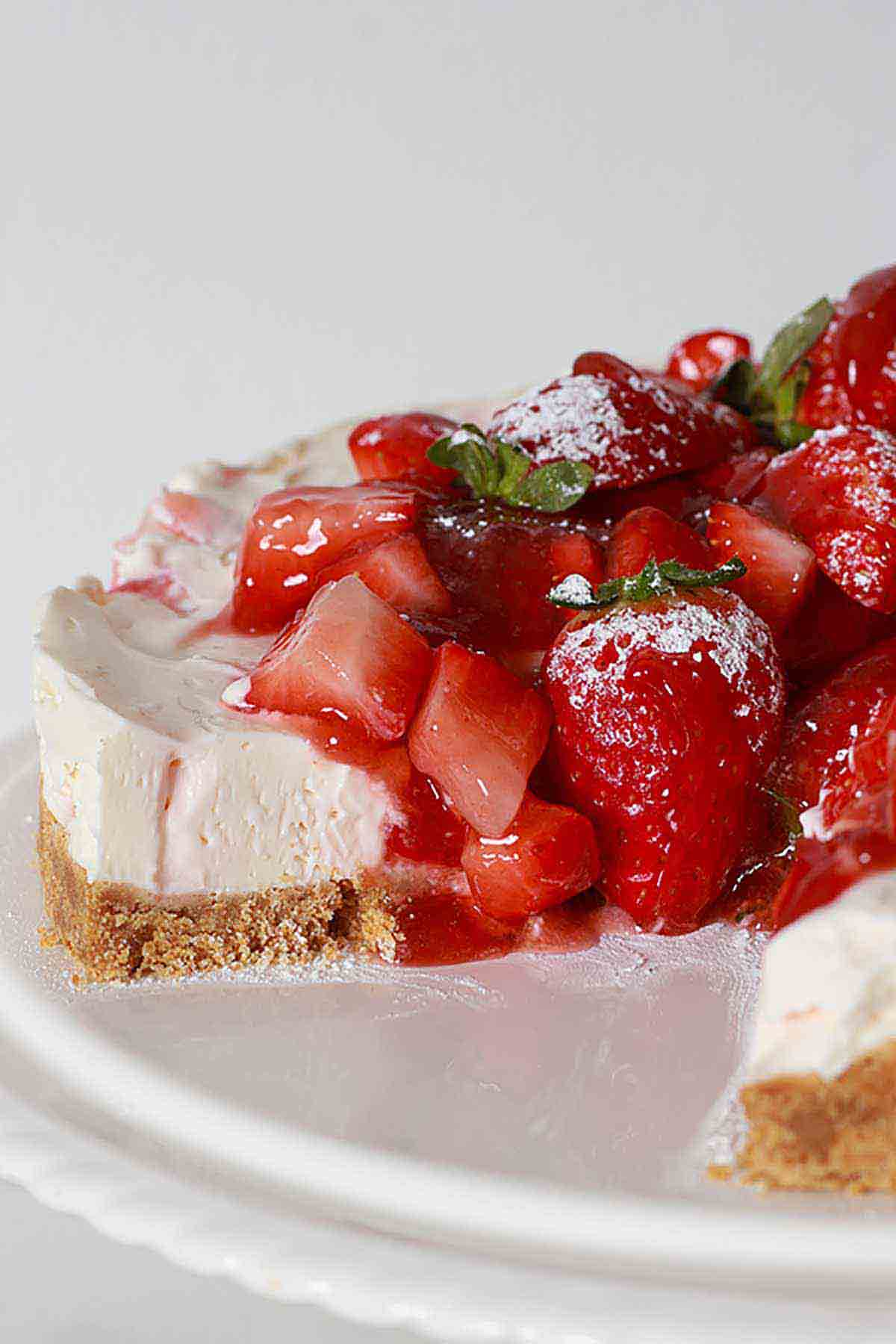 This chocolate tart is made with a flaky chocolate shortcrust pastry crust and a glossy ganache filling. Top it with vegan chocolate shavings to make it look extra special.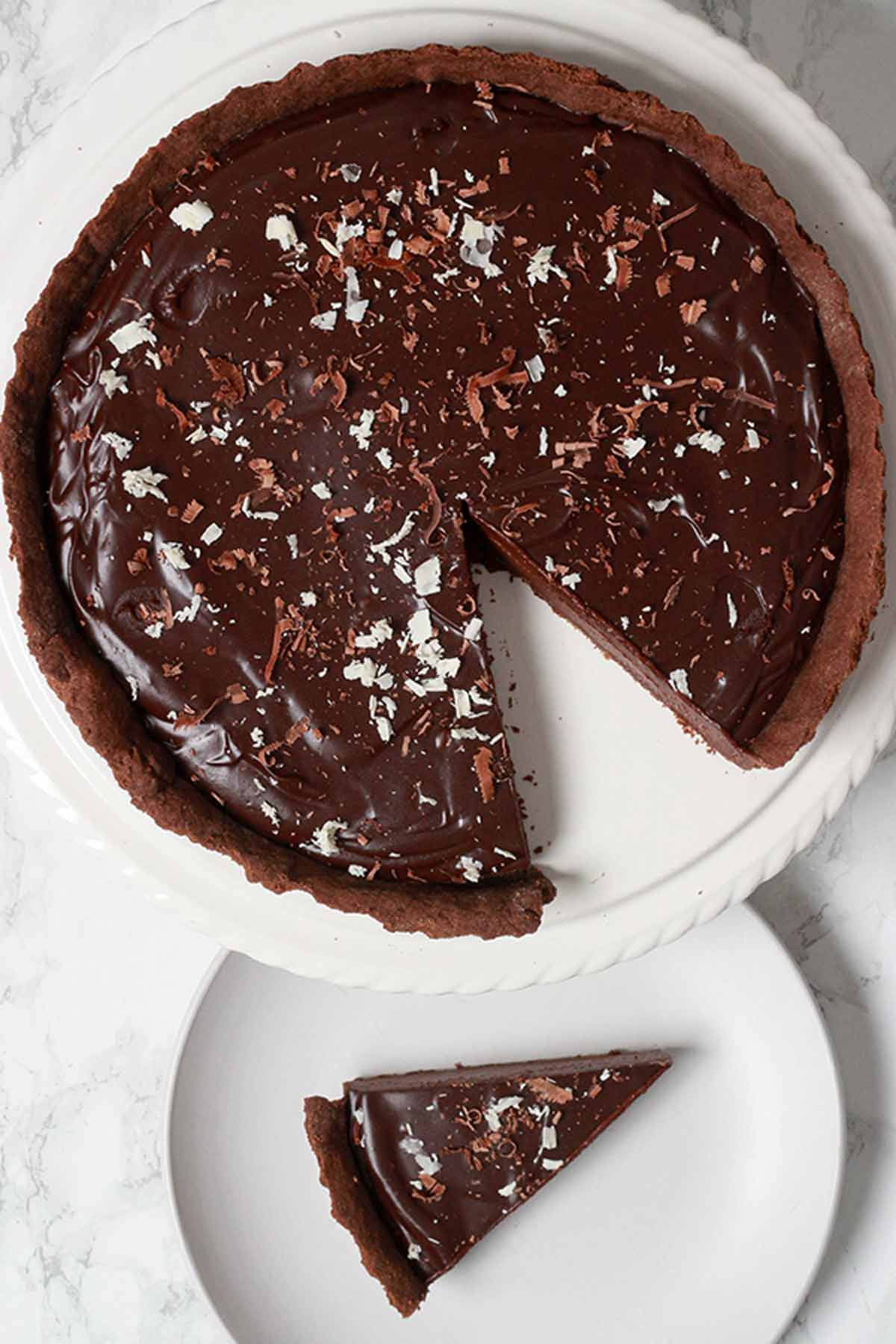 A vegan twist on the classic Italian cookies. Enjoy these almond biscotti biscuits as is or dunk them into your favourite hot drink.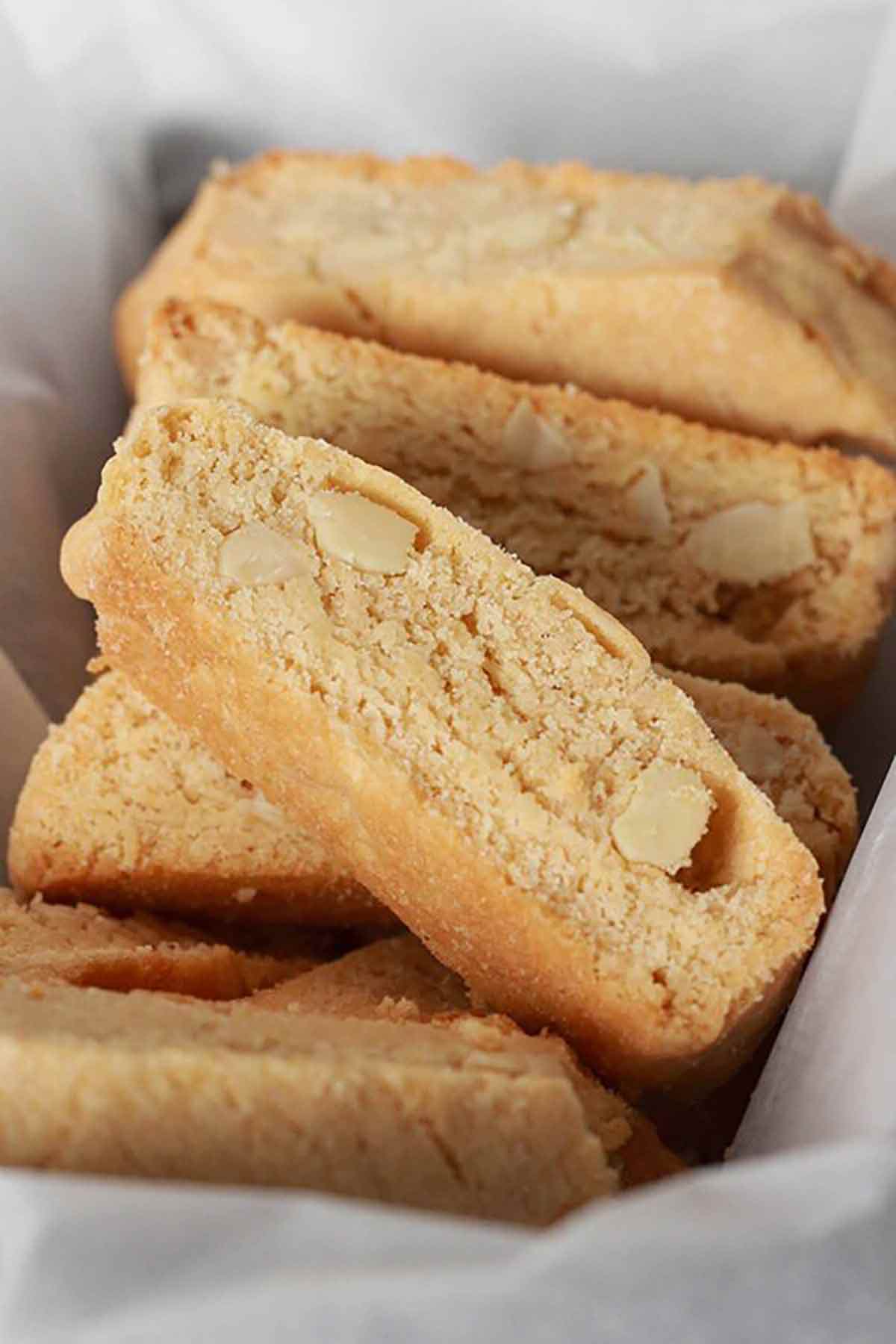 Soft, chewy cookies with slightly crispy edges, packed full of fresh raspberry pieces and vegan white chocolate chips. A quick and easy recipe that uses simple ingredients.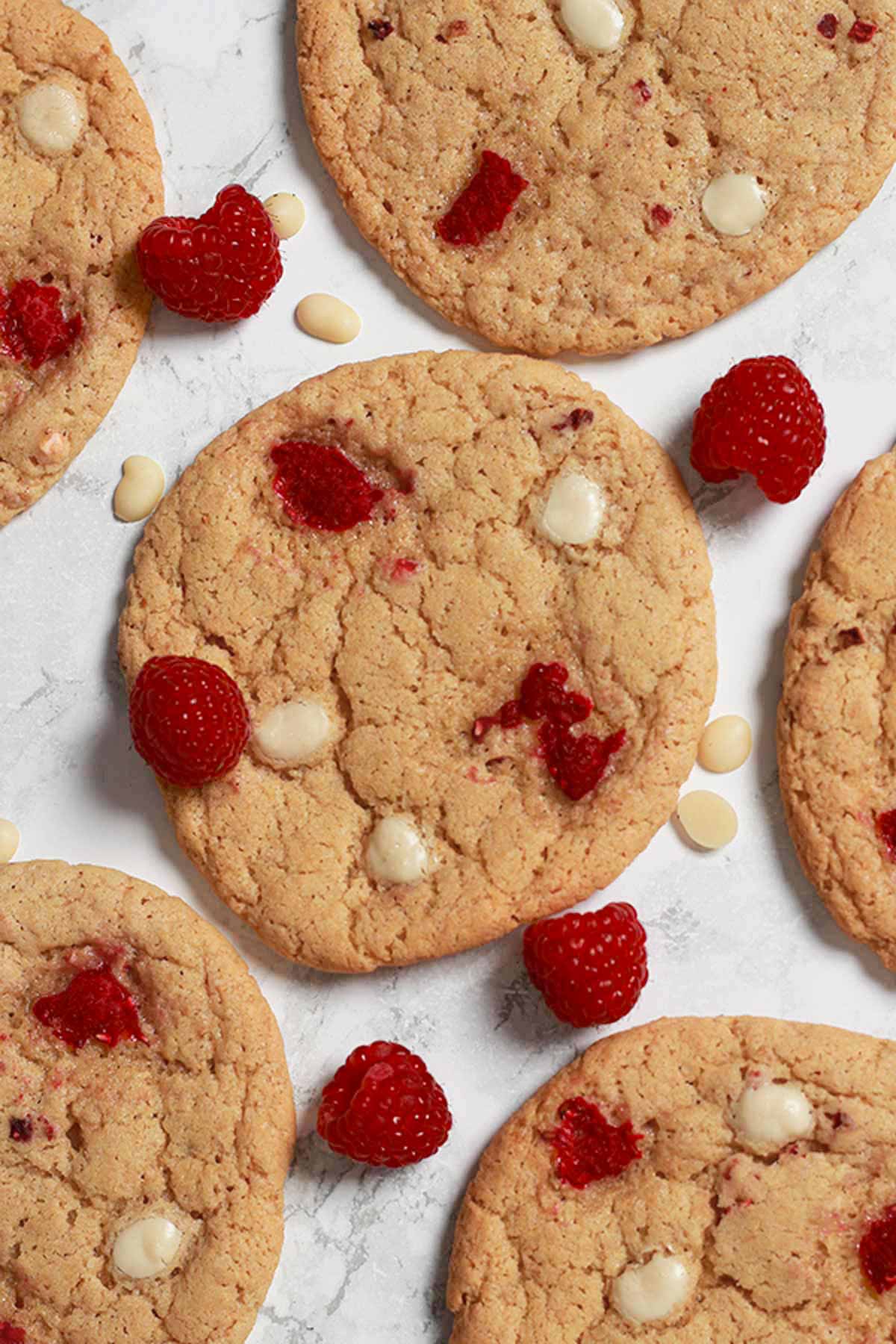 If pavlova is not your thing, did you know that you can also use aqua faba to make macarons? They look and taste just like the real deal.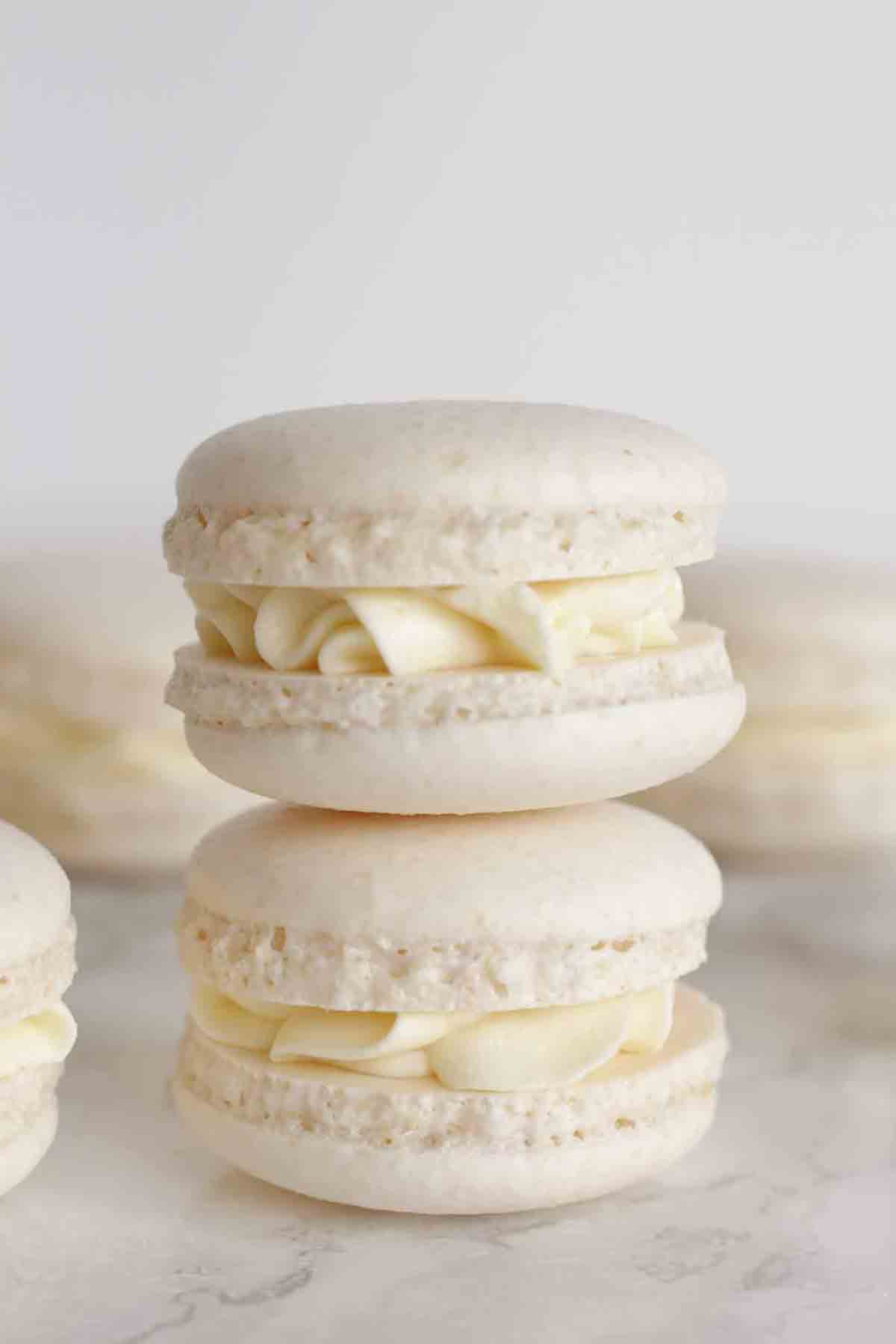 Another cheesecake recipe and this one is a personal favourite! The rich and creamy white chocolate filling pairs perfectly with the fiery gingernut biscuit base.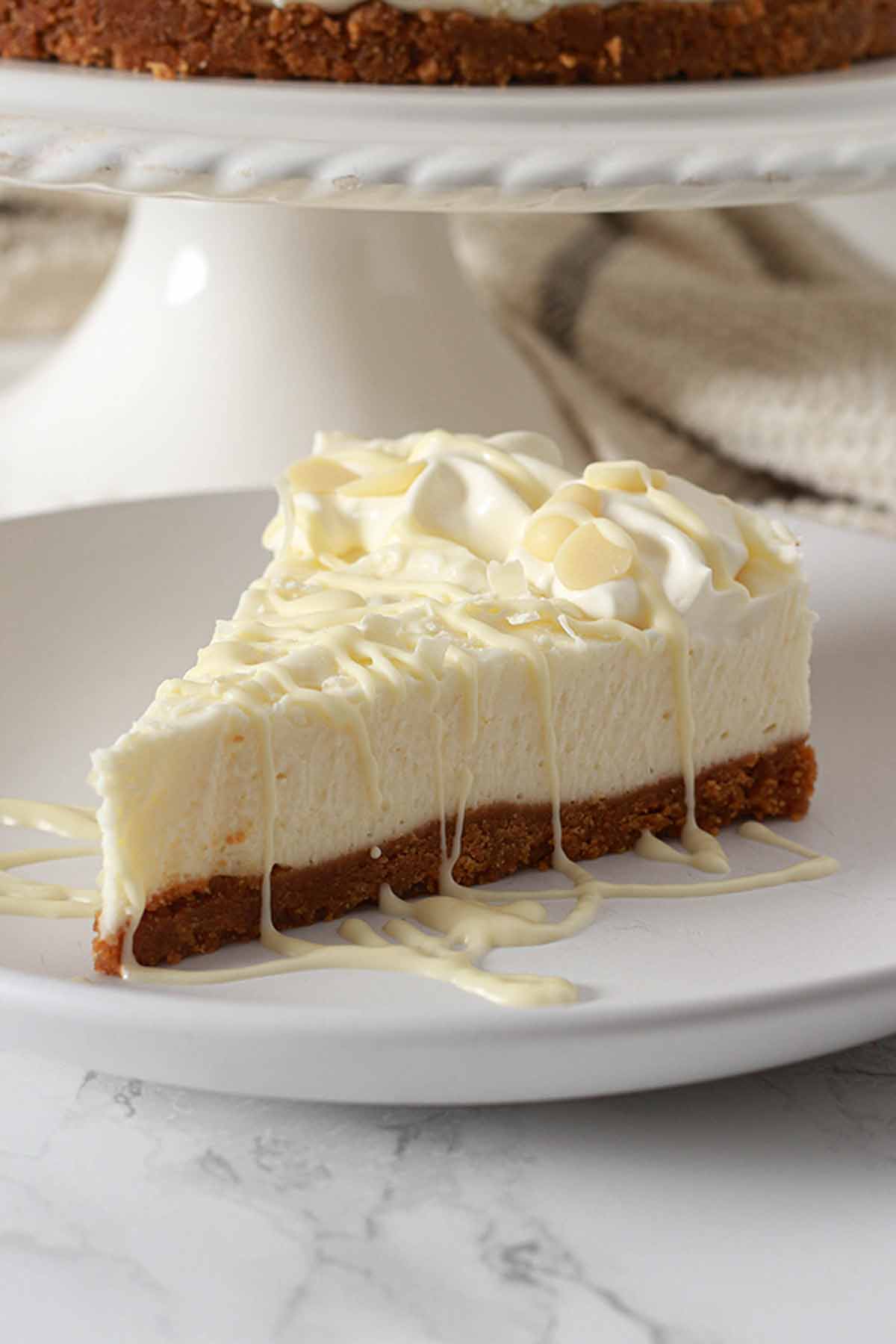 You only need 4 simple ingredients to make this peanut butter fudge. It melts in your mouth and is SO GOOD! A small batch will serve a crowd so it's great for taking along to your next vegan potluck.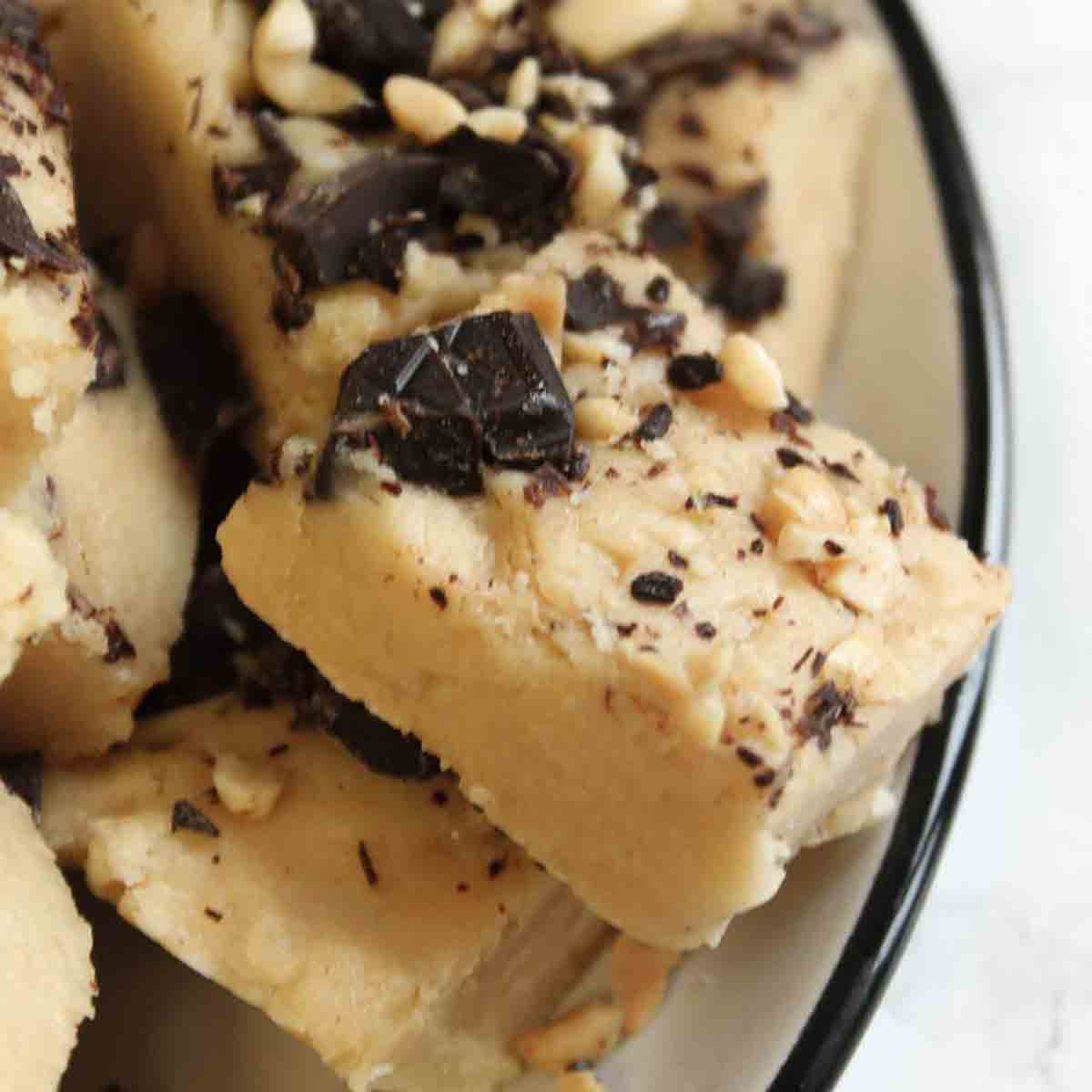 This tray bake cake is flavoured with coffee and has walnut pieces sprinkled throughout. Top it with homemade vegan cream cheese frosting for an extra bit of indulgence!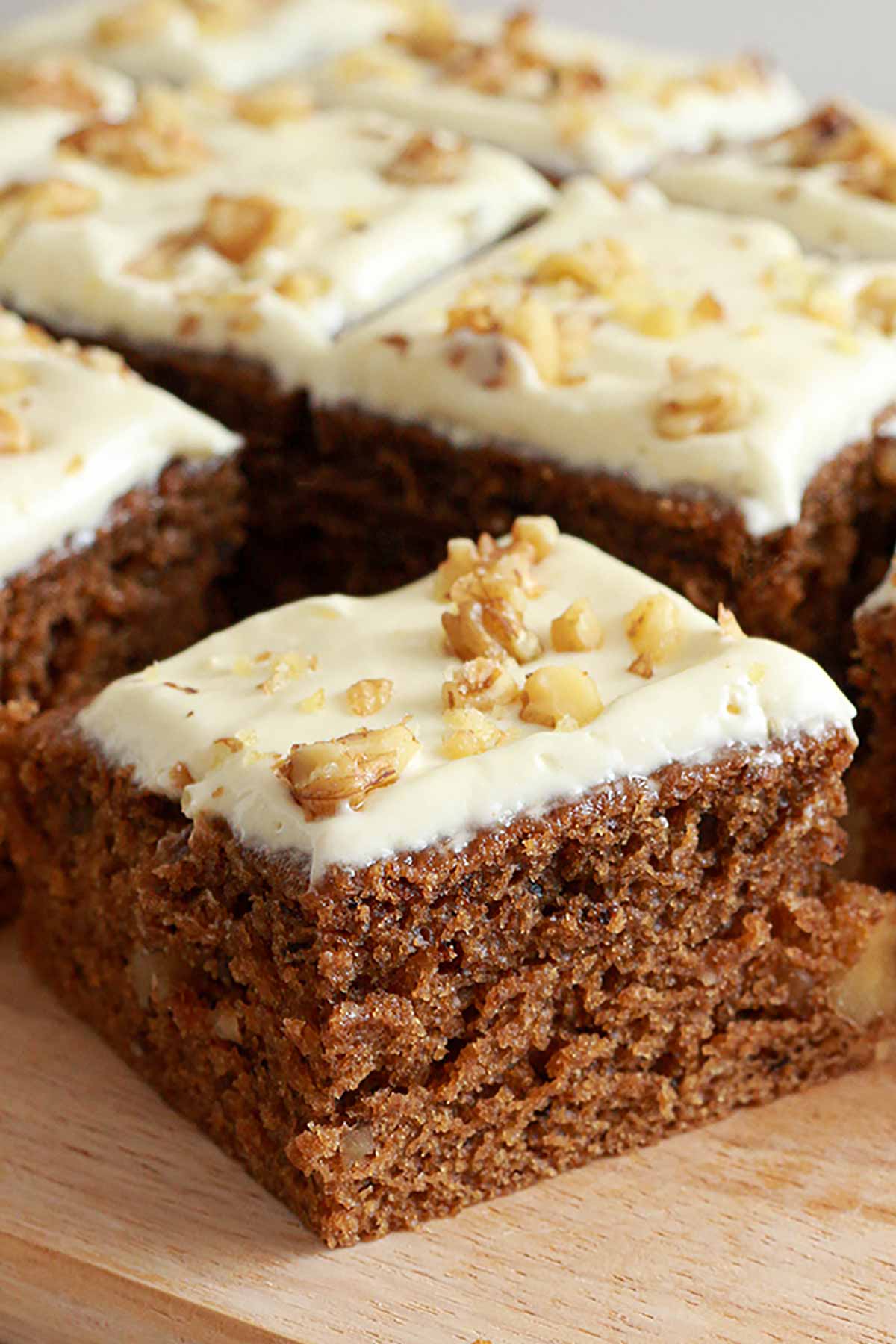 These Viennese whirl biscuits are sure to impress your friends and family. They're made up of two shortbread rosettes, with a filling of strawberry jam and vegan vanilla buttercream.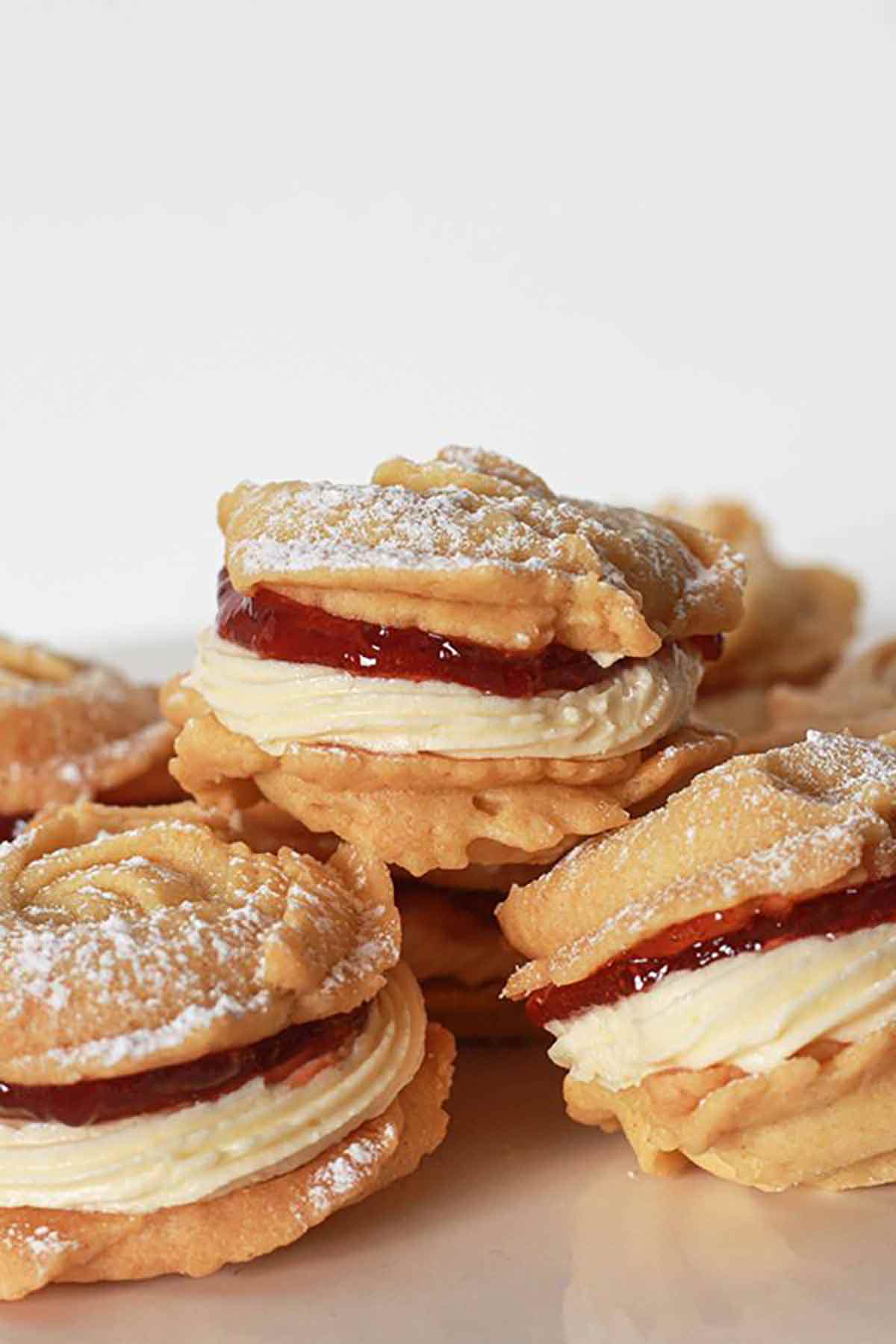 Last but not least is vegan banoffee pie. A no-bake dessert made with a biscuit base, homemade caramel, banana slices and vegan whipped cream. Yum!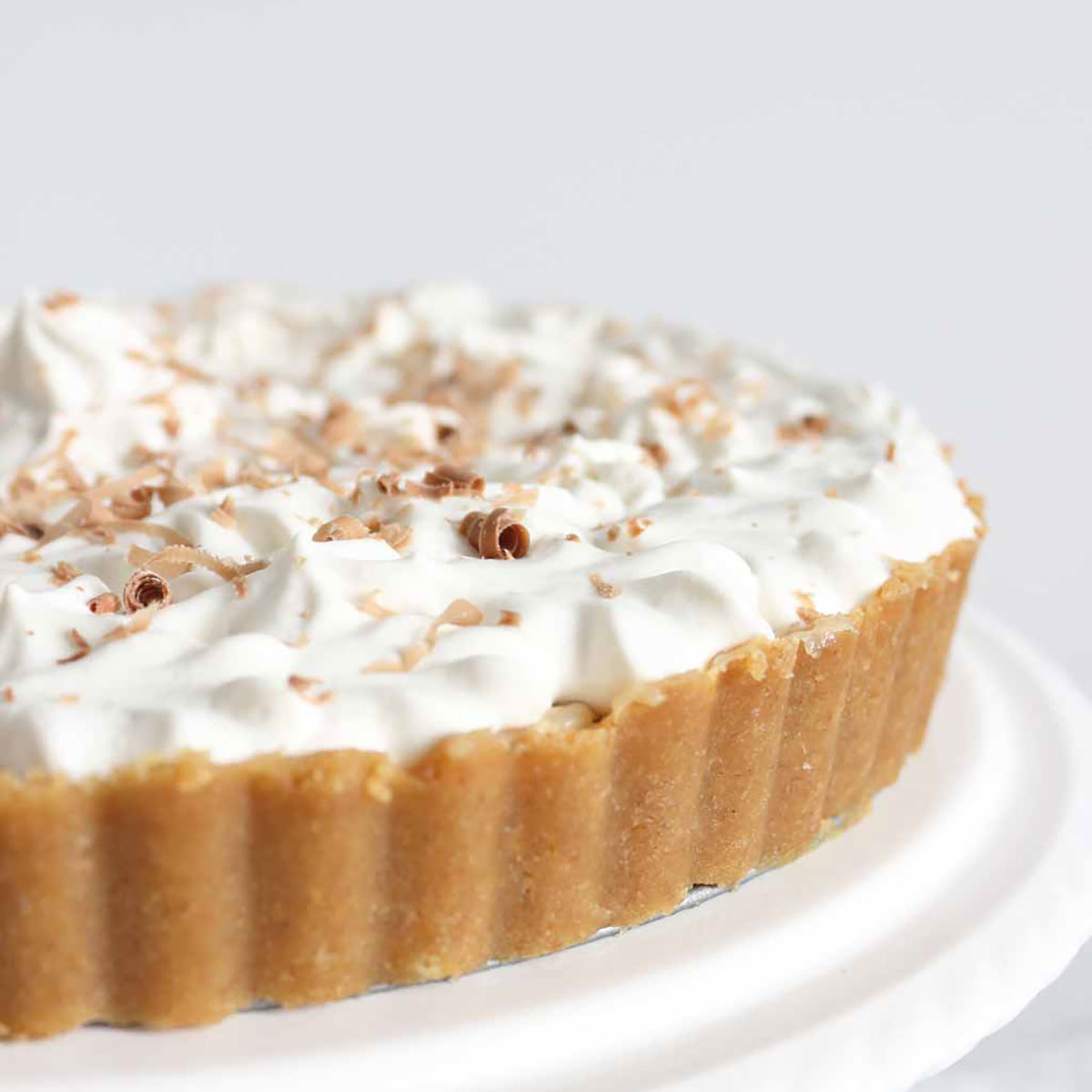 There you have it, over 40 vegan potluck recipes! If you find this post useful, please give it a share using the share buttons on the page. Enjoy! xo

40+ Vegan Potluck Recipes
A selection of over 40 sweet and savoury potluck recipes for vegans.
BakedByClo is a participant in the Amazon Services LLC Associates Program, an affiliate advertising program designed to provide a means for sites to earn advertising fees by advertising and linking to Amazon.com. This site may contain some of these links to Amazon.com & other affiliate programs. If you make a purchase through one of those links, BakedByClo will receive a small commission from the purchase at no additional cost to you.