50+ Vegan Summer Desserts
Looking for something sweet to cool you off in the Summer heat? Try one of these vegan Summer desserts. With over 50 recipes to choose from, you're sure to find something you love. Recipes include ice cream and popsicles, cheesecakes, cakes, fruit salads and lots more.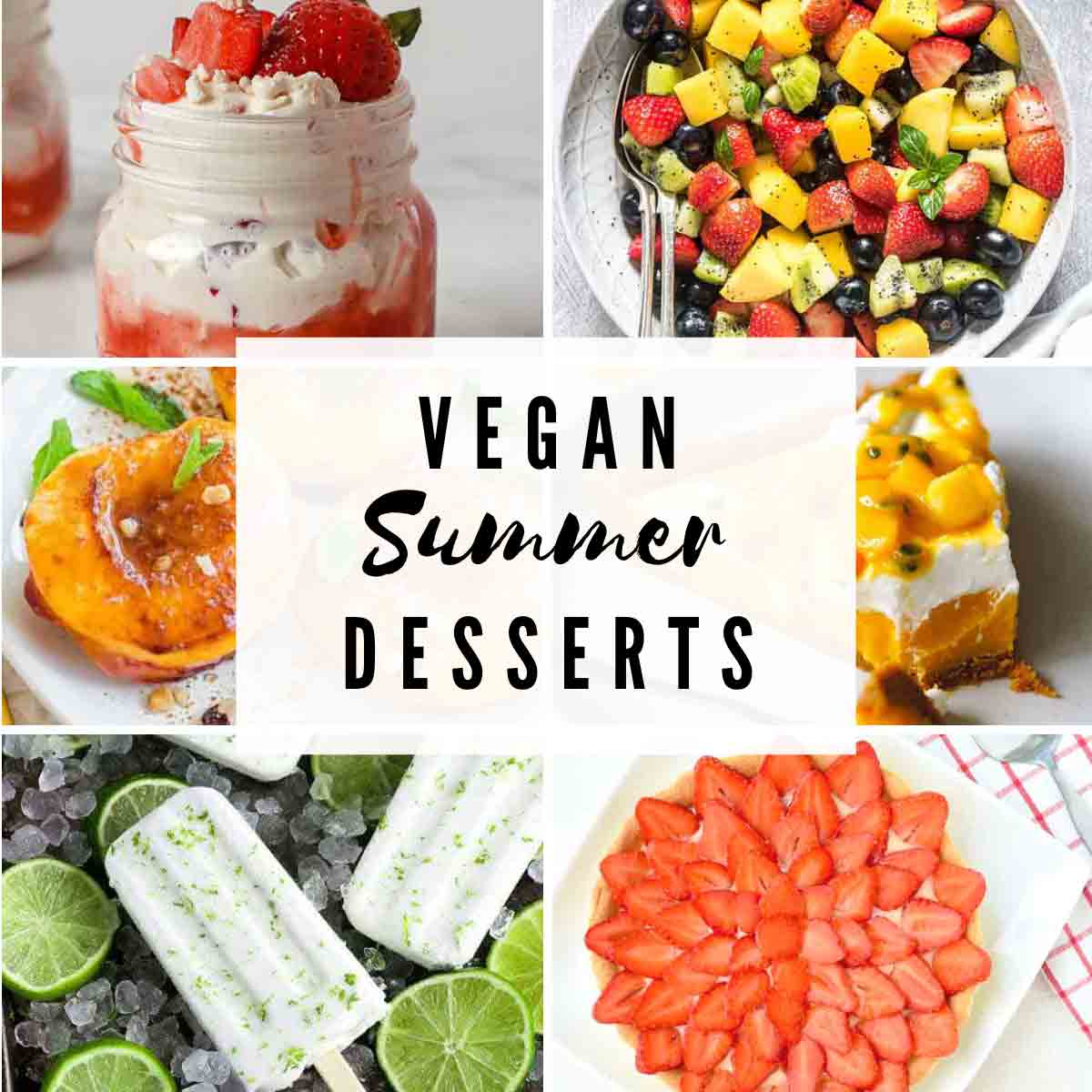 I recently wrote a post about all of my favourite vegan lemon desserts for Spring and it only made sense to make a post for vegan Summer desserts too!
The best vegan Summer desserts
I've split the recipes up into eight different categories: Ice cream and popsicles, cheesecakes, cakes and muffins, pies, tarts & bars, cookies, creamy desserts, sharing desserts, and fruity desserts.
Some of the recipes are from my own blog and others are from my fellow food bloggers. Be sure to check out their sites and let them know if you try their recipe. Enjoy! xo
Ice cream and popsicles
Let's start with the frozen desserts, shall we? I've made full posts of all the best vegan ice cream recipes and vegan popsicle recipes so make sure to check those out if you'd like more frozen dessert ideas!
Cheesecakes
Next up are the cheesecakes. Make sure to check out my no-bake vegan cheesecakes post for more recipes.
Cakes and muffins
Next, cakes and muffins! Below you'll find recipes for cupcakes, muffins, layer cakes, and everything else in between.
Pies, tarts & bars
Here are 10 recipes for vegan Summer pies, tarts and bars. Be sure to check out my sweet vegan pies post if you'd like more recipes.
Cookies
Three of my favourite cookie recipes that are great for Summer.
Creamy desserts
If you like your desserts light and airy, try one of these 4 tasty recipes below.
Sharing desserts
These desserts are great for parties or any occasion where you need to feed a small crowd.
Fruity Desserts
Lastly, we have the fruity desserts. These are made with fresh fruit and most of the recipes are good for you!
That's all for now. I hope you like these vegan Summer desserts. If you make any of the recipes at home, please let me know how it goes by leaving a comment below. Enjoy! xo
BakedByClo is a participant in the Amazon Services LLC Associates Program, an affiliate advertising program designed to provide a means for sites to earn advertising fees by advertising and linking to Amazon.com. This site may contain some of these links to Amazon.com & other affiliate programs. If you make a purchase through one of those links, BakedByClo will receive a small commission from the purchase at no additional cost to you.