20 Vegan Desserts With Cocoa Powder
If you're looking for vegan desserts with cocoa powder, you've come to the right place! This post contains 20 delicious recipes, with everything from cakes and cookies to mousse and tiffin. You're sure to find a new favourite sweet treat.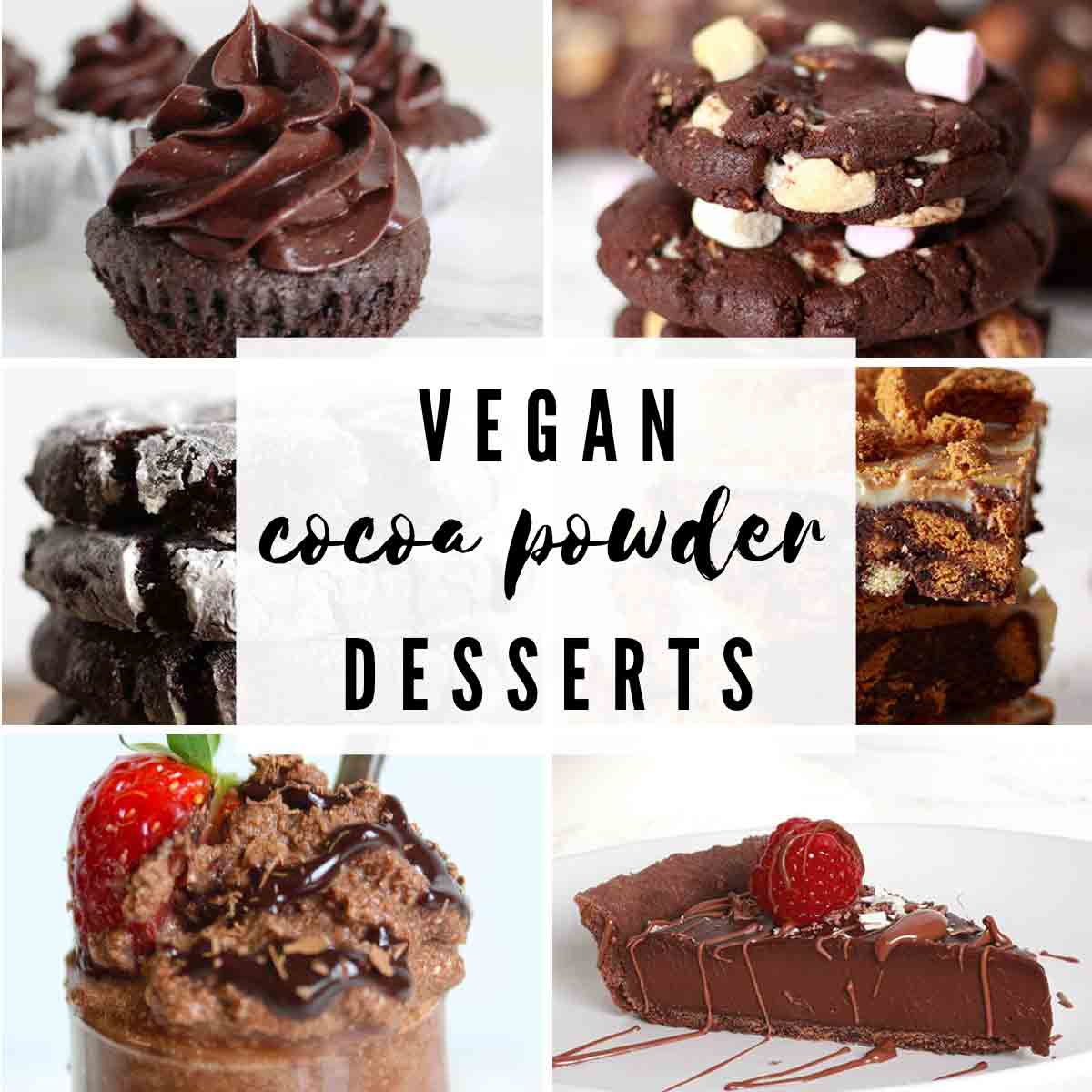 A few weeks ago I created a post as part of my 'Is It Vegan' series, about whether or not cocoa powder is vegan. You'll be pleased to know that cocoa powder is in fact vegan! I thought I'd share some of my favourite vegan desserts with cocoa powder in them for today's post. There are so many different ways you can use cocoa powder- in cookies, cakes, no-bake desserts and lots more.
I hope you enjoy the recipes. If you find this post useful, please share it with a friend using the share buttons on this page.
The best vegan desserts with cocoa powder
Let's take a look at the cocoa powder desserts, shall we? I've divided them up into a few categories, to help you find what you're looking for a little bit easier. The categories are: cakes, tiffin & rocky road, brownies, cookies, and everything else (the ones that didn't fit into any of the former categories, lol).
Cakes
First up are the cake recipes. There's a little bit of everything here- super easy recipes like cupcakes and showstopping desserts like yule log!
Tiffin & rocky road
Next up are the tiffin & rocky road recipes. Tiffin is very similar to rocky road but it's usually made without marshmallows.
Brownies
Here are 3 super easy brownie recipes. Regular brownies, Oreo brownies, and a brownie in a mug.
Cookies
Next up are the cookies. They're all made with cocoa powder of course, but each one has a different flavour and texture.
Other vegan cocoa powder desserts
Last but not least are these two tasty recipes for chocolate tart and chocolate mousse.
I hope you like these vegan desserts with cocoa powder. If you make any of the recipes at home, please let me know how it goes by leaving a comment below. Enjoy! xo
BakedByClo is a participant in the Amazon Services LLC Associates Program, an affiliate advertising program designed to provide a means for sites to earn advertising fees by advertising and linking to Amazon.com. This site may contain some of these links to Amazon.com & other affiliate programs. If you make a purchase through one of those links, BakedByClo will receive a small commission from the purchase at no additional cost to you.