30 Tasty Vegan Desserts Without Chocolate
If you're looking for vegan desserts without chocolate then this post will help you out. It contains 30 different recipe options, with something to suit everyone's tastes buds.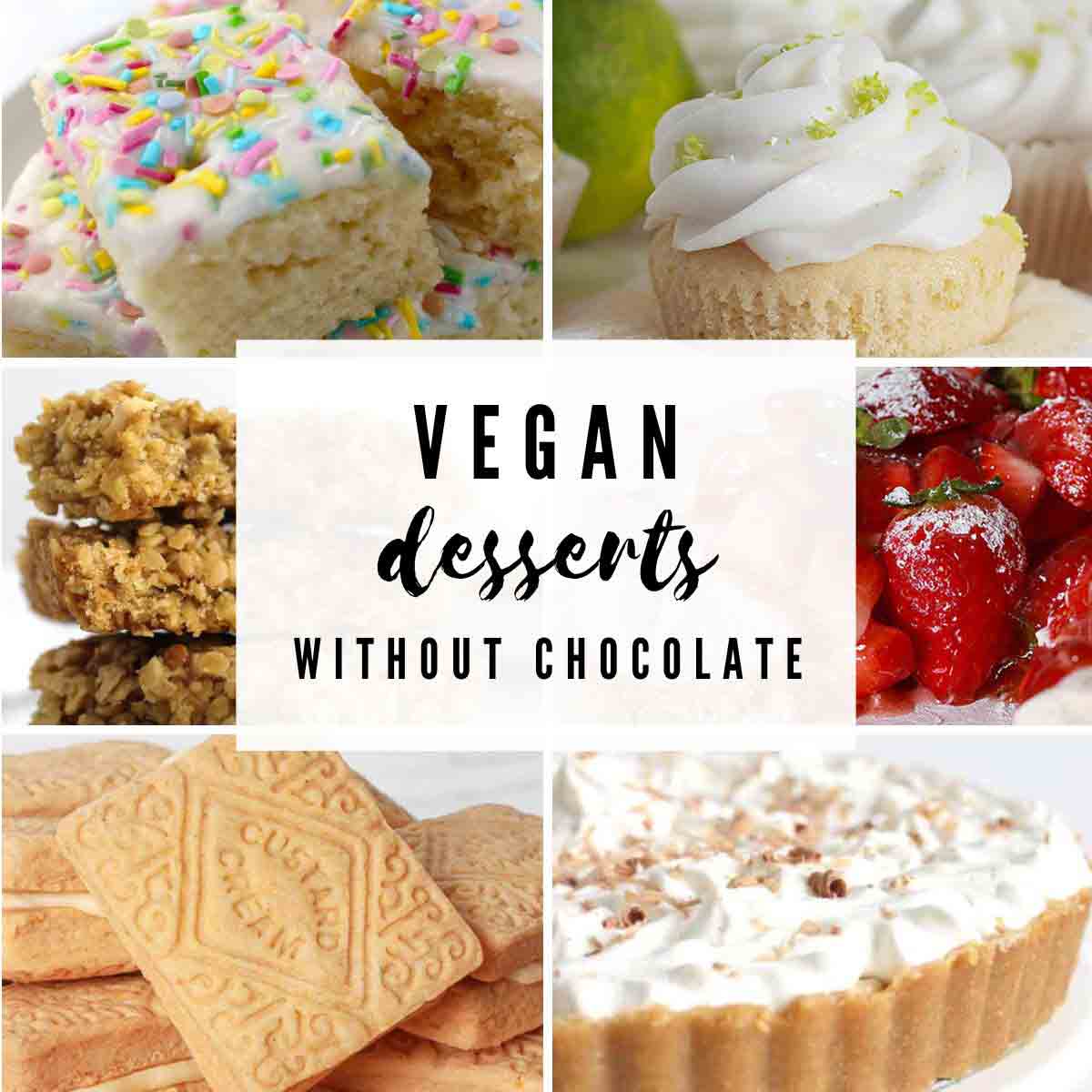 If there's one thing I love, it's chocolate. I think I could eat it every day for the rest of my life and never get sick of it! But it recently came to my attention that some people don't like chocolate at all, and others are even allergic to it.
I often post recipes and round-up posts with chocolate as the main focus. So I thought it was only fair to make a post with all of my vegan desserts without chocolate too!
I hope you enjoy the recipes. If you make any of them at home, please let me know how you get on by leaving a comment at the bottom of the page. Happy baking!
The best non-chocolate vegan desserts
I have split this post into categories so that you can find the type of dessert you're looking for at a quick glance. The categories are: Cakes, cupcakes, muffins, biscuits and cookies, cheesecakes, pies and tarts, and everything else.
Cakes
Let's start with the vegan cakes without chocolate.
Cupcakes
Now that you've seen the cake recipes, let's move on to cupcakes.
Muffins
Next up, the vegan muffins! Here are 5 recipes to choose from:
Biscuits and cookies
Here are 5 of my favourite biscuit/cookie recipes without chocolate.
Cheesecakes
I do have a lot of chocolatey cheesecakes but since this is a post about vegan desserts without chocolate, I had to narrow it down to just 3!
Pies and tarts
Next up are the pie and tart recipes. Here are 3 of my favourites:
Other vegan desserts without chocolate
Here are the last 4 desserts, that I couldn't fit into any of the other categories. The recipes are for Rice Krispie treats, fudge, flapjacks and cinnamon rolls.
There you have it, 30 vegan desserts without chocolate. I hope you like the recipes. If you find this post useful, please give it a share using the share buttons on this page. Enjoy! xo
BakedByClo is a participant in the Amazon Services LLC Associates Program, an affiliate advertising program designed to provide a means for sites to earn advertising fees by advertising and linking to Amazon.com. This site may contain some of these links to Amazon.com & other affiliate programs. If you make a purchase through one of those links, BakedByClo will receive a small commission from the purchase at no additional cost to you.