25 Tasty Vegan Father's Day Desserts
If you're looking for a delicious vegan Father's Day dessert to whip up this June, look no further- this post will help you out. It contains 25 recipes to choose from, with something to suit every dad's tastebuds.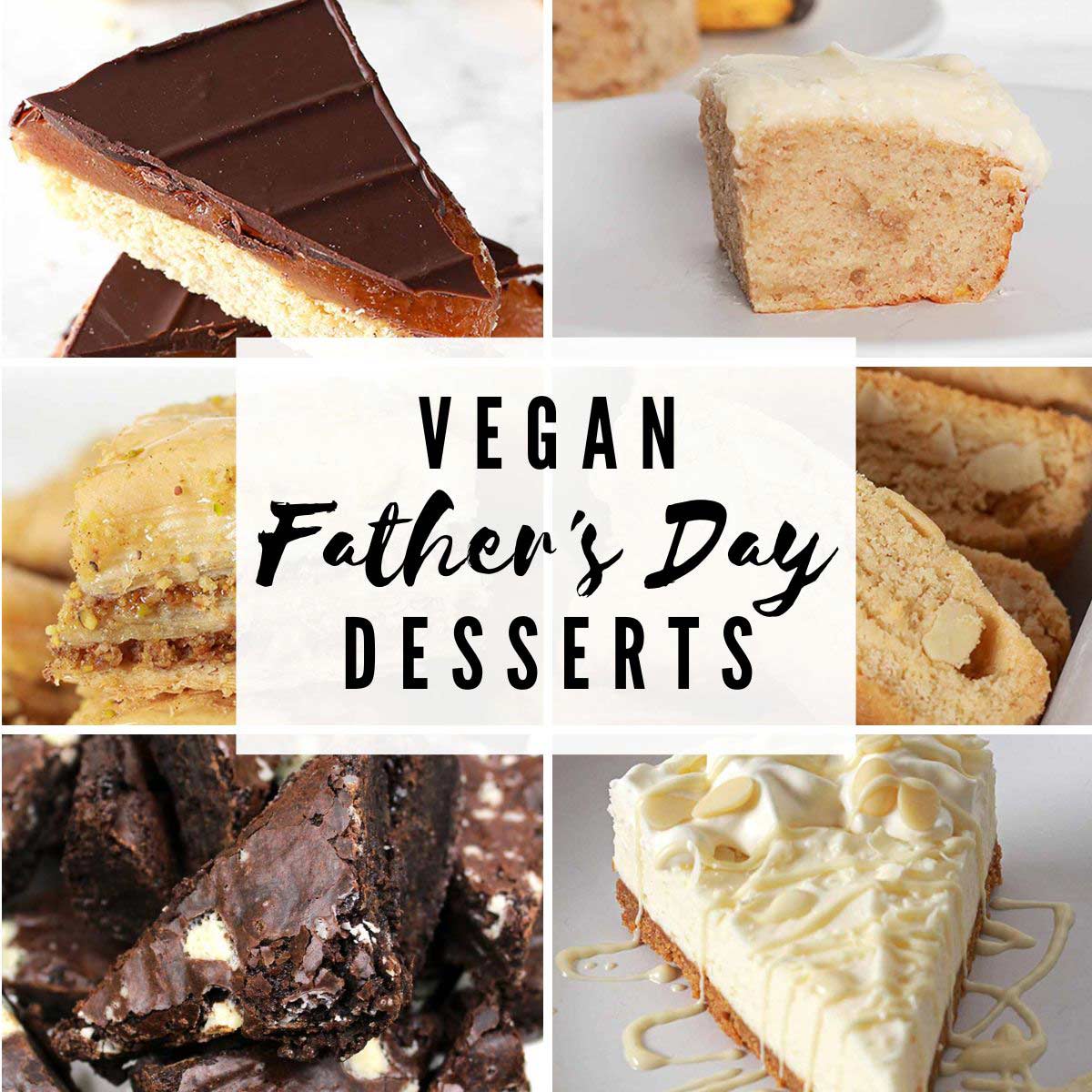 Father's Day lands on the 18th of June this year, which is a Sunday like always. It's a bit of a way away right now but since I recently made a vegan Mother's Day dessert recipes post, I thought it was only fair to make one for Father's Day too!
Dads can be difficult to think of gifts for so if in doubt, give him something he can eat! I've chosen 25 of my favourite dessert recipes that I think dads will love. Whether your dad likes decadent desserts such as brownies or prefers something lighter like cheesecakes, you'll find the perfect recipe in this post.
I hope you enjoy the recipes and if you make any of them at home, please leave a comment to let me know how it goes. I love hearing from you! Make sure to check out my Father's Day brunch recipes too.
The best vegan Father's Day dessert recipes
I've divided the recipes up into categories so you can easily find what you're looking for. The categories are: Cakes & tarts, brownies, cheesecakes, bars and bites, and cookies & biscuits. Let's get into it!
Cakes & Tarts
First, we're starting with the vegan cakes and tarts. All of the recipes included here are easy to make but sure to impress dad!
Brownies
Next up are the brownies. These are my two favourite recipes but if you'd like more options, you can check out my vegan brownie recipes post.
Cheesecakes
Next are the cheesecakes. All three of the recipes below are no-bake and you don't need any cashews to make them. They're ultra creamy cheesecakes that taste just like the traditional version. Cheesecake is one of my favourite vegan Father's Day desserts!
Bars and bites
I've popped all of the snacky type desserts into this section. Recipes include flapjacks, truffles and baklava. Yum!
Cookies and biscuits
Last but not least are the cookies and biscuits. These are great to give as an edible gift or to enjoy for dessert after a Father's Day dinner!
That's all for now. I hope you like these vegan Father's Day desserts. If you enjoyed this post, please give it a share by using the share buttons on this page. Happy baking! xo
BakedByClo is a participant in the Amazon Services LLC Associates Program, an affiliate advertising program designed to provide a means for sites to earn advertising fees by advertising and linking to Amazon.com. This site may contain some of these links to Amazon.com & other affiliate programs. If you make a purchase through one of those links, BakedByClo will receive a small commission from the purchase at no additional cost to you.